This foaming hand soap will be one of the easiest DIY recipes you have every made, trust me. With just 3 simple ingredients, you can make this homemamde foaming hand soap in no time.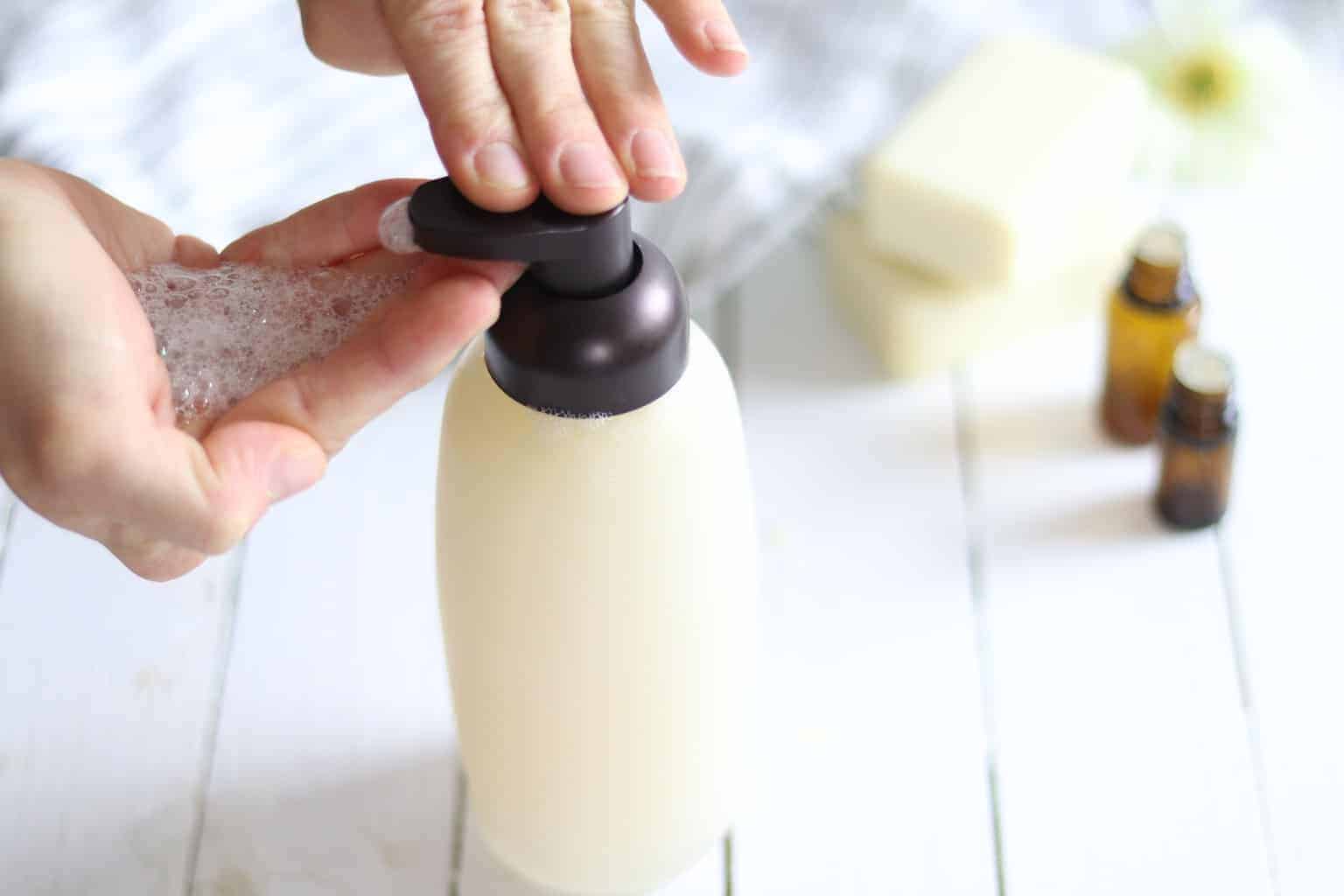 I love using my essential oils to make natural products for my home! At first, this may seem like a daunting task, but once you get started, you will realize how easy it really is and that it will save you money.
Antibacterial soaps are filled with harsh chemicals and can cause more damage than good to our bodies. We use soap to get rid of germs, right? But what if I told you that these soaps were also getting rid of good bacteria that your body needs for optimal health? Overusing antibiotics and antibacterial products are damaging our guts and immune systems.
Several essential oils have antibacterial properties and by using them in this hand soap, you can still have a soap with antibacterial properties just without the chemicals.
You can easily make your own hand sanitizer using these essential oils too!
ALL NATURAL FOAMING HAND SOAP VIDEO TUTORIAL
This post contains affiliate links, which means I make a small commission at no extra cost to you. Get my full disclosure HERE.
ALL NATURAL FOAMING HAND SOAP
INGREDIENTS
INSTRUCTIONS
Add castile soap and essential oils to foaming soap dispenser.
Top off with water.
Shake well
This soap is great for hand soap in the kitchen and bathrooms.  It's all-natural, smells great, and it works wonderfully!
MY FAVORITE ESSENTIAL OILS TO USE 
LEMON
Lemon is my favorite, especially when I am making soap for the kitchen. It has a beautiful citrus aroma that makes me think clean. It has cleansing and purifying properties making it perfect for getting your hands clean.
Learn more about lemon essential oil.
WILD ORANGE
Similar to lemon, wild orange also has cleansing and purifying properties.  This essential oil also has immune-boosting properties and can be used to kill unwanted germs.  I love the bright, refreshing scent of wild orange and lemon mixed!
Learn more about wild orange essential oil.
LAVENDER
Lavender is my favorite essential oil to use when I am making soap for the bathroom.  It has antibacterial properties and is great for sensitive skin.  It gives off a calming and relaxing aroma that can promote overall calmness to the body.  I like to use a very similar recipe, with lavender, for my kid's body wash.  Get the full recipe here.
Learn more about lavender essential oil.
MELALEUCA
Melaleuca is a great essential oil to use for cleaning and can kill germs and purify the air.  Adding melaleuca will make it a powerful cleansing and natural antibacterial soap.
ON GUARD
On guard is a blend by doTERRA known as the protective blend. It is a blend of wild orange, cinnamon, clove, rosemary, and eucalyptus.  It is great at protecting the body against environmental threats and boosting the immune system. Adding this essential oil to the hand soap makes it cleansing, purifying and can support a healthy immune response.
Learn more about On guard essential oil.
OTHER HOMEMADE PRODUCTS YOU MAY WANT TO CHECK OUT 
PIN IT FOR LATER 
Follow along with our oily house:
Thanks for stopping by our oily house!