Making a two-ingredient hand soap, three if you count the water, is about as simple of a DIY as it gets. We have been making this homemade foaming hand soap for years, and it works great.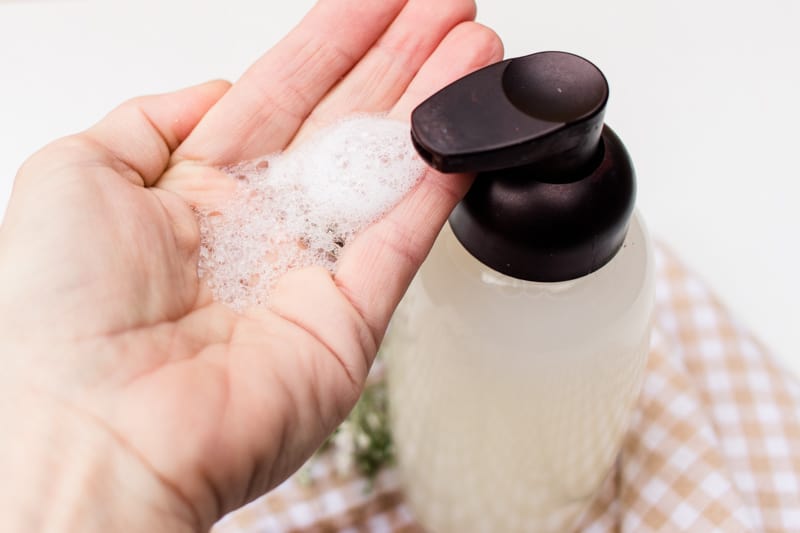 I have been asked so many times, "Why make your own hand soap?" Well, believe it or not, most hand soaps contain harsh chemicals that can often cause more harm than good.
And with most people washing their hands at least five times a day, it's important to at least be aware of the effects that hand soap can have on our bodies.
We use soap to get rid of germs. Right? But some of these conventional soaps also get rid of good bacteria that the body needs for optimal health.
Now, I do want to be clear, choosing between not washing your hands or using conventional soaps, always opt to wash your hands.
DIY foaming hand soap
Having your own homemade foaming hand soap in your house allows you to stay clean and sanitized without any unnecessary chemicals.
Several essential oils have antibacterial properties, and by using them in this hand soap, you can still have a soap with antibacterial properties, just without the chemicals.
Why stop at foaming hand soap? Make your own hand sanitizer too!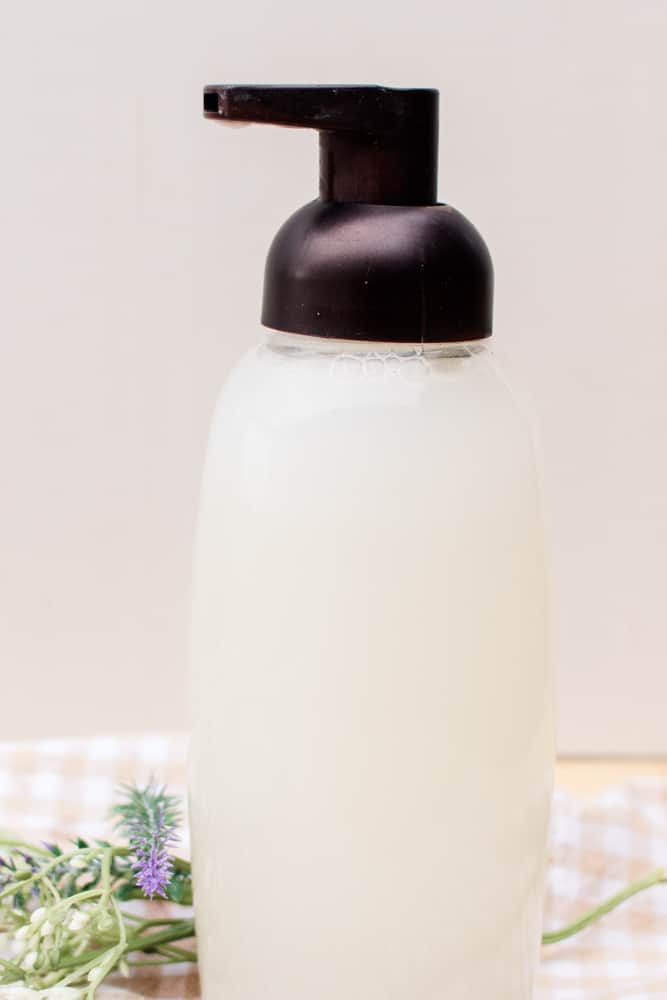 Benefits of making your own foaming hand soap
The skin is the largest organ in the human body. Studies reveal that chemicals can be absorbed through the skin into the bloodstream.
So what we put on our bodies, whether its soaps, shampoos, lotions, or moisturizers, the ingredients in them, good or bad, are likely going to be entering our bloodstream.
So using a natural soap, especially a handmade soap, is going to have fewer and higher quality ingredients, often having less of a negative effect on the environment.
And, of course, when making natural soap, you can ensure the components are ethically sourced from organic ingredients.
How to make foaming hand soap video tutorial
Are you a visual learner? You can watch my DIY foaming hand soap tutorial right here!
This post contains affiliate links, which means I make a small commission at no extra cost to you. Get my full disclosure HERE.
How to make foaming hand soap
Alright, so this foaming hand soap recipe is fully customizable as far as your choice of fragrance goes. I'll list what I add to my foaming soap recipe, but if you want other options, see the 'essential oils for hand soap' section below.
INGREDIENTS
INSTRUCTIONS
So, first, you will want to add the castile soap to the dispenser. You may want to use a funnel, or if the top is wide enough, just pour it right in.
Next up, add your lavender.
Finally, top it off with water, leaving about a half inch of space at the top.
Secure the pump top and shake well!
This recipe is perfect for a 12 oz soap dispenser.
You can use this homemade foaming hand soap in the bathroom, slop sink, or in place of your kitchen soap bar. It's all-natural, smells great, and it works wonderfully!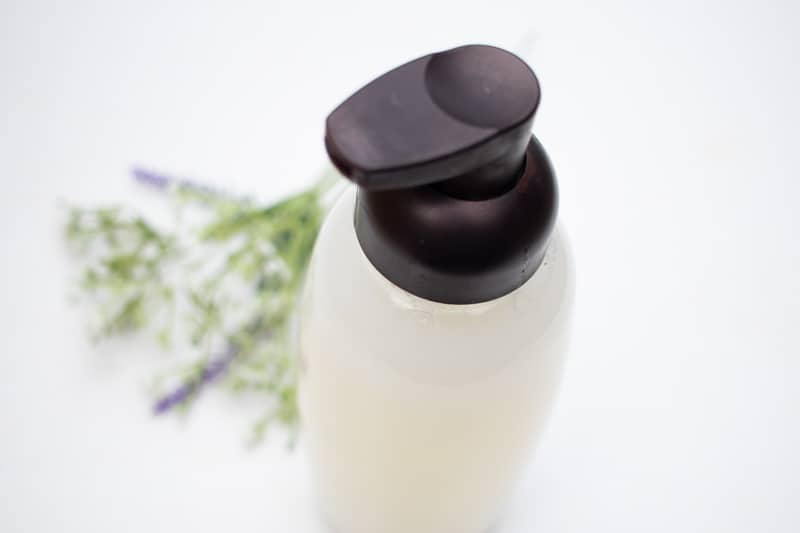 Essential oils for hand soap
I like to keep it simple when adding essential oils to hand soap. Unless I'm grabbing a soap bar, I'll use lavender for bathroom soap, and in the kitchen, I'll use 15 drops of lemon.
Pick from any of the oils listed below, and feel free to mix and match. All I ask is that you let me know what combination you went with so I can try it!
LEMON
Lemon is my favorite, especially when making soap for the kitchen. It has a beautiful citrus aroma that makes me think clean. In addition, it has cleansing and purifying properties, making it perfect for getting your hands clean.
Learn more about lemon essential oil.
WILD ORANGE
Similar to lemon, wild orange also has cleansing and purifying properties. This essential oil also has immune-boosting properties and can be used to kill unwanted germs. I love the bright, refreshing scent of wild orange and lemon mixed!
Learn more about wild orange essential oil.
LAVENDER
Lavender is my favorite essential oil to use when I am making soap for the bathroom. It has cleansing properties and is excellent for sensitive skin. In addition, it gives off a calming and relaxing aroma that can promote overall calmness to the body.
I like to use a very similar recipe, with lavender, for my kid's body wash. Get the full recipe here.
Learn more about lavender essential oil.
MELALEUCA
Melaleuca (or tea tree) is a great essential oil for cleaning; it will cleanse the skin and purify the air. Adding melaleuca will make it a powerful cleansing and naturally antibacterial soap.
ON GUARD
On guard is a blend by doTERRA known as the protective blend. It is a blend of wild orange, cinnamon, clove, rosemary, and eucalyptus.
It is great at protecting the body against environmental threats and boosting the immune system. Adding this essential oil to the hand soap can give it cleansing and purifying properties.
Learn more about On guard essential oil.
CLICK HERE to purchase any of the oils listed above!
Choosing the right pump
Soap dispensers come in all different shapes and sizes; wall-mounted, electric, you name it's available. When choosing the right soap dispenser, consider the amount of use it is going to get and where you want it placed.
For example, if you don't have a lot of vanity top space, consider getting a touchless wall-mounted dispenser.
If you have a spot for a soap dispenser, these work well and last forever! Just be sure when choosing the perfect soap dispenser that is capable of producing a foaming soap.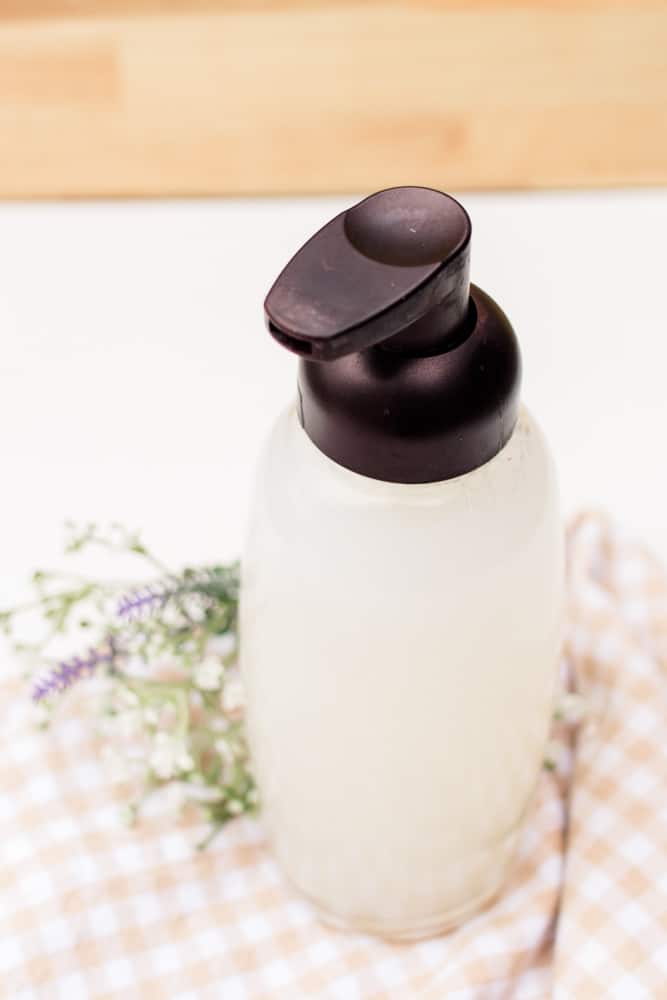 Frequently asked questions
How long does DIY foaming hand soap last? This foaming hand soap recipe will last at least three weeks, which is the longest I have been able to stretch it with the amount of use it gets!
Is foaming hand soap effective? Yes, foaming hand soap is effective at cleaning the hands while using less soap than regular liquid soap.
Do I have to add fragrance to my soap? Of course not; the added essential oils provide a beautiful scent which is nice for especially dirty hands, but they can be left out if needed.
How does foaming hand soap reduce waste? By making your own soap, you can reduce the amount of plastic waste by buying in bulk and reusing the same dispenser over and over again.

Key Takeaways
I love making soaps, and over the years, I've developed quite the index of homemade soaps.
If you want to see more of my soap recipes, you can type 'soap' in the search bar. Trust me when I say you'll find what you are looking for. But if not, leave me a comment, letting me know what you would like to see next.
Anyway, I hope that you enjoyed this simple foaming soap recipe. I had so much fun making it and sharing it with you all!
Please do leave a review below if you made it and loved it.
And if you are looking for a few more great cleaning recipes or maybe something a little different, check out these posts below.
Yield: 12 ounces of soap
Foaming Hand Soap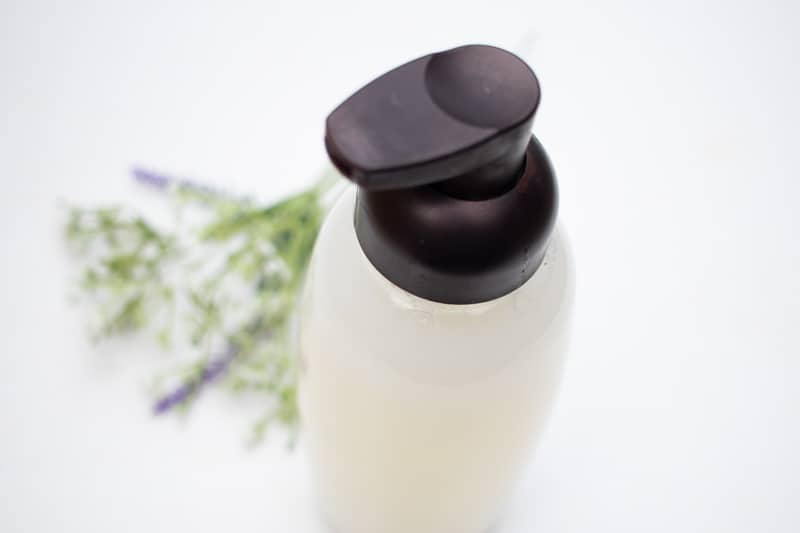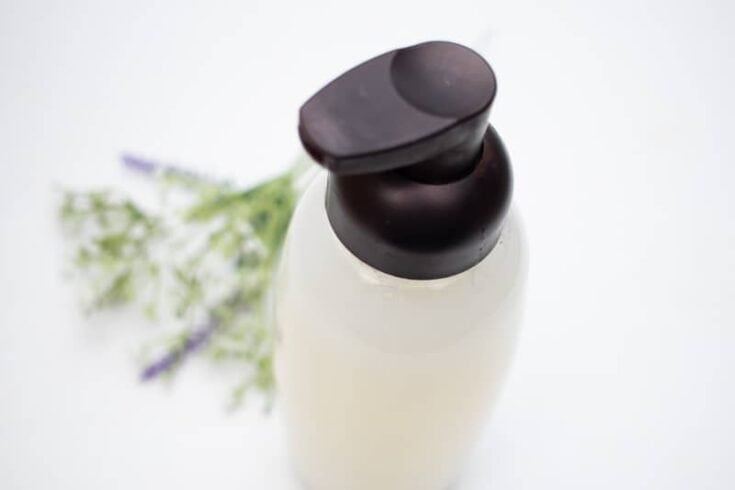 Natural and organic, learning how to make foaming hand soap with a lavender essential oil fragrance has never been easier!
Materials
Instructions
First, add the castile soap to the dispenser. You may want to use a funnel, or if the top is wide enough, just pour it right in.
Next, you'll add in your lavender. (or you can check out my other fragrance options in the post above)
Finally, top it off with water, leaving about a half inch of space at the top.
Secure the pump top and shake well.
Notes
I keep this in the bathroom, but it can work in any area of the house!
This soap should last for at least three weeks.