Looking for a safe, effective way to clean your composite sink? Look no further! Follow along with me as I take you through it step by step. (full instructions included.)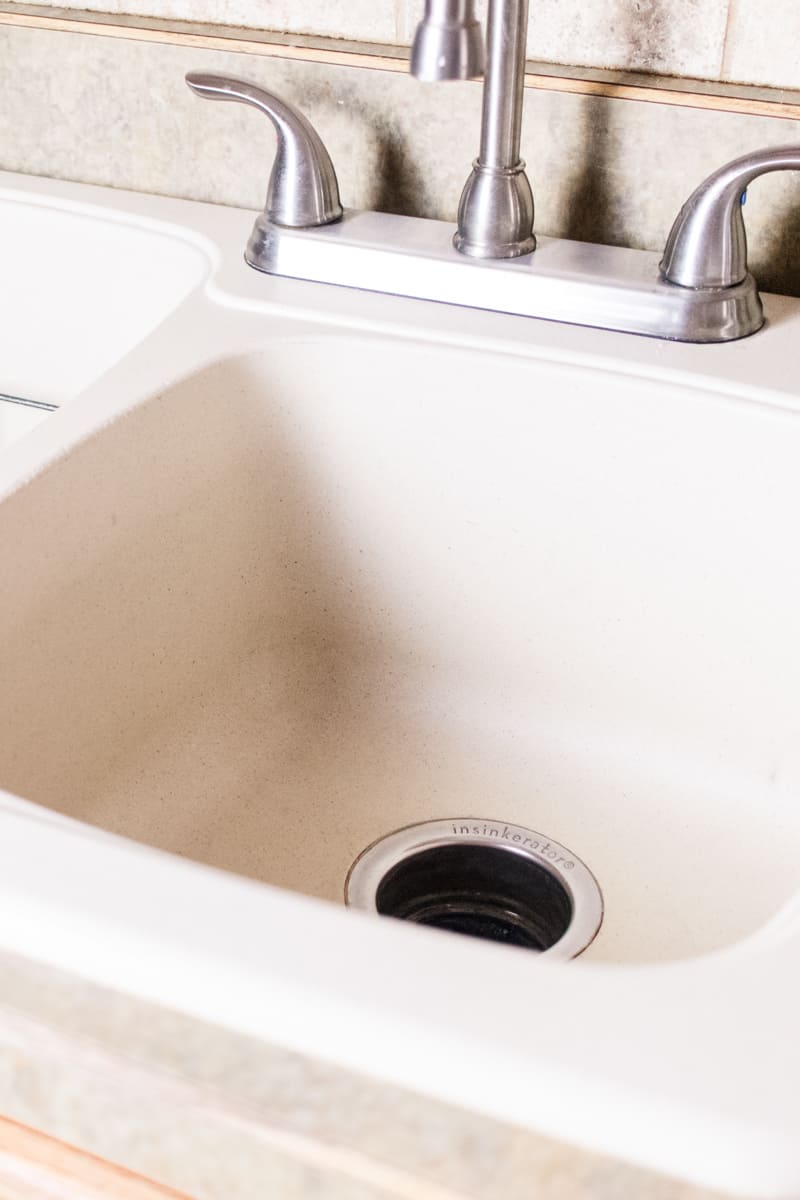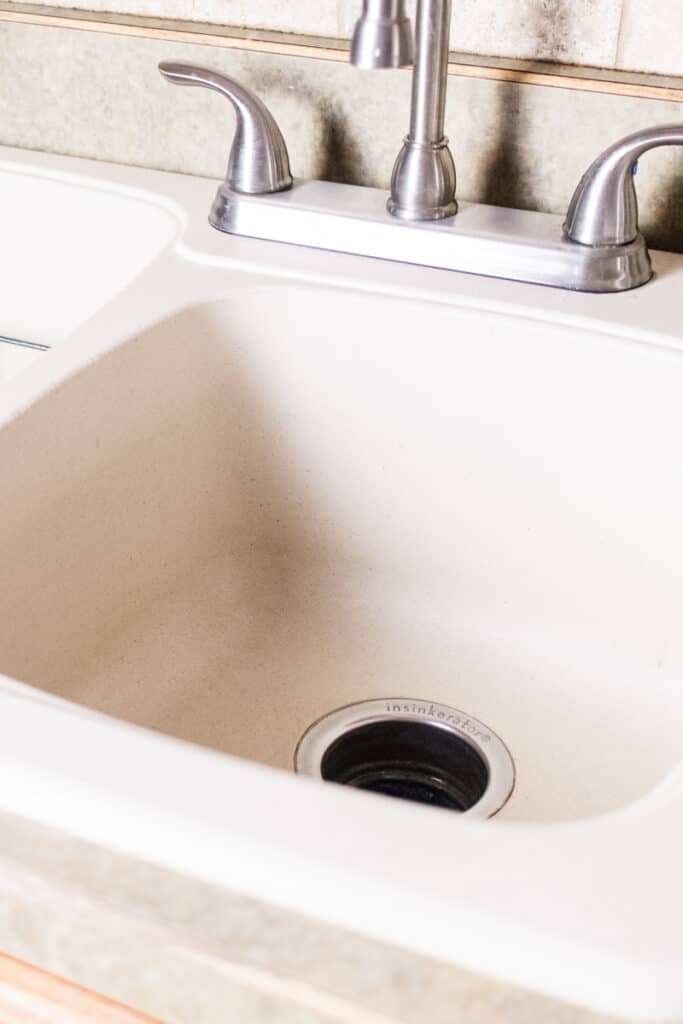 There are good reasons why composite sinks are a popular choice in new kitchens.
Durability, good looks, shapes, sizes, various colors, and cost benefits mean a composite sink is a desired feature on many kitchen wish lists.
With this comes the wish to look after it, keeping it looking and functioning great for years to come.
After all – a new kitchen sink is not something that comes along every day!
Though I expect you've been filled with horror stories about what not to put on your composite sink when it comes to cleaning products. Things like:
"Never use vinegar on composite sinks!"
"Avoid anything harsh or bleach based!"
"Just use water! It's far safer to clean with!"
With this post, I hope to put your mind at rest.
I'll share a great method for how to clean a composite sink safely (and effectively) using my homemade composite sink cleaner recipe.
If you have a composite sink in your home, read on!
This recipe for composite sink cleaner is safe, easy, and brings on a whole new level of cleanness!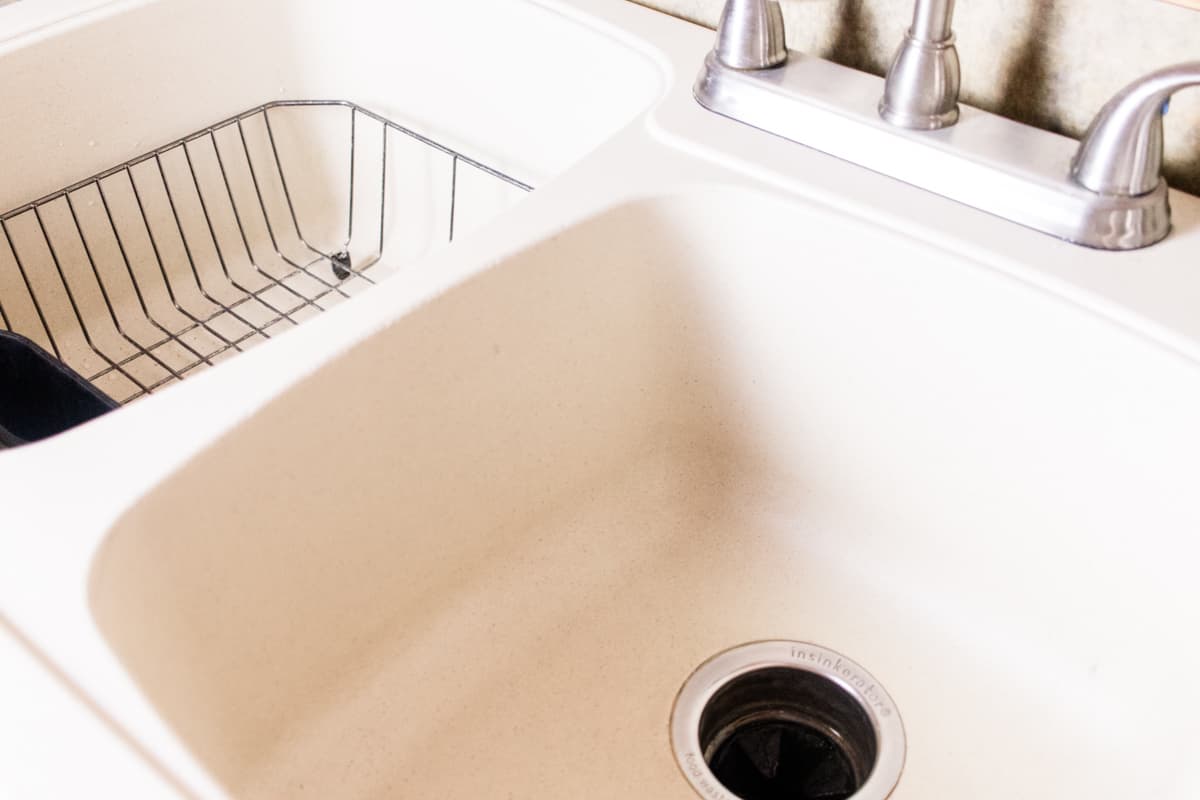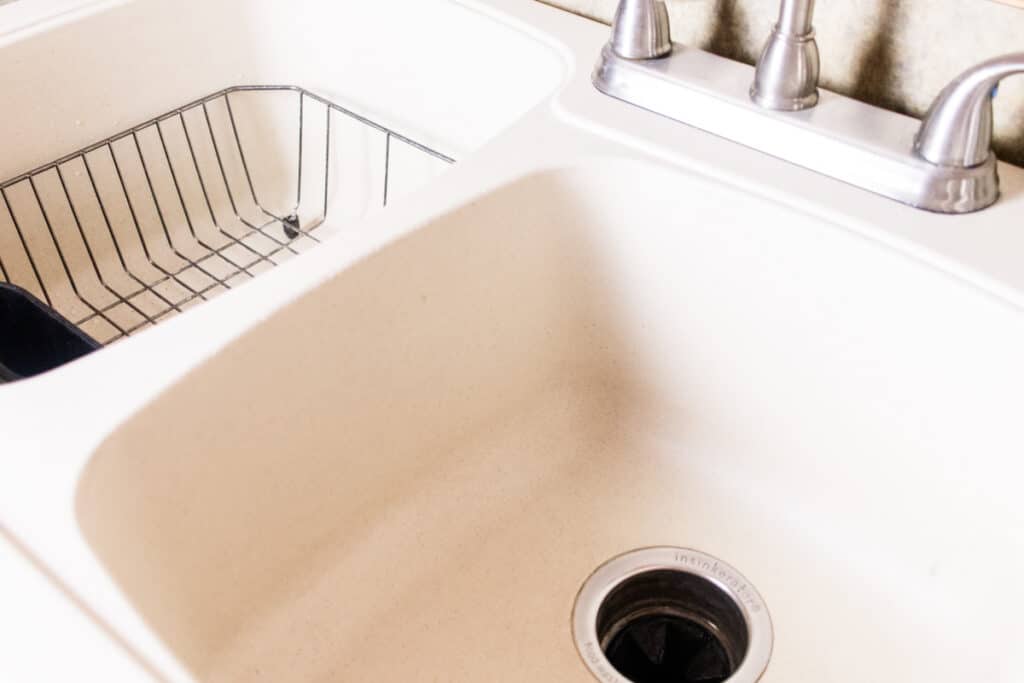 What is a composite sink?
A composite sink is a popular and cost-effective alternative to a natural stone sink. They look just as good as natural stone (if you ask me!) yet are far more durable and practical.
Composite means it contains multiple materials, which, combined together, create improved strength and durability.
A composite sink's materials can vary from granite, marble, or other natural stone and are combined with acrylic resins, plastic, and much more.
The nice thing about composite sinks is their adaptability to fit the kitchen they go in. From colors to shapes, sizes, and textures – it's all possible with a composite sink.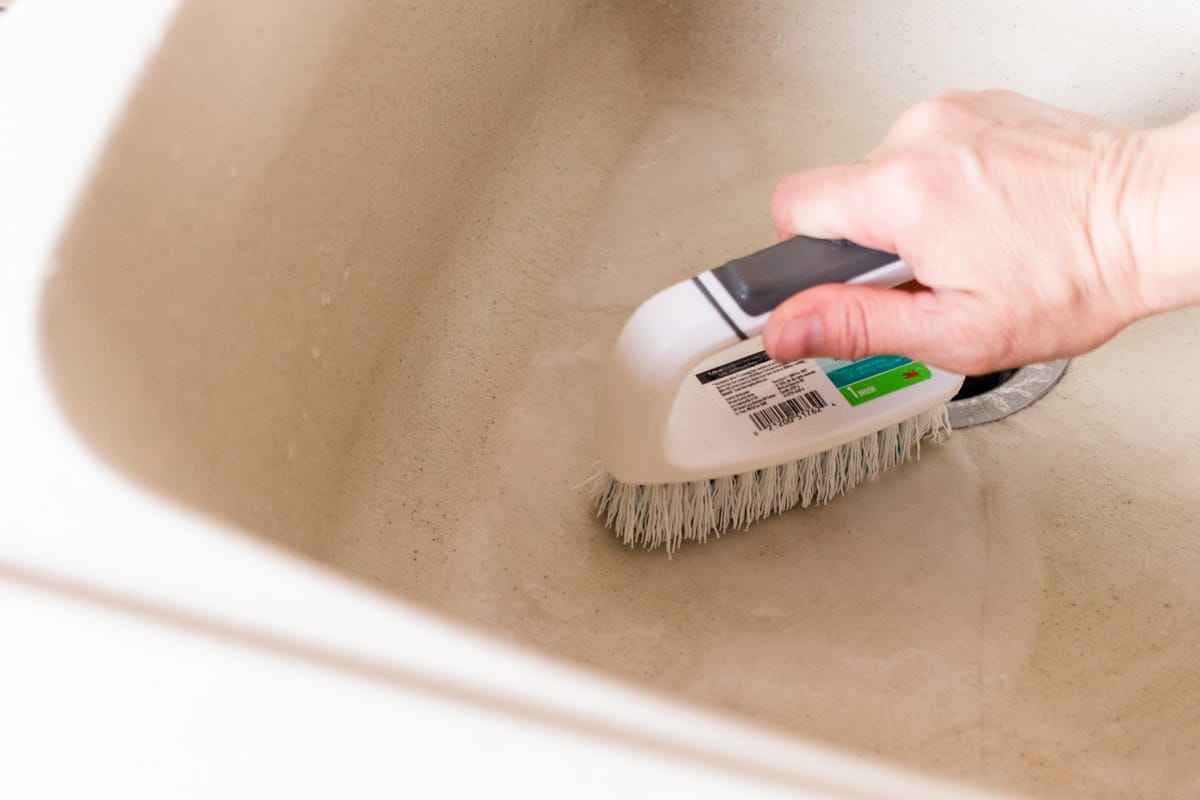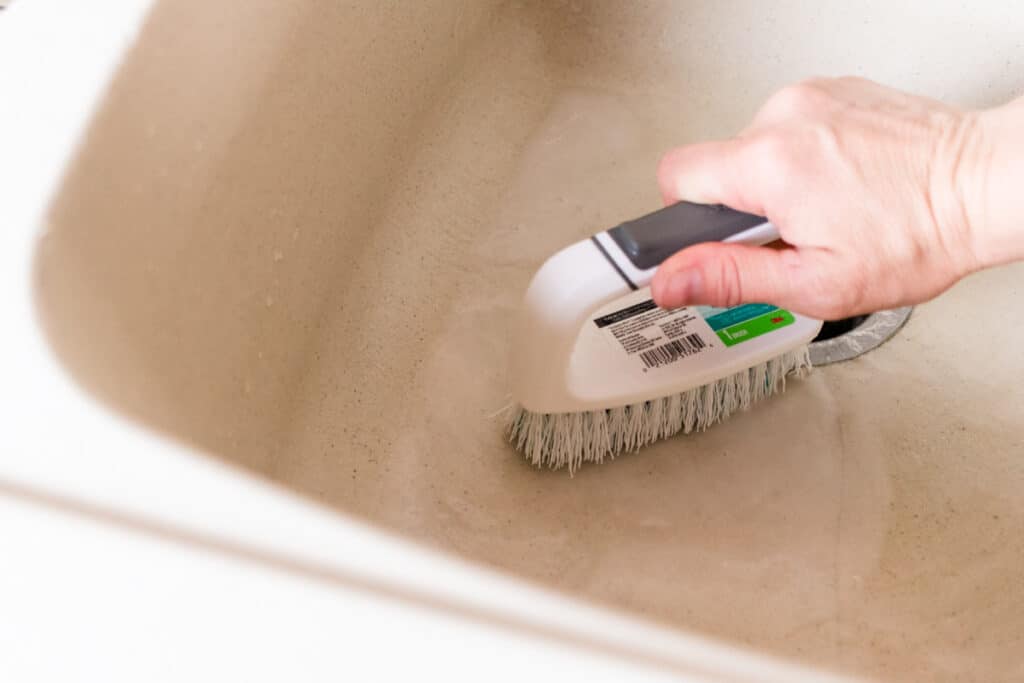 Why you will love this recipe
A composite sink is undoubtedly something worth caring for! And the fact is that many cleaning products aren't up to the job.
(I'll list the products to avoid in the FAQ section of this post.)
For now, here's why you'll love this recipe.
It's easy to make. Just three ingredients and you're done. Remember to use a nice, soft microfiber cloth or nylon scrubbing brush with soft bristles when cleaning your sink to avoid scratches.
It's safe to use. This cleaner won't harm your composite sink. It'll clean it nicely and spruce it up instead, leaving it looking as good as new.
It's cost-effective. Some store-bought cleaners can be expensive, particularly if you buy one specially made for composite sinks. This cleaner works equally well, if not better, and is sounder on your budget too.
It contains natural ingredients. No nasty chemicals or synthetics, meaning it's safe around the family and not harmful to your health or environment.
This post may contain affiliate links, which means I make a small commission at no extra cost to you. Get my full disclosure here.
a few key ingredients
Baking soda – is an excellent natural cleaner that removes grease and grime from most surfaces.
Vinegar – is a natural disinfectant that contains antibacterial properties and works wonders on lifting grease. It's also a great stain remover (see notes on vinegar in FAQ)
Sal suds (or dish soap) – A synthetic-free cleaner that gently removes grease, grime, and mold from surfaces.
how to clean a white composite sink
Follow this recipe and enjoy using this homemade composite sink cleaner immediately. Just remember to use a soft cloth such as microfiber to apply the cleaner and wipe over the sink.
Ingredients:
Tools:
Nylon scrubbing brush
Spray bottle
Instructions:
Sprinkle the basin with baking soda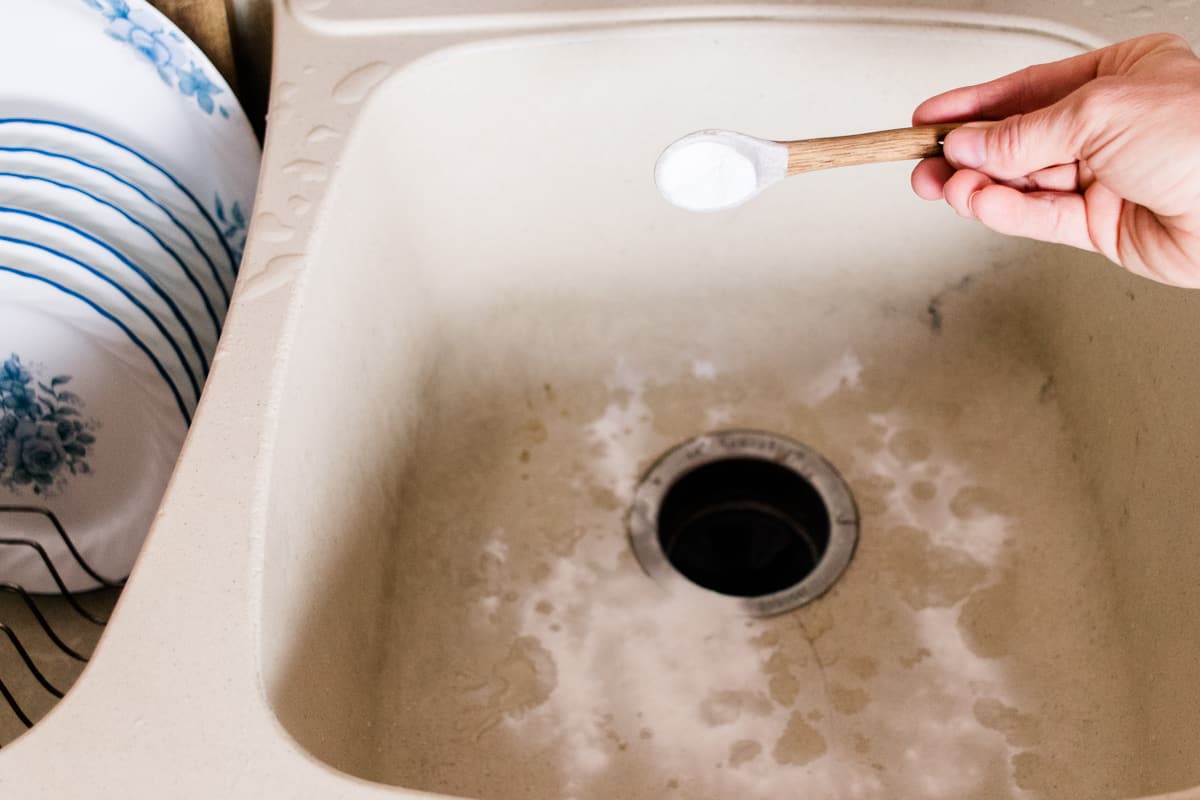 Combine two parts of water with one part of vinegar in a spray bottle.
Lightly mist the basin. You don't want to wash away the baking soda (you just want to get it damp.)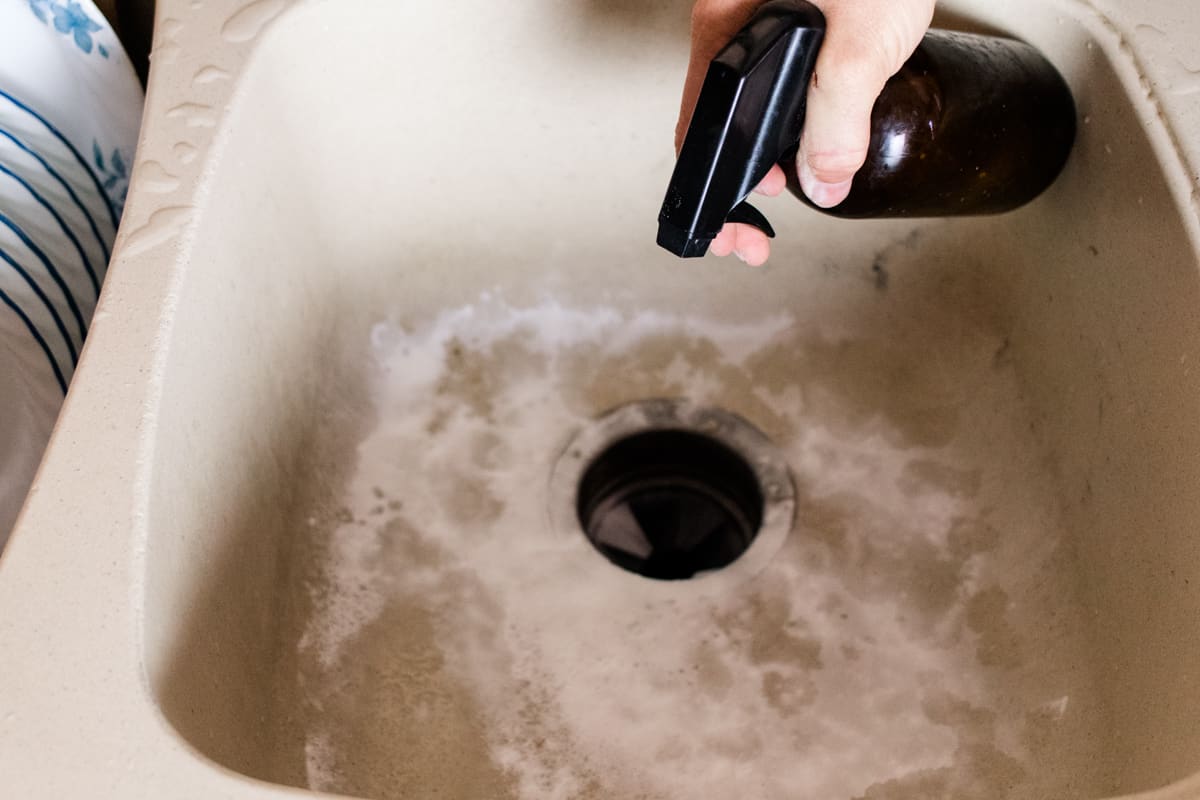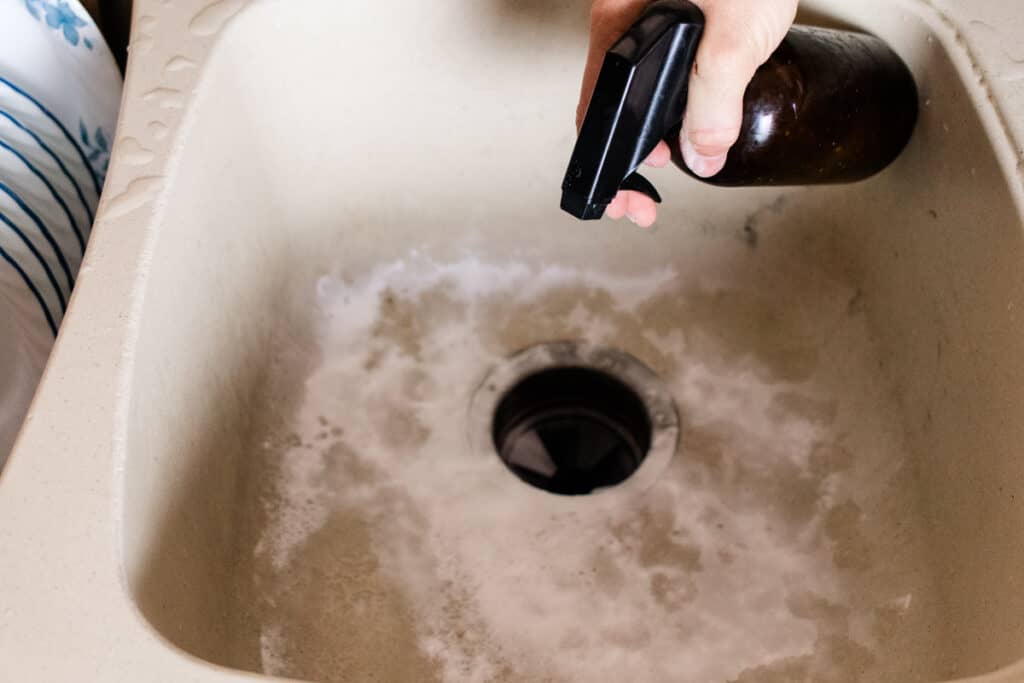 Use the cloth or brush to loosen the grime, soap scum, and stains.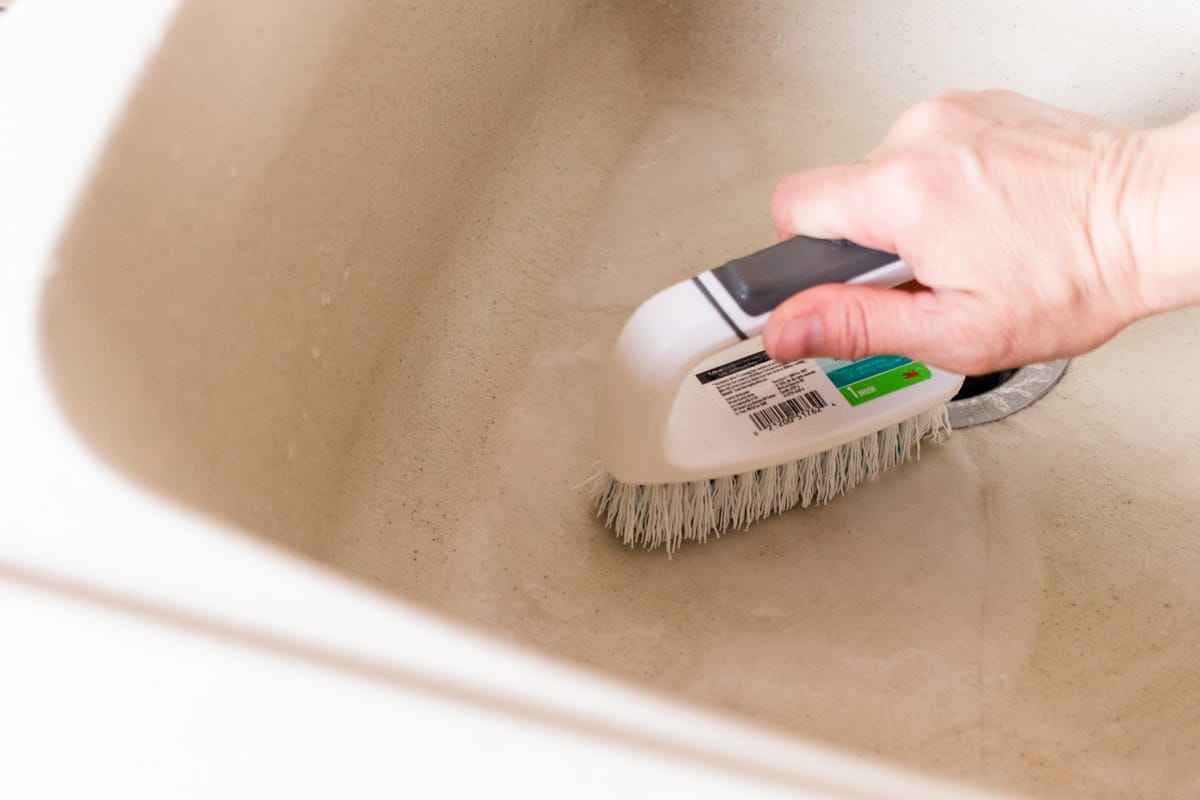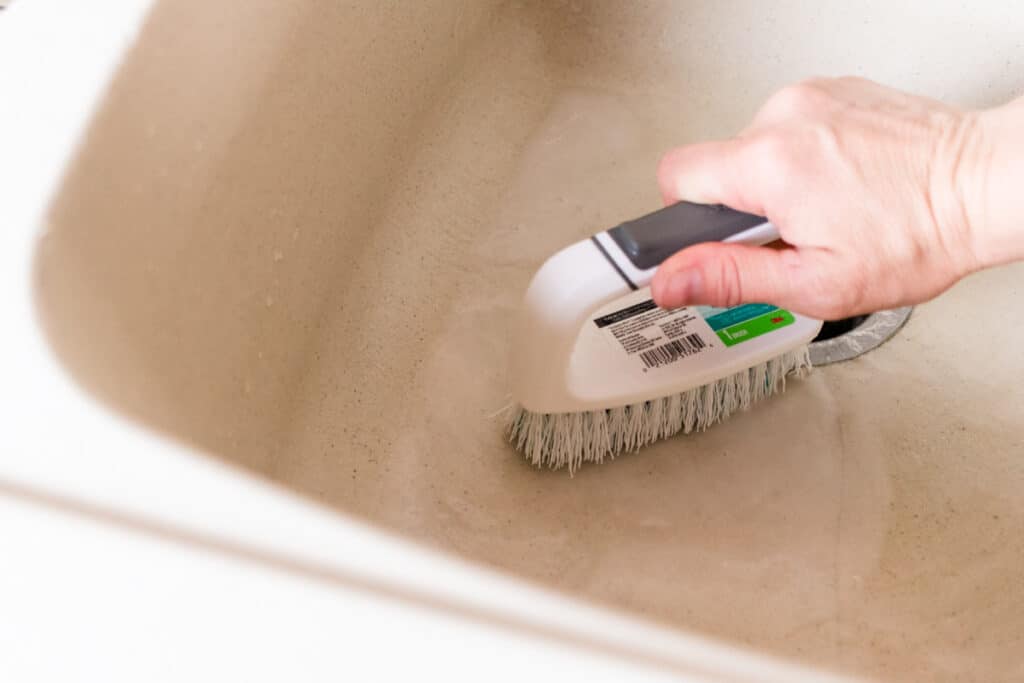 Rinse clean.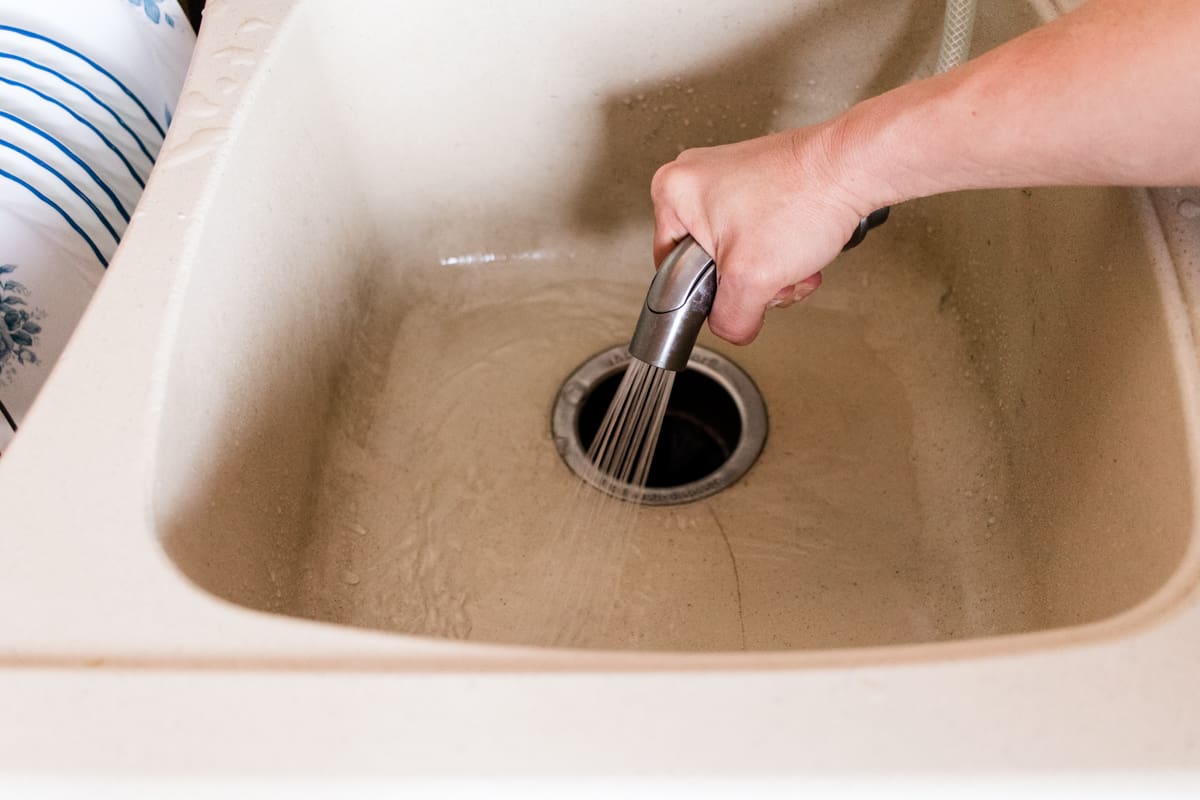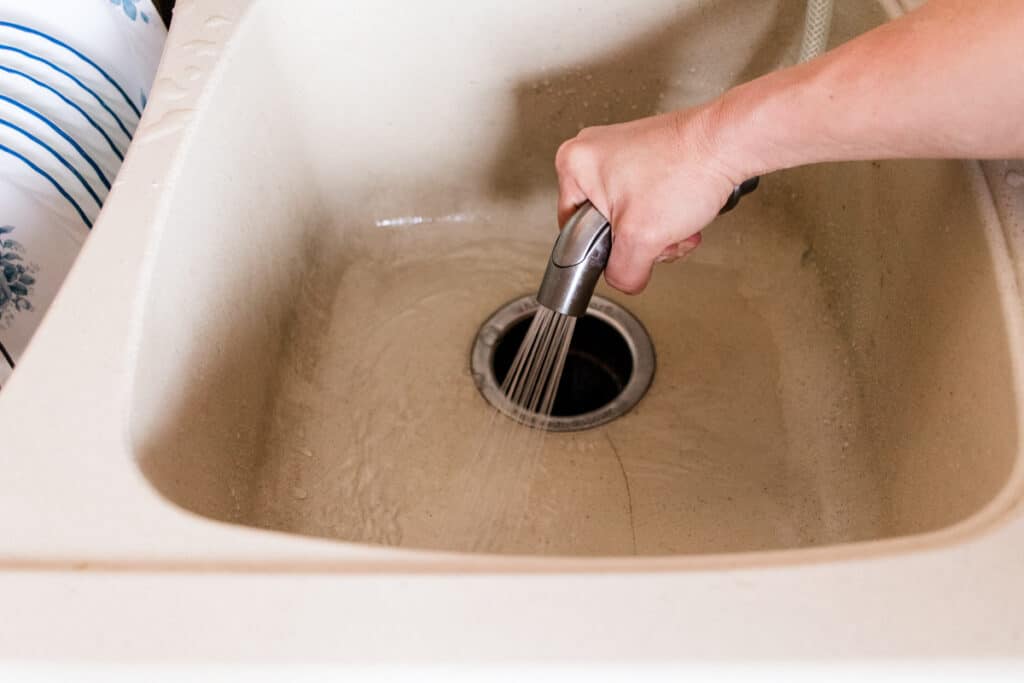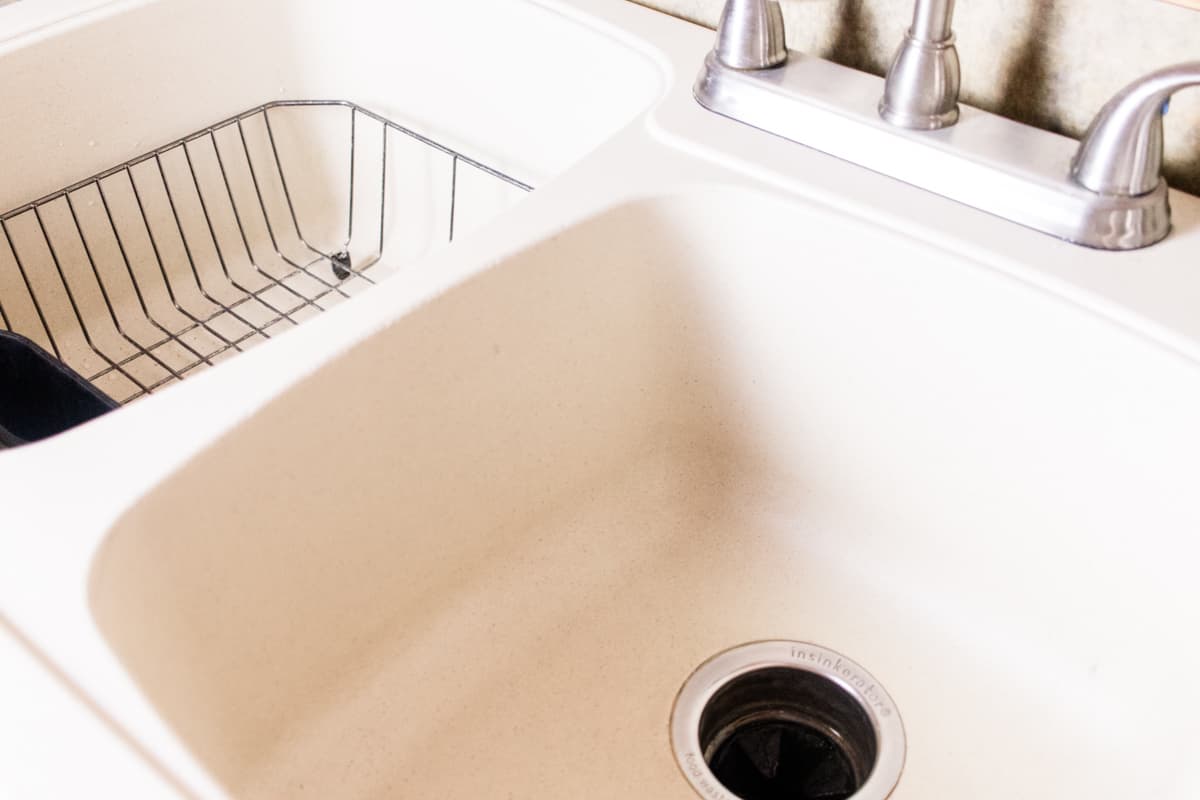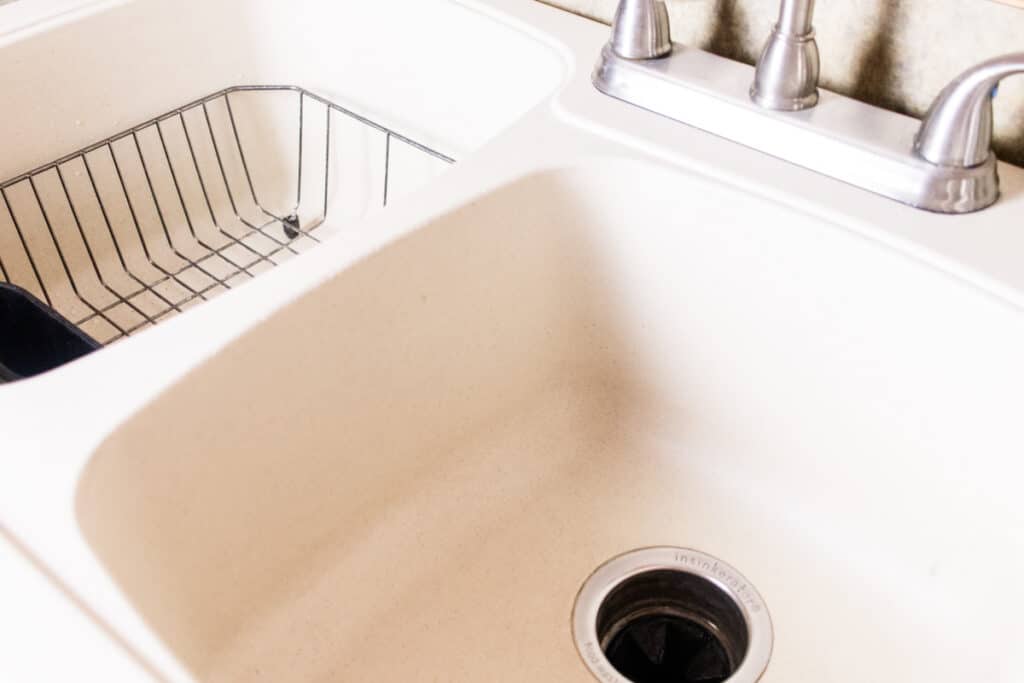 Repeat if needed.
Now would be a great time to pop a garbage disposal cleaning tab in the drain to freshen the sink!
Tips & variations
If you're wondering how to clean a granite composite sink or a white-colored one, then the cleaning method is the exact same as what I've said above.
This will work for any composite sink, regardless of color or combination of materials. However, always test a small area first before diving full force into cleaning your sink.
I'm aware that there's fear around using vinegar on natural stone surfaces, and rightly so.
Vinegar is an acid-based product. This is why it's used in a diluted form with water in this recipe.
Unlike natural stone, which should never be cleaned with vinegar, composite sinks may be cleaned with a vinegar-water mixture. You can learn how to clean natural stone here.
The reason we use baking soda in this recipe is so you get that extra cleaning power that is safe to use on composite surfaces.
The vinegar/water solution is required to remove the excess, so no grease is left behind.
Also, just to say, cast iron skillets are notorious for staining composite sinks (mainly white sinks), so take care not to leave anything cast iron on or in your composite sink.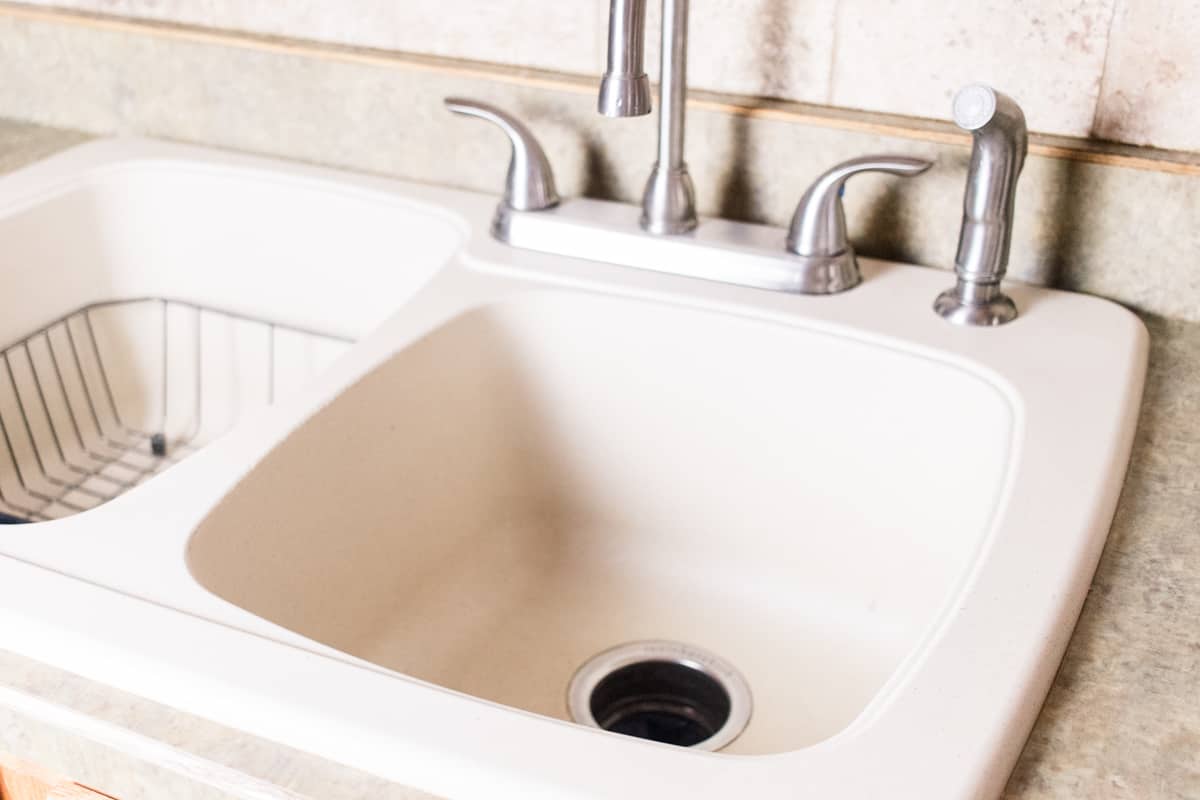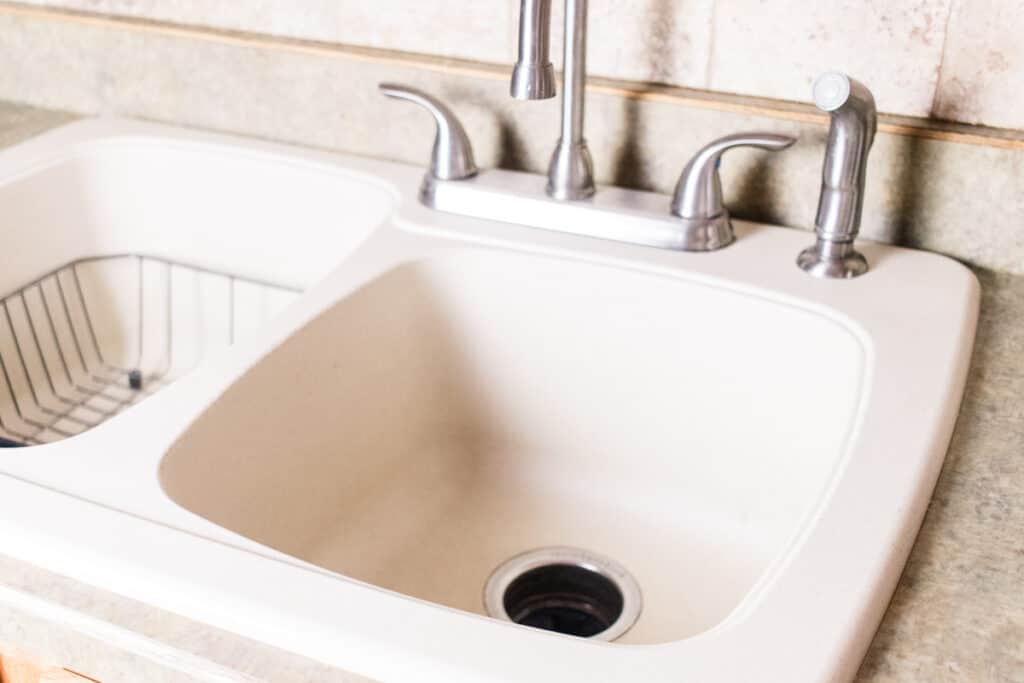 what not to use on composite sinks
Never use these products to clean a composite sink. Doing so risks damaging and discoloring the sink, so avoid at all costs:
Ammonia
Bleach
Anything abrasive (scouring scrubs etc.)
Neat acid products (lemon juice, pure vinegar, etc.)
are composite sinks porous
No, composite sinks aren't porous. The word 'porous' means that a surface contains small areas or gaps where fluid can leak down and be absorbed, ultimately causing stains or discoloration.
Composite is sealed tight with a tough outer layer, so they're far more durable than a sink made of natural stone only.
This goes for the risk of chips or scratches – a composite sink is pretty strong and will withstand a lot in the grand scheme of things!
I hope you found this post useful and enjoy trying out this composite sink cleaning method. I'd love to hear how it goes! Drop me a comment when you've tried it. Feel free to ask questions.
If you liked reading this post, here are a few other cleaning favorites I recommend reading next.
How to clean a composite sink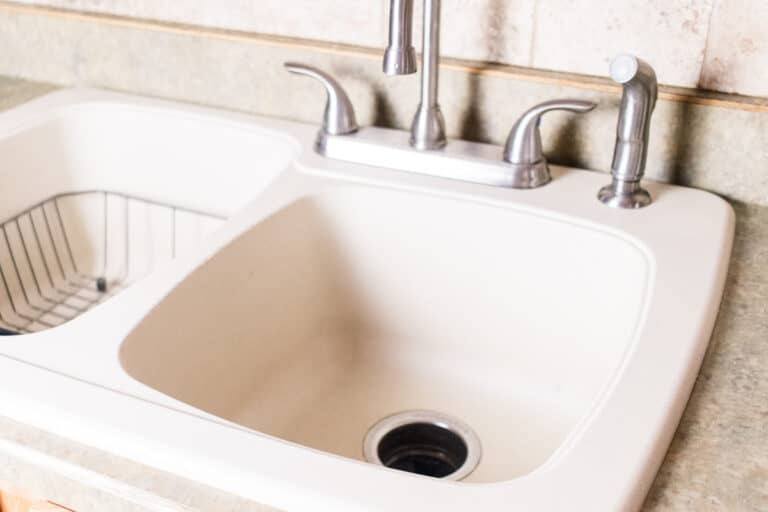 Follow this recipe and enjoy using this homemade composite sink cleaner right away.
Materials
Instructions
Sprinkle the basin with baking soda.
Combine two parts of water with one part of vinegar in a spray bottle.
Lightly mist the basin. You don't want to wash away the baking soda; just get it damp.
Use the scrubbing brush to loosen up the grime, soap scum, and stains.
Rinse clean.
Repeat if needed.