Do you ever find yourself dealing with chapped lips in the winter? If so, the good news is having a sugar lip scrub like this coconut oil lip scrub that works wonders on exfoliating dead skin. And the best part, it is made with all-natural, eco-friendly ingredients.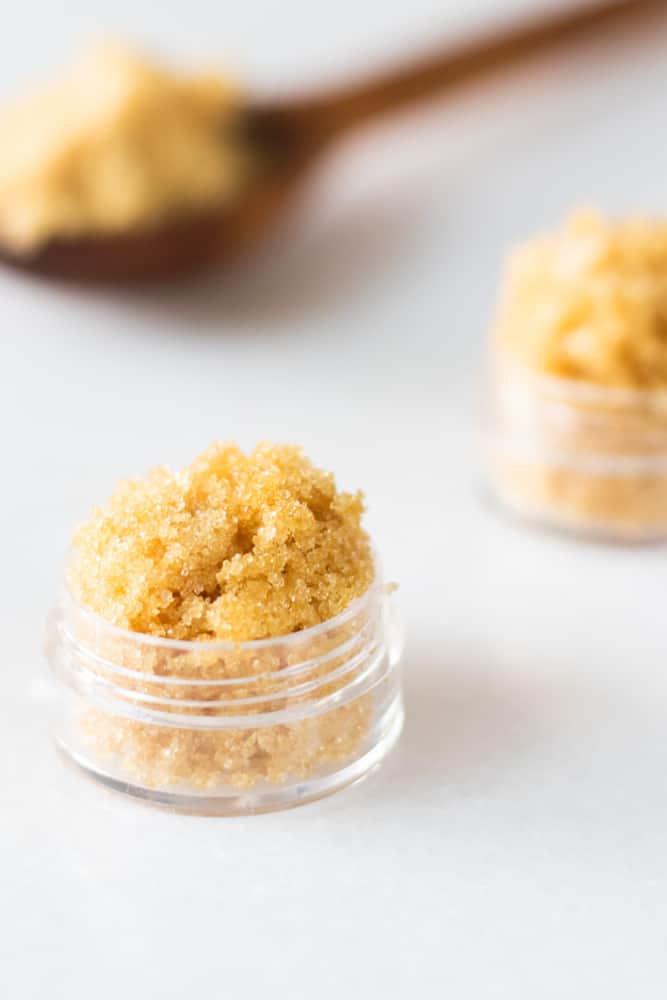 Homemade lip scrub
Homemade lip scrubs have tremendous benefits for the skin and are especially helpful for dry skin by exfoliating the dry flakey skin from the lips.
This homemade lip scrub is not meant to be an alternative to chapstick but should be used in addition to prep the lips before using chapstick. Think wind-chapped, or lips exposed to dry, cold, or both types of weather.
In addition to "fixing" dried lips, lip scrubs can be used daily for skin that becomes dry or flakey easily. If you're unsure how often to use a lip scrub, once or twice a week is usually sufficient. Keep in mind if the skin becomes raw or irritated, you may be exfoliating too frequently.
PIN IT FOR LATER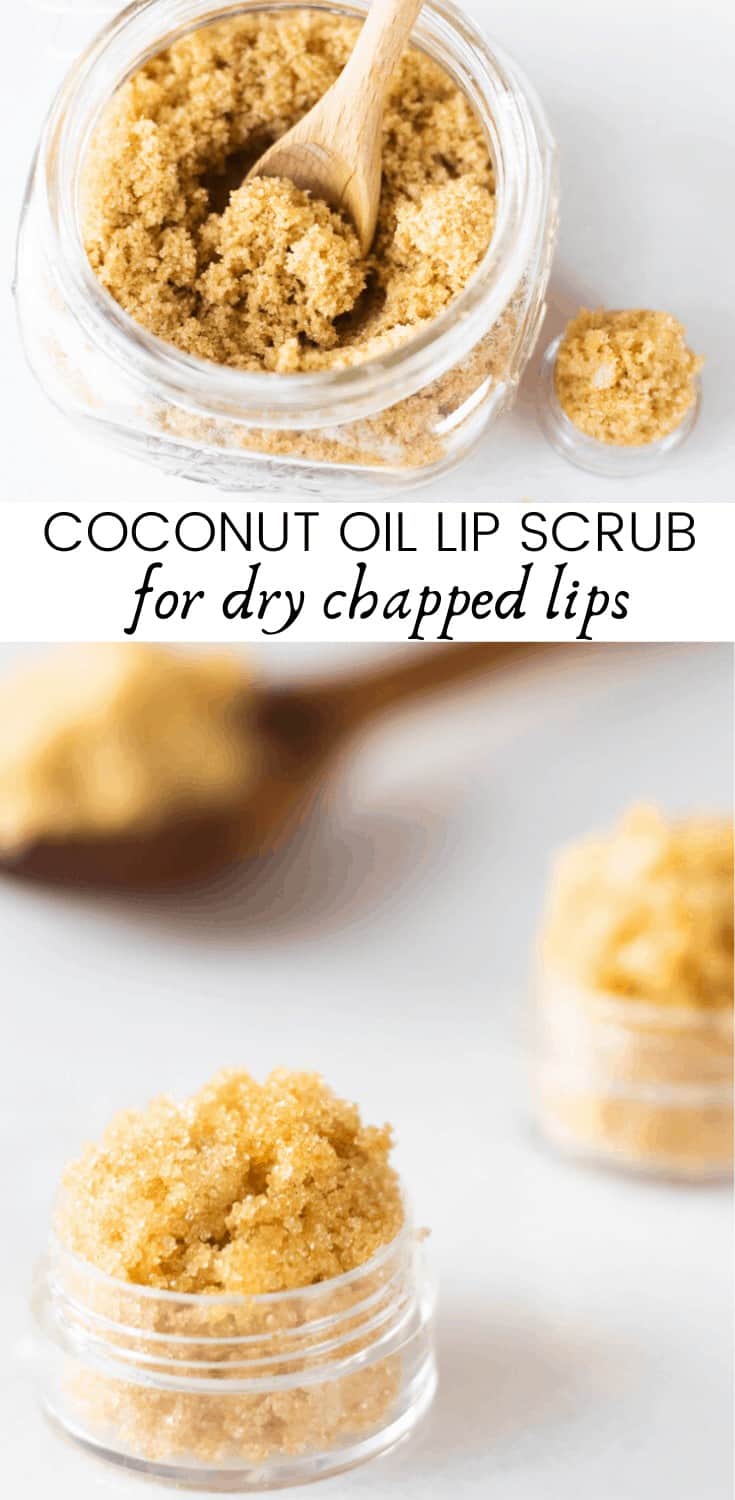 What is a lip scrub
A lip scrub is similar to a body scrub in that they both exfoliate the skin. However, lip scrubs differ in that they are specifically designed for sensitive skin on the lips.
Since the skin on the lip is thinner and more delicate than the skin covering the rest of the body, a scrub specifically designed for the lips MUST be used.
Some hand, body, or even foot exfoliators may use gentle enough ingredients, but most don't. Just be sure to do your research before using any of those.
Most sugar lip scrubs are made with a combination of sugar or honey, coconut oil, and essential oils.
Below I'll be including those ingredients and more in my top 3 favorite lip scrub recipes that are easy to make using ingredients you probably already have on hand.
What do lip scrubs do specifically? In addition to exfoliating dead or loose skin, sugar lip scrubs give new skin cells a chance to grow, soften the skin, and make it easier for chapstick and lip balms to do their jobs.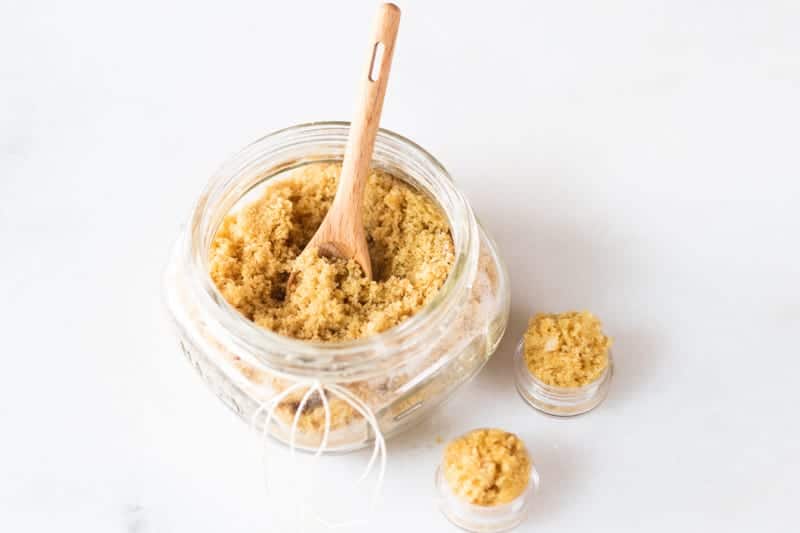 Top 3 favorite lip scrub recipes
Each DIY lip scrub is easy to make and works great! I prefer to make skincare recipes like these myself, saving so much money! Plus, you know exactly what you are putting on your skin by making your own.
Each recipe below is an excellent lip exfoliator, but with its own unique benefits.
COCONUT OIL LIP SCRUB
Coconut oil is excellent for dry and chapped lips. It can restore lips' natural moisture, protect the lips from the elements, and is relatively inexpensive.
The added sugar will exfoliate the skin and clean dirt from the pores leaving the skin fresh and rejuvenated.
This one is my personal favorite! I am obsessed with anything coconut oil for my skin and love how it moisturizes.
I use coconut oil in so many DIYs; my anti-aging serum, makeup remover, face moisturizer, and body butter. Why not use it for my lips too? I mean, it is a superfood! 😉
This post contains affiliate links, which means I make a small commission at no extra cost to you. Get my full disclosure HERE.
INGREDIENTS
INSTRUCTIONS
Add all the ingredients to a small glass bowl.
Stir until ingredients are well combined. I use a fork to work it all together.
Store in a small airtight container or mason jar.
HONEY LIP SCRUB
Honey has so many benefits for the skin and your overall health. It has antiviral and antibacterial properties, making it great for natural skincare.
In addition, honey, as a natural humectant, helps the skin retain moisture. Of course, raw, local honey is best, but if you can't find that in your area, I found this honey to be the next best thing.
INGREDIENTS
INSTRUCTIONS
Add all the ingredients to a small glass bowl.
Stir together with a fork until well combined.
Store in a small airtight container or mason jar.
NOTE: Substitute honey for agave to make this lip exfoliator completely vegan.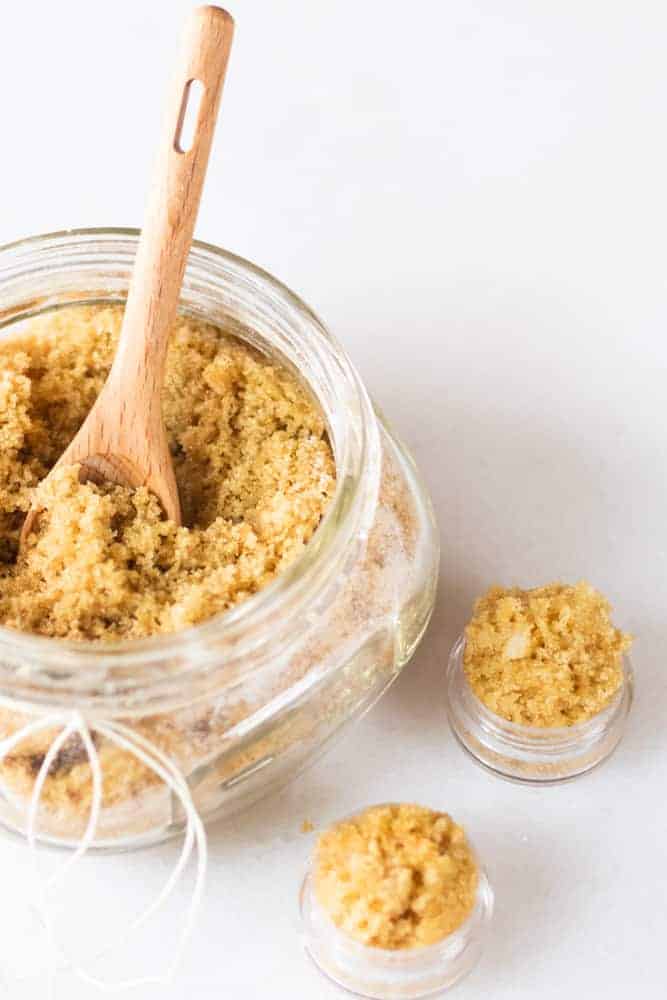 BROWN SUGAR LIP SCRUB
Organic brown sugar makes an excellent exfoliator for your lips. It is less abrasive than white sugar, making it a great option for sensitive skin.
Your skin will thank you after this one! This combination will leave those lips feeling incredibly soft and moisturized.
INGREDIENTS
INSTRUCTIONS
Add all the ingredients to a small glass bowl.
Mash with a fork and stir until all ingredients are well combined.
Store in a small airtight container or mason jar.
HOW TO USE SUGAR LIP SCRUB?
Use your finger to spread a small amount of scrub to both lips. Rub lips together to gently exfoliate for about 20-30 seconds.
Wipe away the scrub with a warm, damp cloth.
There are plenty of different ways to use a lip scrub. Some will work it in with their finger; others use a soft bristle toothbrush to scrub into the lips gently.
However you choose to apply it, the key is to be gentle and not over-exfoliate.
ESSENTIAL OILS FOR CHAPPED LIPS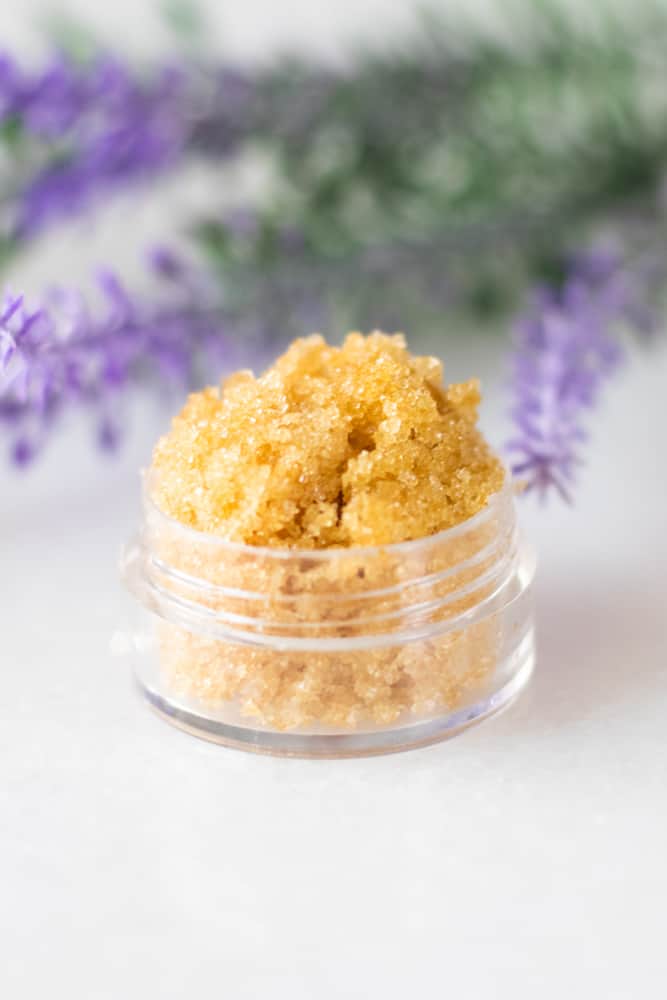 Adding essential oils to these homemade lip scrubs is optional but will add so many benefits. Many essential oils are great for dry, chapped skin.
It is important to note that essential oils are very concentrated. You will only need a few drops of essential oils to scent the homemade lip scrub.
I am using 5 drops for the above recipes. If you wish to add more or less, you can adjust this amount; this really varies from person to person.
If you have sensitive skin or have not used essential oils before, start with 1-2 drops and add more as needed.
The oils listed below are gentle enough for delicate lips. Be sure to use pure, ethically sourced oils.
Lavender
Lavender is one of my go-to oils for all things skin. It can be found in my clean skin roller bottle, sugar scrub, and face wash. In addition, lavender is a very gentle essential oil, making it perfect for a lip scrub.
Lavender has cleansing and purifying properties, can moisturize the skin, reduce skin blemishes and irritations, and be really helpful for burns.
It has a beautiful floral scent and will make your sugar lip scrub smell wonderful.
Peppermint
I love the cooling effect peppermint has on the lips and skin. Peppermint oil is my favorite to use in my DIY chapstick and my peppermint face scrub. It feels very soothing on dry, cracked skin.
Be sure to use caution with peppermint, as it can burn the eyes if it gets in or close to them. Wash hands thoroughly after applying the lip scrub to keep this from happening.
Roman Chamomile
Like lavender essential oil, chamomile is another gentle oil that is great for the skin. It is one of my favorite oils to use on my kids and can help to clear skin irritations.
Tea Tree
Tea tree is an excellent option for anything skin-related as it has cleansing and purifying properties.
Not that we are ingesting this lip scrub, but it does have a rather unpleasant taste that may stay on the lips after washing away.
Myrrh
Because of its antioxidant properties, myrrh has fantastic benefits for the skin and is anti-aging. Apply myrrh to skin imperfections to help cleanse and purify that spot.
Myrrh is also very moisturizing for the skin, making it great for dry, chapped lips.
Learn more about myrrh essential oil.
Revamp your daily routine with this FREE 3-day email course! You'll receive natural solutions, tips, and recipes straight to your inbox!
More beauty product favorites:
Yield: 1 Jar
Coconut Oil Lip Scrub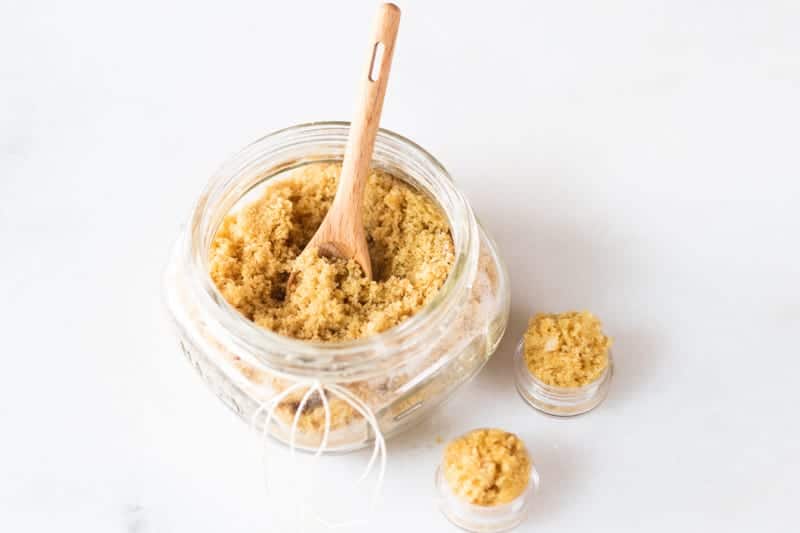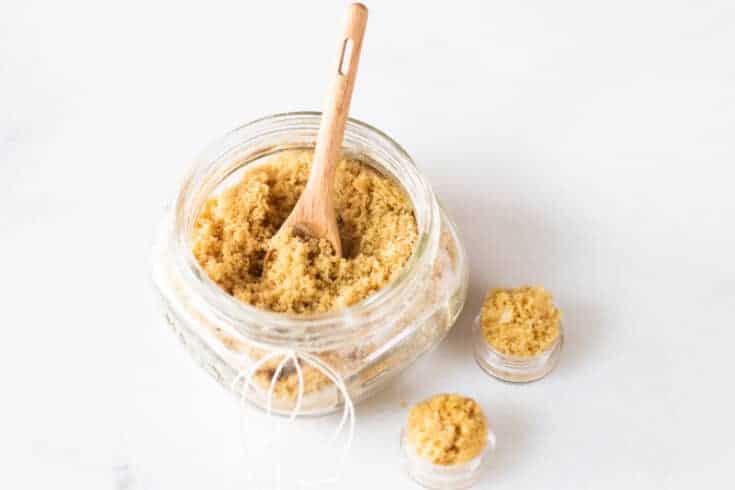 This is a simple and gentle lip exfoliating scrub for dry, chapped lips.
Tools
Instructions
Stir together all ingredients in a small glass bowl. (I use a fork to "mash" everything until well incorporated)
Transfer to a glass container for storage.
Use a finger to spread the scrub onto lips.
Rub lips together to gently exfoliate for 20-30 seconds.
Wipe clean with a warm, damp cloth.