Are you looking for a body or face scrub to exfoliate your skin naturally? With the sand-like texture of coffee grounds, a homemade coffee scrub is the perfect product for that!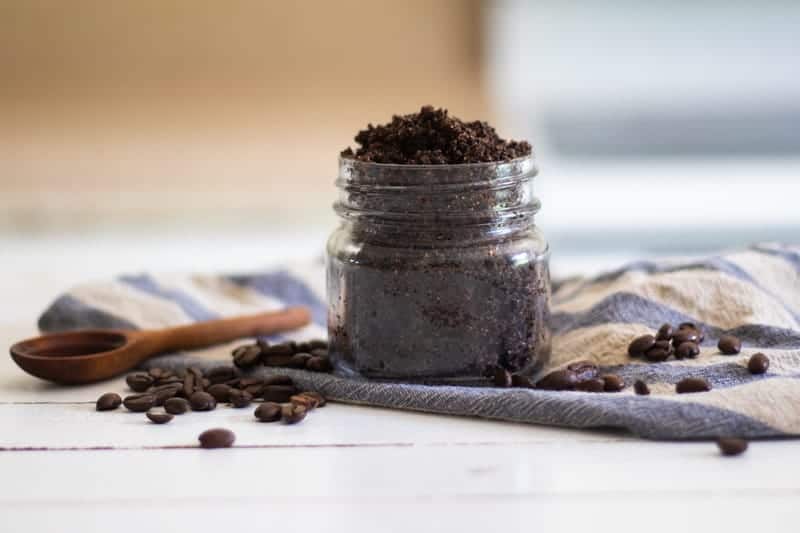 This post was originally published on July 14, 2020
A coffee grounds body scrub is a mild natural exfoliator, and when combined with other gentle ingredients, it makes a perfect face scrub.
The texture from finely ground coffee works wonders on our body by tightening the skin, removing dead skin cells, and according to one study, may reduce the appearance of cellulite.
So head into your kitchen because we are making a DIY coffee scrub using ingredients only found in the pantry.
I always love to make my own body washes and lotions. And then there are times when our skin needs a little extra love that may just benefit from a simple skin exfoliation. That's when you need to turn to the sugar and salt scrubs, or in this case, a coffee scrub.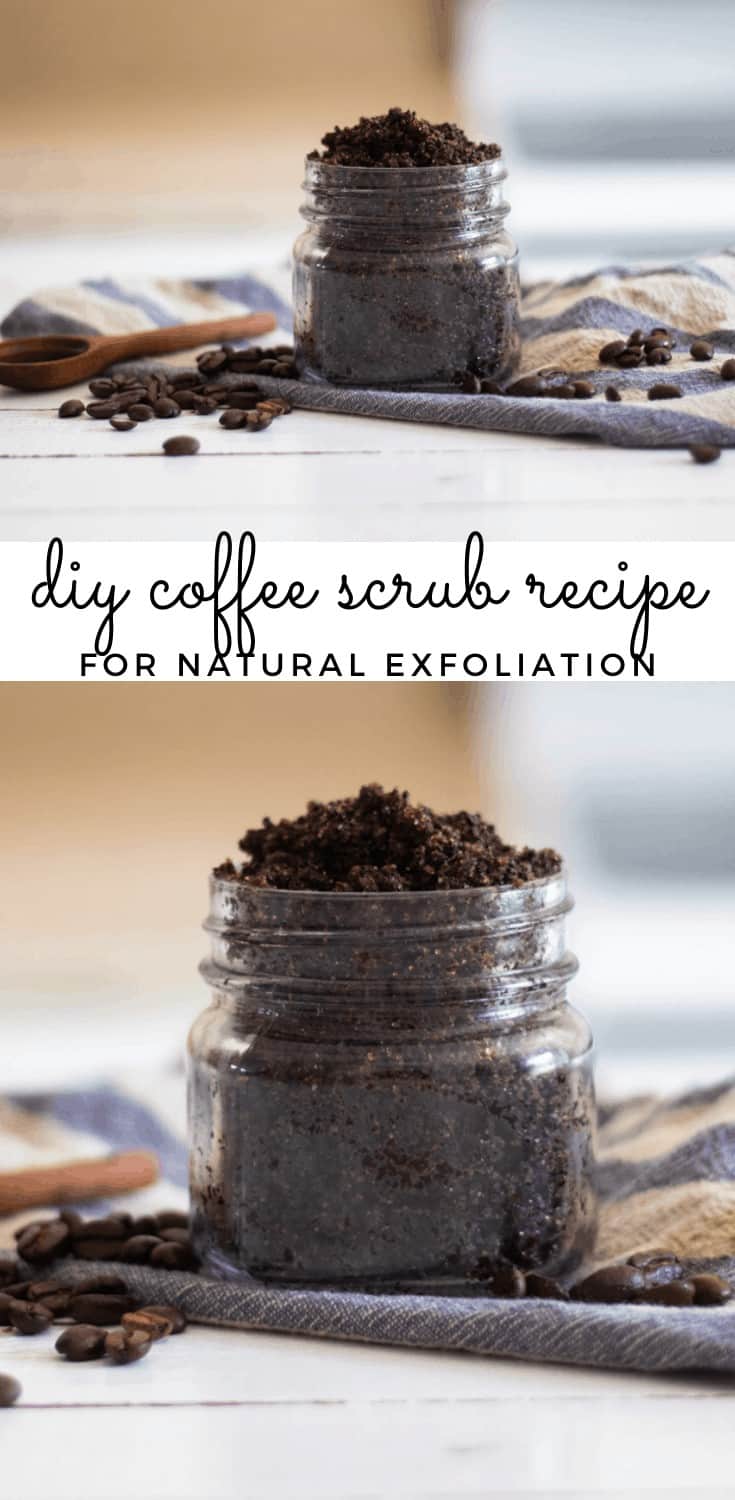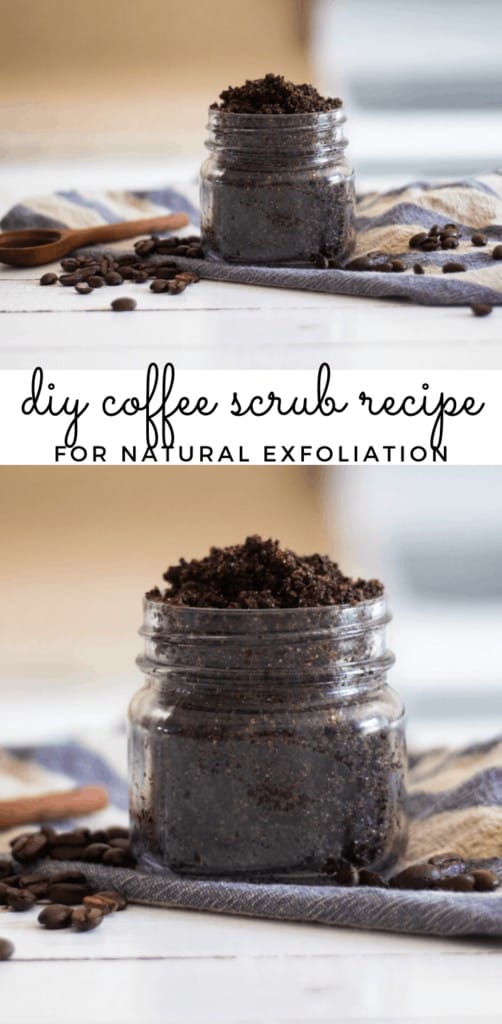 So what is in coffee scrub anyway
Coffee alone has a long list of benefits for the skin, and when combined with the rest of the coffee scrub ingredients, this DIY becomes the perfect substitute for those pricy store-bought coffee scrubs.
COFFEE GROUNDS
Of course, the main ingredient in this coffee face scrub is coffee. Any grounds will work, though; fresh, finely ground beans are best.
When choosing the perfect coffee for your face scrub, opt for organic when possible. Nonorganic coffee beans are treated with a number of chemicals and potentially toxic ingredients, which would be better off not rubbed into our skin.
Lastly, though generally gentle on the skin, coffee grinds may still cause sensitivity issues. If you have sensitive skin, always test a small area first.
SUGAR
Sugar is another gentle exfoliator perfect for the face. I use sugar in my lip scrub since it is less harsh than salt. Salt scrubs work well on tougher areas such as the feet, elbows and knees.
Again, organic is best when possible, and it's up to you whether you use white, brown, or even coconut sugar.
Similar to the coffee grounds you use, the various sugars you choose will have minimal differences.
COCONUT OIL
You will need oil to mix with the coffee grounds and sugar to achieve the proper texture. Coconut oil is my favorite to use because it has so many benefits for the skin. However, any vegetable-based oil will do.
Coconut oil is very moisturizing and soothing for the skin. As the coffee grinds exfoliate the skin and remove dead skin cells, the coconut oil will soften and moisturize the skin.
VANILLA EXTRACT
Adding in vanilla is optional but highly recommended. Vanilla extract has a number of benefits for the skin, including anti-inflammatory properties that can help soothe skin irritations and rashes. In addition, the vanilla adds a delightfully beautiful scent to our coffee face scrub.
ESSENTIAL OILS
There are a number of essential oils that benefit the face. Though they are totally optional, some favorites for the skin include lavender, frankincense, tea tree, sandalwood, copaiba and rose.
Coffee scrub benefits
coffee scrub for face benefits more than just skin. It can improve circulation, reduce the appearance of those puffy eyes, and is loaded with antioxidants.
Removes dead skin cells
Reduces signs of cellulite
Reduces wrinkles, fine lines, and signs of aging
Leaves skin smooth and radiant
Improves skin texture
Tightens skin 
Is coffee scrub good for the face
Coffee scrub really is good for the face, dry skin, and even oily skin. It is gentle enough for sensitive skin, works really well as exfoliating dead skin, and is a great scrub to unclog pores.
As with all body and face scrubs, don't over-exfoliate; 2-3 times a week is generally enough. However, if you have oily skin, you may benefit from exfoliating the skin more often.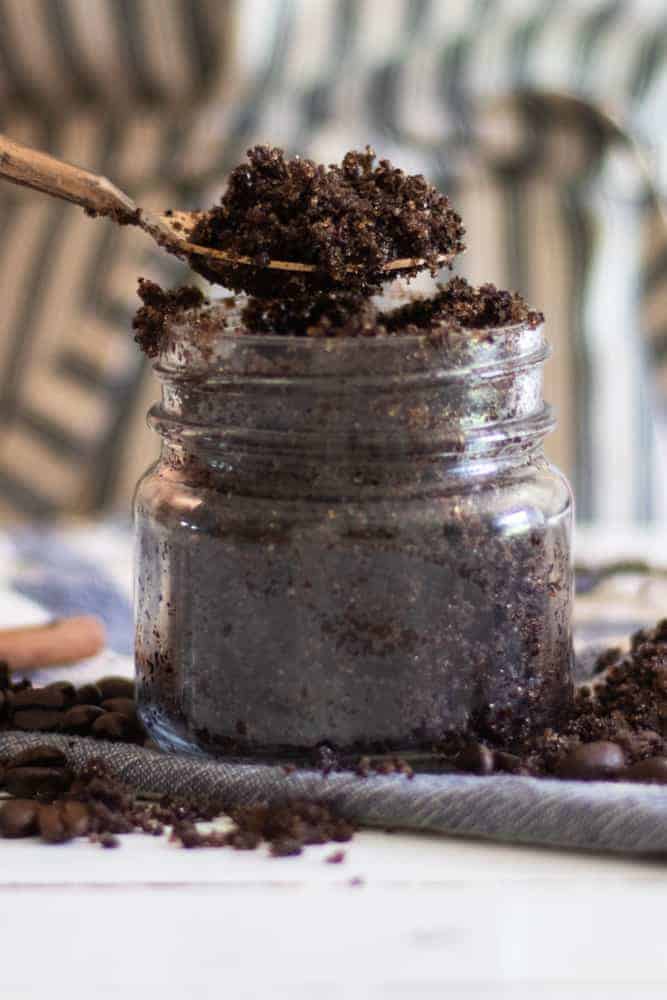 COFFEE SCRUB RECIPE
INGREDIENTS
1/2 cup coffee beans, finely ground
1/2 cup sugar, brown or white
1/4 cup coconut oil, melted
1 teaspoon pure vanilla extract
5-7 drops of essential oils (optional)
INSTRUCTIONS
Combine the dry ingredients in a small bowl.
Add in coconut oil, vanilla, and essential oils. Mix until well combined.
Store in a container with an airtight lid for storage.
Since this coffee scrub is geared more towards the face and other sensitive parts of the body, it includes sugar rather than the more abrasive salt.
You can easily substitute the sugar for salt and use this recipe on the feet or other areas with tougher skin.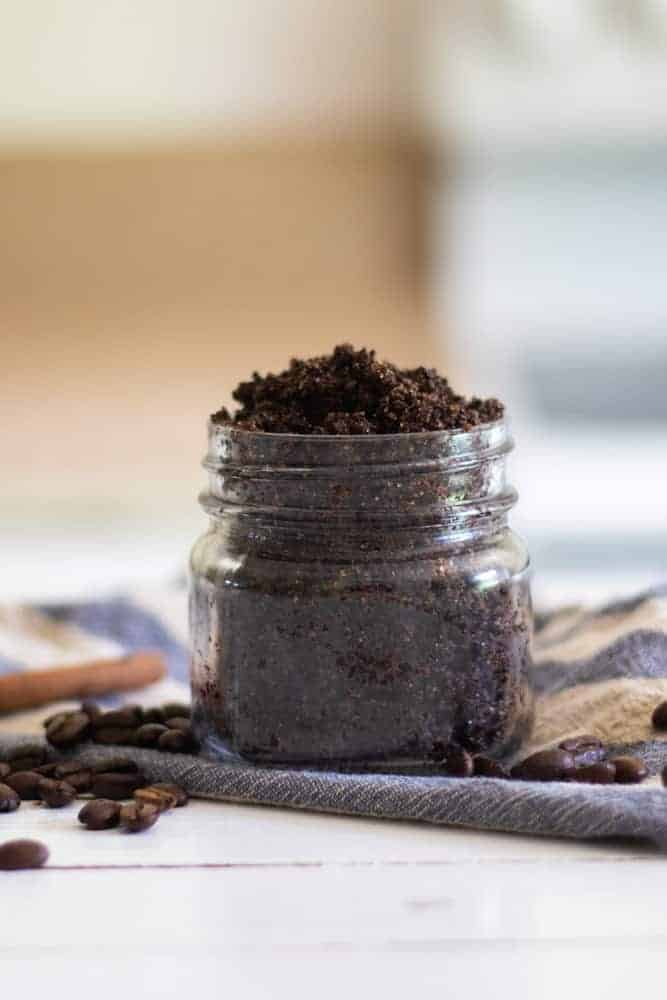 HOW TO USE DIY COFFEE SCRUB
You will want to apply the coffee scrub to dry skin. First, use your fingertips to rub the scrub gently into the skin. I like to do it in a circular motion and then allow it to soak into the skin for 5-10 minutes.
Rinse off with warm water and follow up with a body moisturizer.
For best results, use the coffee scrub up to three times a week.
Please note that coffee grinds can clog drains over time. So close off drains, or use a drain screen to keep the grinds out.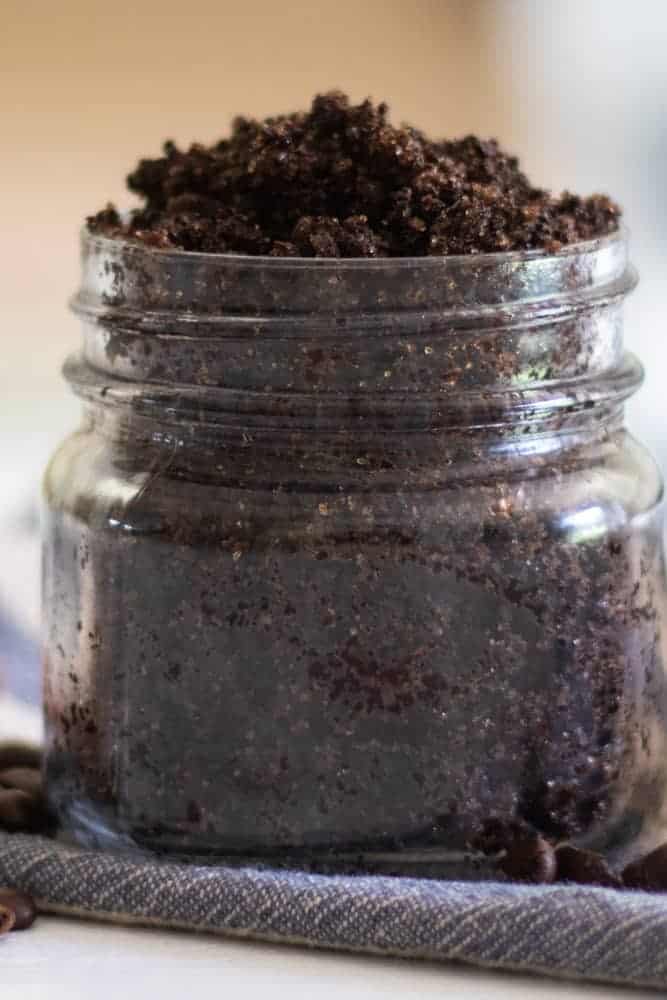 how long does coffee scrub last
This coffee scrub should last approximately 2 months. Store in an airtight container out of direct sunlight. And if it smells 'off,' discard it and make a new batch.
I really hope you try this recipe. This is definitely one of my favorites; it works great and smells amazing too! For more great skin care recipes, check out some of these popular ones below!
Yield: One Jar
Homemade Coffee Scrub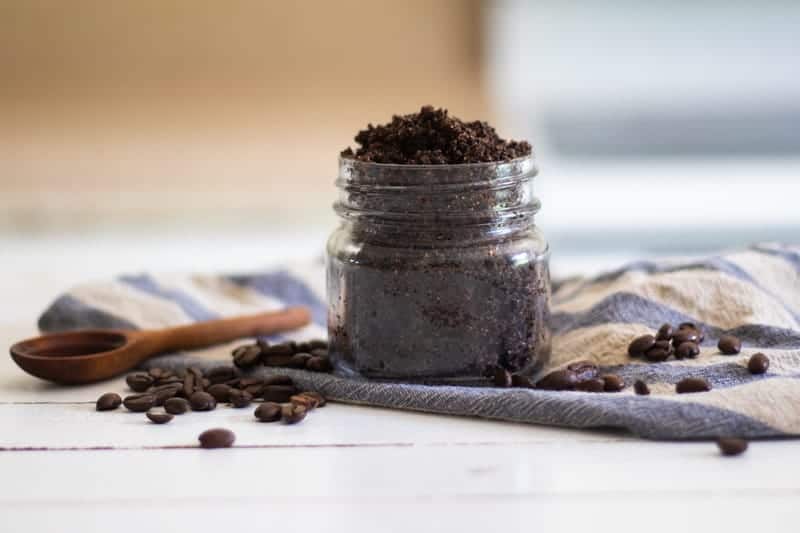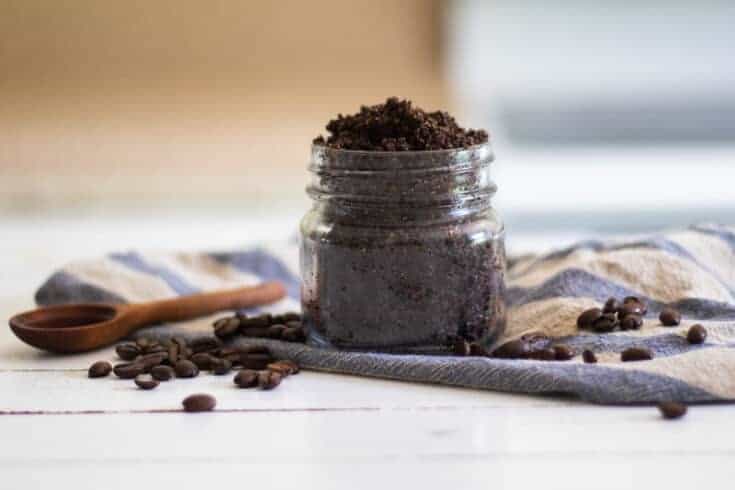 This homemade coffee face scrub is an inexpensive way to exfoliate and rejuvenate your skin without ever leaving your home
Materials
1/2 cup coffee beans, finely ground
1/2 cup sugar, brown or white
Instructions
Combine the dry ingredients in a small bowl.
Add in coconut oil, vanilla, and sandalwood. Mix until well combined.
Store any extras in an airtight container.
Notes
Gently rub the scrub into the skin in a circular motion. Let it sit for 5-10 minutes before rinsing out.