Soothe dry, chapped, and even cracked lips with a DIY Lip balm. Make this lip balm recipe with all-natural ingredients for a long-lasting, hydrating lip balm.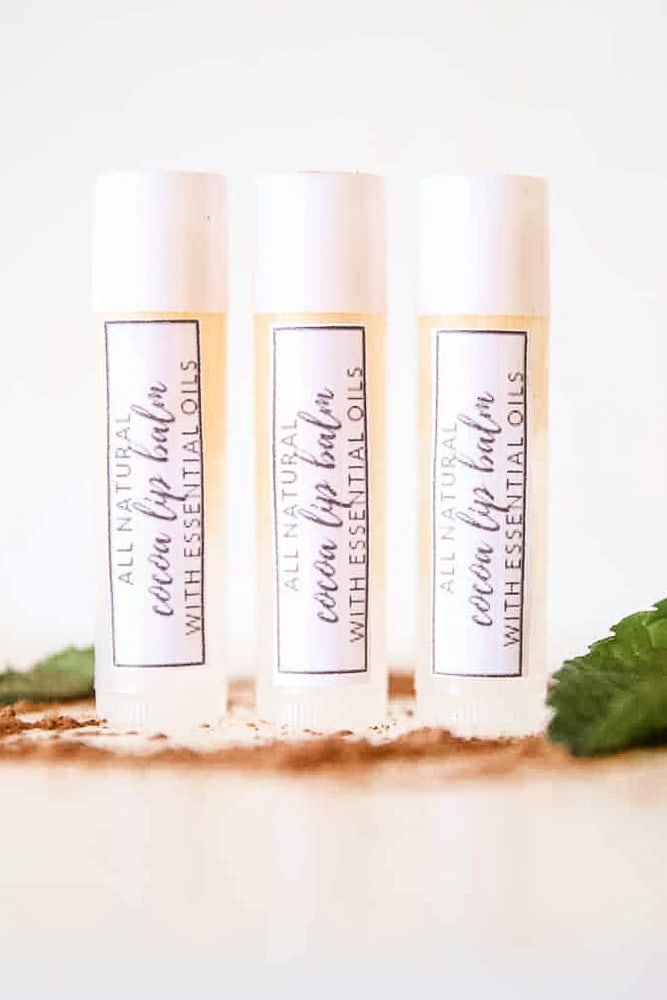 I hope you love saving money and using natural, eco-friendly ingredients in all your DIYs; I know I do!
So every winter, I make a batch of this lip balm, usually after my lips start to dry out and crack from the cooler weather.
Thankfully, this protective recipe doesn't take long to restore the lips. In addition, this DIY lip balm provides a protective covering over the lips from the elements, such as wind and cold weather.
And the best part of all, it is simple to make and extremely cost-efficient. For example, the recipe will make about 12 lip balm tubes, lasting you all winter long!
A tube of lip balm can cost upwards of 4 dollars, which I guess is not a big deal but can certainly be made for so much less.
For me, with kids, it's tough to justify when, most likely, it's going to get lost or a kid is going to bite the top off, ruining it!
So, like most things in my home, ok, all things in my house, I decided to DIY it. Using many of the same ingredients as my lip gloss and lipstick recipes, I put together this lip balm that is perfect for chapped lips!
This post contains affiliate links, which means I make a small commission at no extra cost to you. Get my full disclosure HERE.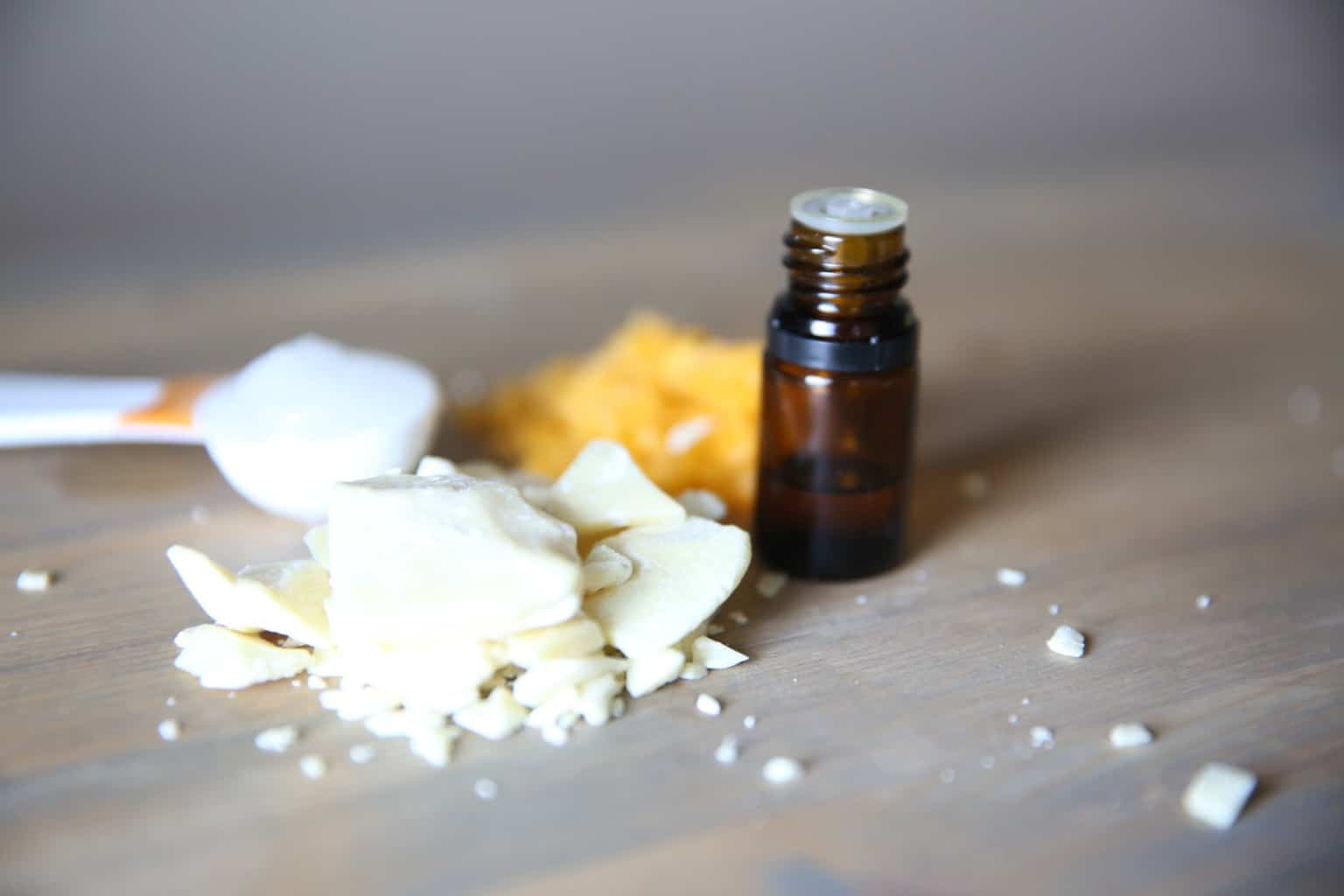 Lip balm ingredients
*More information on these ingredients can be found below in this post.
Lip balm recipe
Step 1: Place all the ingredients (except essential oils) in a double boiler. If you don't have a double boiler, don't go out and buy one! Fill a pot with water, then set a glass bowl over the top to where it will be partially submerged.
Step 2: Melt all the ingredients together, stirring often.
Step 3: Once all the ingredients are melted, remove from the heat, add essential oils if used, and mix well. Work fast, as the mixture will harden quickly after being removed from the heat.
Step 4: Fill the lip balm containers using a small funnel, pipette, or old medicine dropper.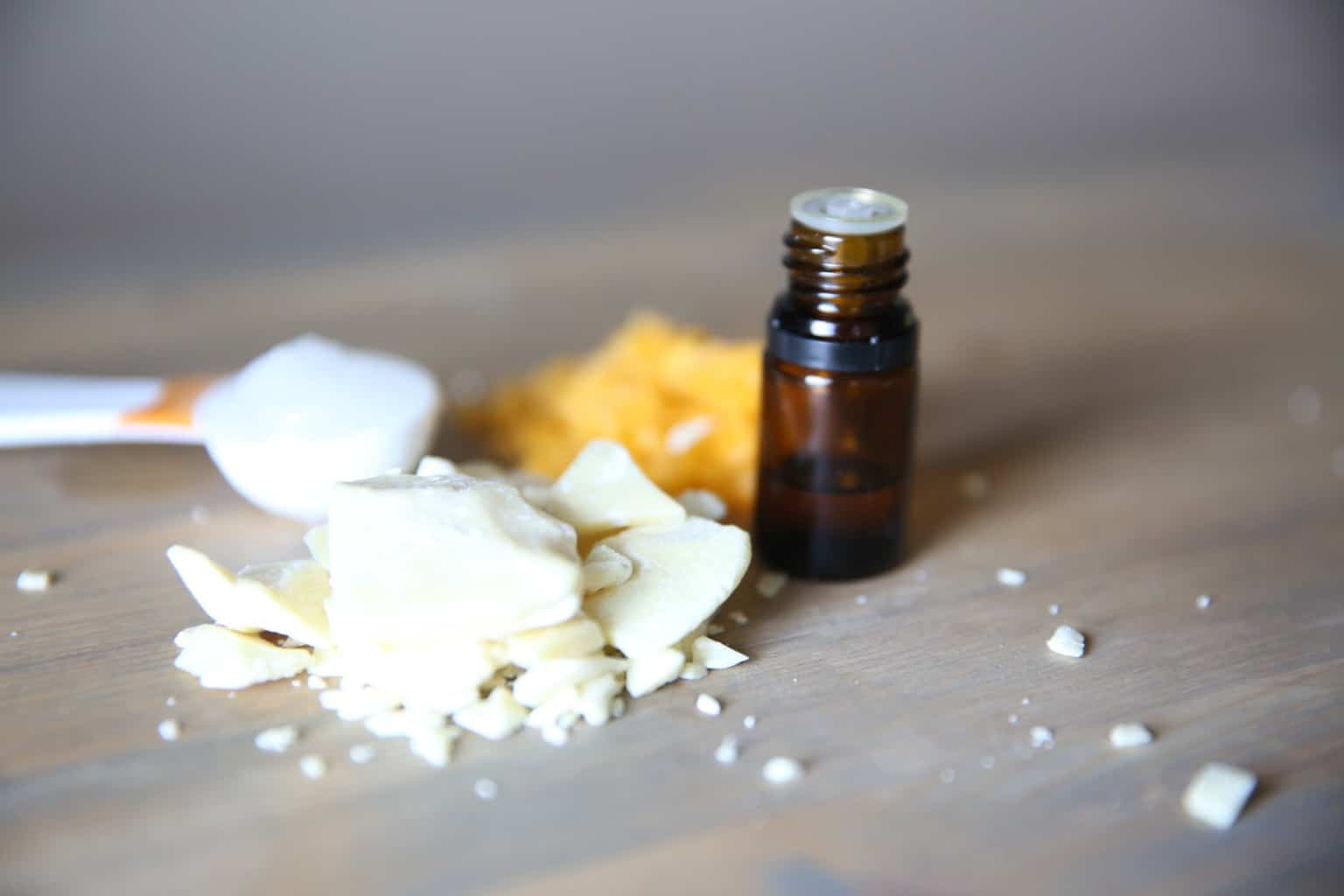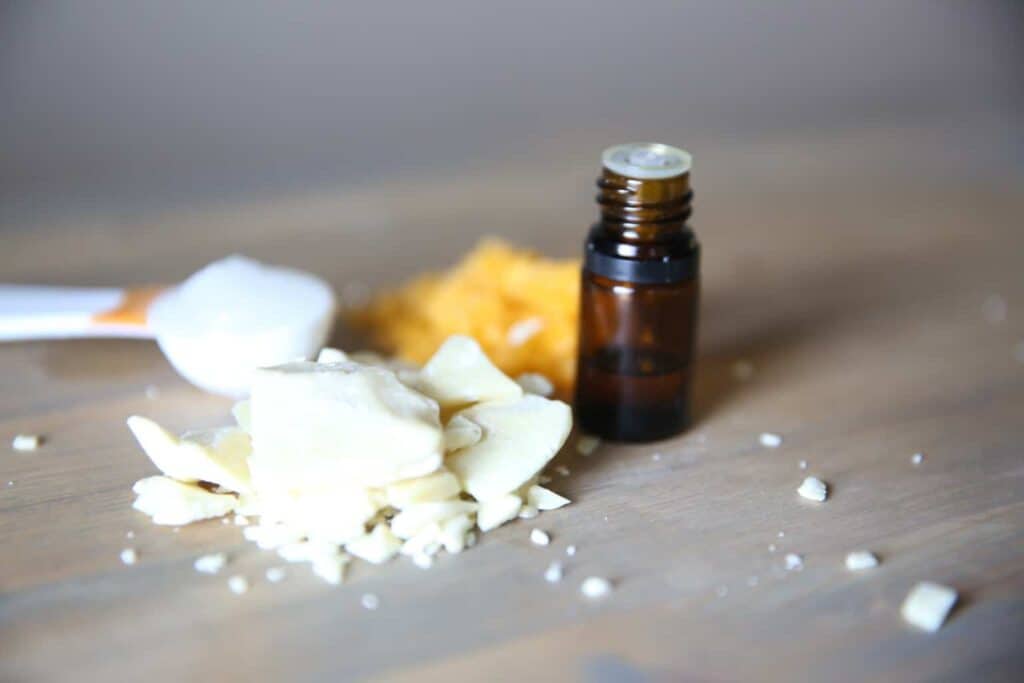 Top tips
Substitutions
Each of the ingredients can be easily substituted to satisfy your specific wants.
Beeswax can be substituted equally for soy wax with minimal change to the texture.
Cocoa butter shares many similar properties with shea butter and mango butter. As a result, substitute or mix and match any of these three butters.
Essential oils: as long as they are pure, with no added fillers, essential oils make a great addition to this lip balm recipe. You'll find a list of gentle oils to add below.
You can also learn more about the ingredients in this recipe below.
What ingredients are we using in this lip balm?
Beeswax: This ingredient is essential in fighting against chapped lips or skin. In addition, it forms a protective wall by sealing moisture in the skin without clogging up the pores.
You can make a lip balm without beeswax, but the balm will not provide the same protection or texture that it would otherwise have with beeswax.
Cocoa Butter: Cocoa butter is the fat that comes from cocoa beans, and it smells absolutely delicious, in my opinion. This might be why my kids like to eat their lip balm!
Don't worry; cocoa butter is edible! Cocoa butter naturally moisturizes the skin and heals dry, chapped skin.
Coconut Oil: The hype around coconut oil these days is for a good reason. You can use it in the kitchen, on your skin, in your hair, and the list goes on. Coconut oil is naturally antibacterial, anti-fungal, and an excellent moisturizer for your skin and lips.
Essential Oils: Several essential oils can do wonders for skin imperfections. I like using peppermint in my chapstick because of the cooling effect it has.
Peppermint is very soothing for dry, chapped lips. Lavender is another one of my personal favorites, partly because it is very gentle on sensitive skin, such as the lips, but also because it smells incredible with cocoa butter.
Lip balm storage options
Use old lip balm or chapstick tubes when possible. If those are unavailable, empty tubes are pretty cheap and are reusable.
I bought a set of chapstick tubes years ago, and I am still reusing them. However, if you prefer, a small tin or container works well for storing your natural lip balm.
Plus, it is easier to fill a large container than the smaller tubes.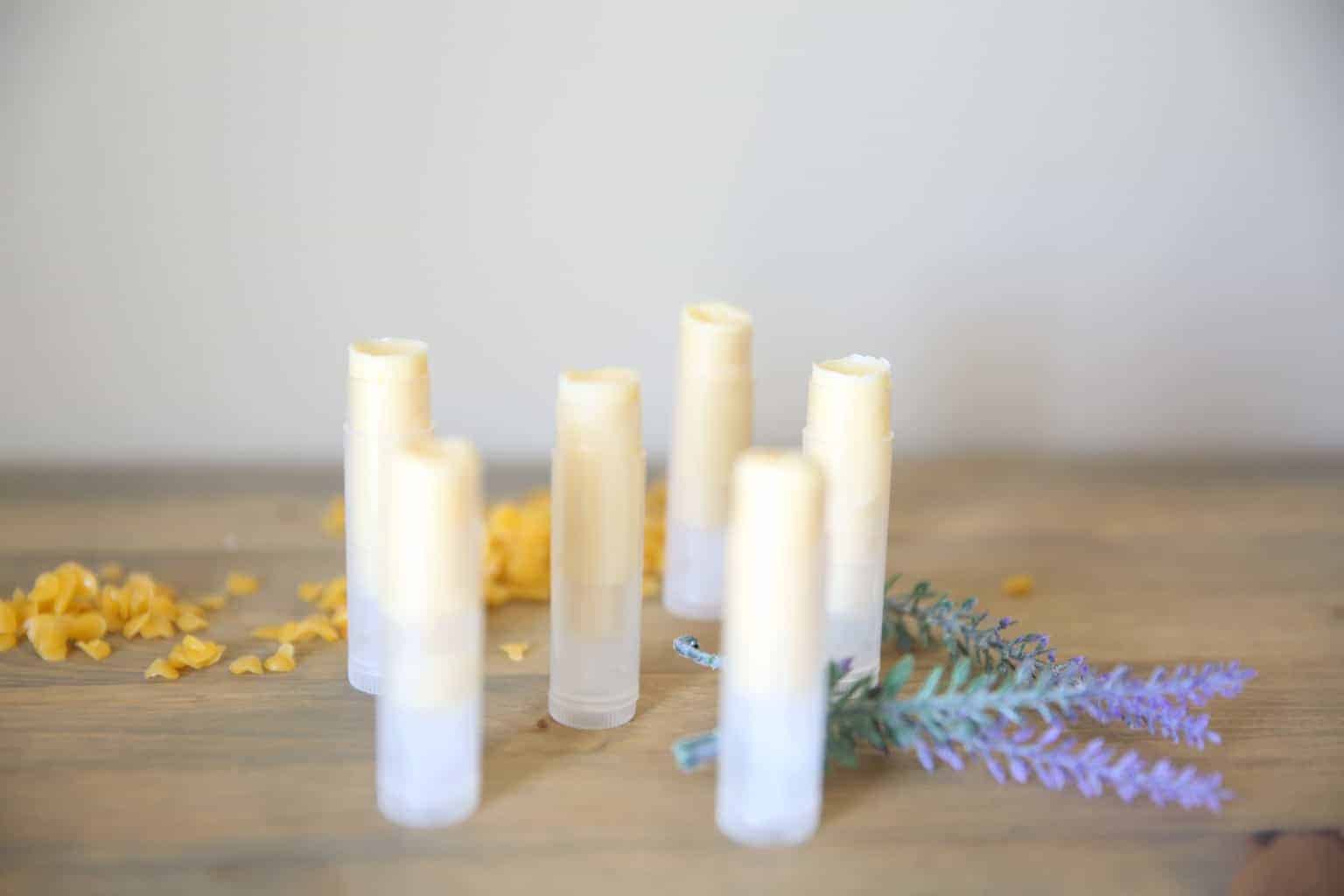 How long does lip balm last
This lip balm recipe will last up to several years, which, using up before then should not be a problem.
Beeswax essentially has no expiration.
While some essential oils may last forever, you can generally expect 2-5 years, after which they will begin to lose some of their potency. You can learn more about that here.
The two ingredients that do have a shelf-life are cocoa butter and coconut oil. Both of which will last at least two years if stored in a cool, dry place.
Essential oils for lip balm
Depending on your preferred flavor and scent, you can use several essential oils in your lip balm. For example, use mint essential oils to cool and soothe chapped lips.
*WARNING: If you use any citrus essential oils in your lip balm, do not apply them to the lips if you're going to be in direct sunlight. Citrus essential oils can cause a phototoxic reaction, typically resulting in an exaggerated sunburn.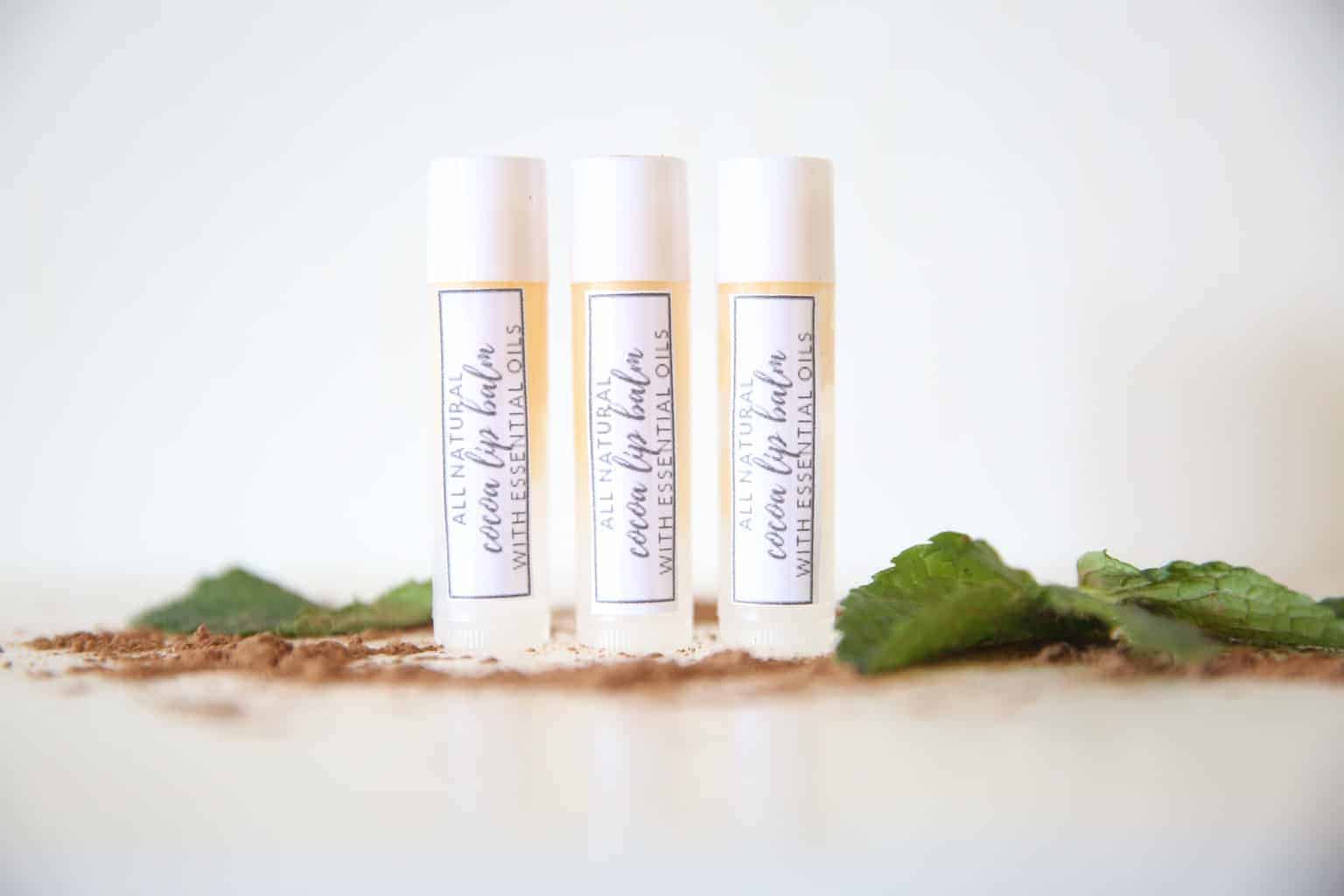 Why homemade lip balm
Making your own beauty products ensures the products going onto your body are natural, pure, and free of any artificial or synthetic ingredients.
In addition to the above, making your own lip balm, beauty products, etc., allows you the opportunity to customize each recipe to suit your specific wants and needs.
Ingredients found in many conventional lip balms
Petroleum Jelly: Petroleum jelly can make your skin or lips feel moisturized and hydrated. However, studies have shown it to be a carcinogen, a toxic ingredient, and is not recommended for use on the lips.
Parabens: Parabens are a group of compounds used as a preservative in most cosmetic and personal products. They mimic estrogen and cause hormone imbalances. Parabens are found in 99% of breast cancer tumors!
Fragrance: Fragrances can cause allergic reactions, contain hormone disturbers and carcinogens, and have been linked to damage sperm.
Lanolin: Lanolin is a waxy substance that coats a sheep's fur, keeping it moist and protecting its skin. If you aren't buying organic, this ingredient may be loaded with pesticides and chemicals that are sprayed on the sheep's fur to protect them against bugs.
Artificial Dyes: Artificial dyes are known to cause allergic reactions. They have been linked to cancer tumors and hyperactivity in children.
Lip balm vs chapstick
Both lip balm and chapstick are interchangeable, with chapstick being a form of lip balm. Many may associate lip balm with providing protection for the lips while using chapstick more as a moisturizer.
With a number of different lip balm variations, you are sure to find one to fit your specific needs.
Related: how to make a lip oil
Homemade lip balms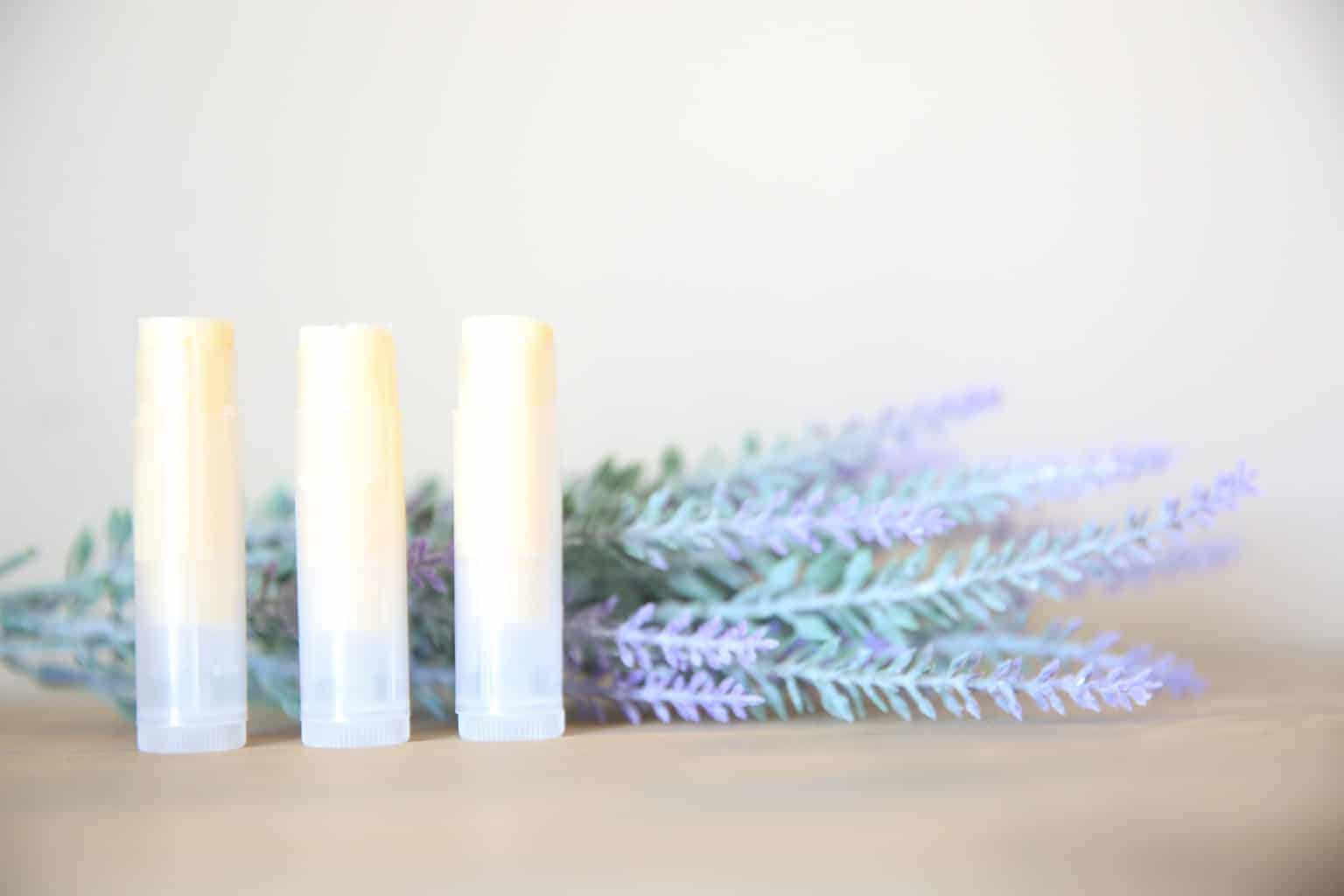 This homemade lip balm recipe is easy to whip up, very cheap, and made with all-natural ingredients.
As much as I try to keep toxic products out of my home, I try to make homemade products as sustainable and environmentally friendly as possible.
When making products, especially skincare products, it is so important to use all-natural ingredients.
Take this all-natural lip balm, for example; it is being applied to one of the most sensitive parts of the body!
It's almost a guarantee some of it is making its way into the mouth, not to mention the fact that the skin is already naturally absorbent.
Your lip balm recipe questions
Will my lip balm need a preservative? No. These ingredients do not require the use of a preservative.
How long will this lip balm last? This recipe should last up to two years.
How should I store this lip balm recipe? Store your lip balm out of direct sunlight with the cap on.
OTHER DIY HOME PRODUCT RECIPES YOU MIGHT LIKE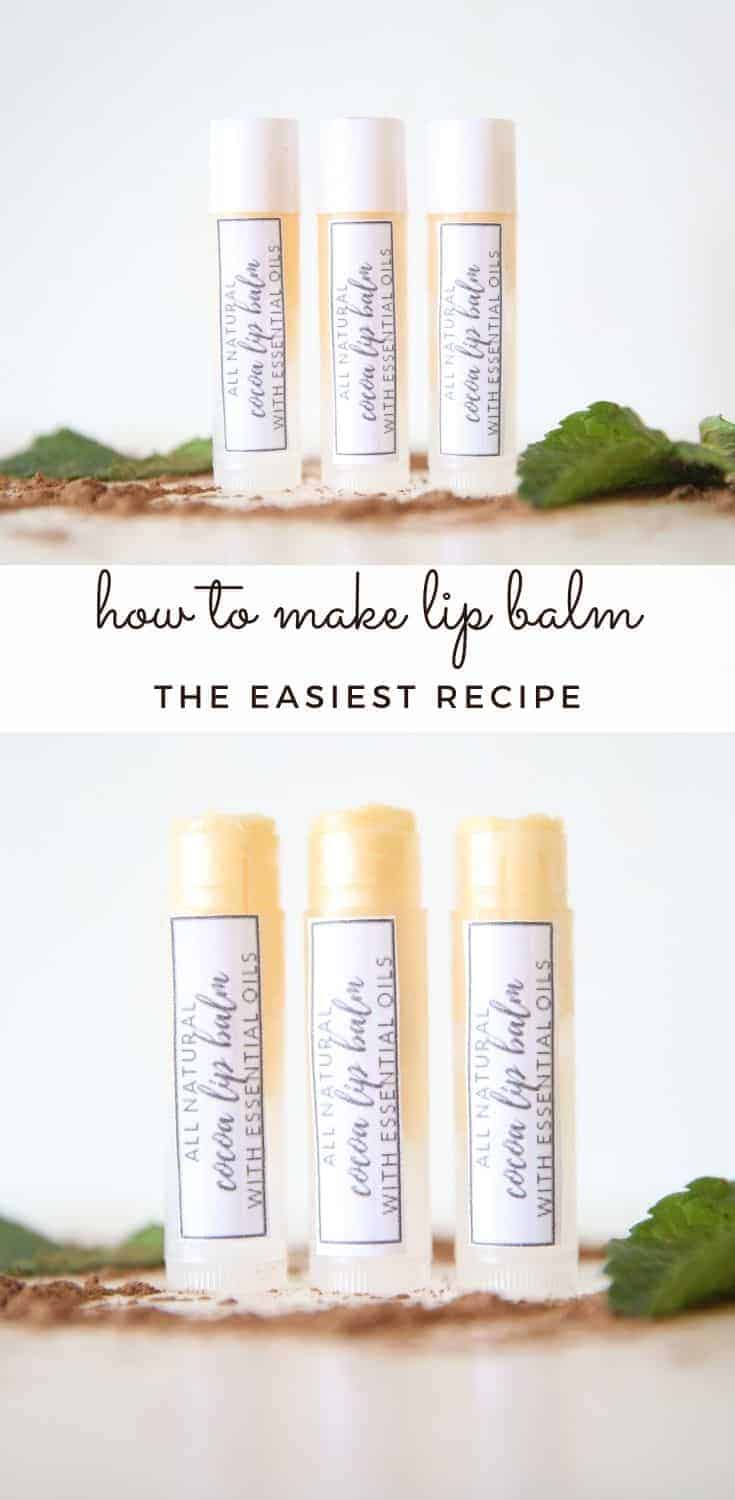 Have fun making your own lip balm, and be sure to let me know how it turns out in the comment section below!
Yield: 12 Tubes
DIY Lip Balm with Essential Oils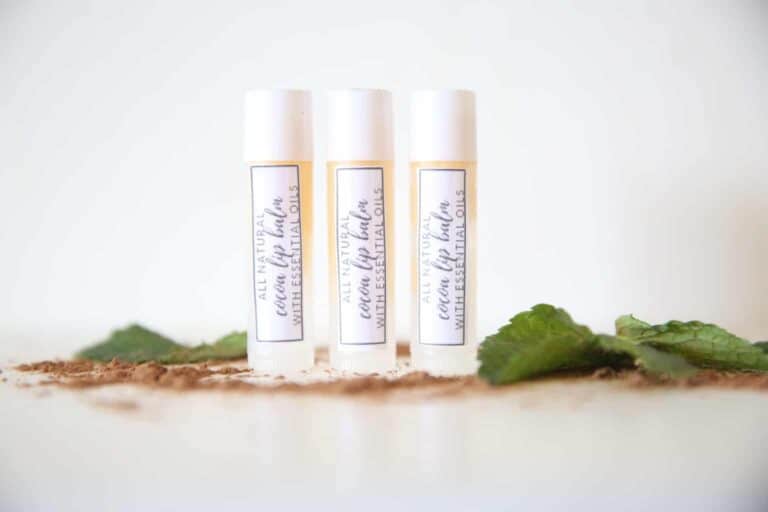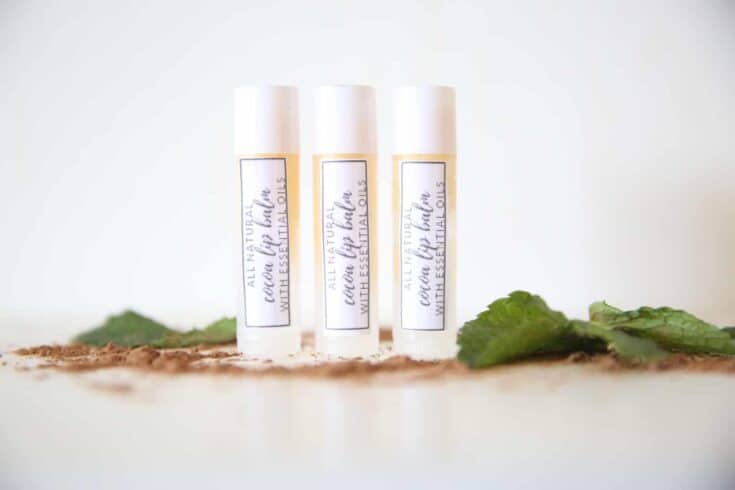 Homemade lip balm made with beeswax forms a protective barrier for the lips to naturally hydrate and seal in moisture.
Ingredients
Instructions
Melt all ingredients (except the essential oils) in a double boiler. If you don't have a double boiler, you can make one by putting a glass bowl over a pot of water and bringing it to a boil.
Stir often until melted. Then, remove from heat and stir in the peppermint.
Work quickly for this next step since the mixture will begin to harden. Fill lip balm containers using a small funnel, pipette, or old medicine dropper.
Allow lip balm to cool and completely harden for several hours before capping off.

Notes
Let tubes sit at room temperature for a few hours until cooled and completely hardened before capping them—store extras in a cool, dry place.
Apply this lip balm directly to the lips like you would with any other lip balm or chapstick.
You may want to perform a patch test first before using this, or any new product for the first time. Apply a little of the balm onto your forearm and check for any adverse reactions after 24 hours.
In the case of extremely chapped or dry, flaky lips, exfoliate first with a lip exfoliating scrub.
After making this simple recipe, don't let it get lost in the array of storage tins, containers and tubes. Print off a free lip balm label in my online resource library.
Resources