Who would have thought that coffee grinds would make a powerful, effective, and natural exfoliator? Well, that is just what this peppermint mocha face scrub is.
It complements the holiday festivities and makes a great gift for anyone on your Christmas list!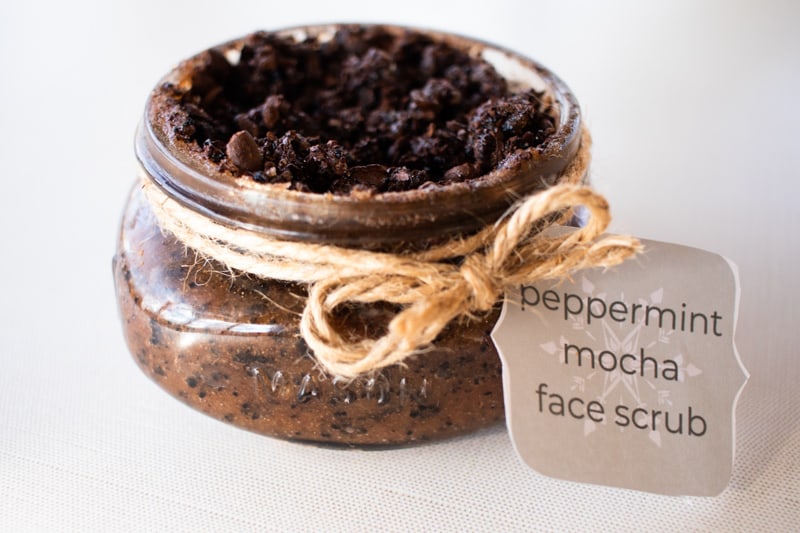 What is Face Scrub?
A face scrub is a gentle exfoliating cleanser that is designed for the sensitive skin on your face. It can be used to remove dead skin cells, makeup, and dirt from the skin.
Using face scrub can help rejuvenate damaged skin and even return dull skin to its original, youthful, radiant glow.
Face scrubs can be purchased from the store, but most scrubs are EXTREMELY expensive. And all you really need to make a face scrub yourself is a few simple ingredients found right in your pantry.
Face Scrub Ingredients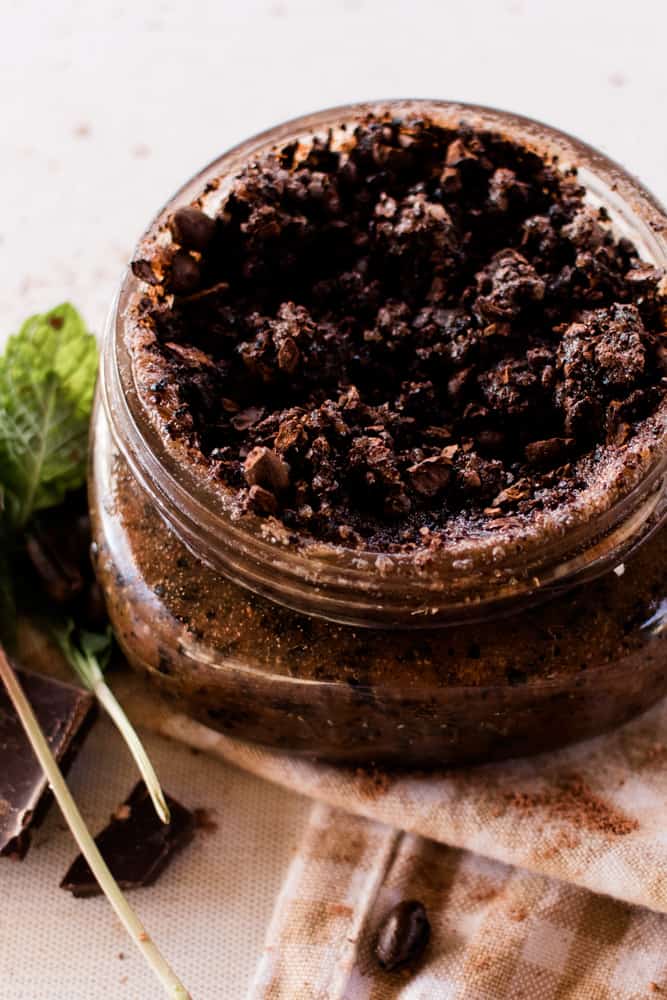 Some of the best exfoliators can be found right in your kitchen! For this peppermint face scrub, you will need sugar, coffee grinds, oil, and cocoa powder. All things you have on hand, right?
Sugar Scrub for Face
When choosing sugar, keep in mind that the face is quite a bit more sensitive than the rest of the body.
As a result, a standard body sugar scrub may not be the best option for the face.
Sugar scrubs can include both brown and white sugar, but we will opt for granulated sugar; it is ground more finely, making it an excellent option for a scrub made specifically for the face.
Sugar is made up of very small particles that can be beneficial for exfoliating and cleansing the skin.
Using a sugar scrub can help remove dead surface skin cells and reveal the healthy new skin underneath.
Coffee Ground Face Scrub
The little particles that make up coffee grounds work well as an exfoliating agent. When mixed with a bit of liquid, coffee grounds can be used to remove dead skin, dirt, makeup, and grime.
It is best to use freshly ground beans, but any will do. If you do grind your own beans, be sure to grind them up fine. Coarsely ground coffee beans will be too aggressive on the skin.
Oil for Face Scrub
To get the sugar and coffee to hold together, you will need some type of oil. Any carrier oil will work, such as coconut oil, almond oil, olive oil, or jojoba oil.
Choose a carrier oil that best suits your skin type or preference.
A common favorite carrier oil for the face is the gentle jojoba oil; it has a mild scent and penetrates the skin well. Jojoba oil is an excellent option for anyone with ultra-sensitive skin.
Peppermint Oil for Face
Not only will you need a carrier oil, but essential oils are used in this face scrub too! For example, Peppermint oil is a wonderful oil for the skin and will leave it feeling soothed, cooled, and fresh.
Peppermint essential oil will naturally cleanse the skin and may help with skin blemishes and other imperfections.
However, it is important to NOT get peppermint essential oil in or near the eyes, be careful when using this scrub on your face.
Cocoa Powder for the Face
Believe it or not, cocoa powder has some fantastic benefits for your skin. Not only will it make this face scrub smell fabulous, but it can also soften, clear, and gently detoxify the skin.
Cocoa powder is rich in antioxidants and vitamins A, C, and E. In addition, it has anti-aging properties that can improve skin elasticity, texture, and hydrate.
Face Scrub Recipe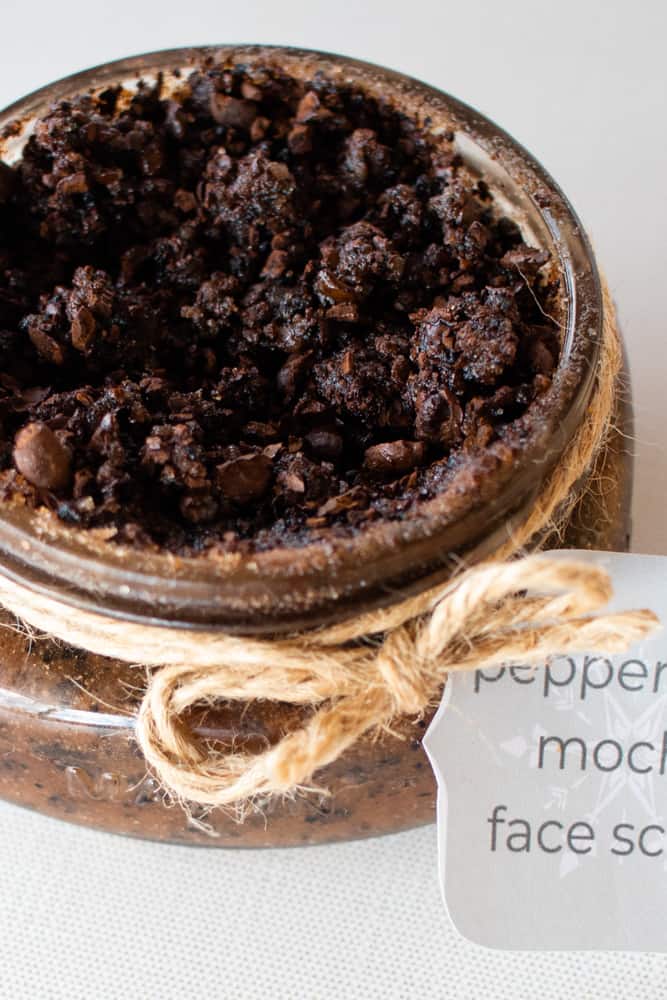 This post contains affiliate links, which means I make a small commission at no extra cost to you. Get my full disclosure here.
Combine dry ingredients in a small mixing bowl.
Add in the jojoba oil and essential oils.
Mix the ingredients with a wooden spoon until well combined.
Scoop into a container with an airtight lid for storage. (These make nice gift sized containers)
Using Face Scrub
Rinse face with warm water.
Add a small amount of face scrub into the palm of your hand.
Apply scrub to damp face.
Gently work the scrub into your face with your fingers in a small circular motion.
Rinse off with warm water and pat dry.
Benefits of Face Scrub
Adding a gentle face scrub to your skincare routine may help with breakouts, soften skin, and rejuvenate dull skin.
Other benefits include:
Unclogged pores
Allows for better skin absorption
Improves skin tone
Improves skin texture
Fades uneven skin tone
Reduces acne scars and other skin imperfections
How Often Should You Use Face Scrub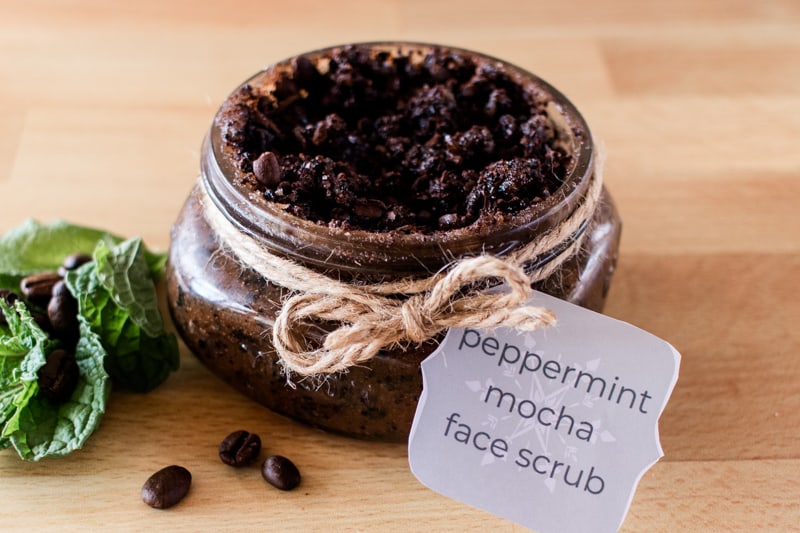 Overuse of facial scrub can dry out the skin. It is recommended to use a facial scrub 1-2 times a week. If you have over oily skin, you may need to use a face scrub 3 times a week.
Let your skin be the judge! If you notice that the scrub is irritating the skin, use it less or stop altogether.
Is Face Scrub Good for Skin
Your skin renews itself every 30 days and naturally sheds the old skin.
Dead skin cells are shed daily with our normal activities; however, sometimes this can be hindered by makeup, dry or dehydrated skin.
Exfoliating the skin can remove dead skin cells, revealing the beautiful, glowing skin beneath.
Face scrubs are important to keep skin clear, free of wrinkles, hydrated, and unclog pores.
I hope you enjoyed this post! Be sure to leave a comment below; I'd love to hear how it worked for you!
And if you love DIYing with coffee, you'll love this deliciously smelling coffee soap bar recipe.
Yield: 8 ounces
Peppermint Mocha Face Scrub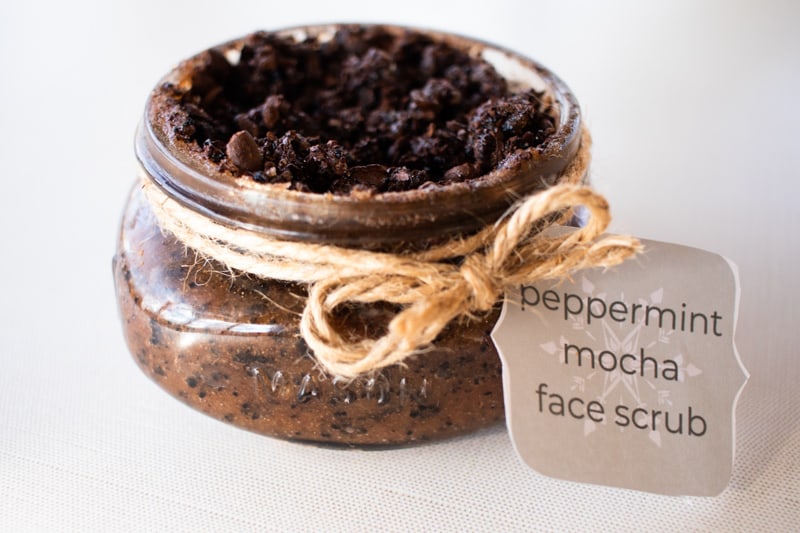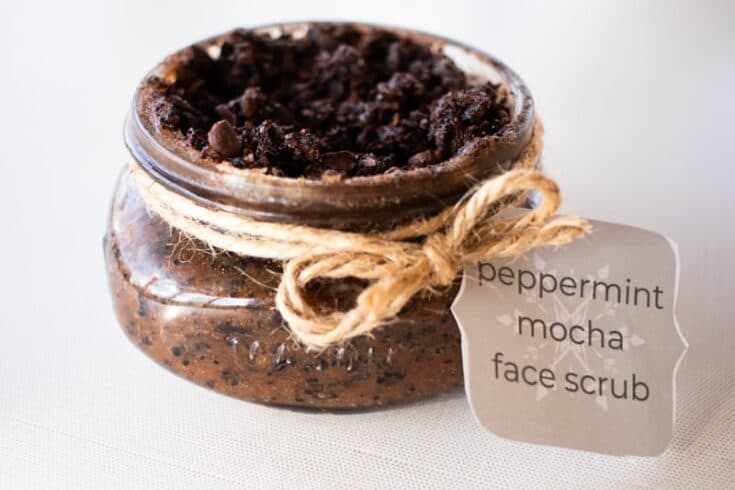 Simple peppermint mocha face scrub to naturally exfoliate the skin.
Materials
1/2 cup finely ground coffee
1/2 cup granulated sugar
1 teaspoon cocoa powder
1/4 cup jojoba oil or similar carrier oil
10 drops peppermint essential oil, optional
Instructions
Combine the dry ingredients in a small mixing bowl.
Stir in jojoba and peppermint oil with a wooden spoon. Mix until well combined.
Transfer to a shallow, airtight container for storage.
To use the scrub, rinse face with warm water, then massage the scrub into the skin using your fingertips.
Rinse and pat dry.