Learn how to get rid of skin blemishes by making your own roller bottle recipes for skin. This is an all-in-one roller bottle recipe for everything from scratches and bruises to acne and blemishes. It truly is a must-have homemade roller bottle.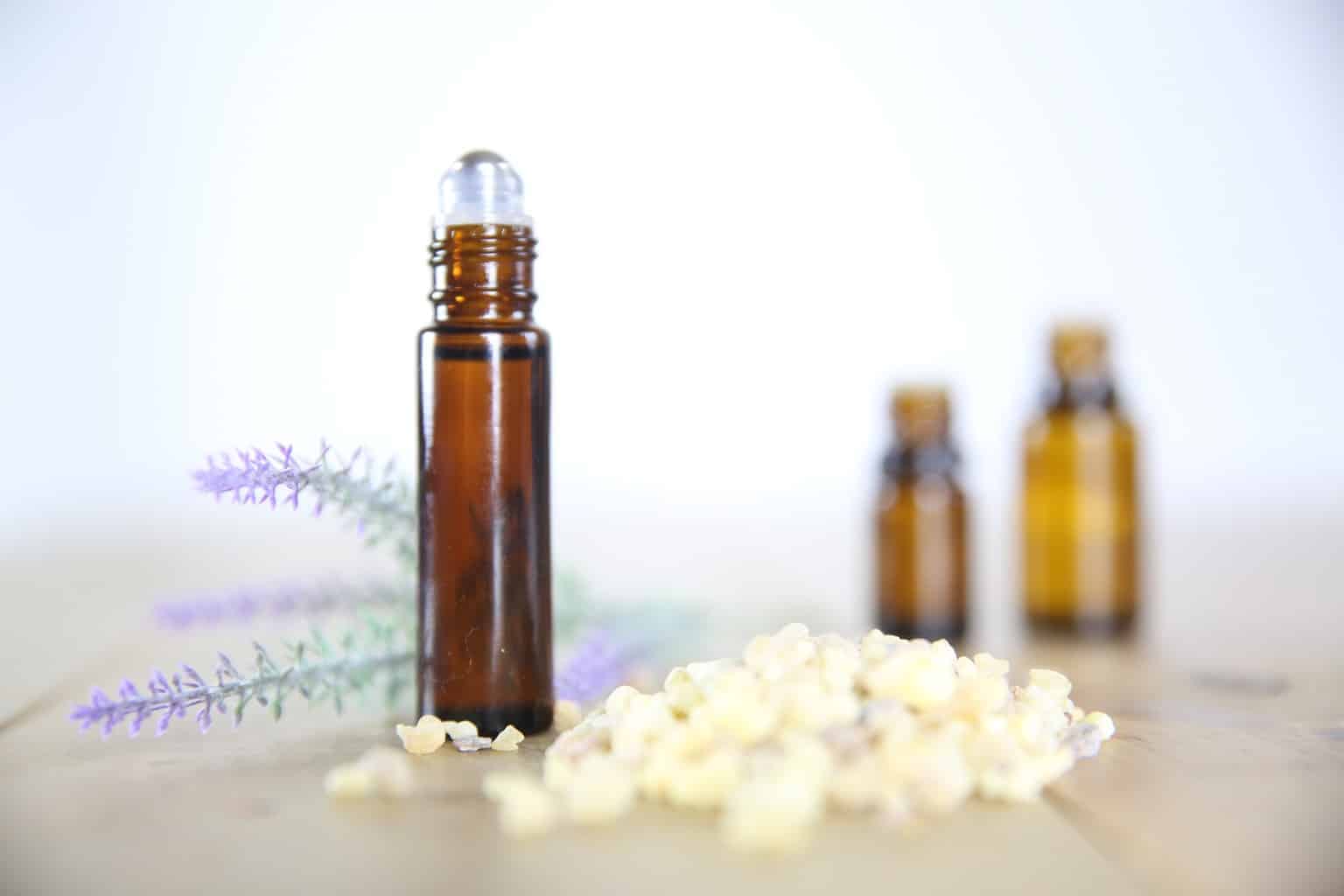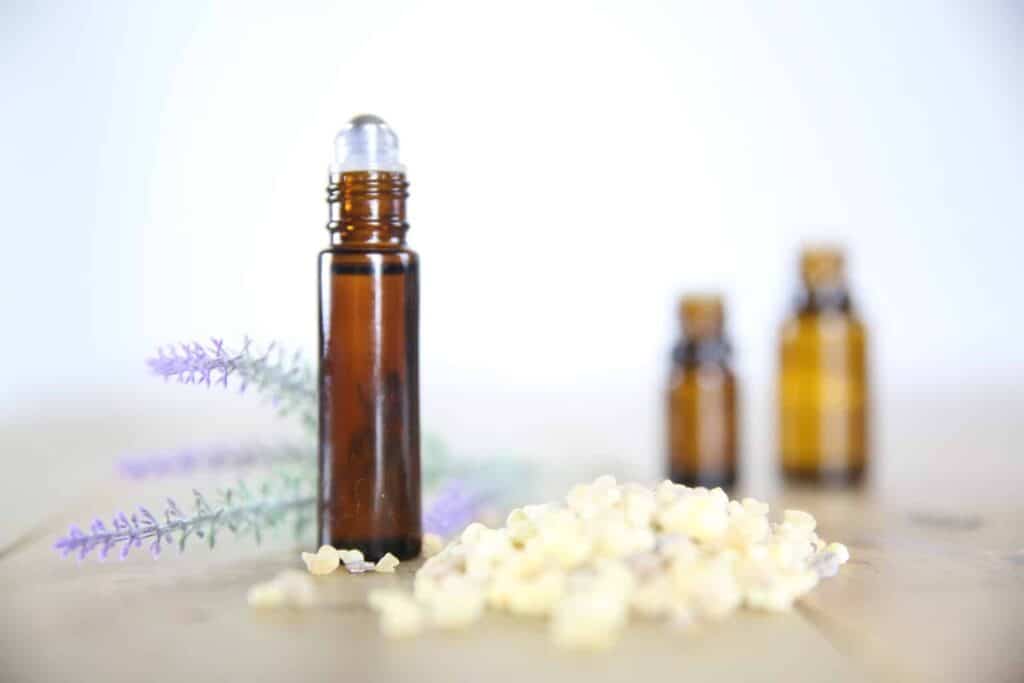 This blend can come in handy for all stages of life; whether it's a little one scraping their knee or a teenager dealing with acne, this is one oil roller bottle recipe I have on hand at all times.
Having essential oils recipes on hand before the "need" arises makes it so much easier to turn to your natural products rather than having to make them in the moment.
This clear skin essential oil blend is sorta a "catch-all" in the skincare department. Sure, this is not the end-all, be-all, essential oil blend, but it does help for a number of different issues.
How to get rid of skin blemishes
There are probably a million and a half ways to get rid of or reduce the appearance of skin blemishes. The focus for this roller bottle was and is ease of use. Similar to an all-purpose house spray for cleaning, this is simply an all-in-one skin blemish routine.
To help with a range of issues, I chose a combination of gentle essential oils, each with their own unique benefits, along with a carrier oil to go into this roller bottle.
Carrier oils for oily skin
Putting oil onto oily skin may sound contradictory, but certain oils will actually help with oily skin. These carrier oils for oily skin listed below are hydrating, moisturizing, do not clog pores, and absorb quickly.
Why do we have to add a carrier oil to our rollerball blends? As the name suggests, carrier oils actually help carry the oils onto and into the skin. In addition, the carrier oils allow for proper dilution of the essential oils.
Argan, jojoba, fractionated coconut oil and rosehip oil all make excellent options for this essential oil recipe. The latter potentially helping to reduce the appearance of acne.
Learn more about carrier oils, their benefits, and their uses here.
This post contains affiliate links, which means I make a small commission at no extra cost to you. Get my full disclosure HERE.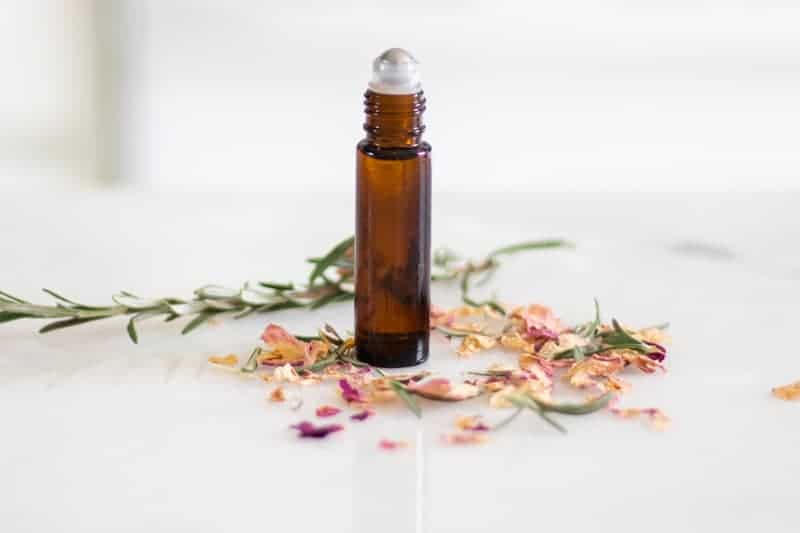 Essential oils for clear skin
All three of these essential oils are incredibly gentle on the skin, helping with fine lines, skin imperfections, blemishes, acne and more.
Frankincense
Frankincense is great for almost everything, especially the skin. This is because it has such a wide range of uses and is often referred to as the king of all oils.
Though it is most often used for anti-aging, wrinkles, and fine lines, it is especially helpful for oily skin, helps to fade scars, reduce blemishes, and aid in healing minor cuts and bruises.
Lavender
Lavender essential oil is one of the most popular essential oils. It is a natural cleanser, perfect for minor cuts and scrapes. Lavender is extremely gentle, soothing and healing for the skin.
Lavender is used as a natural detox; it is anti-inflammatory, and yes, it even fights acne!
Tea tree
Tea tree is a must for this roller bottle. If there were one oil to leave in this roller bottle recipe, it would have to be tea tree. It is used to help with a number of skin issues, including acne.
It has a wide variety of uses which include being used as a surface cleaner, a natural skin cleanser, purifier and helps remove impurities from the skin. People have used tea tree to clear up discolored fingernails, remove skin tags and even soothe insect bites. It is truly a versatile oil.
How to make a roller bottle for clear skin
Roller bottle recipes are easy to make and effective.
Begin by adding lavender, frankincense and tea tree essential oil to a 10mL roller bottle.
Top off with fractionated coconut oil or carrier oil of choice; see list above.
Secure rollerball top and shake well.
Roll it on the area of concern as needed. Apply up to 3 times a day until the issue is resolved. Keep out of eyes, ears, nose and mouth.
Keep track of all your homemade essential oil roller bottle recipes by heading over to my online resource library for your free printable label.
Properly diluting the roller bottle
When making any rollerball recipe, proper care must be taken to dilute the oils. Essential oils are extremely potent and, as a result, must be diluted in a carrier oil.
If using this on a child, further dilution may be necessary. See this chart on diluting essential oils for children for more information.
Customizing your roller bottle
Whether you don't have all three of these essential oils or fractionated coconut oil, you can still make this roller bottle recipe.
It will not have exactly the same "all-purpose" effect from using all the oils listed but will still be adequate for most major skin issues with any one or two of those essential oils combinations.
For example, lavender and frankincense make an excellent blend for skin acne and healing.
For more information on each oil, check out each of these posts, Tea tree essential oils benefits, Frankincense essential oil benefits, and Lavender essential oil benefits.
HOW TO MAKE A CLEAR SKIN ESSENTIAL OIL ROLLER BOTTLE VIDEO
More posts just for you:
Yield: 1 Roller Bottle
Clear Skin Roller Bottle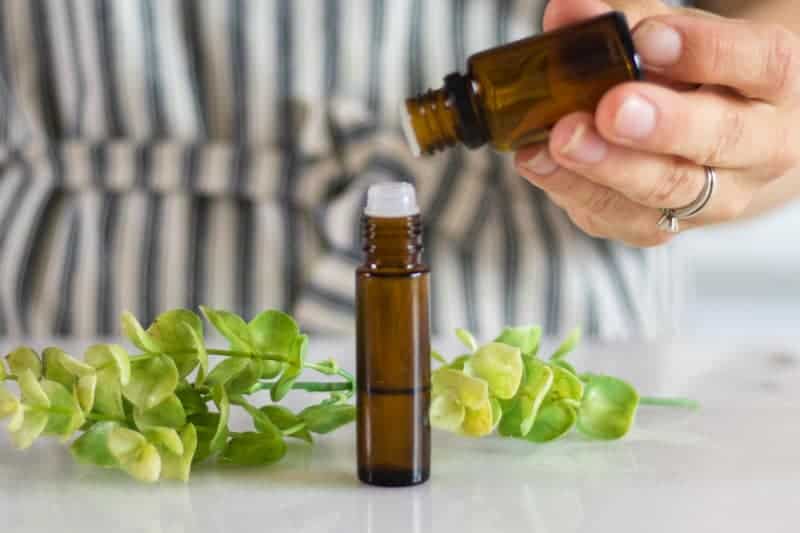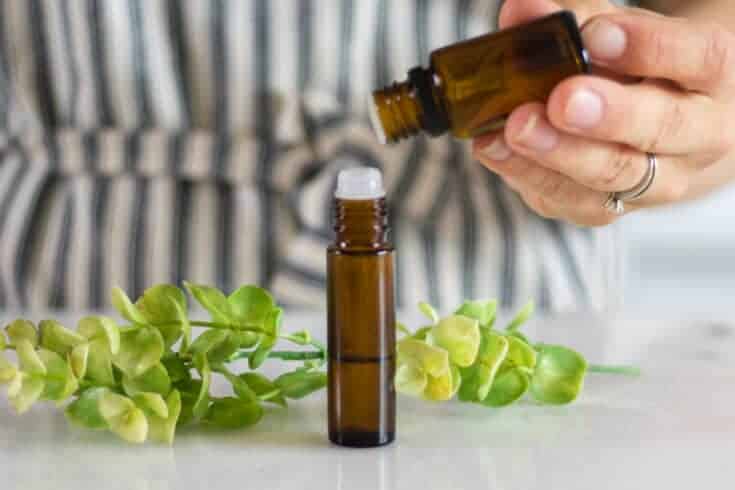 This is a must-have all-purpose roller bottle recipe for skin blemishes, imperfections, acne, scrapes and bruises.
Materials
8 drops of lavender essential oil
8 drops of frankincense essential oil
8 drops of tea tree essential oil
Fractionated coconut oil
10mL roller bottle
Instructions
Remove rollerball top (If you don't have the remover tool, a small flat head screwdriver works just fine)
Add essential oils to the bottle.
Top off with fractionated coconut oil.
Resecure rollerball top.
Shake well.
Notes
Roll gently onto area of concern. Avoid the eyes, ears, nose and mouth.