Easy, fun, and vegan-friendly, this wonderful vegan lip balm will become a firm favorite in your makeup bag! And the best bit is this recipe makes three tins. Perfect for gifts – or keep them to yourself!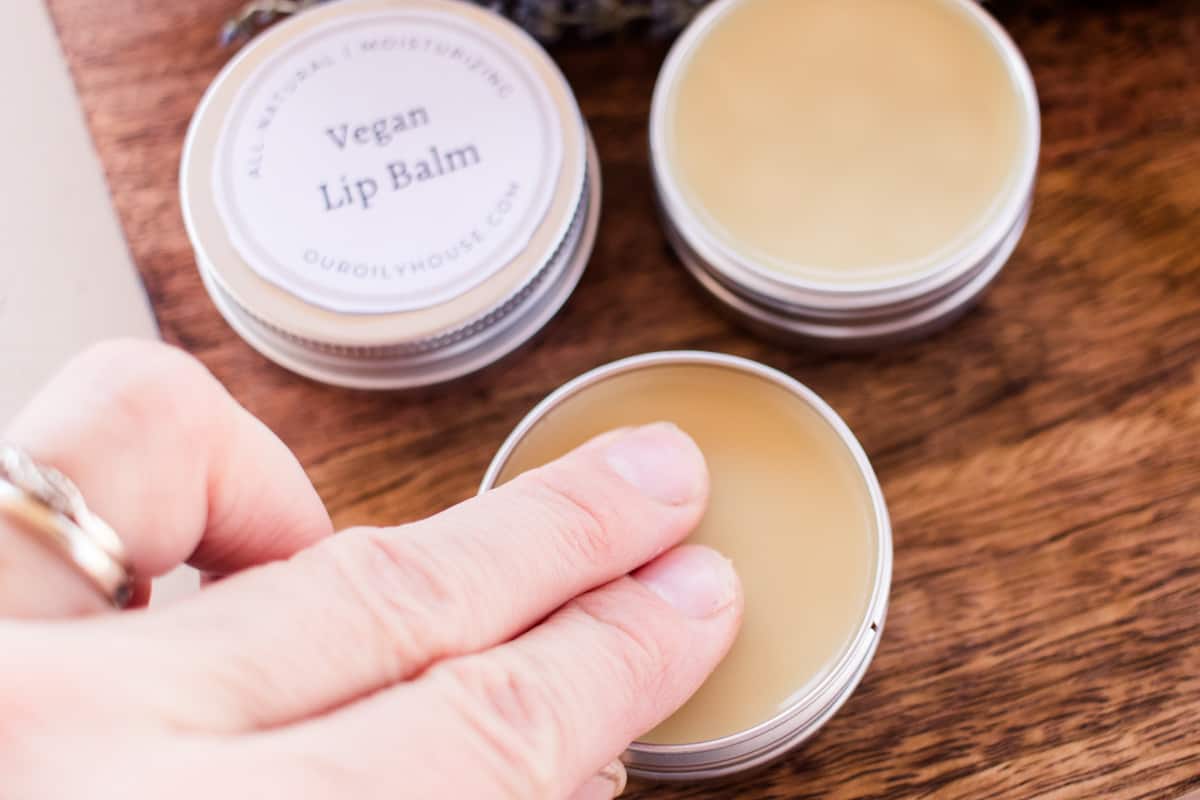 It's something that doesn't cross our minds that often I would say. I'm talking about the ingredients in lip balm and whether those ingredients affect our bodies somehow.
But think about it. Lip balm goes on our lips. And everything we put on our lips does, in some way, enter our mouths too.
I'm thinking along the lines of lipsticks and lip scrubs too. They all, in some way, get into our mouths and into our bodies.
Makes you stop and think, doesn't it?
What on earth goes into all those lip products in stores or online? Hmmm, food for thought.
Particularly if you're vegan or following a vegan lifestyle, you'd be eager to use a lip balm without beeswax, as an example.
Yet most lip balms contain beeswax! So you may struggle to find a vegan suitable one.
In this case, it's far better (and easier in some ways) to make your own beeswax-free lip balm at home.
So, in true DIY fashion – that's what you'll find in this post. I received several requests for a vegan-friendly lip balm over the past few months (probably years), and I'm really excited to share the recipe I created here.
Even if you're not vegan, you'll still love this recipe!
It's super moisturizing and leaves a beautiful soft sheen on the lips – and the best bit is it's made from 100% natural plant-based products.
Scroll down to find the recipe for how to make lip balm without beeswax.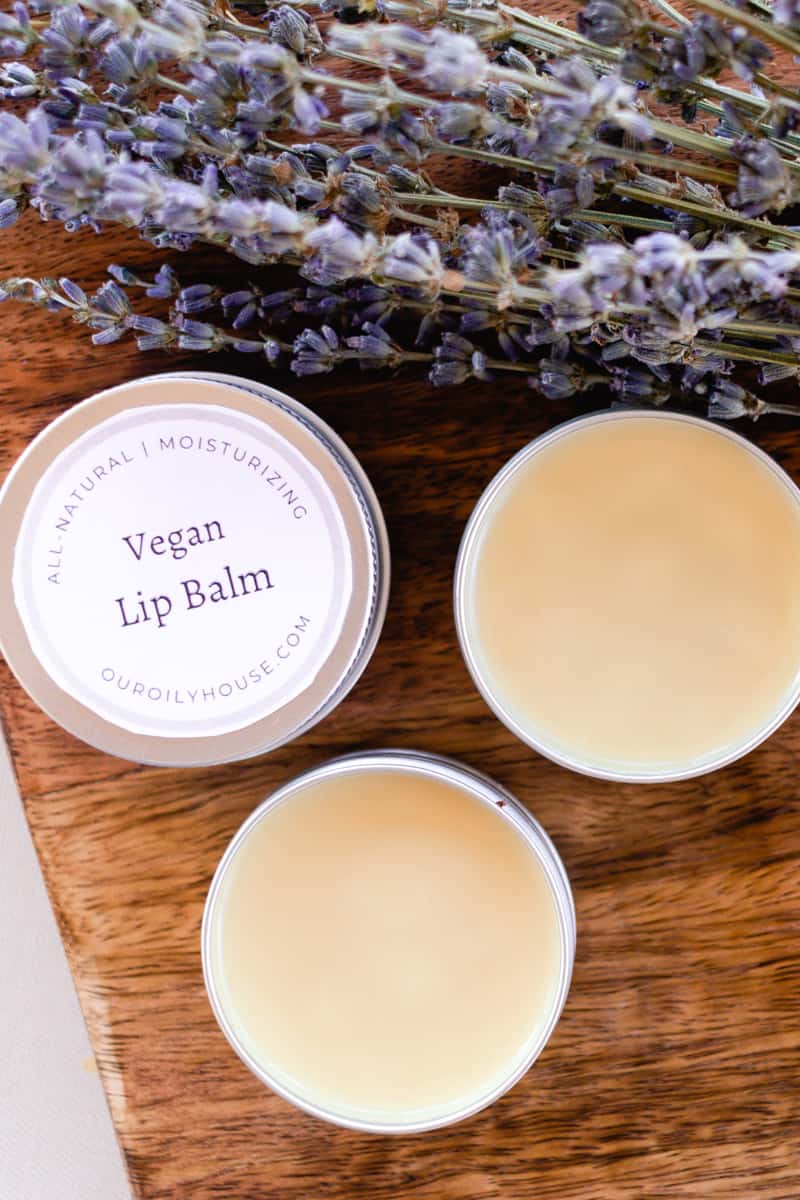 What is lip balm?
A lip balm is a light lip moisturizer that you apply to your lips when needed. Sometimes a lip balm has a tint of color, but otherwise, it's usually clear and not that obvious.
The main purpose of a lip balm is to add moisture and condition to the lips.
Lip balm is totally different from lip gloss. The purpose of lip gloss is mostly aesthetic – to look pretty, whereby lip balm is more of a conditioning and moisturizing tool.
You would use lip balm to protect your lips against the elements. It helps heal cracked lips and protects them from further damage if you apply it often enough.
There isn't really a limit as to how often you can apply lip balm. However, it's great to apply it morning and evening and after eating or drinking, to keep the lip moisture levels up.
You may be asking why to use lip balm? And it's simply because it'll help keep your lips moisturized, healthy and flake-free.
It's best to use lip balm every day (or multiple times a day as I do!), especially when you're outdoors in harsh conditions such as snow, wind, or strong sunshine.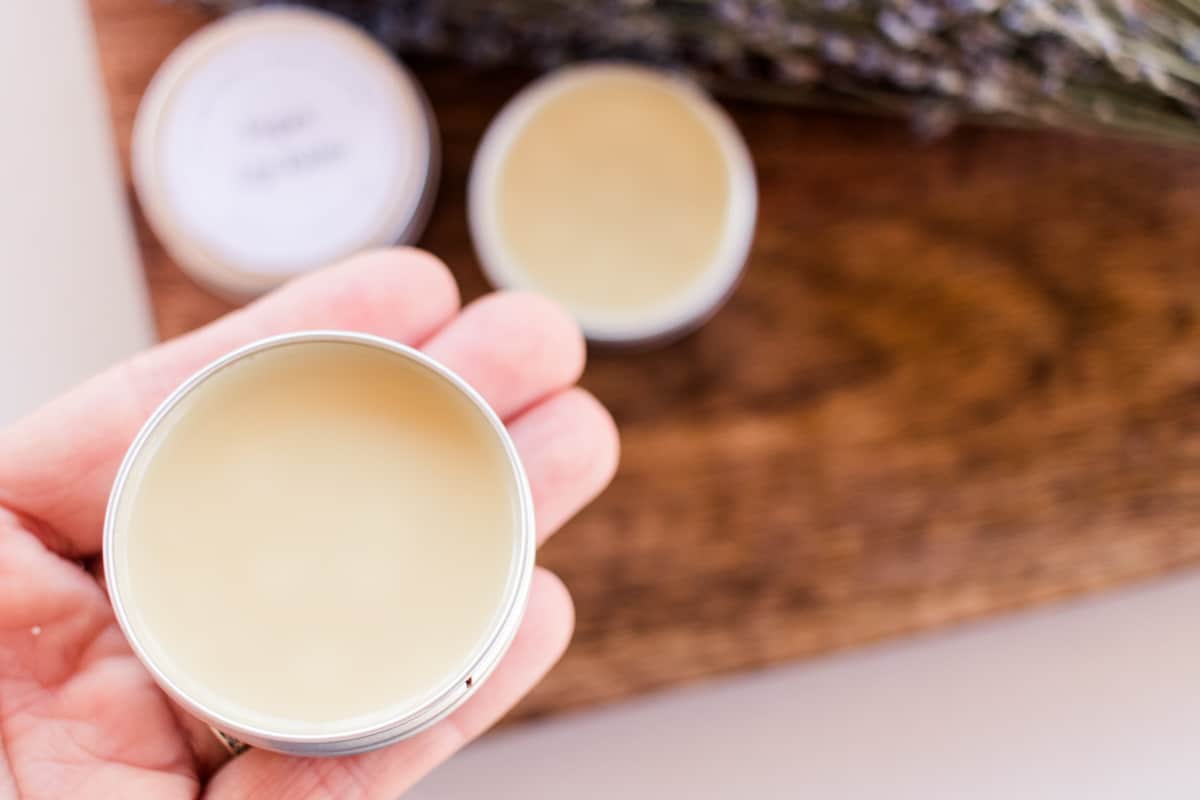 Why you'll love this recipe
It's vegan-friendly. No animal products are in this recipe – just pure plant-based goodness.
It's super easy to make. You just need to melt the ingredients together and pour them into your storage container, and that's it! Wait for it to harden and cool down fully, and it's ready to use.
It saves you money – Once you purchase the essential ingredients, you can make multiple batches of lip balm without paying anything more.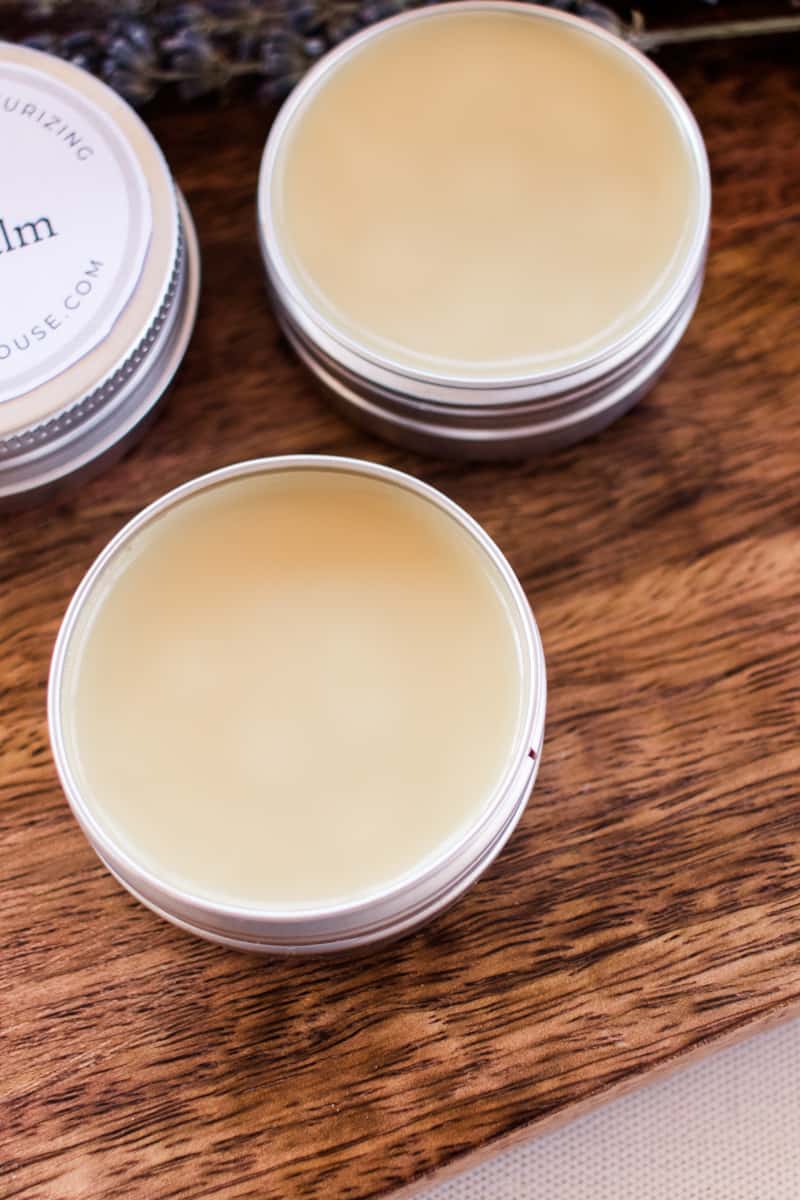 This post contains affiliate links, which means I make a small commission at no extra cost to you. Get my full disclosure HERE.
how to make vegan lip balm
I hope you enjoy this vegan lip balm recipe. Simply follow my instructions and wait to use it once it's thoroughly cooled and solid.
Ingredients:
Instructions:
Measure out your ingredients before adding them to a saucepan to melt.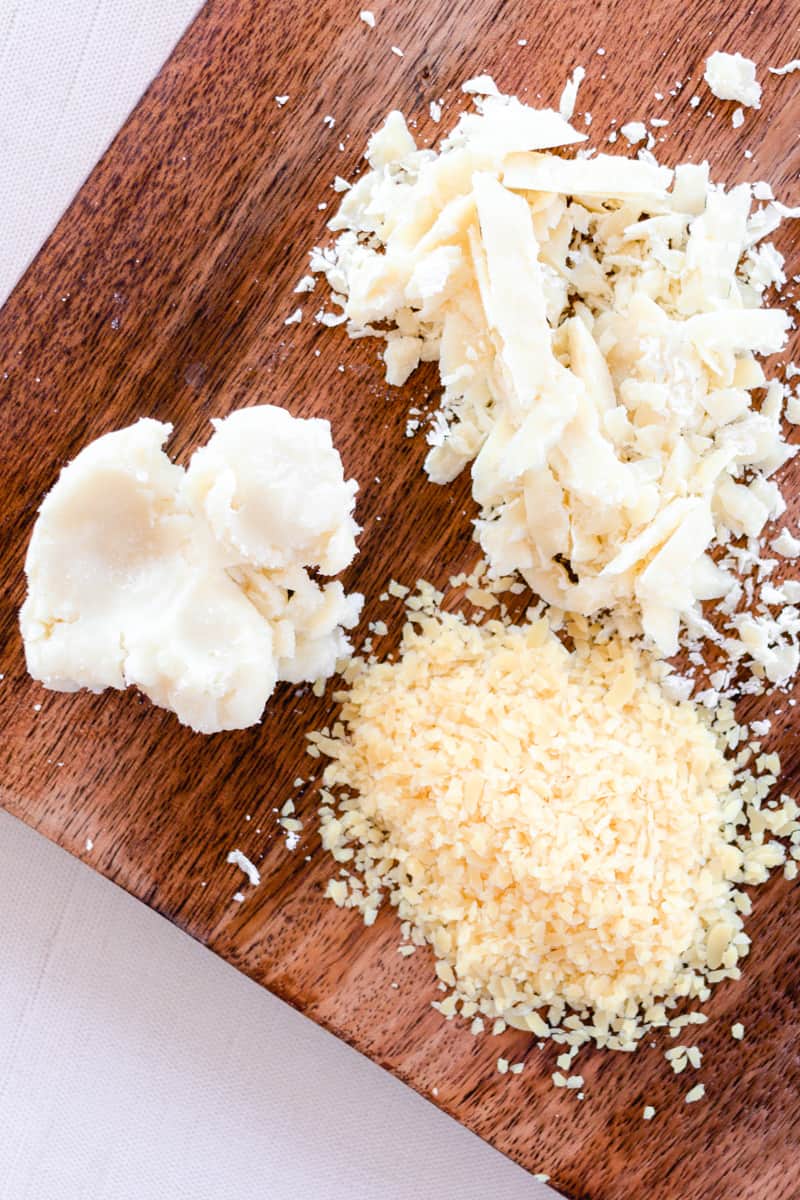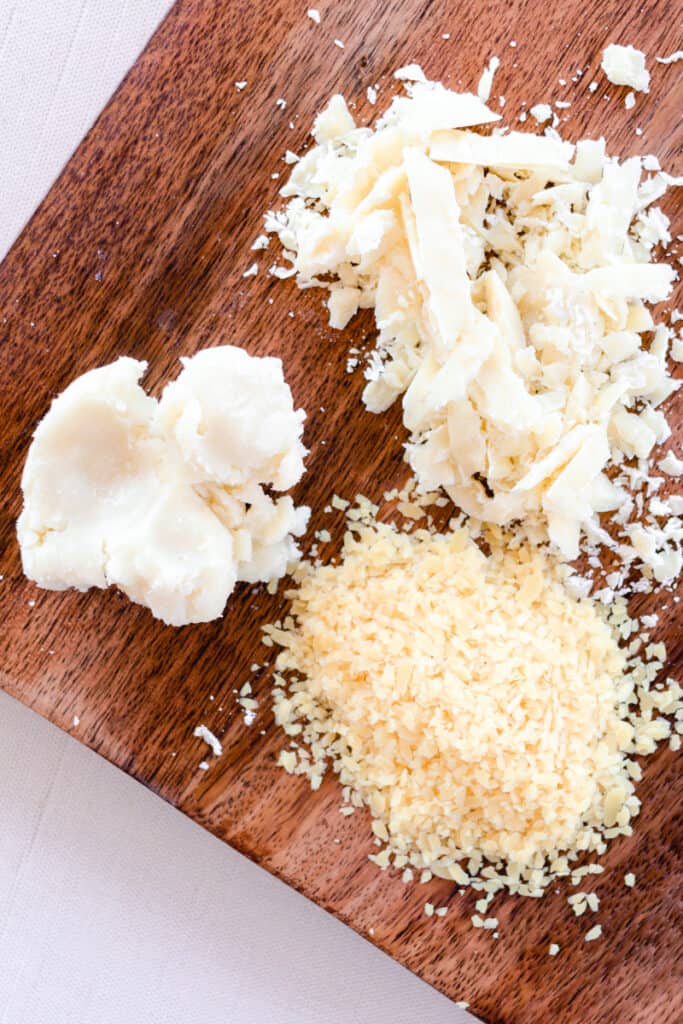 Melt cocoa butter, shea butter, and candelilla wax in a small saucepan or a wax melter on low heat.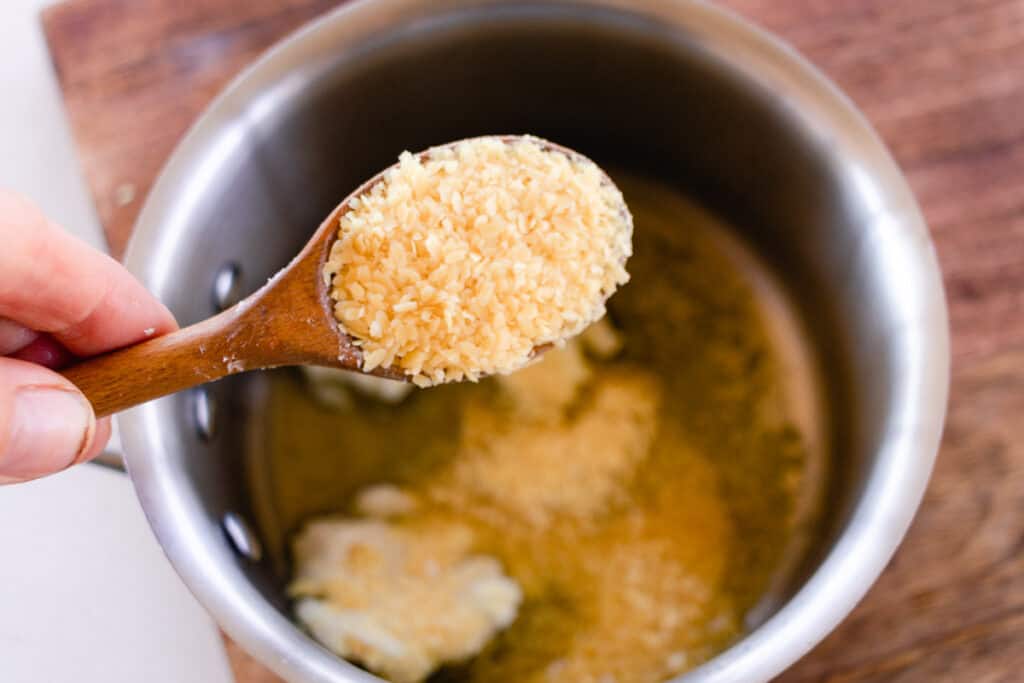 Allow it to cool to about 110°F before stirring in the geranium.
Transfer to one-ounce tins for storage.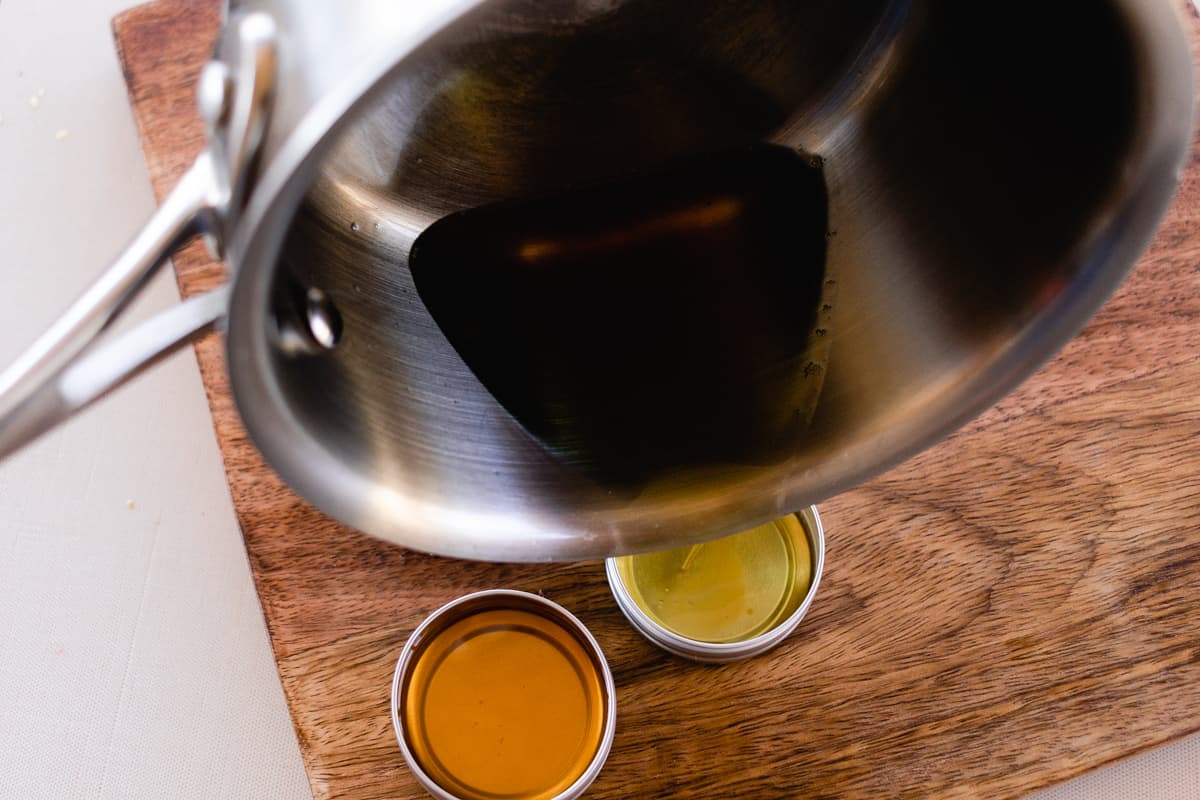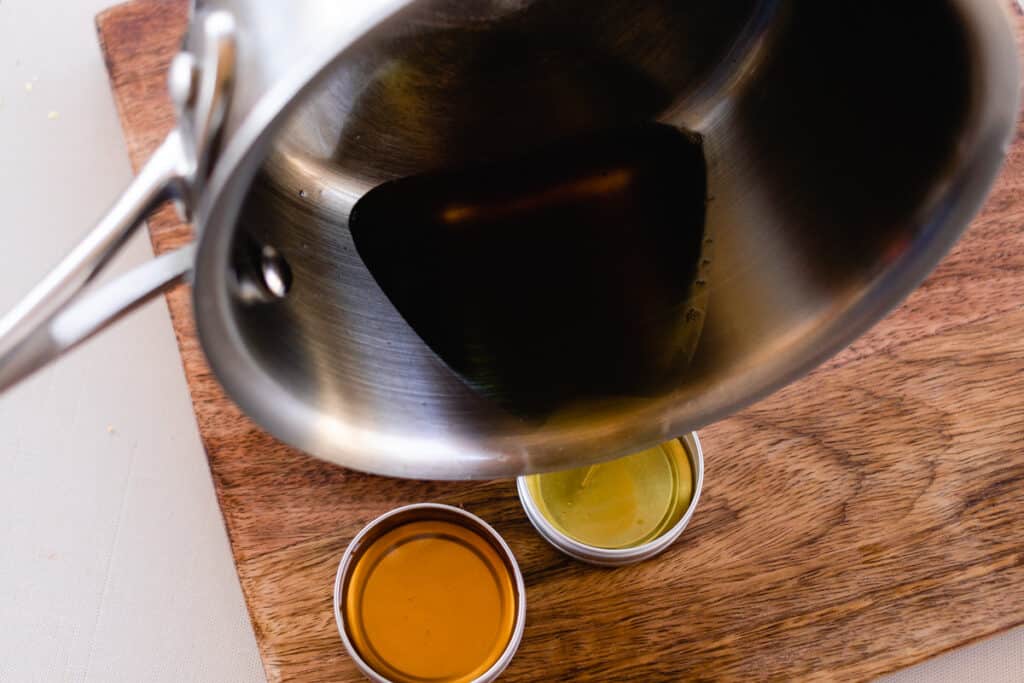 Allow the lip balm to harden entirely before securing the lid.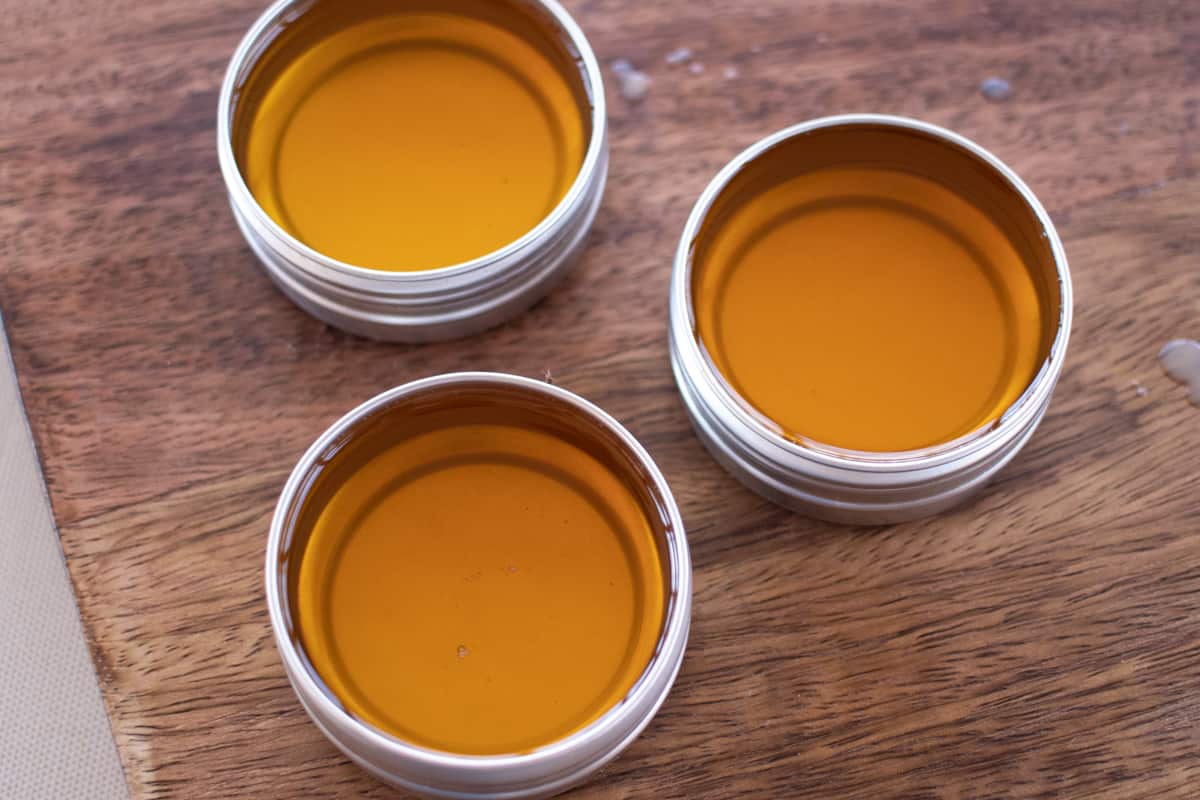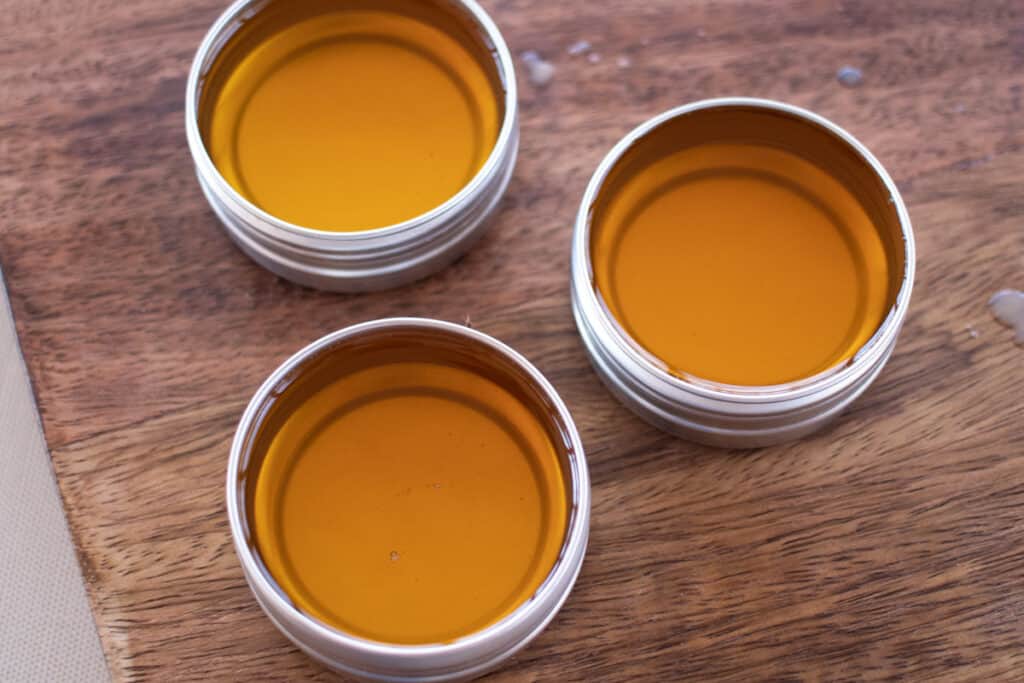 FAQs/tips
How long does this lip balm last?
This vegan lip balm will last up to 1 year if stored correctly. Remember to replace the lid properly each time you use it so it doesn't dry out.
How do you harden lip balm without beeswax?
The candelilla wax in this recipe acts as a replacement for the beeswax, making it suitable for a vegan lifestyle.
Candelilla wax has a high melting point, so it is perfect for lip balms, particularly if you tend to keep your lip balm in your pocket or purse for months on end and forget about it.
Why make your own lip balm?
This particular lip balm is vegan designed, which is one of the main reasons to make it. You know for a fact that it contains zero animal products, as you can see what goes in it!
Other reasons for making your own lip balm include cost savings, especially when buying bulk.
Another bonus is using only natural products, which are far better for your body and health than anything made from synthetic materials.
Not to mention the sheer enjoyment of making DIY products! It's so fun when you start and really self-gratifying when you get to try it out. You won't stop once you start!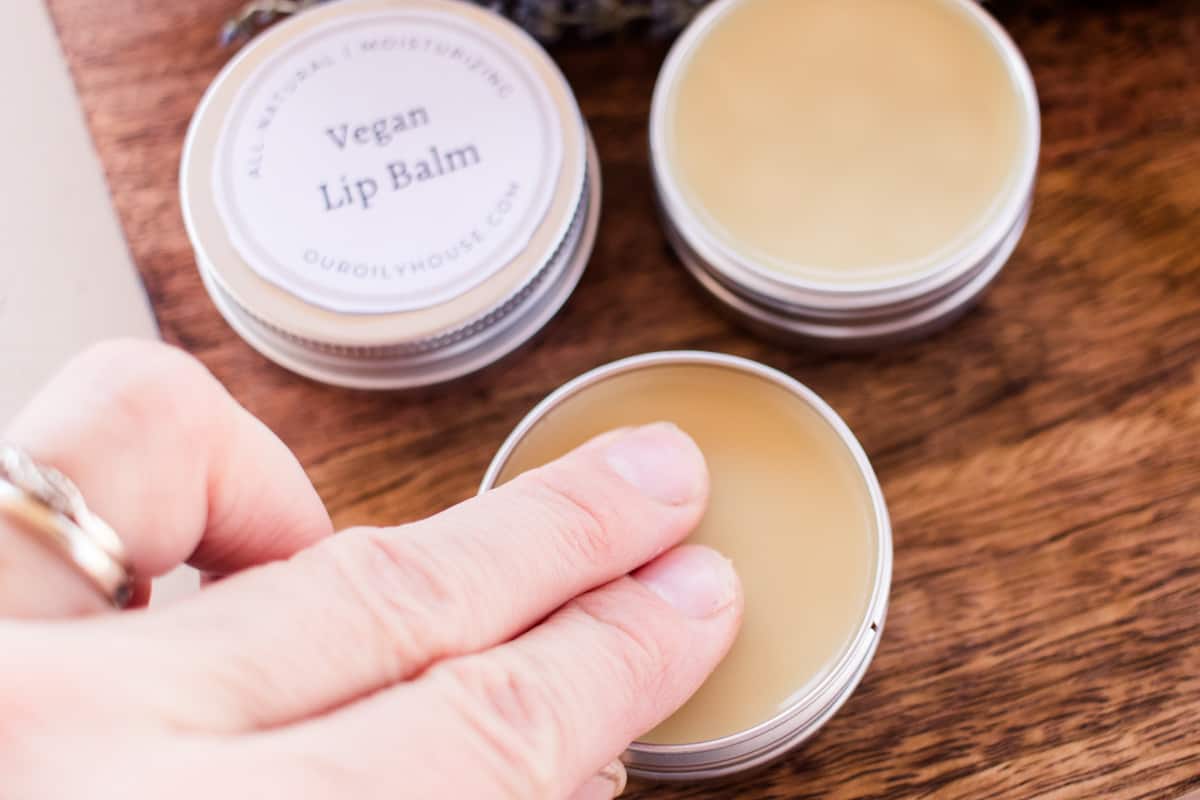 You'll be pleased to know this lip balm *should* stand the summer heat pretty well and not melt all over your belongings!
I hope you enjoy making and using this vegan lip balm. Remember, you'll make up to 3 one ounce tins with just this one recipe as it is!
And, of course, you could always double or triple the quantities if you wanted to make more.
Feel free to ask any questions in the comments section below. Or simply let me know how this recipe was for you!
And if you'd like to read another post of mine, here are some suggestions.
Yield: 3 one ounce tins
Vegan Lip Balm Recipe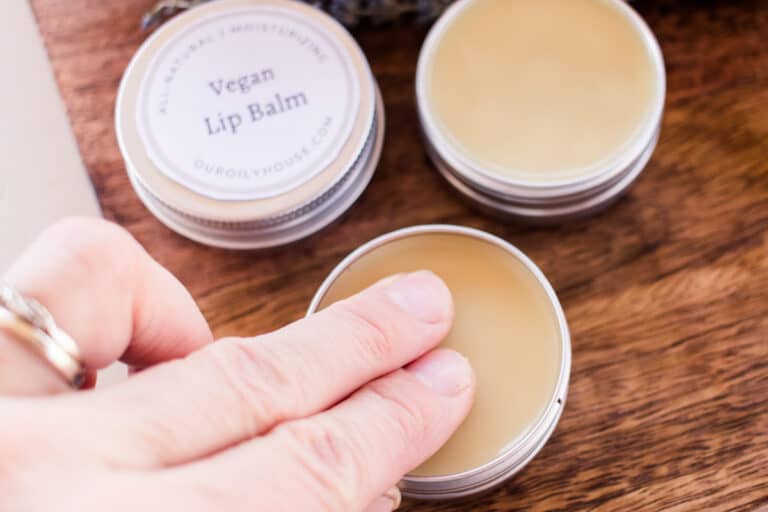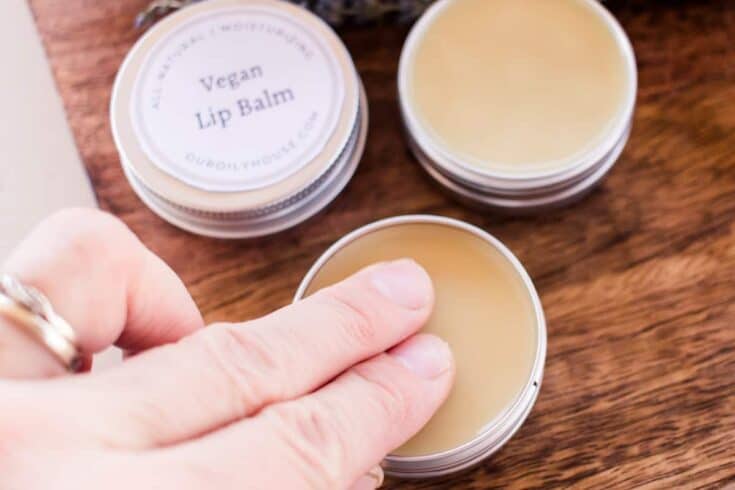 Looking for a Vegan Lip Balm Recipe to make at home? Look no further. Enjoy this easy, quick, vegan-friendly lip balm right away.
Instructions
Melt cocoa butter, shea butter, and candelilla wax in a small saucepan or a wax melter on low heat.
Allow it to cool to about 110°F before stirring in the geranium.
Transfer to one-ounce tins for storage.
Allow the lip balm to harden entirely before securing the lid.
Notes
Swipe 2 fingers across the lip balm before applying a thin layer to the top and bottom lips. Then rub your lips together to spread evenly.
This will make 3 one ounce tins that should last up to 1 year.