Doesn't this matcha scrub sound delicious?! Edibly so! Mmmmm!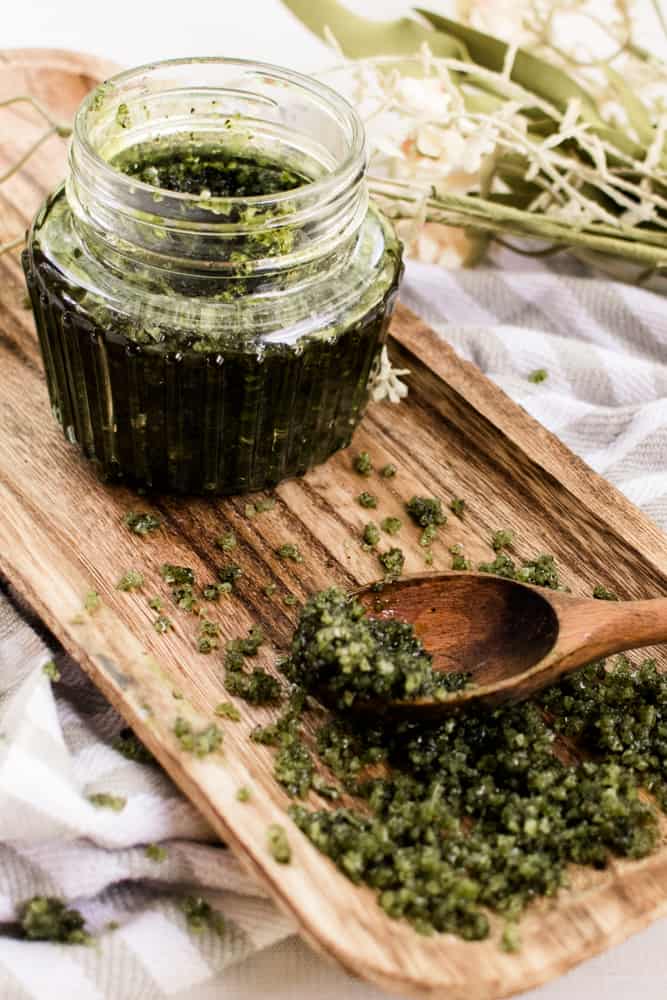 I'm a big fan of green tea myself (the beverage and the scrub) because it has so many health benefits. And this matcha scrub is no different!
It makes bath times that much more special, and the great thing is this scrub can be used on all parts of the body – face included!
In this post, I'll share why green tea matcha scrub is so wonderful for your skin, body and mind.
I'll also explain what the health benefits are (anti-aging is a biggie!), plus you'll get the recipe to make a matcha body scrub yourself in the comfort of your own home.
Read on to discover the delights of this delicious body scrub. I'm sure you'll love it as much as I do!
matcha benefits for skin
One of the key features of matcha is its methylxanthines, which stimulate circulation in the skin, prompting the skin's renewal system, making it look plumper, firmer, and revitalized as if you've just walked out of a spa.
It's jam-packed full of antioxidants that fight free radicals – they're those nasty elements that speed up the aging process and contribute to cancer cell formation.
So in effect, matcha helps slow down the signs of aging and helps us look younger and refreshed (great for us busy women out there with chaotic families!)
If you struggle with blotchy skin or acne, matcha can help heal the blemishes, smooth fine lines, and fade age-related dark patches and scars.
Inflammation is also something that matcha can reduce, being of interest to those who suffer from red patches or spots on the face.
Let's not forget the caffeine!
Believe me, the joys of caffeine are not just in coffee. Matcha contains plenty of the stuff, which means great things for your skin.
Caffeine is a skin firmer and a skin smoother, leaving you looking like you've just had a week on a sunkissed beach (you know that glow?)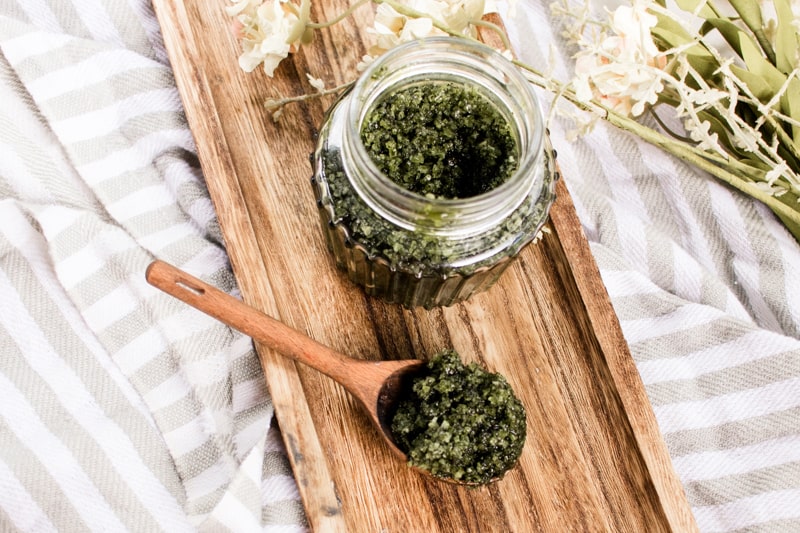 green tea facial scrub
Ready for radiant skin?
Look no further than the green tea scrub recipe below.
It's honestly so simple to make. You literally melt the ingredients together on the stove, and you're done!
You can store it in the fridge for a few weeks and use it when your skin needs a pick-me-up.
What's so good about this green tea facial scrub recipe is it's super gentle on all skin types.
Yes, even sensitive skin like mine. I find many of the scrubs I've tried before have left my skin red and raw (literally.)
But the Celtic sea salt used here is much kinder and soothing to the face, so it shouldn't cause upsets or outbreaks.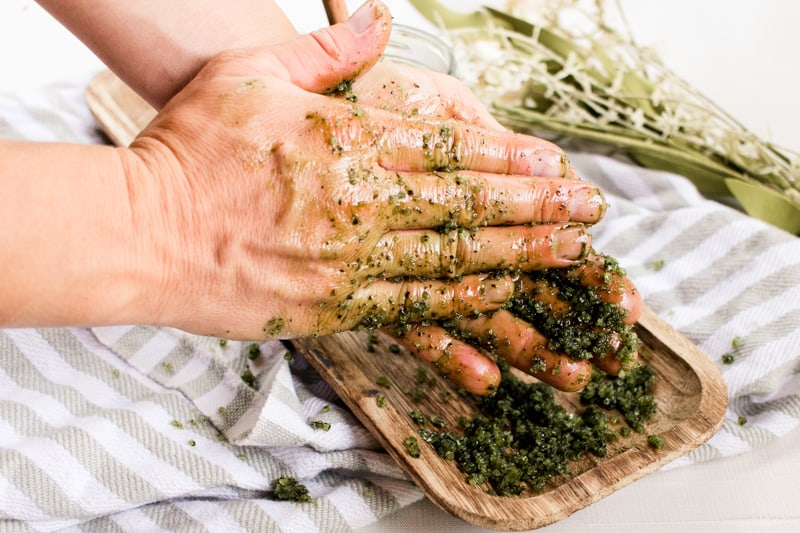 sourcing the ingredients
Did you know that matcha green tea is one of the most sustainable ingredients out there, particularly if you compare it to other types of tea?
This is another reason I love it! Caring for the environment is so important to me.
But why is it sustainable, you ask?
Because the tree can live up to 500 years, if not more, and the whole tea leaf is used in the grinding process of matcha.
In other tea varieties, only a portion of the leaf is used, and the rest is discarded as waste.
Despite matcha being traditionally sustainable, you need to watch out.
Every brand is different (and some are not sustainable), so please be aware of this and shop wisely.
Go for the organically grown ones – you won't regret it.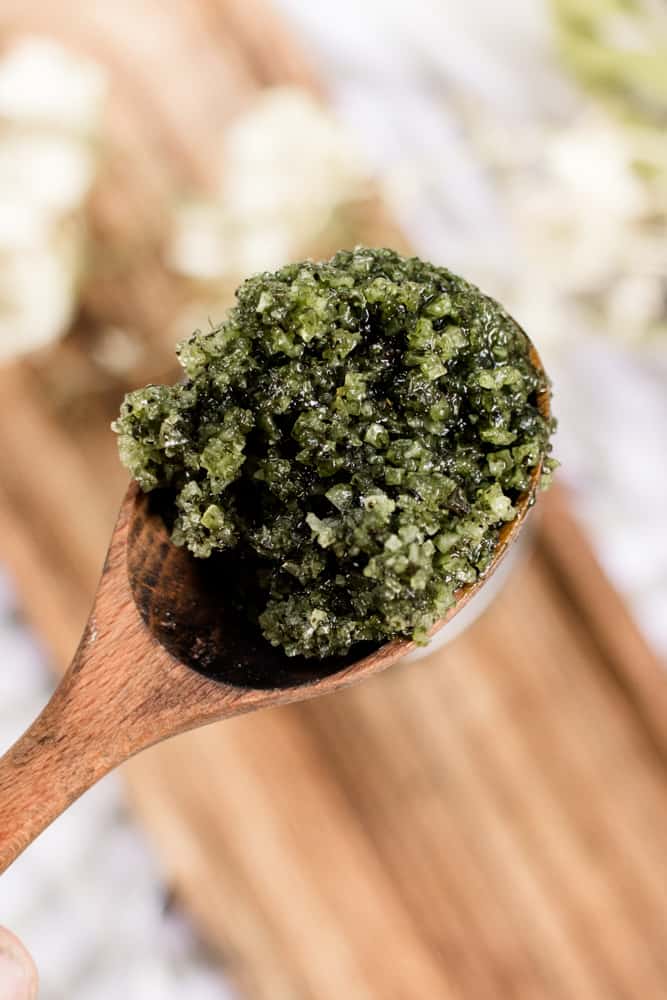 This post contains affiliate links, which means I make a small commission at no extra cost to you. Get my full disclosure HERE.
Matcha scrub recipe
Here's the recipe for this amazing green tea matcha scrub. It takes a few hours to cool until it's ready to use and will last a few weeks if kept in the fridge.
Ingredients:
Instructions:
Melt mango butter with vegetable glycerin on the stovetop.
Transfer to a mixing bowl.
Stir in the rest of the ingredients.
Store in an airtight container (the fridge is ideal)
Use on wet skin. Scoop a generous amount of scrub out with your fingers and gently rub it into the skin.
Rinse thoroughly with warm water.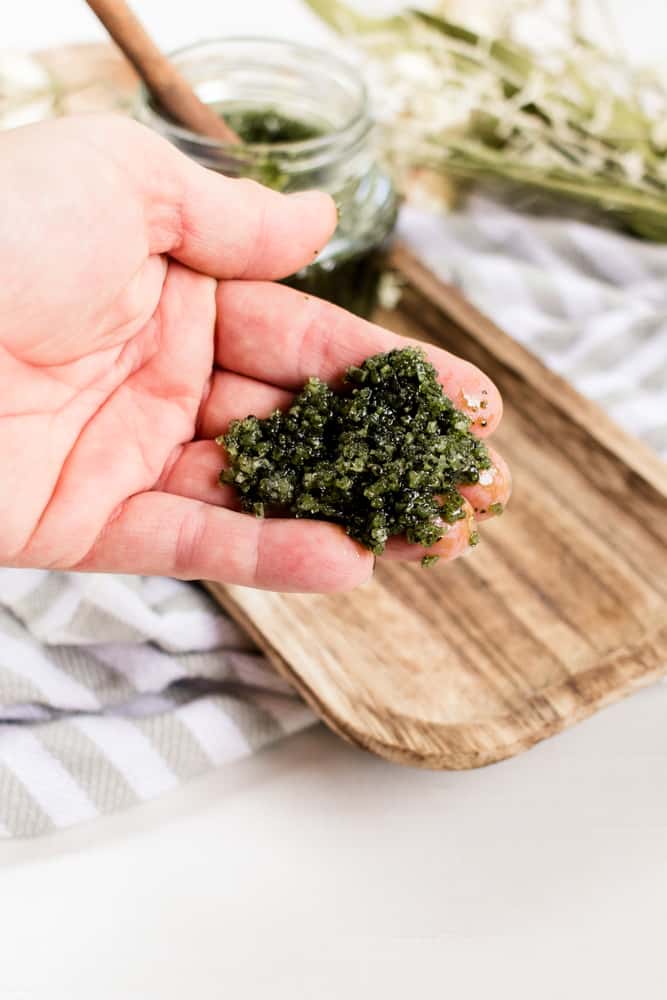 why you'll love this body scrub
This scrub is truly glorious – you can tweak the ingredients as you like to make it suitable for your face or your body, or use less of the scrub on your face so as not to cause irritation.
It's also a great money saver compared to store-bought scrubs (which can be mega expensive and full of nasty chemicals).
Did I mention it smells amazing?
The mango butter gives a subtle but delicious scent – great to lift your mood and bring a smile to your day.
Plus, you really can't miss the color!
It's a vibrant green like nothing you've ever seen before. Taking you to tropical rainforests or flower-scattered spring meadows (if you let it!)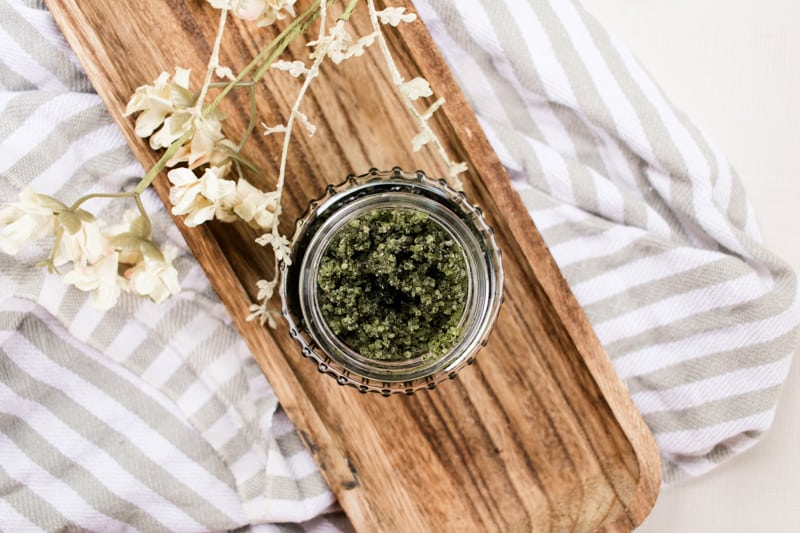 Celtic salt benefits
We all know the benefits of a salt bath, right? Salt is a natural skin healer, great for scrapes, cuts, and general blemishes.
But it's also fantastic for skincare. It's great on oily skin to help reduce skin sebum, but it can have a drying effect if you use it too often.
Celtic salt is also a natural antiseptic, so good for healing inflammation, spots, and breaks in the skin.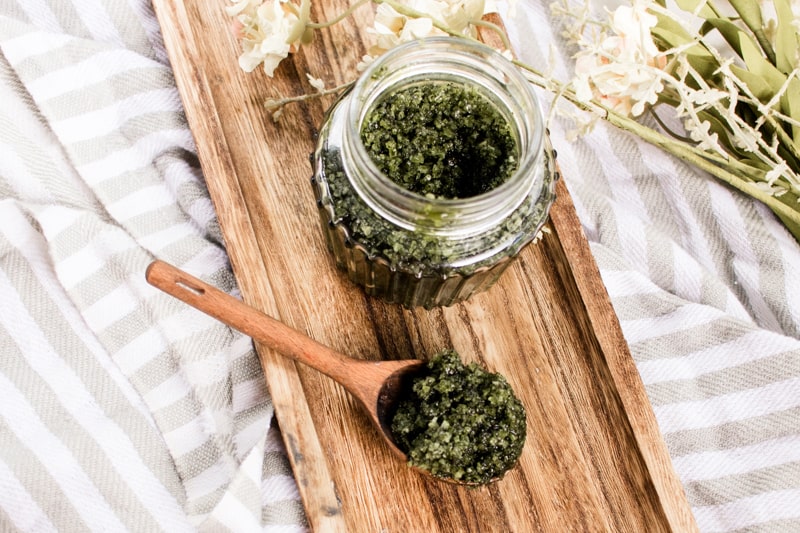 Tips
For sensitive skin, I advise using a finer salt type. This is to avoid over scrubbing already delicate skin, which may lead to skin injury.
Also, please be aware not to over-scrub. Sea salt is a fantastic exfoliator, but it can be abrasive if you rub it in too hard.
In addition, be aware of skin allergies. If you feel any signs of stinging or discomfort, remove the matcha scrub immediately and wash it off with pure water.
I hope you love making and using this green tea matcha scrub! Drop me a comment in the thread below and share how it was for you.
If you enjoyed reading this post, you may enjoy one of these next.
Yield: 1 Jar
Green Tea Matcha Body Scrub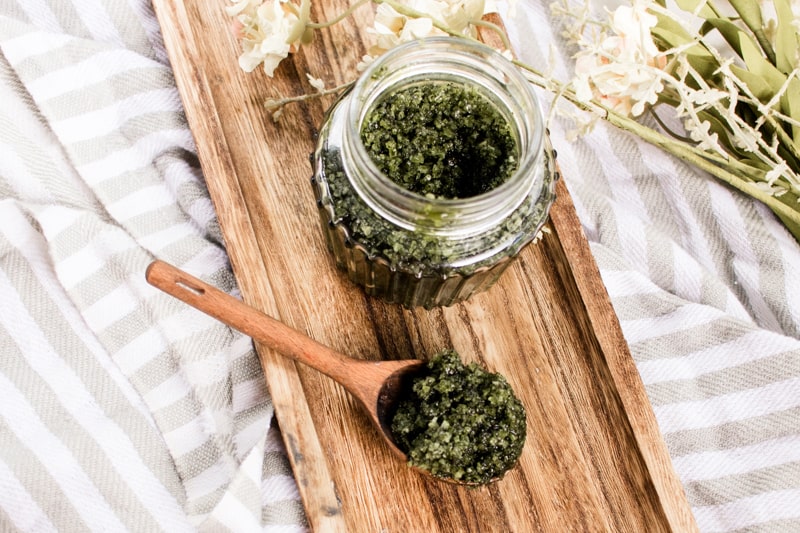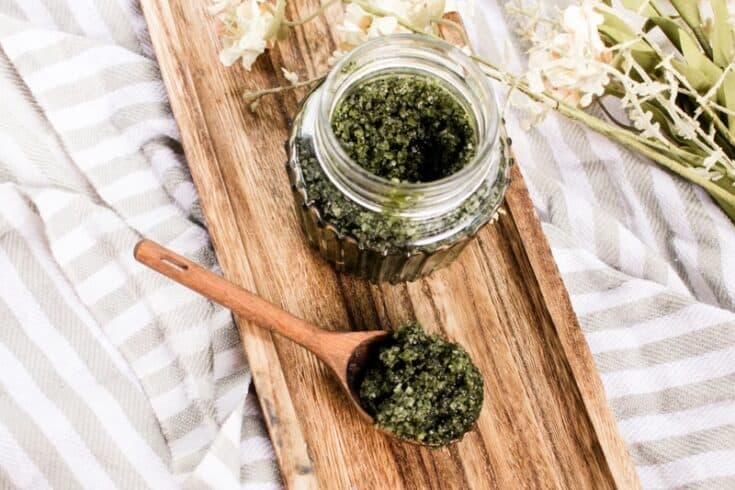 This Green Tea Matcha scrub is terrific for all skin types, helping smooth fine lines, age spots, and red areas better than anything. It's kind to the skin, environmentally friendly, and better on your purse too. You'll love it! Read on for the complete recipe!
Instructions
Melt mango butter with vegetable glycerin on the stovetop.
Transfer to a mixing bowl.
Stir in the rest of the ingredients.
Store in an airtight container. (the fridge is ideal)
Notes
Gently rub the body scrub onto the skin and rinse off with warm water.