Make a homemade sugar scrub with 3 ingredients that you most likely already have in your home. This DIY project makes a perfect gift for anyone, or it's great for pampering yourself.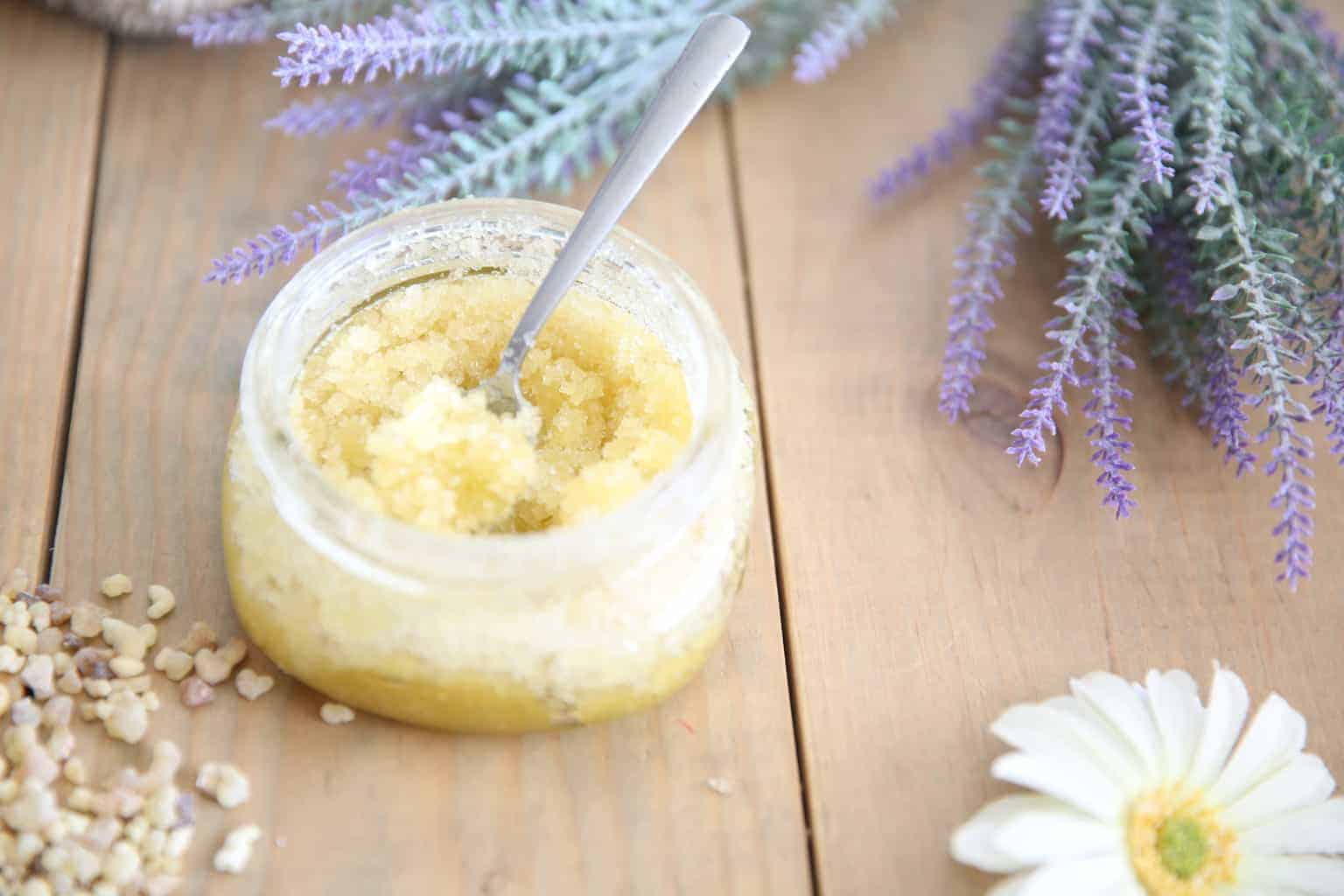 HOW TO MAKE HOMEMADE SUGAR SCRUB
Something about a sugar body scrub makes me feel fancy and girly. I always love having a jar of it on my bathroom vanity. Now, I know they tend to be a bit pricy at the store, but this homemade version is actually very low cost.
Sugar scrub will leave your hands feeling moisturized and clean. And during the dry winter months, it can be quite helpful in restoring dry, cracked skin.
You can also use it for dry, cracked skin on the feet or as a face exfoliating scrub. The best part is, only a couple of ingredients and a jar will wrap up this simple DIY project.
This post contains affiliate links, which means I make a small commission at no extra cost to you. Get my full disclosure HERE.
HOMEMADE ESSENTIAL OIL SUGAR SCRUB RECIPE
1/4 cup olive oil
1 cup organic cane sugar
15-20 drops of essential oils (See my favorite blends below)
Mason jar or other storage containers (I use these mason jars)
INSTRUCTIONS
Combine olive oil and cane sugar in a medium-size mixing bowl, stir well.
Add essential oil blend and mix together.
Store in an airtight container.
HOW TO USE SUGAR SCRUB
Massage into the bottom of the feet to help remove and heal dry, cracked skin.
Add a dime-size amount to the palm of your hand and massage it into the face. Allow it to soak in for a few minutes and then rinse with warm water.
You can use this on the back of the elbows to relieve dry, flaky skin by massaging into the area of concern. Rinse off with warm water.
Use the sugar scrub for a soothing back massage after a long day of work.
BEST ESSENTIAL OILS FOR HOMEMADE SUGAR SCRUB
PAMPER SKIN
10 drops lavender
10 drops frankincense
Frankincense and lavender are known for rejuvenating the skin and repairing skin imperfections. Both these oils also work well on dry, flaky skin. Use this blend when hands are dry or cracked.
This is my favorite blend to use!
CITRUS BLISS
6 drops wild orange
5 drops lemon
4 drops lime
This is a fun, refreshing blend of all citrus essential oils. Citrus bliss is a great blend to use if making this for a child or if you love a fruity smell.
WARNING: Citrus essential oils are photosensitive, so be sure not to use this blend before going out in direct sunlight. Personally, if I wash my hands with a scrub made with citrus essential oils, I will make sure to rinse it off before being exposed to any sunlight. If you are one with sensitive skin or burn easily, this is something to be cautious about.
EARTHY
8 drops sandalwood
6 drops peppermint

4 drops rosemary
2 drops melaleuca
This has a beautiful earthy yet fresh scent. If you are making this sugar scrub for a man, this would be a great blend to use.
Sugar scrub can be very helpful for rough, working man hands. The peppermint adds a nice cooling effect to the skin.
SWEET FLORAL
8 drops lavender
6 drops roman chamomile
4 drops rose
2 drops wild orange
I love all things citrus and floral. The scent is beautiful and calming. This blend paired with a homemade night cream would be perfect for a Mother's Day gift or a best friend's birthday.
These oils are wonderful for the skin and can help with skin imperfections and blemishes.
COOLING
6 drops peppermint
5 drops wintergreen
4 drops lime
This minty citrus blend is very refreshing and can help open up airways, soothe sore muscles, and help you wake up feeling energized.
Try using this blend as a soothing back massage if feeling achy or sore.
ORGANIC SUGAR SCRUB
I love to educate others on essential oils, and I hold monthly classes at a local coffee shop. I like to give each person an "oil experience" in every class.
A friend shared a sugar scrub recipe with me, and I started making it to bring to my essential oil classes. Before I start teaching, I spoon a little sugar scrub on everyone's hand and tell them to massage it into the skin and then wash their hands like normal.
Everyone loved it so much I decided to share the recipe on my blog.
SUGAR SCRUB BENEFITS
Sugar has very small particles that can be very beneficial at exfoliating the skin and removing the dead skin particles. Some people prefer to use salt or sand. Both of those options are fine, but I have found sugar to be the most gentle on the skin.
Using the scrub can help to remove dead surface skin cells and reveal the healthy new skin underneath.
The recipe calls for organic sugar, but you can use regular cane sugar. Because brown sugar and coconut sugar do not share the same texture, I prefer to stick with white sugar.
HOW OFTEN TO USE BODY SCRUB?
Sugar scrubs, or any exfoliating scrubs, are not intended for daily use. It is best to use sugar scrub 2-3 times a week.
In the cooler months when your skin is more susceptible to dry weather try this whipped lavender sugar scrub.
CAN I USE A DIFFERENT OIL INSTEAD OF OLIVE OIL?
Yes! You can use any liquid oil to make the scrub. Other options include:
Avocado oil
Fractionated coconut oil
Sweet almond oil
Grape seed oil
Rose hip oil
I am often asked if one can make a sugar scrub with coconut oil. You won't want to use coconut oil because it can solidify when kept in cooler temperatures. This will make it nearly impossible to use. However, you can use fractionated coconut oil because it will stay in liquid form regardless of the temperature.
I hope you enjoy this simple sugar scrub recipe! It would make a great gift for someone, or perfect for pampering yourself.
MORE DIY PROJECTS YOU MAY ENJOY
PIN IT FOR LATER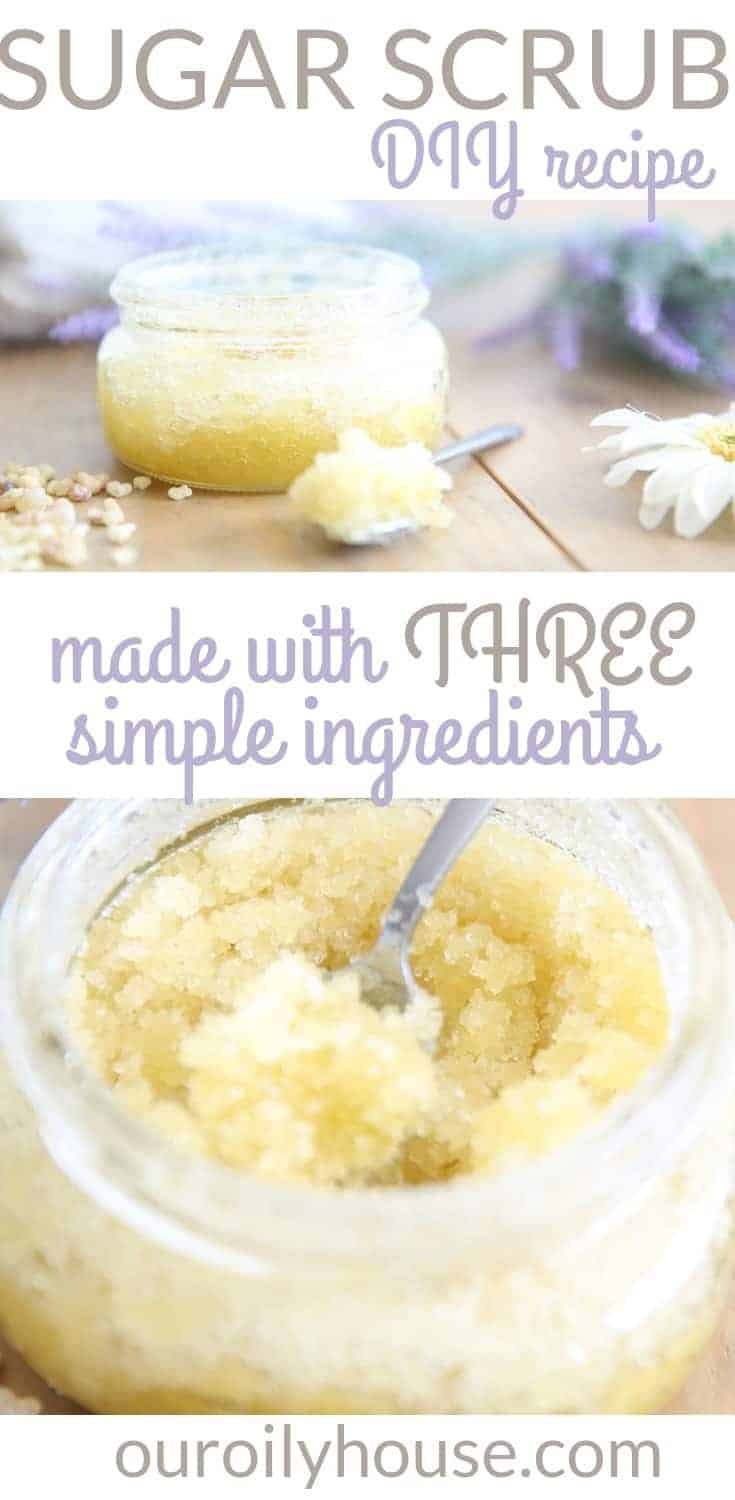 Homemade Sugar Scrub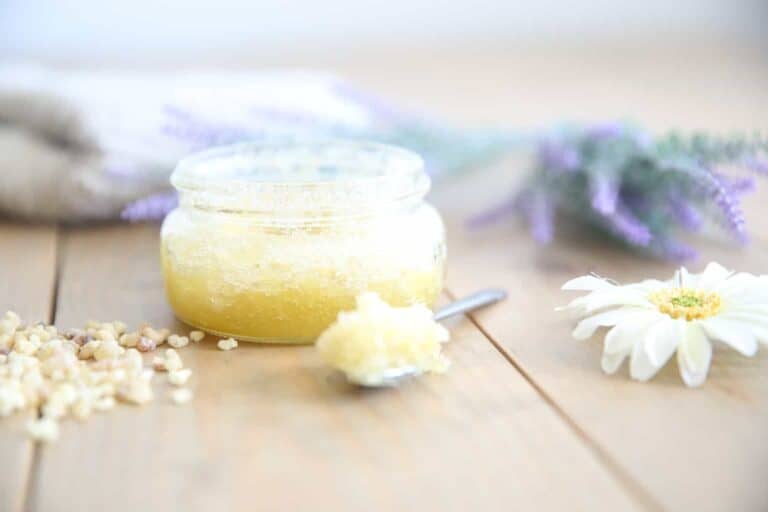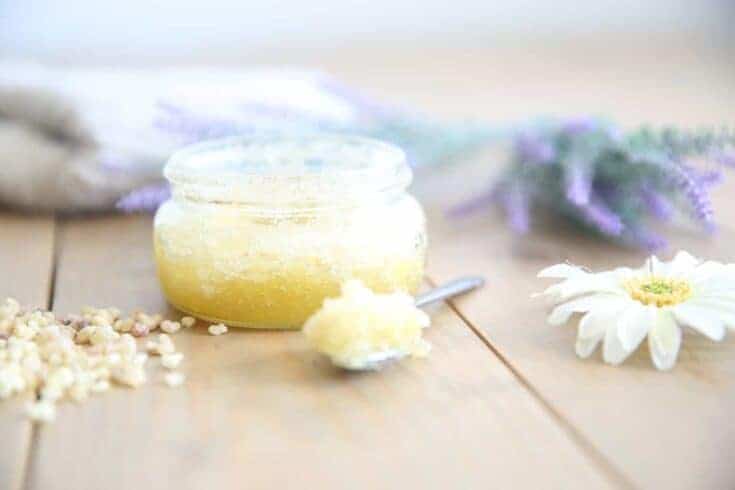 Simple yet effective sugar scrub recipe. It works wonders on all skin types. Use it on hands, face and feet as a gentle exfoliator.
Additional Time
5 minutes
Ingredients
1/4 cup olive oil
1 cup organic cane sugar
15-20 drops essential oils
Mason jar or other storage container
Instructions
Combine olive oil and cane sugar in a mixing bowl
Add 10 drops each of lavender and frankincense essential oil.
Store in an airtight container.

Notes
Add a dime-size amount of sugar scrub to the palm of the hand, and massage well. Let sit on hands for about 15 seconds. Rinse hands with warm water.