This DIY beard oil can be used to promote hair growth as well as to thicken, and soften the hair for easier styling. This recipe uses the best carrier oils and essential oils for thickening and strengthening hair.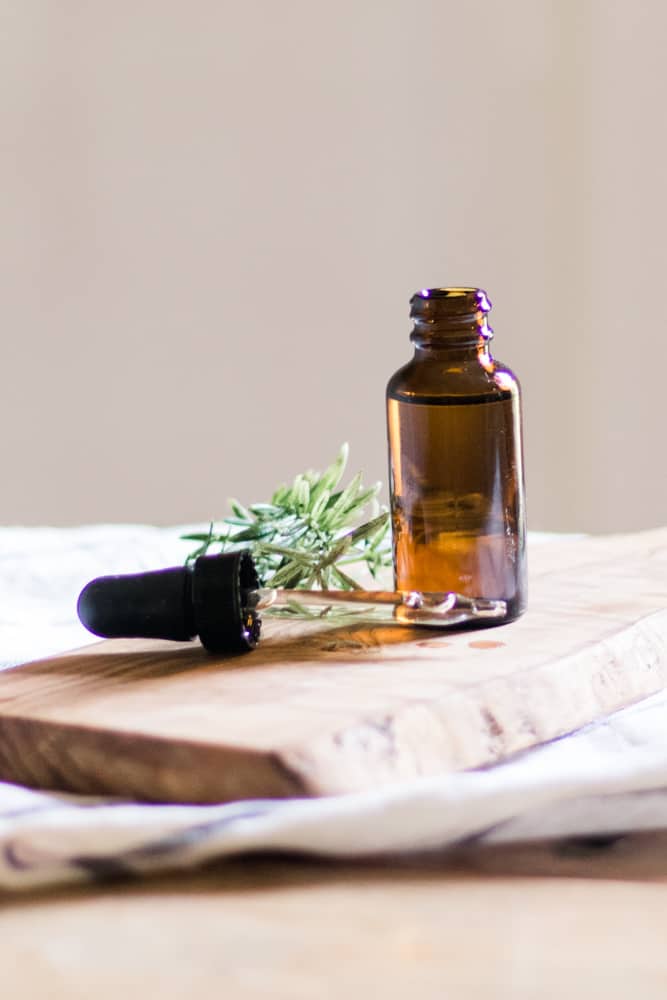 Essential Oils for Beard Growth
There are a number of oils that can be used to thicken and stimulate hair growth. The two most popular probably being rosemary and lavender. Rosemary essential oil is known for stimulating hair follicles and helping treat dry hair as well as overly oily hair.
Lavender essential can help prevent split ends and produce more hair follicles, making it great for thickening hair. If you have patchy spots in your beard, try using rosemary and lavender essential oil to thicken.
Other essential oils to try:
Tea tree
Cedarwood
Peppermint
Lemon
Find all those essential oils here.
It is important to note that though lemon essential oil can be helpful for hair, it is a photosensitive oil. Photosensitive oils should not be worn when in direct sunlight as they can cause severe reactions. If using lemon in your beard oil, apply at night before bed.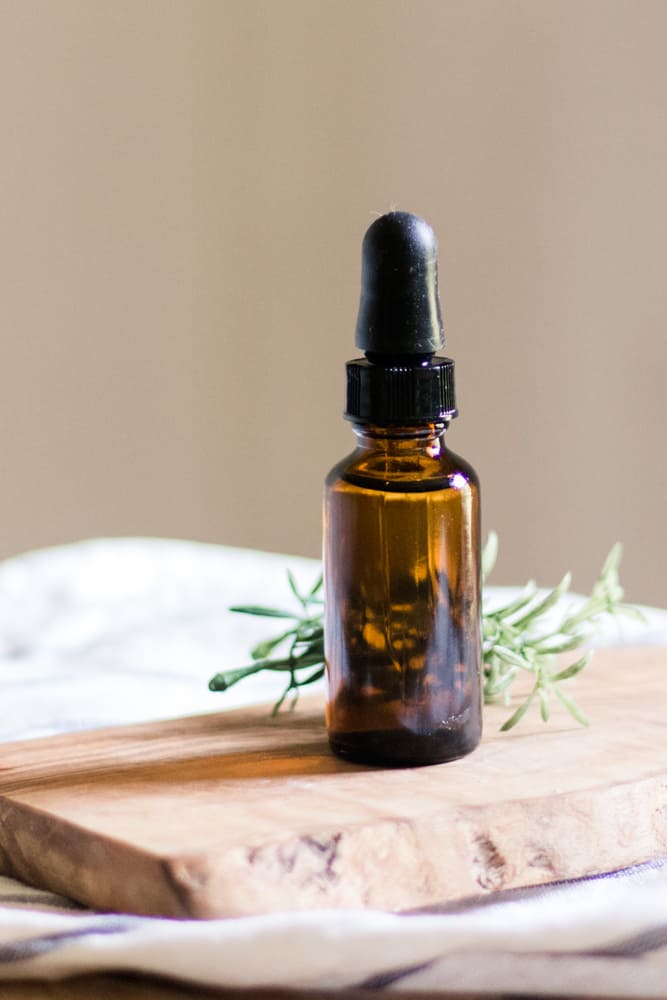 Best Carrier Oils for Beard Growth
Argan oil, castor oil, and jojoba oil are some of the best carrier oils to use in your beard oil. Other carrier oils that can be used are fractionated coconut oil, sweet almond oil, and Jamaican black castor.
Argan, castor, and jojoba oil are especially well known for helping to grow strong, healthy beards, which is why we will use all three in this blend for this homemade beard growth oil.
When purchasing carrier oils, look for brands that offer pure, organic, and unrefined. It is also best to get unscented oils to avoid any artificial fragrances.
Carrier Oils for Beard Growth Oil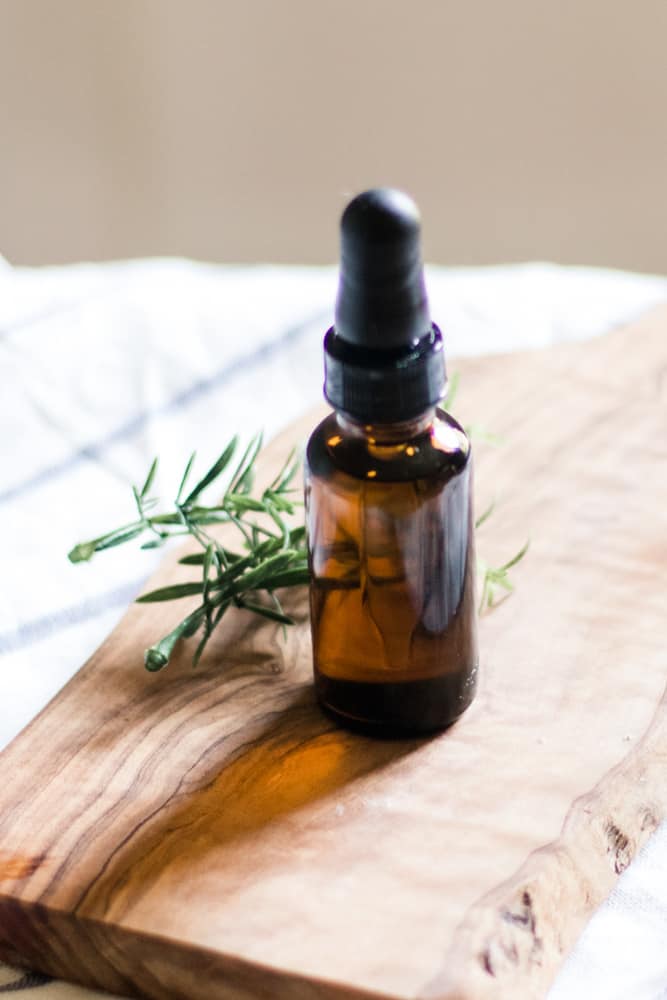 This post contains affiliate links, which means I make a small commission at no extra cost to you. Get my full disclosure HERE.
Argan Oil
Argan oil is rich in vitamin E, making it a great oil for nourishing the skin and hair. It can help soften the hair as well as moisturize it making it easier to tame and style. In addition, Argan oil will provide a healthy shine and may help to thicken the hair.
Castor Oil
Castor oil is a very thick carrier oil that is great for hair growth. It is hydrating, moisturizing, and can help nourish hair follicles. Castor oil is known to thicken patchy spots within a few days of consistent use.
Jojoba Oil
Jojoba oil can reduce sebum build-up, which is the oily and waxy substance that is produced by the body. Too much sebum can cause the beard to look greasy and even cause dandruff. Jojoba oil can reduce breakage, split ends and give the beard a more full appearance.
How to Make Beard Growth Oil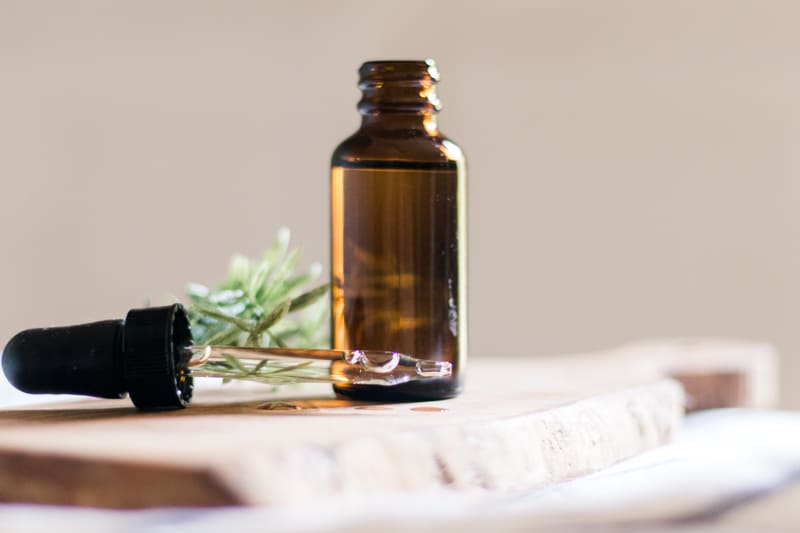 To make beard growth oil, you will need a carrier oil, essential oils, and a glass dropper bottle. The carrier oils serve two purposes; They are essential in growing a thick, healthy beard. Second, they allow for proper diluting of essential oils, which must be done before applying topically.
Ingredients
2 tablespoons argan oil
1 tablespoon castor oil
1 tablespoon jojoba oil
5 drops rosemary essential oil
5 drops lavender essential oil
Instructions
Add the carrier oils into the glass dropper bottle. (I use a 2-ounce glass spray bottle with a replacement dropper top)
Add in essential oils.
Secure dropper top and shake well to combine all oils.
Apply to beard after washing and before styling.
How Much Beard Oil to Use
Only a small amount of beard oil is needed at a time. Obviously, the amount you use will depend on the length and thickness of your beard.
For a thin and stubbly beard, use 2-3 drops of beard oil. For a medium-length beard, use 3-5 drops. And for longer beards, use 6-10 drops.
Add more if needed. The goal is to get a thin layer of oil over the entire board to make styling easier. Use a wooden beard comb to evenly distribute it throughout the beard.
For a stronger hold, follow up with a beard and mustache wax.
How Often Should You Apply Beard Oil?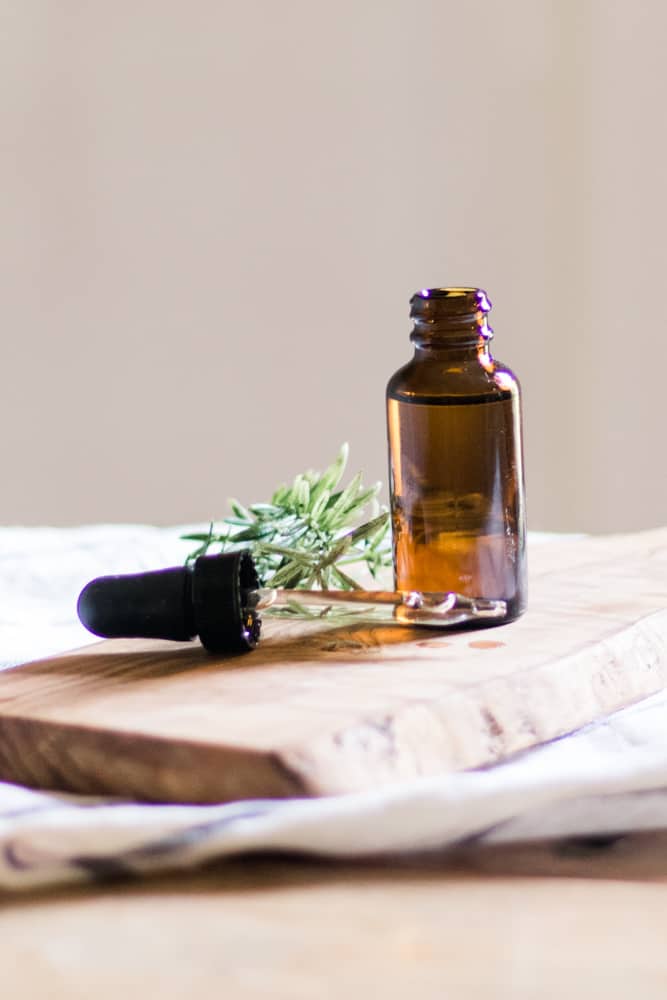 Most men apply beard oil once or twice daily. For dry beards with split ends, it is best to apply beard oil twice daily. Apply in the morning and again before bed. It is best to apply the oil to damp hair. Pat dry the beard, then apply beard oil.
Some men only need to apply beard oil 2-3 times weekly; this really depends on hair type. Start with once a day and scale up or down as needed.
How Does Beard Growth Oil Work
The carrier oils and essential oils used to make this beard oil have properties that can stimulate hair growth and help hair to thicken. As you massage the oil into the beard and skin, they may help to stimulate hair growth.
Your beard has a lot to do with genetics, and if the genes aren't there, it is unlikely that an oil would help to grow your beard. Some men can grow beards and some can't; this oil is for men that can grow beards to make it healthier and thicker.
Beard Thickening Oil
If you have a thin, patchy beard, this beard growth oil may help! For best results, apply it twice daily. Using a beard shampoo and beard conditioning balm can help with thickening the beard too. Overwashing the beard with non-beard shampoo is a common culprit of split ends and patchy beards.
After washing the beard, apply beard oil and then beard butter or balm. This routine may help to thicken, lengthen, and strengthen facial hair.
For more hair care DIYs, try this homemade eyelash growth serum.
Homemade Beard Growth Oil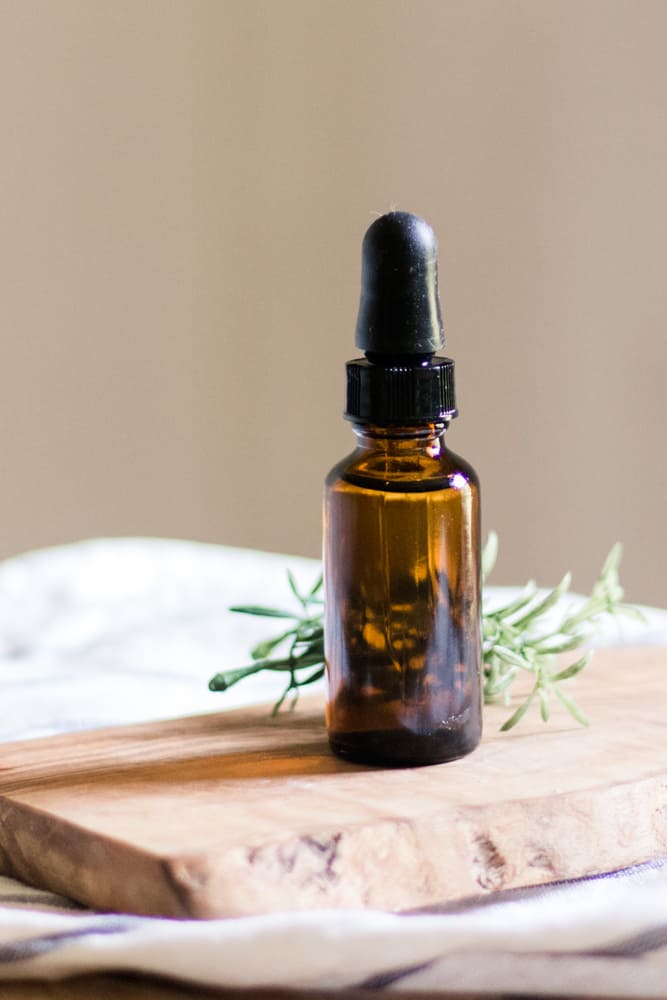 Materials
2 tablespoons argan oil
1 tablespoon castor oil
1 tablespoon jojoba oil
5 drops rosemary oil
5 drops lavender oil
2 oz glass dropper bottle
Instructions
Add carrier oils to the dropper bottle.
Add in essential oils.
Secure dropper top and shake well to combine oils.
Apply 2-3 drops to beard after washing and before styling.