Making your own beard shampoo will keep your beard clean without the chemicals found in traditional shampoos. This DIY beard shampoo is made with all-natural ingredients, scented with essential oils, and will keep your beard soft and easy to style.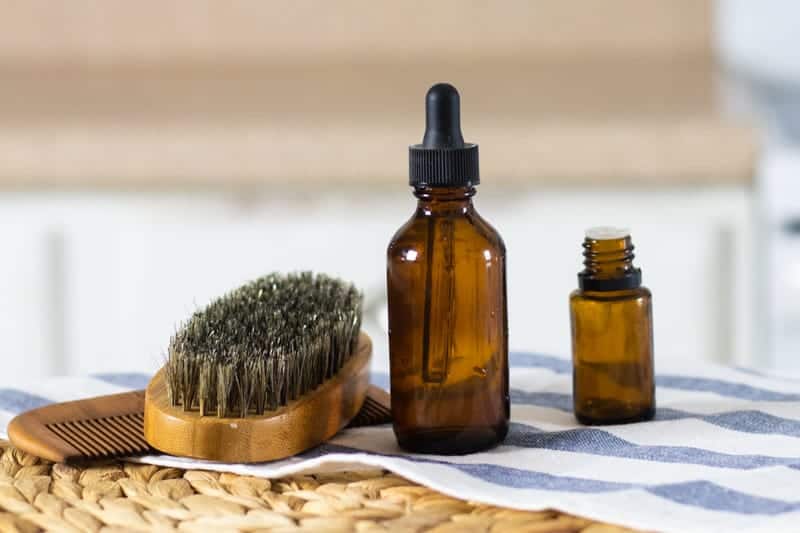 Beard shampoo is easy to customize for hair type, length, and thickness. With only a few ingredients, you can make this DIY beard shampoo that will be perfect for any beard.
Having a nicely styled beard is no easy feat. My husband spends more time grooming his beard than his hair. Having beard oil, beard balm, and shampoo is a must.
Shampooing your beard with beard shampoo is important for keeping your beard clean and healthy. It is especially important for men that have a longer beard.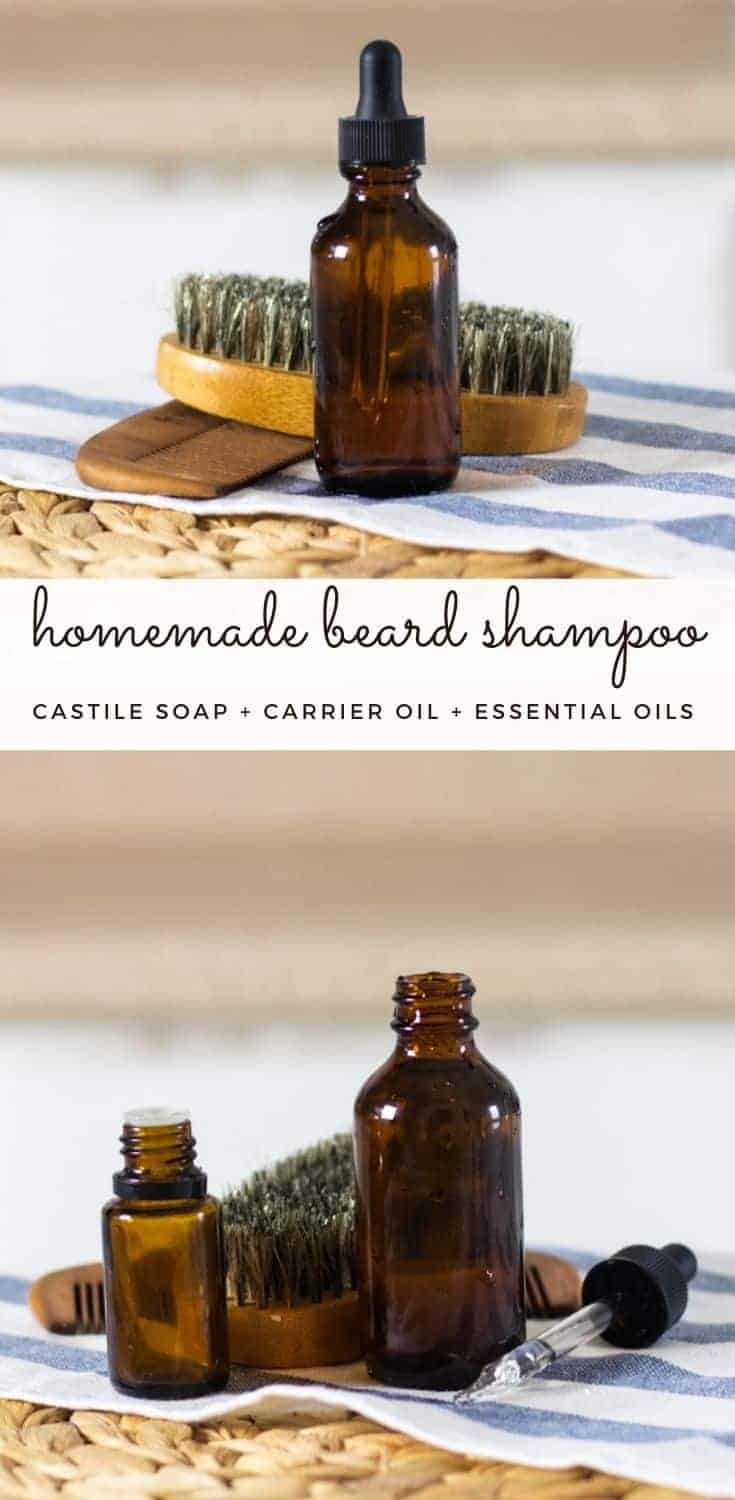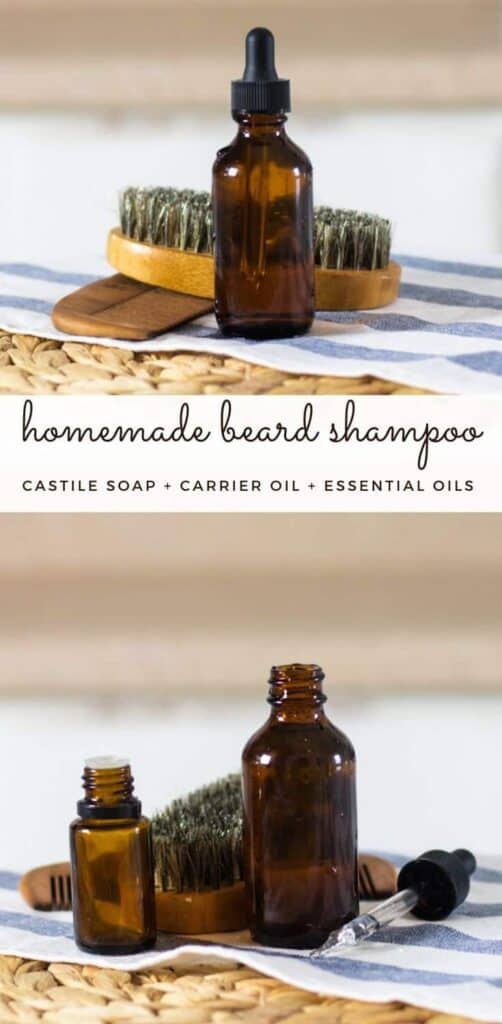 DO YOU NEED BEARD SHAMPOO?
In a short answer, yes. The hair on your head is very different from the hair on your face. Your beard is more susceptible to breaking, split ends and can become quite brittle if not properly cared for.
Normal shampoos strip the oils from the hair to keep it from looking oily and greasy, right? But for a beard, especially longer beards, that is the exact opposite of what we want.
Unlike the top of the head, the face produces a limited amount of oil, called sebum oil; the oil is needed to keep the beard soft and healthy.
The base of this beard shampoo will be a carrier oil (yes, we are going to add oils to the shampoo); your beard needs those extra oils to really thrive.
HOW OFTEN SHOULD YOU WASH YOUR BEARD?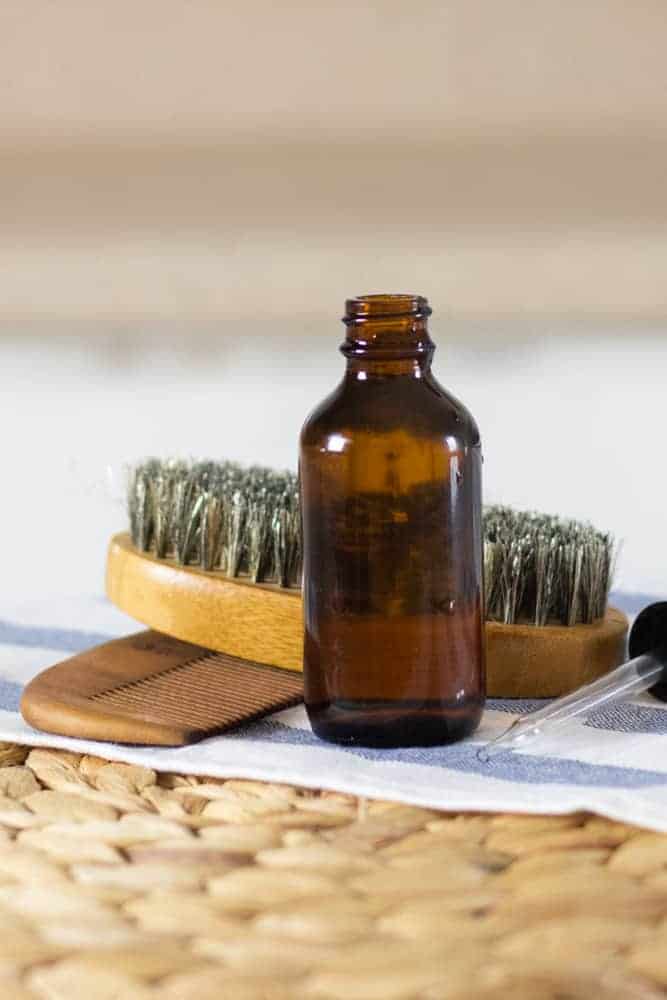 This really depends on your beard length and hair type. It is recommended to wash your beard 2 to 3 times a week. If you have a very long beard, you may need to wash your beard 3 to 4 times a week.
Overwashing your beard can lead to unruly hair, split ends, and, as stated above, strip your beard of necessary oils.
Just because the beard should only be washed a couple of times a week does not mean the rest of the face shouldn't go without a cleaning. Use a natural face wash while avoiding any facial hair.
HOW TO MAKE BEARD SHAMPOO AT HOME
This post contains affiliate links, which means I make a small commission at no extra cost to you. Get my full disclosure HERE.
To make beard shampoo, you will need a carrier oil, unscented castile soap, and essential oils.
CARRIER OIL
A carrier oil is a vegetable-based oil that is used to dilute essential oils and carry or drive them into the skin.
Adding a carrier oil to your beard shampoo will keep your hair hydrated, healthy, and easier to style.
The best carrier oil for your beard is argan oil. Argan oil can help prevent split ends, beard dandruff, reduce itchiness, and help to prevent ingrown hairs.
Other carrier oils commonly used are fractioned coconut oil, jojoba oil, sweet almond oil, or avocado oil.
CASTILE SOAP
Castile soap is made with vegetable oils such as olive oil, coconut oil, or jojoba oil. It is very concentrated and is naturally hydrating.
The castile soap is going to help this beard shampoo lather and of course, clean the beard.
Castile soap is very gentle and great for sensitive skin. It can help soothe dry and irritated skin.
ESSENTIAL OILS
Several essential oils can help to strengthen and lengthen the hair. Essential oils can stimulate hair growth and help to thicken the beard.
Adding essential oils to your own homemade beard shampoo will provide additional benefits for your skin and give it a refreshing scent.
I have several custom blends listed below to choose from. Of course, feel free to mix and match.
Lemongrass, cedarwood, sandalwood, tea tree, and lavender are a few of my husband's favorites for his beard.
PRESERVATIVE
While a preservative is not totally necessary, and this recipe will work just fine without it, I have found that even making such a small amount, this product was lasting for several months. (much longer than the original shelf life of one week).
Castile soap should be fine without a preservative, even if its diluted with water for several weeks, but I was concerned with heating up the bottle constantly since it is stored in the shower.
So I decided to add a broad-spectrum preservative at 2% of the total product. If you want to leave the preservative out, I think that would be fine. Just keep an eye on the product; if it starts to smell rancid, throw it out.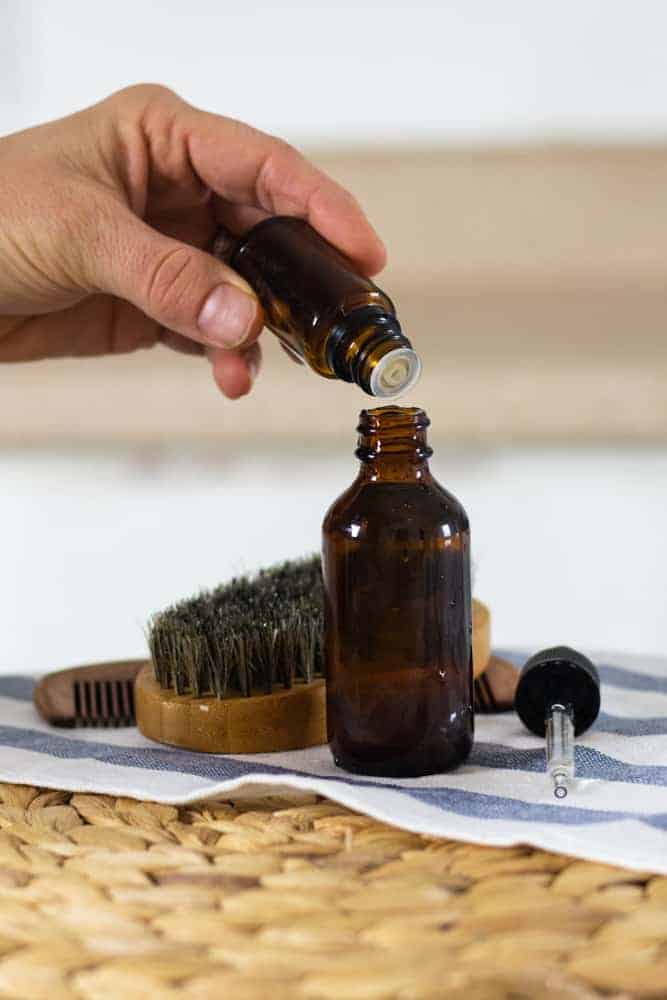 HOW TO USE BEARD SHAMPOO
It is best to shampoo your beard at the end of your shower so the hair on your face is nice and wet and your pores are open.
Apply a small amount of beard wash to your facial hair and work it into the hair and skin.
Rinse with warm water.
Pat dry with a clean towel.
Follow up with a beard oil or conditioning balm.
If you use styling creams such as a beard or mustache wax, always apply the wax after the beard oil.
My husband will often just use a beard oil followed by a butter for added hydration after showering.
STORING YOUR HOMEMADE BEARD WASH
It is best to store your beard shampoo in a dark-colored, glass, airtight container. Amber color or another dark color bottle is best for preserving your beard shampoo.
Using glass is always important when making anything with essential oils. Over time, essential oils can pull the toxins out of the plastic and break it down.
Keep your beard shampoo in an airtight container and out of direct sunlight.
HOW LONG WILL THIS DIY BEARD SHAMPOO LAST?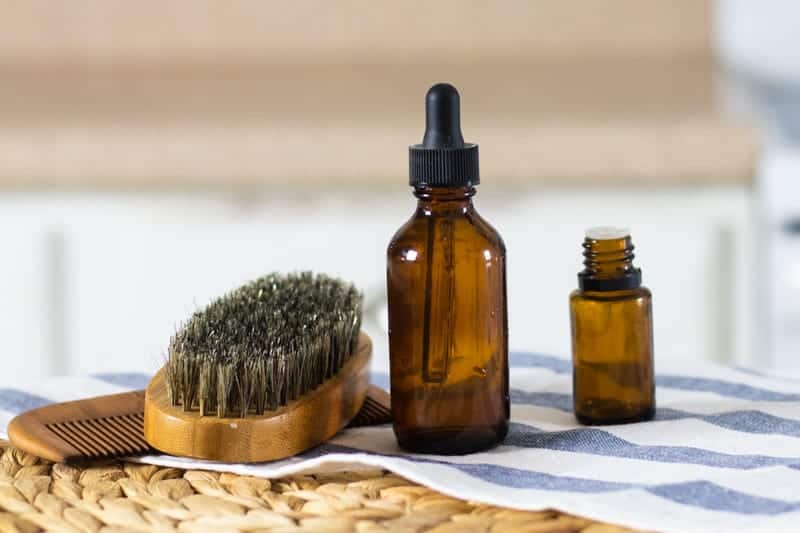 This homemade beard shampoo will last for approximately 3 months with a broad-spectrum preservative.
You could add an antioxidant like vitamin E antioxidant or rosemary antioxidant instead of a preservative to help stabilize the ingredients if desired.
Depending on your beard's length and thickness, you can determine how much you want to make at one time.
ESSENTIAL OIL BLENDS FOR DIY BEARD SHAMPOO
CITRUS BLEND
5 drops wild orange
3 drops lemon
2 drops bergamot
EARTHY BLEND
5 drops frankincense
3 drops sandalwood
2 drops vetiver
WOODSY BLEND
5 drops cedarwood
3 drops lemongrass
2 drops sandalwood
WHAT IS THE BEST THING TO WASH YOUR BEARD WITH?
Use a mild beard wash that has added oils to replace the ones that are lost while washing. Do not use conventional hair shampoo on your beard; it will be too harsh for your beard and cause more damage than good.
Gentle ingredients like castile soap, argan oil, and essential oils will keep your beard clean and healthy.
BENEFITS OF MAKING YOUR OWN BEARD WASH
As is with most things in my home, when my husband mentioned needing a beard shampoo, I decided to make my own. Making your own hair care products will ensure that you are using all-natural ingredients.
Often, conventional store-bought products will be loaded with harsh ingredients and chemicals that are not good for you.
Making your own will save you time and money. Homemade beard shampoo is often much cheaper than purchasing natural products from the store.
Yield: 4.5 ounces
DIY Beard Shampoo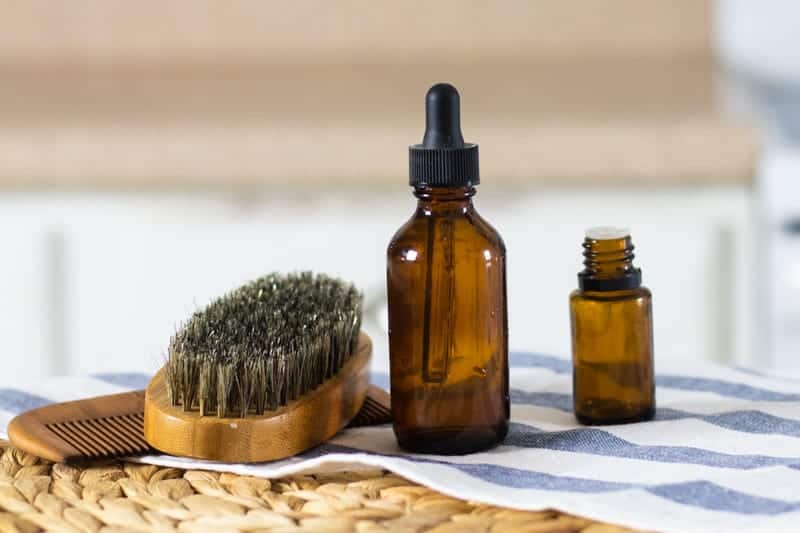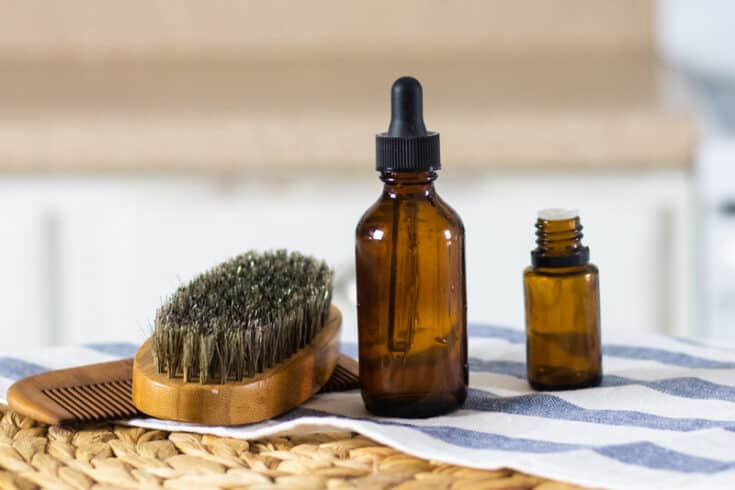 DIY beard shampoo is easy to customize for your hair type, length, and thickness.
Materials
0.5 ounces of argan oil
2 ounces of castile soap
2 ounces of filtered water
10 drops essential oils
Instructions
Add all the ingredients to a glass airtight container.
Secure the lid and shake well to make sure all the ingredients are well combined.
Apply a small amount to the beard, working into the hair and skin.
Rinse with warm water.
Notes
This product will last up to 3 months.
Use twice weekly for best results.