Long gone are the days of misshapen beards and scruffy, scuffed faces from desperate shaving attempts (my husband breaths a huge sigh of relief when he hears this). And in are neat, uniform beards and handlebar mustaches, thanks in part to beard and mustache wax.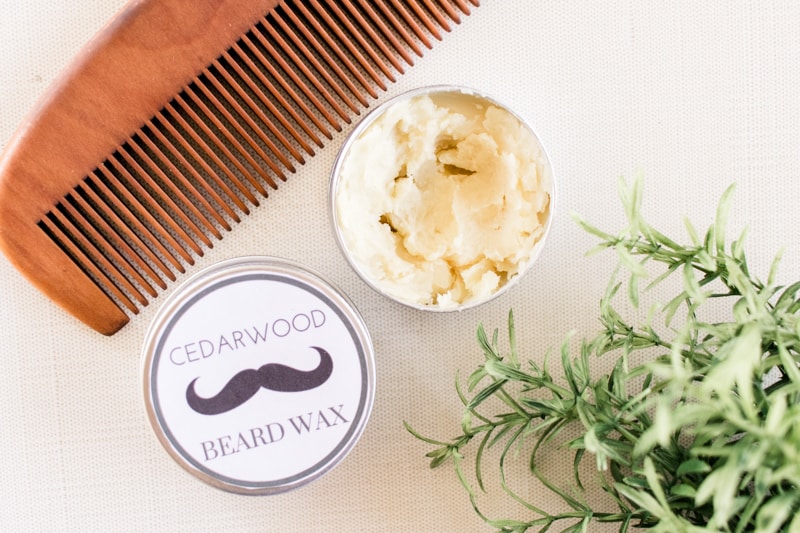 Beard wax is the new savior for beards, taming unruly hairs and giving a confidence boost for that very important work meeting or appointment.
It's a great product for longer beards, helping to condition the hair and keeping the desired style in place.
Not to be mistaken with actually waxing the beard (aka pulling the hairs out – ouch!), a beard wax is a conditioning styling tool to keep a beard looking neat, healthy, and tidy throughout the day.
In this post, I'm sharing my best natural beard wax recipe that contains beeswax to maintain the hold of the beard.
There's also nourishing jojoba oil and essential oils within that condition and soften the hair and skin underneath.
I admit that I openly love the smell of this beard wax. It combines cedarwood and star anise, two essential oils well known for their warming and invigorating scents.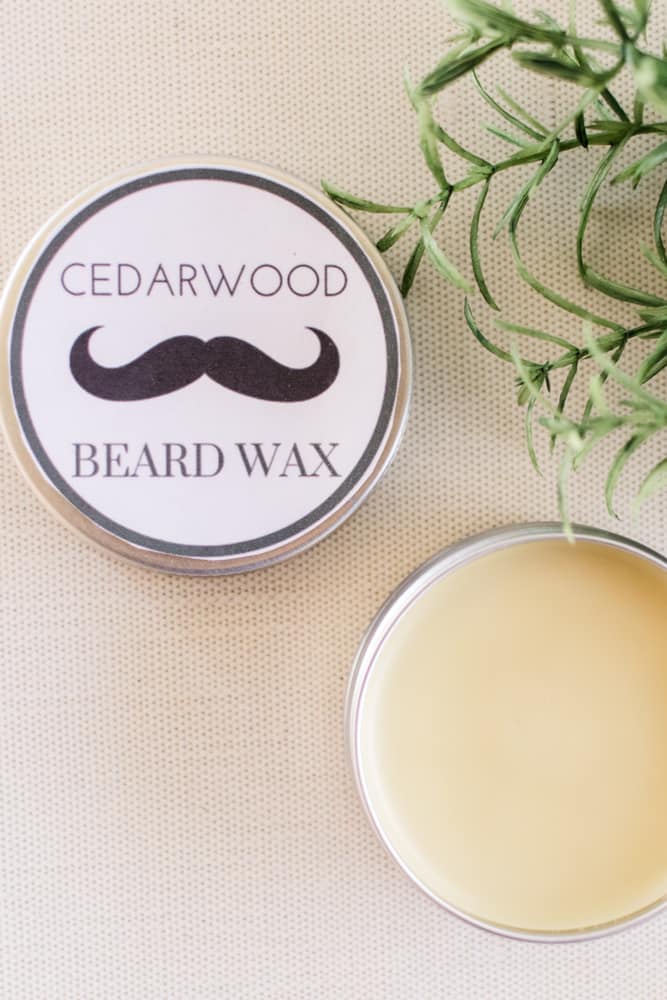 What is beard wax
A beard wax is used as a styling product for beards. It maintains a beards style a bit like a hair spray would to the hair.
Beard wax combines wonderful essential oils with a wax base to style the beard as well as nourish and condition the beard hair.
It improves the health of the beard and the skin underneath it. Not to mention the fragrance that a good beard wax gives, keeping a beard fresh all day long.
It's really one of those must-have beard supplies that every beard deserves.
How to use beard wax
A beard wax works in a similar way to a very thick pomade or hair styling product. 
It's almost solid when first opened but melts in the heat of your hands to allow easy application and styling.
The best practice is to start with a small amount, just a fingertips size of the application.
Rub it in-between your hands to melt it completely, then apply all over the beard and any other facial hair that requires styling and conditioning.
You need enough wax to hold the beard in its styled position but not too much that it leaves a greasy finish.
Less is more with beard wax. You can always top it up if you find the first application isn't enough.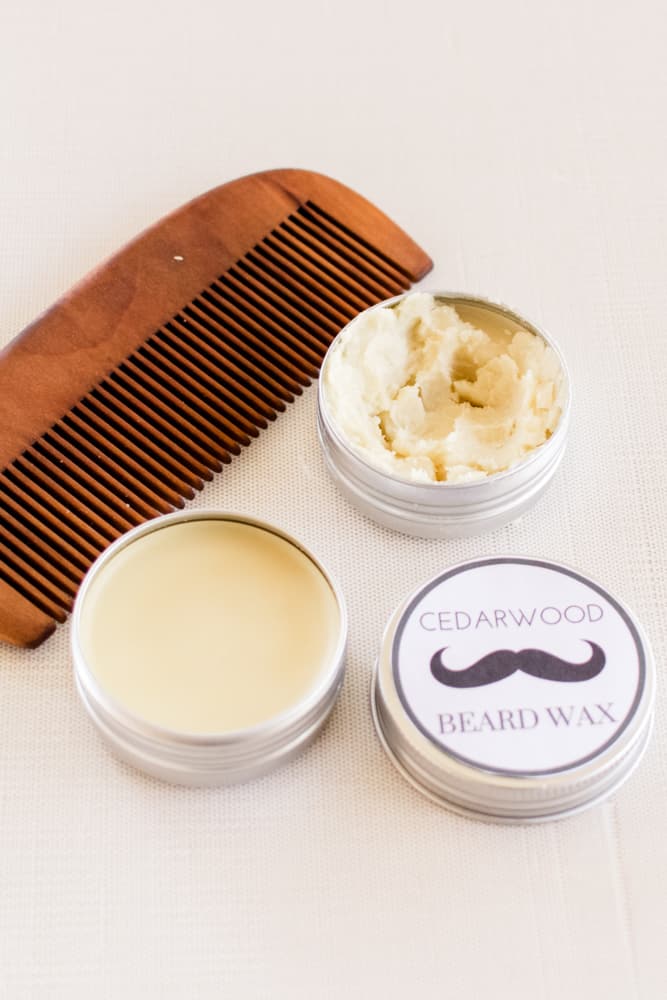 What does beard wax do? And is it good for the beard?
I find so often that beards get overlooked and ignored, whereas the hair on our heads gets all the attention.
But is beard wax good for the beard? The answer is absolutely yes!
So long as you're using a natural beard wax designed to nurture the beard and maintain hair and skin health.
Nowadays, styled beards are so popular; therefore, a beard wax is a great way to hold the style, keeping it looking fabulous all day.
It also conditions the hair making it easier to style, adding volume, and keeping the skin underneath the beard healthy and fresh.
And, of course, the fragrances in the beard keep it smelling nice and clean all day.
If there's ever a desire to shave the beard off completely, a natural beard wax (such as the one I share here) can be used as a post-shave skin moisturizer to prevent skin irritation.
Beard wax vs. balm
A beard balm works in a similar way to a beard wax for its moisturizing properties – only the consistency is different.
Beard balm is a looser texture to wax (more liquidy) and is not usually defined solely as a styling product. In fact, it's very similar to a beard butter.
You might then ask, is beard wax or balm better? And the answer entirely depends on what the beard needs.
If it's mainly for styling and appearance, a beard wax works better than a balm because it has a stronger hold.
A balm, on the other hand, is a bit like a leave-in conditioner for the hair. It's extremely moisturizing, more so than a wax, but doesn't have the same styling abilities.
This recipe I'm sharing for beard wax below combines both the elements of a balm (in that it's super nourishing) with the styling properties of wax.
So it's a superb all-rounder for beard health and styling.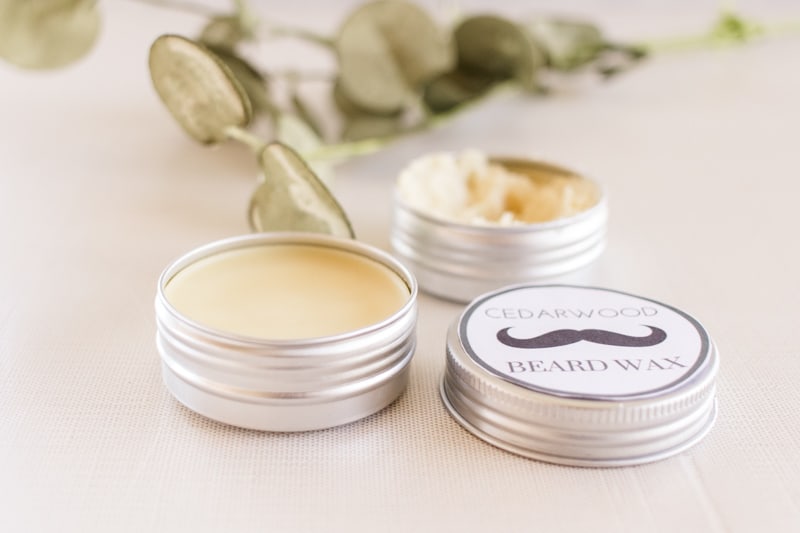 How to make beard wax
This is a really easy and enjoyable recipe to make, supplying you with several months worth of natural, nourishing beard wax.
Make sure to clean a glass lidded container or metal tin thoroughly before you place the finished product in for storage.
This beard wax lasts up to 12 months if stored in a cool, dry place.
Beard Wax Ingredients
Instructions
Melt the beeswax, palm oil, and jojoba oil in a small saucepan over medium-low heat.
Once melted, pour the beard wax into a small storage tin and add the essential oils, stirring in with a toothpick.
Allow the wax to completely cool before securing the lid and storing it in a cool, dry place.
Using beard wax
Rub a small amount of beard wax between your hands to melt the wax. Then, gently rub into the beard, including the underside.
Finally, use a beard brush to evenly distribute the product throughout the hair.
Beard wax tips
Use wax on clean beards or anytime you feel your beard needs some texture.
Beard wax works well with beard oil.
Beard wax is not a substitute for beard oil. Apply beard oil first, then beard wax.
Wash out beard wax with beard shampoo and conditioner.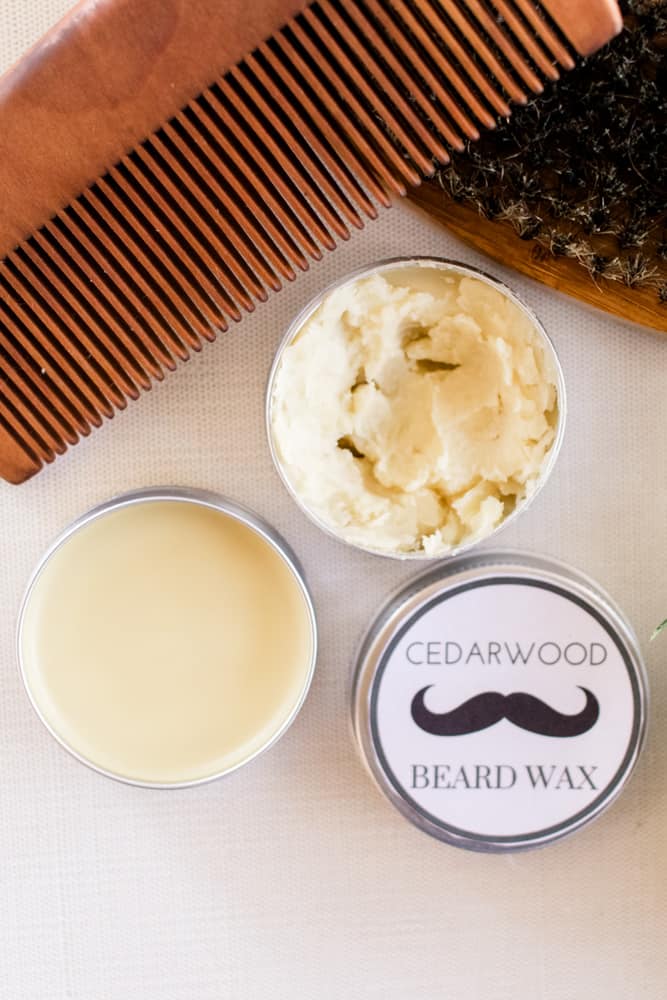 Strong hold beard wax
If unruly hairs are in need of extra taming, then a strong hold beard wax is what you need, and you can make it from this recipe!
You would simply alter the amount of beeswax in the mixture to give a firmer hold.
I recommend adding an extra 1/2 tablespoon of beeswax for a total of 1 tablespoon of beeswax to the recipe.
Another tip for adjusting the hold of the beard is to add more palm oil. While it does not increase the strength of the hold quite like the beeswax, it does help soften the beard, making it easier to shape.
Can I use beard wax every day
Yes, you can, particularly because this beard wax is packed full of natural, nurturing ingredients which help improve beard health.
I hope you love making and trying out this beard wax. Let me know how you like it by leaving a comment below. And while you are at it, make sure to try out some of these other beard product recipes below.
Beard and Mustache Wax Recipe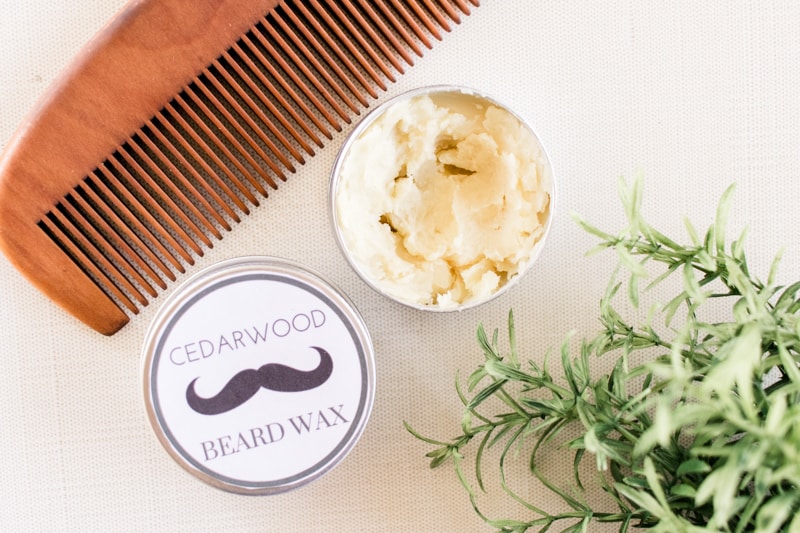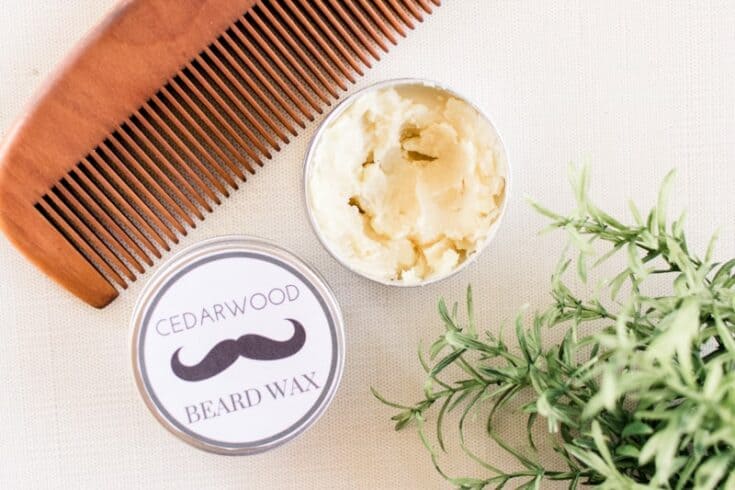 Shape and style any beard or mustache with this homemade beard wax.
Additional Time
5 minutes
Materials
1 drop of star anise essential oil
Tools
Instructions
Melt beeswax, palm oil, and jojoba oil in a small saucepan on medium-low heat.
Pour the melted wax into the storage tin.
While the wax is still melted, use a toothpick to stir in the essential oils.
Allow the wax to completely cool before securing the lid.