Learn how to make the best homemade shampoo for beards to help with dandruff. With this simple recipe using argan oil and essential oils, your beard will be smooth, strengthened, and dandruff-free!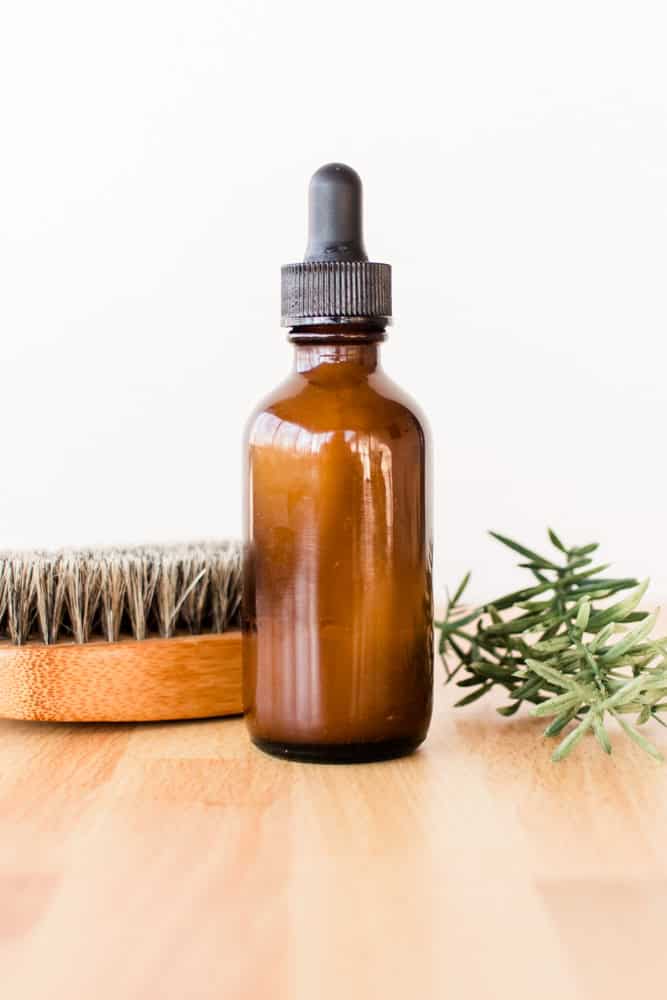 The same as pesky dandruff found in the hair, Beard dandruff is little white flakes that appear in the beard. Its generally accompanied by red and itchy skin.
More than anything, it's simply an annoyance. You can't merely brush it out.
And that is where this beard dandruff shampoo comes in! Beard dandruff shampoo cannot be substituted for regular dandruff shampoo.
Standard anti-dandruff shampoo is specifically designed for the scalp and will not be suitable for the face.
What Causes Beard Dandruff
Dandruff, in a nutshell, is caused by dry skin. Especially prevalent in longer beards, the skin underneath may become itchy, flakey and, in some cases, there will be redness on the skin.
This white flakey nuisance can appear due to the use of incorrect hair care products!
Using harsh shampoos, conditioners, and balms, not designed for sensitive skin on the face is often the root cause of dandruff appearing around the beard.
To be fair, dandruff is actually a skin disease called seborrheic dermatitis, which is essentially a reaction caused by yeast overgrowth. It is most often found on the scalp but can be found in the beard as well.
We are not going to go into the root cause; if you are interested, here is an article that goes into detail. Instead, we are going to focus on ridding the beard of this somewhat embarrassing issue.
Having dandruff in the beard is by no means common and does not happen to everyone with a beard.
My husband has had a beard for years and never had an issue; maybe it's the products he is using?! According to this article, it is only found in about 40% of men with beards.
How to Get Rid of Beard Dandruff
First up, shampoo. Is that bottle of men's 2in1 shampoo and conditioner doubling as a beard shampoo? If so, that is likely the problem.
Shampoo for the hair is entirely different from beard shampoo and for a good reason.
The scalp and face are very different when it comes to reproducing oils that are stripped from the skin by hair shampoo.
The skin on the face produces the same amount of oil regardless of how often it is washed. So using a proper beard shampoo that actually adds wholesome oils to the beard and skin reduces the risk of dried-out skin and, ultimately, dandruff.
Next up, overwashing. How often are you actually washing your beard? Unless you are working in an underground sewer treatment facility, beards really should only be washed 2, maybe 3 times a week.
And lastly, keep the beard hydrated. It makes sense, right? This is so crucial for the beard, and the longer the beard, the more important it is!
Follow up the beard shampoo with a "beard" conditioner and apply beard oil daily.
Following these steps should help prevent beard dandruff. However, if your face needs a little extra care, this beard dandruff shampoo should do the trick.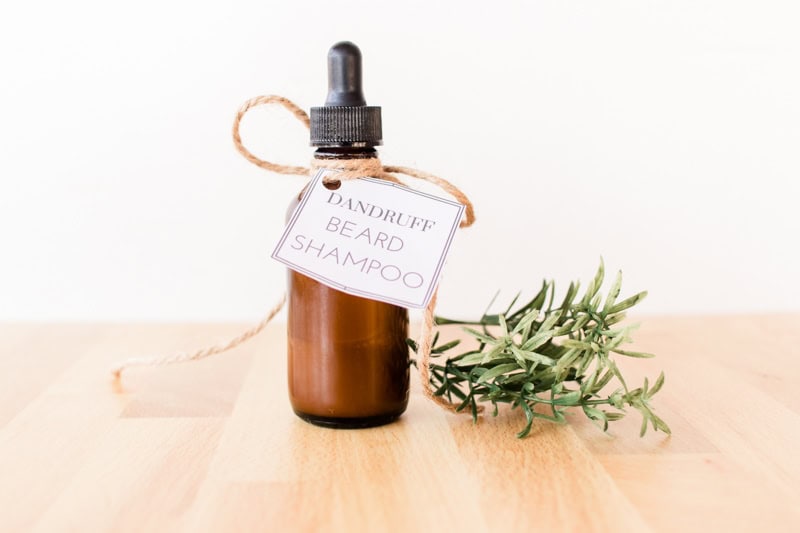 How to Stop Beard Dandruff
Below I will link some easy-to-make recipes that will leave your beard nourished and healthy.
Using these products and changing your beard care routine will be the most critical step for kicking beard dandruff to the curve and keeping it from coming back!
Beard Care Routine
Step 1: Wash beard with a beard shampoo. This DIY beard shampoo is made with all-natural ingredients, scented with essential oils, and will keep your beard soft and easy to style.
Step 2: Moisturize beard with a conditioning balm. Beard conditioning balm will moisturize, condition, nourish and soften the beard.
Step 3: Apply beard oil daily to style and keep hair hydrated. Homemade beard oil made with carrier oils and essential oils can help hydrate your beard and promote healthy hair growth.
Notes: If you use beard or mustache wax to shape your beard, always apply the wax after the beard oil.
Dandruff Shampoo for Beards
This dandruff shampoo for beards is made using natural, gentle ingredients not only to rid the beard of dandruff but to keep it from coming back.
This post contains affiliate links, which means I make a small commission at no extra cost to you. Get my full disclosure HERE.
Ingredients
Instructions
Using a glass dropper top, add in carrier oils and castile soap. Stir or shake well to mix. Next, add in the essential oils, then top off with water.
You can add in vitamin E oil to extend the shelf life, but because this is intended only to be used until the dandruff is gone, I suggest making enough for 2 or 3 uses, then discarding the rest.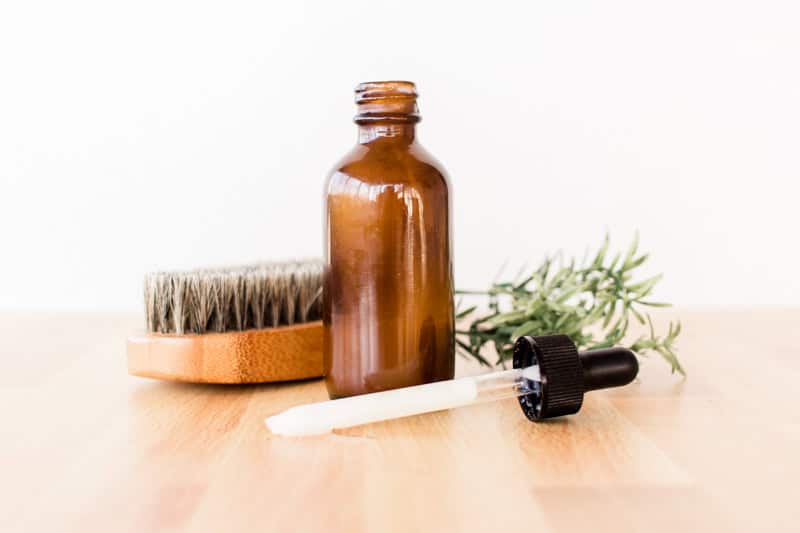 How to Use Dandruff Beard Shampoo
Comb out the beard with a wooden beard comb. Use an appropriate amount of dandruff shampoo, working it well into the skin and hair. Rinse with warm water and pat dry.
Always follow up with beard oil and, if necessary, a conditioning balm.
How Long will Homemade Beard Shampoo Last
This homemade beard dandruff treatment will last up to one week.
Adding in an antioxidant like vitamin E or rosemary will help extend the product's shelf life if desired.
Generally, one week is sufficient in getting rid of beard dandruff. Thickness and length will largely determine how much shampoo you'll need.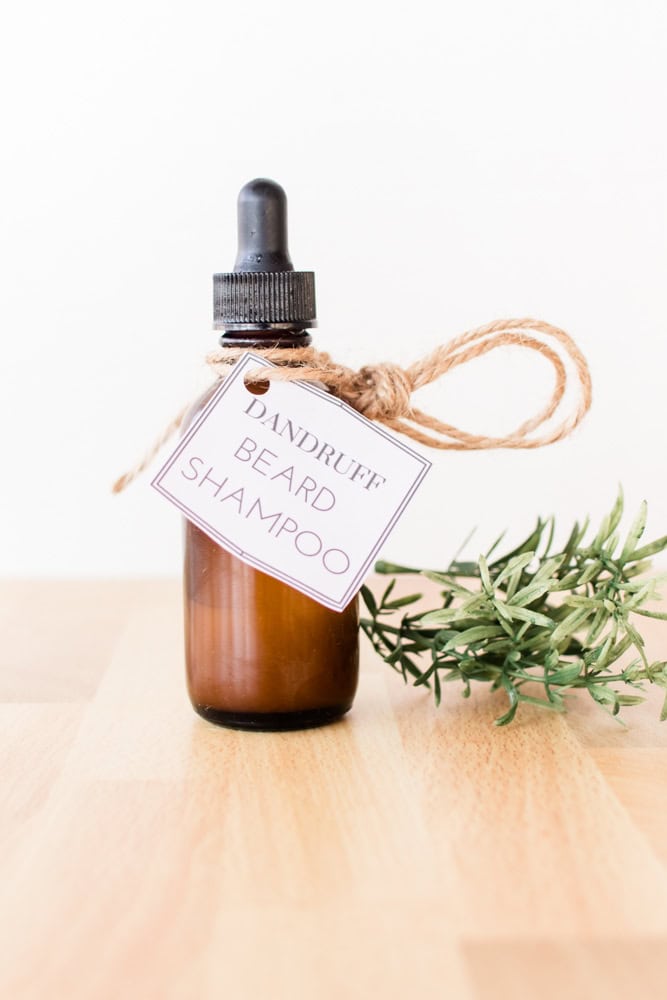 Carrier Oils
The first three ingredients for dandruff shampoo are carrier oils. These carrier oils are great for hydrating, adding moisture, and strengthening the hair.
For the shampoo recipe, we will be using a combination of argan oil, jojoba oil, and fractionated coconut oil.
All three of these carrier oils have tremendous benefits for the skin and hair, plus they are very gentle for sensitive skin.
Castile Soap
Castile soap is made with vegetable oils such as olive oil, coconut oil, or jojoba oil. The soap is very concentrated, and you will only need a small amount to cleanse your facial hair.
It is a very gentle soap, making it perfect for the beard. In addition, Castile soap is naturally hydrating to help soothe dry, irritated skin.
Filtered Water
Water is not just a filler in this recipe. In order to properly dilute the ingredients, primarily castile soap, you must include the water. Any water will work, though using filtered water will extend the shelf-life.
Essential Oils
Using tea tree and rosemary essential oils, which are both anti-fungal, will help rule out the possibility of a yeast infection.
In addition, both these oils are very cleansing purifying and can help strengthen and lengthen the beard.
Other oils helpful for skin and hair:
Cedarwood
Peppermint
Frankincense
Lemongrass
Sandalwood
Grooming Your Beard
I know I sound like I'm beating a dead horse, but the care around the beard is of utmost importance in preventing dandruff in the first place.
And while not directly related to dandruff, using the correct type of brushes and combs will help grow a healthy, strong beard.
A wooden comb and a boar bristle brush are the best tools to use on your beard. Sharper pointed plastic combs can cause irritation to the skin, as well as snag at the hairs.
Combing your beard daily is essential for giving the beard a nice, fuller look.
I hope you found this post helpful. Feel free to leave a review or comment below on how you get on. I love to hear from you!
If you enjoyed this post, you might like to try this dandruff scalp scrub or this hydrating beard butter post next.
Yield: 1 bottle
Dandruff Shampoo for Beards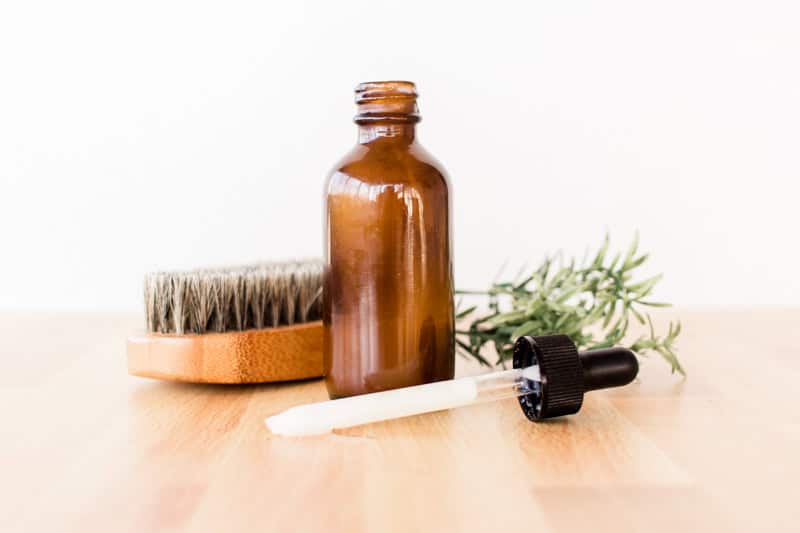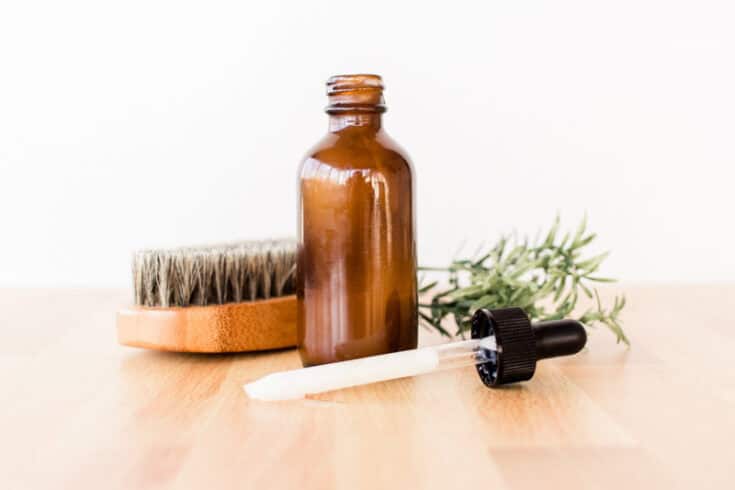 Get rid of that pesky dandruff with this homemade dandruff shampoo for beards.
Materials
1/2 tablespoon argan oil
1 teaspoon jojoba oil
1 teaspoon fractionated coconut oil
1/8 cup castile soap
1/8 cup filtered water
4 drops tea tree essential oil
4 drops rosemary essential oil
Instructions
Add carrier oils and castile soap to the dropper bottle. Stir or shake well.
Add in the essential oils and water.
Secure top and shake well to combine all the ingredients.
Notes
Add a dime-size amount to the beard. Work it into the skin and strands of the beard. Rinse with warm water and pat dry.