This DIY hair growth spray is the perfect solution for thinning hair or for someone who is simply trying to strengthen their hair. It is made with the best essential oils for hair growth. This natural spray helps to support a healthy scalp and hair follicles.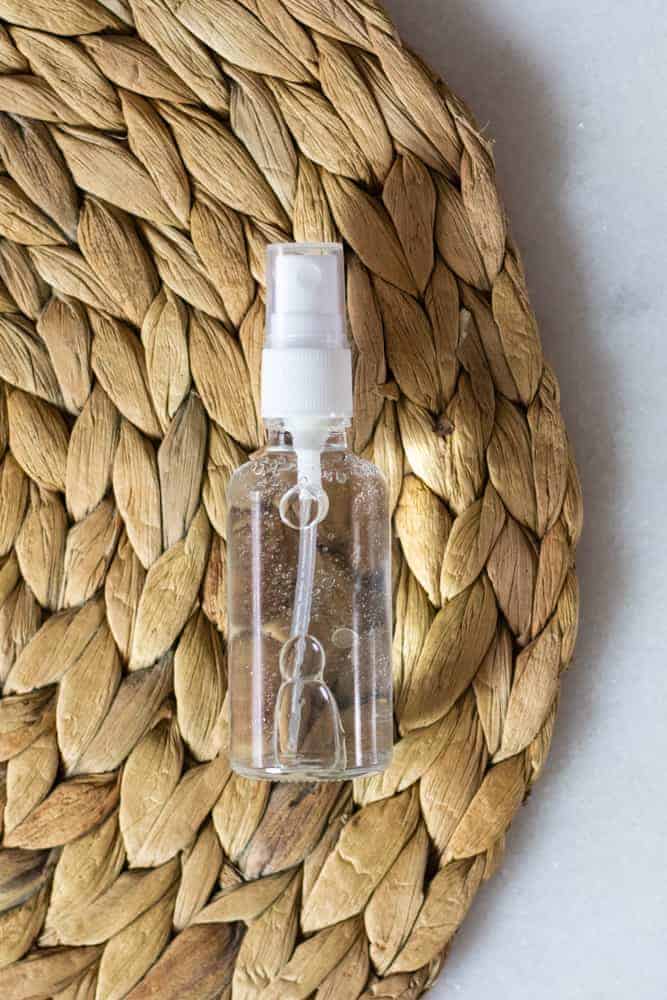 DIY HAIR GROWTH SPRAY
Making your own hair growth spray is so simple. You will be blown away by how well it works. I am combining the best essential oils for hair growth to help your hair grow naturally.
If you have thinning hair or just slow-growing hair, you will want to try this spray. Not only will this spray help to stimulate hair growth, but it will also help thicken and strengthen damaged hair.
This post contains affiliate links, which means I make a small commission at no extra cost to you. Get my full disclosure HERE.
For this recipe, you will need:
PIN IT FOR LATER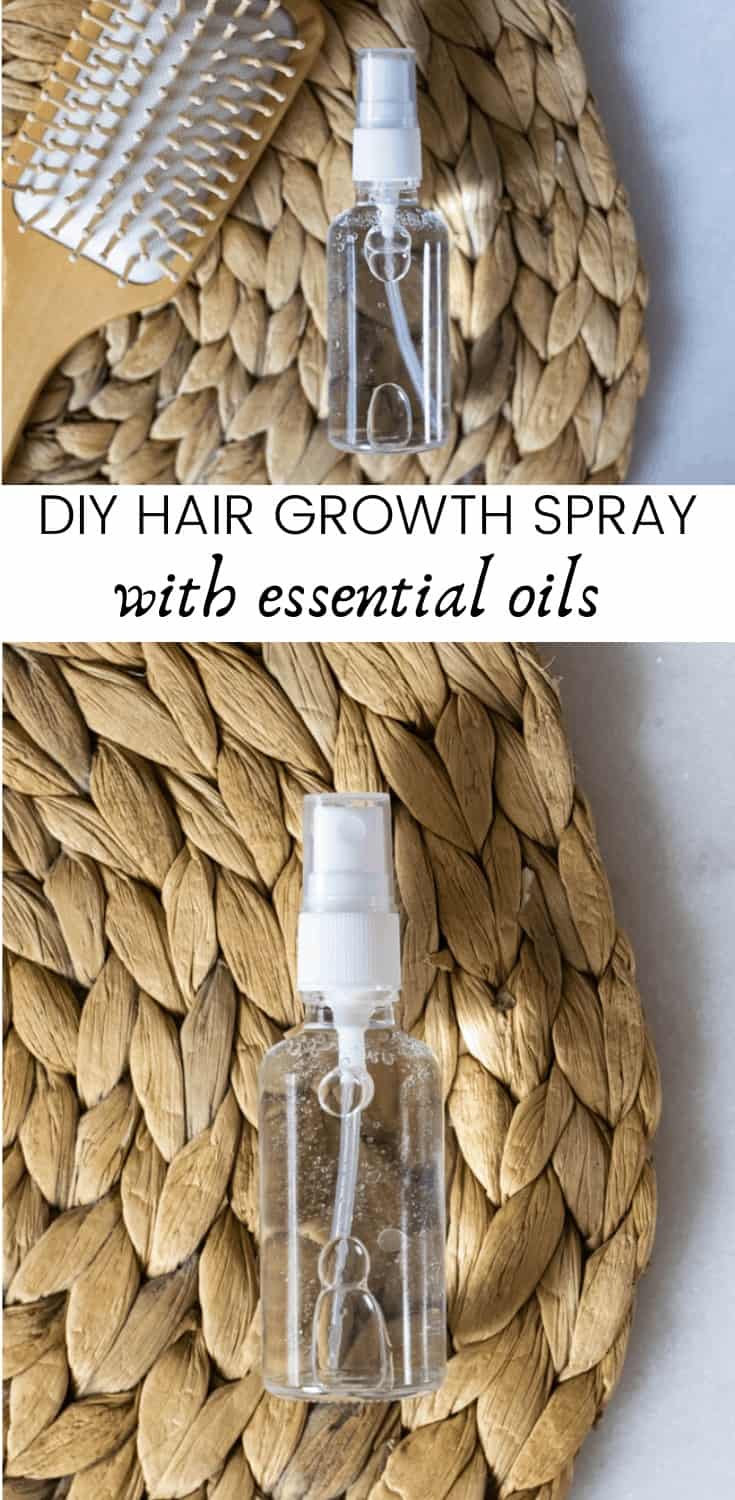 ESSENTIAL OILS FOR HAIR GROWTH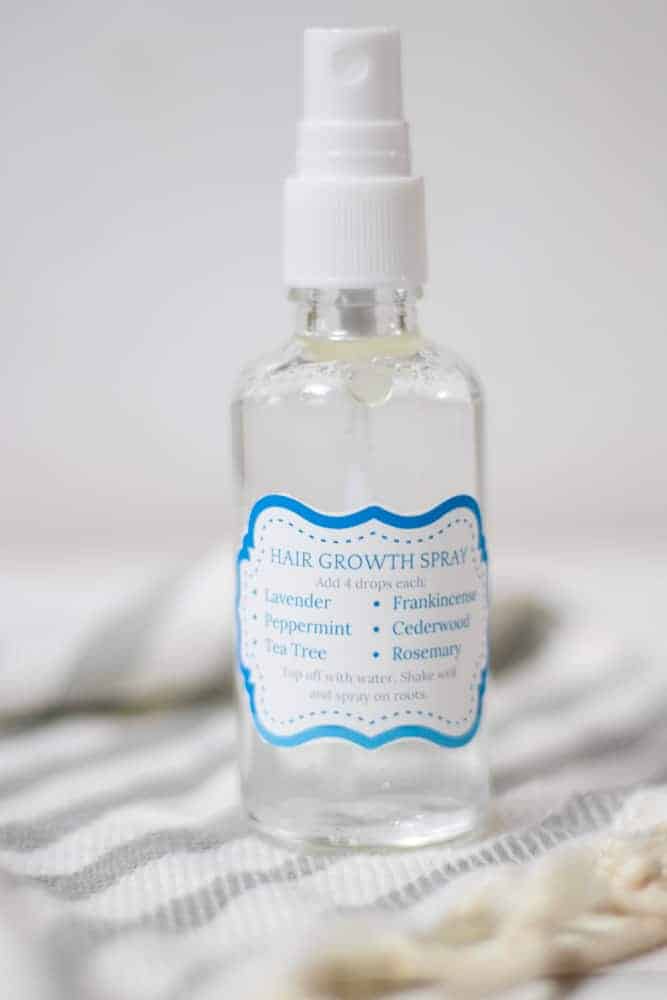 Several essential oils can be used for hair growth. They can balance the oil-producing glands in the scalp, help with blood circulation, and stimulate hair follicles.
Lavender
Peppermint
Frankincense
Rosemary
Tea Tree
Cedarwood
Lavender essential oil can produce more hair follicles to help thicken and strengthen hair.
Peppermint essential oil is great for the hair as it promotes hair growth and thickness. The cooling effect of peppermint will feel great on an irritated scalp.
Frankincense essential oil is known as the "kings of oil" and really is the jack of all trades. If in doubt, use frankincense. It has wonderful benefits for the hair and scalp.
Rosemary essential oil is the top oil for hair growth and thickness. It helps to treat dry hair, as well as overly oily hair. Rosemary oil can also help prevent split ends.
Tea tree essential oil promotes a healthy, clean-looking scalp. It can be used to help with a dry, itchy scalp and protect against lice.
Cedarwood essential oil may promote hair growth, thickness, and strengthen hair follicles. It is a very thick oil and has a wonderful woodsy scent.
Purchase all of the essential oils needed for this hair growth spray 25% off here.
HOW TO MAKE HAIR GROWTH SPRAY

Add 8 drops each of lavender, peppermint, frankincense, rosemary, tea tree, and cedarwood essential oil to a spray bottle.
Fill the spray bottle the rest of the way with water. Shake well before each use.
NOTE: When using essential oils, it is best to use glass, metal, or HDPE, also known as plastics number 2. This is because essential oils can dissolve certain plastics over time. Be sure to make your DIY in an essential oil safe spray bottle.
HOW TO USE NATURAL HAIR GROWTH SPRAY
It is best to use this spray when your hair is wet right after you get out of the shower. It will not make your hair greasy and can be used right before styling your hair for the day. You do not need to rinse it out.
Simply spray directly on the roots and use your fingers to massage it into the scalp. For best results, use the spray three times a week.
How long you need to use it really depends on the person and hair type. If you have very damaged hair, you may need to use it longer to notice the same results as someone with healthier hair.
Try using it consistently for 2-3 months.
IS THIS DIY HAIR GROWTH SPRAY FOR MEN?
This spray can be used for men or women. It can also be used for children, but I would suggest diluting it further. If making this for a child, use half of the recommended drops of oils.
Or, if you would rather not use essential oils, you may try this bay leaf water recipe to help with hair growth.
WILL THIS SPRAY HELP WITH DANDRUFF?

Yes, it can! These essential oils can promote a healthy scalp as well as be soothing and calming for an irritated scalp. They can also help to restore moisture to the skin.
Using this spray or a nourishing hair serum can be very helpful for dandruff.
It is important to use natural shampoo and natural conditioners to maintain healthy hair and scalp!
IS THIS HAIR GROWTH SPRAY SAFE FOR COLORED HAIR?
Yes! This DIY hair growth spray is great for colored hair and can help to restore hair that may be damaged from coloring.
CAN I USE ESSENTIAL OIL HAIR SPRAY WHILE PREGNANT?
I personally used essential oils when I was pregnant and didn't have any sensitives to them. However, I always recommend consulting with a doctor before use.
Pregnancy hormones can potentially cause hair loss during pregnancy or right after. I definitely noticed this after each one of my babies were born. Using this DIY hair growth spray can be very helpful for that hair loss.
Since this spray contains peppermint, it is important to note that peppermint essential oil can affect milk supply. It has never affected mine, and each person is different from the amount of sensitivity they have toward it. If you are near the end of pregnancy or nursing, you may want to omit the peppermint.
Or try this rosemary spray for hair growth! It works great and is made with just 2 ingredients.
DIY Hair Growth Spray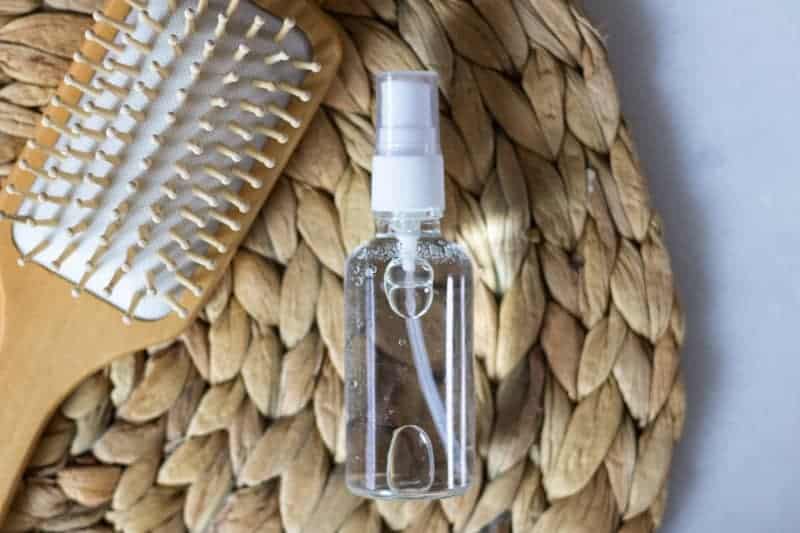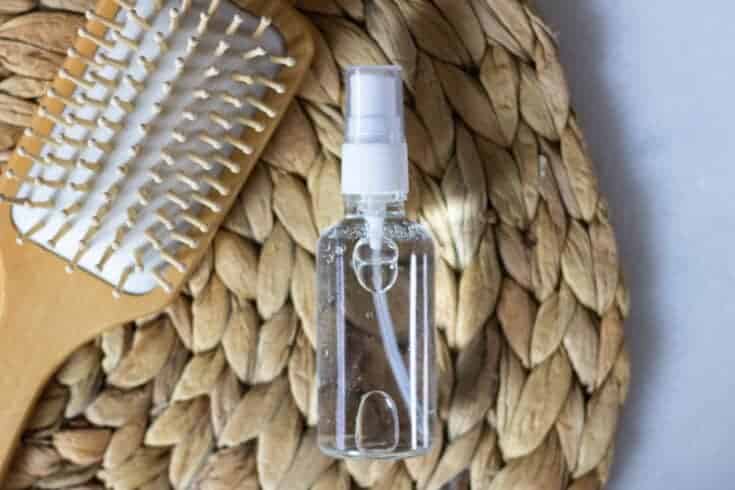 Materials
8 drops lavender 
8 drops peppermint 
8 drops frankincense
8 drops rosemary 
8 drops tea tree
8 drops cedarwood
Instructions
Add all of the essential oils to a glass spray bottle.

Top off with water.

Shake well before each use.
Notes
Use a few times a week on wet hair. Spray directly on the roots.