Essential oils are very concentrated and need to be diluted in order to use them safely. Learn how to dilute essential oils properly for adults and kids.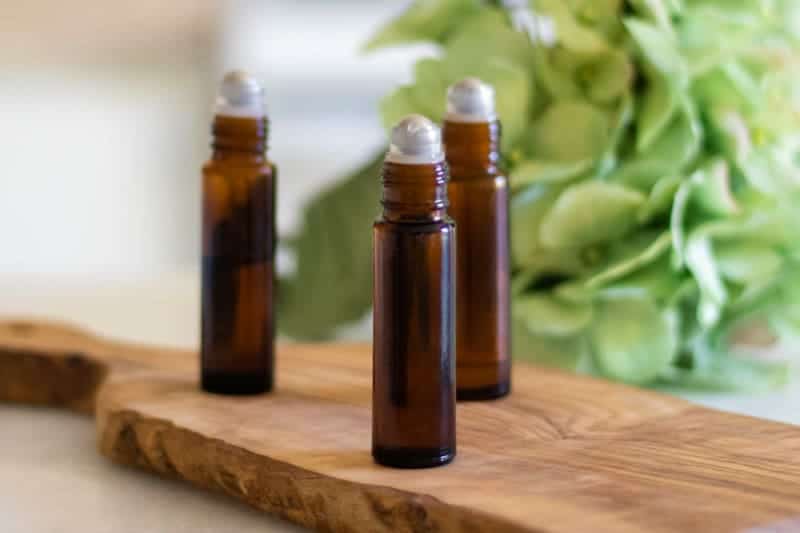 Essential oils are very powerful substances that can be used to improve sleep, skin and even boost the immune system. We use them for cleaning, soap making, and in some of our favorite cooking dishes.
They are very helpful for so many things, but at the same time, extremely potent. Therefore, it is very important to dilute them properly before use. Essential oils are natural aromatic compounds that are steam distilled from plants or cold-pressed from the peels of plants.
They are very concentrated and a little goes a long way! With the proper dilution, I can even use essential oils for my kids.
HOW TO DILUTE ESSENTIAL OILS
It is extremely important to note that there are a TON of different essential oil companies out there with a wide price range. The FDA does not regulate essential oils and as a result, manufacturers do not have to disclose the purity. Do your research and make sure the essential oils you use are pure will no adders or fillers.
Essential oils can be diluted in a carrier oil, shampoo, lotion, salve, or serum. The easiest way to dilute essential oils is by making a roller bottle. To make a roller bottle, you need a roller bottle, carrier oil, and essential oils.
WHAT IS A CARRIER OIL
Any vegetable-based oil or animal fat can be used to dilute essential oils, here is a list of the top carrier oils for essential oils:
Coconut oil
Fractionated coconut oil
Jojoba oil
Sweet almond oil
Rosehip oil
Avocado oil
Grapeseed oil
Olive oil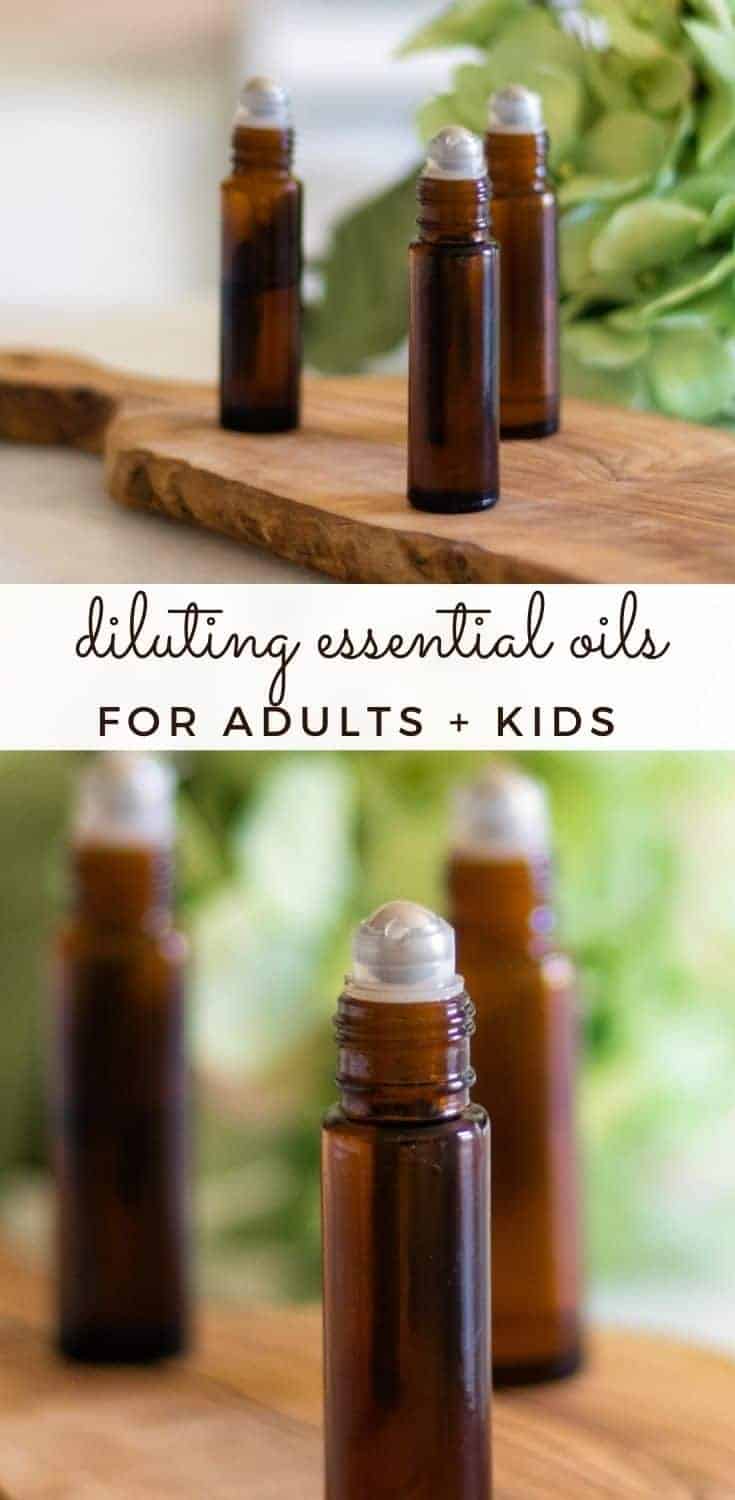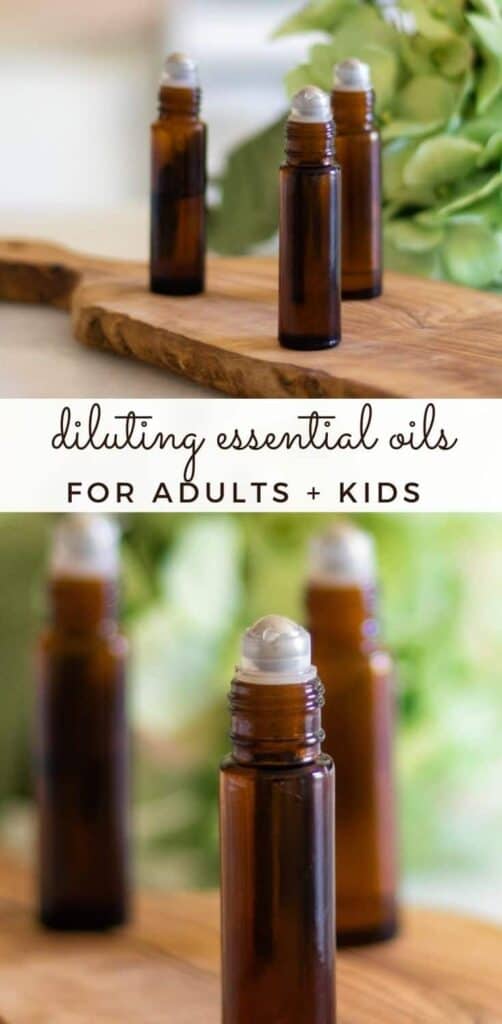 ESSENTIAL OIL DILUTION RATIO CHART
You will need to dilute essential oils differently depending on skin type and age. For younger children, I dilute the essential oils more than I would for an adult.
HOW TO DILUTE ESSENTIAL OILS IN A 10ML ROLLER BOTTLE
Newborn-6 months: 1-2 drops
6 months- 2 years: 1-3 drops
2 -5 years: 2-5 drops
5-12 years: 5-10 drops
13 and up: 15-20 drops
Most roller bottles are 10mL; if you have a smaller roller bottle, be sure to adjust the above chart properly.
Learn more about making and diluting roller bottles here.
HOW TO DILUTE ESSENTIAL OILS IN A DIFFUSER
Use the chart below in conjunction with your specific diffuser.
100mL: 3-5 drops
200mL: 6-10 drops
300mL: 11-15 drops
400mL: 16-20 drops
500mL: 21-25 drops
DILUTING ESSENTIAL OILS IN SHAMPOO
To receive the benefits of essential oils in your hair, you can either make your own shampoo or add essential oils to your conventional shampoo. For shampoo, it is recommended that you dilute the oils by 2.5%. This would be about 2-3 drops of essential oils to an ounce of shampoo.
If you add essential oils to a child's shampoo, you should dilute the oils by .5-1%. This would be about no more than 1 drop of essential oil to one ounce of shampoo.
DILUTING ESSENTIAL OILS IN LOTIONS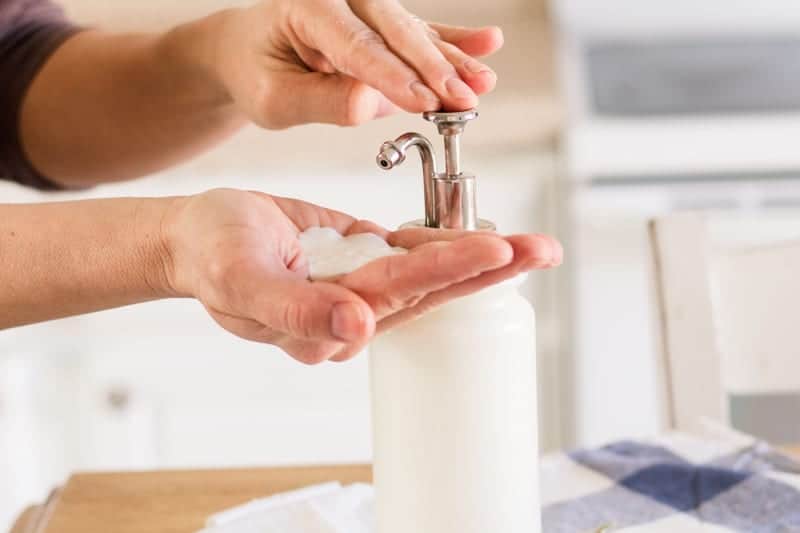 If you want to make a massaging lotion or simply use essential oils to cover a larger surface area, it may be best to add the oils to a lotion. You can make your own lotion, or you can add essential oils to a lotion you already have at home. It is best to dilute the essential oils between 1-5 drops per oz of lotion.
This would mean that you should not add more than 10 drops of essential oils to 1 teaspoon of lotion. If making an essential oil lotion for a child, dilute it further to make it a 1-2% dilution.
HOW TO MAKE ROLLER BOTTLE BLENDS FOR KIDS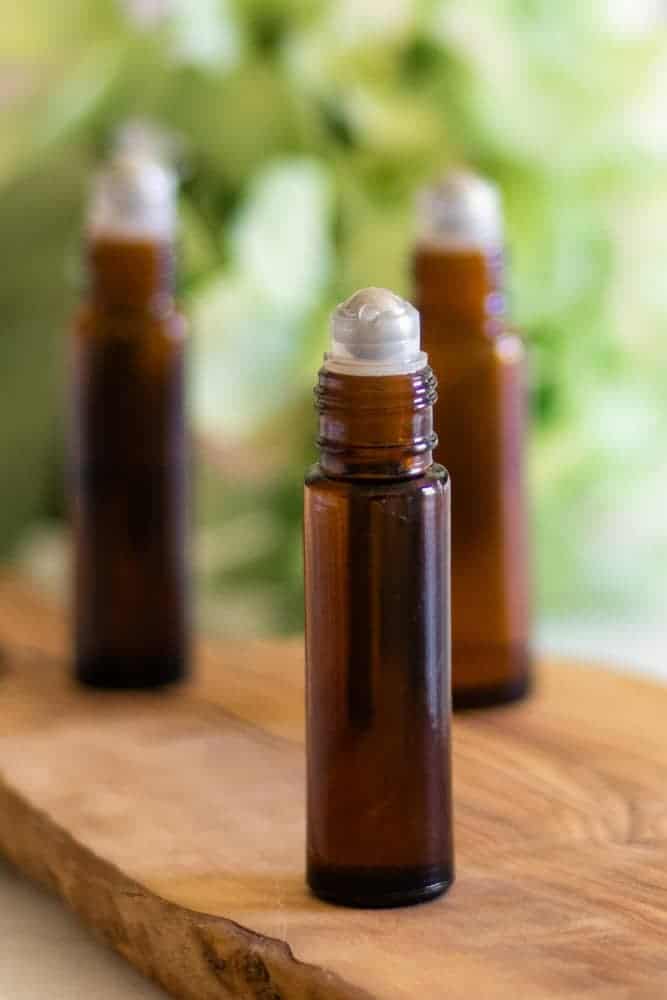 A common question I get from my readers is how to make a roller bottle blend for kids. Most recipes have several different essential oils in them; however, it is only recommended to use 2-3 drops of oil total in the roller bottle.
This is where the "toothpick drop" comes in handy. This idea allows you to use more essential oils without exceeding the recommended amounts. To start off, fill a 10mL roller bottle with a preferred carrier oil. Then dip a toothpick into an essential oil and then swirl it into your carrier oil.
The toothpick will transfer less than a drop of essential oil into the roller bottle so that you can use several essential oils in one blend.
Always consult with your doctor before using any essential oils on kids.
MIXING ESSENTIAL OILS WITH WATER
We all know that water and oils do not mix; however, if you use a natural emulsifier, you can mix them. I make a lot of DIYs with oil and water, such as room sprays and linen sprays. If I shake the bottle right before misting it into the air, it does work.
I also like to add a drop of citrus essential oil to my drinking water for added flavor and benefits. If using essential oils internally in water, it is recommended to use 1 drop of oil to 4 ounces of liquid.
Although I personally think it tastes a little too strong. I add no more than 1 drop to a whole glass. It is not recommended for children under the age of 12 to ingest essential oils.
If you ever have a skin reaction to an essential oil that was applied topically, it is best to rub the area with a carrier oil instead of water. The water can cause the reaction to worsen, and a carrier oil can soothe the irritation.
DILUTING HOT ESSENTIAL OILS
Some essential oils are considered hot oils. These oils should never touch the skin without being diluted, as they can burn the skin.
Hot essential oils:
Arborvitae
Basil
Bergamot
Cassia
Oregano
Clove
Cinnamon
Ginger
When I am using these essential oils I will dilute them further to avoid skin irritations.
CAN YOU APPLY ESSENTIAL OIL UNDILUTED?
There are some essential oils known as "neat" oils. Neat oils are ones that you can apply to the skin without being diluted.
I always recommend diluting any essential oil before applying it, even if it is a neat oil. I know lots of people who do not have any issues with applying neat oils.
However, if you do decide to apply neat oils directly to the skin, test a small area of skin first just to be safe.
Neat essential oils:
Cardamon
Copaiba
Frankincense
Jasmine
Lavender
Roman Chamomile
Rose
These essential oils are gentle and would be great to use with kids, diluted of course.
DILUTING ESSENTIAL OILS FOR SENSITIVE SKIN
If you are using essential oils on sensitive skin, then you should dilute them further. It is recommended to dilute essential oils 1-2% when using them on someone with sensitive skin or on an area of the body that is more sensitive.
If you are using an essential oil for the first time, you should test a small area on the back of your hand or on the bottom of the foot as that area is less sensitive than other areas. It is not recommended to use essential oils near the eyes, inside the ears, or inside the nose.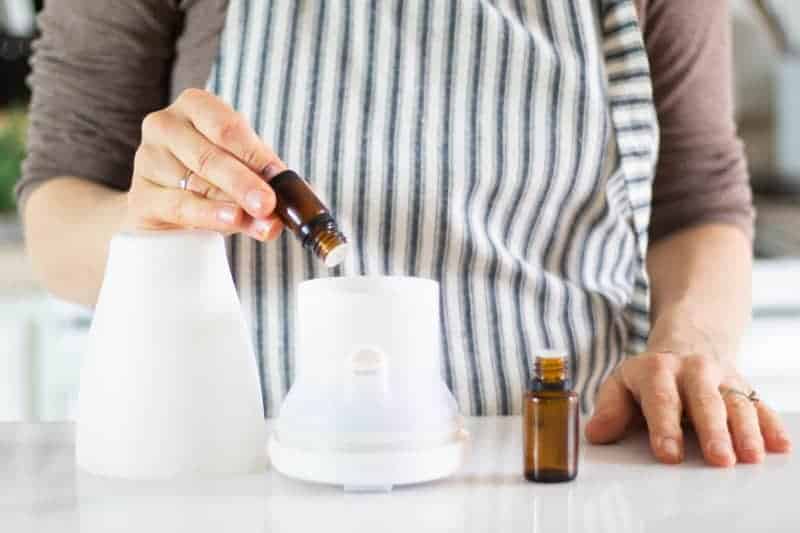 FAQs
How many drops of essential oil in 10ml of carrier oil? 15-20 drops is generally a good rule of thumb when diluting essential oils in 10 ml of carrier oil.
You will need to reduce that amount if using this on people with sensitive skin or kids.
How many drops of essential oil in a 4 oz bottle? Depending on the application, the amounts may vary. Typically, 4-ounce bottles are for body oils or massage oils. In this case, 12-20 drops is sufficient.
How many drops of oil in a 400mL diffuser? Use 16-20 drops of pure essential oils in a diffuser. Be sure to diffuse in open rooms.
IN SUMMARY
It is recommended to dilute essential oils before applying them topically to the skin.
Essential oils can be diluted in a carrier oil, shampoos, or lotions.
Dilute essential oils further for sensitive skin and children.
Always consult with a medical professional before using essential oils.
If you enjoyed this post, consider reading this one next: how long do essential oils last?