Making your own beard oil is very simple and works just as well as the conventional kind at the store. This homemade beard oil is made with all-natural ingredients and essential oils that are nourishing for your hair and skin.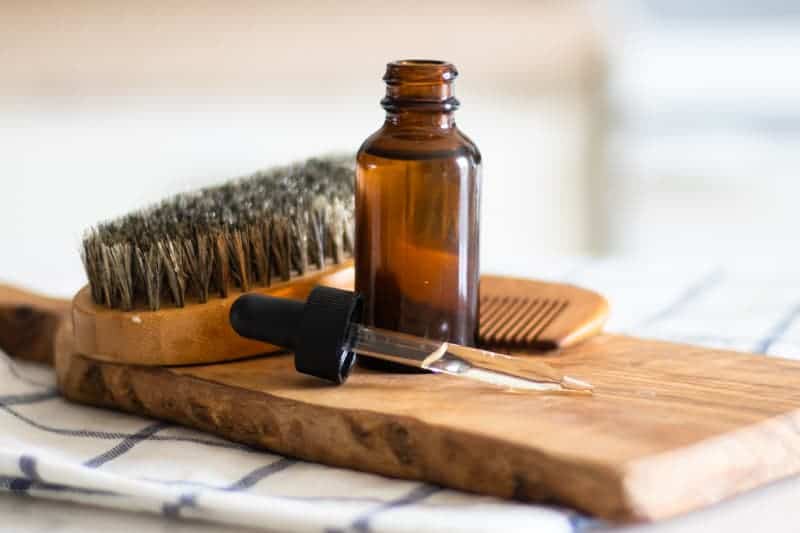 Homemade beard oil made with carrier oils and essential oils can help hydrate your beard and promote healthy hair growth.
Making your own beard oil is as simple as mixing together a few oils. This blend will tame unruly hair and make styling much easier.
My husband has been rocking a beard for quite some time now, and this beard oil is something that he uses daily on its own or with beard butter.
He loves this stuff and I love that it is toxin-free. I also picked a couple of my favorite essential oils to add to it, so I love the smell!
If you have a beard or know someone that does, it would make a great gift that would quickly become part of their daily routine. Especially with the Christmas holiday right around the corner.
PIN IT FOR LATER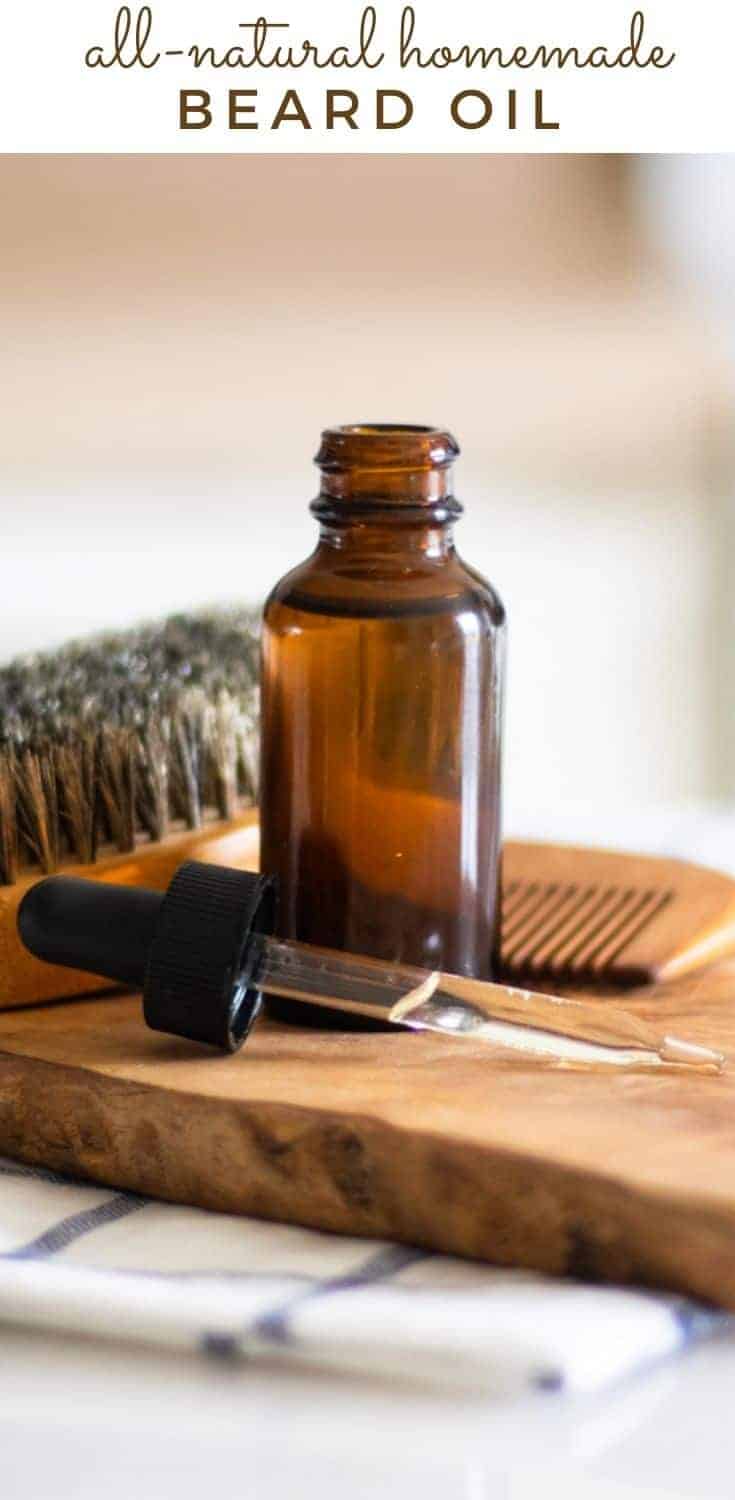 WHY MAKE YOUR OWN BEARD OIL?
Using homemade products is important to me so I can cut down on toxins in my home and my body. The skin is the largest organ in your body, and when you put things on it, it enters the bloodstream.
Using products full of toxins can be very damaging to your body. Once I started making my own skincare products, I realized that it is much cheaper than buying from the store. Win-Win!
When my husband was on a search for a good beard oil, I decided to make some for him. He has been using this for years and loves it. I love that I know exactly what is in it!
BEST CARRIER OILS FOR THE BEARD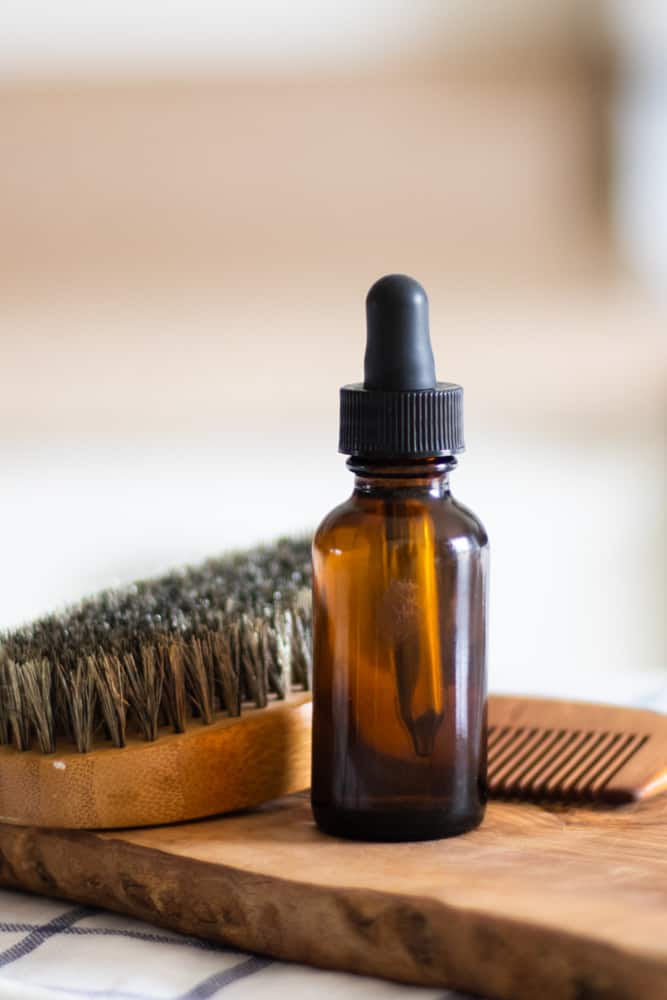 A carrier oil, or base oil, is any vegetable-based oil that can be used to dilute essential oils. They are called carrier oils because they help "carry" the essential oil to the skin.
A common misconception is that a carrier oil makes the essential oils less powerful. Though they do dilute them, they don't make the oils less powerful.
In fact, depending on the application, adding a carrier oil will allow the oils to be more effective by helping drive the essential oil deeper into the skin and allowing it to cover more surface area.
There are several carrier oils to choose from, and each one has its own set of benefits.
Choosing which oil you want to use in your homemade beard oil will depend on your hair and skin type.
My husband's favorite combination is fractionated coconut oil, sweet almond oil, and jojoba oil.
Learn more about carrier oils here.
FRACTIONATED COCONUT OIL
Fractionated coconut oil (FCO) is my favorite carrier oil because it is a very light oil and has many health benefits.
FCO is different from regular coconut oil because it stays liquid and prevents oxidation, making it effective for extending the shelf life of your oils.
Fractionated coconut oil is great for hydrating, conditioning, and protecting against split ends and dandruff while taming unruly hair.
SWEET ALMOND OIL
This oil has a slightly sweet and nutty aroma. It has a medium consistency and is known for its moisturizing properties.
Sweet almond oil is good for dry skin and hair, making it a great carrier oil for beard oil. It can be used on sensitive and mature skin as it helps reduce signs of aging.
Almond oil is good for all hair and skin types.
JOJOBA OIL
Jojoba oil has a mild scent, but when mixed with essential oils, it will overpower the scent from the jojoba oil. Jojoba penetrates the skin well and is a great option for anyone with ultra-sensitive skin.
Jojoba oil is moisturizing and rich in vitamins that can nourish the hair. It is known to strengthen, thicken, and even lengthen the hair.
This is a great carrier oil to add to your beard oil if you have patchy spots that you are trying to fill in.
BEST ESSENTIAL OILS FOR BEARD OIL
Adding essential oils to your DIY beard oil is a great way to scent it without using artificial fragrances. Plus, essential oils can help to promote hair growth and thicken the beard.
I stick to woodsy and earthy oils to keep the scent manly enough for my husband. The first time I made beard oil, I did a combination of lemongrass and cedarwood, and we never switched it up.
Why fix what isn't broken?
It is important to remember that some citrus oils are photosensitive and can cause skin sensitivity or burning if worn out in direct sunlight.
Lemongrass is steam distilled from the leaves of a grassy tropical plant, and though it has a citrus scent to it, it is not technically a citrus essential oil nor classified as a photosensitive essential oil.
It is always best to test patch any new skin or hair care product before using. If you have a sensitivity to any oil, you will want to stop using it immediately.
ESSENTIAL OIL BLENDS FOR HOMEMADE BEARD OIL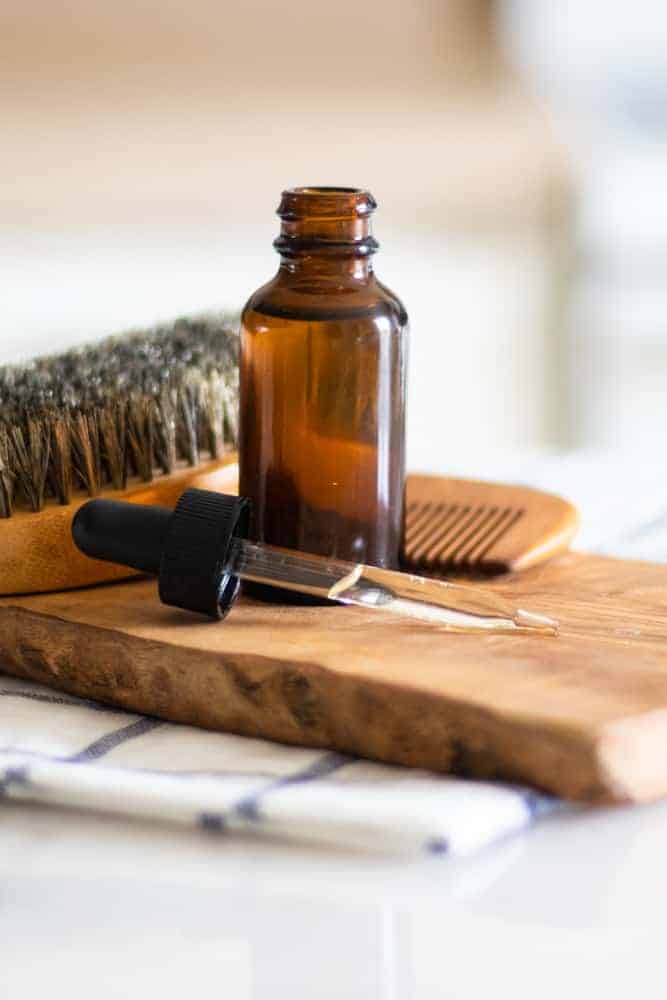 LEMON CEDAR
5 drops of cedarwood essential oil
5 drops of lemongrass essential oil
BLEND FOR HAIR LOSS
3 drops rosemary essential oil
3 drops of lavender essential oil
3 drops of thyme essential oil
1 drop peppermint essential oil
FRESH AND CLEAN
4 drops of eucalyptus essential oil
3 drops of sandalwood essential oil
3 drops of tea tree essential oil
HOW TO MAKE BEARD OIL
For this recipe, you will need a carrier oil, essential oils, and a dropper bottle. I have found that doing a combination of carrier oils works best for beard oil.
This recipe will call for fractioned coconut oil, sweet almond oil, and jojoba oil. If you prefer, you can use a different combination of carrier oils or single carrier oil.
This post contains affiliate links, which means I make a small commission at no extra cost to you. Get my full disclosure HERE.
INGREDIENTS
INSTRUCTIONS
Mix 2 parts fractioned coconut oil, 1 part sweet almond oil, and 1 part jojoba oil in a glass dropper bottle.
Add 5 drops of cedarwood and 5 drops of lemongrass.
Shake well, and it is ready for use.
Massage a few drops into the beard to soften it.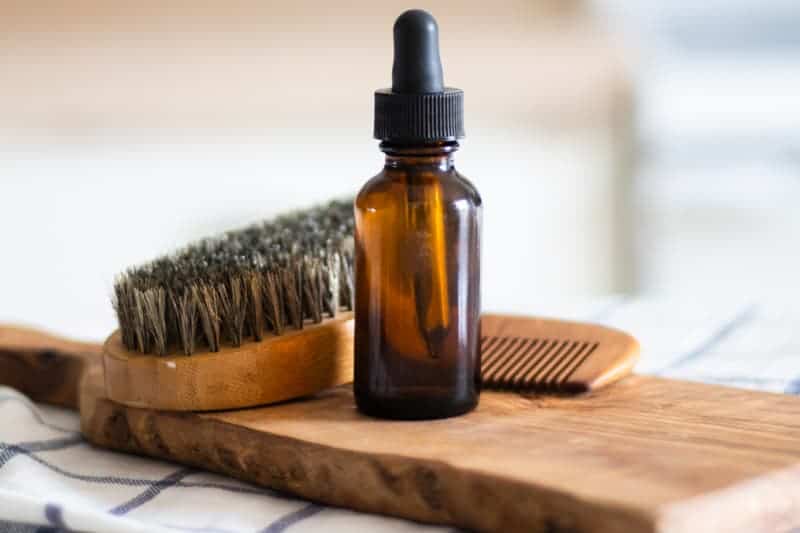 HOW TO USE
Add 2-5 drops of oil to the palm of your hands. Massage into the beard, using a downward motion.
For long or thick beards, use a beard comb or brush to evenly distribute the oil throughout the whole beard.
Beard oil works best after showering on a clean, dry beard. For longer beards, use twice daily, once in the evening and once in the morning.
BENEFITS OF BEARD OIL
Moisturizes and adds hydration to the skin and hair
Nourish the hair
Promotes healthy hair and skin
Strengthens, thickens, and lengthens hair
Helps reduce split ends
Reduces hair loss
Tames unruly hair
Adds scent
Reduces itchiness
Keeps beard soft and smooth
MORE POSTS YOU MAY ENJOY
Yield: 4 ounce bottle
Homemade Beard Oil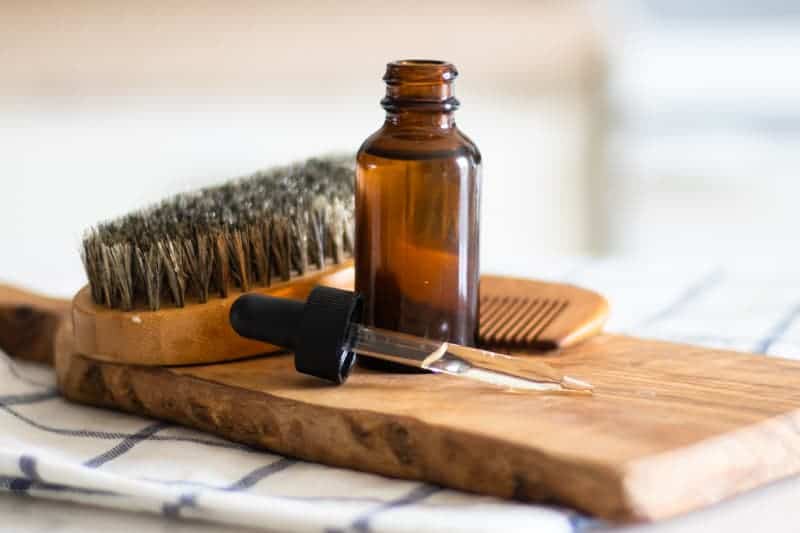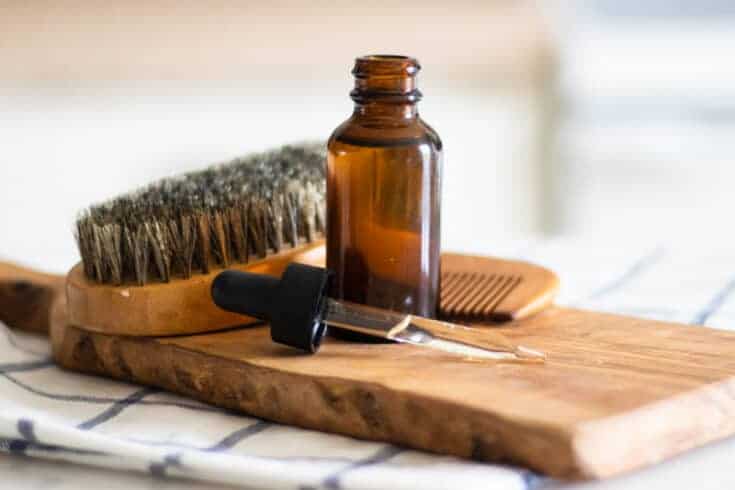 Homemade beard oil made with carrier oils and essential oils can help hydrate dry hair, tame unruly hair, and promote healthy hair growth.
Instructions
Mix fractioned coconut oil with sweet almond oil and jojoba oil.
Add in 5 drops of cedarwood and 5 drops of lemongrass.
Shake well, and it is ready for use.
Massage a few drops into the beard to soften it.