This homemade anti-aging face mask is easy to make and will help reduce wrinkles, fine lines, and crows feet. This face mask is loaded with benefits for your skin and is made with a combination of rose clay, bentonite clay, jojoba oil, and essential oils.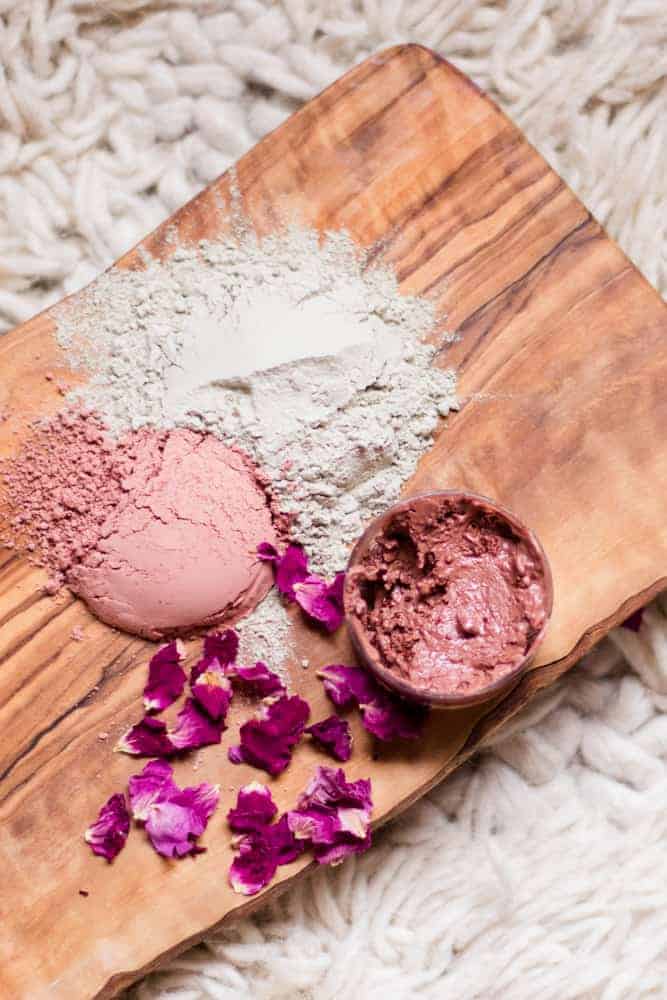 Making your own natural skin care products is super easy and generally requires only a few ingredients. For this DIY anti-aging mask, we are using a combination of natural clays and essential oils.
Several essential oils can be used to reduce signs of aging when applied topically to the skin. However, essential oils are very concentrated and it is important to dilute them first, especially when using them on the face.
Homemade Anti-Aging Face Mask Ingredients
This post contains affiliate links, which means I make a small commission at no extra cost to you. Get my full disclosure HERE.
DIY Anti-Aging Mask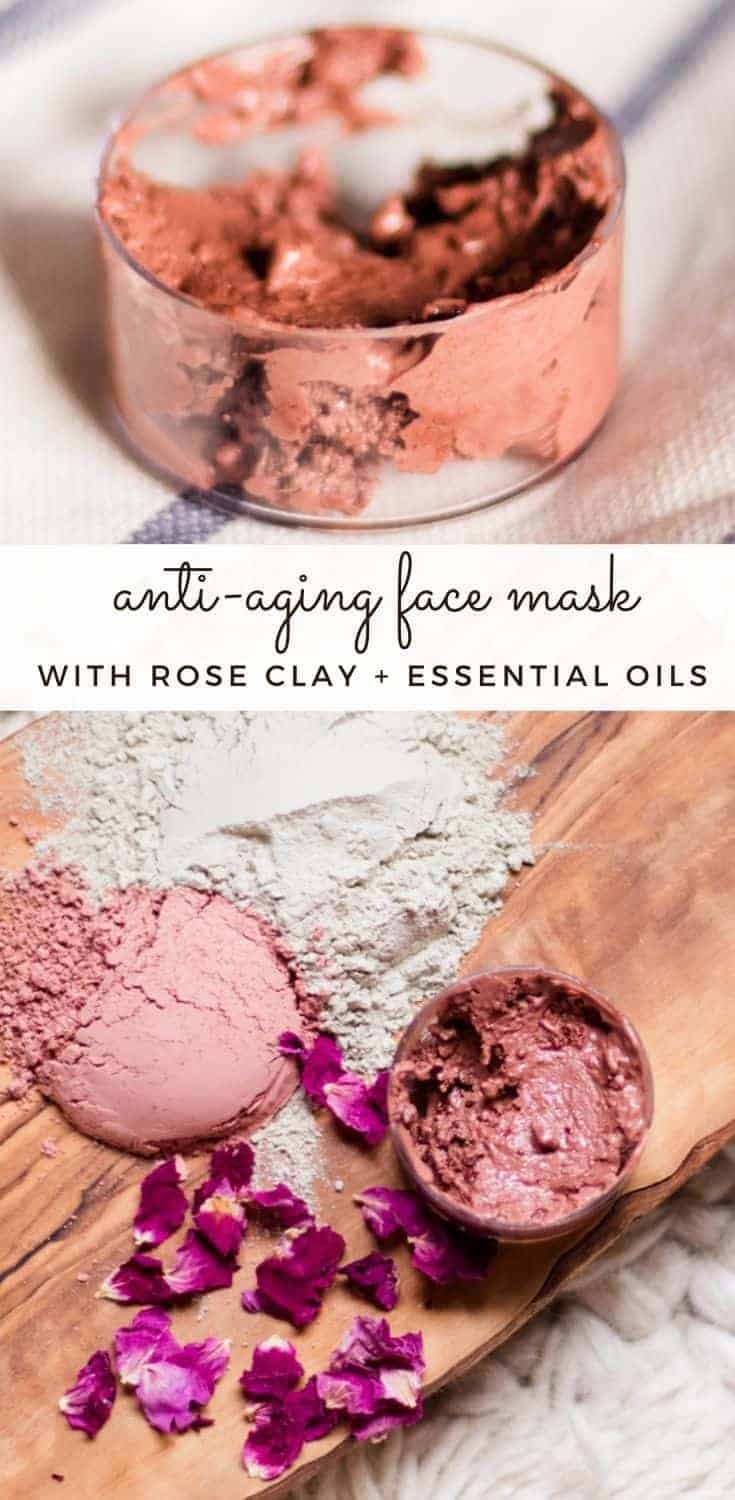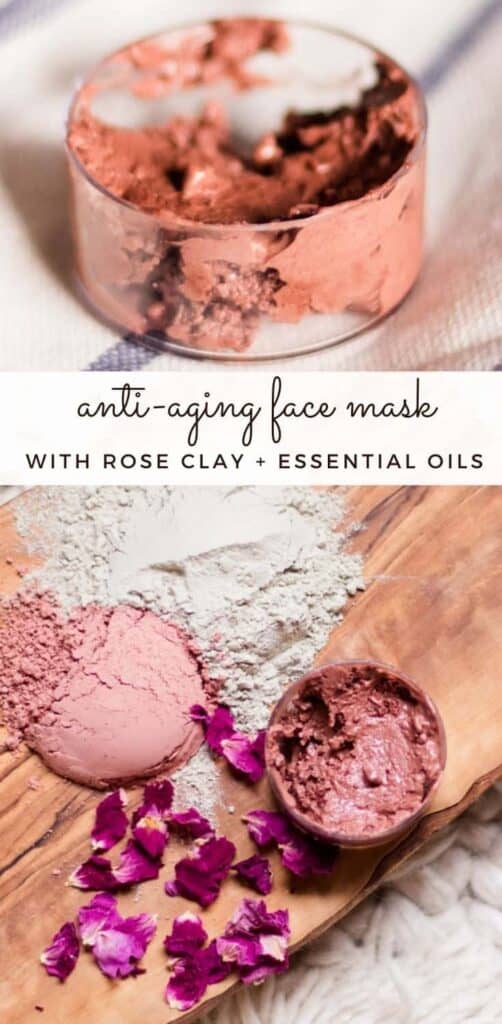 Rose Clay
Rose clay or pink clay is a natural clay that is gentle and mild. It is rich in nutrients and can draw out impurities.
Rose clay is a mixture of white and red clays and has a soft texture. It is rich in Silica which can help with skin elasticity making it a great clay for mature or aging skin.
Rose clay can temporarily tint the skin, but it won't actually stain it. Instead, it may give it a pink color for a short time but will wipe away with warm, soapy water.
Top Benefits of Rose Clay
Gentle for sensitive skin
Draws out toxins
Exfoliates the skin
Increase circulation
Reduces skin imperfections and irritations
Can reduce inflammation
Minimizes pores
Smoothes fine lines and wrinkles
Bentonite Clay
Bentonite clay has been used for skin care remedies for many, many years. It is a soft fine clay that is light green in color.
When used on the skin, bentonite clay can smooth the skin and rebuild damaged skin cells. In addition, it can absorb oil, dirt, and other impurities.
Read more on bentonite clay and its uses here.
Top Benefits of Bentonite Clay
Removes toxins and impurities from the skin
Reduces acne and oily skin
Gentle detox
Helps with skin irritation
Antibacterial properties
Reduces inflammation
Reduces wrinkles
Gentle on the skin
Honey
Honey is probably most popularly known as a kitchen item used to sweeten desserts or drizzled over pancakes.
But did you know you know honey is the perfect ingredient for glowing skin? Honey has some incredible benefits for both skin and hair. It is best to use raw honey and if possible, local honey.
Regular honey from the store has been pasteurized and the high temperatures take away many of the benefits. Check your local health food stores for raw honey!
Top Benefits of Honey for the Skin
Soothes cuts and burns
Helps improve skin irritations
Natural exfoliator
Hydrating and moisturizing
Reduce the appearance of wrinkles
Rich in antioxidants and nutrients
Can help reverse damaged skin
Jojoba Oil
For this recipe, I chose to use jojoba oil, but any carrier oil will work. Other carrier oils to try are avocado oil, fractionated coconut oil, reship oil, olive oil, or any vegetable-based oil will work.
Jojoba oil is very hydrating and can help improve signs of aging. In addition, it can fade fine lines, wrinkles, and crows feet when used topically to the area of concern.
Top Benefits of Jojoba Oil
Moisturizes dry, cracked skin
Antibacterial properties
Relieves irritations
Helps skin glow
Gentle
Not greasy
Works for almost all skin types
Anti-aging
Essential Oils
Essential oils can help with anti-aging and improve skin irritations. For this recipe, we are using frankincense, myrrh, geranium, and helichrysum.
Rose essential oil has amazing properties for the skin and can encourage the body to produce more collagen.
Geranium has similar properties to rose, but for a fraction of the price. If you have rose oil, you can add a drop of that to your anti-aging face mask for extra benefits.
Top Benefits of Essential Oils for Anti-Aging
Increases collagen
Soothes skin irritations
Lightens skin imperfections
Reduces wrinkles
Smooths skin
Tighten skin
How to Make an Anti-Aging Face Mask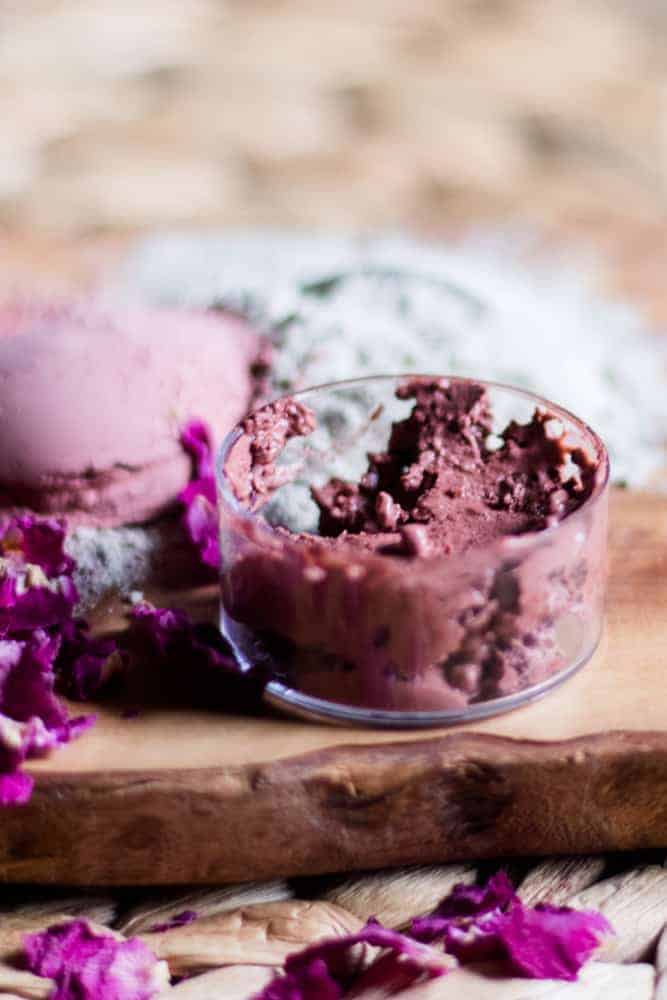 Use a wooden spoon to mix clays in a small glass bowl. It is best to not use metal when working with clay.
Add in the honey, jojoba oil, and essential oils.
Stir until well combined.
Mix in a few drops of water at a time until the desired texture is reached.
NOTES:
The face mask should be thick, not runny. If you add too much water, you can strain it out or add in a little more clay.
This recipe is for one-time use and should not be stored for a later date. Make enough for one face mask and discard the rest.
If you don't have all the essential oils for this recipe, feel free to substitute. The essential oils in this recipe are extremely effective at fighting anti-aging. Each of the oils will work fine on its own for this face mask if you do not have all the oils.
How To Apply a Face Mask
Before applying your face mask, wash your face with a gentle face cleanser or a homemade face wash.
Then apply a thin, even layer of the mask all over the face. Avoid getting it in the eyes.
Allow the mask to sit for 2-15 minutes. The time depends on skin type; those with sensitive skin may want to wash off sooner.
Rinse with warm water.
If desired, apply natural face moisturizer.
Overnight Face Mask
Some face masks can be kept on overnight as a deep skin treatment. This is NOT one of those masks. Pink clay is very messy and should not sit on the skin that long.
For an overnight face mask, you can use jojoba oil and honey. Mix 1 teaspoon of honey with 5 drops of jojoba oil and apply to the face. Leave on overnight and rinse with warm water in the morning.
How to Tighten Face Skin Naturally at Home?
This anti-aging face mask can help to tighten skin, but you can do a few more things if you are dealing with loose skin, which often comes with aging, oh the joys of getting old! 😉
One of the best ingredients and easiest ways for tightening skin is Aloe vera. Apply a thin, even layer to the skin, leave on for 20 minutes and rinse off. For best results, do this 3 times weekly.
The second way to tighten face skin at home is with a mixture of egg whites and honey. Mix one egg white with 1 teaspoon of raw honey in a small bowl.
Apply to the face and allow it to absorb and soak in for 20 minutes. Rinse with warm water.
How Often Should I do a Clay Face Mask?
Clay is great for the skin, but overusing it can dry the skin. It is best only to use the clay face mask once a week.
If you notice the clay is drying your skin, you can make the mask without the clay and use that every other week or as needed.
Get my top ten anti-aging tips right here!
Be sure to drop a comment below with your results! And if you enjoyed this anti-aging face mask, you may like reading one of these skin-tightening posts next.
Yield: 1 face mask
Homemade Anti-Aging Face Mask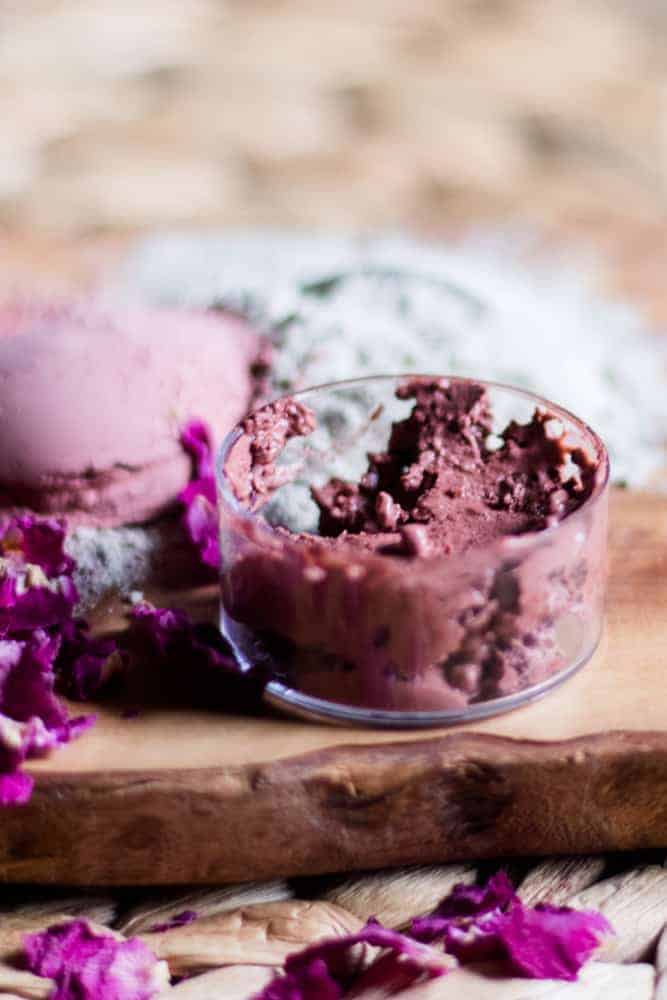 Tighten skin and reduce the signs of aging with this simple, effective anti-aging face mask.
Materials
1 teaspoon rose clay
1 teaspoon bentonite clay
1/2 teaspoon honey
1/2 teaspoon jojoba oil
1 drop frankincense oil
1 drop geranium oil
1 drop myrrh oil
1 drop helichrysum oil
Water (to achieve desired texture)
Instructions
Add clays to a small glass bowl and mix well with a wooden spoon. Be sure not to use metal utensils when working with clay.
Stir in honey, jojoba oil, and essential oils.
Add a few drops of water at a time, stir in until desired texture has been achieved.
Apply to face, let sit for 2-15 minutes. Rinse with warm water.
Notes
You want the face mask to be thick, not runny. If you add too much water, you can strain it out or add in a little more clay.
This recipe is for one-time use and should not be stored for a later date.
If you don't have all the essential oils for this recipe, you can use a different combination or a single oil. However, the four mentioned are the ones I find to be the most effective for anti-aging.