This DIY bentonite clay face mask recipe is so simple to make and great for your skin. Using a face mask can reduce pores, fine lines, wrinkles, and benefit acne-prone skin.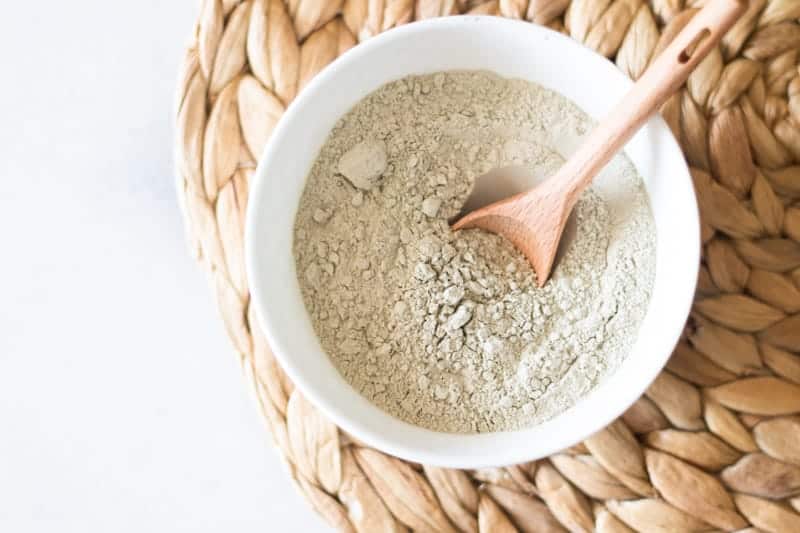 BENTONITE CLAY FACE MASK
For a deeper cleanse, I love to use this Bentonite clay face mask recipe about once a week. Doing it more often would be beneficial, but I can't seem to fit it all into my schedule. #busymama
This simple clay face mask recipe makes for a fun girls night! Whip it up with your girlfriends, sister, or daughter, and then have a spa night. This is one of my daughter's favorite things to do! It is a win-win for me, as we make special memories I am pampering my skin and reducing the wrinkles that she caused earlier in the day. Ha!
We live in a busy, busy world, and sometimes a girl just has to slow down and have a spa night. Am I right? Start your next self-care night off with a DIY clay face mask; I promise your skin will thank you!
PIN IT FOR LATER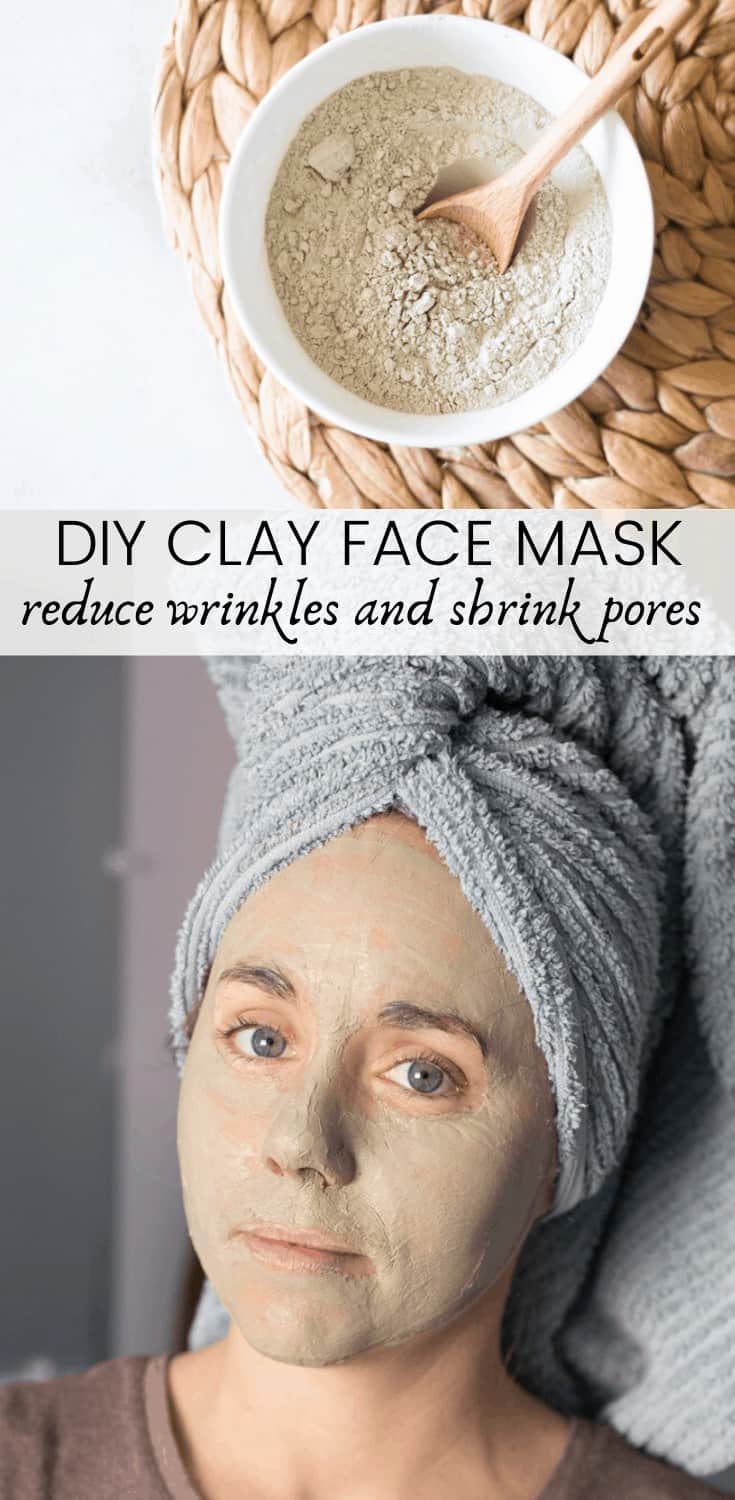 CLAY FACE MASK BENEFITS
Using a clay mask regularly on your face will have so many benefits for your skin. It can help to clear up acne, reduce the appearance of aged skin, and leave the skin feeling smooth and soft. For best results, use 2-3 times a week.
Detox and Reduce Impurities
When the clay is applied to the face, it acts like a sponge and pulls toxins, heavy metals, and impurities from the skin. Any face mask that has clay in it can be used as an effective detox.
It is beneficial to apply a clay mask under the armpits weekly for a natural heavy metal detox. This is especially important if you are using conventional deodorant. Making your own deodorant or deodorant spray can help, but doing a clay detox can still be great for other toxins you are exposed to throughout the day.
Reduce Grease and Unclog Pores
Clay masks are great for greasy and oily skin because the clay can draw out toxins that are deep in the pores. It will reduce shine and absorb excess grease.
If you have oily skin, it may be best for you to use the clay mask daily until cleared up.
Reduce Wrinkles and Fine Lines
Bentonite clay can reduce wrinkles and fine lines as it can rebuild damaged skin cells and help in the production of collagen. As we age, our body produces less collagen. This starts happening at age 21. Lack of collagen is the main culprit for aging because collagen increases skin elasticity and hydration.
Leaves Skin Smooth and Soft
This has to be my favorite thing about applying a clay face mask! When you take it off your skin, it will feel so soft and smooth. This is because of the minerals that are found in clay, most importantly, the silica. Silica is a mineral quartz that is wonderful for the skin. It is common to be low in this mineral, causing dry and cracked skin.
This post contains affiliate links, which means I make a small commission at no extra cost to you. Get my full disclosure HERE.
DIY BENTONITE CLAY FACE MASK INGREDIENTS
Making a DIY clay mask is really easy, and you only need basic ingredients. You have the option of adding essential oils for added anti-aging benefits.
BENTONITE CLAY

Bentonite clay is rich in many vital nutrients, including calcium, magnesium, silica, sodium, potassium, and iron. It can be found in the United States; it comes from volcano ash. Bentonite clay has a light grayish cream color and has no scent.
It has been used for natural skincare and remedies for many many decades. Bentonite clay can benefit people that suffer from eczema, psoriasis, and other skin rashes.
Bentonite clay can be used topically on the skin, taken internally, or be mixed into a bath. Consult with your doctor to find the best way to add this super nutrient-dense clay into your routine.
APPLE CIDER VINEGAR
Apple cider vinegar has become a very popular vinegar in the "natural health" group. It can be used to improve digestive health, clear up skin imperfections, and even help with weight loss. I personally use it almost every day as it is in my homemade face wash, and I use it in my bone broth recipe.
Apple cider vinegar can be used as a spot treatment for blemishes, tighten the skin, and improve skin tone. It can also exfoliate the skin and promote cellular regeneration, which will help in removing dead skin cells and reduce pores.
ESSENTIAL OILS

There are so many essential oils that you can to improve the skin. Three of my favorites are lavender, frankincense, and tea tree. These three make up my all-time favorite clear skin roller bottle. Yarrow pom, rose, and myrrh are great essential oils for anti-aging.
For this recipe, I will add a few drops of essential oils to make the face mask that much better for the skin.
BENTONITE CLAY FACE MASK RECIPE
INGREDIENTS
INSTRUCTIONS
Place the clay, apple cider vinegar, and water into a glass bowl.
Stir using a wooden spoon. Never use iron or metal utensils when working with clay.
Add 3 drops of essential oil and stir to combine.
Store in a glass container with an airtight plastic lid.
HOW TO APPLY CLAY FACE MASK
Apply a thin, even layer to the face and neck. Leave the mask on for 3–5 minutes to allow it to work its magic! Avoid the eyes and the inside of the nose and ears.
It is best to apply after the face has already been washed and apply moisturizer to the face when finished with the mask.
HOW TO REMOVE A CLAY MASK
To remove the homemade clay mask, rinse the face with warm water. Use a soft cloth to scrub if needed.
More recipes you may enjoy.
Bentonite Clay Face Mask Recipe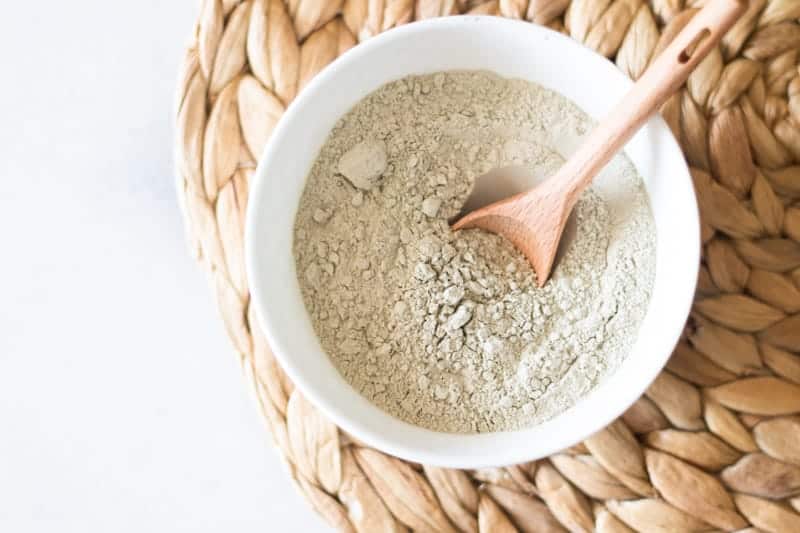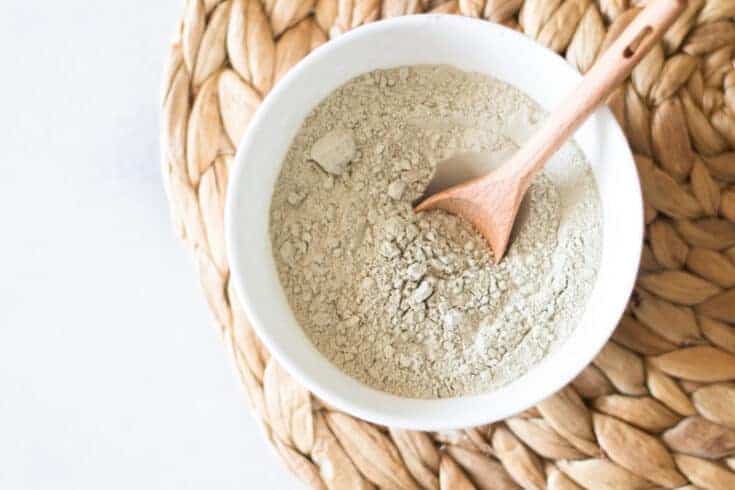 Materials
1 tablespoon bentonite clay  
1 tablespoon apple cider vinegar
1 teaspoon water 
3 drops lavender essential oil
Instructions
Place the clay, apple cider vinegar, and water into a glass bowl.

Stir using a wooden spoon. Never use iron or metal utensils when working with clay.

Add 3 drops of essential oils and stir to combine.

Store in a glass container with a plastic airtight lid.