Bentonite clay has so many incredible benefits for overall wellness and the skin. Learn the top 10 uses for bentonite clay, its many benefits, as well as my favorite DIY recipes.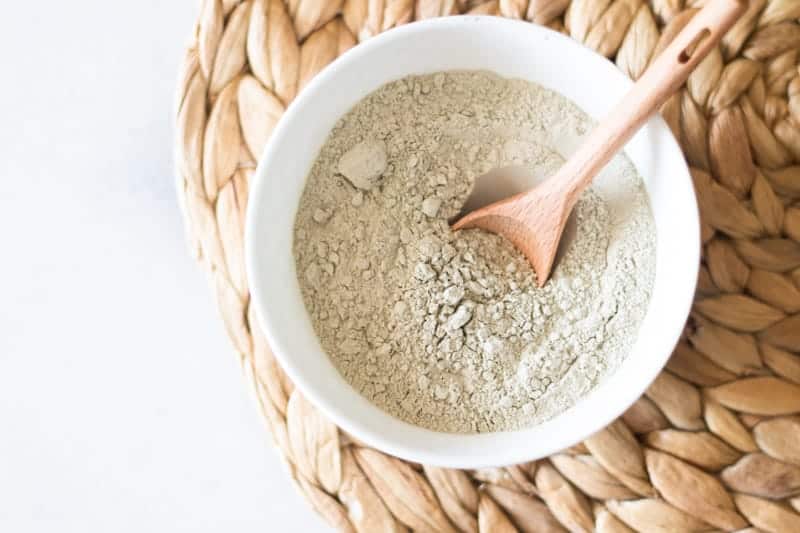 What is Bentonite Clay?
Bentonite clay has been used for natural remedies for centuries to help with an array of ailments. It comes from settled volcanic ash. Most commonly found in Fort Benton, Wyoming, hence the name.
It is a light greenish-gray color and has a fine powdery consistency. Bentonite clay smells like "clean" dirt or ash and is rich in many vital nutrients, including calcium, magnesium, silica, sodium, potassium, and iron.
Bentonite clay can help rid the body of toxins and heavy metals. In addition, it is often used to nourish the skin and the hair when applied topically or internally.
What is the Best Bentonite Clay to Buy?
When purchasing bentonite clay, look for brands that sell 100% bentonite clay. Also, check the back label to be sure the bentonite clay is free of adders or fillers.
Bentonite clay can be ingested if taken in moderation. Always make sure the label specifies "safe for internal use."
Find the clay I use here.
This post contains affiliate links, which means I make a small commission at no extra cost to you. Get my full disclosure HERE.
Bentonite Clay Uses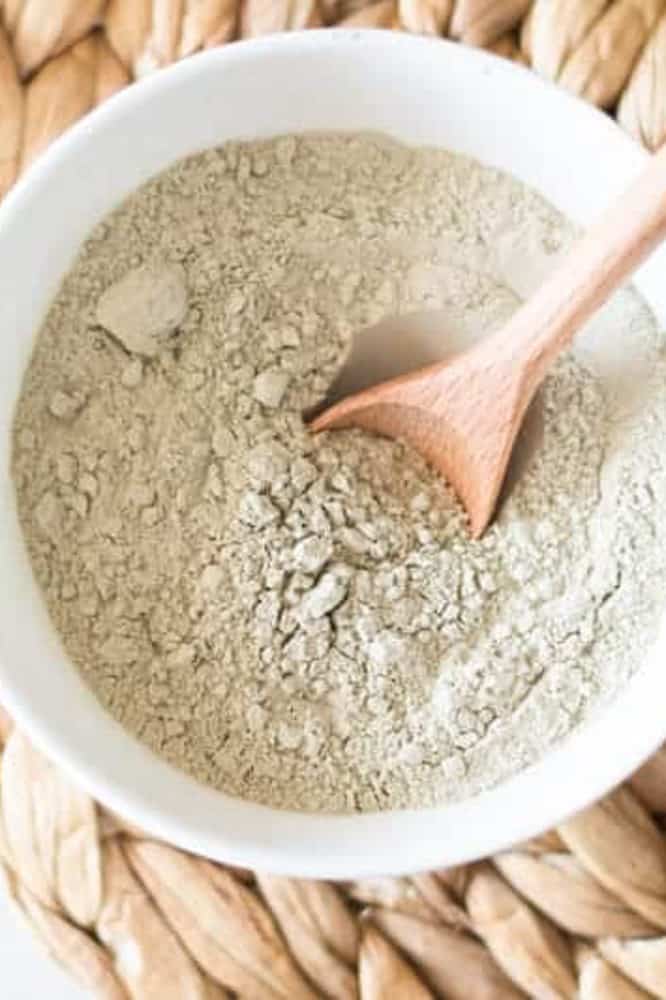 Bentonite clay can be used for many things but is most commonly used to help clear skin imperfections. In addition, the clay can help pull toxins or impurities from the body, helping to reduce skin rashes or soothe bug bites.
#1 Bentonite Clay for Skin Rashes
Because bentonite clay can be used to pull impurities from the body, it is an excellent remedy for most skin rashes.
To use bentonite clay for a rash, simply make a paste with a bit of clay and water. Smear the paste on the area of concern and allow it to sit for a few minutes before rinsing with warm water.
#2 Use Bentonite Clay to Soothe Cuts and Burns
Similar to skin rashes, bentonite clay can help to soothe cuts and burns. The clay can help remove toxins and protect against infection.
Make a paste with a little clay and water to apply to the area of concern. For burns, you can wrap the spot in a wet cloth or bandage to keep the clay from drying.
#3 Bentonite Clay Face Mask
Face masks can be used to remove blackheads, reduce acne, shrink pores, and moisturize the skin. Making your own face masks out of bentonite clay is cost-effective, all-natural, and works great!
To make a bentonite clay face mask, you will need bentonite clay and apple cider vinegar. You can add in lavender essential oil for extra benefits and for a beautiful aroma.
Apply the mask after washing your face and follow up with a face moisturizer.
#4 Bentonite Clay Detox
Bentonite clay can be ingested to remove toxins from the body. Mix 1 teaspoon of bentonite clay with 8 ounces of drinking water, stir well before drinking.
If you plan to ingest your bentonite clay, be sure to purchase a clay that is edible, as not all clays are, and check with your doctor to ensure it's right for you.
#5 Bentonite Clay for Poison Ivy
The best way to prevent poison ivy is showering after being exposed. Using a natural soap to scrub the poison oil from the plant off the skin will help you not to break out in the poison ivy rash.
After washing the skin, if you still get the rash, bentonite clay can help! Make a paste using bentonite clay and water and apply it to the area of concern. Cover with plastic wrap and reapply as needed until the rash is gone.
#6 Bentonite Clay for Digestive Support
When used internally, bentonite clay may help support a healthy digestive system. It can relieve the occasional stomach upset, diarrhea, constipation, and cramps.
Add 1 teaspoon to 8 ounces of water, stir well and drink.
#7 Bentonite Clay Detox Bath
One of the easiest ways to get bentonite clay onto your skin and start reaping the benefits right away is by taking a bentonite clay bath.
Taking a clay bath can help remove toxins and clear skin imperfections. Add 1-2 tablespoons of bentonite clay to warm water and stir. For best results, soak for 20 minutes.
#8 Bentonite Clay for Hair
The minerals found in bentonite clay can benefit your hair and scalp. They can encourage hair growth, hydrate your locks, soften, and even reduce frizz.
When used on the hair, bentonite clay can cleanse the scalp and help remove dead skin cells. It may thicken, strengthen, and lengthen your hair.
You can make a hair mask with 1/4 cup bentonite clay, 1/8 cup apple cider vinegar, and 5 drops of rosemary essential oil. Apply to the hair and allow it to sit for a few minutes before rinsing with warm water.
Follow up with natural shampoo and conditioner. It is recommended to do this once weekly.
#9 Bentonite Clay Mouthwash
Bentonite clay has antibacterial properties making it a great mouthwash! It can absorb toxins and help reduce bad breathe by killing bacteria.
To make a clay mouthwash, mix 1/2 teaspoon of bentonite clay with 1/4 cup water. Swish the mixture in your mouth for 1-2 minutes, and then spit it out.
#10 Bentonite Clay Toothpaste
Bentonite clay can also be used as toothpaste, similar to using charcoal on your teeth to whiten and deep cleanse. Simply dip your wet toothbrush in the clay and brush.
With its antibacterial properties, it can raise the pH level in your mouth and help remove plaque. It has been known to help remineralize teeth.
Bentonite Clay Recipes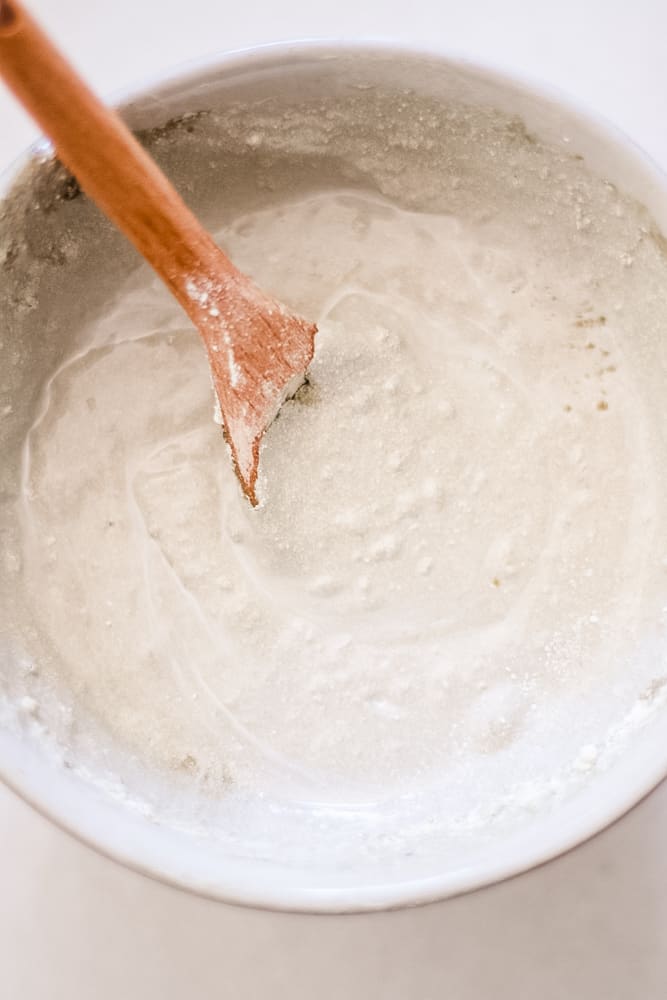 Bentonite Clay Rash Cream
Ingredients
Instructions
Place the shea butter and coconut oil in a double boiler. Melt over medium heat, stirring occasionally.
Remove from the heat and add in the clay and tea tree essential oil.
Transfer to a mason jar with an airtight lid.
Apply to the area of concern.
Bentonite Clay Hair Mask
Ingredients
Instructions
Add all ingredients to a small bowl.
Whisk together until everything is well combined.
Apply generously and evenly to damp hair. Hair masks are best to apply to damp hair and should be left in for at least 15 minutes or, in some cases, can be left in overnight. The duration is really up to you and your hair type.
Bentonite Clay Mouthwash
Ingredients
Instructions
Add the ingredients to a mason jar.
Secure lid and shake well.
Swish in mouth for 1-2 minutes and spit out.
Making Recipes with Bentonite Clay
When making anything with bentonite clay, or any clay, it is best to use wooden utensils and glass bowls. Using metal will make the clay less effective and it can even pull toxins from the metals, getting them into your DIY
To make a paste with bentonite clay, simply mix clay with water. Start with a small amount of clay and water in a glass bowl mixing with a wooden spoon. Then, add more clay or water until it is a thick paste.
The clay paste can be used as a face mask, hair mask, or for most skin imperfections.
Pin It For Later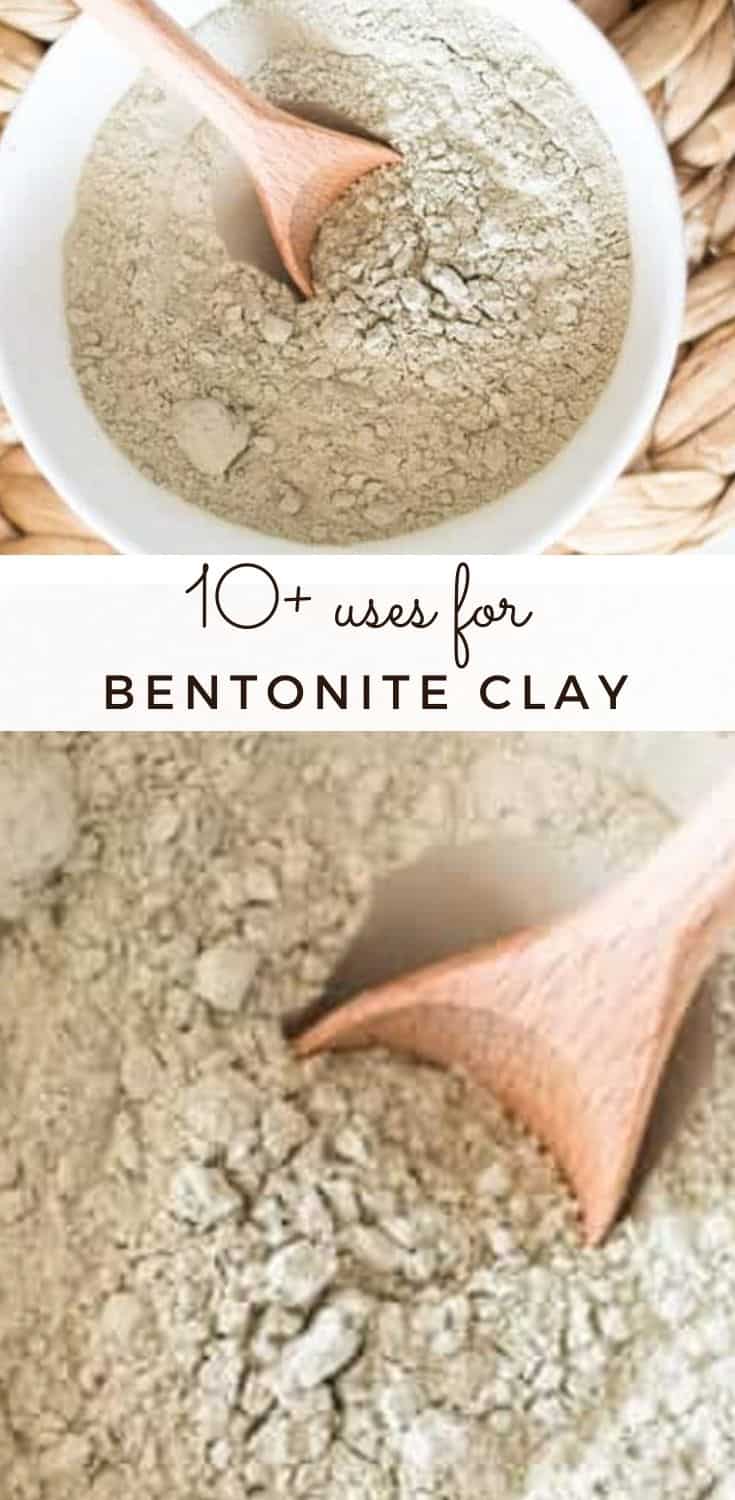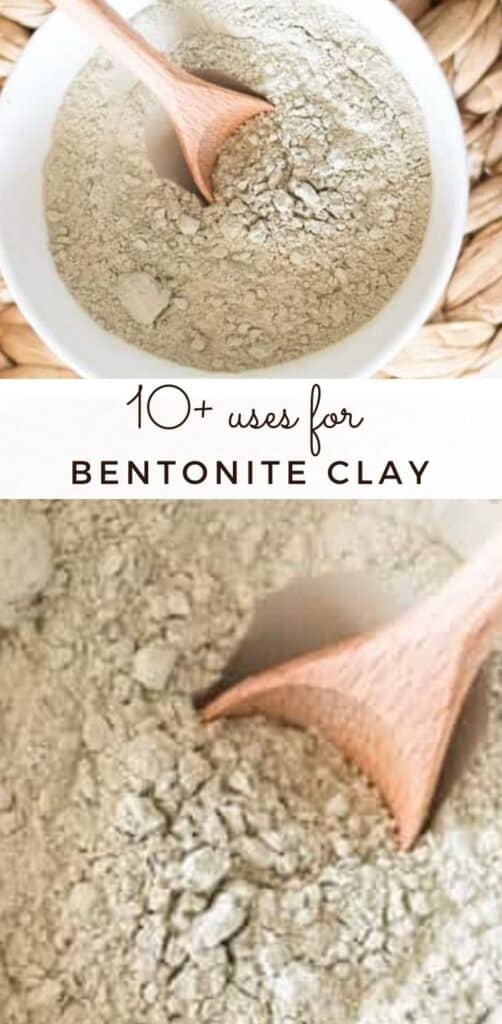 If you liked this post, you may enjoy this armpit detox recipe using bentonite clay next.