So many benefits of face steaming. Though it is known as an effective method for easing blackhead removal, it can help skin care products to better penetrate and hydrate dry skin, as well as many other benefits.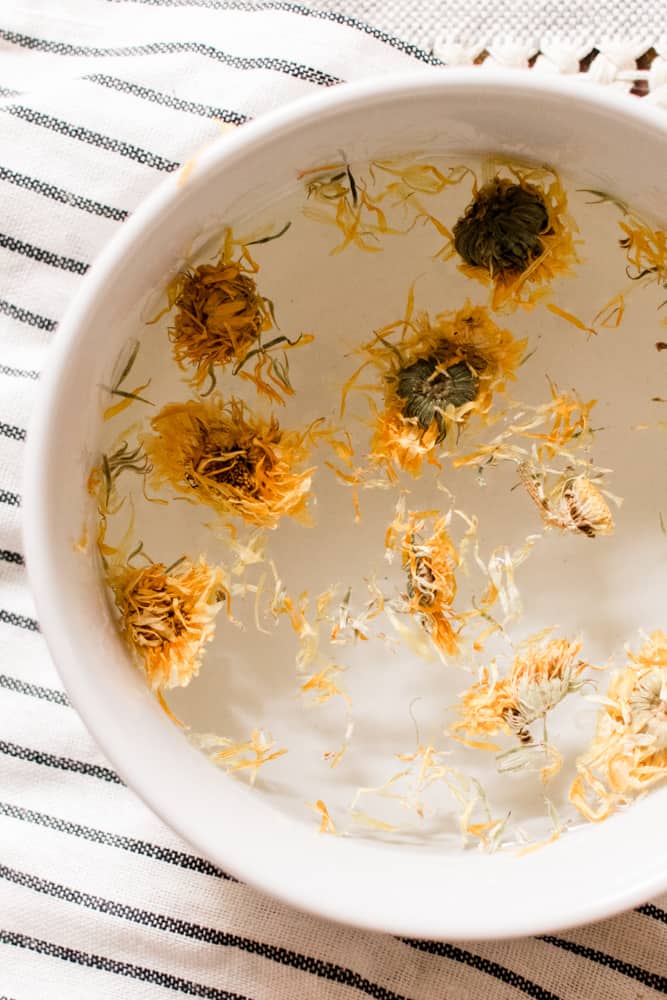 What is Face Steaming?
Face steaming exposes the skin on the face to hot water vapor. It is very cleansing, often used to open up pores to remove dirt, oils, and even blackheads.
Steaming naturally will increase the temperature on the face, causing increased blood circulation. The increased circulation allows better penetrations of face creams and serums.
In part, this is why we apply moisturizers and such after showering rather than before. Covering up dirt and grime with beauty products is a recipe for disaster.
In its most basic form, face steaming can be done at home with a pot of hot water and a bath towel. Yep, one ingredient, and it is incredibly effective.
Additional ingredients such as salt, herbs, lemon, or essential oils may be added to the hot water for added benefits.
Top 10 Benefits of Face Steaming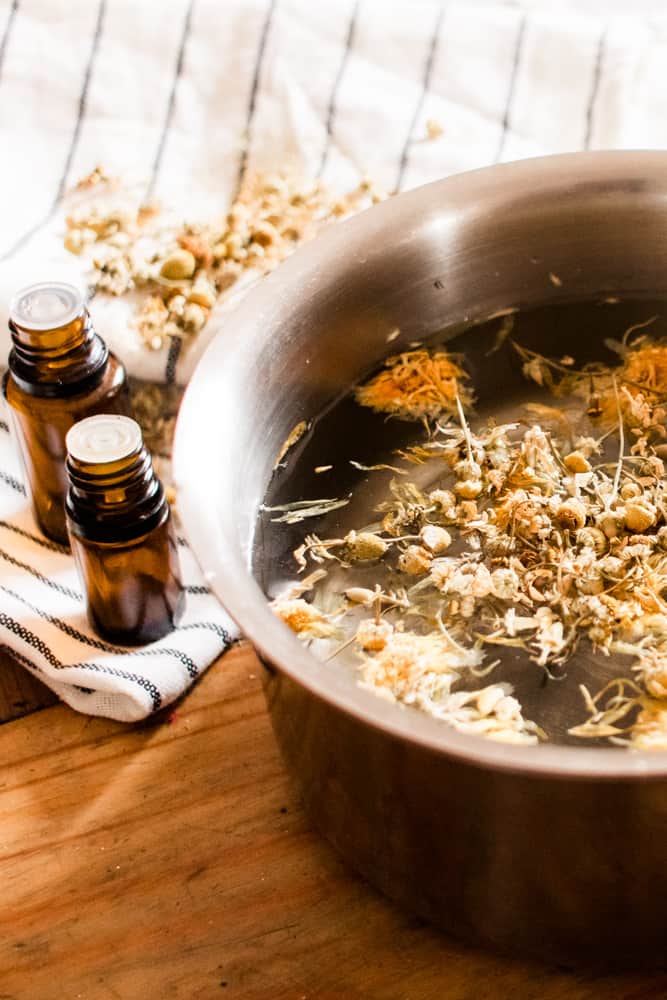 Hydrates the Skin
Steam is a great way to hydrate the skin naturally. In addition, the steam will actually increase oil production, which naturally moisturizes the skin.
Face steaming is great for someone with dry, damaged, or sensitive skin. If you have sensitive skin or have had issues with moisturizers in the past, face steaming may be a safe alternative.
Cleanses the Skin
The steam will open up pores allowing dirt, sebum, and other build-ups to release from the skin.
Sebum is a natural oil that your skin and hair produce; however, when it gets blocked in your pores, it can cause acne.
Steaming your skin can release bacteria, dead skin, and other impurities that cause clogged pores.
Regularly steaming the face and using a natural cleanser is a great way to remove dirt and grime.
Anti-Aging
Face steaming may promote collagen production and improve skin elasticity. As you age, your skin produces less collagen, the main reason for wrinkles, fine lines, and crow feet.
Tighten the Skin
Because it can increase blood flow and circulation, youthful appearances can be restored! Face steaming promotes collagen which can tighten skin and give you back that youthful look.
Reduces Acne and Blackheads
As mentioned above, face steaming can cleanse the skin and open up pores. Perfect for reducing skin imperfections such as acne, blackheads, and other skin impurities.
Because face steaming is done with just water, this is a great way to moisturize and cleanse acne-prone skin. It is very gentle and soothing for sensitive skin.
Opens Up Airways
If you are dealing with sinus issues or a clogged nose, face steaming may help.
Breathing in the steam, whether it's in the shower using vapor disks or using the face steaming treatment, both opens up airways and loosens mucus to make breathing easier.
Cost-Effective
You won't need anything fancy to start with face steaming. If you have access to water, a pot, and a stove, you can begin face steaming today.
It is as simple as standing over a pot of steamy water for a few minutes, and you will reap the benefits of facial steaming.
Helps Absorption
Steaming the face before applying beauty creams and serums will help the skin to better absorb the products.
Promotes Relaxation
Face steaming can be very relaxing and is a great way to add some TLC to your evening. Try face steaming at night after a long day to wind down and relax.
Additionally, dried herbs or essential oils can be included for extra benefits. Certain essential oils are calming, soothing and safe for sensitive skin.
Easy to Do
Possibly the number one benefit of face steaming is how easy it is to do. Adding facial steaming to your skincare routine isn't going to cost you any extra money or take a lot of your time.
In less than 5 minutes, you can adequately steam your face and benefit your skin.
How to Steam Face (3 ways)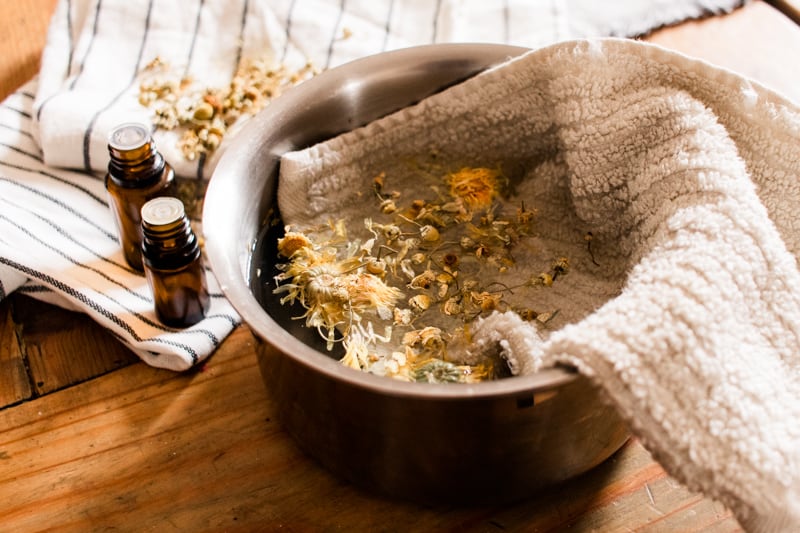 Face steaming can be done in several different ways. Each method will leave your skin hydrated and cleansed. So choose one of the options below and start adding this simple technique to your skincare routine.
Before steaming your face, be sure to wash your face with a gentle cleanser to remove any makeup or dirt.
Pot of Water
As the simplest method of them all, we'll begin with a pot of hot water. Bring a few cups of water to a boil in a saucepan.
Transfer the pot to the countertop, then, standing over the pot, drape a bath towel over the back of your head, letting it fall to either side of the pot to trap the steam. Finally, remove the lid from the pot.
Keep your face no closer than 6 inches from the water to reduce the risk of burning the skin.
The steam will rise, so feel free to stay comfortable; if it gets too hot, move your face further away from the pot. Allow the steam to cleanse and hydrate the skin for about 5 minutes or so.
Steamy Towel
I cannot take the credit for this method I saw from leaf.tv, but I love it and have to share.
Run the sink on hot until water is hot. Close off the drain and fill the sink with water.
They did add essential oils to the water, but I don't feel comfortable with oils so close to my eyes, so I just use hot water.
Soak a towel, wring it out, then find yourself a comfortable chair. Lay back with your face facing up. Place the towel over the face wrapping it around the nose so you can breathe.
Leave on the face till it starts to cool, about 5 minutes.
Face Steamer
Lastly, you can purchase a facial steamer at the store. Not a big deal, but then it is another gadget in the house.
Facial steamers are very powerful, though, compared to the other methods. Follow the instructions for your face steamer, but most can steam the face in 2 minutes.
What to Do After Steaming Your Face
So you steamed your face, now what? First, rinse the skin with warm water and pat dry. It is important to pat dry with a soft towel and do not scrub or rub on the skin, as it will be soft and sensitive.
Finally, once dry, apply a face cream or face moisturizer. Lightly massage the product into the skin.
Homemade Face Steam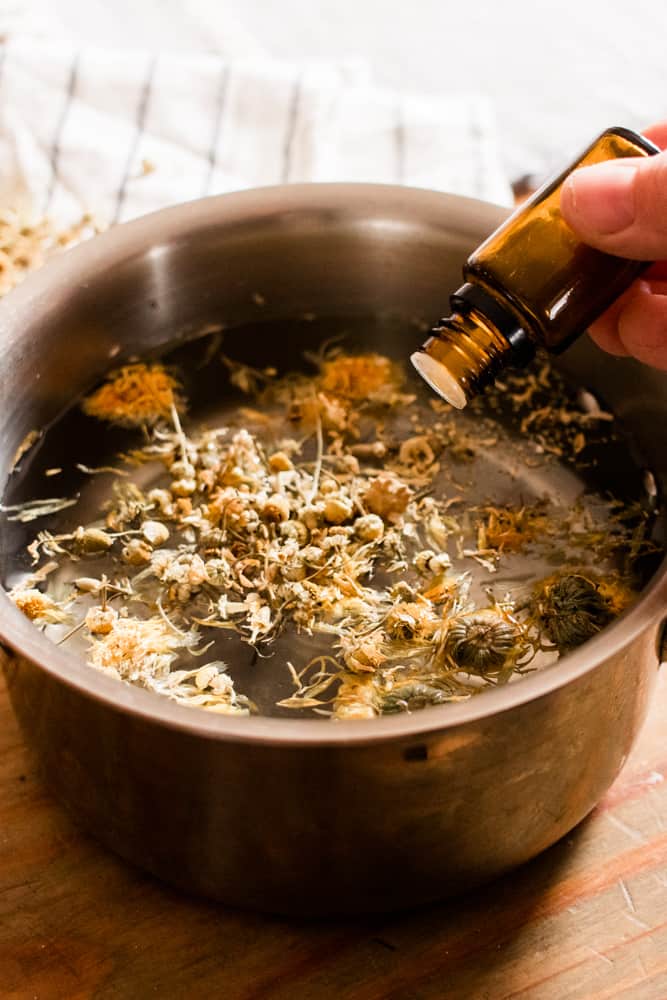 Until now, I have only shared using water for steaming the face.
But using tea or even adding herbs and essential oils can be very effective as well.
Choose the Base
Tap water– this option is the most cost-effective and easy to do
Distilled or filtered water– if you live in an area that has extra hard water or high levels of chlorine in your water, you may want to use distilled or filtered water
Green tea– loaded with antioxidants, green tea can help reduce redness, skin imperfections and nourish dry, damaged skin
Herbal tea– nettle, dandelion, jasmine, or rooibos teas would all make an excellent base for a facial steam
Adding Herbs to Face Steaming
If using herbs, add them to the saucepan with the base and then bring the water or tea to a boil without the lid. Replace the lid, turn off the heat, and allow the herbs to steep.
If using the steamy towel method, you can add your towel to the pot of water, and when it is cool enough to handle, wring the towel out and place it over the face. I don't recommend this method unless you are very careful to keep the towel out of the eyes.
Common herbs include chamomile, peppermint, rosemary, and lavender
Essential Oils for Face Steaming
If using essential oils, add them right before you start steaming your face and after the water has cooled back down slightly after being boiled. Use no more than 5 total drops of essential oils.
Common oils include lavender, frankincense, tea tree, and geranium
Other things to Add
Honey: Raw honey can balance the bacteria on your skin and gently exfoliate the skin. When applied to the skin, honey can remove dry, dead skin leaving the skin rejuvenated.
Salt: Adding salt to your face steaming will make the cleansing process even more effective. Salt can deeply cleanse the pores, absorb toxins, and balance oil production.
Lemon: Lemon contains vitamin C, antioxidants, and vitamin B6. It can reduce inflammation, skin damage and remove blackheads.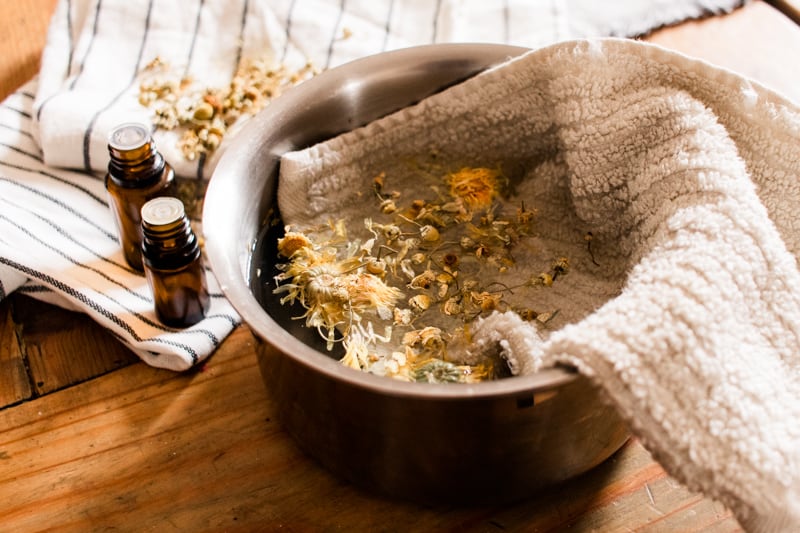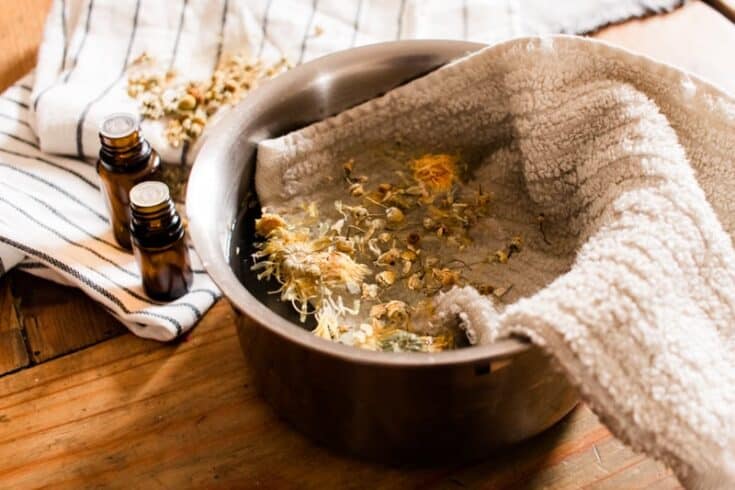 Cleanse and hydrate your skin with this simple technique that is free and only takes 5 minutes!
Materials
3 cups water or herbal tea
1 teaspoon dried herbs (optional)
3-4 drops lavender essential oil (optional)
Saucepan
Towel
Instructions
Add water and dried herbs to the saucepan.
Bring to a boil.
If using herbs, reduce heat to simmer and allow herbs to steep for 3 minutes.
Remove the pot from the heat. If using oils, add those in now.
Standing over the pot, drape a bath towel over your head down to the sides of the saucepan to trap the steam.
Steam for 5 minutes, keeping your face a minimum of 6 inches away from the water to avoid burning the skin.