There's something about summer that makes me really want lighter, more vibrant hair. Whether I'm at the beach or in the garden – that sunkissed look gets me every time.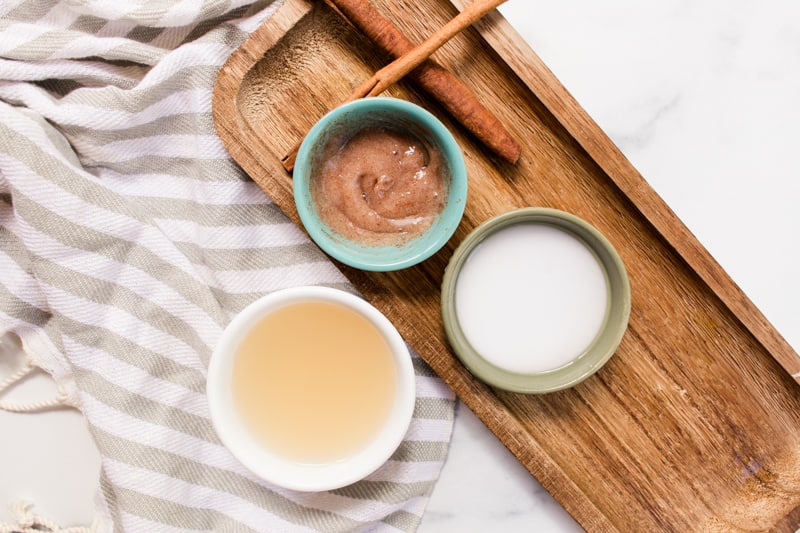 It makes me feel healthier somehow. And youthful. It takes me right back to my childhood, where my hair would turn white at the first glimpse of strong sun.
But, as much as I love lighter hair, I'm wary of store-bought hair lighteners. I know that dyed hair can have varying results and wouldn't want to risk it.
I'm all for natural methods – and this goes for hair lightening too.
And while hair toners and even clarifying shampoos may lighten the hair some, they won't have the same effect as an actual hair lightener.
So if you're looking for a natural hair lightener, I'll share three great methods with specific instructions in this post.
Each method uses a different set of ingredients which means different lightening strengths and potency.
Do read the instructions and follow them to get the best results for your hair type.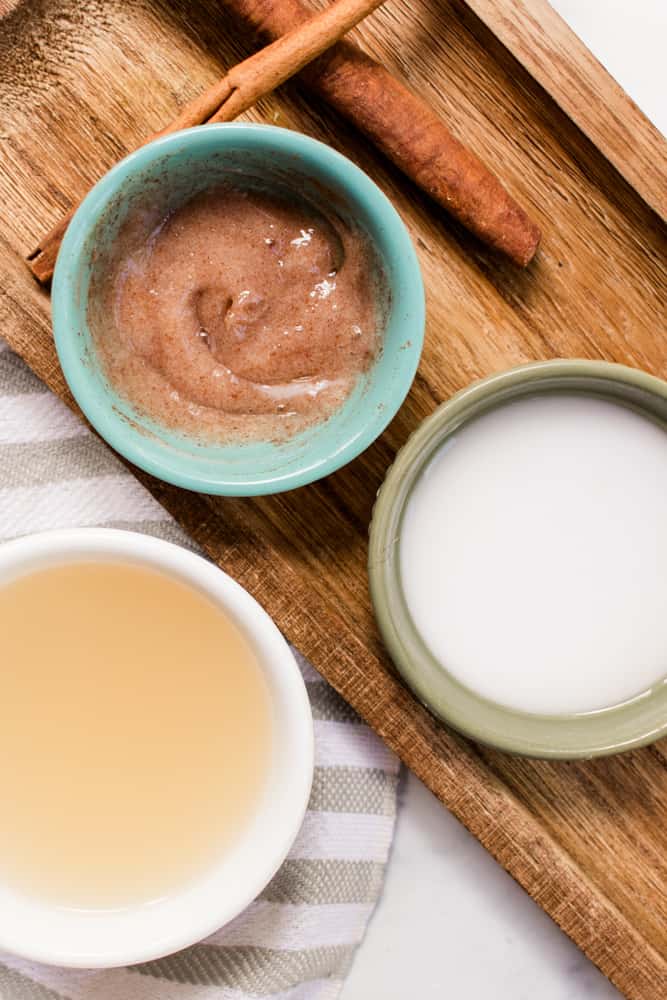 How to lighten hair naturally
There are several natural ways to lighten your hair, many of which use the help of the sun, giving you a great excuse to relax with a nice book in the garden for a few hours.
The amount of time spent sitting in the sun and the concentration of lightening ingredients all affect how light your hair will go.
It's also dependent on how dark your hair is in the first place. The darker it is, the less light the end result (which makes sense).
Going from dark to very blonde in one sitting is impractical and not going to happen unless you go to a professional, where they'll need to use bleach to strip your hair color (which I don't recommend because it's seriously damaging to your hair).
On the whole, a lightening effect using natural ingredients is not as strong as going to a salon.
It offers a delicate, sunkissed look rather than an all-over bright lightening effect.
The great news though is that your desired lighter look can happen over several attempts to gradually lighten your hair when you use natural products.
Can all hair be lightened?
In theory, yes, all hair can be lightened, but that doesn't mean all hair will turn out blonde.
It's important to understand that any permanent lightning method strips your hair of its existing color.
In essence, a lightener opens the hair shaft, which can have a serious drying effect, making hair brittle and prone to breakage.
That's why I strongly recommend you moisturize your hair really well after lightening.
Yes, even using natural lightening methods such as lemon or vinegar can dry the hair out.
And, just to be transparent; I advise using these techniques only on natural, non-dyed hair for best results.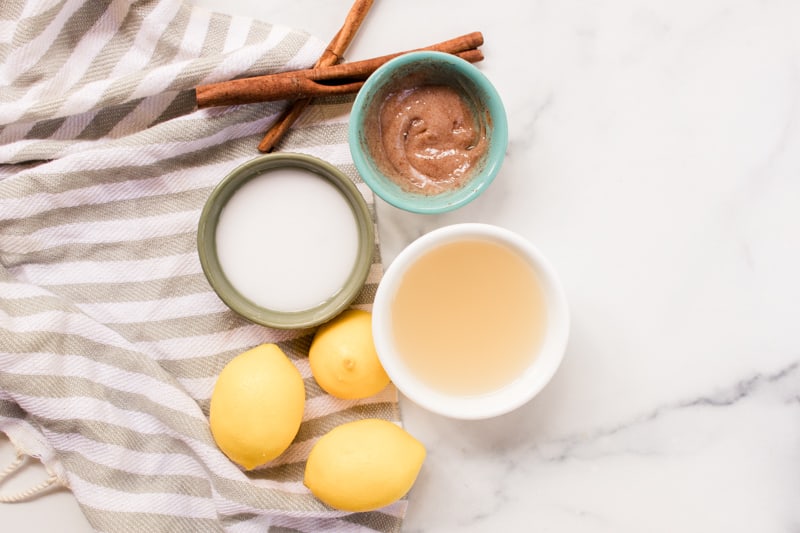 How to lighten hair without bleach
I personally avoid bleach like the plague. It's just so damaging to the hair, and the results are unpredictable.
The best alternatives are to use lemon juice, sea salt, vinegar, or chamomile tea, along with sunlight, to lighten the hair naturally.
The lightening effect all depends on how concentrated the solution is, how light your existing hair is, and how long you leave it in for. And of course, how long you're out in the sun for.
Use your best judgment on this one. There's no hard and fast rule in terms of how much solution to use, but my best advice is to work it slowly.
A few spritzes the first time you try it, and say, 30 minutes to one hour outdoors just to see how your hair takes to the natural lightener.
Severely damaged or dry hair does tend to lighten quicker – so be warned! Also, if you've used bleach in the past, this may affect how your natural hair lightener works.
How to lighten natural hair
Here you will find 3 useful recipes for natural hair lightening. All are to be used on natural hair color only.
The one which uses lemon juice takes a bit of time to work, so it's good if you've got the afternoon off with a good book and a comfortable chair.
The sun is a great way to assist in lightening the hair, even without lemon juice or any other lightening solution!
For best results, check a mirror every half hour or so to track how light your hair is going.
This post contains affiliate links, which means I make a small commission at no extra cost to you. Get my full disclosure here.
Lemon Juice Hair Lightener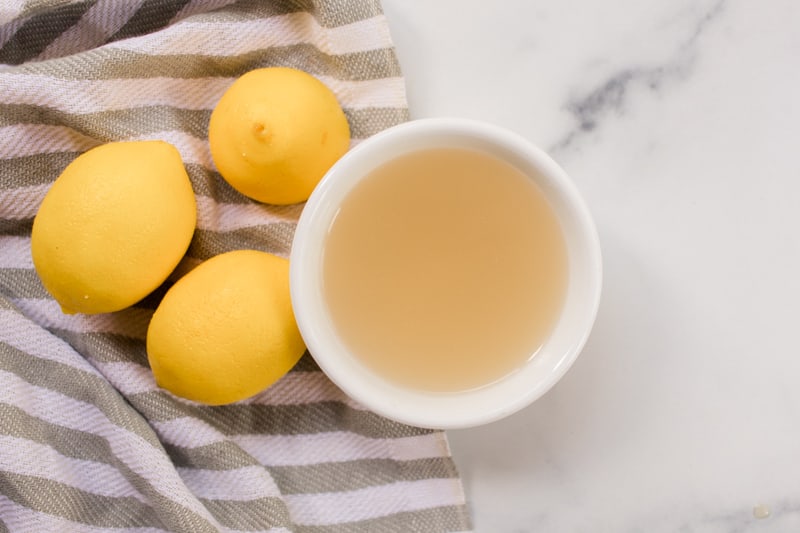 This is my favorite method to use to make my hair lighter.
Mix 1 cup water with 1/2 cup of fresh-squeezed juice from a lemon.
Wet hair.
Mist lemon into the hair.
Sit in the sun for 1 hour.
Wash thoroughly and condition.
Cinnamon Hair Lightener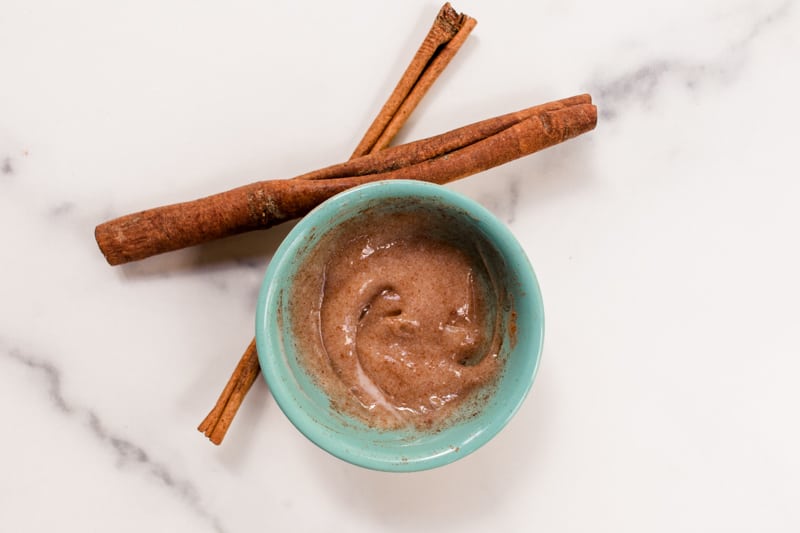 Great for brown hair – the lightening effect will leave a subtle red hue. Cinnamon is gentle in its potency but safe to use and leaves a lovely smell afterwards, too.
Mix 1/2 cup of honey and 1/2 cup of conditioner with 2 tsp of cinnamon.
Work into wet hair, put on a shower cap, and leave in hair for several hours.
Wash out well and condition.
Baking Soda & Hydrogen Peroxide to Lighten Hair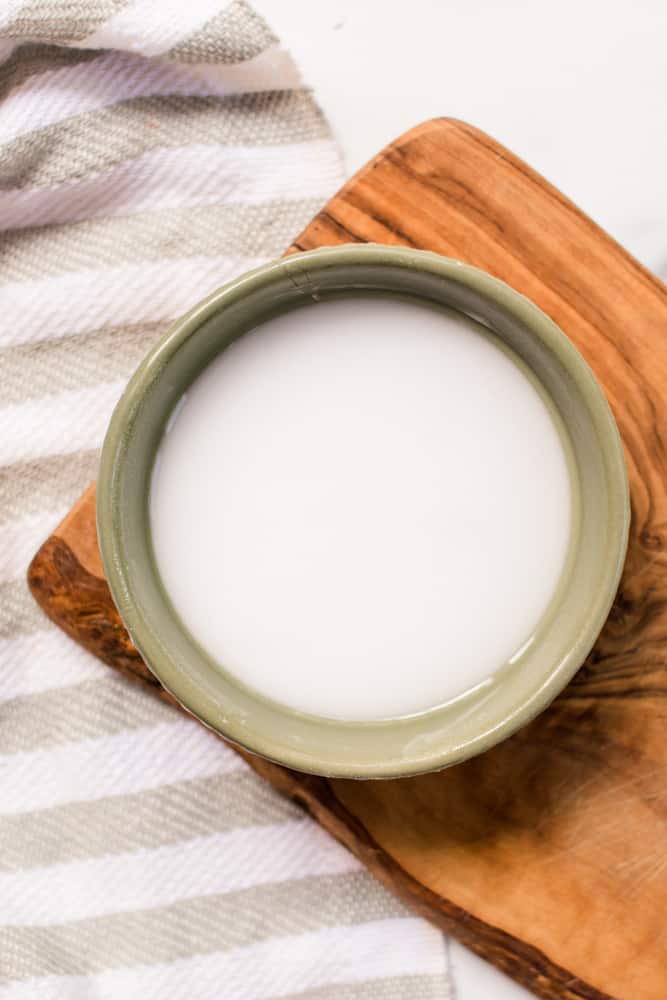 This is essentially considered a permanent DIY bleach for the hair, and I would use it with caution.
The effect can be strong (one to two shades lighter with just one application), and with that, it can be damaging to the hair and also to the skin if used incorrectly.
Please take care if you do use this recipe and rinse thoroughly once you're done.
Mix 8 tbsp of baking soda with 6 tbsp of 3% hydrogen peroxide
Work into damp hair
Leave in for 30 minutes, avoiding the scalp
Wash and condition
Follow up with a deep conditioner to hydrate hair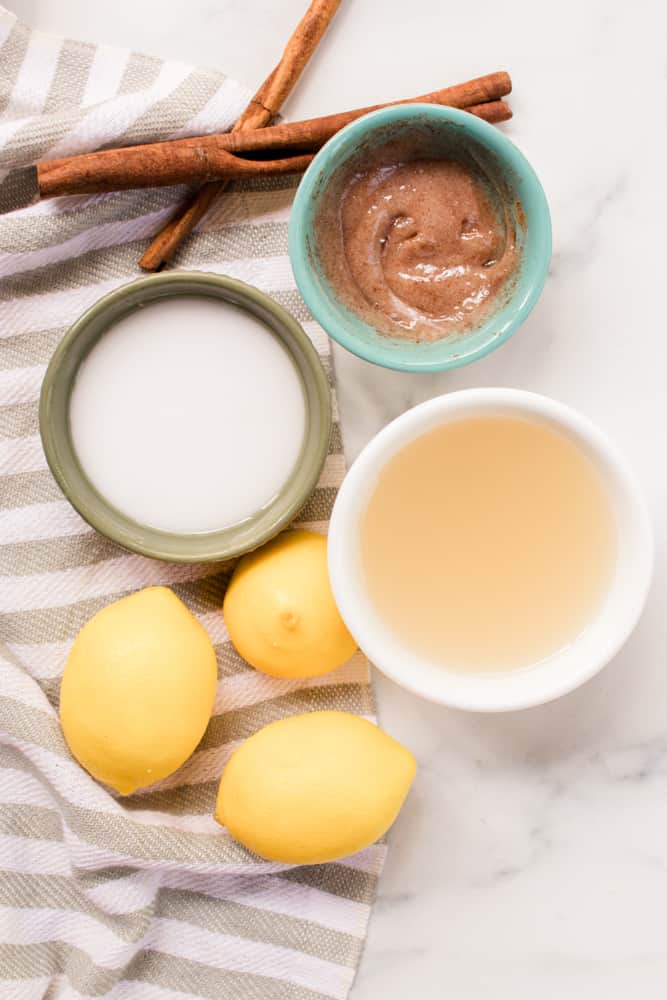 I hope you have fun making these natural hair lighteners this summer and giving them a go to lighten your hair naturally.
Just remember, lightening hair naturally takes time, so be patient and don't give up after just one application. And while you are at it, make sure to drop a comment and let me know which recipe you chose and how it worked out!
Yield: 1 batch
Top 3 Natural Hair Lighteners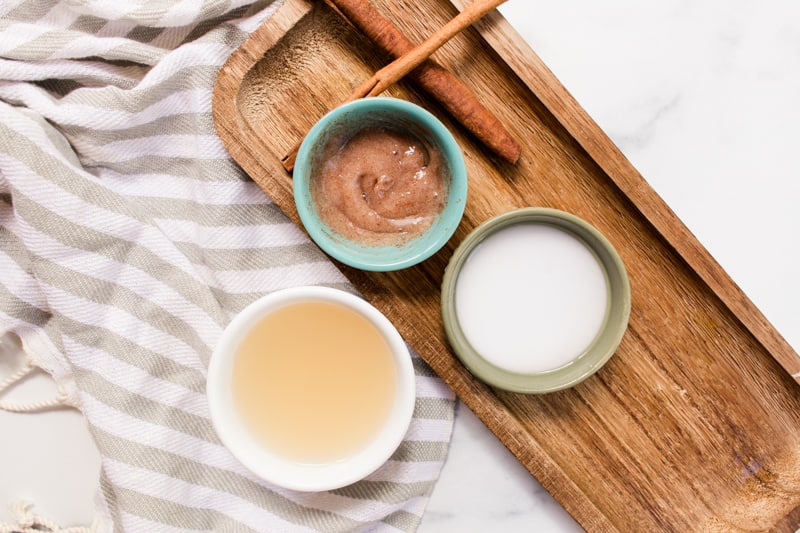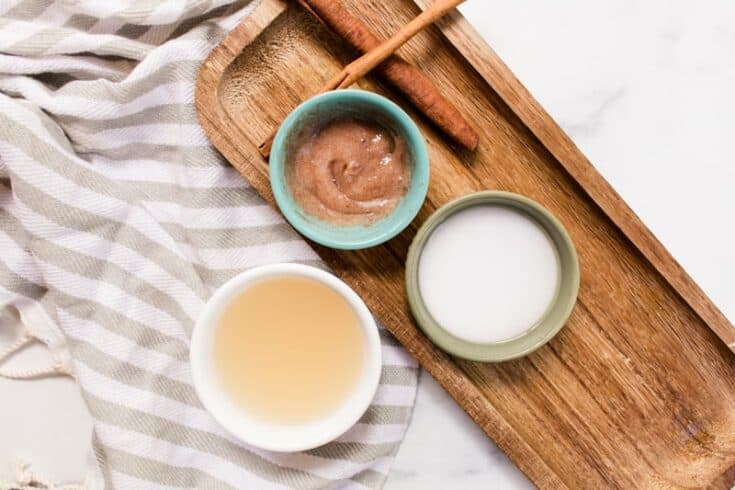 Looking to go a little lighter? Try one of these natural, effective hair lighteners to get that beautiful sunkissed hair.
Additional Time
30 minutes
Materials
Lemon Juice Hair Lightener
1/2 cup of lemon juice
1/2 cup of water
Cinnamon Hair Lightener
1/2 cup of conditioner
2 tablespoons of cinnamon
Peroxide Hair Lightener
Instructions
Lemon Juice
Combine ingredients in a spray bottle.
Mist into damp hair.
Leave in hair for one hour. (sit in the sun for best results)
Wash thoroughly and condition.
Cinnamon
Combine ingredients into a small bowl.
Work into wet hair and cover with a shower cap.
Leave in for 2-3 hours before washing out.
Follow up with a natural conditioner.
Peroxide
Stir ingredients to make a paste.
Work into the hair, keeping it off the scalp.
Let it sit for 30 minutes before washing out.
Follow up with a natural conditioner.