A powerful anti-aging serum is worth its weight in gold. And you don't need to spend a ton of money to get it! Instead, make your own version at home and enjoy the benefits of this Vitamin C serum right away.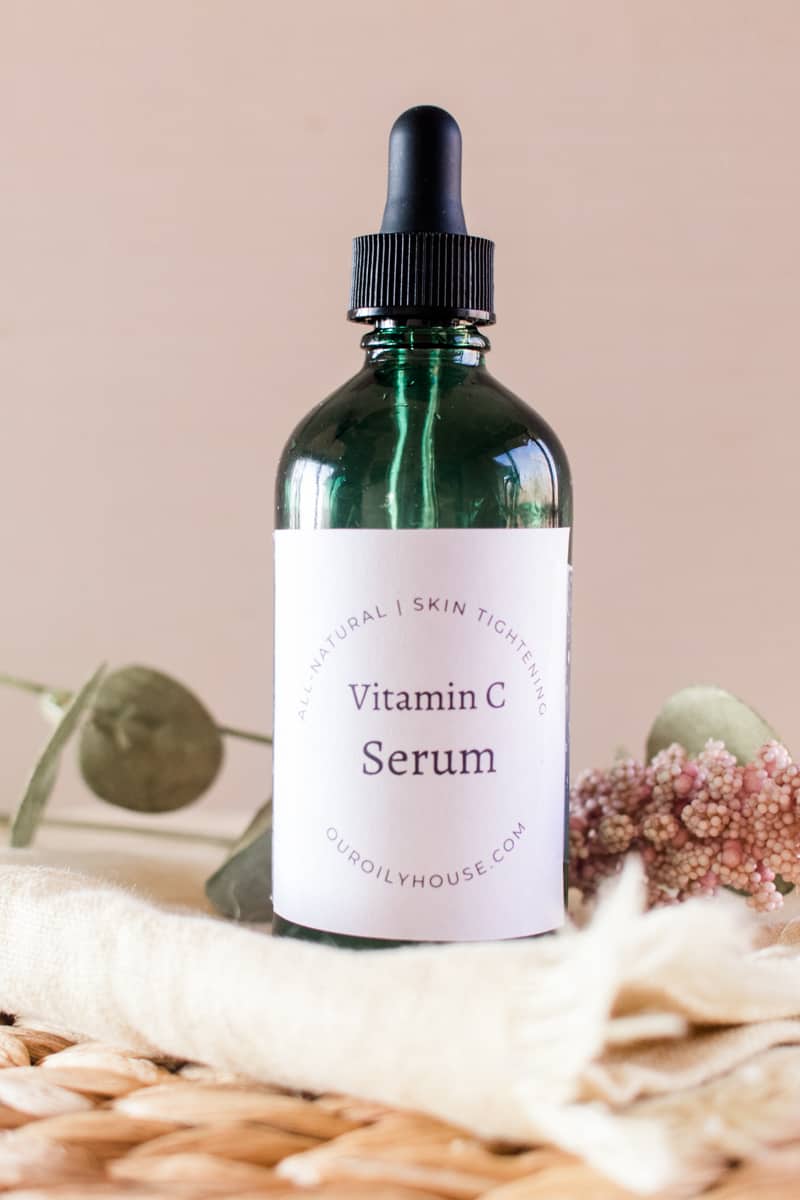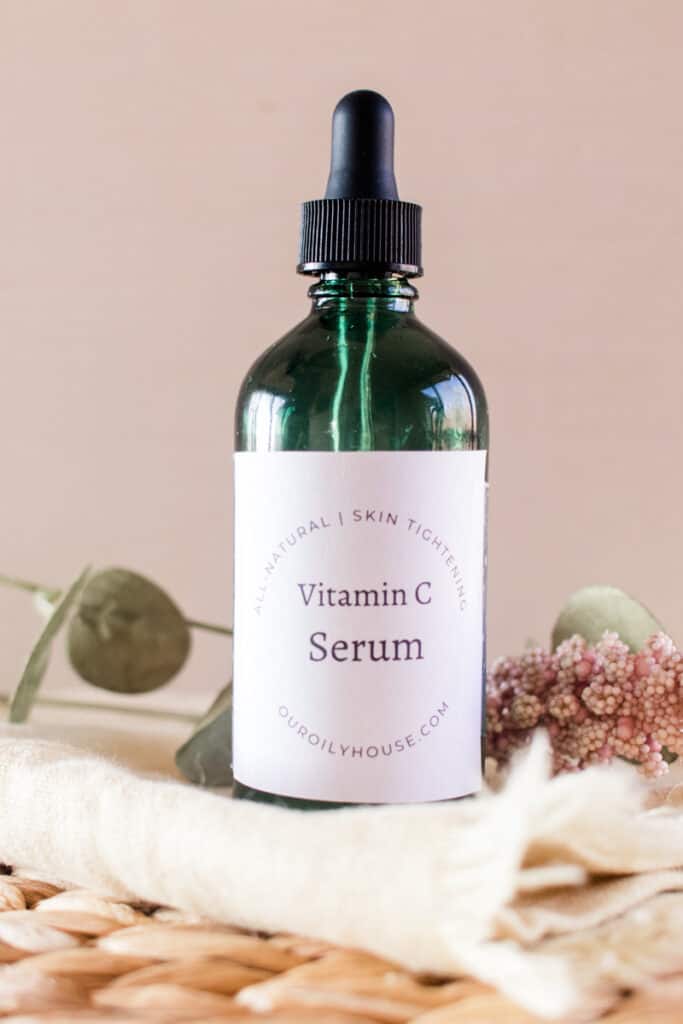 Vitamin C serum is everywhere right now! Lining the beauty shelves and marketed as an anti-aging wonder product (at the same time, being noticeably costly).
Which is exactly why I love making my own homemade vitamin C serum.
It contains pure, natural, skin-boosting ingredients that work far better than anything made in a factory – and it saves a lot on the money side of things.
If you want to go straight now to how to make vitamin C serum, click here for the recipe and instructions.
But if you fancy joining me for a touch longer – let me explain why this serum is one of my favorite products of all time.
If you do a quick search online for vitamin C serum, at the top of the screen, you'll see an array of serums that cost over $20 minimum.
Some go as high as hundreds of dollars for one bottle!
I find this kind of pricing insane for something which perhaps lasts a few weeks at most.
Now I'm not averse to spending money on beauty products, but the fact is that many products are elevated in price due to the brand on the bottle!
So, if you could make your own version of the same, if not a better product, surely you would, wouldn't you?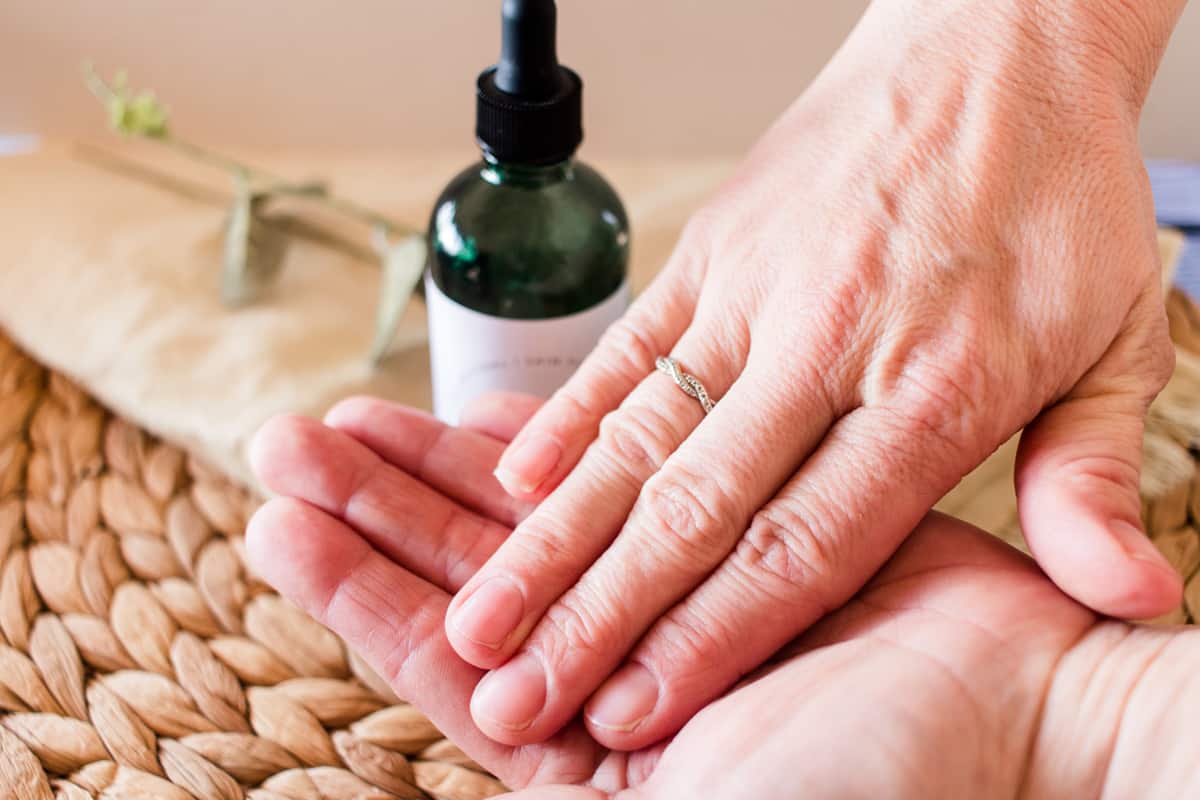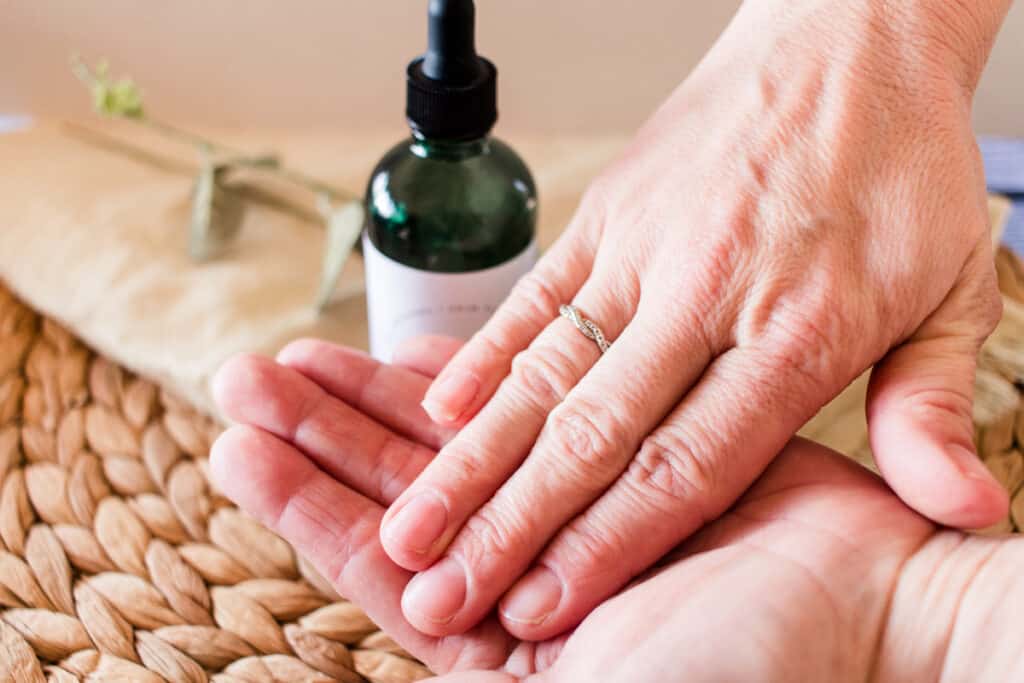 vitamin c serum at home
You'll be surprised to know how simple it is when I share how to make vitamin C serum at home.
There's a bit of prep beforehand to buy the raw ingredients, but the good news is you can make several bottles of serum once you've got the items together.
It took a bit of experimenting on my part and a few attempts to get this recipe right, I admit, but the results are incredible.
I recommend using this DIY vitamin C serum twice a day, morning and evening, after cleansing for the best results.
Is vitamin c good for anti-aging
Aging is a natural part of life; and in some ways, I see it as a blessing.
With that, I also see the demand for anti-aging products everywhere. On billboards, in magazines, and in shopping malls.
Hanging onto our youth is something we get drawn into simply because of the world we live in.
And this is exactly why I love anything with Vitamin C in it. This vitamin C serum recipe truly is fantastic for anti-aging.
By nature, Vitamin C is an antioxidant which means it fights harmful free radicals that contribute to premature aging.
Aging skin also begins to lose its elasticity, which is a result of dwindling levels of collagen in the skin.
Some experts believe that Vitamin C acts directly on the production of collagen – boosting levels in the skin and smoothing fine lines and wrinkles from the inside out.
And let's not forget about moisture! Aging skin of any kind needs moisturizing, and this homemade vitamin C serum contains wonderfully hydrating wheat germ oil as its base.
This means you get two in one! Anti-aging effects from the Vitamin C and hydration from the oil.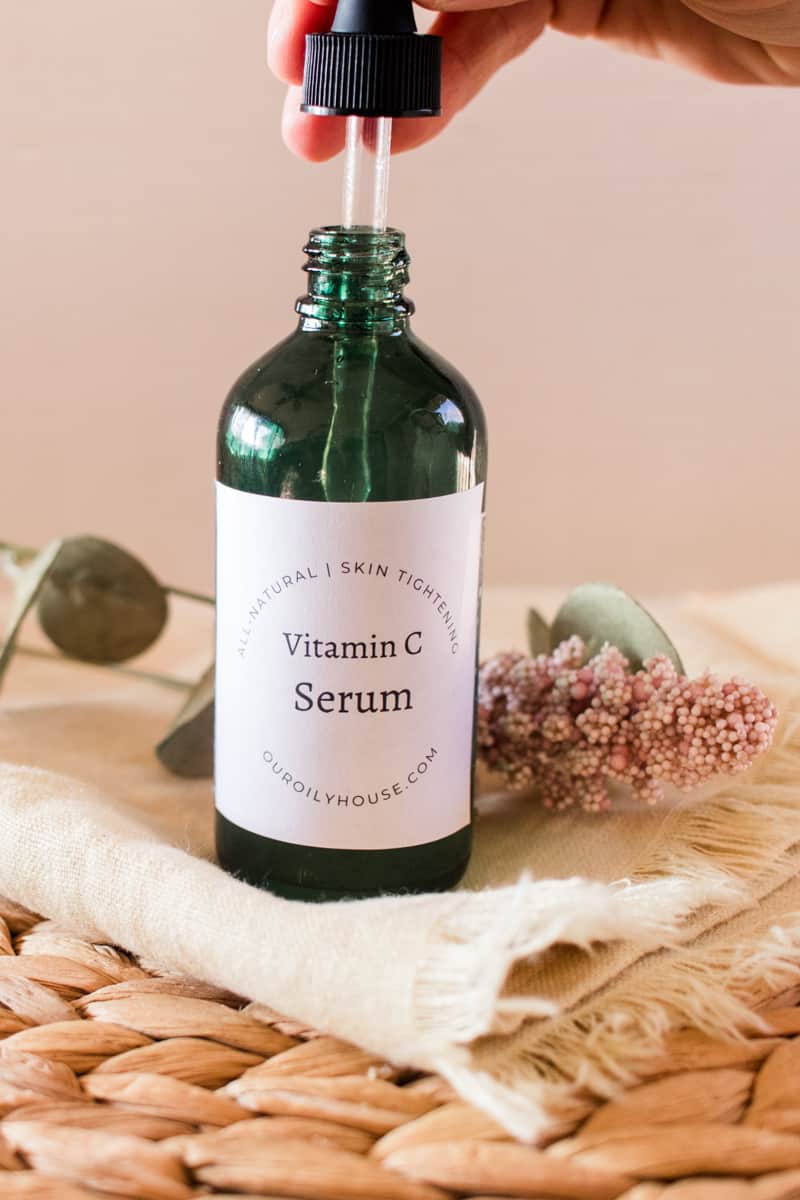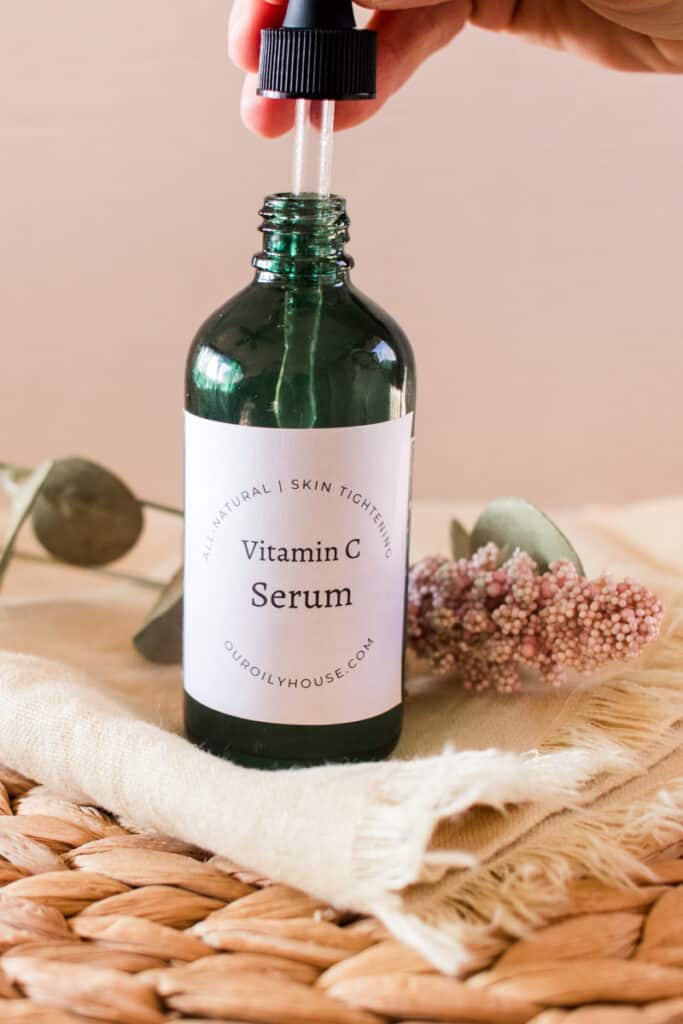 This post contains affiliate links, which means I make a small commission at no extra cost to you. Get my full disclosure HERE.
Homemade vitamin c serum for face
You'll need to stock up on certain items before making this serum. A dropper bottle is essential, so don't skip this part!
Ingredients:
Instructions:
Stir the vitamin C powder into the wheat germ oil until completely dissolved.
Add the remaining ingredients and mix well.
Transfer to a 4 oz glass dropper bottle and store in a cool dark place.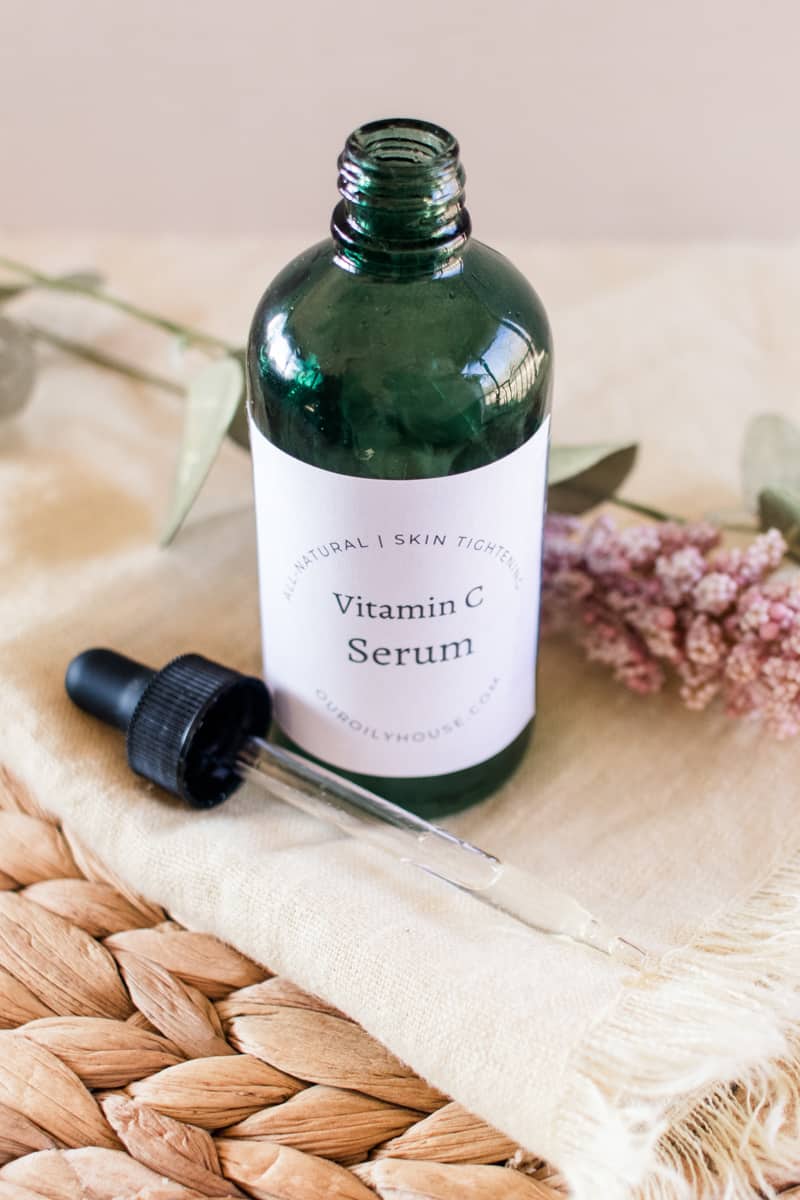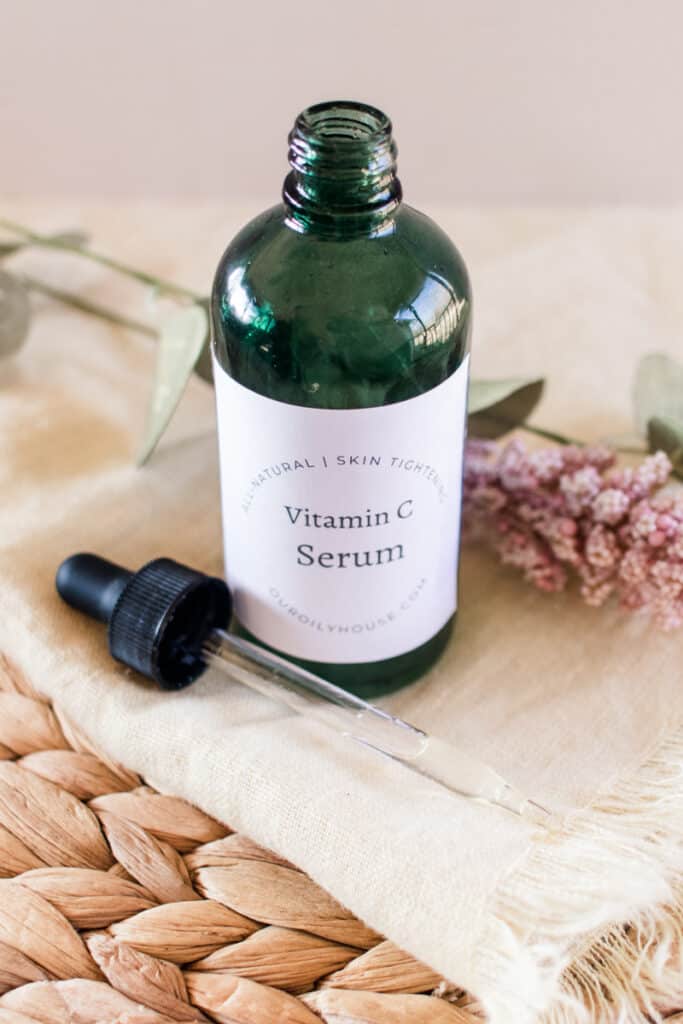 How to use Vitamin C serum
There are various discussions about how best to use a facial serum.
Some die-hard fans swear by using a serum before applying moisturizer, but I personally use it the other way around.
After my moisturizer has sunk in, I apply a few drops of serum to my face and neck area to lock in the moisture and keep my skin hydrated all day long.
A serum is highly concentrated by design, so you only need to apply a little to get the right amount.
Simply draw up what you need and add two-three drops to the palm of your hand. Next, rub your hands gently together to warm the serum, then apply it to your skin in a dabbing motion.
Using it twice a day, morning and night, are best for optimal results.
Why not experiment and see how a serum best works for you?
Try it before or after your moisturizer on different days and see which feels best.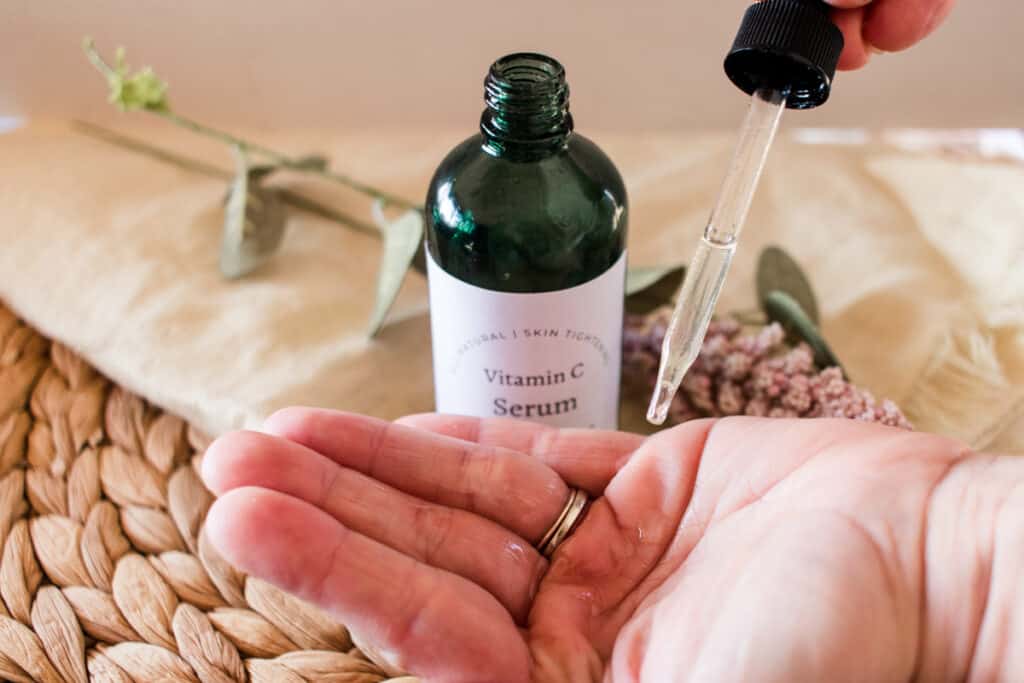 Faqs
how to store vitamin C serum
It's best to store this serum in a cool place that is away from direct sunlight.
Many women store their beauty products in the bathroom – which does get a lot of humidity building up after a hot shower or bath.
So, store it in a closet in your bedroom or beauty container. This will maximize the efficiency of the Vitamin C powder and make the serum last that much longer.
what about shelf life
If stored correctly, this Vitamin C serum should last up to two years.
Saying that, I don't expect it'll last long as you'll enjoy using it so much! But you can always make more.
That's the beauty of homemade products!
substitutions
This recipe can be tweaked to your liking, as can many of my other natural beauty recipes.
Some great substitutions include switching wheat germ oil for Jojoba, Marula, Argan oil or even Fractioned Coconut Oil.
You could also add different essential oils to the mix to vary the scent of the serum.
Why not try frankincense, helichrysum, or ylang-ylang essential oil instead of the oils in the recipe? I love how you can vary a product simply by changing just one ingredient!
If you enjoyed reading this recipe post, I'm sure you'd love to read these next.
Yield: 2.5 oz
How to Make Vitamin C Serum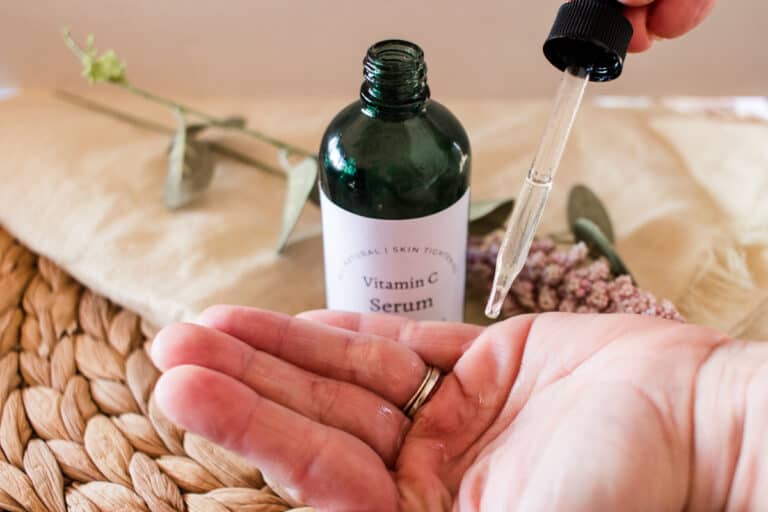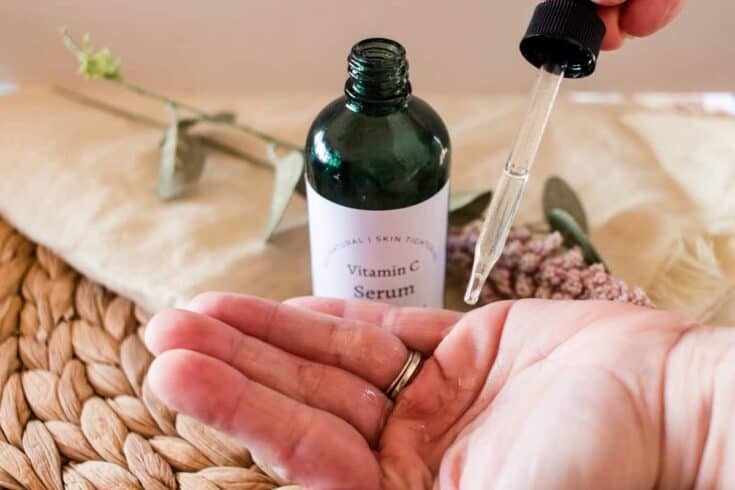 Enjoy the benefits of this wonderful Vitamin C serum that you can make from scratch in your own home.
Tools
Instructions
Stir the vitamin C powder into the wheat germ oil until completely dissolved.
Add the remaining ingredients and mix well.
Transfer to a 4 oz glass dropper bottle and store in a cool dark place.
Notes
Warm 2-3 drops of oil between the palms of your hands before dabbing on the face.