Do you love face masks as much as I do? If so, you'll find this homemade honey face mask a real treat!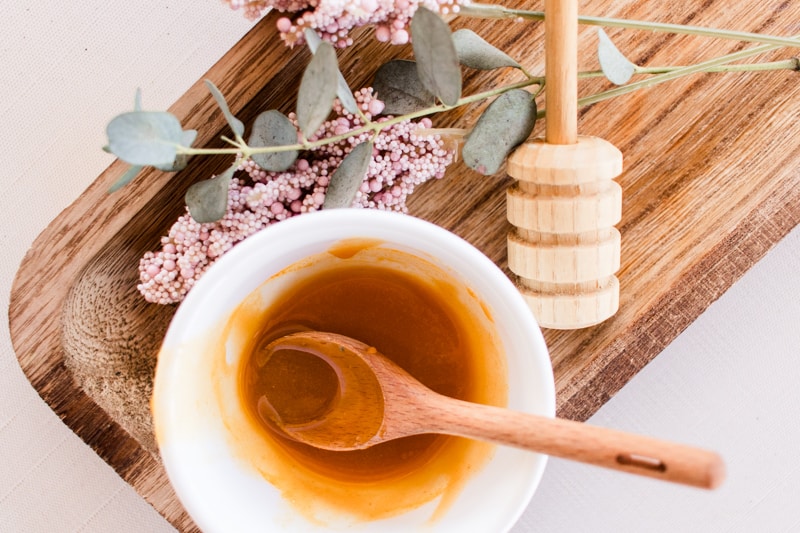 Being indulgent and luxurious, it's a great addition to an evening bathtime ritual or a once-a-week home pamper experience.
I honestly swear by honey to give me glowing skin. It really is a wonder product.
The best thing about honey is that it's one of those kitchen staples – something we all have in the pantry.
Given its 100% natural and gentle to the skin, a homemade honey face mask creates an instant post-treatment glow and smells delicious.
It's a cheaper and healthier alternative to many of the store-bought face masks and is suitable for using on all skin types.
It leaves the skin softer and visibly brighter after just one application. Plus, it's really fun and easy to make this DIY honey mask.
In this post, I'll share my recipe for a raw honey face mask that contains only 4 ingredients. Packed full of nutrients and goodness, it's made in next to no time.
You can store any leftovers in the fridge for a few days so it doesn't go to waste and use it whenever you need a skin glowing boost.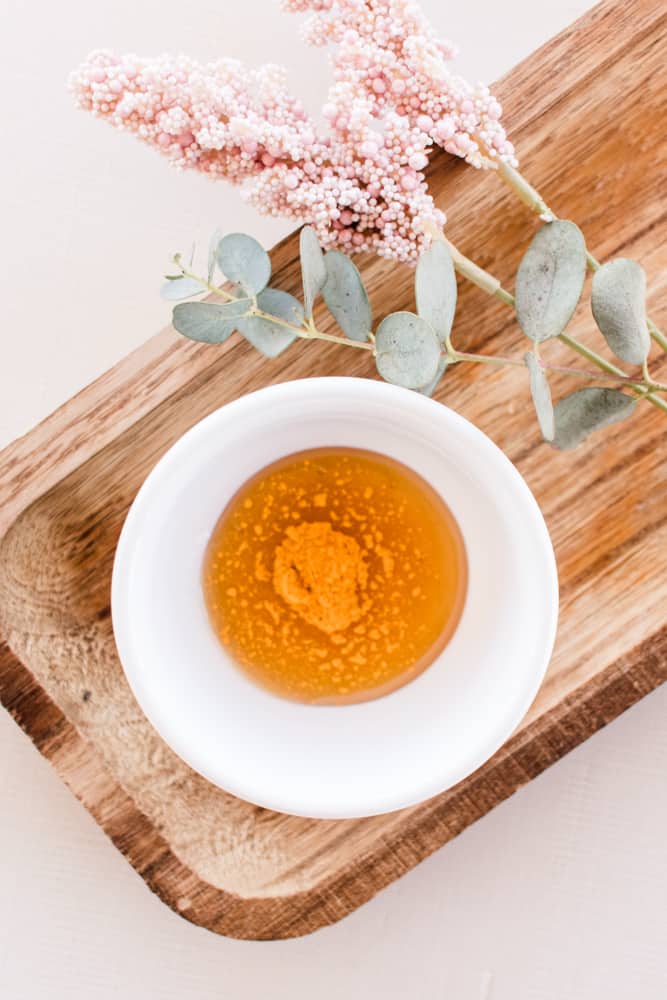 Benefits of honey on the face
Honey contains many nutrients which help the skin repair and renew itself.
Full of essential amino acids and antioxidants, honey is fantastic for fighting the visible signs of aging by improving the elasticity of the skin.
It can also reduce the size and visibility of the skin's pores, which are common on sun-damaged and dehydrated skin.
Honey acts as a humectant which draws moisture in – improving the skin's suppleness and firmness, helpful when the skin is particularly dry.
Another benefit is the exfoliation properties of honey, which brighten the skin, leaving a beautiful, youthful glow.
Honey may also reduce inflammation and help with skin redness, as well as acne and eczema due to its renowned microbial and anti-inflammatory properties.
Honey really should be on every woman's beauty list – not just used in the kitchen!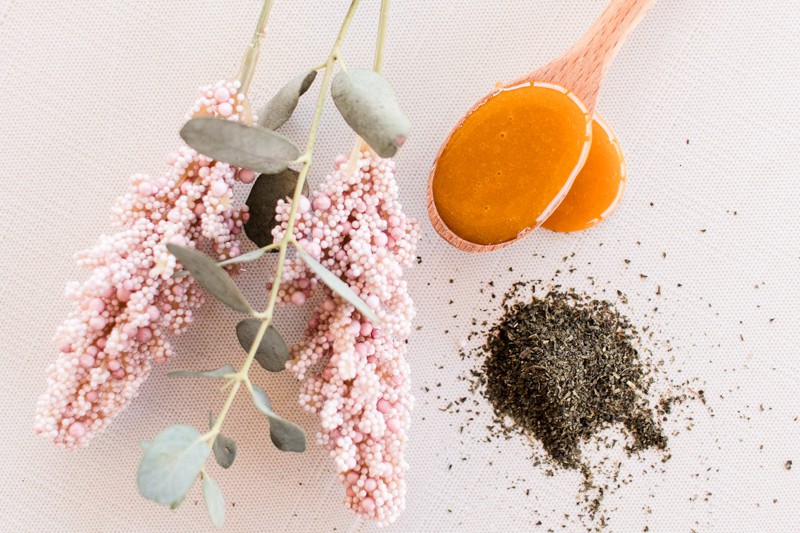 Can honey remove dark circles?
Yes!
Honey is great for reducing the appearance of dark circles. With its antibacterial and anti-inflammatory properties, honey has a natural lightening effect and is gentle enough to use on the delicate under-eye area.
It's also good to use on dark spots caused by sun damage and aging. The honey mask is the perfect follow-up to a face scrub to keep the face looking fresh.
Face mask for instant glowing skin – how to get glowing skin
Did you know that honey usage on the skin dates back thousands of years? The ancients were equally keen on natural skin products, like we are today.
There is something really extra special about a skin treatment that has instant effects, I think, and glowing skin is what you'll get as a result of using a facial mask with honey. 
The key is to allow the DIY honey mask to soak into the skin, so leave it on for 5 minutes at least.
Being anti-inflammatory and a natural skin moisturizer is what gives honey its glow boosting properties.
Skin that's dehydrated and lacking good health is part of the reason we lose our youthful glow, so be sure to top it up frequently with a honey face mask.
Why not try making this homemade honey face mask with these basic ingredients from your kitchen cabinet, and see how much of a glow you get!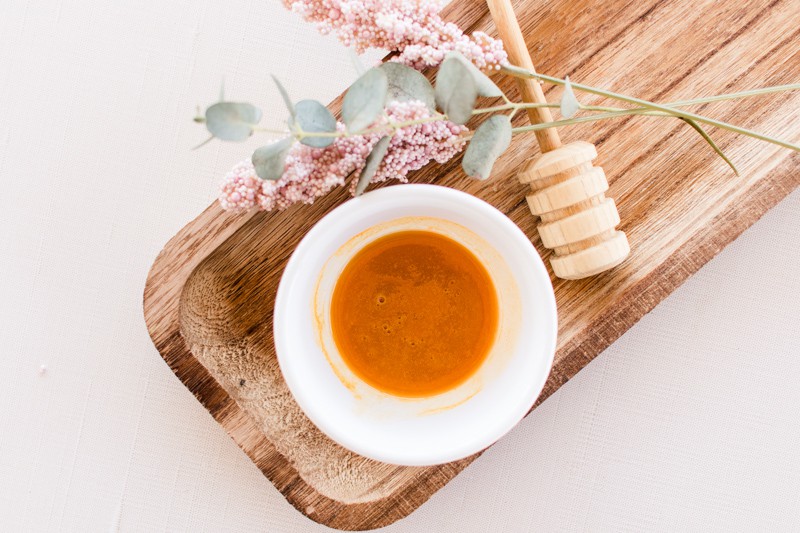 Face mask for glowing skin recipe
Ingredients:
2 tsp raw honey
1 tsp green tea, brewed
1/8 tsp turmeric powder
2 drops of vitamin E oil
Instructions:
Combine all the ingredients in a small mixing bowl and stir well. After showering or while in the bath – with a damp face, apply the mask with the tips of the fingers and rub it evenly over the face.
Let it sit on the skin for 5 minutes before rinsing off with warm water.
Pat dry (do not rub!) and go check yourself out in the mirror!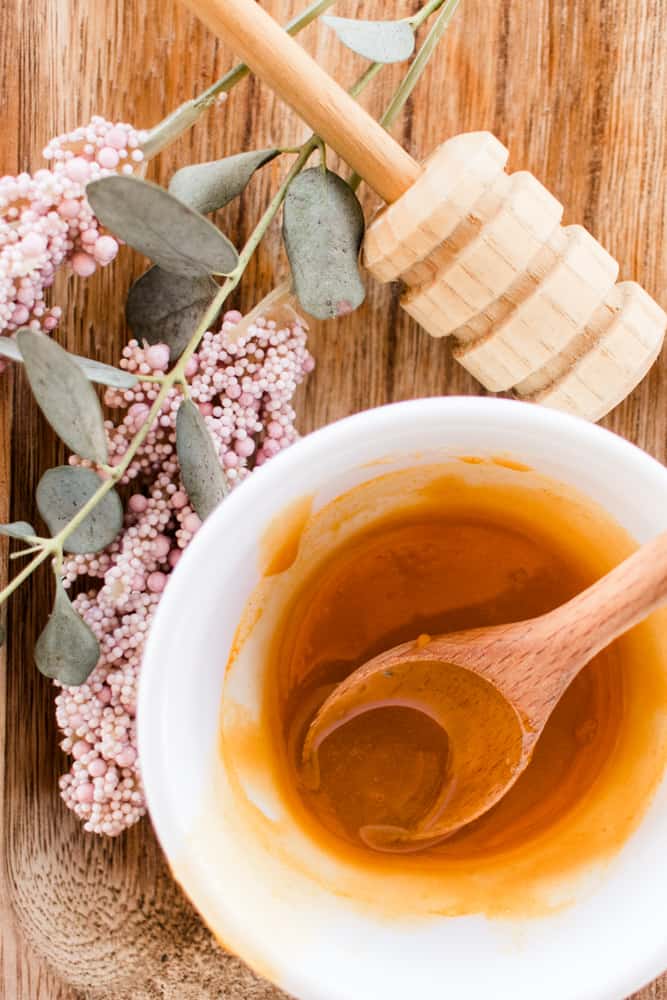 More information on the ingredients
Benefits of Green tea for the skin
Green tea is another wonderful product! Containing antioxidants which help fight the signs of aging, it brightens the skin and smooths the appearance of fine lines and wrinkles.
Green tea also contains vitamin E, which is well known for its ability to hydrate and rejuvenate the skin. It goes without saying that the longer the green tea is brewed for – the stronger the effects. Use your best judgment on this when making the face mask.
Benefits of turmeric powder for the skin
I'll bet you're surprised to see turmeric in this recipe! Isn't it spicy? And used in cooking curry and other exotic dishes? Yes and yes! But, turmeric is also a fantastic skin beautifier.
It smooths the skin and is said to increase collagen production, revealing younger-looking skin after just one application. Just don't overdo the amount of turmeric in the face mask – stick to the ingredients. And by all means, do a patch test beforehand to ensure you're not allergic to turmeric.
Benefits of Vitamin E for the skin
Vitamin E is an antioxidant that helps the skin repair itself, so it's useful in healing scars, sores and sunburns, as well as improving the texture of dehydrated skin.
It's really moisturizing and kind to the skin and helps fight aging. In addition, it's great as an anti-inflammatory to reduce signs of redness and irritation on the skin.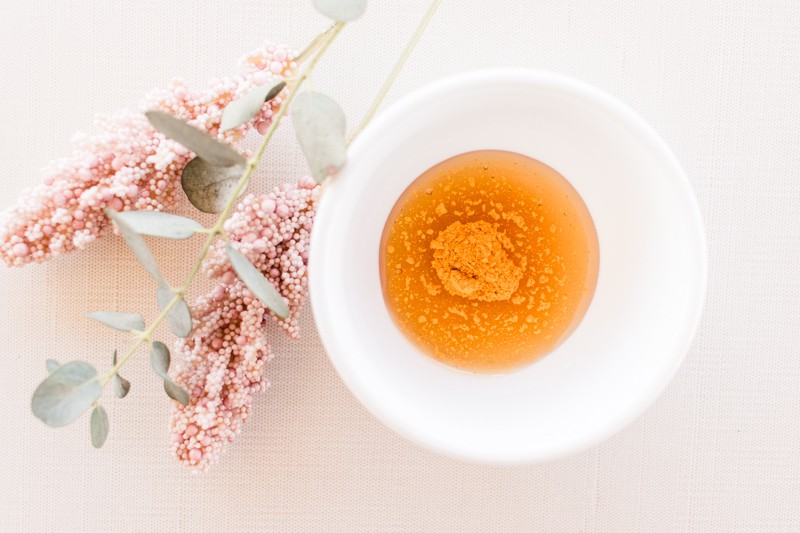 Final Tip
Use this DIY honey mask during a soak in the bath for best results. This helps the skin soften and absorb the amazing nutrients of the ingredients. It also makes it less messy and easier to wipe/wash off once you're done!
I hope you love this homemade honey face mask as much as I do! Let me know how it works for you by leaving a comment below this post.
And be sure to check out some of my other popular face mask and beauty recipes below!
Yield: 1 mask
Glowing Skin Face Mask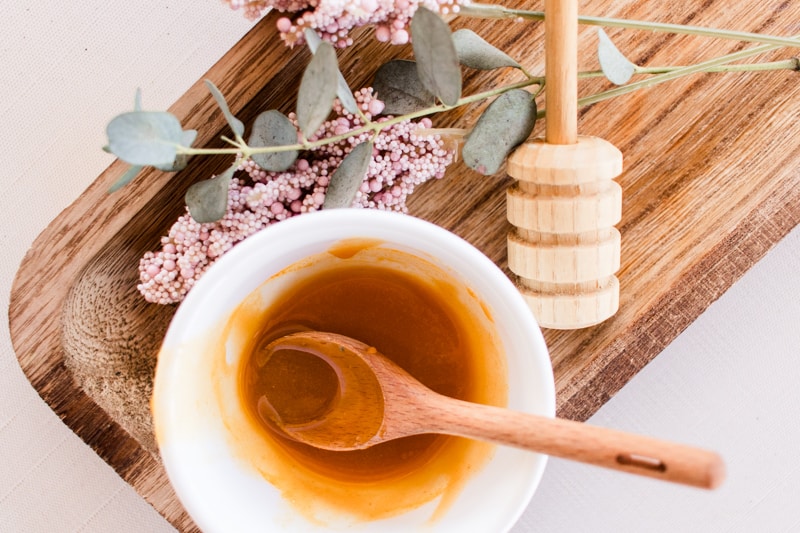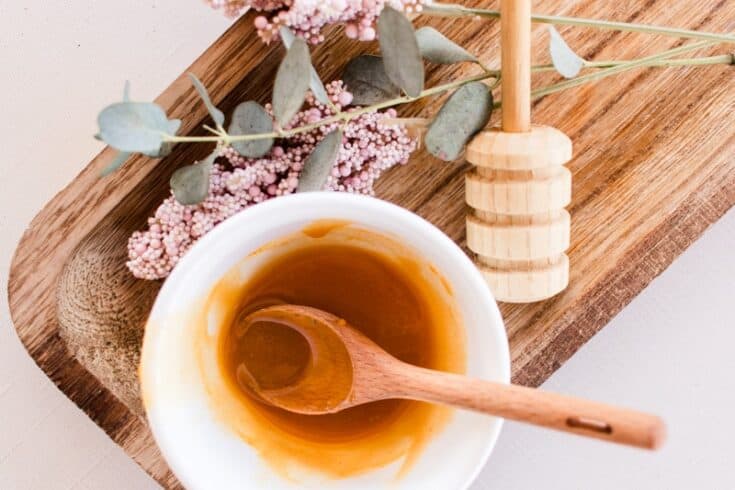 Looking for a natural glow? Well, don't settle for less, achieve that natural glow with this budget-friendly face mask.
Additional Time
10 minutes
Materials
2 tsp of raw honey
1 tsp strong brewed green tea
1/8 tsp of dried turmeric
2 drops of vitamin E oil
Instructions
Combine all ingredients in a small bowl and stir well.
After showering, with a damp face, apply the mask with the tips of the fingers evenly over the face.
Let it sit on the face for 5 minutes before rinsing off.
Gently pat dry
Notes
Use up to 2 times per week.