A DIY protein hair treatment will help repair damaged hair, add moisture, and leave hair soft and smooth. With just a few ingredients, you can give your hair a nourishing protein treatment right at home.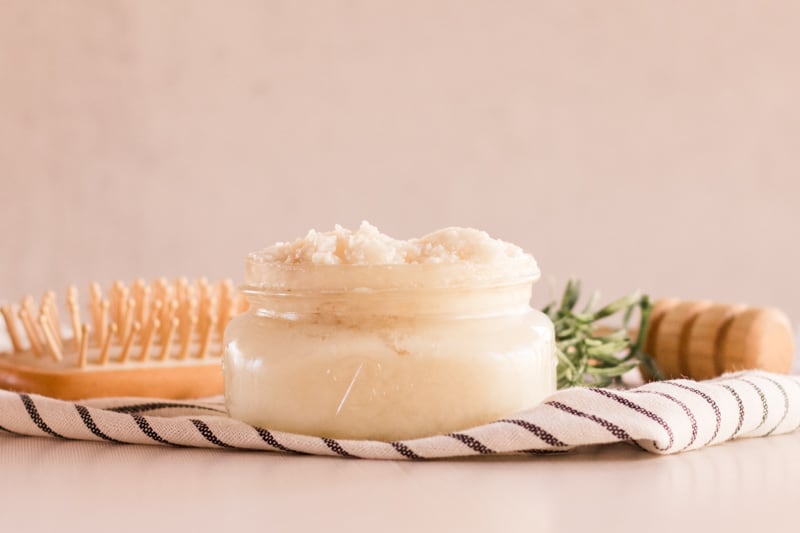 Protein for Hair
Our hair is mostly made of a protein called keratin. Keratin is a protective protein and forms the tissues of our hair, nails, and skin. It can also be found in our internal organs and glands.
Along with keratin, our hair also contains water, minerals, and melanin. The amount of melanin pigment in the hair is what determines the color of our hair. It is crucial for hair to have protein to stay healthy, grow, and be strong.
If your diet lacks protein or your body doesn't absorb it properly, you may experience hair loss, thinning, or breakage. Protein is vital for healthy hair!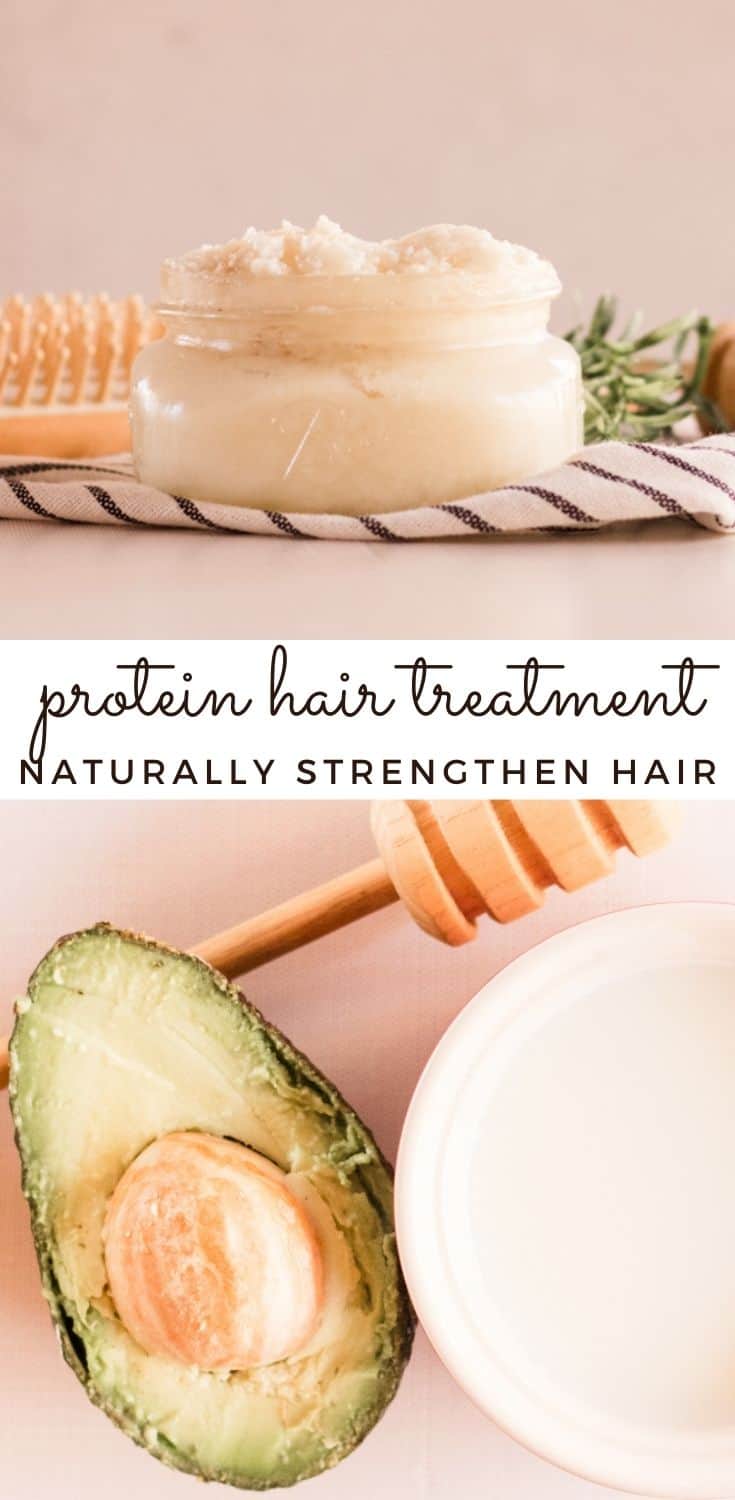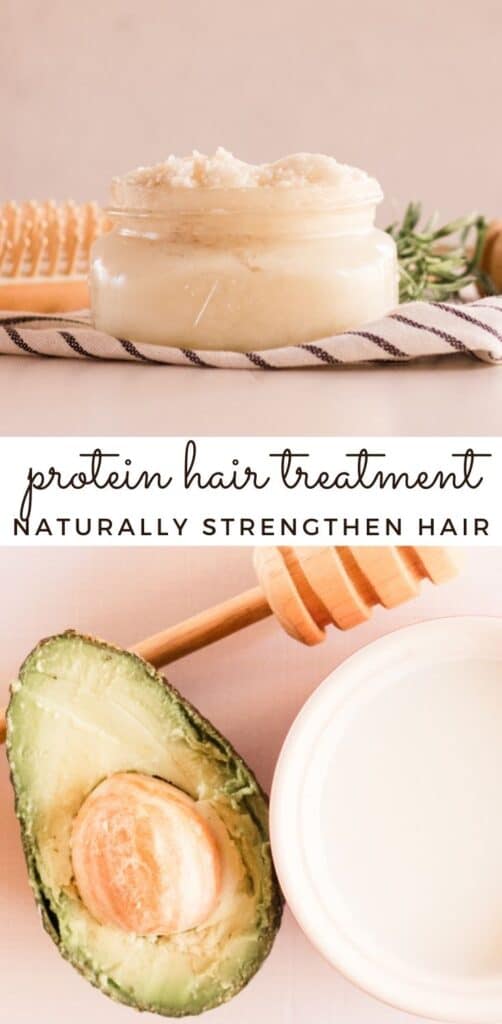 Natural Protein Treatment for Your Hair
If your hair is thin, prone to breakage, or struggling to grow, it may benefit from a natural protein treatment. This is often as easy as smearing protein-rich foods in your locks, letting them sit, and rinsing them out.
Some of the best ingredients to use for a protein treatment are eggs, oils, avocado, milk, gelatin, yogurt, or sour cream.
To make the perfect protein treatment, you can mix a few together and add in essential oils. The essential oils can have some incredible benefits for your hair and help mask the scent of massaging weird foods into your head.
DIY Protein Hair Treatments
This post contains affiliate links, which means I make a small commission at no extra cost to you. Get my full disclosure here.
Egg and Yogurt Hair Treatment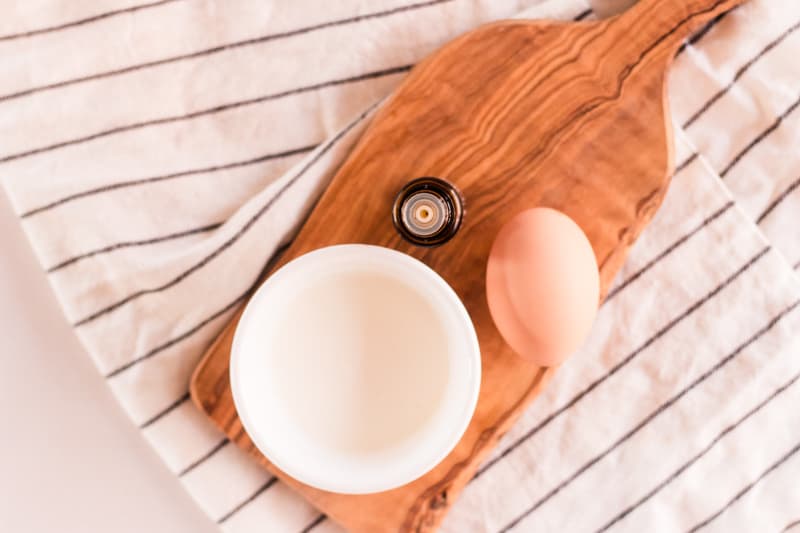 Ingredients
1 egg (you may need to use more for thick long hair)
1 tablespoon whole fat yogurt
2-3 drops lavender essential oil (optional)
Instructions
Combine all ingredients in a small bowl.
Whisk until well combined.
Massage the mixture into your scalp and hair. Then, run your fingers through your strands to ensure the serum is covering all of the hair.
Let the protein treatment sit for at least 15-20 minutes, then rinse with warm water.
Wash out with shampoo and conditioner.
Gelatin Protein Hair Mask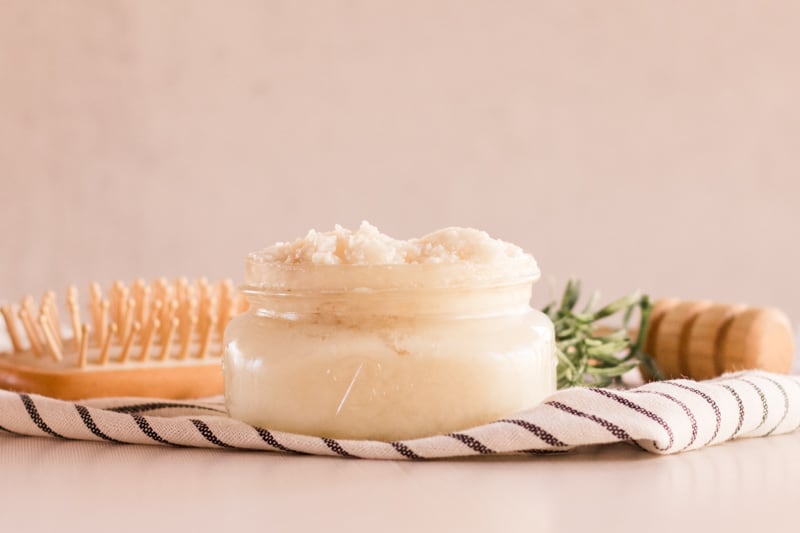 Ingredients
1 teaspoon gelatin
1 teaspoon honey
1/2 cup hot water
2-3 drops rosemary essential oil
Instructions
Bring the water to a boil and remove it from the heat.
Add in the gelatin and stir until mixed in. The water will thicken as it sits, so move fast.
Next, add in the honey and rosemary essential oil, stir it in well.
In the shower or over a sink, pour the mixture over wet hair and massage it into the scalp and hair strands.
Allow the mixture to sit on the hair for 15-20 minutes and rinse with warm water.
Wash out with shampoo and conditioner.
Avocado and Milk Hair Treatment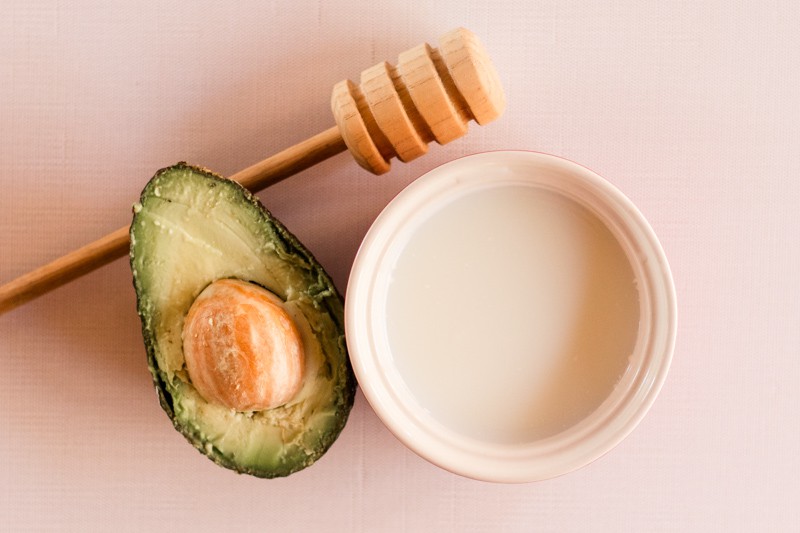 1 ripe avocado (the riper, the better)
2 tablespoons of milk (regular milk or coconut milk will work)
1 teaspoon of coconut oil
1 teaspoon honey
2-3 drops tea tree essential oil
Instructions
Mash the avocado in a small bowl until smooth.
Add milk, then stir in coconut oil and honey.
Finally, add the tea tree oil and mix in well.
Apply the mixture to scalp and hair strands. Allow it to sit for 15-20 minutes.
Rinse with warm water and wash hair with shampoo and conditioner.
What does a protein treatment do for your hair?
Performing a protein treatment or deep conditioning treatment to your hair will add protein to the hair cuticle. Doing this can strengthen hair and help reduce split ends and breakage.
Adding protein to your hair is a great way to improve hair quality and help your hair to grow faster, longer, and more robust.
After a protein treatment, your hair may be less frizzy, smoother, and well-hydrated. In addition, it can repair damaged hair that has been colored, treated or has heat damage.
How often should you do a hair protein treatment?
This really depends on hair type. For normal hair, you may want to do a protein treatment once or twice a month.
For dry or damaged hair, you can start with once or twice a week. Let your hair be the judge!
How do I know if I need to do an at-home protein hair treatment?
With so many different hair types, what works for one person might not work for another. Most likely, a protein hair treatment can help your hair as we all likely have some damage to an extent.
Even if you still have your natural hair color, or have never used heat styling tools, exposure to the elements such as wind, water and sun can cause damage to your hair; as I said, we all have damage to some degree.
If you go to bed with water in the hair or keep your hair wrapped up in a wet towel, your hair may have lost some protein and could benefit from a quick treatment.
If you are dealing with anything from the list below, try doing one of the three DIY hair protein treatments to restore and hydrate your hair:
split ends
breakage
slow growth
hair thinning
frizzy hair
dull hair
lack of shine
dry hair
damage from heat or treatment
brittle hair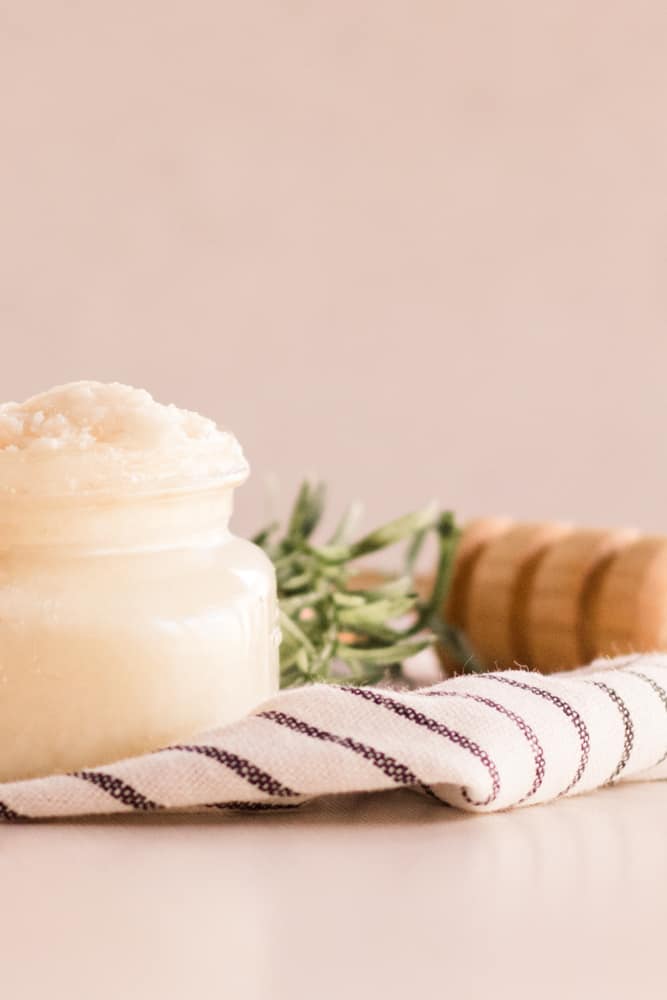 Natural Ways to Add Protein to Your Hair
Do an at-home hair protein treatment.
Add more meat to your diet or eat plant-based protein
Switch to sulfate-free shampoo (better yet, make your own)
Wash hair less often
Use a protein-boosting hair rinse
Air dry when hair does get wet
Avoid heating tools and color treatments when possible
Essential Oils for Hair
Several essential oils can be used to promote healthy, strong hair. Some of my favorites to use for hair are the ones I listed in the above recipes: lavender, rosemary, and tea tree.
Though using essential oils in your hair treatment is optional, they may promote hair growth, reduce split ends, frizzy hair and leave a long-lasting scent.
If you decide to add essential oils to your at-home protein hair treatment, remember that they are concentrated, and a small amount goes a long way. In addition, you can use a single oil or a blend of oil to customize your hair mask just for you.
More essential oils to try for hair:
Peppermint
Cedarwood
Lemon
Lemongrass
Clary Sage
Bergamot
Basil
Natural hair care products
Using natural hair care products ensures there are no harmful chemicals being added, is more sustainable, and will save money in the long run. Be sure to check out some of my more popular hair care products.
Yield: 1 hair mask
Gelatin Protein Hair Treatment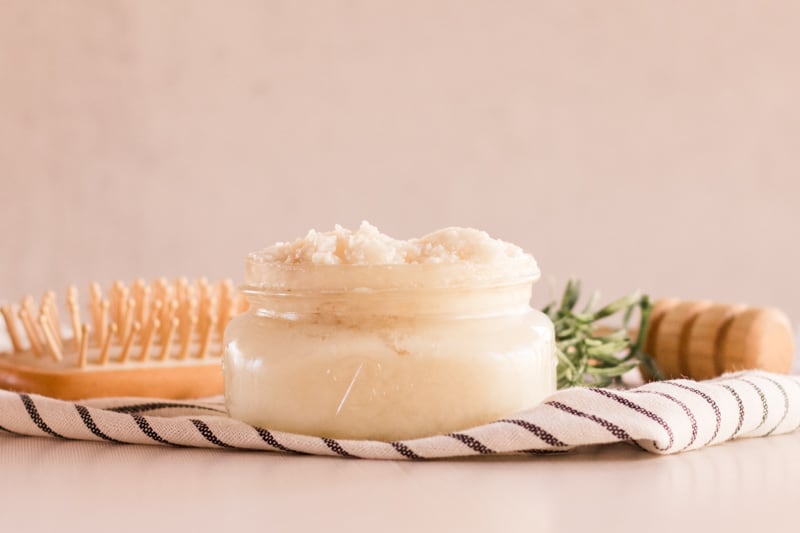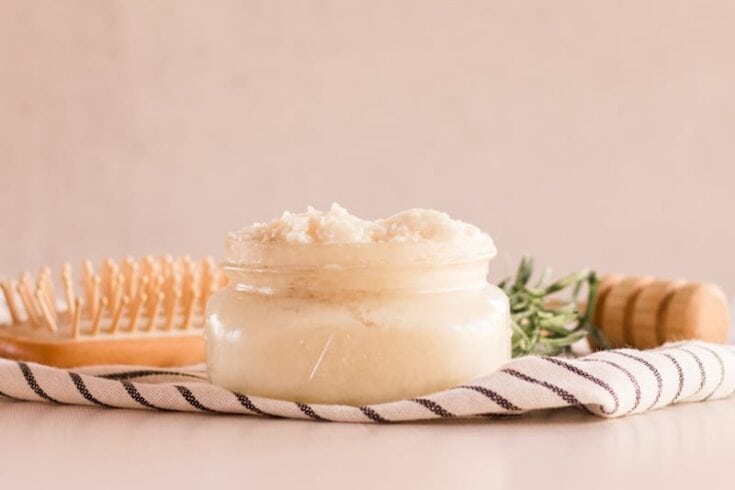 This is a simple, at-home protein hair treatment to strengthen damaged hair.
Additional Time
15 minutes
Materials
1 tsp gelatin
1 tsp honey
1/2 cup of water
2-3 drops of rosemary essential oil.
Instructions
Bring water to a boil in the small saucepan, remove from heat.
Stir in gelatin. (it will start to thicken right away, so move quickly with the following steps)
Transfer to a small bowl and add honey and rosemary. Stir in with a small wooden spoon.
Over the sink or in the shower, pour the mixture over the hair and massage it into the strands and scalp.
Let sit for 15-20 minutes, then rinse with warm water.
Wash hair like normal.