Apple cider vinegar is found in many hair care beauty products to promote shine, cleanse the hair, reduce tangle, and so much more!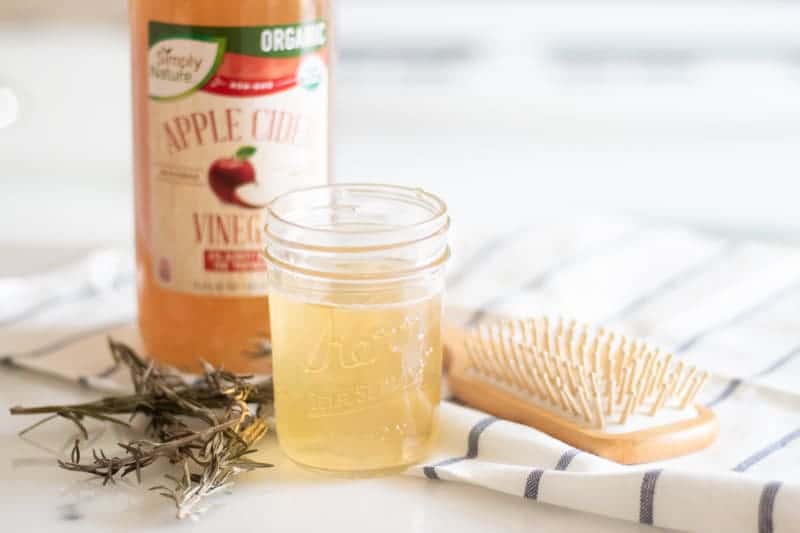 This post was originally published in November 2020.
So it should come as no surprise that this DIY apple cider vinegar hair rinse can be used for greasy and oily hair and dandruff with its many uses.
And while apple cider vinegar (ACV) is definitely not an alternative to shampoo, it can be used in place of a conditioner.
Why you'll love this hair rinse
Its many nutrients will leave your hair feeling refreshed and invigorated.
Extremely helpful in preventing unwanted dandruff.
You get high-quality results without the heightened costs.
Making shampoos and conditioners is a great way to cut down on chemicals entering your body.
But with most hair, any disruption in a routine generally requires an adjustment period.
Adding an apple cider vinegar rinse to the routine can help regulate pH levels and leave your hair smoother than ever during the process.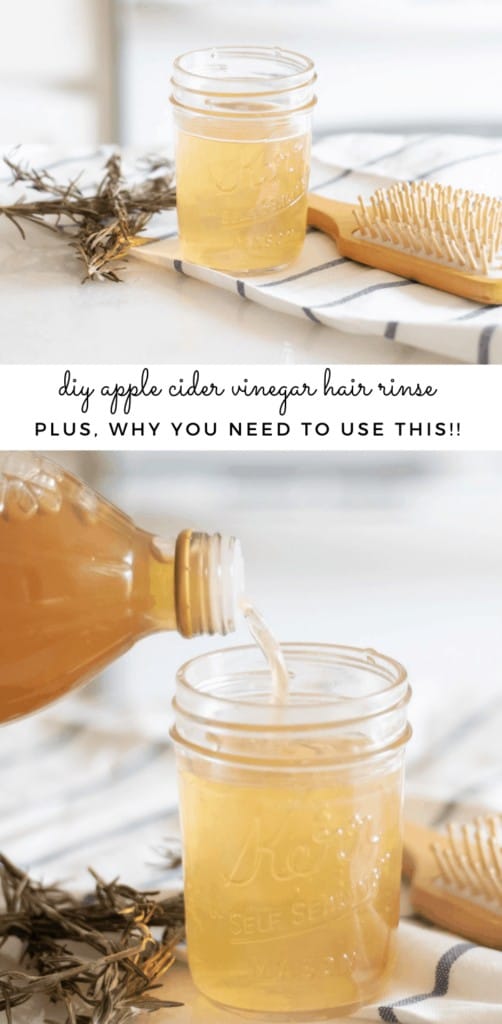 This post contains affiliate links, which means I make a small commission at no extra cost to you. Get my full disclosure HERE.
How to make an apple cider vinegar hair rinse
INGREDIENTS
2 tablespoons of apple cider vinegar
4 tablespoons of water
3 drops of rosemary essential oil (optional)
INSTRUCTIONS
Add the ingredients to a small container and shake well to combine.
Pour the hair rinse over clean, damp hair, and massage or comb into the strands.
Let it sit for 1-3 minutes before rinsing out with warm water.

If desired, follow up with a conditioner.
And while rosemary is optional, suppose you can't take the smell of the vinegar (understandable); you may consider adding some sort of fragrance to this hair rinse.
Below I list a few of my favorite scents that not only smell great but also provide a number of benefits to the hair.
Top oil fragrances.
ROSEMARY– Adding rosemary essential oil to your hair can stimulate hair growth and strengthen the hair.
LAVENDER– This essential oil has a beautiful floral scent known for improving dry, damaged hair.
CEDARWOOD– Adding cedarwood to your daily hair care routine can promote hair growth, thickness and strengthen hair follicles.
TEA TREE– Tea tree or melaleuca essential oil can help with a dry, itchy scalp. And if that's not enough, tea tree is also an excellent hair cleanser.
FRANKINCENSE– Frankincense essential oil has many benefits for the hair and scalp. It can reduce itchiness, provide hydration, and promote healthy hair.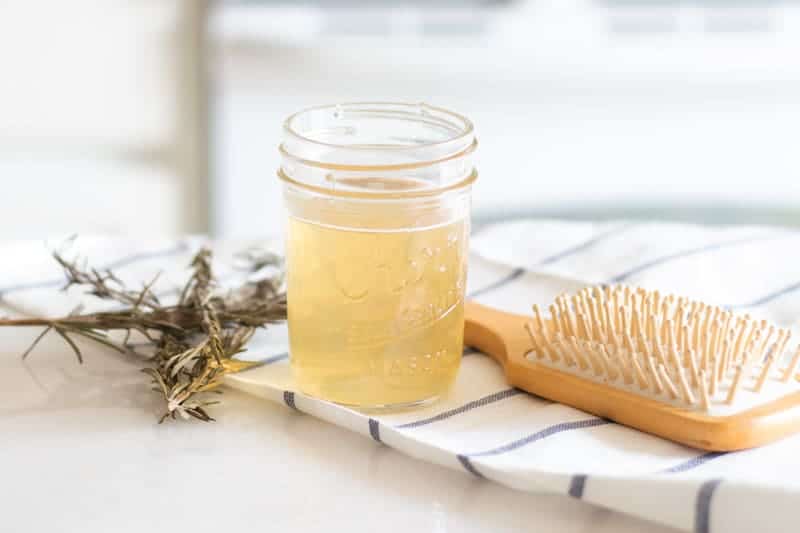 Apple cider vinegar benefits for hair
It can help naturally balance pH levels.
Reveals shiny, smooth, and soft hair.
Reduces split ends.
It helps tame unruly hair and reduces tangles.
Manages oily or greasy hair.
Cleanses the hair and helps fight against bacteria.
Exfoliates dead skin cells and removes buildup.
Adds hydration to dry, damaged hair.
What is apple cider vinegar?
Apple cider vinegar is a vinegar made from fermented apples. It is most generally used in salad dressings, marinades, and a few cleaning products.
ACV has had a growing appearance in the natural hair care and skin care world in recent years because of its many benefits.
Washing hair with apple cider vinegar side effects
Apple cider vinegar is generally considered safe, but it is acidic, and care should be taken, especially for first-time users.
Never apply ACV undiluted to the skin or hair as skin irritation or minor burning sensations may occur.
And always remember, moderation is key. For example, use no more than twice a week and less if you have overly dry hair.
Why should I use apple cider vinegar in my hair?
Apple cider vinegar hair rinses help to make the transition from conventional hair products to natural hair products.
The biggest culprit in overly greasy or dry, dull hair is due to overwashing and conventional shampoos.
The more you wash, the more oils your hair produce!
That's why your hair looks like a greasy mop when you go from once-a-day washing to a twice-a-week routine.
Don't worry; over time, your scalp will begin to produce fewer oils, but until then, this hair rinse will help keep your locks light and fresh.
Apple cider vinegar for dandruff
ACV has a fairly low PH which helps balance out common hair/scalp conditions with higher than normal PH levels.
This, combined with its potentially anti-inflammatory and exfoliating properties, makes it a great option for combating dandruff.
How to use apple cider vinegar hair rinse
Using apple cider vinegar on hair as a rinse is the most simple way to receive its benefits.
First, Wash your hair with an all-natural shampoo.
Then, pour the rinse over the hair and work it into the strands and the scalp with your fingertips.
Allow it to sit for several minutes before rinsing out with warm water.
Depending on hair type, you may be able to use this rinse to replace your regular conditioner.
If you notice your hair feeling dry or brittle after several uses, then follow up with an all-natural conditioner.
In addition, consider adding a deep conditioner treatment to your hair for additional hydration.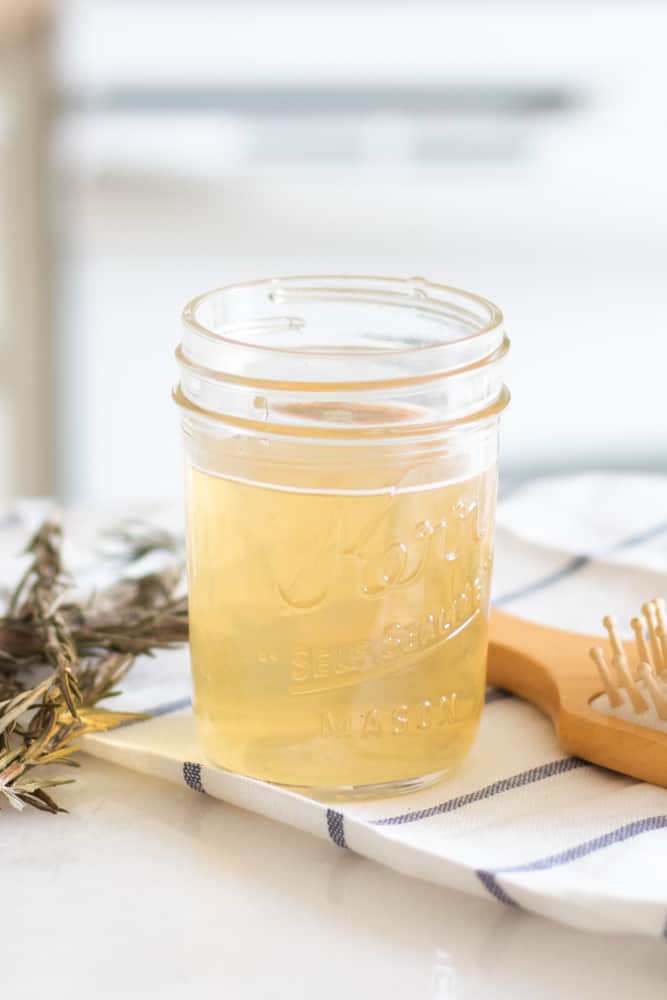 Tips/Questions
Make this recipe in a spray bottle for easier application.
How long does apple cider vinegar hair rinse last? Because this is so quick to whip up, it's best to make just enough for a one-time use.
How often should I use an apple cider vinegar rinse? Generally, this rinse is best used once or twice a week for oily or greasy hair. Less if you have dry hair.
Does apple cider vinegar clean my hair? While ACV is a fantastic ingredient for the hair, it does not clean the hair and should therefore be used after shampooing.
It is important to remember to dilute the ACV before applying it to the hair or scalp to reduce any burning or sensitives. Should you experience any type of pain or burning, stop using it right away or dilute it further.
Wrapping up
Are you sold on washing your hair with apple cider vinegar? It helped me so incredibly much when I first started washing my hair twice a week.
Be sure to leave a comment below and let me know how it worked out for you! I love to hear from you.
And for more great reading material, here are a few similar posts.
Yield: one wash
Apple Cider Vinegar Hair Rinse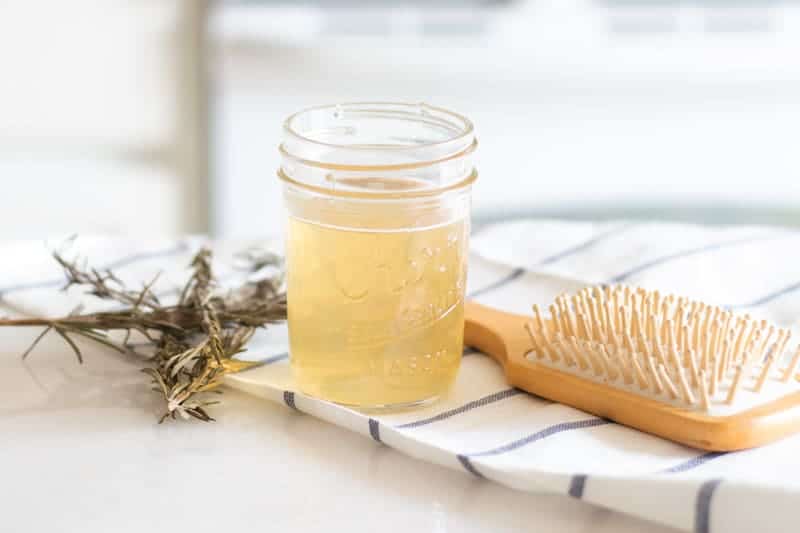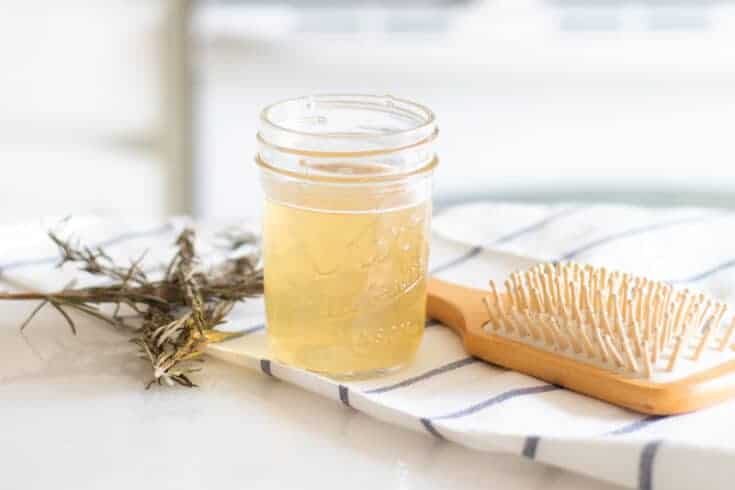 This apple cider vinegar hair rinse recipe is easy to make and inexpensive. Plus, you only need two ingredients!
Instructions
Combine ingredients in a small container, secure lid, and shake well.
Pour the rinse over clean, wet hair and use your finger to work into the strands and scalp
Let it sit for 1-3 minutes and rinse out with warm water.
Follow up with a natural conditioner.