This DIY clarifying shampoo removes product buildup, cleanses the hair, and leaves your hair soft and smooth.
It is easy to clarify hair at home using simple, natural ingredients like baking soda and apple cider vinegar. This really does make the best clarifying shampoo!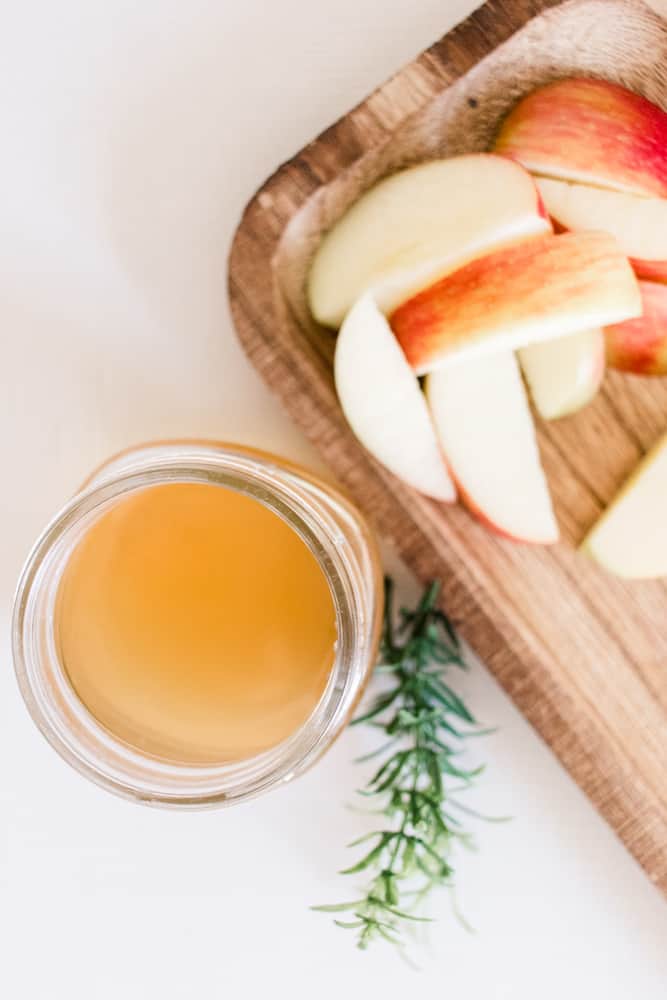 What does Clarifying Shampoo do?
Clarifying shampoo is a specially designed shampoo used to remove product buildup, dirt, and grime on the scalp. It is not a substitute for shampoo and, as a result, should not be used daily.
In fact, you should only use a clarifying shampoo once a month, up to once a week in extreme cases. Use this DIY clarifying shampoo when there are excess oils and residue buildup on the scalp.
Hair clarifiers and chelating shampoos contain surfactants that remove impurities, cut grease, and residue from hair products. Clarifying shampoos can also restore damaged hair from coloring, perms, or heat tools.
How to Make Clarifying Shampoo?
Several ingredients found in your pantry can be used to make an effective clarifying shampoo. One of those ingredients, and probably the most powerful, is baking soda.
Dissolved with water, baking soda makes the perfect clarifying shampoo for your hair. It will effectively remove buildup, oils, and soaps and leave the hair squeaky clean.
The second ingredient you will want to grab is apple cider vinegar. Apple cider vinegar is a powerful product used in hair rinses, it will help regulate pH levels, reduce split ends, and dandruff, and remove product buildup.
Homemade clarifying shampoo vs conventional clarifying shampoo
Homemade clarifying shampoo along with conventional clarifying shampoo serves the same purpose: to remove any buildup from the hair and scalp. They are essentially a heavy-duty hair shampoo.
Homemade clarifying shampoo use minimal, natural ingredients to clarify the hair and have the least amount of negative effects on the hair.
Conventional clarifying shampoos may contain harsh, synthetic ingredients that, with overuse, can dry out and strip the hair of its necessary oils.
top 2 diy clarifying shampoo recipes
This post contains affiliate links, which means I make a small commission at no extra cost to you. Get my full disclosure HERE.
Homemade Clarifying Shampoo with Baking Soda
To make a clarifying shampoo with baking soda, you will need baking soda, water, and you have the option of adding in essential oils if desired.
Essential oils or fresh herbs can give your clarifying shampoo more benefits and make a beautiful customized scent. Some of the best essential oils for hair include lavender and rosemary.
Ingredients
Instructions
Pour the water into a small bowl. Add in the essential oils and stir well.
Measure out the baking soda and add that to the water and oil mixture.
Stir with a spoon until the baking soda is dissolved.
How to Use Baking Soda Shampoo
With wet hair, evenly distribute the shampoo throughout the scalp and hair.
Let it sit for 5 to 10 minutes, and then rinse out with warm water.
Follow up with a hair conditioner.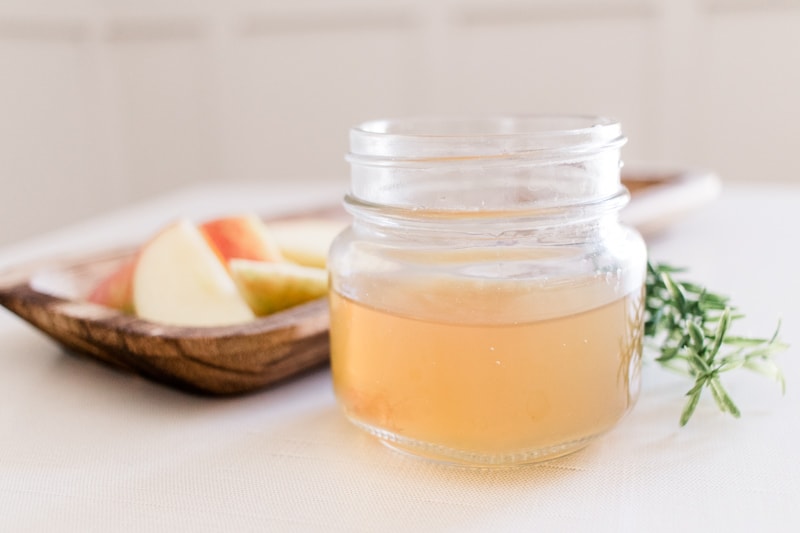 Apple Cider Vinegar Shampoo
If you want to make things real simple, keep reading! Did you know that a simple mixture of ACV and water can do wonders for your hair?
Apple cider vinegar is a vinegar made from fermented apples. Yes, ACV is extremely versatile, being used in everything from salad dressings and marinades to cleaning products and everything in between. In addition, ACV is a superfood known for killing harmful bacteria and may aid in weight loss.
Not only is it known as a superfood, but it also has some fantastic benefits for your hair and skin. If you have curly hair, unruly hair, coarse hair, or hair prone to tangles, then you will definitely want to try an apple cider vinegar shampoo.
When using ACV, it is essential to dilute it first with water. Straight apple cider vinegar may cause damage to hair if overused.
Ingredients
Instructions
Add all ingredients to a spray bottle
Secure lid and shake well to combine.
How to Use Apple Cider Vinegar Shampoo
Generously spray the mixture over wet hair. Then, use your hands to work it into the strands and scalp.
Allow to sit for 3-5 minutes.
Rinse with warm water.
If desired, follow up with a natural conditioner.
Washing Hair with Apple Cider Vinegar Side Effects
Apple cider vinegar is acidic and can dry out the hair if overused. In addition, never use undiluted ACV in the hair as skin irritations may result.
Clarifying shampoos are used for deep cleaning to remove excess oils, grease, and hair product buildup. Unfortunately, oils that are necessary for optimal hair strength and growth are stripped as well. As a result, use a clarifying shampoo no more than once a week, preferably once or twice a month.
why is vinegar good for the hair
Using vinegar in your hair can help balance hair and scalp pH levels. Ultimately leading to softer, smoother, and easier to style hair.
Vinegar (used in moderation) can make your hair less prone to breakage while hydrating and adding natural shine. Research shows that ACV can benefit all hair types when diluted and used correctly.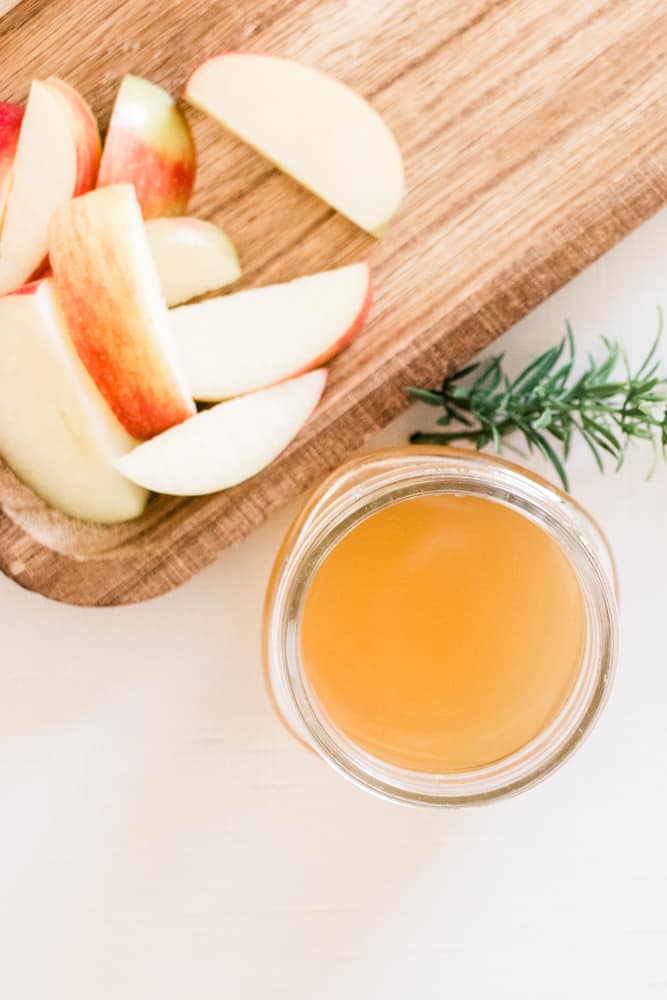 clarifying hair treatment for sensitive hair
Baking soda and ACV are some of the most effective and easiest ways to clarify the hair at home.
Below are 3 very gentle alternative recipes for dry, colored, or damaged hair.
Lemon Juice
For this shampoo, you will need one fresh lemon and warm water. Squeeze the juice of one lemon in a jar and add in 1 cup of water. Stir the liquid with a spoon.
If desired, add in a few drops of rosemary essential oil. Pour the lemon water over wet hair, massage it into the scalp, allow it to sit for a few minutes, and rinse out.
Lemon hair treatment is perfect for treated or colored hair. However, do note, lemon may lighten colored hair slightly.
Aloe Vera Juice
Pure aloe vera juice can have some pretty incredible benefits for the hair. Aloe is very soothing and hydrating for the hair, making it especially good for dry, damaged hair.
Mix 2 tablespoons of aloe vera juice with 1 cup of water. Same as the other recipes, pour the mixture over wet hair, massage into the scalp, allow it to soak in, and then rinse with warm water.
Bentonite Clay
Bentonite clay can cleanse the scalp, help remove dead skin cells, encourage hair growth, hydrate hair, reduce frizz, and even be used as a face mask.
Mix equal parts of bentonite clay, water, and ACV in a small bowl. Stir with a wooden spoon until a paste forms. Massage the mixture into wet hair, allow it to soak in, and rinse with warm water.
Exclude the ACV from this recipe if you have frizzy or dry hair. Follow up with a natural hair serum.
If you enjoyed this post, check out this cost-effective shampoo recipe made from soap nuts.
Yield: 1 jar
Homemade Clarifying Shampoo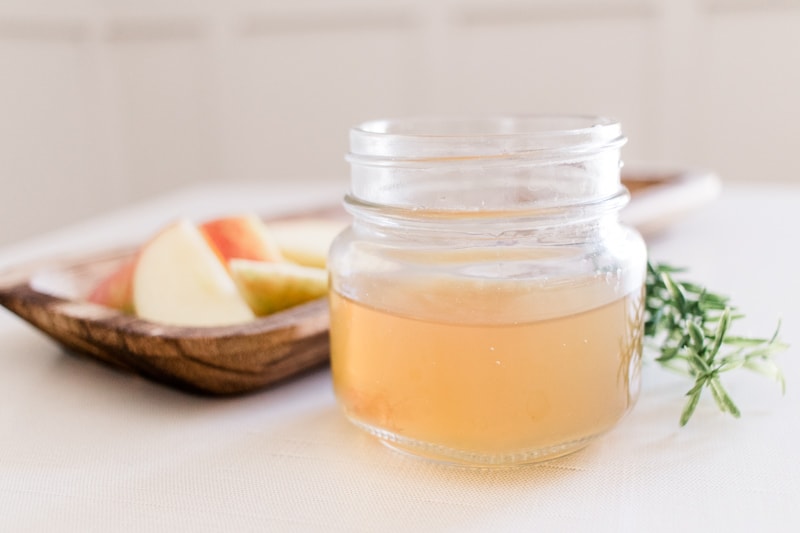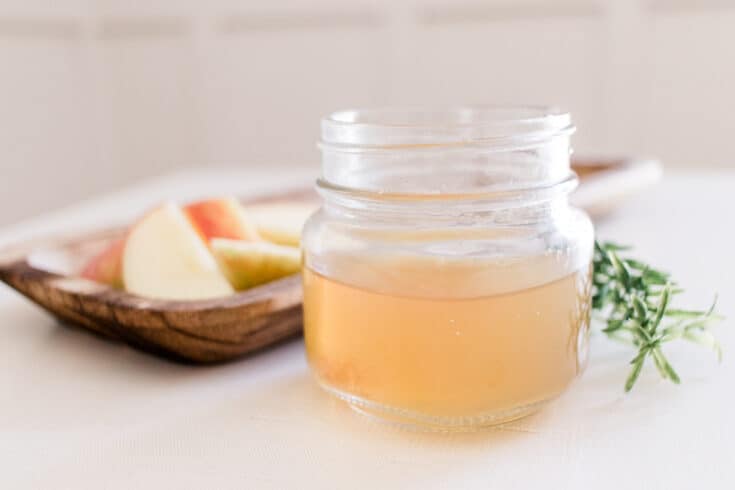 Homemade hair clarifying treatment with apple cider vinegar to clean and strip hair of build-up.
Materials
Baking Soda Shampoo
2 tablespoons baking soda
1 cup warm water
3 drops lavender essential oil, optional
Apple Cider Vinegar Shampoo
1 tablespoon apple cider vinegar
1-2 cups warm water
3 drops rosemary essential oil, optional
Instructions
Baking Soda Shampoo
In a small bowl, add water and stir in essential oils.
Slowly add baking soda, stirring until dissolved.
Cover the hair with the paste with wet hair, working into the strands down to the scalp.
Let it sit for 5 to 10 minutes before rinsing out with warm water.

Apple Cider Shampoo
Add all ingredients to a glass spray bottle.
Secure lid and shake well.
Spray the shampoo onto wet hair, then use hands to distribute throughout the hair.
Allow the mixture to sit for 3-5 minutes.
Rinse with warm water.
Follow up with a natural conditioner.