Discover all you need to know about using wheat germ oil for skin and hair. Wheat germ oil is a power pack for battling aging and dehydrated skin. Try it today!
Wheat germ oil is one of my favorite and best-kept beauty secrets.
I started using it when those dreaded fine lines first appeared, and it's certainly made my skin smoother and healthier since. (yay!)
Although I admit, it used to bring thoughts of bread and cakes to mind when I first heard of it. I'll bet it does for you too?
But honestly, once you try wheat germ oil on your skin, you'll be hooked, as I was.
In this post, I'll share everything I know about wheat germ oil – how to use it on skin and hair for maximum benefit, how it's made, and what else it can be used for.
This post is a little different from usual, as there's no recipe here.
I will, however, suggest some excellent essential oils to add to wheat germ oil and of course, explain the benefits of using it for improved skin and hair texture.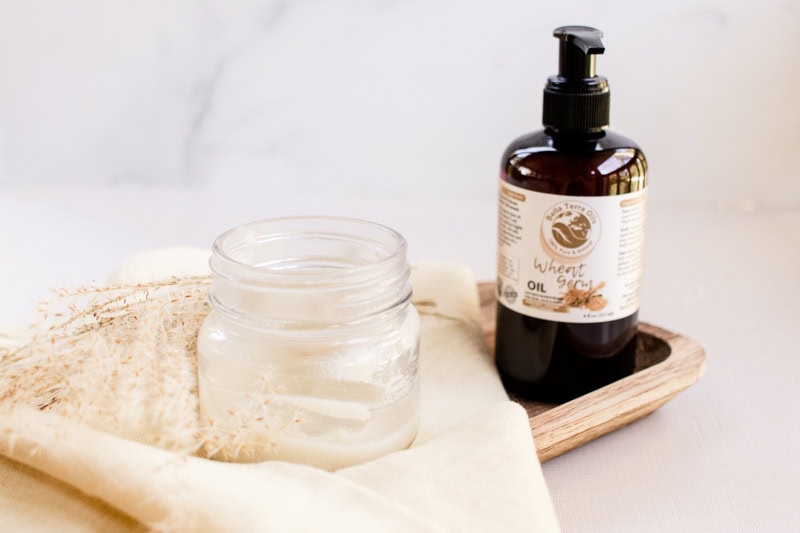 What is wheat germ oil?
The germ is part of the wheat grain – the fluffy, kernel bit you see filling the wheat fields in the summer.
To make it into an oil for topical use, the germ is extracted – meaning the grain is broken down and then dissolved in a solution or cold pressed to squeeze the oil out.
Interestingly, the germ is one of three components that make up a wheat grain, the other two being the bran and the endosperm.
For baking and cooking things like bread or pastries, the germ is usually removed, as the taste tends to taint the flour.
Meaning there's plenty of germ to go around for making wheat germ oil for beauty products.
Wheat germ oil is renowned for its nourishing benefits for skin and hair, being a profoundly moisturizing and nutrient-packed beauty hero!
Wheat germ oil uses
The uses of wheat germ oil are wide and varied – even I was surprised when I heard what they are!
Some people use wheat germ oil for medicinal use and also in cooking, but it's more commonly found in lotions, shampoos, and conditioners for its hydrating properties.
Wheat germ oil is really fantastic as a skin moisturizer straight from the bottle, helping smooth aging skin and reducing fine lines and wrinkles.
It replaces lost moisture better than many moisturizers I've tried, and it's so natural if you opt for the unrefined, organic versions.
Being high in omega oils, it encourages skin repair, making it beneficial for dehydrated or sun-damaged skin and for general repair of the skin at a cellular level.
It is an excellent moisturizer for the hair, helping strengthen from within the hair shaft, minimizing breakage and split ends, and giving that much-desired healthy gloss.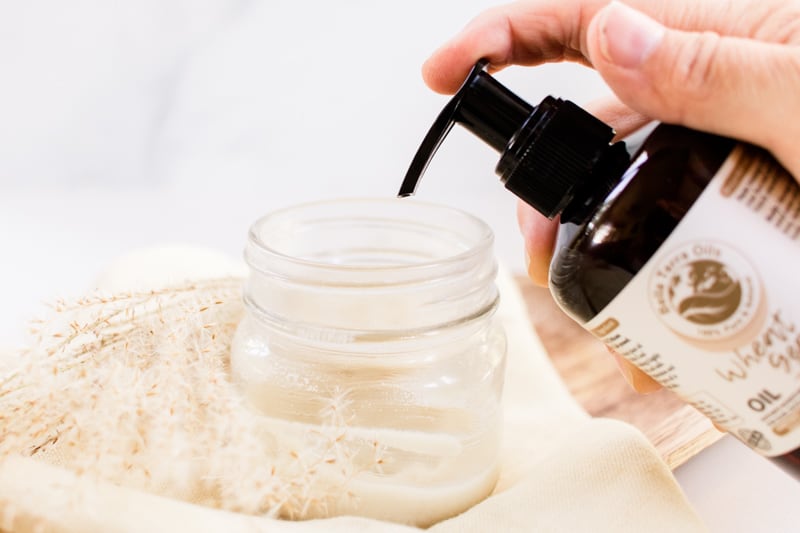 How is wheat germ oil extracted?
There are different ways to extract the wheat germ from the wheat grain. The most commonly used extraction process uses a cold press method.
To explain it as simply as possible, the wheat is cut, crushed and rolled, then sieved several times to separate the germ from the remaining grain.
There's then the option to add the germ to a solvent (forming a solution) or to press it so that the natural oil of the germ is released.
This is known as crude oil (unrefined), and the wheat germ oil you buy in shops tends to go through several more refinement steps to make it suitable for topical and culinary use.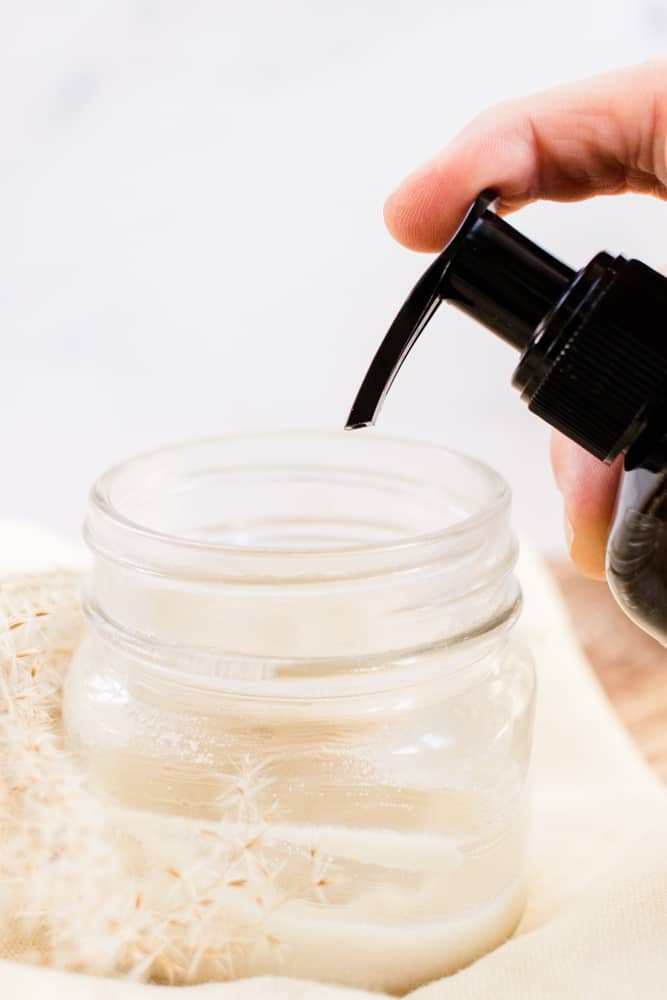 Wheat germ oil benefits
To understand the benefits of wheat germ oil, we first need to look deeper at the chemical constituents of the germ.
The word 'germ' means to start over, to start afresh – so literally starting a new life, which is why it's packed with so many nourishing benefits.
Within the germ itself, you'll find (but are not limited to):
Vitamin A
Oleic acids
Vitamin E
Stearic acid
Linoleic acid
Vitamin A is renowned worldwide for its skin and hair benefits, helping to soften the skin, smooth fine lines, and contribute much-needed collagen to aging, dry skin, thereby slowing down the aging process.
It's a beauty powerhouse and is often used in skin lotions for its well-known anti-aging benefits.
Oleic acids are anti-inflammatory and antioxidants, helping protect the skin from harmful free radicals.
Essential fatty acids improve the skin and hair texture, giving it the boost it needs to look healthy and luscious.
Vitamin E is famous as a skin and hair repairer, fantastic for healing damaged skin and minimizing scars, wrinkles, age spots, and burns.
It's also great for sunburn relief and really helps minimize the sting.
Stearic acid is an emollient which is highly moisturizing – so much so it's a common ingredient in many lotions and potions found in stores.
Lastly, linoleic acid helps firm the skin texture and is often an ingredient added to anti-aging products.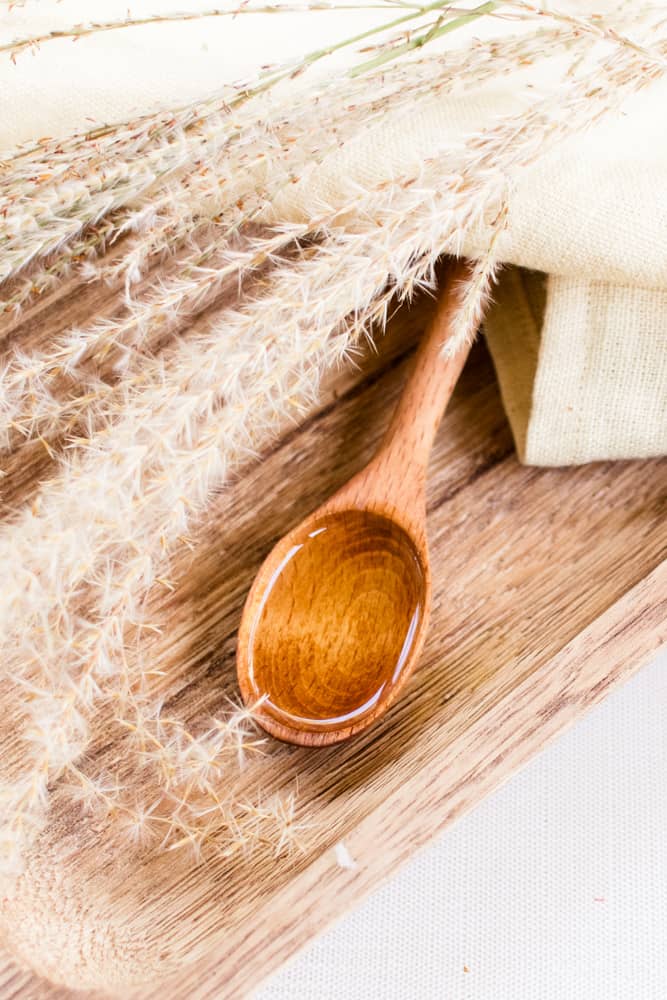 This post contains affiliate links, which means I make a small commission at no extra cost to you. Get my full disclosure HERE.
Can you use wheat germ oil if you have a gluten allergy?
It's difficult to answer this question as every manufacturer extracts the germ differently and to different standards, too.
Therefore, I recommend doing your own research on this and checking with the manufacturer whether any gluten remains. It's also worth consulting with a healthcare provider if you're ever unsure.
And as with any new skincare product, it's wise to do a patch test first to see if your skin reacts (if at all).
Here is the wheat germ oil I use.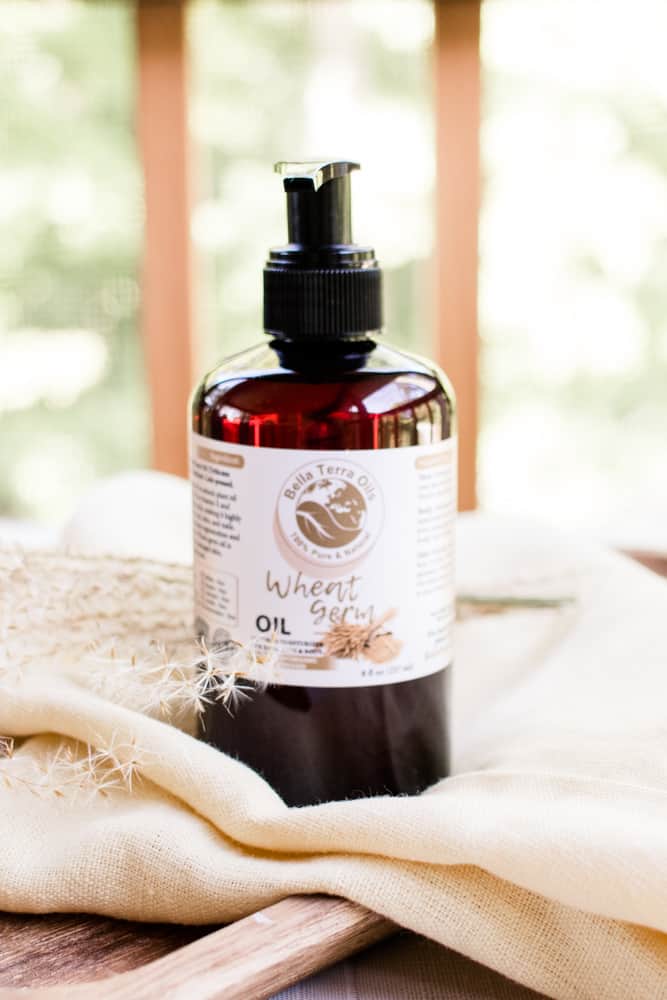 Wheat germ oil for hair
Known to some as liquid gold for hair, wheat germ oil replaces lost moisture and deeply nourishes the hair leaving it glossy, tamed, and reducing the appearance of split ends.
It's excellent as a hair treatment – used once or twice a week. It helps condition the hair, making it softer and less prone to breakage.
I've heard of wheat germ oil being eaten to promote hair growth because of its high vitamin E content, but I personally haven't tried this myself.
I've only ever used wheat germ oil on my skin and hair – and in doing so, I usually add one or two drops of my favorite essential oils to leave a pleasant fragrance.
Check out some of my favorite essential oil blends here and add them to your wheat germ oil prior to use.
Rosemary + Lavender (for hair or skin)
Cedarwood + Lemongrass (for hair or skin)
Cardamom + Geranium (for hair)
Lavender + Frankincense (for skin)
Add one drop of each to two tablespoons of wheat germ oil.
Find your oils here!
I hope you enjoyed reading this post today. Let me know if you try using wheat germ oil on your skin or hair. I'd love to know the results.
If you enjoyed reading this post, If you love informational posts like this, I'm sure you'll enjoy reading one of these next!