Argan oil comes from the fruit kernels that grow on the Argan tree. This oil is commonly used in skincare and hair care products and is loaded with benefits. Argan oil can help with anti-aging, skin imperfections, and so much more.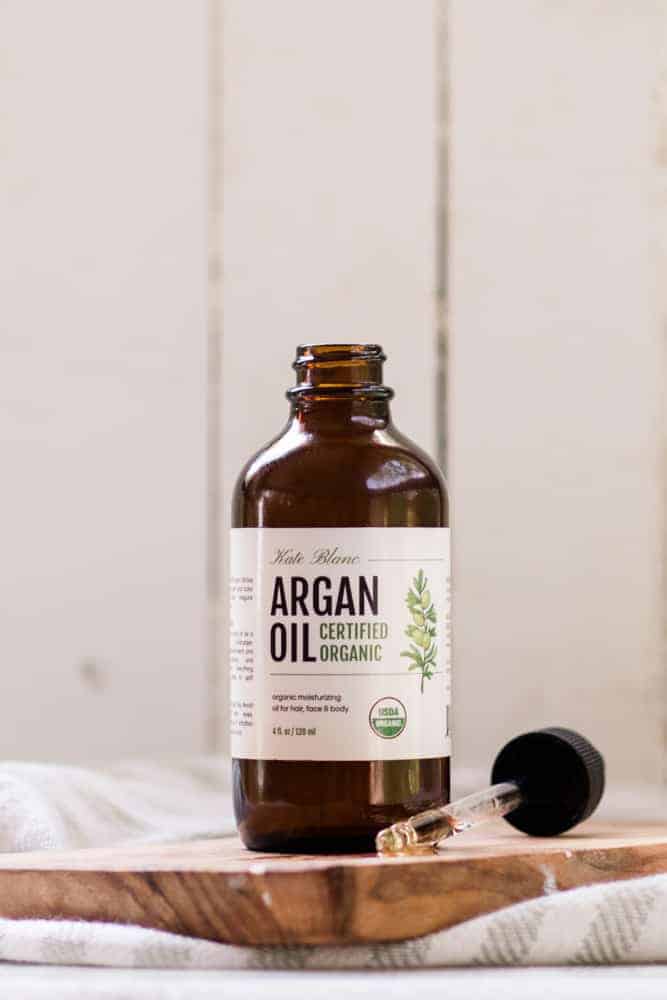 Benefits of Argan Oil
Argan oil has so many benefits for the skin and for the hair. It is commonly used topically but can also be taken internally. Argan oil is rich in vitamin E and antioxidants making it a great supplement.
Be sure to check your Argan oil before taking it internally, as some have added ingredients that are not safe for internal use. Also, when purchasing argan oil, look for a brand that is pure argan and organic if you plan to take it internally.
This post contains affiliate links, which means I make a small commission at no extra cost to you. Get my full disclosure HERE.
Find the kind that I use here.
Argan Oil Benefits for Hair
Argan oil is very moisturizing and can be used to condition the hair. In addition, it is loaded with vitamins, antioxidants, and fatty acids that can improve your locks and scalp.
Adds moisture to dry, damaged hair
Relieves itchy scalp
Protects against hair styling creams and coloring
May help with hair loss
Tones frizzy hair and flyaways
Reduces breakage and split ends
Helps hair to grow strong and healthy
Adds shine
Argan Oil Benefits for Skin
Argan oil can be used topically on the skin by either applying it directly to the area of concern or mixing it into a lotion or cream. If you are into DIYs, you can always add in argan oil to most lotions, body butter, or face creams. Argan oil can improve skin tone, reduce signs of aging, and help protect the skin from sun damage.
Moisturizes the skin
Improves eczema and psoriasis
Reduces acne
Helps with skin imperfections and infections
Reduces signs of aging
Smooths skin
Improves scars
May prevent stretch marks
How to Use Argan Oil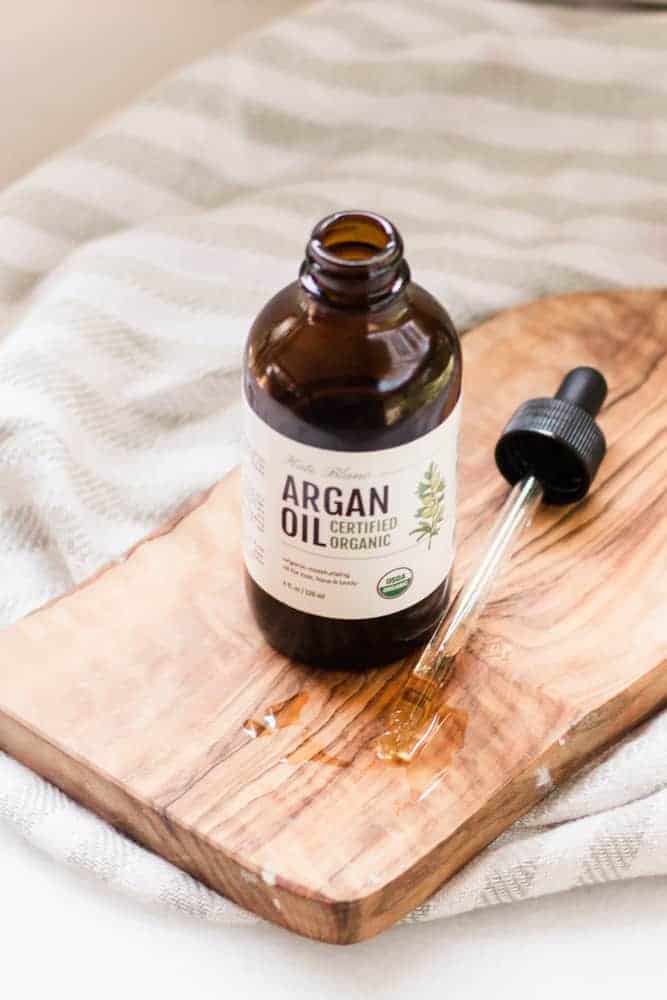 For the Skin
Argan oil can be used in several different ways. For example, if you are wanting to receive the benefits of Argan oil for the skin, you can apply it directly onto the skin. Argan oil is very gentle and safe for almost all skin types.
For Acne
To use argan oil for acne scars or acne, it is best to apply it twice daily. First, add about a dime-sized amount of argan oil to the palm of your hand and massage it directly onto the skin. There is no need to wash it off; it works best to soak into the skin overnight.
For the Hair
There are a number of ways to use argan oil in the hair. The easiest way would be to add a few drops along the part line and then work it into the hair and scalp. The other way to receive the benefits of argan oil for the hair would be to add a few drops to either a shampoo or conditioner.
Argan Oil for Beards
Argan oil is a great oil to use on facial hair. It can help to tame unruly hair making it easier to style and add moisture. Argan oil can be used to make beard oil, beard shampoo, or beard growth oil.
Argan oil can help prevent split ends, beard dandruff, reduce itchiness, and help to prevent ingrown hairs. It is one of the best oils to use in your beard as it can help fight against environmental damage.
Argan Oil Uses for Face
Argan oil can be used on the face to reduce wrinkles, fine lines, crow's feet, acne, and acne scars. It is a very gentle carrier oil and similar to jojoba oil, it can be used with almost all skin types.
Argan oil has anti-sebum effects, which can help with oily skin and acne. It is non-comedogenic and does not clog pores, making it a great oil to use on the face.
For best results, massage a small amount, about 1-2 drops, of argan oil into the face twice daily.
Argan Oil Face Serum
You can make your own face serum with argan oil and essential oils. Face serums can help promote clear, healthy skin.
Argan oil can help with breakouts and acne-prone skin. It promotes cell regeneration, hydration, and can fade acne scars. Tea tree, frankincense, and lavender are the essential oils I use in my all-time favorite clear skin roller bottle. These oils can work well for spot treatment or for prevention.
Face serums should be applied to the skin after you use your face cleansers and toner. However, if you prefer to use a separate face moisturizer, you can apply that over the facial serum.
Argan Oil Health Benefits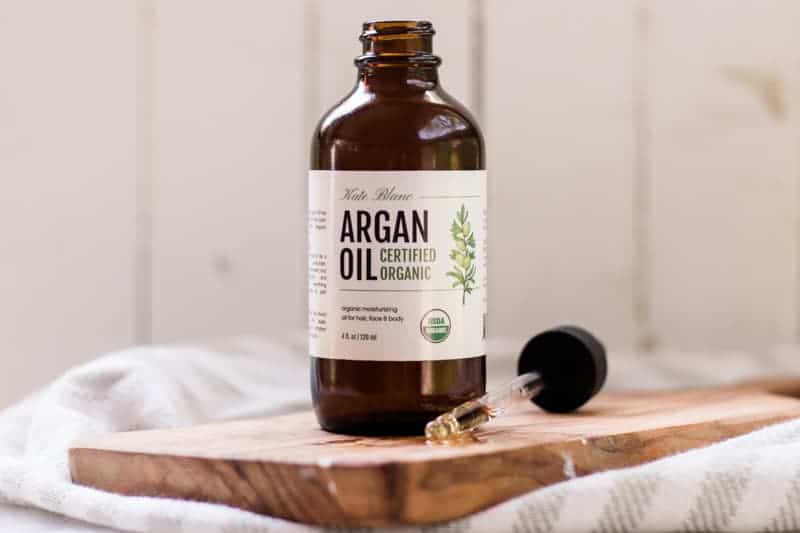 Argan oil is anti-inflammatory, anti-bacterial, and anti-fungal, making it a great oil for your overall wellness. The anti-inflammatory properties can reduce skin rashes like eczema, rosacea, and psoriasis. It is also effective at helping soothe sore joints and back discomforts.
Because of its anti-bacterial properties, argan oil can be effective for cleansing wounds and help accelerate the healing of small cuts. If you have a cut, add a couple of drops of argan oil to the area of concern to keep clean and prevent infection.
Argan oil can be applied directly to toenails or feet to help with fungus, athlete's foot, or discolored toenails. For best results, apply 3 times daily until the ailment goes away. In addition, some argan oil may be safe to take internally to help with the overgrowth of yeast and thrush.
Argan Oil Side Effects
Argan oil is a very safe oil and side effects are extremely rare. However, everyone reacts differently to substances, so it is always important to test a small area before applying any oil all over the body or taking it internally. It is best to test a small area on the back of your hand, the bottom of your foot, or another area with less sensitive skin.
If you have any type of reaction to argan oil, which is very unlikely, you can try diluting it before applying it or stop using it altogether. When taken internally, argan could upset the stomach or cause bloating; again, this is rare. If you notice any type of digestive issues, rashes, or other symptoms, be sure to check with a medical professional before using argan oil.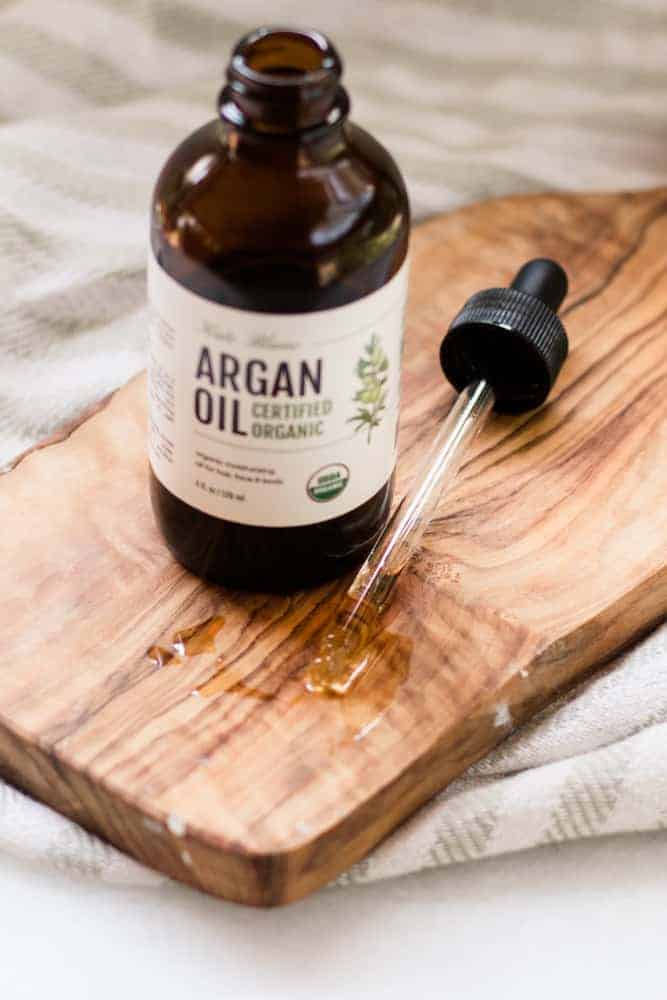 In Summary
Argan oil comes from the fruit kernels that grow on the Argan tree.
Argan oil is commonly used on the skin and in the hair to keep it moisturized and prevent common ailments.
It has anti-bacterial, anti-fungal, and anti-inflammatory properties benefiting overall wellness.
Argan oil is gentle and good for almost all skin types. It is uncommon to have any negative side effects when using.
I hope you enjoyed reading this post. If you like informational posts like this, you will enjoy one of these next.
PIN IT FOR LATER