There are some fantastic lemon balm benefits for skin, mind and body, which I'll bet you've never heard of before.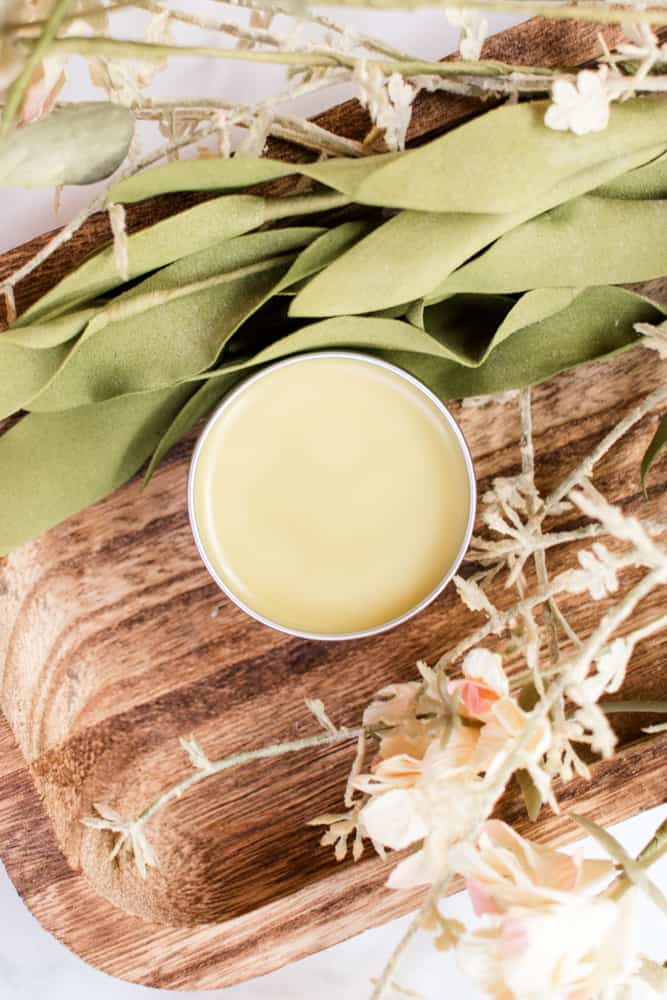 Until now, that is!
In this post, I'll share all I know about lemon balm – a popular herb with various uses on yourself, your family, and in your home.
Tips are included on what lemon balm is suitable for, and even what to do with lemon balm fresh from the plant – and how to use it for best results.
Plus, in this post, you'll find a healing, fragrant lemon balm salve recipe to make at home.
What is lemon balm?
Lemon balm (also known as Melissa Officinalis) is a native herb that first came from Europe but is now found worldwide.
Loved by bees and humans alike, lemon balm is well known as a calming, relaxing herb – helping reduce stress and anxiety and aiding sound sleep and rejuvenation.
It's a relative of the mint family of herbs, looking somewhat similar in appearance with lobular dense green leaves yet has a beautiful lemon scent.
A lovely contribution to any herb garden or border to compliment other shrubs and flowers, I feel lemon balm is a must-have on every garden lover's list.
It grows anywhere with good soil and sunlight and is excellent to keep in pots or windowsills to bring wildlife into your home or garden.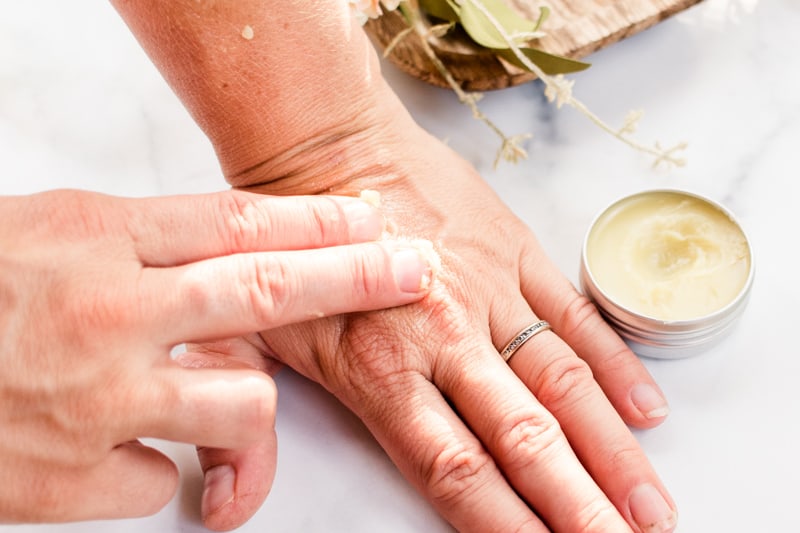 Lemon balm plant uses
There are so many things you can do with lemon balm!
One of my favorite things is picking fresh lemon balm leaves on a summer's morning and making a herbal tea in freshly boiled water. I drink it both hot and cold, depending on the day's heat.
It's an excellent herb for aiding digestion and stimulating the body, waking you up in a healthy way, and nourishing your body from the inside.
You could try chopping some fresh lemon balm leaves and adding them to a salad for a zesty lift.
Or why not place lemon balm leaves in cold, filtered water with some pieces of orange or any other fruits to make a tasty, healthy drink?
You can even dry fresh lemon balm on a drying rack (or something similar) – chop them finely once dry, and store them away for the winter to use in cooking or homemade cosmetics.
I use lemon balm mainly as a mood booster to brighten a dull day. I love the essential oil too.
It makes me happier just by smelling it, but what's interesting is how many studies have been carried out on lemon balm over the centuries, sharing its positive effects on the body!
lemon balm skin benefits
Lemon balm is lovely to use on the skin for so many reasons, mainly due to its anti-inflammatory and anti-bacterial properties.
It's soothing for troublesome skin to start with, helping clear blemishes, grazes, and spots better than store-bought products, which are often packed with nasty chemicals and can worsen your skin.
So too, it helps slow down the effects of aging, being an excellent moisturizer for dry, damaged areas of the face and body, smoothing fine lines, and improving the appearance of dark under-eye circles.
And what about blackheads? Well, I've got great news!
Lemon balm minimizes the appearance of blocked pores, as it contains astringent properties that tighten the skin naturally.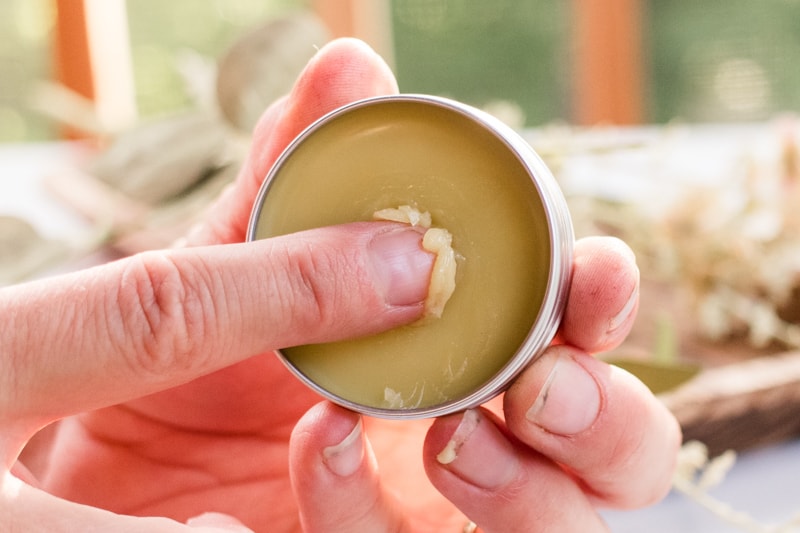 Lemon balm oil
The herb known as lemon balm (also called Melissa) can also be found in oil form.
You can buy it as an essential oil called Melissa – made through steam distillation of the plant leaves, the same way other essential oils are made. Though this is one of the most expensive oils.
Yet there's another method to use it, which is simply called 'lemon balm oil' – but this is not the same as the essential oil.
Lemon balm oil is made by crushing and slowly heating the freshly ground leaves and stems mixed in with a carrier oil, such as fractioned coconut oil, jojoba oil, or almond oil.
The recipe below requires you to use lemon balm oil (not essential oil).
I make my own lemon balm oil from scratch because it's cheaper and better for the environment, and I enjoy doing it!
It takes a few weeks to be ready, as you need to store it to ensure the herb has infused its healing properties into the oil.
The longer you can wait, the better, so try and leave it to infuse for at least a month.
It also requires you to filter it at the end, but this is really easy with a sieve or muslin cloth.
If you don't have the time to make your own lemon balm oil, here is the one I use.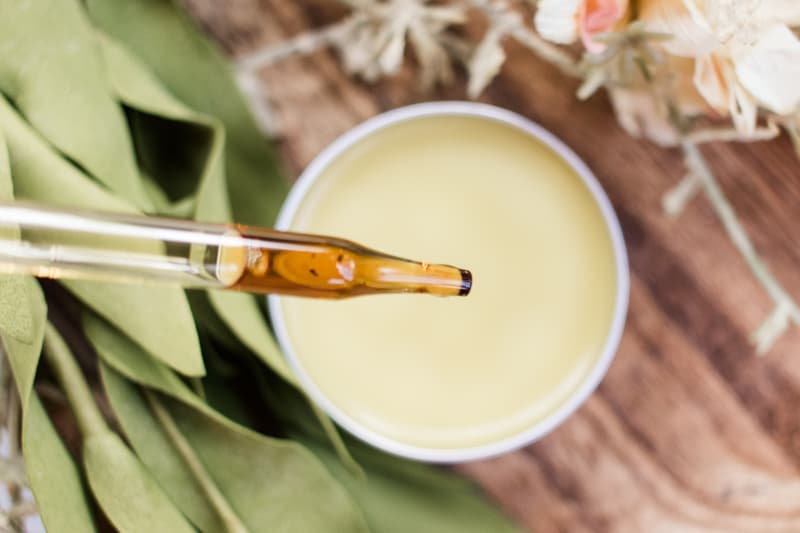 If you'd like to make your own lemon balm salve using lemon balm oil, here is a recipe for you to try.
This post contains affiliate links, which means I make a small commission at no extra cost to you. Get my full disclosure HERE.
lemon balm salve recipe
This is my go-to, easy-to-make lemon balm salve recipe that works great. I hope you love it as much as I do!
It's fantastic as a skin savior – good for blemishes, burns, age spots, dry skin, cuts and grazes – I use it for everything skin related!
Ingredients
Melt the wax with the jojoba and olive oil in a small saucepan over low heat. Then stir in the lemon balm oil.
Transfer to a metal storage tin and leave on the side to fully harden. You can use it right away once it's hard.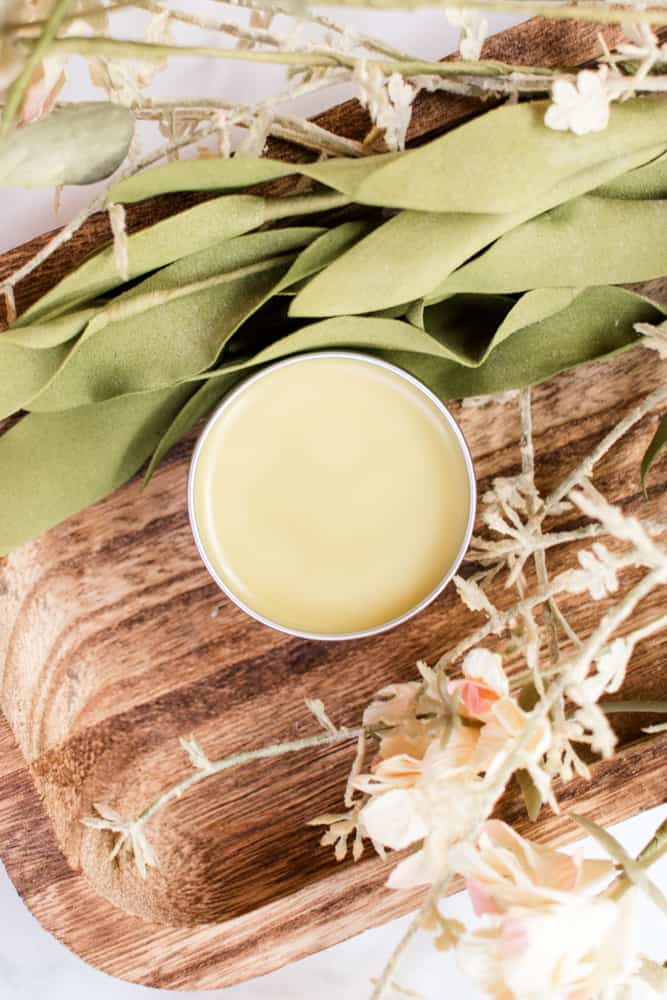 Lemon balm side effects
The critical thing to know is that lemon balm is not believed to be safe for thyroid issues, as it can affect thyroid function.
Otherwise, it's generally a safe herb, but always be careful and consult with your doctor before use.
Always test a small area first, and don't go overboard on the dosage.
Why you will love this recipe
One of the best things about this recipe is it's quick to make and easy to use.
It takes only a few hours to set once done – though for best results, leave it for 24 hours minimum to harden correctly.
You'll also love the fresh lemony scent that comes with this salve.
You can use it anywhere on your body, though avoid your eyes and any sensitive parts.
Another great thing is that it's universal. So you can use it on almost every skin problem, and it certainly won't do you any harm.
It contains anti-bacterial and anti-viral properties, so it is excellent to use on skin that needs a little extra care!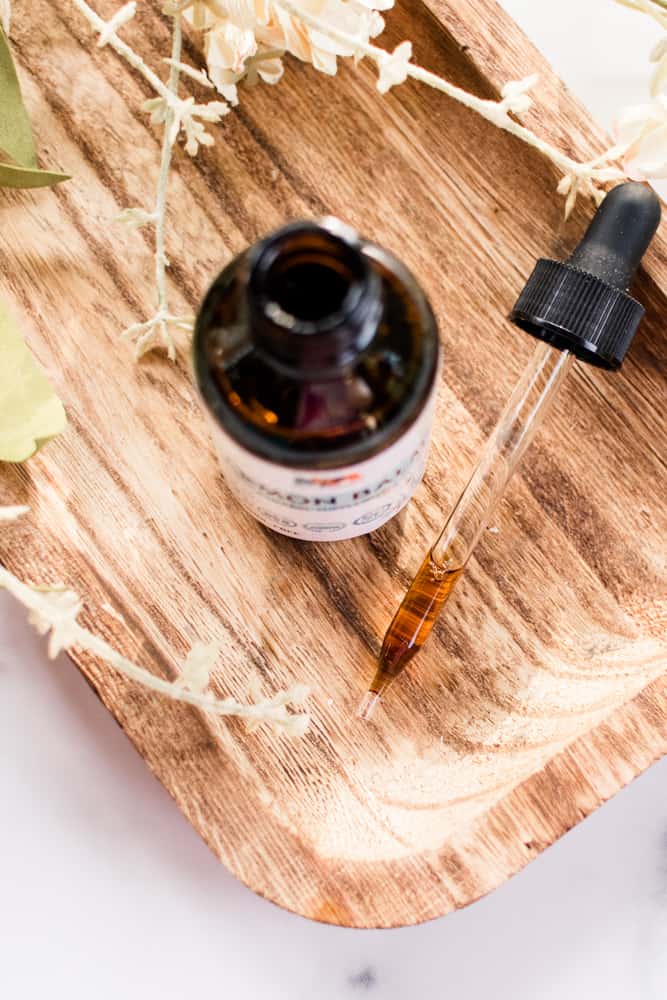 With so many lemon balm benefits for skin, this is one plant you can't go without in your herb garden next spring.
I hope you love this recipe as much as I do! Drop me a comment below and let me know if you try making it. I love to hear from you.
If you love this post, here's what I think you'll enjoy reading next.
Yield: 2.5 oz
Lemon Balm Salve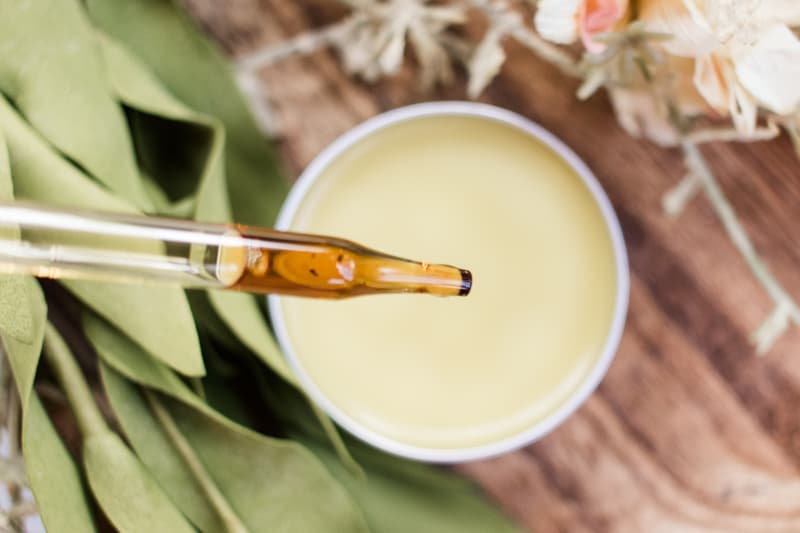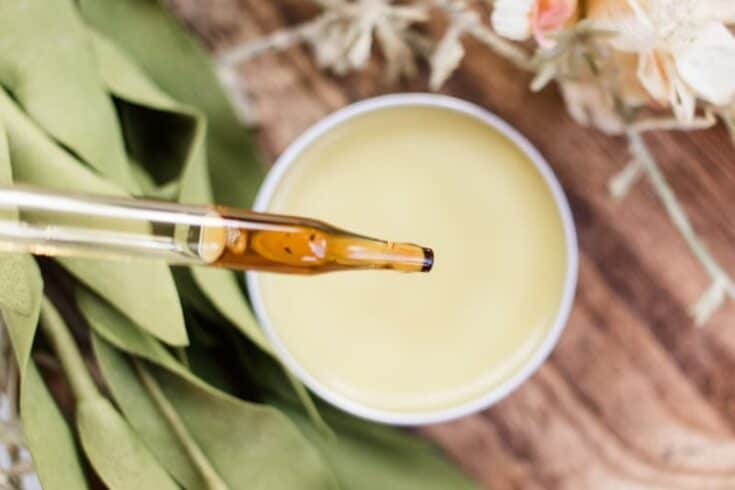 Have you heard of lemon balm before? This lemon balm salve recipe uses natural lemon balm oil to improve skin blemishes, smooth fine lines, and soothe tired skin.
Tools
Instructions
Melt the wax with the jojoba oil and olive oil in a small saucepan over low heat.
Stir in lemon balm oil.
Transfer to a metal storage tin and allow it to cool before securing the lid.
Notes
Do not use lemon balm if you have thyroid issues.