After a full day in the sun or a beach vacation, your sun-kissed skin may need some TLC. Check out this simple DIY after sun spray to soothe and restore skin.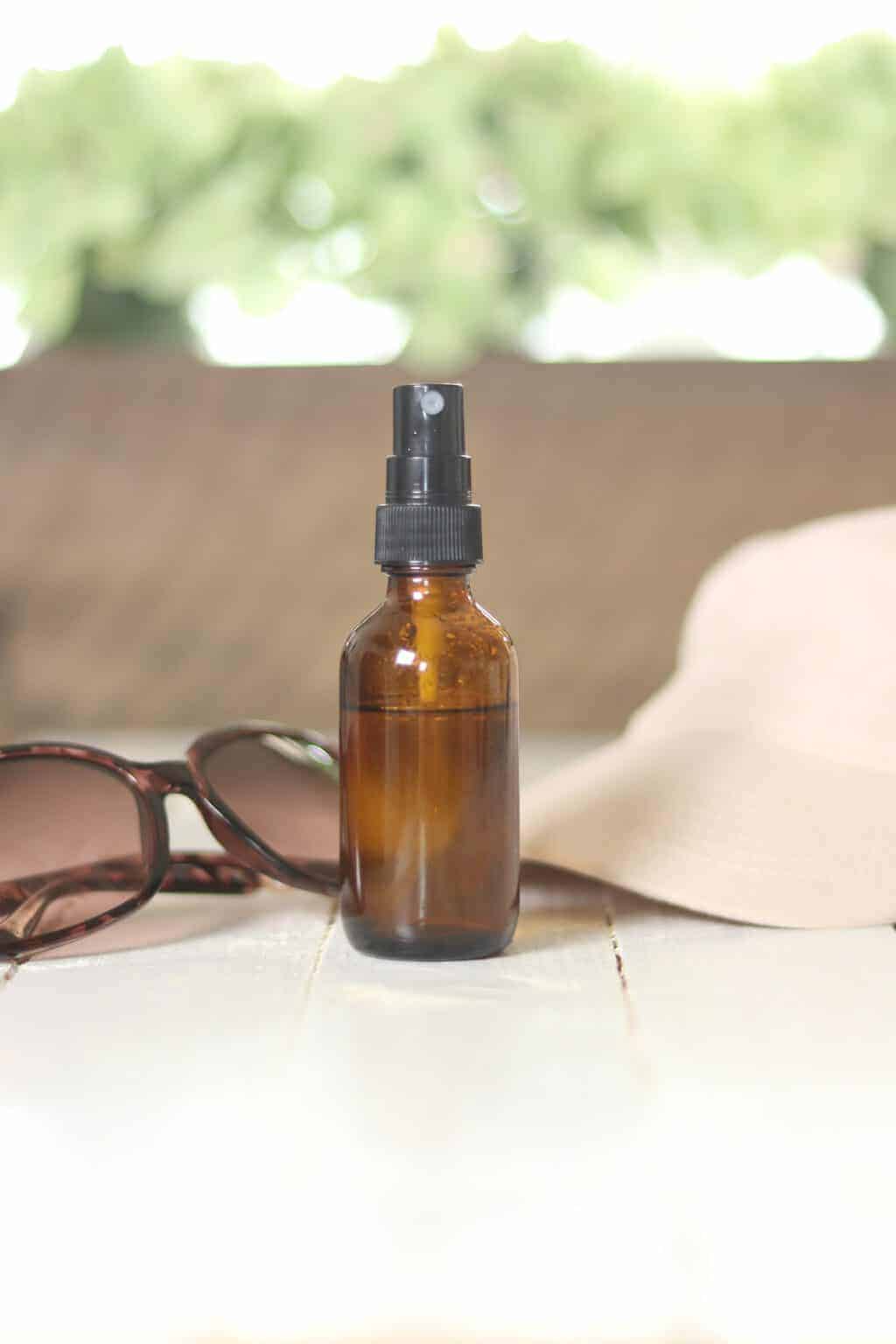 Protecting your skin from the sun is very important, as is getting the proper amount of vitamin D. Doing both can be tricky, but did you know that 20 minutes of sun a day is all you need to get adequate vitamin D?
By following a few tips and safety rules, you can most definitely get the sun you need and keep your skin from getting sunburned. But what happens if you do get burned? What if your kids get a sunburn?
It has happened to everyone. I love having this spray handy for when it does. This spray is very soothing on the skin and can help repair and rejuvenate skin that has been overexposed.
PIN IT FOR LATER
This post contains affiliate links, which means I make a small commission at no extra cost to you. Get my full disclosure HERE.
DIY AFTER SUN SPRAY RECIPE
INGREDIENTS
INSTRUCTIONS
Add all the ingredients into the glass spray bottle and shake until everything is well combined.
Spray on the skin after being outside and exposed to the sun for a long period of time.
As the mixture sits, the oils will separate. Be sure to give it a good shake before each use.
WHAT IS WITCH HAZEL?
Witch hazel is a liquid that comes from a plant called Hamamelis. The liquid can come from the bark, twigs, or leaf of the plant. It is most commonly used as a natural remedy for skin issues.
Witch hazel is an astringent. It has anti-inflammatory and antiviral properties. Using witch hazel can be helpful for sunburned skin and to reduce the chance of skin peeling.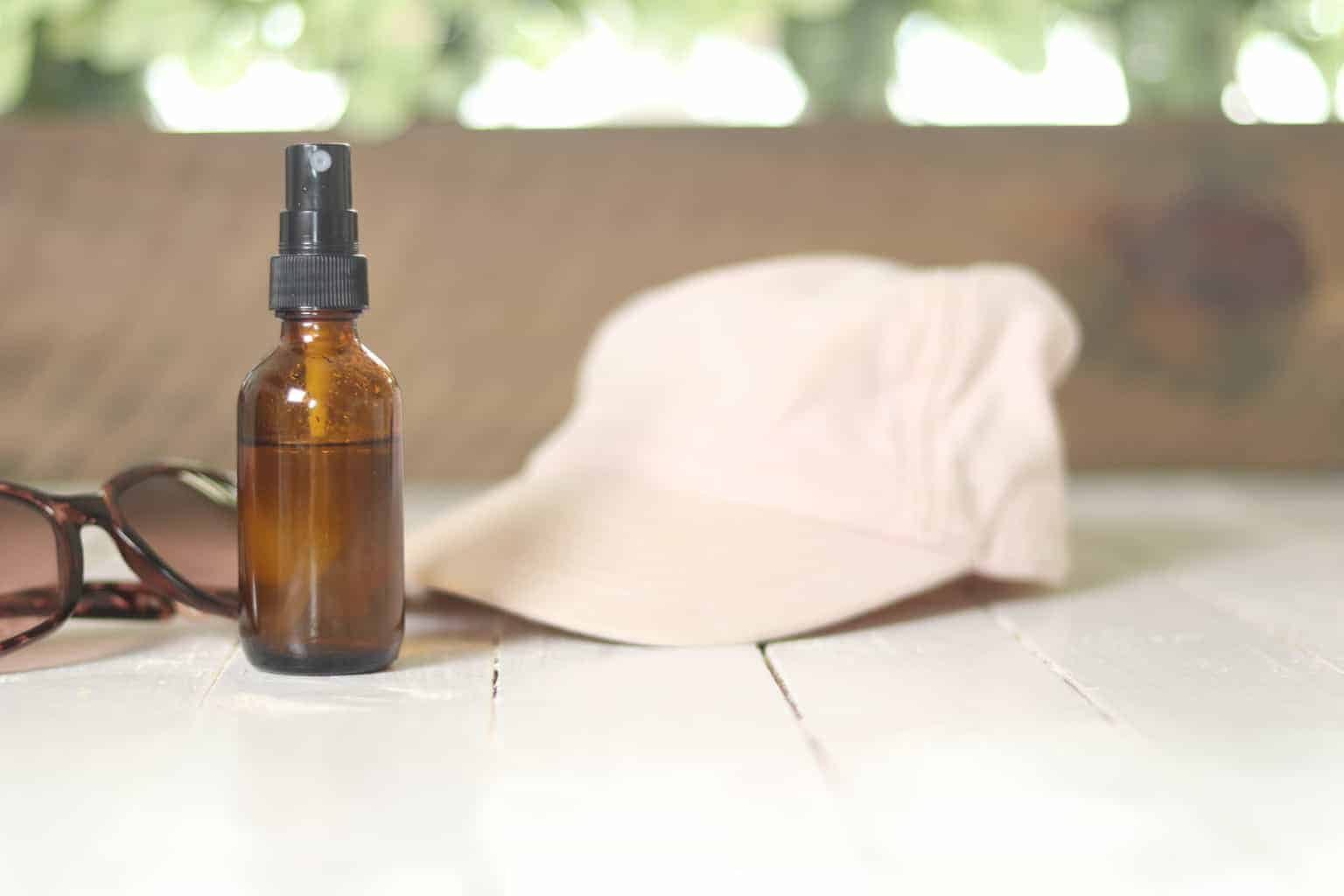 WHY ADD IN ALOE VERA GEL?
Aloe has antibacterial, anti-inflammatory, and moisturizing properties. It has been used as a natural sunburn relief solution for many years.
Studies have shown that aloe can help heal damaged skin and wounds because it improves blood circulation. Aloe can improve collagen production and prevent cell death around a wound. Using aloe will keep the skin moist, which will keep it protected.
It is best to use aloe vera gel rather than aloe vera liquid. The liquid is more intended for internal use. Whereas, the gel is known to be better for skin imperfections.
WHY FRACTIONATED COCONUT OIL?
Adding in fractionated coconut oil will help to soothe and moisturize sunburned skin. Fractionated coconut oil can also help to extend the shelf life of the spray.
Be sure to use fractionated coconut oil in the spray rather than regular coconut oil. Coconut oil will feel really good on sunburned skin, but because it is solid, it won't work in the spray.
You can use jojoba oil, sweet almond oil, avocado oil, olive oil, or any other carrier oil if you prefer.
WHAT ESSENTIAL OILS ARE BEST FOR DIY AFTER SUN SPRAY?
I chose lavender and peppermint for my after-sun spray.
LAVENDER
Lavender reduces the appearance of skin imperfections, and it can soothe occasional skin irritations. Adding lavender to the spray helps to soothe and cleanse the skin.
I keep a bottle of lavender essential oil in my kitchen in case I touch a hot pot or pan. It immediately reduces the burning sensation.
Learn more about lavender essential oil.
PEPPERMINT
Peppermint essential oil is very cooling and feels good on the skin that has been exposed to the sun.
If you are using this spray on a child, you may want to reduce the drops of peppermint. If using high-quality essential oils like these, peppermint can be safe for children. However, if you have sensitive skin, you may want to use it less. You can always add more later!
Learn more about peppermint essential oil.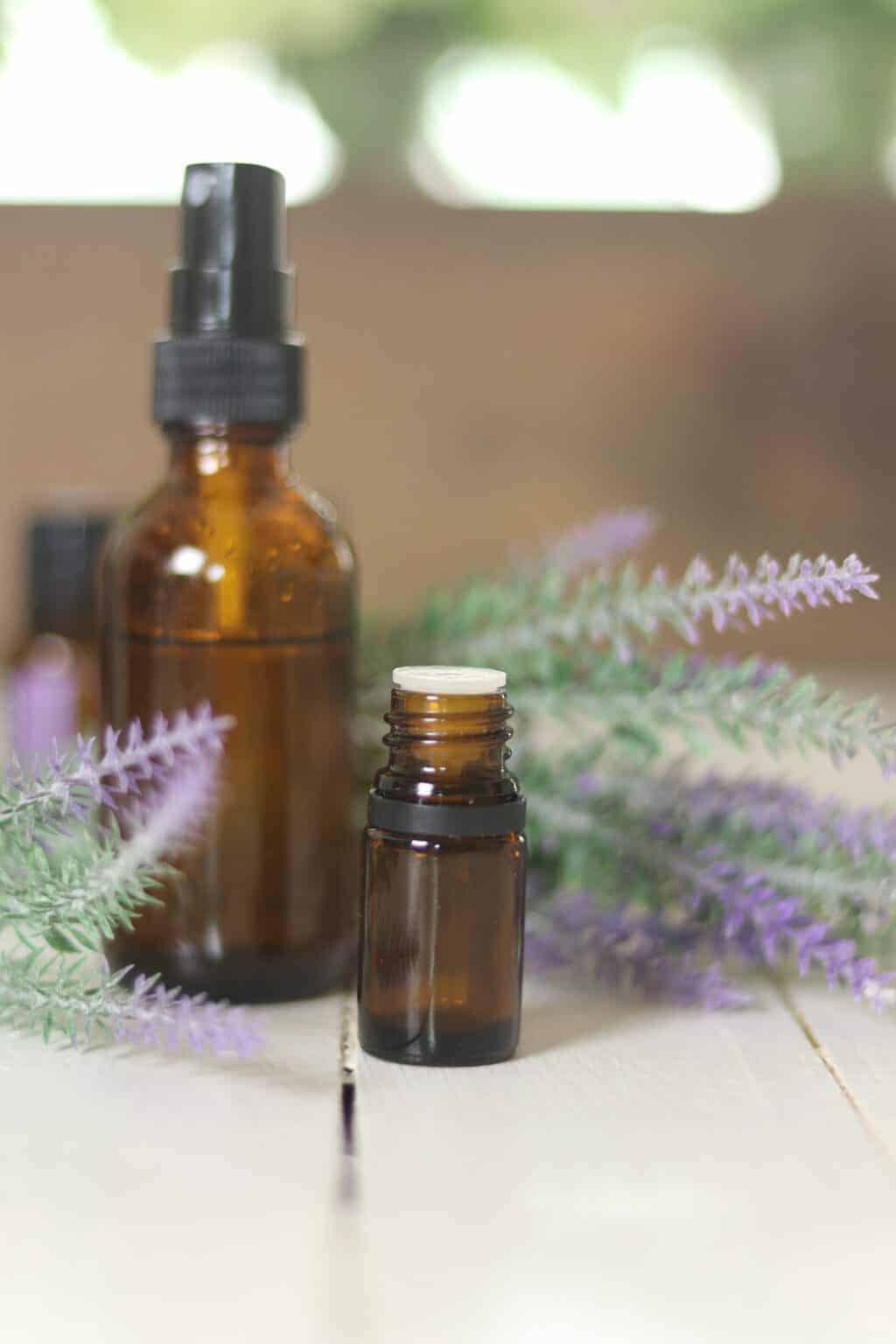 TIPS FOR PROTECTING SKIN FROM THE SUN
As I said earlier, it is important to get some sun exposure. Twenty minutes a day is a great goal! This seems easy, but if you work in an office or go to school, you might have to get creative.
To avoid getting sunburned, try getting your sun exposure during the morning or evening hours. Avoid peak sun hours between 12-2 pm. Of course, these times change throughout the year and depend on where you live.
Cover skin that is more sensitive. Wear a hat and shirt that covers your shoulders.
If your skin is fair or sensitive, try getting your 20 minutes in shifts. Start with 5 minutes at a time.
Use sunscreen when you plan to be outside during peak hours or if you are going to be outside for a long period of time. Check out my homemade sunscreen.
If you work inside, try taking a walk on your lunch break or eating lunch outside. When you run errands, you can park further away from the store, so you have a longer walk in the sun.
MORE TIPS FOR SUNBURNED SKIN
Take a cool shower and let the water soothe the skin.
Apply aloe vera gel. Or cut an aloe plant leaf in half lengthwise, and rub it on the skin.
Massage coconut oil into the skin.
Soak cloths in liquid aloe and lay on the area of concern.
Most sunburns will heal over time, and after-sun spray can be used to help the healing process go faster. In some cases, sunburns are so intense they may need medical attention.
Have you ever made an after-sun spray? Did it help your skin? Share your thoughts in the comments below!
Be sure to check out my new easy-to-apply sunscreen bars.
PRINT THE RECIPE DIY AFTER SUN SPRAY
DIY After Sun Spray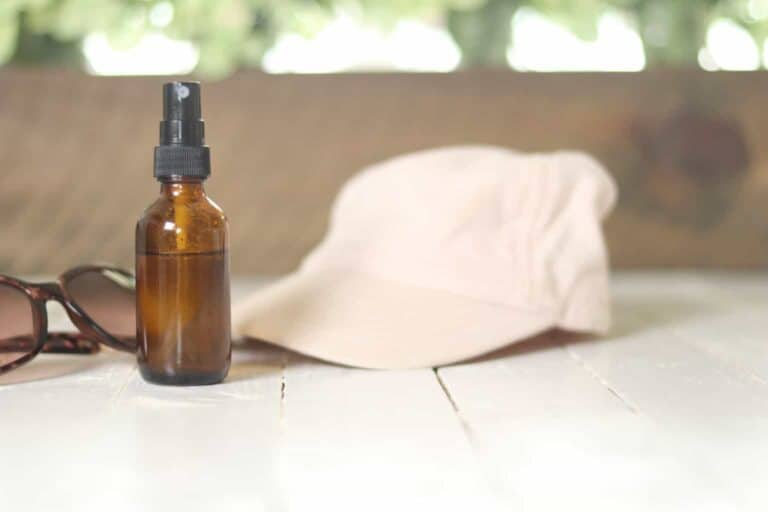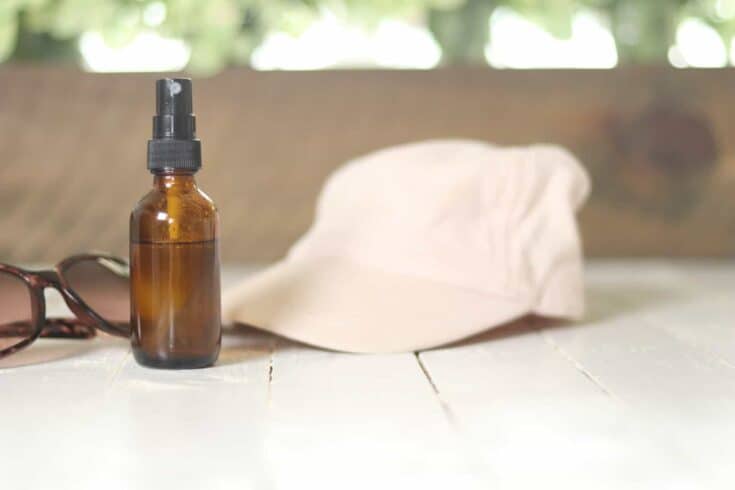 Ingredients
1/2 cup witch hazel
2 tbsp fractionated coconut oil
2 tbsp aloe vera gel
10 drops lavender essential oil
10 drops peppermint essential oil
Instructions
Add all the ingredients into a glass spray bottle and shake until everything is well combined.
Spray on the skin after being outside and exposed to the skin for a long period of time.
Notes
As the mixture sits, the oils will separate from the other ingredients.  Be sure to give it a good shake before each use.