This simple all-natural baby wash recipe is made for babies with sensitive skin, but great for all skin types. Free of synthetic ingredients this foaming body wash is perfect for both your baby's hair and body.

Baby's skin is very delicate and soft; therefore, using a gentle bath wash is very important. You can buy natural options, but I found that making my own is cheaper and it is simple to make.
With a few ingredients, you can whip up this baby wash in just a couple of minutes. We have been using this for our children for over a year, and it works well on their skin and their hair.
HOW TO MAKE ALL-NATURAL BABY WASH
This post contains affiliate links, which means I make a small commission at no extra cost to you. Get my full disclosure HERE.
INGREDIENTS
INSTRUCTIONS
Add all the ingredients to the foaming soap container and top off with water.
Shake before each use to combine the ingredients.
This do-it-yourself baby wash is very foaming, and a little goes a long way. I like to get about a quarter-sized amount on the palm of my hand and lather it up before rubbing it onto the youngster's body and hair. Keeping out of eyes, rinse thoroughly. This is suitable for both kids and babies but keep away from the eyes. This is not tear-proof.
A LITTLE ON THE INGREDIENTS
CASTILE SOAP
Castile soap is a very concentrated, vegetable-based soap. It is typically made out of olive oil or coconut oil. It has natural antibacterial properties that can help kill infections on the skin, and it is known to help with skin imperfections, like acne.
Castile soap is a gentle soap that can be used on sensitive skin, and it is very good for the face. You can buy scented or unscented castile soap, I prefer unscented, so I can scent it how I want with my essential oils.
GLYCERIN
Glycerin is a vegetable-based, odorless, clear liquid. It will add thickness to the baby wash that will allow it to lather up better. Glycerin is a natural moisturizer and will allow your baby's skin to stay smooth and soft.
FRACTIONATED COCONUT OIL
Fractionated coconut oil (FCO) is a very light oil that has many benefits for the body. FCO is different from regular coconut oil because it stays liquid. It prevents oxidation, making it effective for extending the shelf life of natural products.
You can also use sweet almond oil, avocado oil, jojoba oil, or olive oil in this recipe. Using a carrier oil will add extra moisture to the baby wash.
ESSENTIAL OILS
Essential oils not only add scent but they also add therapeutic benefits. Several essential oils, like lavender, are great for the skin and can help with skin imperfections.
I shared a few different blends of essential oils you can use below, but I mainly stick to lavender and Roman chamomile for their calming and soothing effects on the baby.
If you prefer to make your baby wash unscented, you can omit the essential oils.
If you're new to essential oils, check out this post on how to use essential oils on kids.
ESSENTIAL OIL BLENDS FOR ALL NATURAL BABY WASH
CALMING
Lavender + Roman Chamomile
CLEAR SKIN
Frankincense + Lavender + Melaleuca
CITRUS BLISS
Wild orange + Lemon + Lime
GENTLE
Ylang ylang + Geranium + Fennel
WHY HOMEMADE ALL NATURAL BABY WASH
CHEAP- The main ingredient of this soap is water because castile soap is so concentrated. I like to buy a 32-ounce bottle of castile soap and keep it under my sink for all my hand soaps, body wash, and other DIY products. It will last me for such a long time because I use such a small amount. Making your own baby wash is much more cost-effective than buying a natural option at the store.
SAFE- Knowing what goes on my baby's skin is very important to me, so making my own baby wash makes it easy for me to know what is in it. You can customize this soap to make it the best for your baby's skin.
SIMPLE- I will admit that bar soap making sounds very daunting to me (I am sure I'll do it eventually), but making a liquid foam soap is so simple. It is as easy as pouring a few ingredients into a bottle and shaking it up.
WHERE TO BUY ALL NATURAL BABY SOAP
Have I convinced you to make your own soap yet? Are you simply not a DIYer and would just rather buy your baby wash? Here are a few great options that I had used in the past before I decided to make my own.

All Natural Baby Wash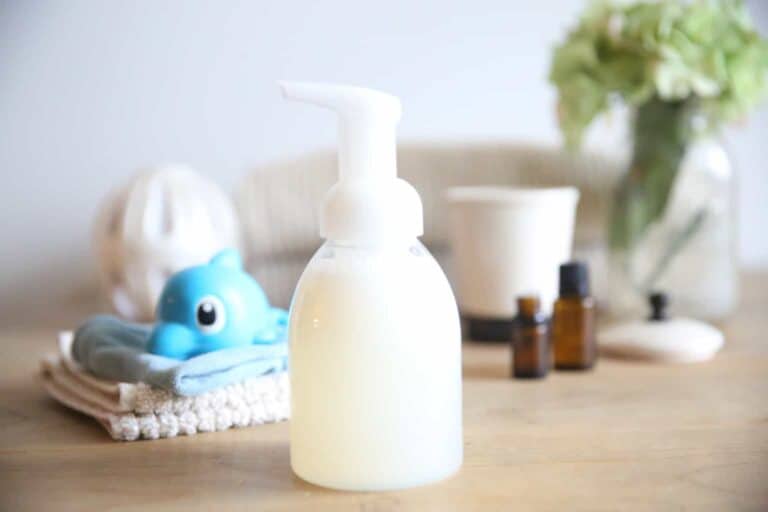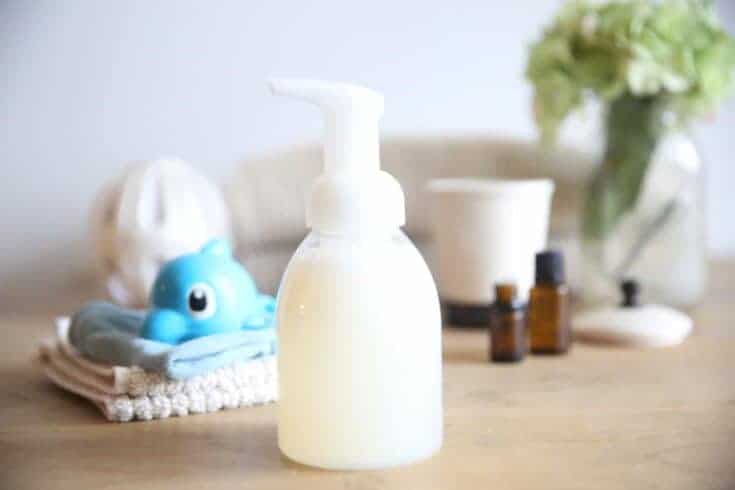 A gentle, soothing baby wash made with all-natural ingredients.
Ingredients
1/4 cup castile soap
1 tbsp glycerin
1 tsp fractionated coconut oil
5 drops lavender essential oil
3 drops Roman chamomile essential oil
10-ounce foaming soap container
Instructions
Add all the ingredients to the foaming soap container and top off with water.
Shake before each use to combine the ingredients.
Lather up a quarter-size amount of body wash and apply to hair and body.
Notes
Keep away from eyes. This baby wash is not tear-proof.
My Other Favorite Kids DIY's