Save money while living more sustainably with these DIY cleaning wipes. Reusable cleaning wipes are gentle, safe, and non-toxic.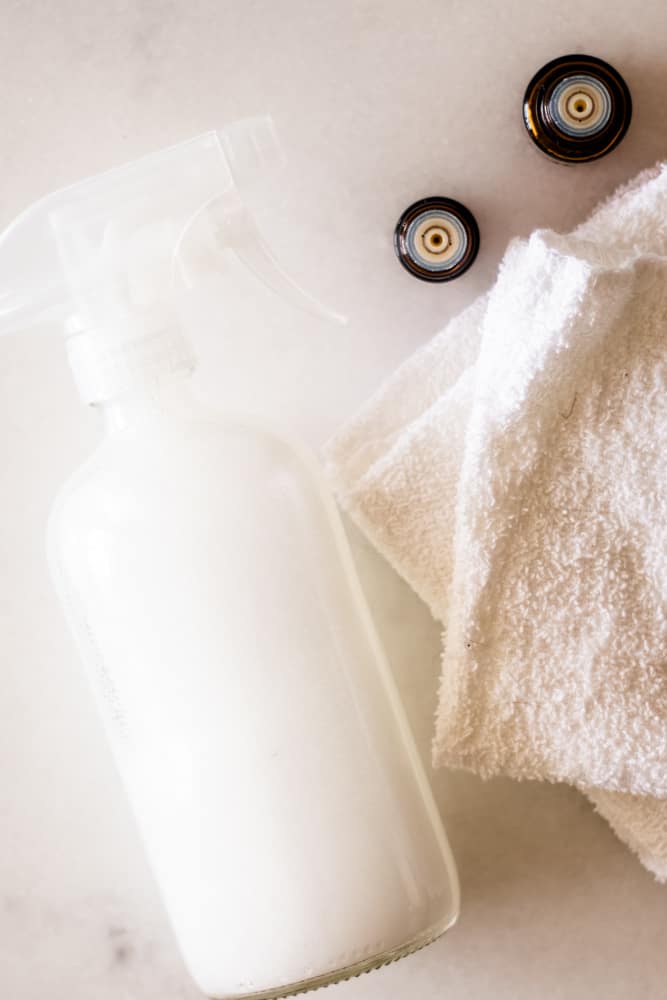 Reuseable Cleaning Cloths
It is hard to believe how many disposable wipes/paper towels we could go through in a day—wiping down tables and chairs after mealtime, cleaning countertops, disinfecting bathroom vanities and toys, or even removing makeup.
I know it's not practical to live without waste, but I try to do my best to make products that are either eco-friendly or at least reduce the use of using wasteful products; as much as possible.
That is why I decided to make these DIY cleaning wipes. They are essentially an all-purpose reusable cleaning wipe. Great for kitchens, bathrooms, playrooms and even for yourself.
These reusable cleaning cloths are perfect for cleaning toys. I used to make cleaning cloths for toys because a lot of our kids' toys came from local thrift shops.
And since they put everything in their mouths, wiping the toys down first was a must.
Because those cleaning cloths were not reusable, we ended up going through quite a few disposable cloths before I was able to make reusable homemade cleaning wipes.
So you can feel confident when your child puts their toy in their mouth, which they inevitably will, that the ingredients used to clean it were all-natural and non-toxic.
Even if you don't have kids, think about wiping down frequently touched items like your phone, doorknobs and faucet handles.
Cloth Wipe Solution
I love having these cleaning wipes available for my family to use. Having safe, natural alternatives allows all my kids to help on cleaning day and I don't have to worry about them being exposed to harmful chemicals.
This post contains affiliate links, which means I make a small commission at no extra cost to you. Get my full disclosure HERE.
For this cloth wipe solution, you will need:
How to Make Reusable Cleaning Wipes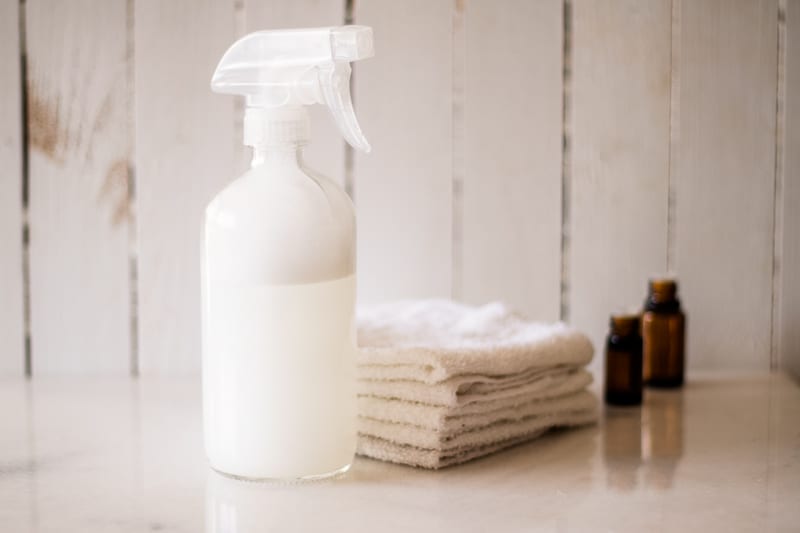 Combine the solution in a bowl, mixing well.
Add the ingredients to the container, either an old baby wipes container or a mason jar.
Fold and stack washcloths to the size of the container you are using.
Gently place the washcloths into the container until fully submerged.
Seal container.
All-purpose spray alternative
Sometimes a quick spray is enough to get the job done. Simply add the solution into a glass spray bottle. Shake well, and it's ready to use—mist directly onto the surfaces needing cleaning and wipe with a washcloth.
What makes a good reusable cleaning cloth
For your cleaning wipes, you can use new cloths or repurpose old t-shirts. Some of the best cloths for cleaning are 100% cotton, so cutting up old t-shirts is a great option.
Other materials that are good for cleaning include microfiber or sponge cloths. Microfiber helps to lift and remove dirt, grease, grime, and bacterias.
When choosing a material for your reusable cleaning wipe, make sure it is flexible and absorbent.
Sustainable Cleaning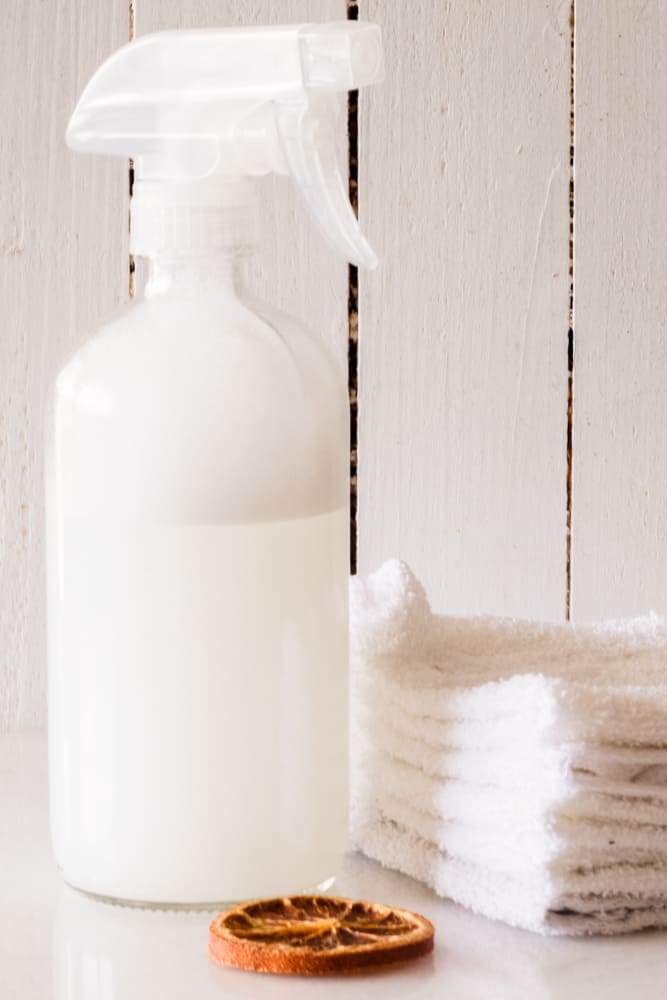 The ingredients needed to make these cleaning cloths are a great way to make your cleaning routine more sustainable.
Using reusable wipes, refillable spray bottles, and natural cleaners will cut down on product waste and toxins within your home.
Warm Water
The first ingredient for this cleaning product is water. It is best to use distilled or filtered water. Using regular tap water will decrease the shelf life and may make the product less effective.
The minerals found in hard water or tap water can leave streaks and a white coat on items you are cleaning. If you don't have access to distilled water, fill a pot with tap water, bring it to a boil, let it cool completely before using.
Fractionated Coconut Oil
This recipe calls for fractionated coconut oil, but any carrier oil will do. A carrier oil is a vegetable-based oil that is used to dilute essential oils.
Common carrier oils include fractionated coconut oil, jojoba oil, almond oil, olive oil, and rosehip oil. The added carrier oil will help add shine to the item you are cleaning.
Essential Oils
The essential oils added into the recipe will make the cleaning solution cleansing and purifying. When used on surfaces, wild orange, lemon, and clove will provide a non-toxic and biodegradable way to clean.
These specific oils in this cleaning solution provide natural protection against environmental threats and leave behind a fresh aroma.
Castile Soap
I love using Castile soap for cleaning. I find it helpful for removing stains, perfect for hand soap, and even for shampoo. Seriously, I buy this stuff by the gallon!
Castile soap is a natural soap that is vegetable-based and very concentrated. Therefore, a small amount goes a long way, making it very cost-effective.
You can purchase castile soap unscented or scented; I personally prefer to buy it unscented and then scent it with essential oils.
Sustainable Cleaning Products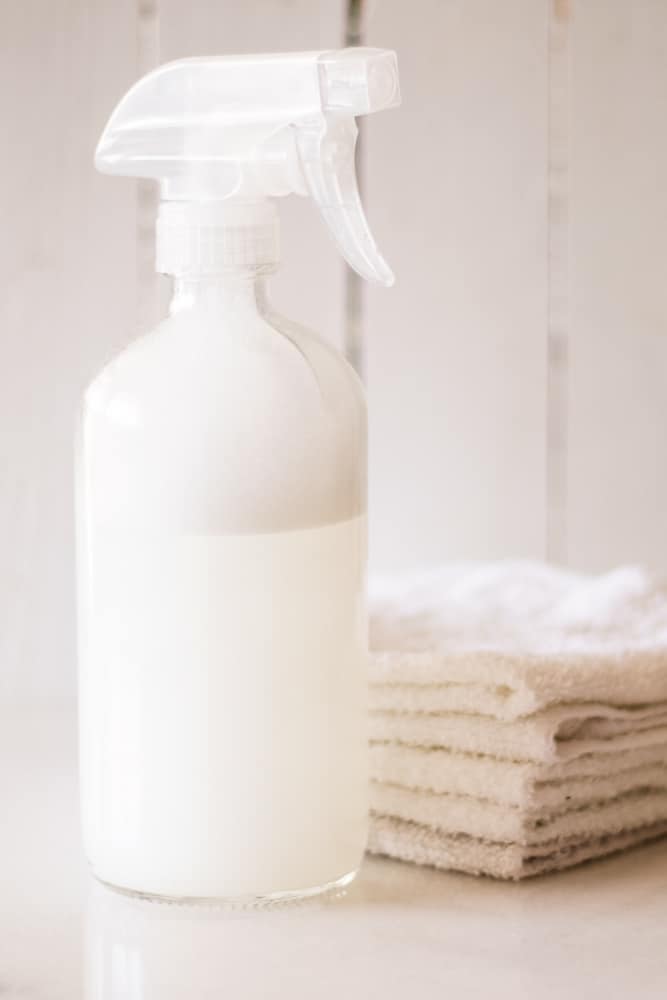 Almost always, making your own cleaning products will be more sustainable than buying them from the store. Make sure to use products that you can reuse or recycle.
Natural and Eco Friendly Cleaning List
Vinegar
Baking Soda
Castile Soap
Essential Oils
Reusable wipes or cloths
Glass spray bottles
Natural Cleaning Wipes
You can find natural cleaning wipes at the store, but like most "natural" things, they are going to be more expensive than regular. I put natural in quotes because the other issue is that most natural things from the store are not actually natural.
This is known as greenwashing. Greenwashing is when companies convey false impressions or misleading information about their product being natural or more environmentally friendly.
Unfortunately, this happens often and we end up paying more for a product that really isn't any better than the conventional item sitting right next to it on the shelf. This is why making your own cleaning products is almost always the better option.
Homemade Clorox Wipes
Believe it or not, before I started on my natural, toxic-free journey, I loved Clorox wipes. I used them in my home all the time and never passed the station at the grocery store without grabbing one and wiping down my cart.
Over the years of researching, I realized how easy it was to make my own cleaning wipes with natural ingredients and essential oils.
Using the recipe in this post, I was able to replace my beloved Clorox wipes with a much healthier and more sustainable option.
If you're looking for more great reads, try these homemade baby wipes next.
Yield: 16 ounces
Reusable Cleaning Wipes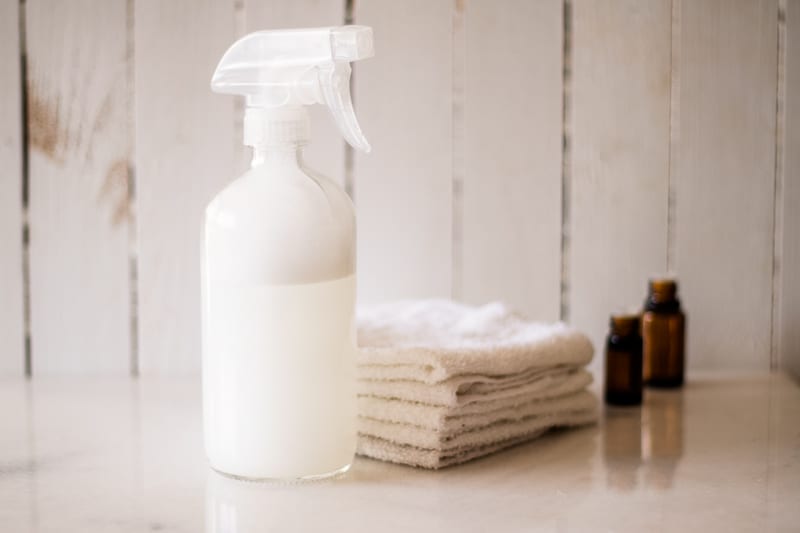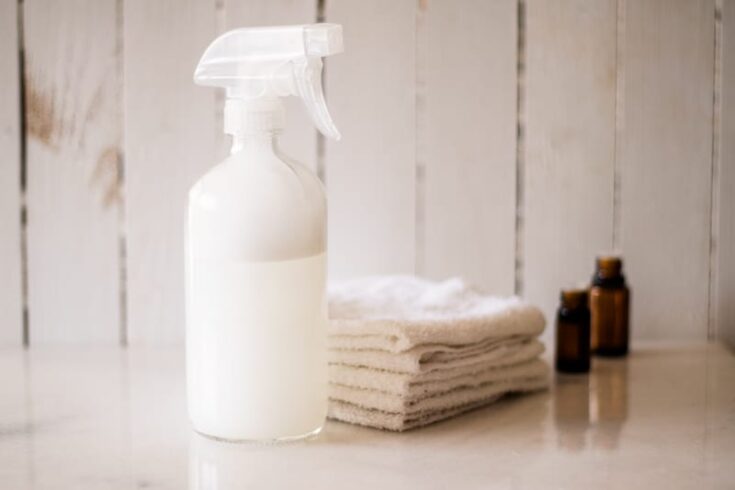 Save money while living more sustainably with these DIY cleaning wipes. Reusable cleaning wipes are gentle, safe, and non-toxic.
Materials
2 cups warm water
2 tablespoons fractionated coconut oil
3 drops wild orange essential oil
2 drops lemon essential oil
2 drops clove essential oil
1 tablespoon of Castile soap
Cleaning cloths
Tools
Container (an old baby wipes container or mason jar will work well)
Instructions
Combine all ingredients in a bowl or directly into the storage container. Stir well.
Fold 5-8 wipes until they are approximately the size of the container.
Stack the wipes, then place them into the container, fully submerging in the solution.
Seal container.