Simple homemade hair detangler for kids and adults. This DIY hair detangler spray makes brushing long hair much easier, and it's all-natural. Made with essential oils for healthy hair growth.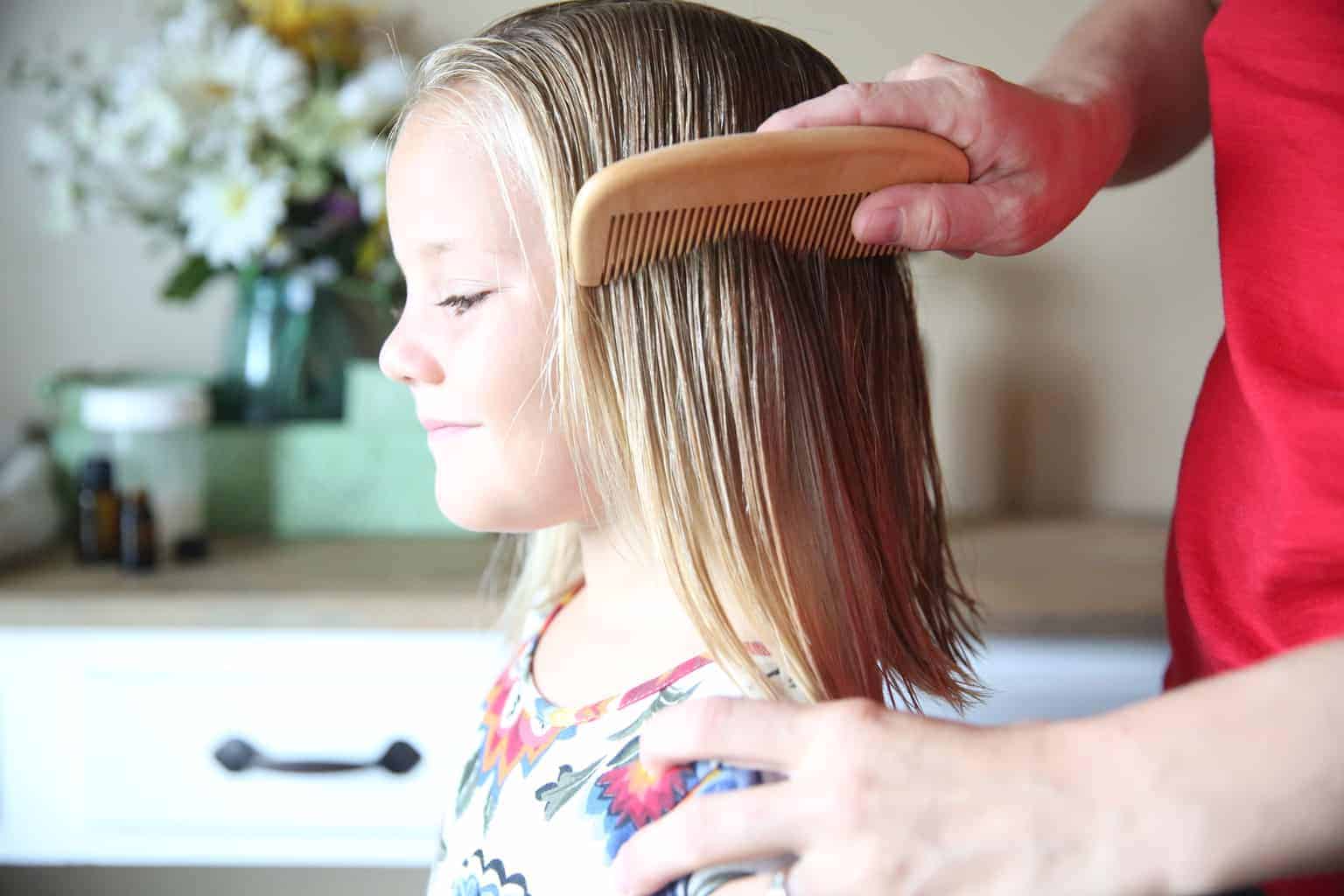 My daughter has a sensitive head and wants hair as long as Repunzel. As you can imagine, doing her hair involves a lot of frustration and tears. I threaten to cut it all the time.
Then I remembered when I was a kid, my mom sprayed detangler spray in my hair before she styled it. Thanks, mom! Why didn't I think of that?
Like most things in my home, I started experimenting and making up concoctions until I found what worked. I'm excited to share this homemade hair detangler spray recipe with you and hope it makes for a less stressful morning, as it has for us!
This post contains affiliate links, which means I make a small commission at no extra cost to you. Get my full disclosure HERE.
DIY HAIR DETANGLER SPRAY INGREDIENTS
DIY HAIR DETANGLER SPRAY INSTRUCTIONS
Add all the ingredients together in a glass spray bottle.
Shake until all ingredients are well combined and mixed.
Spray liberally into wet or dry hair before brushing.
BEST ESSENTIAL OILS FOR DIY HAIR DETANGLER SPRAY
Lavender– Studies have shown that lavender produces more hair follicles to help thicken and strengthen hair. Lavender has a beautiful floral smell that can promote calmness and relaxation.
Ylang Ylang– The floral smell of ylang ylang can make a perfect addition to your detangler. It has many benefits for the hair and smells lovely paired with lavender.
Rosemary– Rosemary essential oil is the top oil for hair growth and thickness. It helps to treat dry hair as well as overly oily hair and can help prevent split ends.
Melaleuca– Melaleuca promotes a healthy, clean-looking scalp. It can be used to help with a dry, itchy scalp and protect against lice.
Juniper Berry– The fruity scent of juniper berry is perfect for a kids detangler spray. Some of its benefits include helping with oily hair and strengthening brittle strands.
Lemon– Great for greasy hair and hair growth; lemon is another good one to add to this spray. Lemon helps stimulate circulation in the scalp for increased hair growth.
ABOUT THE INGREDIENTS IN DIY HAIR DETANGLER SPRAY
Apple Cider Vinegar
Apple cider vinegar (ACV) is popular in the kitchen and is known as a health food. It's made from apples using a fermentation process, enriching it with live cultures, minerals, and acids.
We have been using ACV in our salads and broth for quite some time. However, I am just discovering all the amazing benefits it has for our bodies too. ACV has a ton of benefits for our hair and skin. Therefore it is a great component for the detangler spray.
It can improve scalp health, strengthen hair, and enhance shine. It is loaded with vitamins B and C, both of which are needed for hair health.
Jojoba Oil
This oil is very nourishing, therefore moisturizing for the hair. Studies have shown that jojoba oil can help with hair growth, thickness, and dandruff.
The vitamins in jojoba oil can help restore and condition hair. Jojoba oil has a mild smell, so when it is mixed with essential oils, you will smell the essential oil over the jojoba oil.
I find that jojoba oil doesn't stain clothes. Like other oils, it can make a good option for the detangler spray, especially for kids. Jojoba penetrates the scalp and is a great option for anyone with ultra-sensitive skin. Hence, my favorite oil to use.
Fractionated coconut oil
This popular oil is a great addition to natural hair care. Similar to regular coconut oil, it can promote hair growth and thickness.
Applying coconut oil to your scalp will help to prevent dandruff, fungus, and dry, flaky skin.
Essential Oils
Essential oils are very beneficial for our bodies, health, skin, and hair. I listed our favorite essential oils for hair above and what they can do for you.
Adding essential oils adds benefits and scent to the detangler spray. If you aren't a fan of a vinegar smell, then be sure to add essential oils to cover it up. You can mix it up and try different blends. Our favorite blend is lavender, juniper berry, and lemon. I love the way it makes my daughter's hair smell, and she likes it too.
ABOUT THE INGREDIENTS IN STORE BOUGHT DETANGLER SPRAY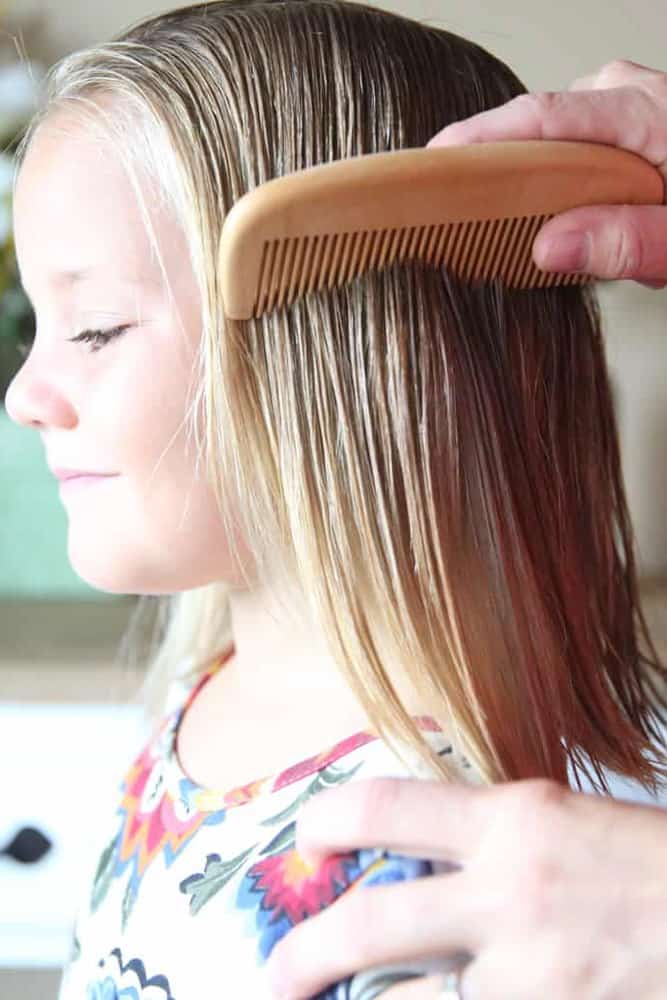 Polysorbate 20– Polysorbate is a harmless sorbitol, which is a sugar alcohol. However, for its use in personal care products, it's treated with ethylene oxide, hence the name "polysorbate 20," because it's treated with 20 parts of ethylene oxide. The problem with any ingredient that is treated with ethylene oxide is that it can then become contaminated with 1,4-dioxane. 1,4 dioxane is a potentially dangerous by-product, and studies have shown it to cause cancer in animals. Unfortunately, the amounts found in our personal care products are much higher than the amounts found to cause cancer in animals.
Fragrance – Fragrances can cause allergic reactions, contain hormone disturbers, carcinogens, and linked to damage sperm. Use your essential oils instead for a natural alternative and for its health benefits.
Cetrimonium Chloride– Cetrimonium chloride is a topical antiseptic and surfactant. It is also commonly used in hair conditioners and shampoos as a conditioning agent. It can cause skin irritations.
PRE-MADE NATURAL HAIR DETANGLER OPTIONS
CHECK OUT MY OTHER DIY RECIPES
Have you ever made an all-natural detangler spray? What ingredients did you use? What essential oil blend was your favorite? I would love to hear from you!
PIN IT FOR LATER
Follow along with our oily house: