Learn how to make a nourishing hair serum with this simple DIY recipe. With a few all-natural ingredients, you can whip this up in less than 15 minutes!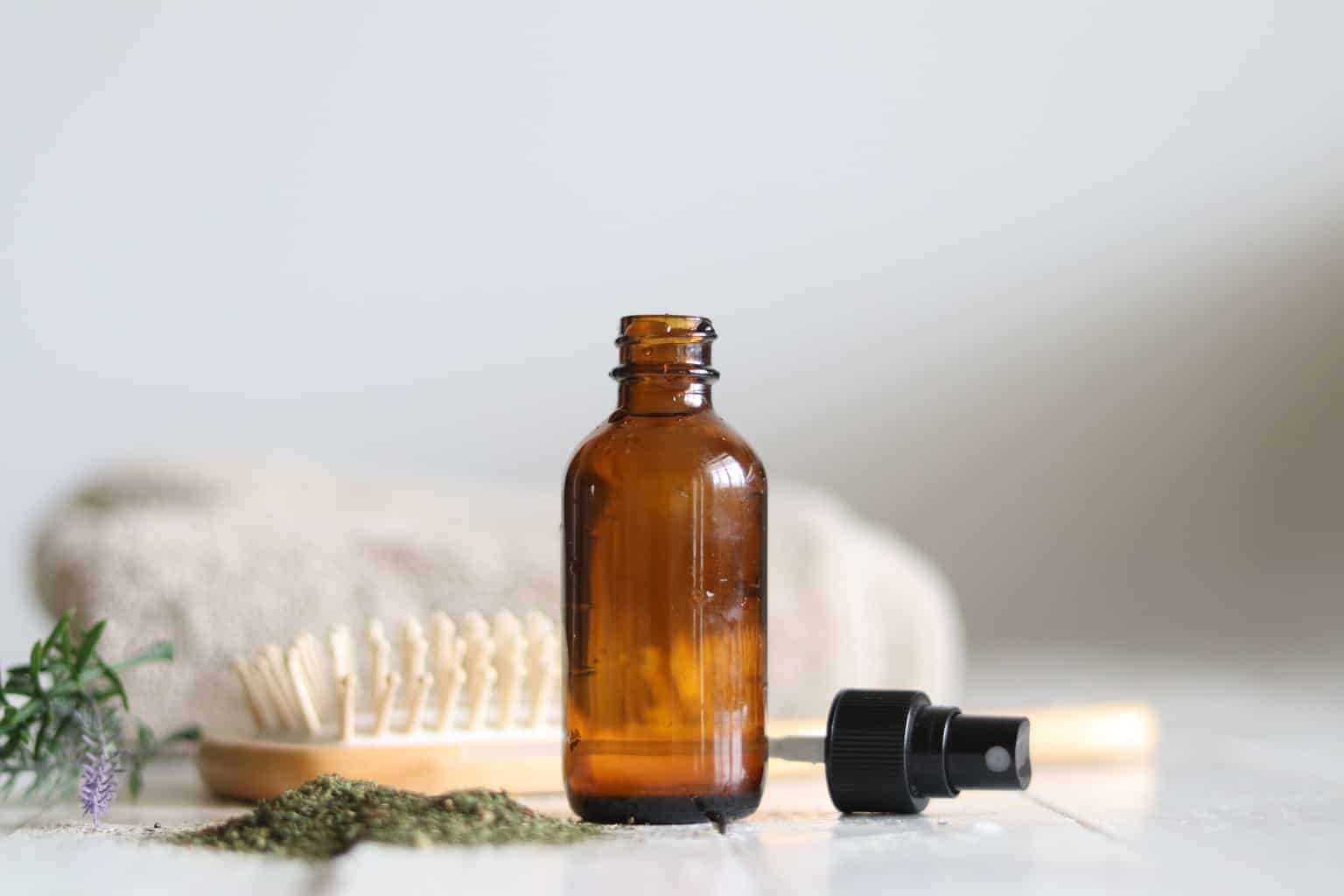 I love making natural hair products because I know exactly what is in them, and they are almost always cheaper. Most hair products from the store are loaded with toxins and chemicals that I rather not have in my home and certainly not put on my body.
You can find natural options at the store, but not without a hefty price tag! If you want to go the natural route, you might as well DIY it.
I already shared my homemade shampoo and homemade conditioner recipe with you, and today I am sharing my favorite hair serum.
This post contains affiliate links, which means I make a small commission at no extra cost to you. Get my full disclosure HERE.
HOW TO MAKE A NOURISHING HAIR SERUM
INGREDIENTS
1 cup of water
1 tablespoon dried nettle ( Find it here.)
2 tablespoon aloe vera (Find it here.)
1/2 teaspoon jojoba oil (Find it here.)
5 drops rosemary essential oil
5 drops lavender essential oil
3 drops sandalwood essential oil
Glass or stainless steel spray bottle
INSTRUCTIONS
Bring the water to a boil, add nettle, and remove it from the heat.
Steep for 5-10 minutes and then strain the water. Discard the nettle.
Pour the nettle water into the spray bottle using a funnel.
Allow to cool, and then add the rest of the ingredients.
Store in the refrigerator for up to 4 months.
HOW TO USE YOUR HAIR SERUM
You can apply the serum to wet or dry hair. Apply as often as needed. If you have really dry, damaged hair, you may want to use it daily. Spray the serum all over the hair, starting with the roots and working your way down to the ends. Allow the serum to soak into the hair and then style hair like normal; no need to rinse out.
I find it best to use the serum at night time before going to bed.
ABOUT THE INGREDIENTS
NETTLE – Nettle has amazing properties for the hair. It can protect against hair loss, promote your hair to grow, and thicken.
ALOE VERA- Aloe can reduce dandruff by repairing dead skin cells on the scalp and leave your hair fuller and shinier.
JOJOBA OIL – Jojoba oil is often used as a natural remedy for dandruff because of its moisturizing properties. Using jojoba can also prevent hair loss and help hair to thicken.
ROSEMARY- Adding rosemary to your daily hair care routine can help your hair grow, thicken, and prevent hair loss.
LAVENDER-Lavender produces more hair follicles to help thicken and strengthen hair. Lavender has a beautiful floral smell that can promote calmness and reduce stress; stress can be the biggest reason for hair loss.
SANDALWOOD- Sandalwood can be nourishing to the hair, and like the other essential oils, it can promote hair growth and thickness.
OTHER ESSENTIAL OILS THAT ARE GOOD FOR HAIR
Peppermint
Cedarwood
Tea Tree
Bergamot
Roman Chamomile
MORE DIY HAIR PRODUCTS YOU MAY WANT TO CHECK OUT
PIN IT FOR LATER