Maybe you thought you had every hair product you would ever need. But then there's this product called hair serum; it's easy to make, protects the hair from environmental damage, reduces unwanted frizz, and promotes natural shine. To learn how to make a nourishing hair serum, try out the recipe below.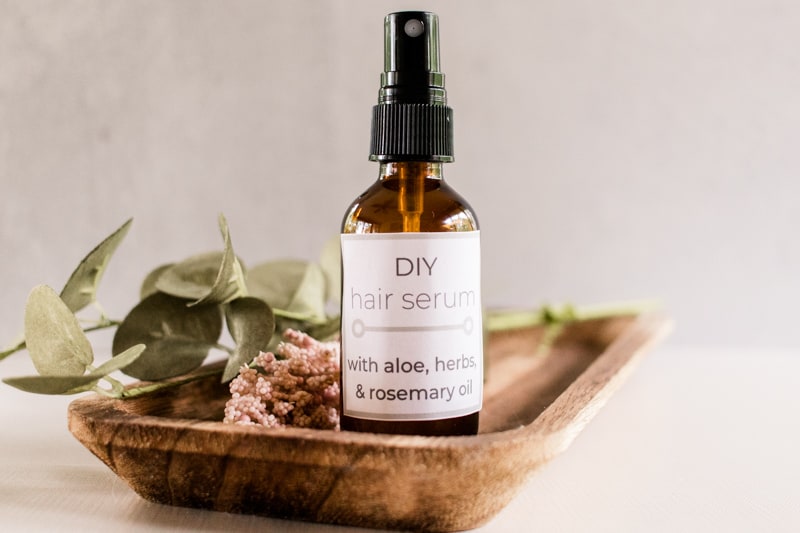 This post was originally published on March 29, 2019
What is hair serum & what does hair serum do
Hair serum is a liquid solution, usually with a water base, that is used primarily as a styling product. It's not so much a hair spray where it provides a firm hold, but more of provides a light coating to soften the hair in order to smooth out frizz.
Many hair serums provide a layer of protection over the hair strands as well to protect against environmental damage.
How does hair serum differ from hair oil
Hair serum differs from hair oil in that hair serum is more for styling while hair oil is primarily used to provide nourishment and hydration to the hair and scalp.
A lot of different hair serums, this one included, really enhance the hair's natural color and promote shine without leaving a greasy finish.
Many serums also provide some level of sun protection. While some sun is good for the hair, over-exposure to the sun can cause dry, brittle hair, prone to breakage and split ends.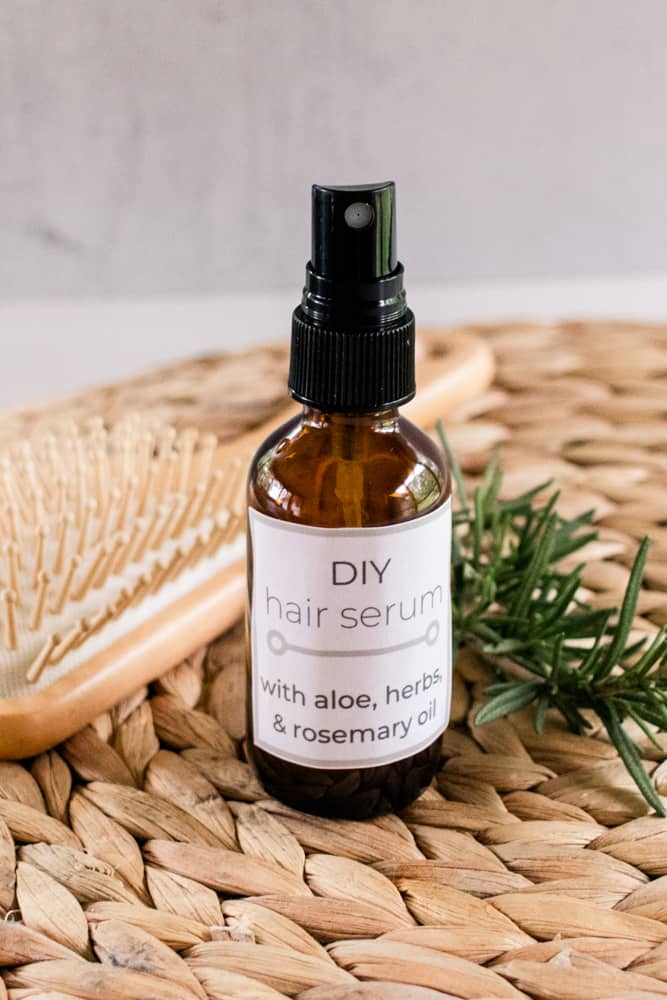 can we use hair serum daily
Apply hair serum as often as you need it. However, most experts recommend using hair serum only after washing your hair, or 3-4 times a week.
Most hair types will not need a hair serum every day. Limit use to an as-needed basis. If you have extremely frizzy hair that can't be contained, then use the serum more frequently.
This post contains affiliate links, which means I make a small commission at no extra cost to you. Get my full disclosure HERE.
How to make hair serum at home
INGREDIENTS
Glass or stainless steel spray bottle
INSTRUCTIONS
Bring the water to a boil, then add nettle to steep for 5-10 minutes.
Strain the tea, then use a funnel to pour it into the spray bottle. (make sure the tea has cooled before adding it to the glass bottle)
Stir in the remaining ingredients.
Secure the lid and shake well before using it.
Store in the refrigerator for up to 4 months.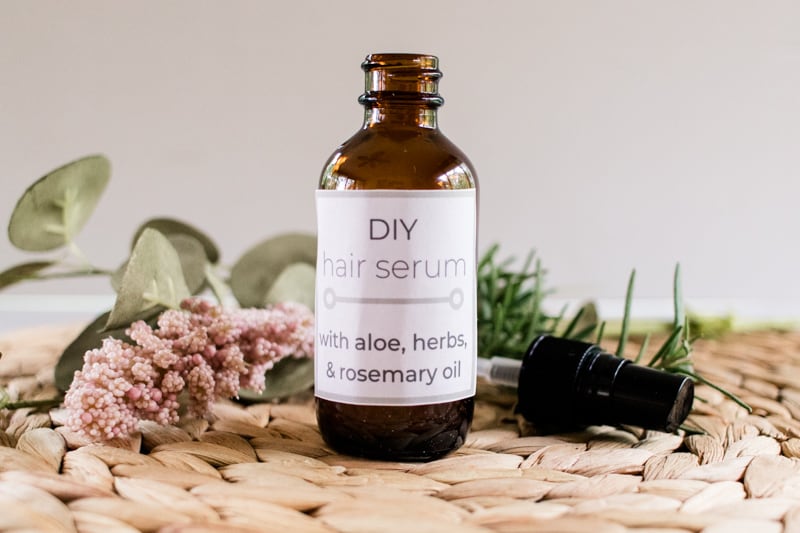 How to use hair serum
Apply the hair serum to wet or dry hair, preferably after showering. Your hair type will determine how often you will need this product.
Lightly mist the serum over the hair. Then, use your fingertips to coat the hair, starting at the base and working your way to the ends.
Give this homemade hair serum some time to soak into the hair and then style like normal. There is no need to rinse it out.
I use this serum in the evening before bed, followed by a quick brush in the morning. (which is about all I have time for most mornings!)
Related: Say bye to greasy hair with this cornstarch dry shampoo.
Homemade hair serum ingredients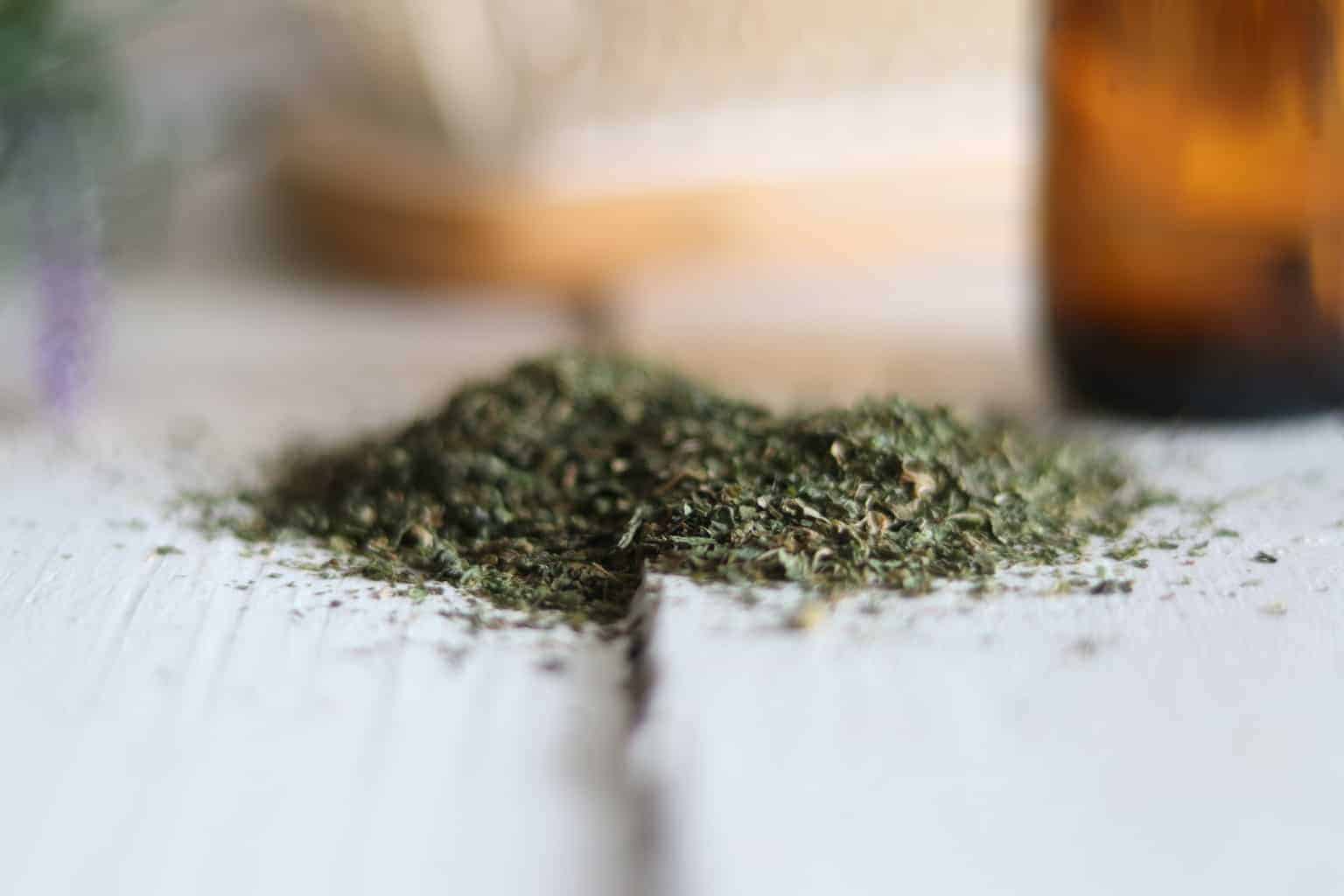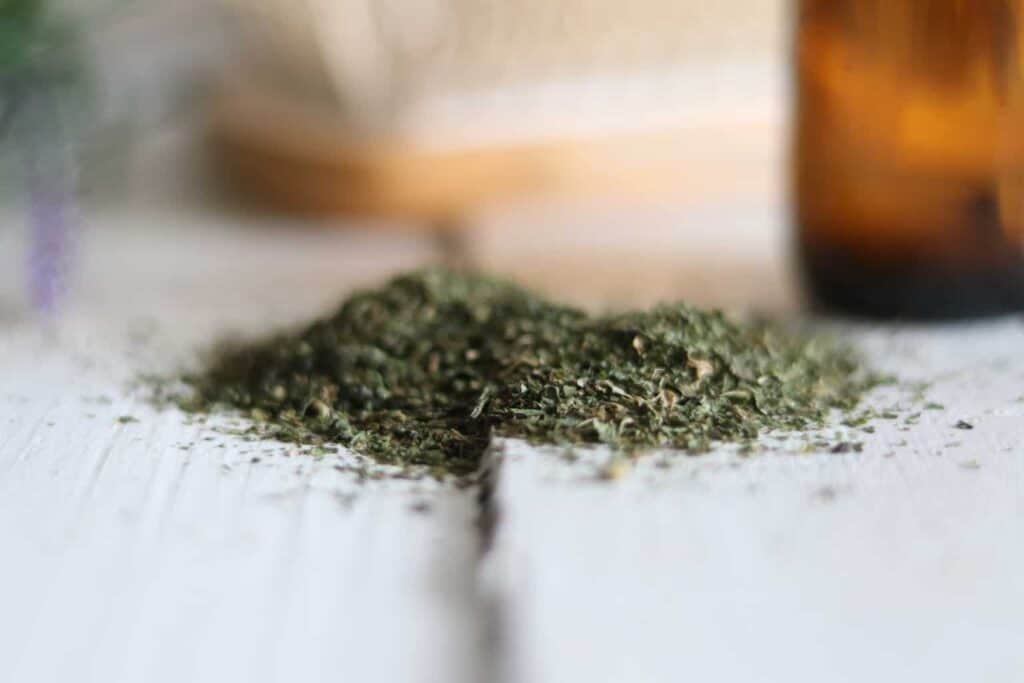 Other oils that benefit the hair include:
Peppermint
Cedarwood
Tea Tree
Bergamot
Roman Chamomile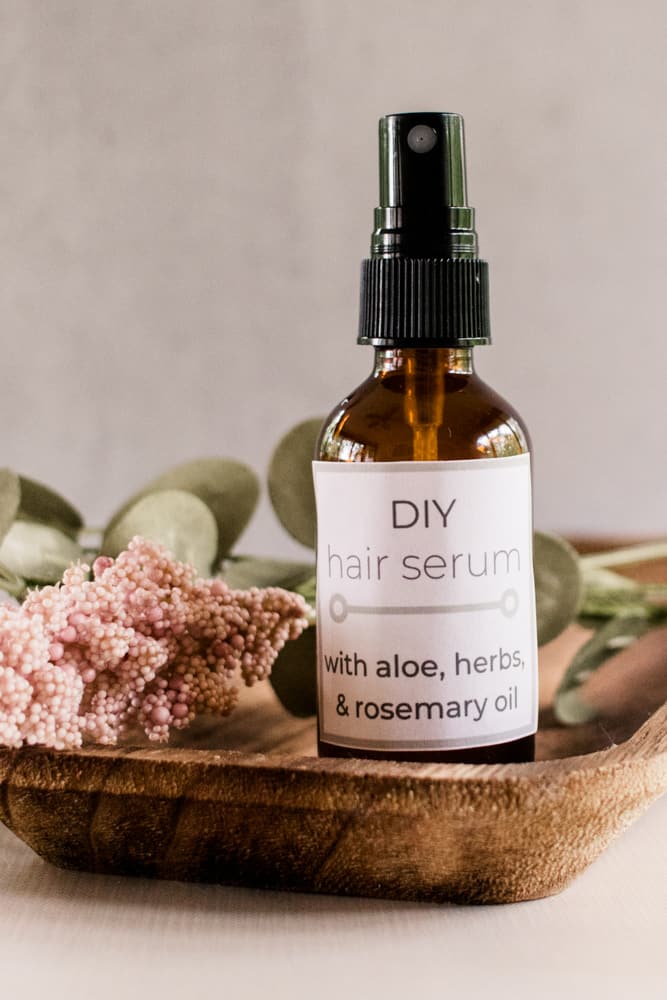 Natural hair care & picking the right serum
I love making natural hair products because I know exactly what is in them, and I am able to save SO much money by doing so.
Because a plethora of hair products are loaded with toxins and chemicals that are harsh and damaging to the body, when I do buy skin care or hair care products, I try and make sure the product I am buying is environmentally friendly, organic, and contains only natural ingredients.
Many natural hair care products contain many similar ingredients, which help keep costs down overall. You will find many of these ingredients in this shampoo and even hair conditioner recipe.
Key takeaways:
Homemade hair serum is simple to make, using minimal ingredients.
The added aloe will help protect the hair from UV damage.
This homemade hair serum works for all hair types, including men's hair.
For best results, only apply hair serum on clean hair.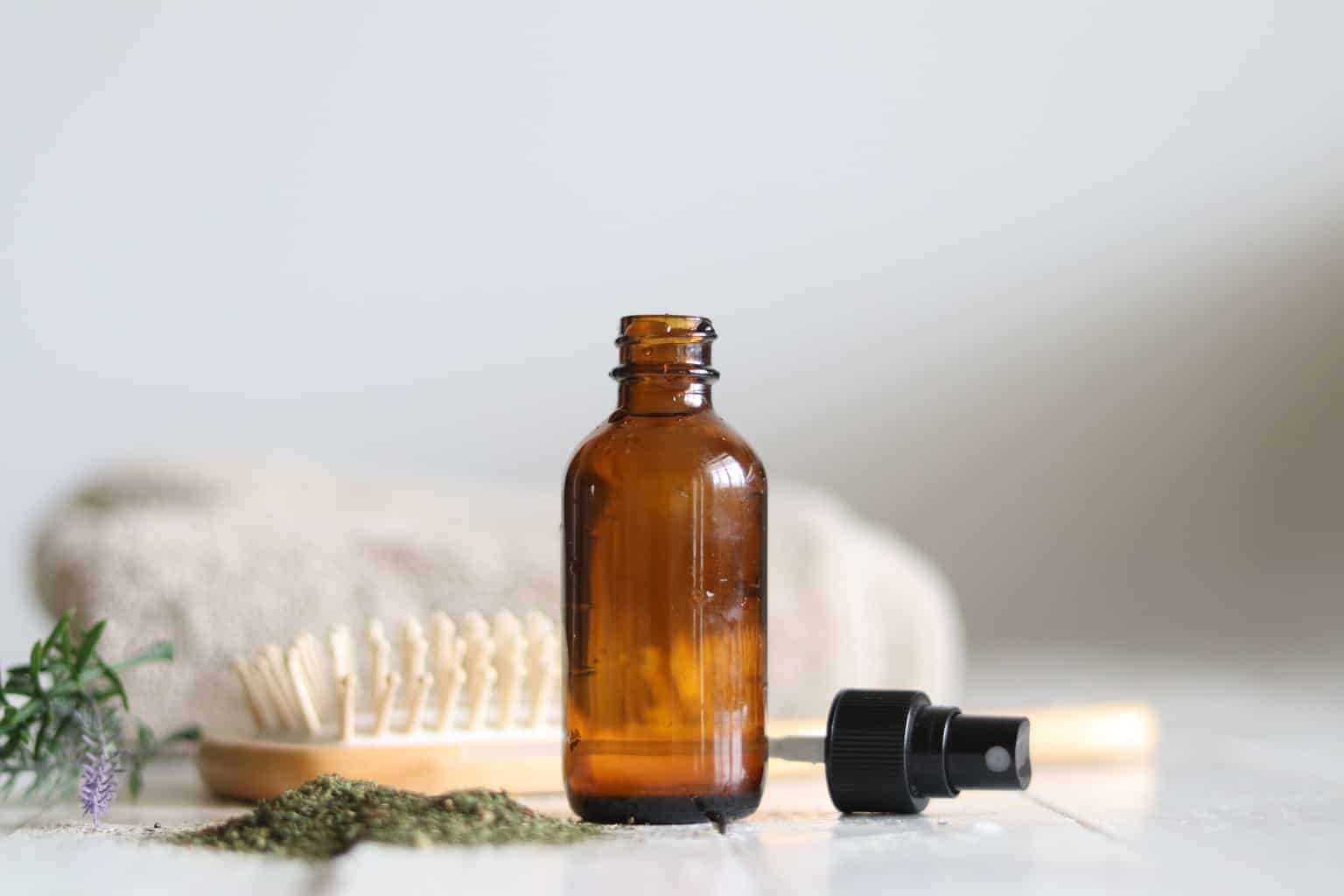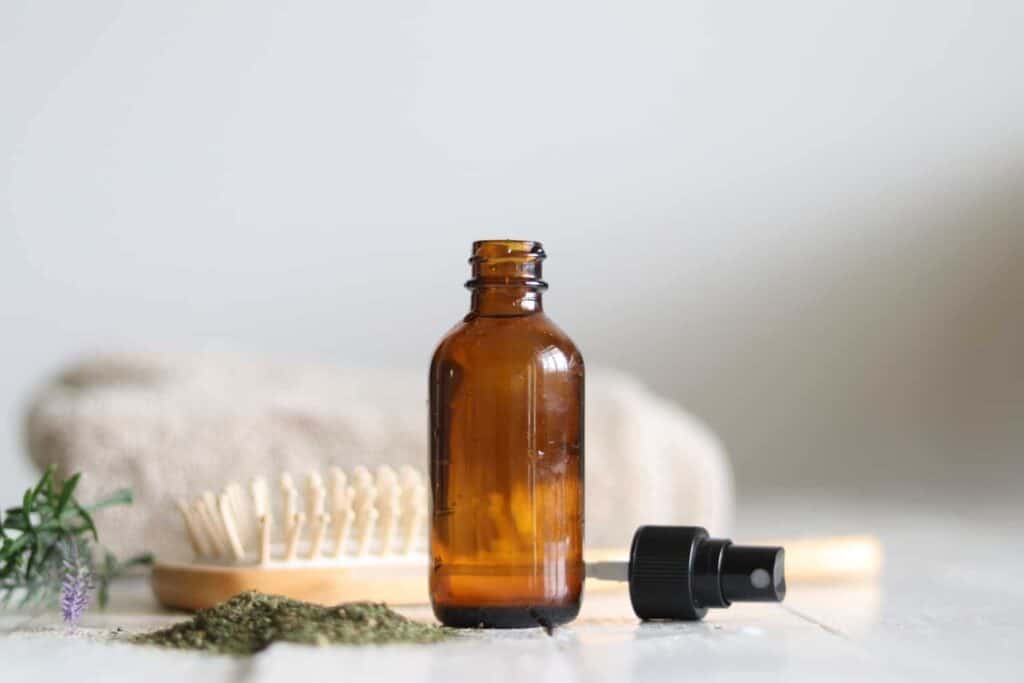 This spray-style homemade hair serum is a great way to tame frizzy hair and protect it from any type of environmental damage.
If you try this recipe, be sure to leave a comment below and let me know how it worked out for you! And if you want more great hair care products, check out some of these favorites below!
Yield: 1 spray bottle
Homemade Hair Serum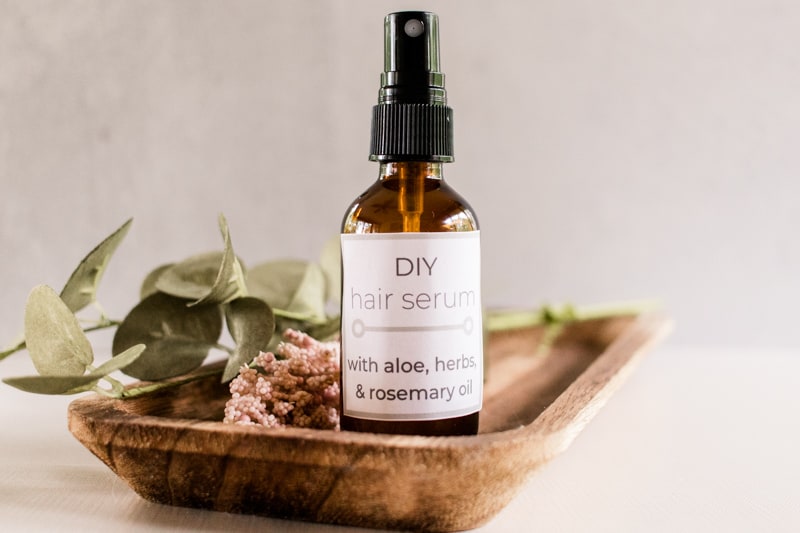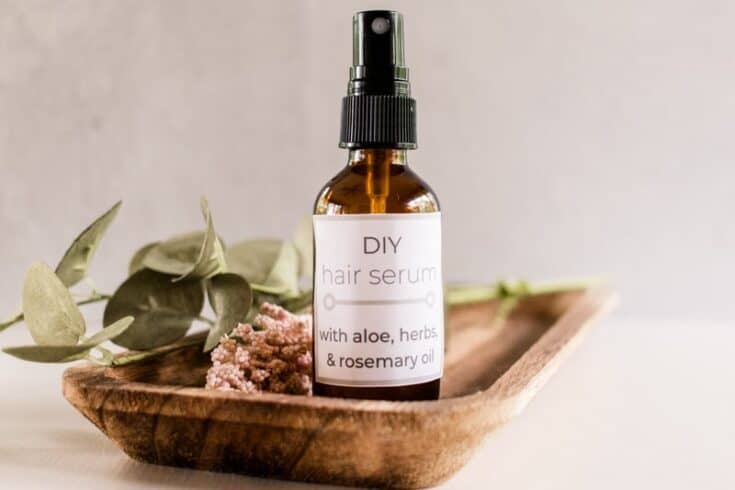 Homemade hair serum is such an excellent product for your hair! Its quick to apply and you'll look great all day!
Additional Time
10 minutes
Materials
Instructions
Bring water to a boil, then add nettle to steep for 5-10 minutes.
Strain the tea, allow it to cool then pour it into the spray bottle using a funnel.
Add in the remaining ingredients, secure the lid, and shake well.
Mist onto clean hair and use your fingertips to coat the hair. Start at the base and work your way to the tips.
Notes
Store hair serum in the fridge. Shake well before each use.