Dry brushing is a simple task you can add to your daily routine that will take less than 5 minutes and won't cost you a thing. Plus, learn the benefits of dry brushing as well as how to dry brush properly for maximum benefits.

WHAT IS DRY BRUSHING?
The words "dry brushing" can be found floating around on most health-focused sites, Pinterest, Instagram, and Facebook. This "new" fad isn't really new at all. In fact, dry brushing has been used for hundreds of years. The benefits of dry brushing are becoming more and more popular, and it is coming back!
Dry brushing is as simple as it sounds; it is literally brushing dry skin. There is a little technique to it, but after a 5-minute tutorial, anyone can do it and benefit from it.
PIN IT FOR LATER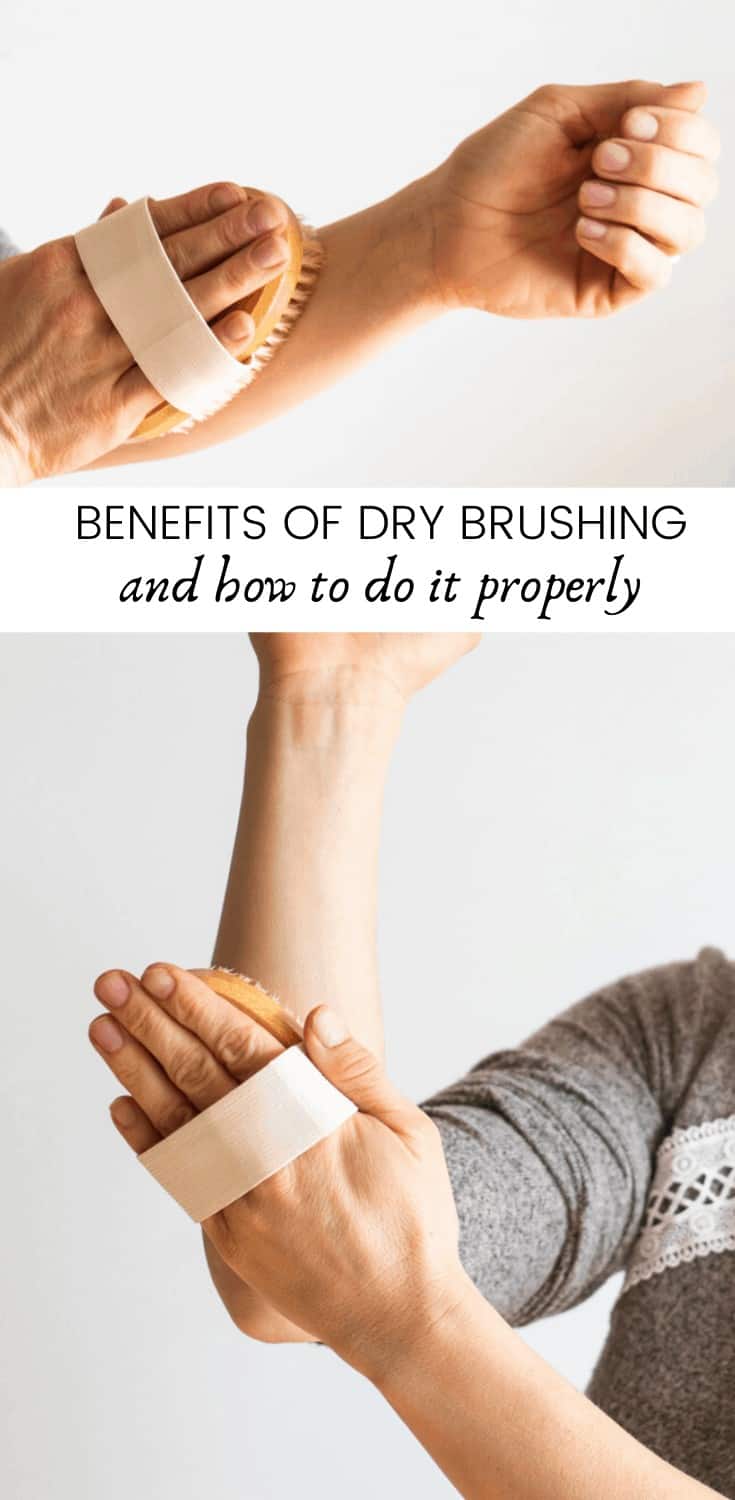 BENEFITS OF DRY BRUSHING
Dry brushing is the act of taking a brush that has stiff bristles and brushing the skin to exfoliate and remove dead skin cells. We shed dead skin cells all day every day; in fact, we can shed over 30,000 dead skin cells in just one minute. Sometimes our bodies can use a little help removing these.
Not only can dry brushing exfoliate the skin and make it softer, but it can also help the body to reduce toxins.
DRY SKIN BRUSHING BENEFITS
Exfoliate skin
Leave skin soft and smooth
Reduce toxins
Reduce the appearance of cellulite
Eliminate dead skin cells
Promote proper blood circulation
Rejuvenate skin cells
Tighten skin
Cleanse lymphatic system
Unclog pores
Stimulates nervous system
HOW DRY BRUSHING WORKS?
The skin is the largest organ of the integumentary system, and its main purpose is to protect it. Every single second of the day our skin is working to protect our body, making new skin cells and shedding old ones.
Dry brushing can exfoliate the skin to help your body. Exfoliating is the process of removing dead skin cells from the outermost layer of your skin. This can be done successfully at home with a natural exfoliator, dry brushing, or your hands.
Exfoliating the skin regularly can help to leave your skin soft, smooth, and reduce wrinkles. It is very helpful for preventing dry, flaky skin, and skin imperfections.
Dry brushing can be very beneficial for a natural detox too. As you dry brush, it will stimulate the lymphatic system to remove dead cells, toxins, and pathogenic organisms.
WHEN TO DRY BRUSH
It is best to dry brush when your skin is dry and before taking a shower. Dry brushing will remove dead skin cells, so taking a shower after will help to rinse them off.
Once finished, it is best to apply a natural moisturizer to the skin.
HOW TO DRY BRUSH
Dry brushing is simple and will only take a few minutes. You will need a dry brushing brush, which is a brush that has coarse but soft bristles. Start at the feet and work your way up the body.
Always make swipes going toward the heart and go over each area two to three times. Pay close attention to areas where dry skin patches are present such as the bottom of feet, heels, and elbows.
Make firm strokes, but don't push too hard as that may irritate the skin, especially if it is your first-time dry brushing.
When you get to the stomach, make clockwise strokes around the stomach.
HOW MANY TIMES A WEEK SHOULD YOU DRY BRUSH?
The number of times you dry brush will really depend on a person's skin type. Some people may need to do this daily, whereas others may only need to do it a few times a week.
Start off with three times a week and see how your skin feels. If you have really dry skin, you may want to increase to five times a week or once daily.
If your skin seems to be irritated or red (some redness is normal), cut down the number of times you are dry brushing.
This post contains affiliate links, which means I make a small commission at no extra cost to you. Get my full disclosure HERE.
CAN YOU DRY BRUSH YOUR FACE?
You can dry brush your face safely if you follow a few precautions. Face brushing should be done less often than dry brushing the body.
It is also important to know that you will need to make much softer strokes on your face than your body. Of course, the face has much more sensitive skin, so this just makes sense to brush lighter in this area.
You will also want to use a dry brush that is made especially for the face. The kit I bought came with a specific brush for the face, and the bristles are much different than the brush for the body.
The skin on the face should be completely dry and without makeup before dry brushing. Start at the neck and make very light strokes toward the forehead.
When completed, you can rinse with cool water and apply a natural face moisturizer or body butter.
WHICH DRY SKIN BRUSH TO BUY
When I decided to try dry brushing, I went straight to amazon. That is pretty much my go-to for almost everything! I found so many options and wasn't sure where to start.
After a little research, I decided on a little kit of brushes. I like that it included a brush with a long handle to make it easier to reach my back. The handle is removable so I can put it on a different brush if needed.
The pack also came with a few different brush options that had different bristles. I liked the idea of having a few options to see which ones worked best for my skin type.
Overall, I am very happy with the product, and the best part is that it was under $20!
HOW OFTEN SHOULD I CLEAN MY DRY BRUSH?
You should clean your dry brush at least once a week. A little water and soap are all you will need to clean it. After you clean it, be sure it is completely dry before reusing it.
It is best to sit it out in the sun to let it dry. The sun has natural disinfecting properties that can help clean it as well!
More Skincare Posts: