Dry brushing is a simple task you can add to your daily routine that will take less than 5 minutes and won't cost you a thing.
So grab your brush because we are going to learn how to dry brush properly, as well as the many benefits of dry brushing.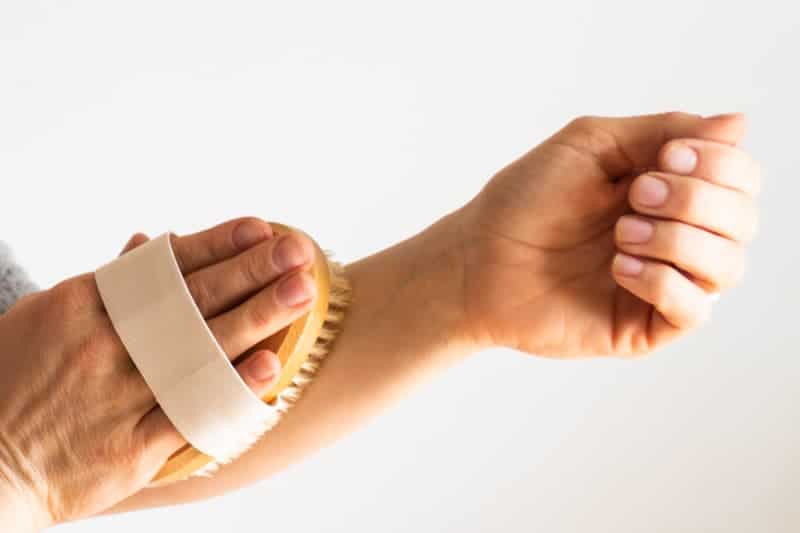 What is dry brushing?
The words "dry brushing" can be found floating around almost everywhere nowadays.
And yet, there isn't really anything new about it at all. Dry brushing has been used for hundreds of years.
The benefits of dry brushing are becoming increasingly popular, and it is making a comeback!
So what is dry brushing? It's as simple as it sounds; it is using a stiff-bristled brush to exfoliate the skin.
There is a little technique to it, but once you get the hang of it, you'll be enjoying its benefits in no time.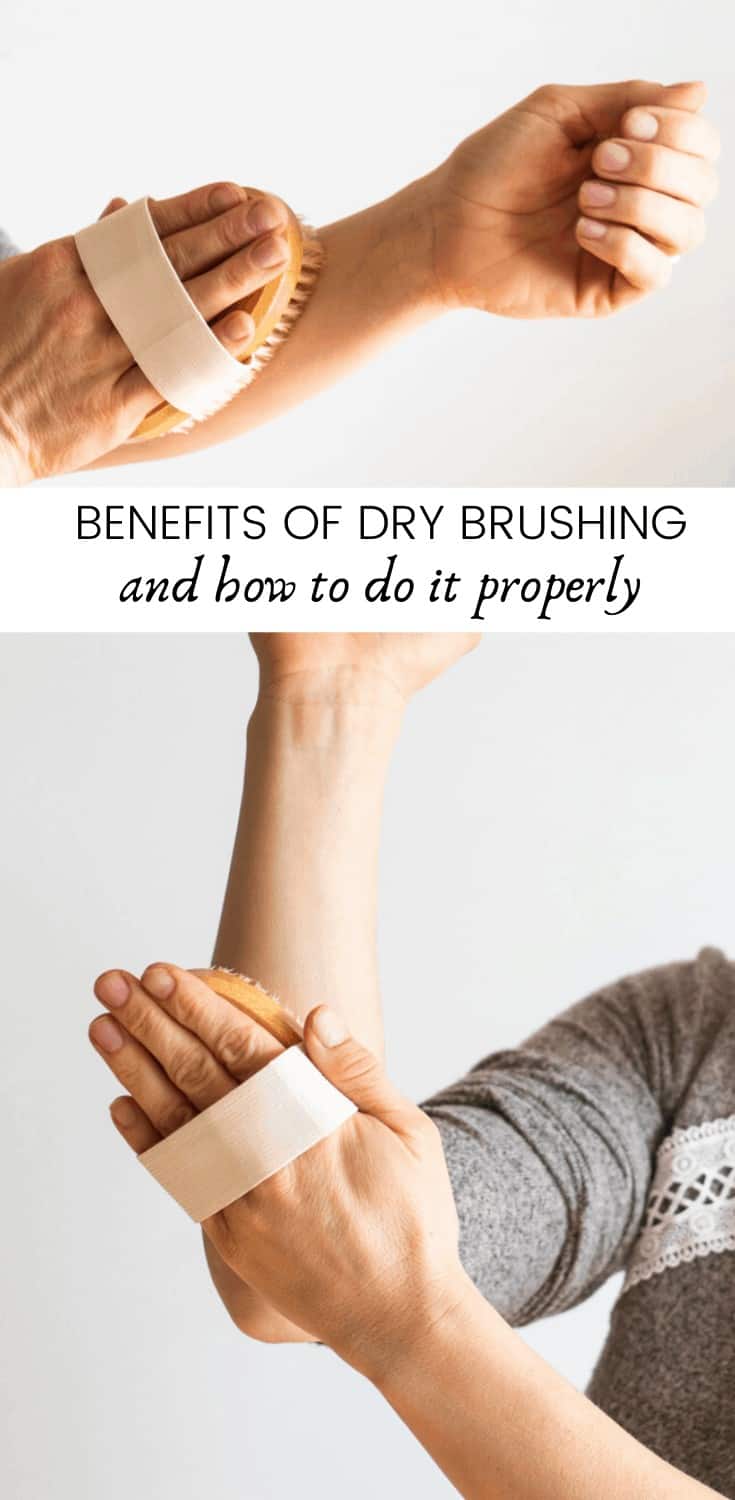 Dry brushing benefits
Dry brushing is taking a brush with stiff bristles and brushing the skin to exfoliate and remove the dead skin cells.
We shed dead skin cells all day, every day; in fact, we can shed over 30,000 dead skin cells in just one minute.
And while dry brushing is excellent for removing dead skin, this simple process has plenty more to offer!
skin brushing benefits
Exfoliates the skin
Leaves skin soft and smooth
Reduces toxins by increasing blood circulation
Reduce the appearance of cellulite in women
Eliminates dead skin cells
Promotes proper blood circulation
Encourages the rejuvenation of new skin cells
Tightens skin
Cleanses lymphatic system
Opens up pores
Stimulates the nervous system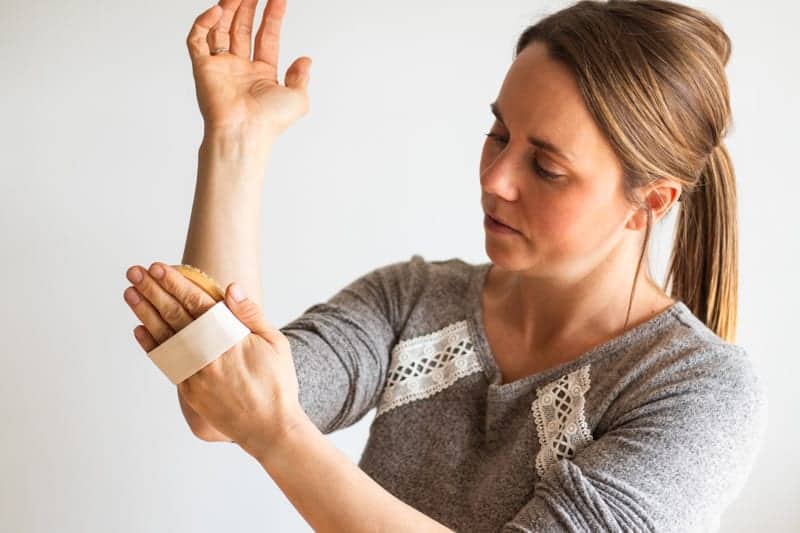 This post contains affiliate links, which means I make a small commission at no extra cost to you. Get my full disclosure HERE.
How to dry brush
It all starts with a good brush. You'll find countless options, from soft to firm bristle brushes. I use a medium bristle brush, but go with what's best for your skin.
Start at the bottoms of the feet, making gentle circular motions across the skin while you work your way up to your chest.
Go over each area two or three times before moving on. Pay close attention to areas where dry skin patches are present such as the heels, knees and elbows.
How hard should I push? That's up to you; they should be firm strokes but with no pain. If the skin becomes irritated, it could be a result of brushing too hard.
When you get to the stomach, make clockwise strokes around the belly.
Then, follow the same steps with the arms as you did with your legs.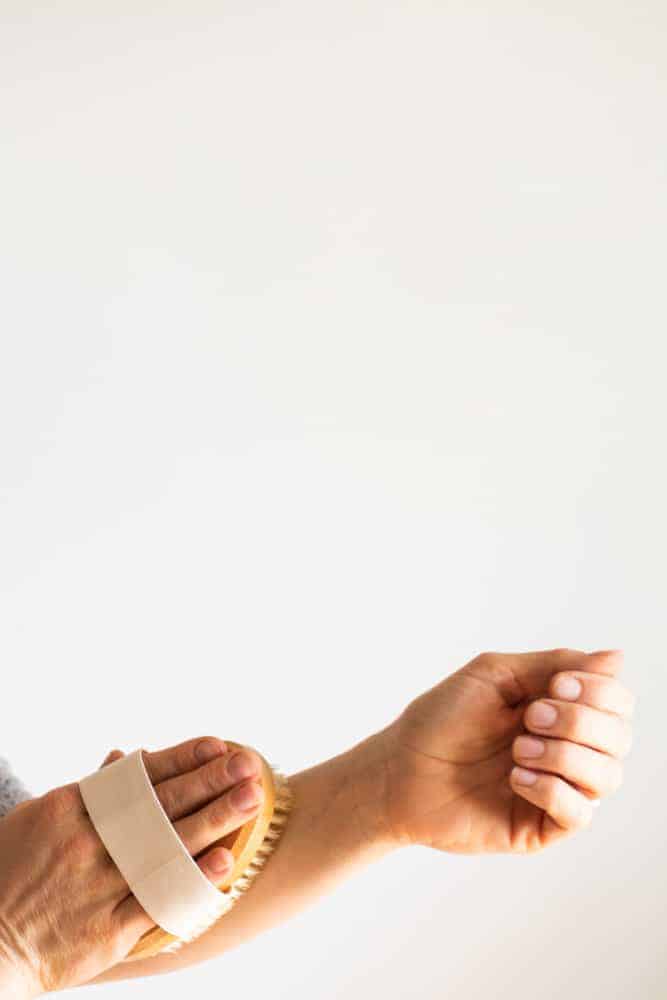 Dry brushing 101
The skin is the largest organ of the integumentary system, and its primary purpose is to protect it.
Every single second of the day, our skin is working to protect our body, making new skin cells and shedding old ones.
Exfoliating the skin regularly can help to leave your skin soft, smooth and reduce wrinkles. In addition, it is very helpful for preventing dry, flaky skin and skin imperfections.
Finally, regular dry brushing or exfoliating the skin in general, whether that be a body scrub or salt scrub, is a great way to cleanse the skin of the daily products we put on our skin.
How often should I dry brush?
How often you dry brush really depends on you. I suggest starting with no more than two times a week.
If you notice no irritations or redness, feel free to dry brush more often.
Always dry brush dry skin, preferably before showering. The shower then helps rinse away the now loose dead skin cells and any leftover skincare products you wore that day!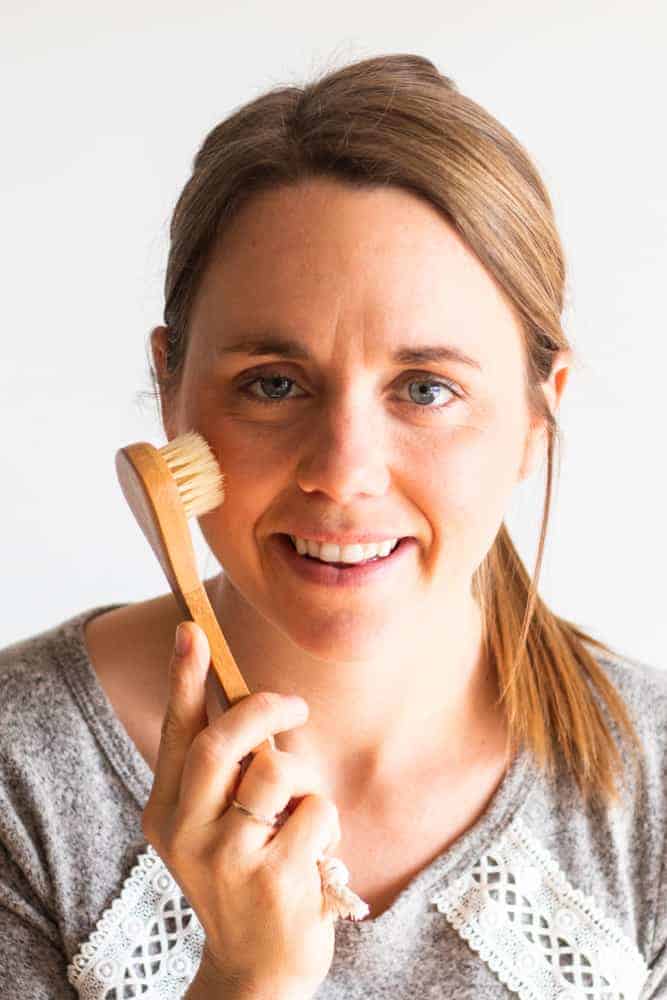 Can you dry brush your face?
You can dry brush your face safely if you follow a few precautions. Face brushing should be done less often than dry brushing the body. Or no more than once a week.
It is also important to know that you will need to make much softer strokes on the face. This is because the skin on the face is more sensitive than the rest of the body, so it just makes sense to brush lighter in this area.
The same goes for body scrubs. Always use a face scrub, specifically for the face or lips, to prevent skin irritation.
You will also want to use a dry brush that is made especially for the face. The kit I bought came with a specific brush for the face, and the bristles are much softer than the brush for the body.
The skin on the face should be completely dry and without makeup before dry brushing. Start at the neck and make very light strokes toward the forehead.
When completed, you can rinse with cool water and apply a natural face moisturizer or body butter.
What do I need to dry brush?
Brushes! Yes, that's it! No expensive products, just a brush or two.
After a little research, I decided on a kit of brushes rather than buying each brush individually.
If you decide to pick out individual brushes, I definitely recommend a long-handled one for the back and a soft bristle for the face.
Overall, I am thrilled with the product, and the best part is that it was under $20!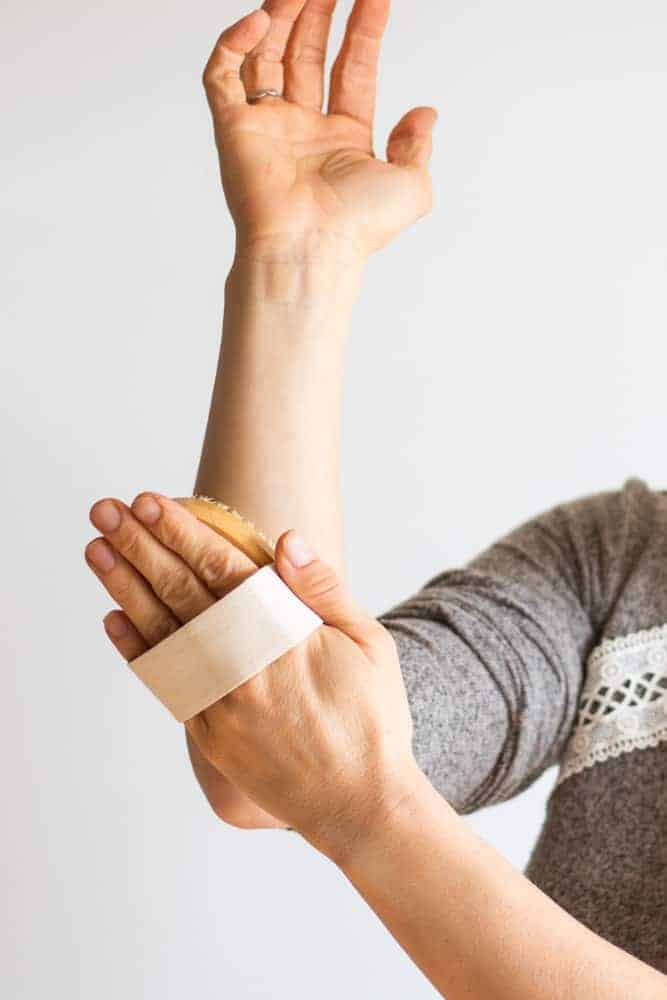 How to clean a dry brush
You should clean your dry brush at least once a week. Wipe it down with a bit of soap and water and pat it dry. Just make sure it is completely dry before reusing.
Does dry brushing hurt?
Dry brushing should not hurt. However, if it does, use less pressure or stop altogether.
Takeaways
Not only can dry brushing exfoliate the skin and make it softer, but it can also help the body to reduce toxins and promote blood circulation.
By now, I hope that you have a good handle on what is dry brushing and can feel comfortable adding it to your beauty routine.
If you love natural skincare and DIYs, be sure to try one of these recipes next!
How To Dry Brush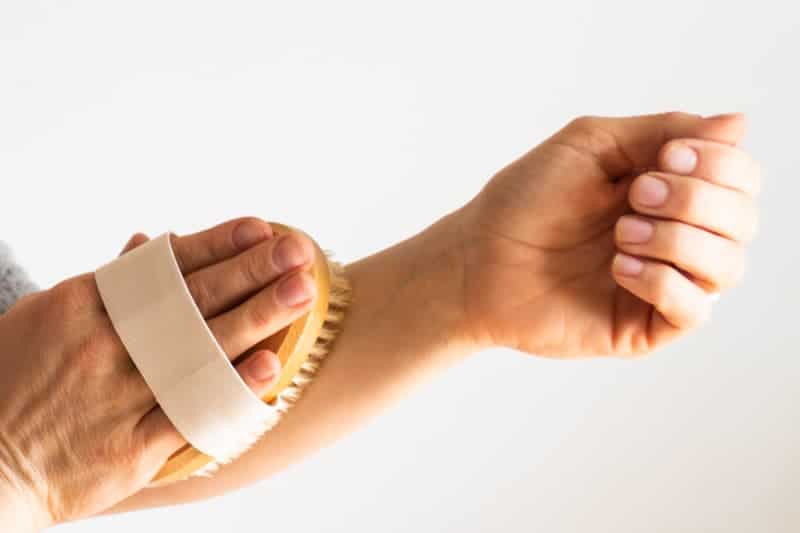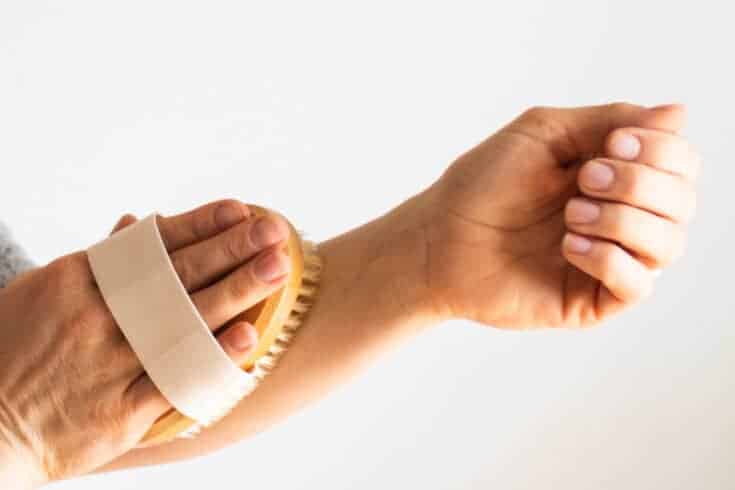 Try brushing your skin for a convenient, cost-effective skin exfoliator.
Materials
Instructions
Start at the bottoms of the feet and make small circular motions with the brush, while working your way up to your chest.
Apply light even pressure to the brush while going over each area 2-3 times.
Once at the stomach, use very gentle pressure working in a clockwise motion.
Lasty, dry brush the arms starting at the hands and working your way to the chest.