Learn how to use essential oils around kids safely and effectively, as well as which oils to avoid, how to properly dilute essential oils, and the best diffuser blends for kids.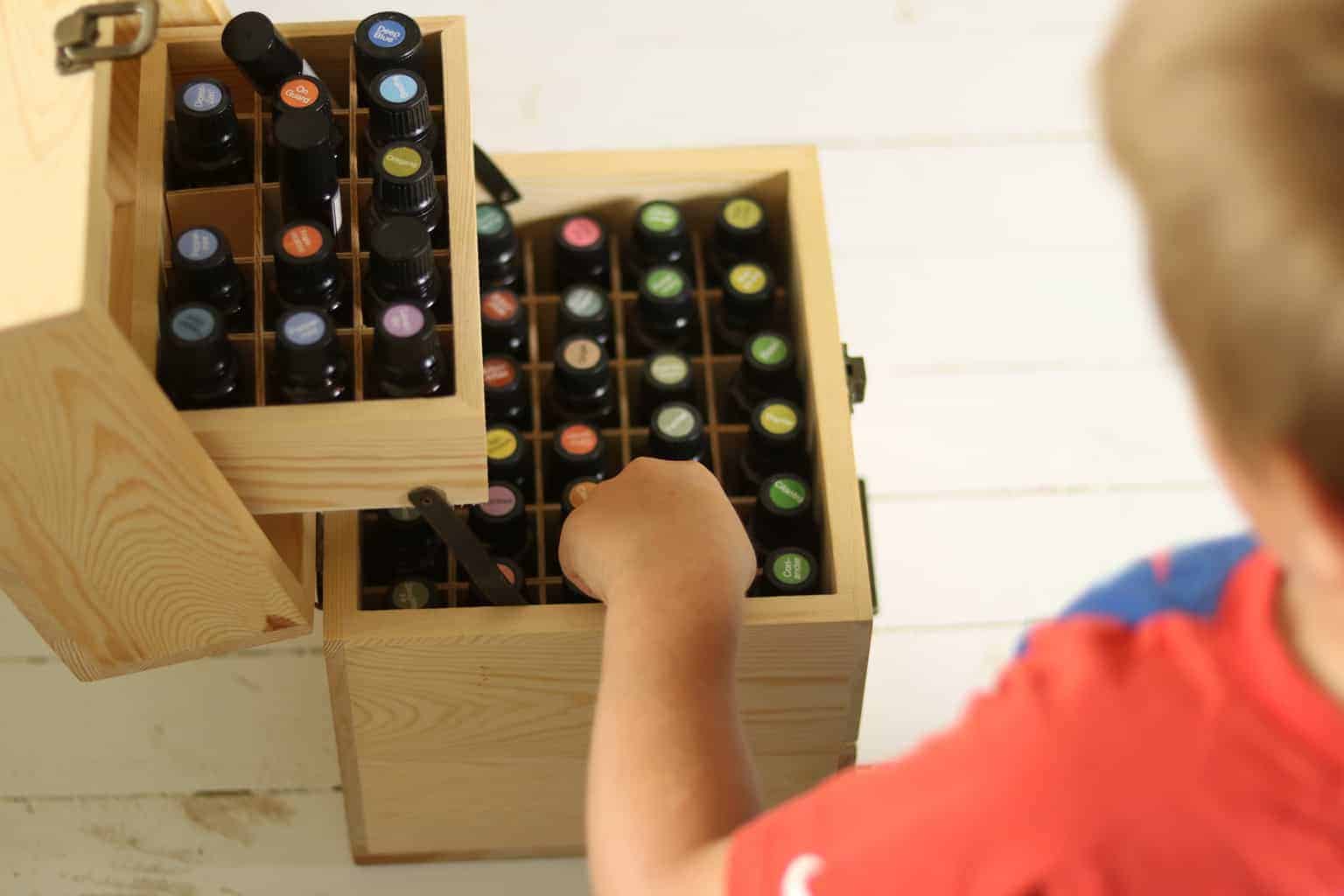 As a mama, I couldn't imagine life without my essential oils. I just counted over 10 oils we have used today alone, and I am sure I am missing some.
Using essential oils on kids can be very safe if you are following a few safety rules and guidelines.
This post contains affiliate links, which means I make a small commission at no extra cost to you. Get my full disclosure HERE.
Ready to get essential oils into your home? Get started with this family-friendly starter set.
Grab my free ebook to learn how to use essential oils safely on children.
PIN IT FOR LATER

HOW DO I USE ESSENTIAL OILS ON KIDS?
Essential oils can be used in three different ways: topically, aromatically, and in rare instances, internally.
TOPICALLY
Anytime you are using essential oils topically on kids, it is extremely important to dilute them first. My favorite way to dilute essential oils for kids is by making roller bottles.
To make a roller bottle: Add the essential oil into the roller bottle and then top it off with a carrier oil. My favorite carrier oil is fractionated coconut oil. Check out my dilution chart below.
Learn more about roller bottles HERE.
You can also dilute essential oils by adding them to lotions or making a salve. This is a great option if you are trying to cover a larger surface area. For example, if you are using essential oils for growing pains, you may want to add them to a lotion to make it easier to apply.
Check out my top 6 roller bottle recipes for kids.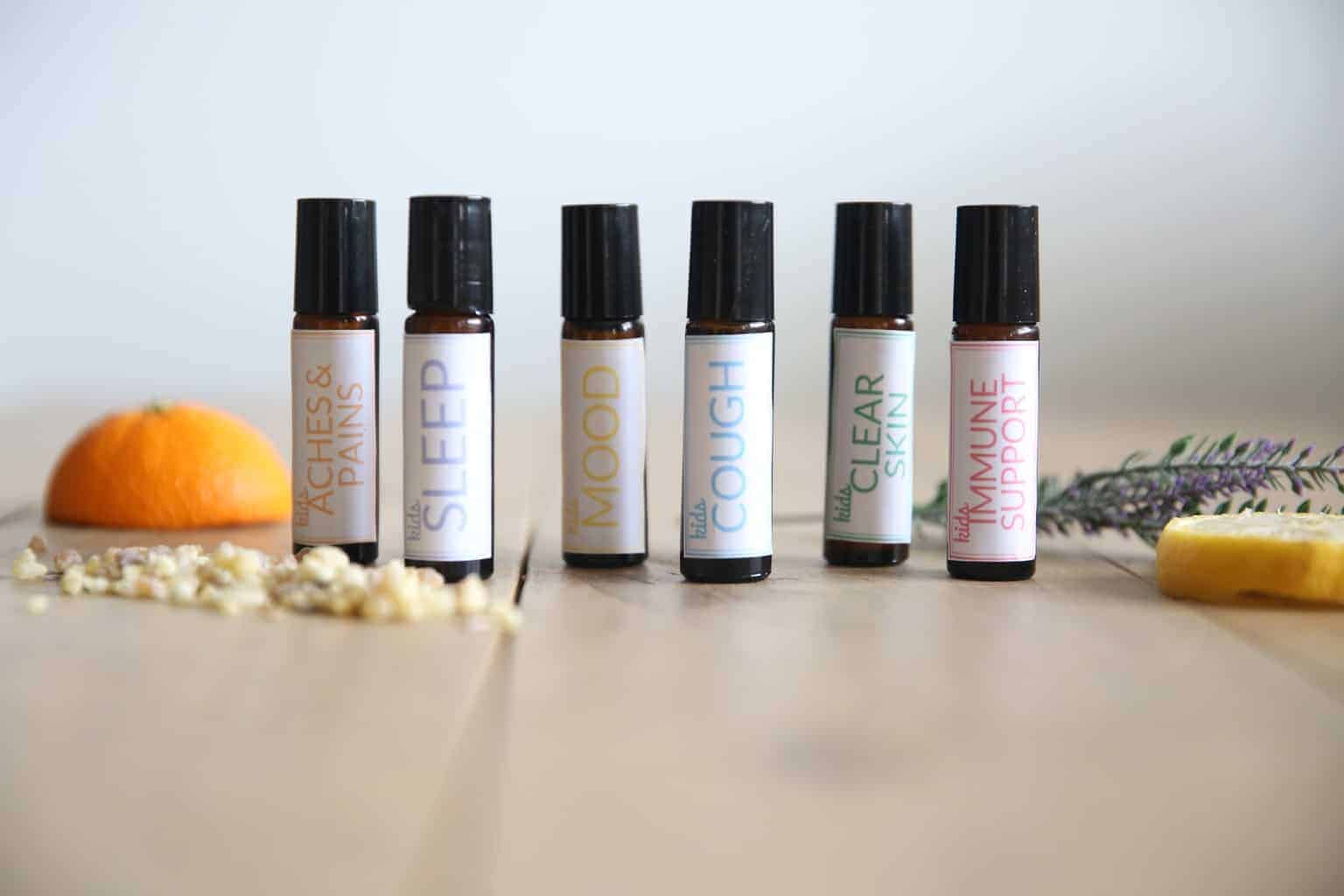 AROMATICALLY
The best way to use essential oils aromatically is through a diffuser. Adding essential oils to a diffuser is a great way to receive aromatic benefits. I love using essential oils in my kid's rooms at night time to help them sleep better and during the day to help with their mood.
Check out my favorite diffuser blends for kids.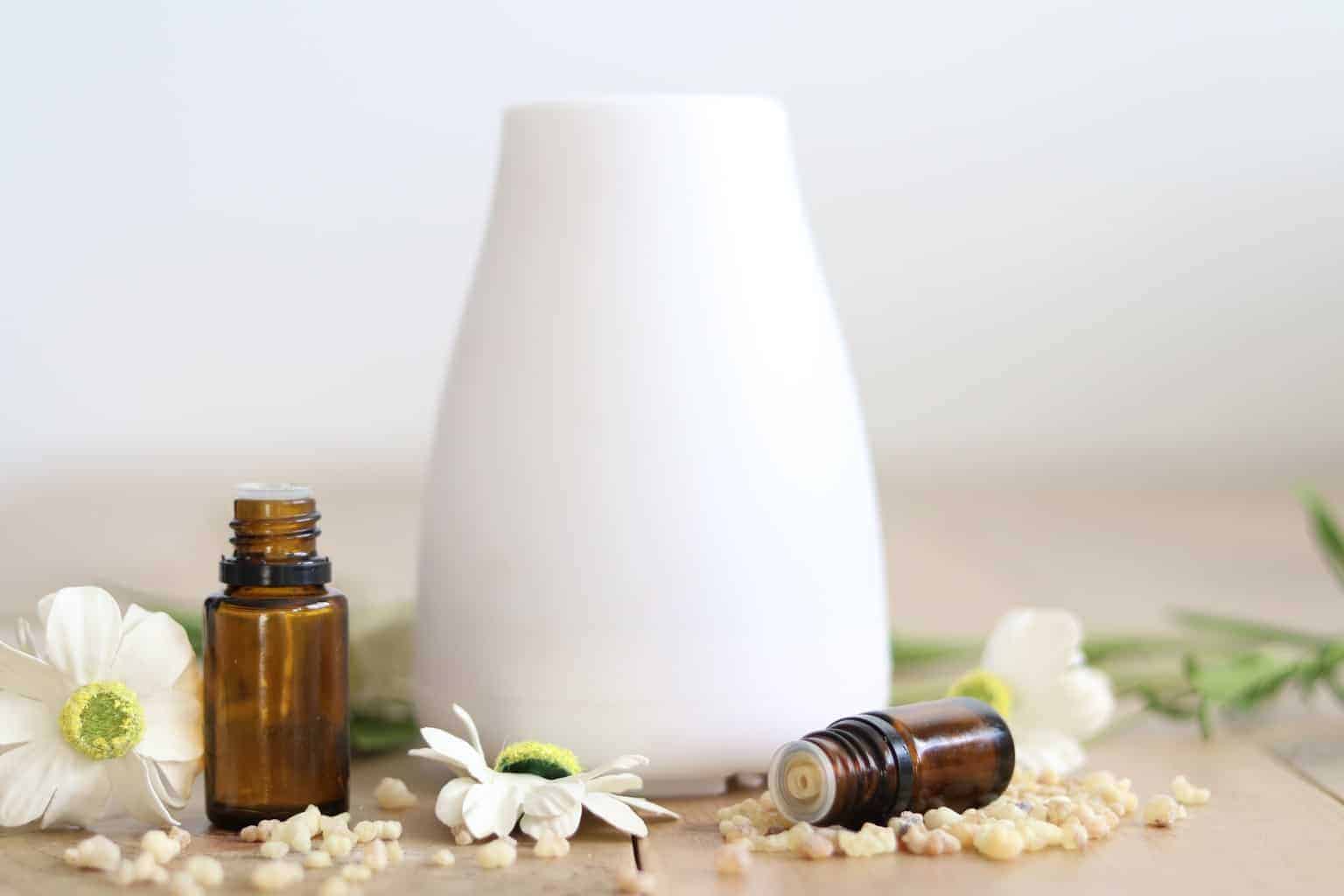 Children can also use essential oils aromatically by inhaling the oil right out of the bottle. Or you can make a human diffuser by adding a few drops of essential oils into the palm of your hand and cuffing it over your child's nose. As they inhale, tiny essential oil molecules will enter the body.
INTERNALLY
As a rule, I don't suggest using essential oils internally under the age of 13. Be sure to use your good judgment and check with your doctor before using essential oils internally.
In the few times that we have used essential oils internally on my kids, I was sure to heavily dilute them first by dipping a toothpick into the essential oil and then swirling it into a spoonful of honey.
Or you can stir the toothpick into a cup of tea, a teaspoon of coconut oil, or applesauce.
Learn more about internal use HERE.
WHERE IS THE BEST PLACE TO APPLY ESSENTIAL OILS TOPICALLY ON KIDS?
When using essential oils topically on kids, it is best to apply them to the bottom of the feet, down the spine, or the area of concern. Avoid putting essential oils into the ears and eyes.
BOTTOM OF FEET
I like to suggest the bottom of the feet because this area is less sensitive than other areas of the body. Also, every part of the foot corresponds with different zones and systems of the body.
When you apply essential oils and pressure to a certain area of the foot, it can support that particular body system. For example, the big toe is responsible for the pituitary, throat, and nose, making it a great place to apply essential oils if dealing with respiratory issues.
DOWN THE SPINE
The spine has a higher concentration of neurological and arterial activity, creating increased blood flow. This area can absorb essential oils well and can help distribute them throughout the body.
Applying essential oils on the spine is a great place for kids because it is an area they can't touch. This reduces the risk of children getting essential oils into their eyes and mouths.
AREA OF CONCERN
You can apply diluted essential oils to the area of concern. If your child has a bellyache, apply straight to the belly. Or if your child falls and cuts their knee, you can apply an oil right to the cut. Get my go-to blend for skin imperfections HERE.
If your child has an earache, you can use essential oils around the ear; just avoid putting them straight in the ear. You can learn more about how to use essential oils for an earache HERE.
DOES QUALITY MATTER?
YES! This is a big one, especially when using essential oils on kids.
When essential oils first sparked my attention, I was ready to jump in! I quickly realized how many options were out there. You can find essential oils in drugstores, health food stores, gas stations, and online.
I noticed the price varied. A LOT! And I started to wonder why? I began doing my own research and came across some interesting finds.
Essential oils are not regulated by the FDA, so basically, you have to do your own research. You can't trust the bottle or the label. Be sure to find a company you can trust. Be on the lookout for how they source their oils, the testing they go through, and the quality.
After lots of research, I decided to buy doTERRA essential oils for my family. I love that all their oils are tested through a third-party independent lab and that I can see all the test results. You can learn more about the essential oils I use and purchase them HERE.
SHOULD I DILUTE THEM?
Yes, always dilute essential oils when using them on kids! When you dilute essential oils, it doesn't mean you are taking away the power of the oil. In fact, adding them to a carrier oil can help the essential oil absorb better and drive further into the body.
Check out this chart to know how many drops of essential oils to use when making a roller bottle:
Newborn-6 months: 1-2 drops
6 months- 2 years: 1-3 drops
2 -5 years: 2-5 drops
5-12 years: 5-10 drops
13 and up: 15-30 drops
This chart is based on a 10mL roller bottle.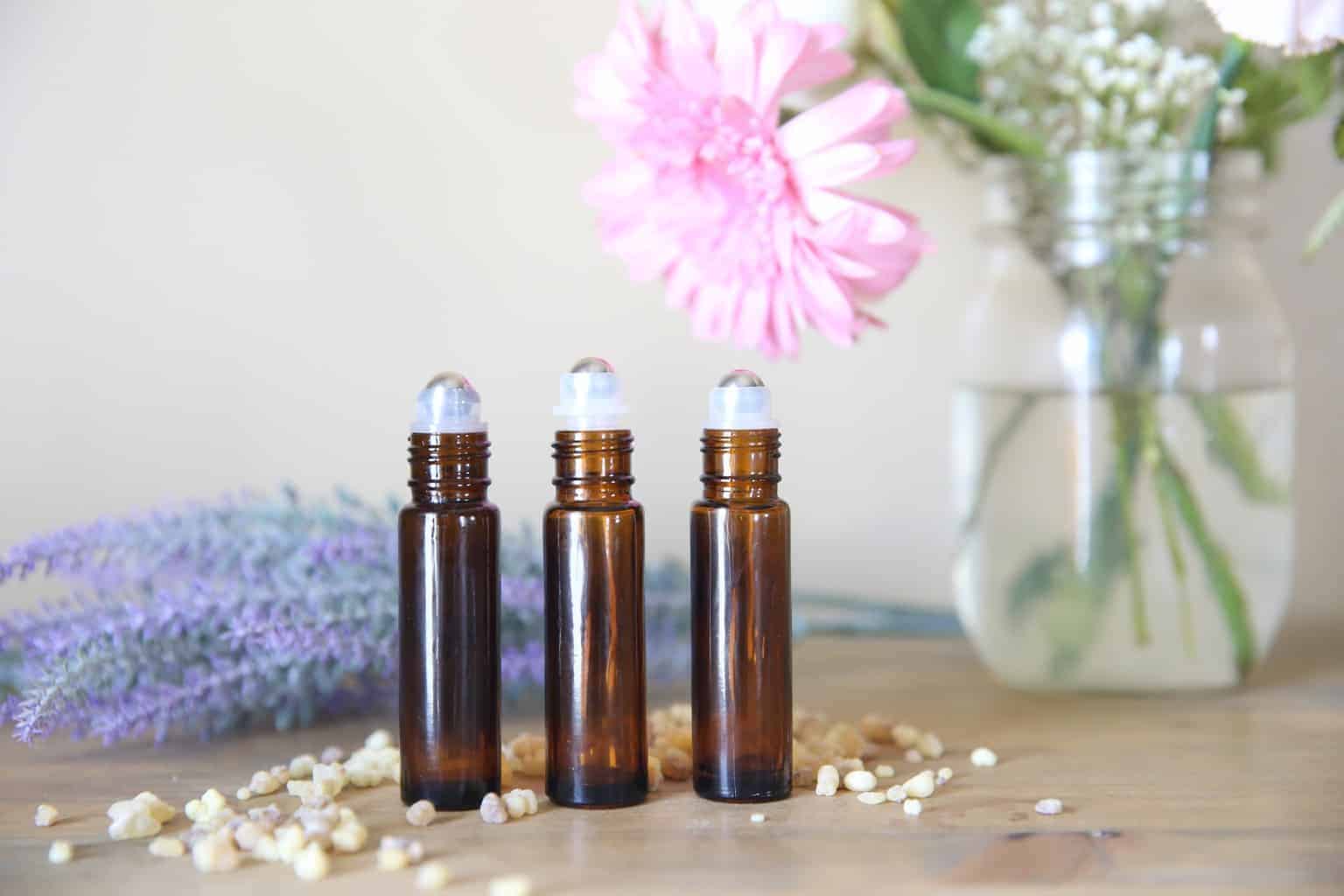 WHICH OILS SHOULD I AVOID ON KIDS?
I firmly believe if you are using high-quality essential oils that are sourced and tested properly, you can use any essential oil on kids that you would use on yourself. Some essential oils are "hot" oils and may need to be diluted further when used on children.
HOT OILS THAT SHOULD BE USED WITH CAUTION:
Cassia
Cinnamon Bark
Clove
Oregano
Thyme
WHAT ABOUT PEPPERMINT AND EUCALYPTUS?
These essential oils have a lot of hype around them when discussing the use of them on children. I have found that a lot of the negative comments you find about these two essential oils depend greatly on the brand you are using and if you are diluting them properly.
When diluted properly, I do find these two oils safe to use on kids and very helpful at times. Read this article for further information on this topic.
WHAT OILS ARE BEST FOR KIDS?
So many essential oils can be helpful for kids, but I definitely have a few that I use most often with my kids. I use lavender a lot as it is very calming, can help with sleep, and is great for the skin.
Citrus essential oils are also great to diffuse around kids. I find oils, like wild orange and bergamot, to be very uplifting and helpful with promoting a positive mood.
Other oils I often use on my kids are immune-boosting essential oils. Check out the top oils for boosting the immune system.
During the winter months, I diffuse lime and eucalyptus when we are dealing with respiratory issues.
IN SUMMARY
Always dilute essential oils before using them topically on kids.
Avoid getting essential oils into the eyes and ears.
Apply essential oils on the bottom of feet, down the spine, or to the area of concern.
Make sure you are using high-quality essential oils that are tested and sourced properly.
Which essential oils are your favorite to use on children?
Are you ready to get essential oils into your home? Check out some of my favorite posts.
Essential Oil Recipes for Kids