Taking essential oils internally is a very controversial topic, rightly so considering the power behind these liquids. Essential oils have been used for medicinal purposes since ancient times, but did they take them internally? What are the benefits and the risk of ingesting essential oils safely?

Grab my free ebook to learn how to use essential oils safely and effectively.
IS IT SAFE TO USE ESSENTIAL OILS INTERNALLY?
Essential oils can be safe for internal use if you are using high quality, organic, adequately tested, and sourced essential oils. The FDA doesn't have regulations on essential oils. That means anyone can market their oils as 100% pure even if it is not. Always consult your doctor before taking oils internally.
What should you check before taking essential oils internally?
ORGANIC– Using organic essential oils is very important because they are very powerful and concentrated. For example, it takes approximately 45 lemons to fill a 15mL bottle of lemon essential oil. Lemon oil comes from the peel. Imagine the number of chemicals that would be on 45 lemon peels? Those chemicals would end up in your essential oil. You definitely do not want to take non-organic oils internally.
TESTING– Before purchasing essential oils, do your research. See how the company tests its products to determine the oil safe and pure. An essential oil that isn't pure puts you at risk for germs, heavy metals, and lower quality materials, which can lead to irritation, adverse effects, or sickness. By now, you know I use DoTERRA oils, and the main reason why I chose DoTERRA was because of their testing. DoTERRA oils go through 8 different tests that are evaluated by a third party independent lab. Test results can be viewed for each bottle of oil, so you can be sure that there are no added fillers, synthetic ingredients, or harmful contaminants in your essential oils. Read more about DoTERRA's testing HERE. If an essential oil intended for internal use (as stated on the bottle) and it is 100% pure, it can be used internally.
SOURCING– How your essential oil is sourced makes a big difference in purity and effectiveness. Essential oils come from plants. Where those plants are grown plays an important role in the essential oil. Check with the company on how their oils are sourced before purchasing for internal use. I have to brag on DoTERRA again because I love how they source their oils. The plants that are used to make DoTERRA oils come from their native environment and picked at peak harvest time, making them more effective and potent.
HOW TO USE ESSENTIAL OILS INTERNALLY
Remember how I said it takes 45 lemons to make 15mL of lemon oil? Remember that potency when using your essential oils internally. 1-2 drops is a serving. Here are the three ways to take essential oils internally:
UNDER THE TONGUE– The easiest way to take essential oils internally is by placing one drop under the tongue. This is an excellent method as long as you aren't taking a "hot" oil that needs dilution. Taste is the other reason why this method might not be ideal. Some essential oils have a very strong, not so pleasant taste but can benefit you greatly when taken internally. I prefer to capsule the oils I don't like the taste of.
WATER– Another way to take essential oils internally is by adding one drop of essential oil to 4-8 ounces of water. I love adding a drop of any citrus essential oil to my water for added health benefits and taste.
VEGGIE CAPSULE – For "hot" oils and not so tasty oils, you can capsule them for internal use. For immediate consumption, add 1-2 drops of essential oil to an empty veggie capsule. If you are making capsules ahead of time, be sure to add 3-5 drops of carrier oil. If you don't use a carrier oil, the essential oil will eat through the capsule and dissolve it.
CHILDREN AND INTERNAL USE
Anyone under the age of 18 should consult with their doctor before taking any essential oils internally. Children can still benefit from essential oils by using them topically and aromatically.
BENEFITS OF TAKING ESSENTIAL OILS INTERNALLY
Essential oils are my go-to when I'm not feeling well or when I am overwhelmed. Taking oils internally can address the problem I am dealing with FAST. Here are the most popular reason for taking essential oils internally:
BOOST THE IMMUNE SYSTEM– Several essential oils can help boost the immune system when taken internally. At the first sign of sickness, I like to take immune-boosting oils, frankincense, oregano, and melaleuca, internally to help me feel better quicker.
REDUCE STRESS AND ANXIOUS FEELINGS– Frankincense, copaiba, and lavender are wonderful oils to help calm and relax the body. Putting a drop of each under the tongue can really help relieve stress.
HELP WITH SEASONAL THREATS– Lemon, lavender, and peppermint are known as the allergy bomb and can be taken internally to help with congestion and seasonal discomforts. Add one drop of each to a veggie capsule and take as needed.
REDUCE INFLAMMATION– Many essential oils are anti-inflammatory and can be taken internally to reduce inflammation in the body.
FIGHT YEAST– Anti-fungal oils, like Manuka, oregano, and melaleuca, can be taken internally to kill candida and yeast in the body.
USING ESSENTIAL OILS SAFELY
PURE/HIGH QUALITY– First and foremost, be sure you are using high-quality oils that are intended for internal use before taking them. This is why you see so many warnings on using essential oils internally on google. The warnings and negative stories refer to low-quality oils filled with toxins, chemicals, and fillers.
AMOUNT/WHEN– Don't take too much at once, and if you have a sensitive stomach, be sure to take them with meals. You can take several servings in a day; just be sure to spread them out to avoid upsetting your stomach.
HOW/WHICH ONES– If you are using DoTERRA oils, be sure to look for the "SUPPLEMENT FACTS" label on the back of the bottle before taking it internally. You should see a label on the oil that tells you whether it is safe for internal use or not. If you are using a hot oil, be sure to capsule it before taking it internally.
Do not take any essential oil internally unless it specifies that it is safe for internal use.
PIN IT FOR LATER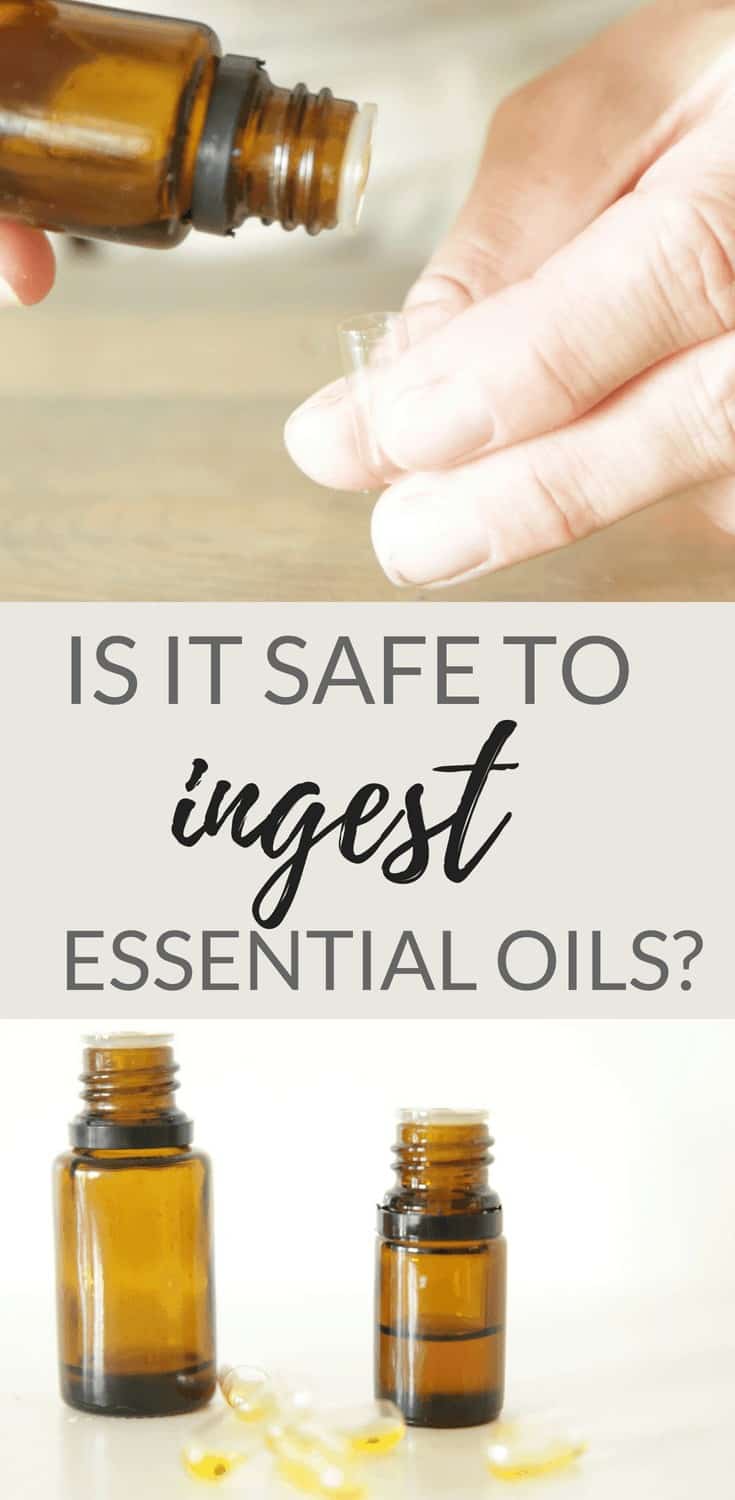 Follow along with our oily house: