DIY hand sanitizer spray is something that everyone needs to have on hand. This essential oil hand sanitizer spray is so simple to make and works just as well as the store-bought kind. It is made with ONLY 2 all-natural ingredients.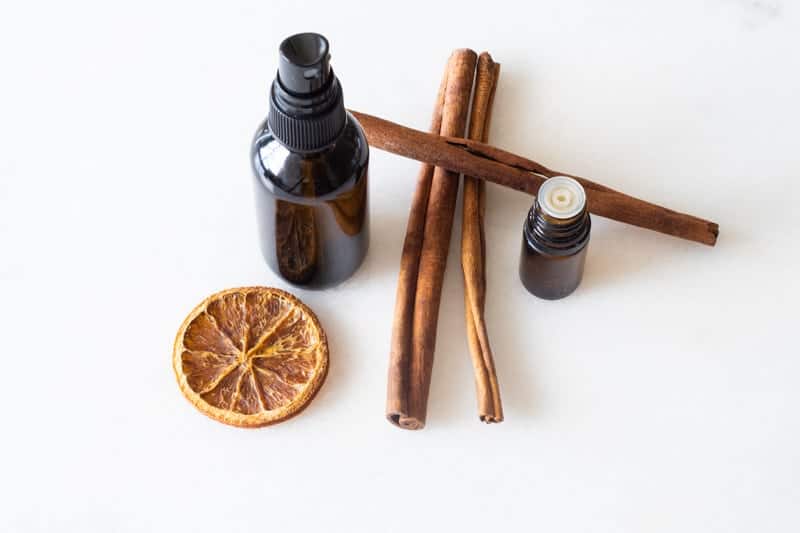 It was recently brought to my attention that I didn't have my DIY hand sanitizer spray on my blog. I had to double (even triple) check because I didn't believe the reader who told me this. It turns out she was right!
How did I miss this one? This spray is something I have been making and using for 7 years. It is probably one of my most used DIYs and one of the most important ones to be made naturally, more on that in a minute. I also have a DIY hand sanitizing gel recipe.
This homemade hand sanitizer spray should be in everyone's purse, diaper bag, house, and car. Thankfully, it is very cost-effective and takes less than 2 minutes to whip up.
PIN IT FOR LATER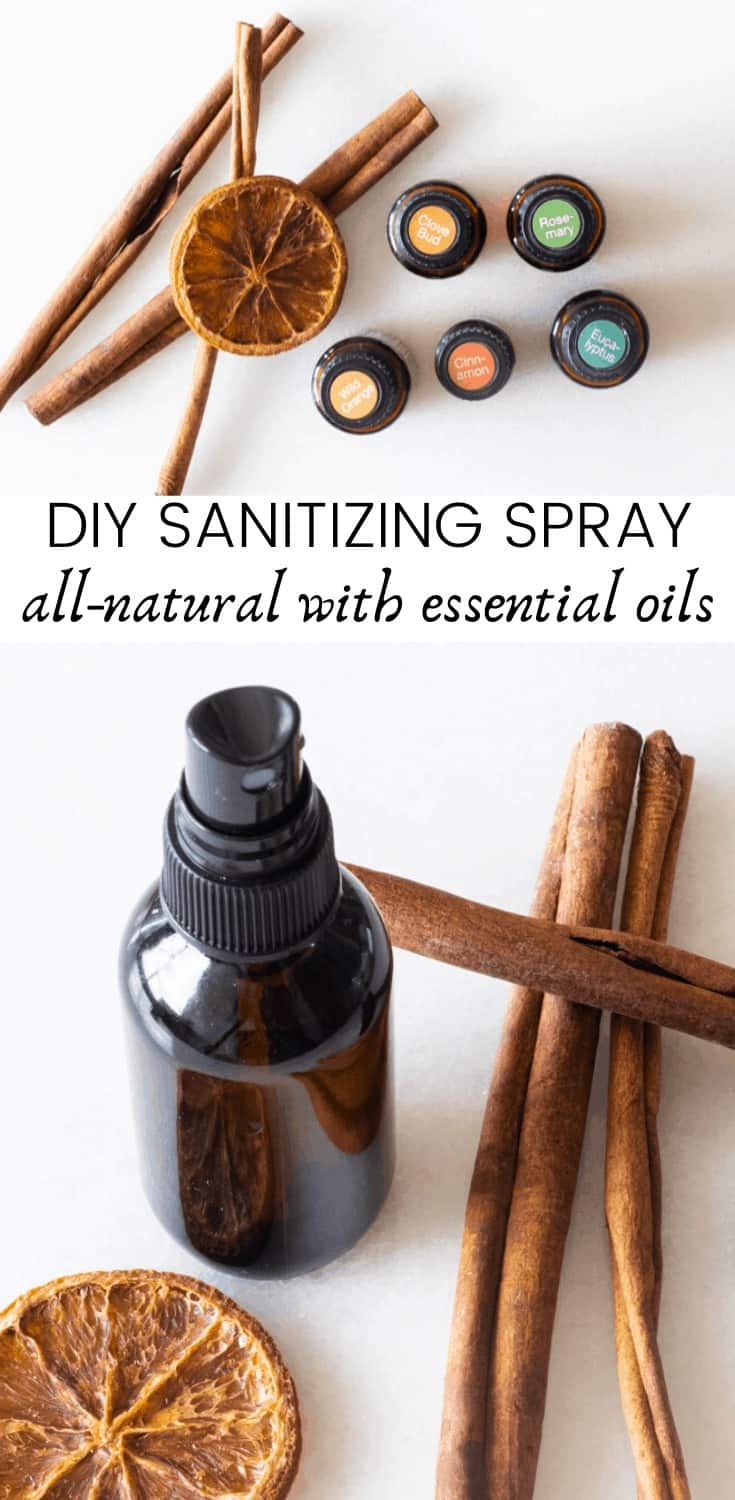 This post contains affiliate links, which means I make a small commission at no extra cost to you. Get my full disclosure HERE.
DIY HAND SANITIZER SPRAY
For this recipe, you will only need two ingredients: essential oils and witch hazel. You can use rubbing alcohol instead of witch hazel.
Personally, I like to use witch hazel, especially when making this for the kids. It makes the spray much more gentle and still can help cleanse the hands. However, to make the spray even more effective you can add rubbing alcohol.
ESSENTIAL OIL HAND SANITIZER SPRAY
The essential oils I am using in this spray are great for cleansing, purifying, and boosting the immune system. Boosting the immune system naturally can be the best way to prevent sickness.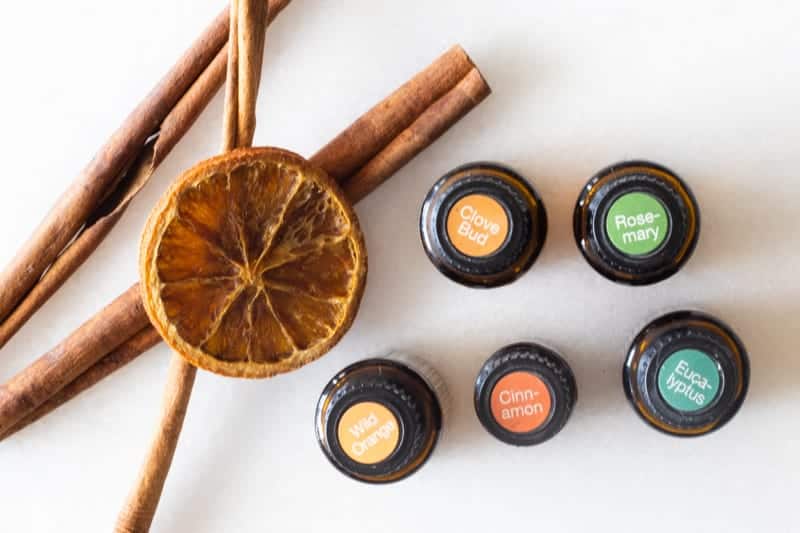 I use on guard essential oil for this spray, but if you don't have that blend, you can still make this spray. On guard is a blend of wild orange, clove, cinnamon, rosemary, and eucalyptus. So if you don't have the on guard blend, you can make your own using these essential oils.
WILD ORANGE
Like most citrus essential oils, wild orange has cleansing and purifying properties making it great for sanitizing and cleaning. Wild orange is a photosensitive oil and should not be used before going into direct sunlight.
Learn more about the benefits of wild orange essential oil.
CLOVE
Clove is a powerful essential oil that works great in this sanitizing spray and for cleaning. Clove is a hot oil and should not be used on the skin undiluted. If you ever get it on the skin, be sure to apply a carrier oil over top to soothe.
CINNAMON
Sharing many similar properties to clove, cinnamon essential oil also has immune-boosting properties when used aromatically or topically.
Learn more about the benefits of cinnamon essential oil.
ROSEMARY
Rosemary acts as a natural preservative and adds shelf-life to this product when added in. This essential oil also has cleansing and purifying properties that can help to keep germs away.
EUCALYPTUS
Eucalyptus is one of my favorite smelling essential oils and can work wonders for respiratory issues. Like all the oils listed above, it also has cleansing and purifying properties and can naturally boost the immune system.
WHAT IS WRONG WITH CONVENTIONAL SANITIZER SPRAY?
Conventional sanitizing sprays typically contain chemicals that can be harmful if swallowed and can dry out the skin if overused. Studies have also shown that overusing these sprays can kill the good bacteria on our hands that we need.
When we use conventional hand sanitizing spray, we are killing off the bacteria that we need to build a healthy immune system. Overusing these products may make our bodies become immune to them, and then when we need them, they may not be as effective.
Switching to a natural spray won't do this. Your body can't build up a resistance to essential oils, so this DIY hand sanitizer spray is a great option for keeping germs away.
WHEN SHOULD I USE THIS SANITIZER SPRAY?
This spray is great to use when you are out running errands, especially during the cooler months. You can also use this to sanitize before eating a meal or when the kids come in from outside. We make our own foaming hand soap and I like to add these same essential oils into that.
Having this spray in the diaper bag will come in handy, mama! Use it to spray down the diaper changing table, toys that fall on the ground, high chairs, tabletops at the restaurant, or in public restrooms.
I spray my cart handle with this spray and my kids' hands after we get out of the cart.
HOW TO STORE ESSENTIAL OIL SPRAYS?
When using essential oils, it is best to use glass, metal, or HDPE, also known as plastics number 2. This is because essential oils can dissolve certain plastics overtime. Be sure to make your DIY in an essential oil safe spray bottle.
It is also important to use a dark-colored glass, like amber or blue, to preserve the oils even longer. Store out of direct sunlight.
HOW TO MAKE DIY HAND SANITIZER SPRAY?
INGREDIENTS
Witch hazel or Rubbing Alcohol (use one that is at least 60% alcohol)
15 drops on guard essential oil
OR
3 drops each:
INSTRUCTIONS
Add the essential oils to the glass spray bottle.
Fill the rest of the bottle with witch hazel.
Shake well before each use.
Spray on your hands and rub them together. Or spray on a surface and wipe clean.
Yield: 2 ounces
DIY Hand Sanitizer Spray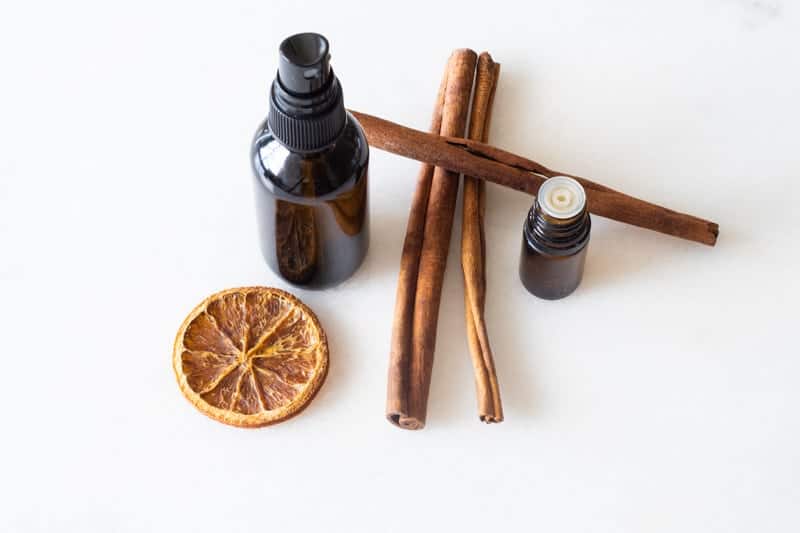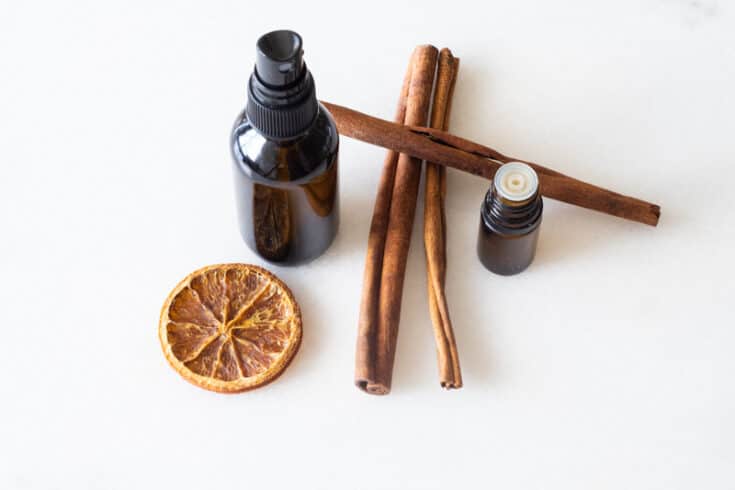 Materials
1 1/2 ounces of rubbing alcohol or witch hazel (see post) 
15 drops on guard essential oil
1 tsp fractionated coconut oil (optional) 
2-ounce glass spray bottle
Instructions
Add the on guard and fractionated coconut oil (if using) to the spray bottle.
Top off with witch hazel and secure the spray nozzle.
Shake well before each use.
Spray on your hands and rub them together. Or spray on a surface and wipe clean.

Notes
If you do not have the onguard blend you can use 3 drops each of wild orange, clove, cinnamon, eucalyptus, and rosemary.