Homemade bug repellents are easy to make at home, inexpensive and effective in keeping bugs away. Feel confident this summer by spraying down clothing and shoes with this natural bug and tick repellent.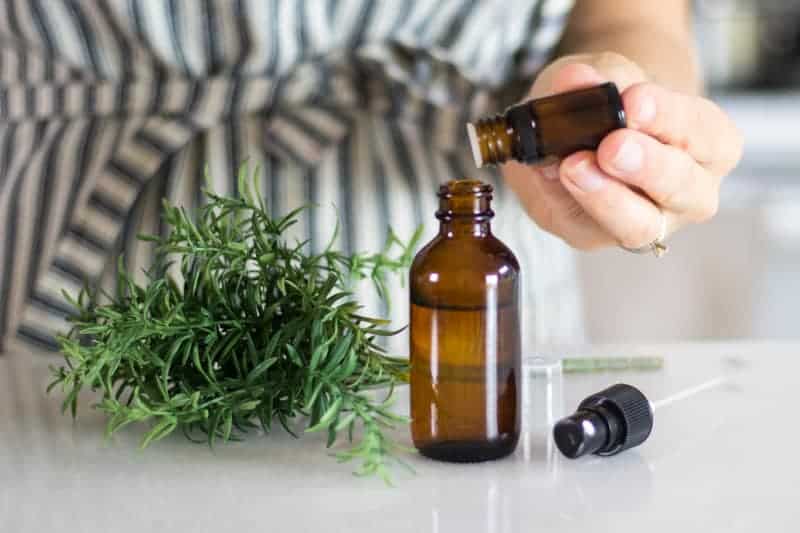 This post was originally published in April 2018 and has been updated to include more helpful information and a revised recipe.
Summer is in the air, and I couldn't be more excited! Winter was way too long for me this year!
I love everything about summer; swimming, barbecuing, boating, floating, camping, the beach, everything…except for the bugs!
We have all been there before. You are out on a hike or camping trip, and the next thing you know, there's a tick crawling up your leg, or a swarm of mosquitoes finds you to be a suitable midday snack. Ugh.
That is one thing I seem to forget about every single year. It's all fun except for the bugs!
And since we practically live outside in the summer, using a bug spray is a must.
There are a number of essential oils for bug spray that work really well at keeping ticks, mosquitoes, and other pesky insects away. So let's get started, shall we?
Ready to get toxins out of your home? Grab my FREE ebook with my favorite DIY all-natural products.
Essential oils for ticks | Repel ticks naturally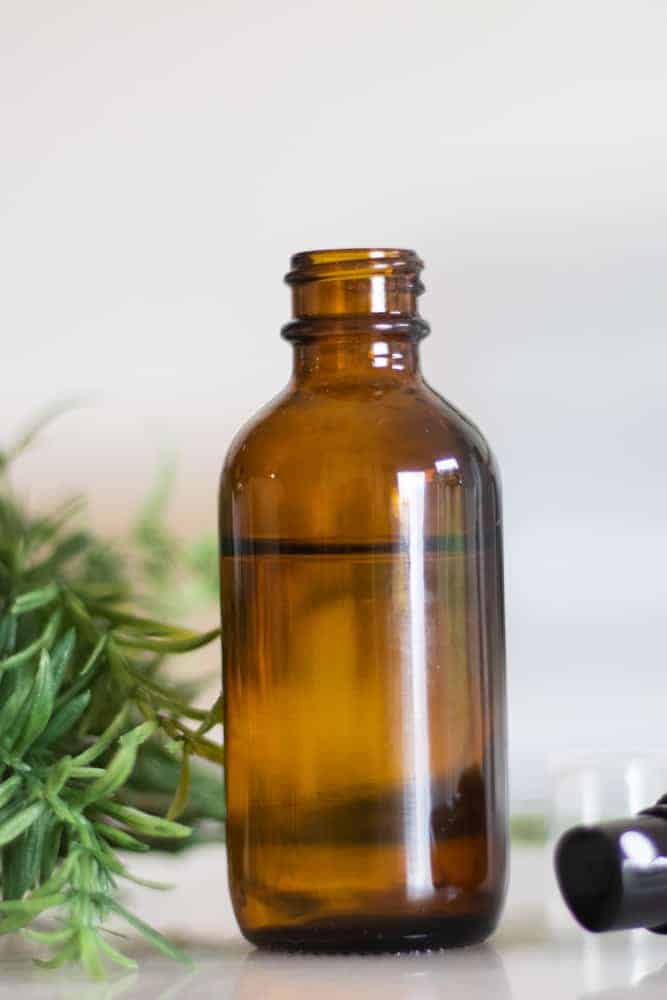 I often get asked what I do about ticks, and for a family that loves the outdoors, keeping ticks off of us can be a constant struggle in the late spring and early summer, when the ticks are the worst.
Hands down, the best essential for repelling ticks is cedarwood. Have you ever noticed ticks are less prevalent in cedar thickets?
In a study done by the ARS, results revealed cedarwood to be an effective natural tick repellent.
This is why you will find cedarwood essential oil in this homemade bug spray. If ticks are a big problem in your area, you can even add an extra drop or two of cedarwood, which I usually do.
Cedarwood is not the only way to repel ticks naturally, though. Oregano (which is also great for plants), citronella, eucalyptus, lemongrass, peppermint, and spearmint are all effective tick and insect deterrents.
How to make tick repellent
Ingredients
Instructions
Add all the ingredients to a 4-ounce glass spray bottle. Top off with water, secure nozzle and shake well.
Mist the repellent over top of the clothes, especially around the ankles.
Ticks can carry a number of diseases, so it is important to reduce the chance of bites. In the event of a tick bite, remove it as soon as possible.
Mosquito repellent essential oils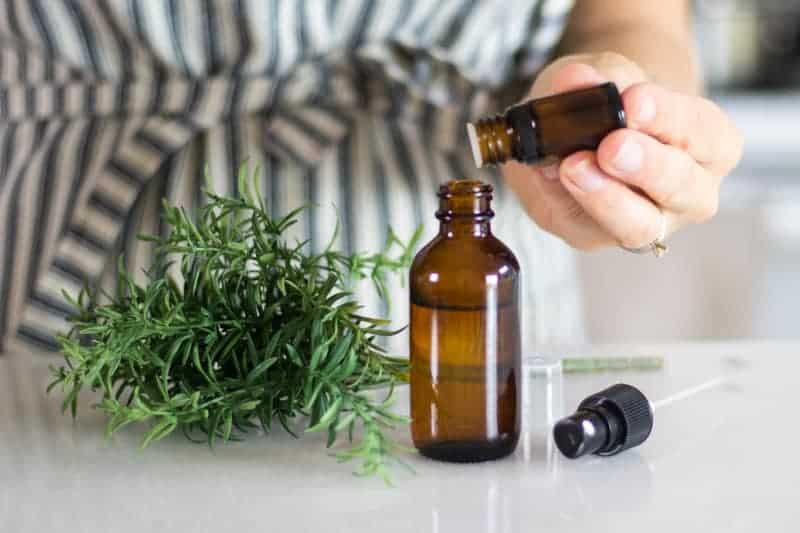 While I'm sure mosquitoes play an important role in our ecosystem, they are certainly one of the most annoying summer pests.
Have you noticed some people get bit up worse than others? Well, you are not crazy; studies reveal mosquitoes prefer certain blood types.
So whether you find yourself particularly attractive to mosquitoes, know that mosquitoes hate the scent of peppermint, eucalyptus and lemongrass.
Use the bug repellent recipe below to keep those pesky insects away.
On that note, if you live in an area where mosquitoes like to breed, such as near lakes, streams, or swamplands, it can be difficult to stay 100% bite-free.
Try this roller bottle for itch relief or anti-itch bug balm to help with the inevitable itchiness.
Essential oils for gnats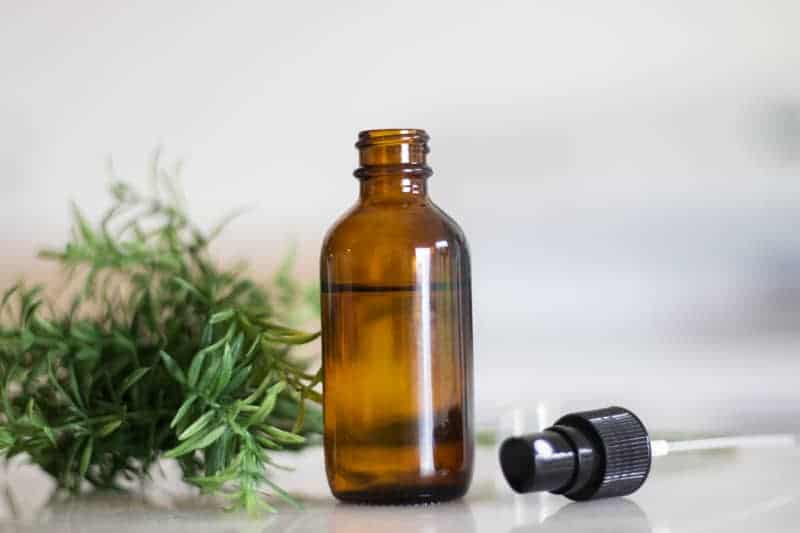 The last and final tiny creature that gets an honorary mention is the gnat. Although not every area is prone to gnat problems, they are a huge nuisance in the midwest in the late spring.
While they have a relatively short season, gnats can sure stir up some troubles. Gnat bites look like little red dots and are very itchy.
But that's not why gnats are on the list. Gnats can be a huge problem for young backyard chickens by entering the chicken's nostrils and suffocating them.
Homemade Gnat Repellent
In a 16 oz glass spray bottle, add 1 teaspoon of pure vanilla extract and 10 drops each of citronella, peppermint, and lemongrass essential oil. Top off with water and shake well.
Each of the oils in this recipe will work just fine on its own if you don't have all 3 of the essential oils.
Mist over the top of your clothing to keep bugs off yourself.
Spray your chicken coop to discourage gnats from entering. However, take care not to get the spray on the chickens, especially around the head or eyes.
Homemade bug spray with witch hazel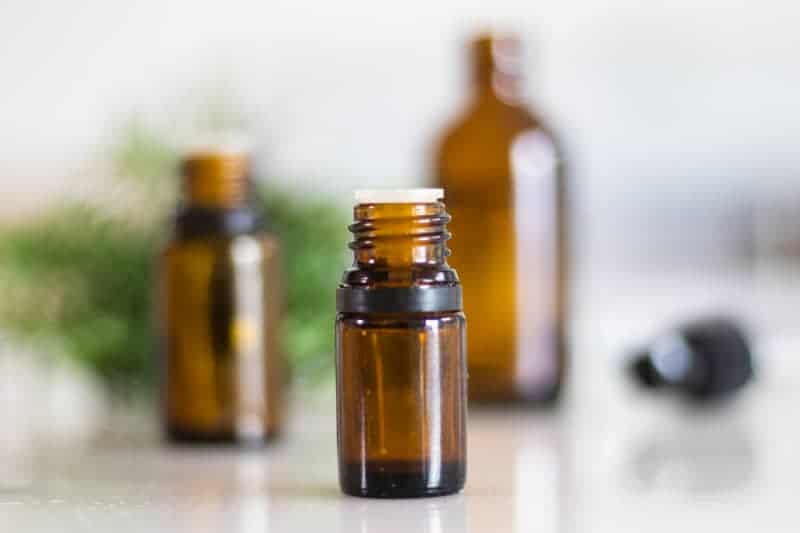 This homemade bug repellent only uses the necessary ingredients to fend off pesky bugs. Below are the ingredients I use and a little excerpt on why I use them.
Witch Hazel works as an emulsifier allowing the oils to distribute evenly throughout the spray.
Apple Cider Vinegar is one aroma that nearly every bug cannot stand. I have heard people making a spray bottle of ACV and water to mist on their dogs to keep ticks off.
Essential Oils are excellent natural bug repellents. Citronella (a widely known bug deterrent scent) along with eucalyptus and cedarwood will leave nearly all mosquitoes, ticks, gnats and crawly critters thinking twice about bothering you.
How to make a natural bug and tick spray
This post contains affiliate links, which means I make a small commission at no extra cost to you. Get my full disclosure HERE.
This is a great all-around homemade bug spray. However, if you are trying to target a specific bug, see my recommendations above and simply use those oils recommended.
INGREDIENTS
INSTRUCTIONS
Use a funnel to add 1/4 cup each of witch hazel and apple cider vinegar to a 16 oz glass spray bottle.
Add 4 drops of each essential oil.
Top off with distilled water.
Secure lid, shake well, and it's ready for use!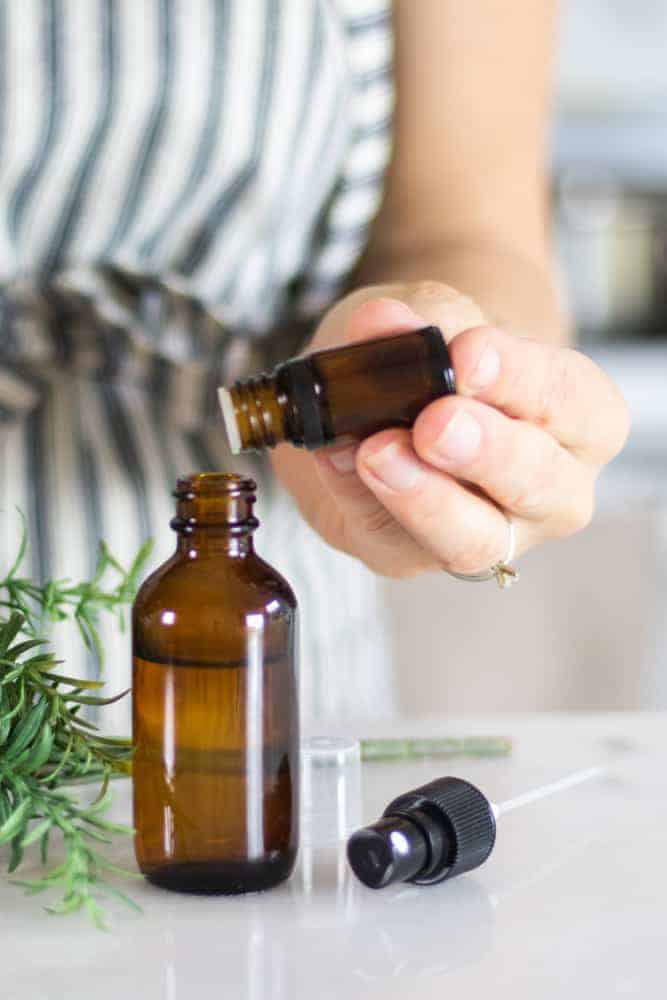 How to use your natural bug spray
Spray it on clothing, avoiding exposed skin, especially the eyes and mouth. I use my bug repellent lotion bars for the face and neck.
Store repellent indoors out of direct sunlight. I keep my bug spray by the back door, so it's easy to apply before going outside.
Reapply every couple of hours or as needed.
Not ready to make your own yet?
Hey, if you are not ready/don't have the time to make your own bug and insect spray, here are a few of the best natural bug sprays I have found to be effective and relatively inexpensive.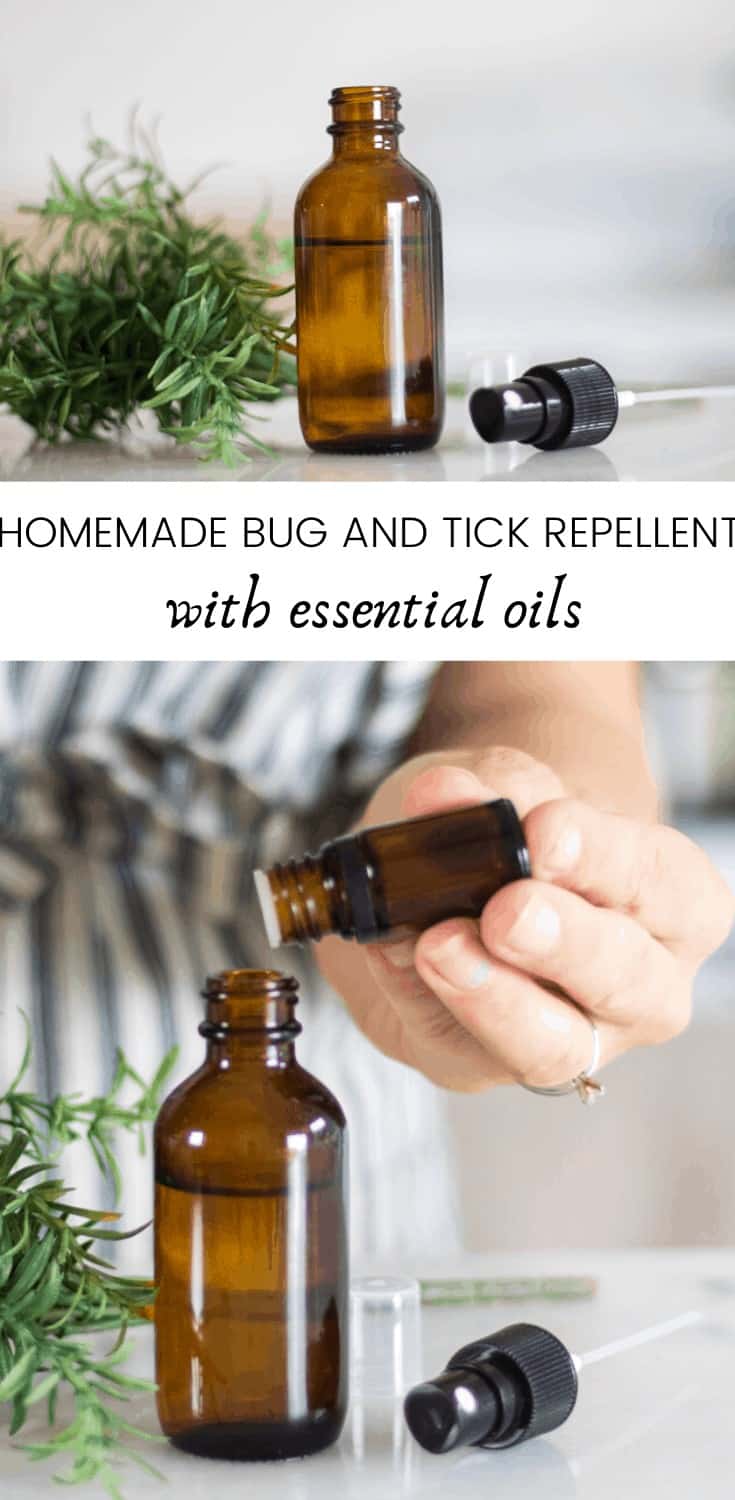 Homemade bug repellent
I hope you find this natural recipe effective. Be sure to let me know how it works for you in the comment section below, I'd love to hear from you!
If you are looking for more great DIYs, be sure to check out my most recent pest control posts using common household ingredients.
Yield: 16 ounces
Bug and Tick Spray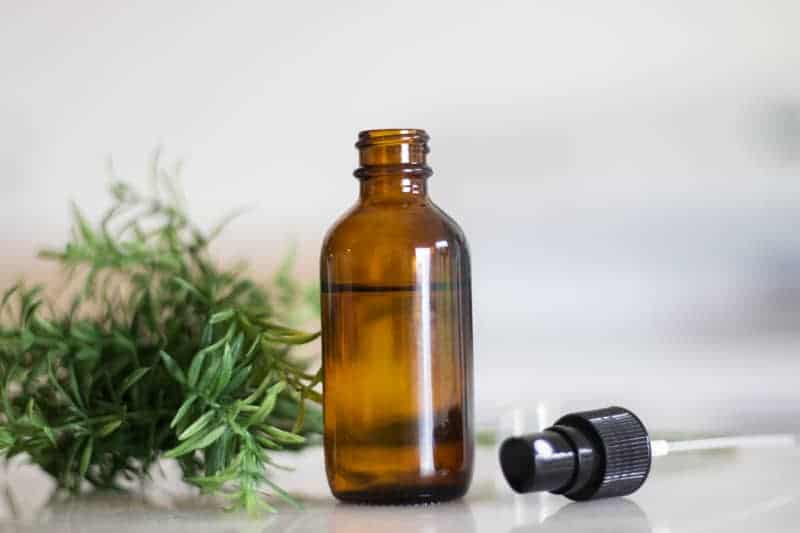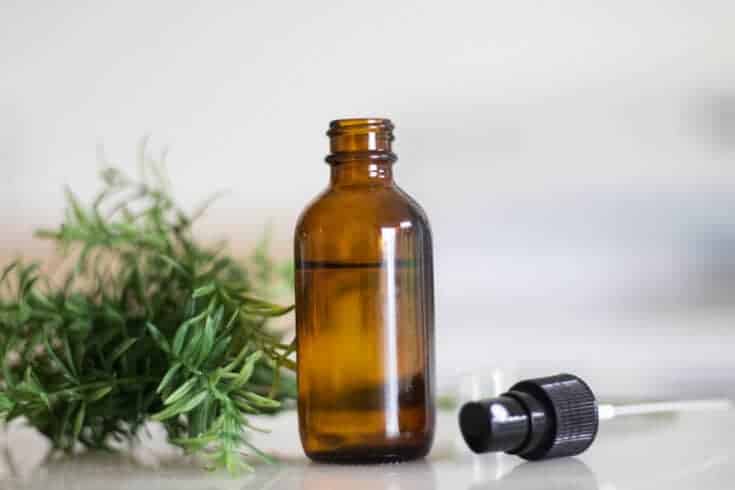 Make your own natural bug and tick repellent to save money and go chemical-free.
Additional Time
5 minutes
Materials
Instructions
Use a small funnel to add witch hazel and apple cider vinegar to the bottle.
Add in 4 drops of each essential oil.
Top off with distilled water.
Secure lid, shake well, and it's ready for use!