Make your own naturally fragranced DIY women's perfumes using essential oils with a full video tutorial and printable labels.

I mostly use my oils for skincare recipes but recently discovered the fun of making perfumes. Most essential oils smell amazing, and combining different ones together is a fun way to make an all-natural perfume or body mist.
Using essential oils for perfume is a great alternative to artificially scented perfume, and your body will also profit from the therapeutic benefits.
Get access to my online resource library for your free printable labels to put on your perfumes and body mists.
What Are Essential Oils?
Essential oils are natural aromatic compounds extracted and distilled from plants for health benefits.
Essential oils can be used for assisting the mood, promoting natural energy, boosting the immune system, or helping with skin imperfections.
Essential oils can also work with the body to address issues of the root causes on a cellular level! Can your Estee Lauder do that?
Getting essential oils on the skin and breathing in the aroma can benefit you in so many ways; why not use them for their fabulous scents too?
Learn more about essential oils here.
Why Make Your Own Perfume?
Every time I wear my homemade perfumes, I get comments from people constantly asking me what perfume I am wearing. I love telling them that I am wearing a combo of essential oils.
Store-bought perfumes are loaded with chemicals and toxins you don't want on your skin or in the air you are breathing.
Ingredients Found In Conventional Perfumes
Phthalates
Benzene
Benzyl alcohol
Acetone
Ethanol
Fragrances
Independent laboratory tests revealed that 38 chemicals were found in 17 leading fragrances. Studies have shown that these ingredients can be toxic for our bodies and cause many adverse side effects.
Certain toxins were linked to sperm damage in human epidemiological studies as well as being found in fat tissue and breast milk.
Take note that what you spray on your body is going in your body!
Making Perfume with Essential Oils
This post contains affiliate links, which means I make a small commission at no extra cost to you. Get my full disclosure HERE.
Happy and Bright
5 drops juniper berry
5 drops lemon
3 drops peppermint
2 drops cardamom
5 drops rosemary
Spontaneous and Fun
6 drops grapefruit

10 drops vetiver
4 drops ginger
Floral and Spice
12 drops lavender

5 drops clove
3 drops cinnamon
Citrus Bliss
4 drops lime

8 drops bergamot
3 drops tangerine

5 drops wild orange
Get your essential oils HERE.
How to Make Perfume Using Essential Oils
TO MAKE A ROLL ON PERFUME – Add the essential oils to a 10mL roller bottle and top off with a carrier oil. My favorite carrier oil is fractionated coconut oil. Learn more about carrier oils in my how-to-make roller bottles post.
TO MAKE A SPRAY BODY MIST- Add the essential oils to a 2-ounce glass spray bottle and fill the rest of the way with distilled water. Learn all you need to know about body mists here.
HOW TO USE IT- Apply or spray perfume on the wrist, chest, and neck. The scent will last for up to several hours; reapply as needed.
Benefits of Essential Oil Perfume
HAPPY AND BRIGHT
This blend would be perfect for work or school. With the bright and refreshing scent, it can help you stay alert and focused.
Juniper berry – Used for digestive issues, such as bloating and acid reflux, and aids digestion. Also known for its ability to protect the skin, lessen skin imperfections, and calm the nervous system.
Lemon – This oil is very cleansing, uplifting, and energizing. Lemon is also a powerful immune booster and can kill germs.
Peppermint – Peppermint is known for its cooling effect and can relieve tension within the body. It can also help with digestive and respiratory problems.
Cardamom – This spicy but sweet aroma has many benefits for the digestive system. This essential oil has properties great for our skin too.
Rosemary – Great for skin, hair, and nails, Rosemary is a stimulating oil that can aid in memory, helping us to focus and concentrate.
SPONTANEOUS AND FUN
Wear this blend when heading out for a date night. This blend smells sweet, spicy, and earthy all at once, making it a delightful combo with a ton of therapeutic benefits.
Grapefruit – This citrus essential oil has a tangy yet sweet aroma and is most known for its ability to help with metabolism. When wearing this perfume, roll onto the tummy to help deter cravings and promote natural weight loss.
Ginger – Ginger is known for its digestive benefits, but it is also great for heart health, stress, and anxious feelings. The ginger scent is a beautiful addition to this perfume.
Vetiver – Vetiver is a thicker oil and has a sweet earthy smell. This essential oil is calming and relaxing.
FLORAL AND SPICE
Floral yet spicy, this perfume scent is perfect for all your holiday parties. Not only does it smell festive, but it also can boost the immune system and kill germs.
Lavender – Calming, relaxing, and can reduce feelings of stress and anxiousness. Lavender is also fantastic for the skin.
Clove – This spicy oil is a powerful immune booster and can naturally numb. Commonly used for dental needs.
Cinnamon – Similar to clove, cinnamon is also a spicy oil with immune-boosting properties. I love the smell cinnamon adds to this perfume and pairs lovely with the floral scent of lavender.
CITRUS BLISS
This one is very uplifting, refreshing, and energizing. The fruity scent is perfect for all occasions.
Lime – Lime essential oil is very uplifting and can promote a positive mood. It is also suitable for opening up airways and promoting clear breathing.
Tangerine – The sweet smell of tangerine is perfect for this citrus body mist. With its cleansing and purifying properties, tangerine is great for boosting the immune system and killing germs.
Wild orange – Wild orange is refreshing and uplifting. It can boost your energy naturally and promote a positive mood.
Bergamot – Bergamot is one of my favorite essential oils and one I use almost every day. It has the ability to calm the nervous system, help with stress, anxiety, and assist the mood.
How Do You Make Perfume from Flowers at Home?
To make your own perfume at home, you can use essential oils, as shown above, or you can use flowers, citrus rinds, or vanilla, and spices.
If using flowers, you will need flower petals, water, and a cheesecloth. Allow the petals to soak in the water overnight, and then strain the petals out using a cheesecloth.
Extract the flower mixture over medium heat, and then you will have a beautiful concentrated aroma. Mix with water in a spray bottle to make a women's body mist.
You can do a similar thing with citrus rinds or spices. Add in pure vanilla or essential oils to make your own customized blends.
Is it Cheaper to Make Your Own Perfume?
Yes! Making your own perfume is cost-effective, better for the environment, and healthier for you. You can make your own perfume for under a dollar a bottle!
Buying perfume can be very expensive, depending on the brand. However, when you make perfume, you only need a small amount at a time, so it will last a very long time.
How do You Make Perfume Last Longer?
You can add an antioxidant like vitamin E antioxidant or rosemary antioxidant to help extend the product's shelf life if desired.
It is also important to store your homemade perfume out of direct sunlight and in an airtight container. This will give your perfume the longest shelf life.
Where is the Best Place to Apply Perfume?
Apply perfume to the chest, wrists, or back of the neck. For a longer-lasting scent, apply to moisturized, clean skin.
I like to use a small amount of body butter on the pulse points before applying perfume to help prolong the scent.
Pin it for Later
DIY Women's Perfume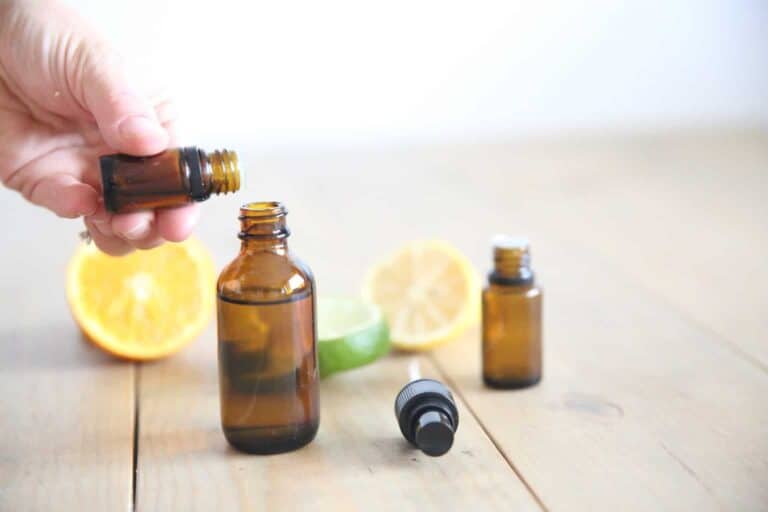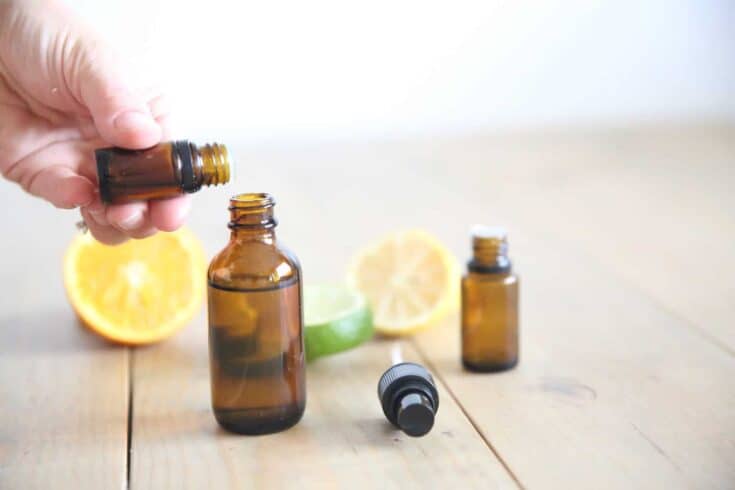 All-natural perfume for women made with essential oils.
Materials
Roll-On Perfume
10mL roller bottle
12 drops of lavender essential oil
5 drops of clove
3 drops of cinnamon
Fractionated Coconut Oil 
Body Mist Perfume
2-ounce glass spray bottle
12 drops of lavender essential oil
5 drops of clove
3 drops of cinnamon
Distilled Water
Instructions
Roll-On Perfume
Add the essential oils to a 10mL roller bottle and top off with fractionated coconut oil.
Secure roller top and shake well.
Body Mist Perfume
Add the essential oils to the spray bottle and fill the rest of the way with distilled water.
Secure spray nozzle and shake well before each use.