All-natural hand sanitizer gel is very simple to make and works effectively at cleansing hands without the harsh chemicals found in conventional hand sanitizer. This DIY post will show you how to make hand sanitizer using only 3 ingredients. Safe for adults, kids, and babies.

I have recently shared my DIY hand sanitizer spray due to the recent pandemic going on in the world. I truly believe that prevention can be the most effective in situations like this, and keeping our hands clean is key, as well as keeping the immune system boosted. Today, I am going to share a DIY hand sanitizer gel.
Both of these sanitizers will keep hands and surfaces cleansed and purified. I flip back and forth between the spray and the gel and I really don't have a preference either way. I do think the hand sanitizer spray is a little easier to apply to kids.
If you live in an area where hand sanitizer is sold out, or if you want a more natural option, this recipe is for you. I love that I can whip this up at home in just a few minutes and not have to worry if it is going to be sold out at the store.
PIN IT FOR LATER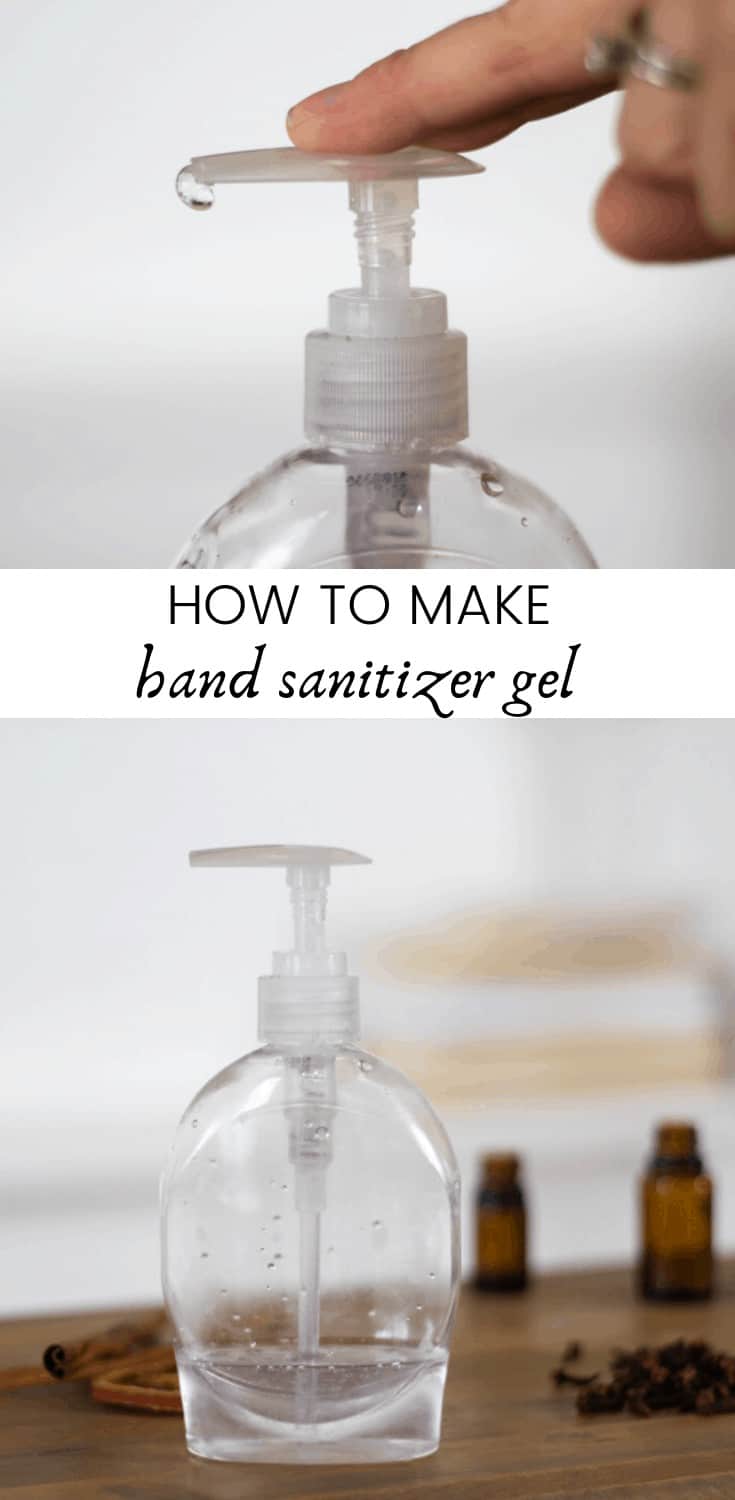 NATURAL HAND SANITIZER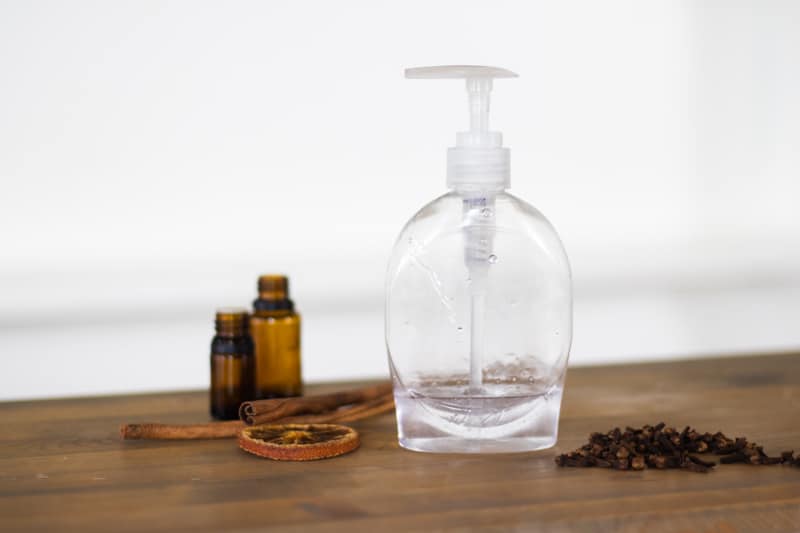 It is so important to use a natural hand sanitizer. First off, conventional hand sanitizer gels and sprays can be very harsh on the skin and cause skin irritations and dryness. Many conventional sanitizers are made with harsh chemicals you won't want on your skin or your child's skin.
Yet, we are constantly put this on. You can find it at most public places, churches, bathrooms, parks, libraries, grocery stores, you name it and it is probably there. Though it is good to get the germs off of our hands, overuse can cause problems too.
When we use conventional hand sanitizing spray, we are killing off the bacteria that we need to build a healthy immune system. Overusing products with anti-bacterial agents can make our bodies become immune to them, and then when we need them when we are actually sick, they may not be as effective.
ANTIBACTERIAL HAND SANITIZER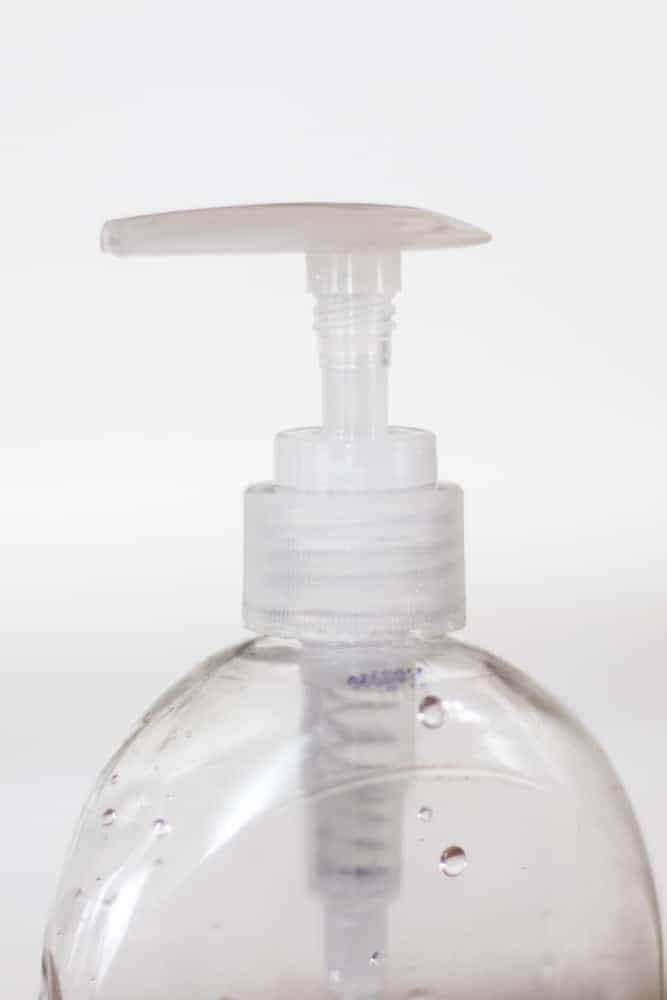 Cleaners, washes, hand soaps, and wipes are made with antibacterial agents. Again, this is an effective way to kill germs, but overuse is not a good thing.
There are so many natural ways to create antibacterial products to make our homes healthier and safer. With little kids around, this is one of my biggest goals. I don't want to have to worry about them getting into the cleaners or not allow them to help because I am scared of the side effects of the ingredients.
Over the past eight years, I have worked hard to reduce toxins in my home. I now make my own laundry soap, natural cleaners, skincare, and hair care. I use all-natural ingredients that still have those antibacterial properties, just in a healthier way.
HOW TO MAKE HAND SANITIZER GEL
This post contains affiliate links, which means I make a small commission at no extra cost to you. Get my full disclosure HERE.
INGREDIENTS
INSTRUCTIONS
Add all the ingredients in a small mixing bowl. Stir them together until everything is well combined.
Using a small funnel, transfer the mixture into an empty container. You can save an old hand sanitizer gel container or buy empty ones on amazon.
DIY HAND SANITIZER GEL

Just like the DIY hand sanitizer spray, I am using rubbing alcohol and essential oils in this recipe. I am adding in aloe vera to make it a gel.
RUBBING ALCOHOL OR WITCH HAZEL
Personally, I like to use witch hazel, especially when making this for the kids. It makes the gel much more gentle and still can help cleanse the hands. However, to make the gel even more effective you can add rubbing alcohol.
Witch hazel is a great natural ingredient to use for hand sanitizer; it is a known astringent. If you decide to use rubbing alcohol, it is best to use one that is at least 60% alcohol.
PURE ALOE VERA GEL
Aloe vera has strong antibacterial, antifungal, and antiviral properties. It can keep the skin clean and free of infection with its antiseptic and antimicrobial agents. It is full of powerful antioxidants. Aloe is also very moisturizing and soothing to the skin. So while you are cleansing your hands of germs, you will also be treating your skin.
If you can't find aloe vera or if you are allergic to it, you can substitute it for glycerin.
FRACTIONATED COCONUT OIL
The added fractionated oil is optional but can help moisturize the skin. Rubbing alcohol can be very drying and this can help.
ESSENTIAL OILS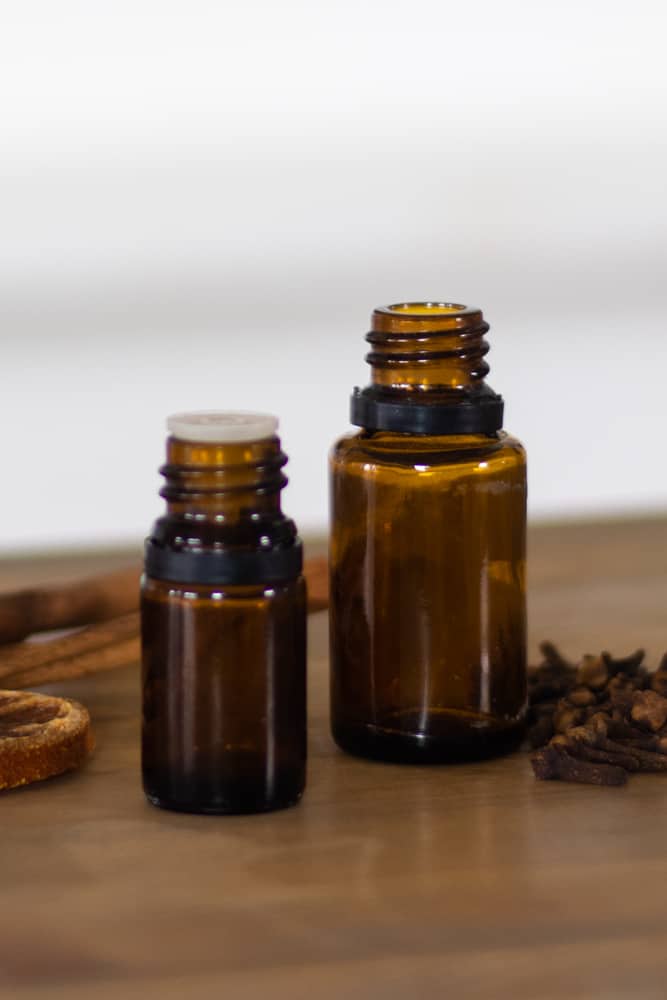 Several essential oils can be used to keep the skin cleansed and purified. As mentioned in my hand sanitizer spray post, on guard is one of my favorites for this. On guard is a blend made by doTERRA. If you don't have on guard, you can make your own by using a few drops of wild orange, clove, cinnamon, eucalyptus, and rosemary.
Other essential oils to use in this homemade hand sanitizer gel that can help cleanse and purify:
Lavender
Thyme
Tea tree (or melaleuca)
Lemon
Patchouli
Basil
HOW LONG WILL HAND SANITIZER LAST?
Hand sanitizer can last as long as 2 to 3 years. And even after it is "expired," it can still be used, it just may be less effective. If you want to make a large batch at a time, go for it! It will last for a long time.
HOW TO STORE DIY HAND SANITIZER GEL?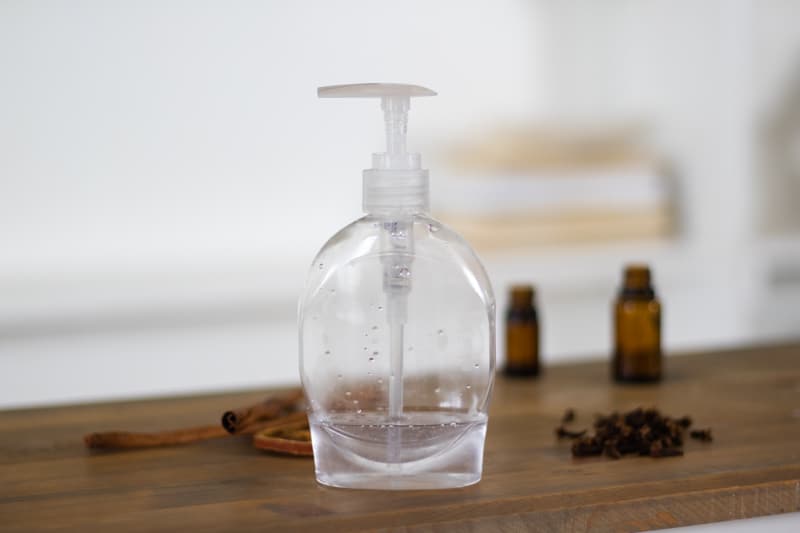 Any DIY project with essential oils is best to be stored in a glass or metal container. However, some plastics are OK too. Look for thicker plastics. I am using an empty container that once had a conventional hand sanitizer in it. I needed to find a container that would work for the thick gel.
It is always best to store essential oil products out of direct sunlight and in a cool, dry place. To be honest, I keep my hand sanitizer in my diaper bag or purse at all times. I like to use it on myself and my kids when we are out and about.
HOW TO USE HAND SANITIZER GEL?
Simply squirt a small amount of the gel onto the hands and rub in thoroughly. You can also use this on surfaces like a shopping cart, restaurant tables, door handles, light switches, or the steering wheel. Think about high germ places and use it!
As always, it may be best to wash your hands before applying hand sanitizer, but if washing isn't an option, be sure to use the hand sanitizer. It will help to keep hands clean.
Yield: 1 bottle
DIY Hand Sanitizer Gel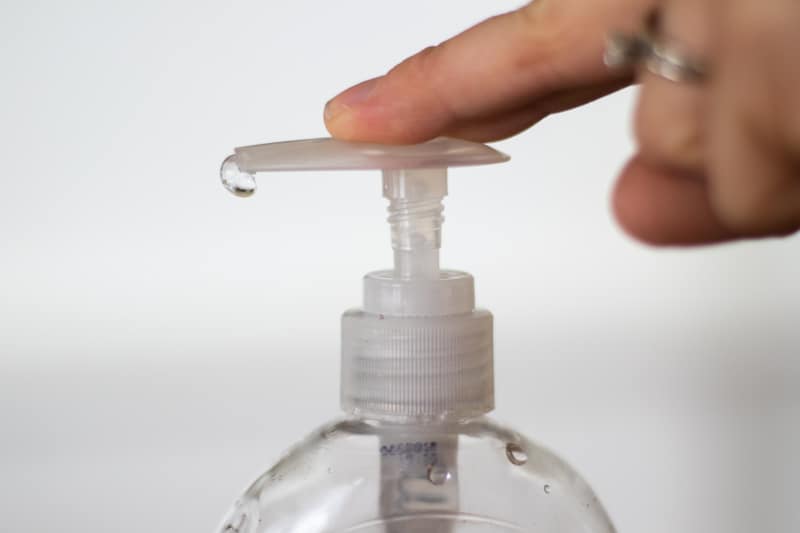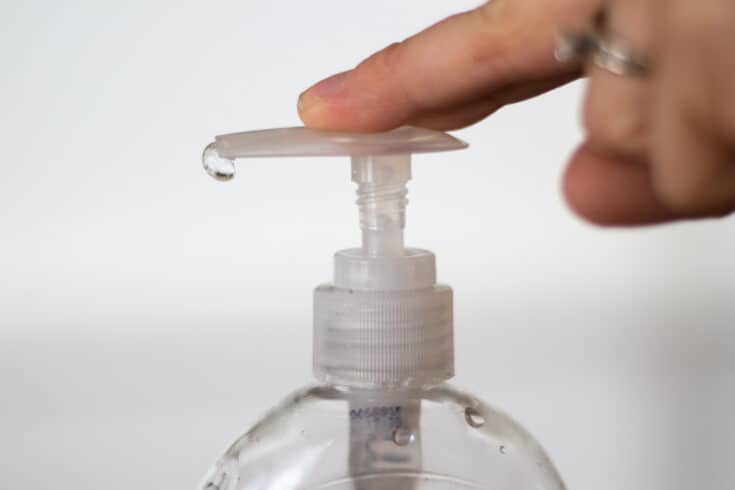 Materials
Instructions
Add all the ingredients to a small mixing bowl. Stir together until everything is well combined.

Using a small funnel, transfer the mixture into an empty container. You can save an old hand sanitizer gel container or buy empty ones on amazon.