Ever wonder why the bottoms of your feet are always dry and cracking? Or maybe the better question; what is the best way to rid the feet of that dry cracking skin? Well, learn everything you need to when it comes to foot care right here.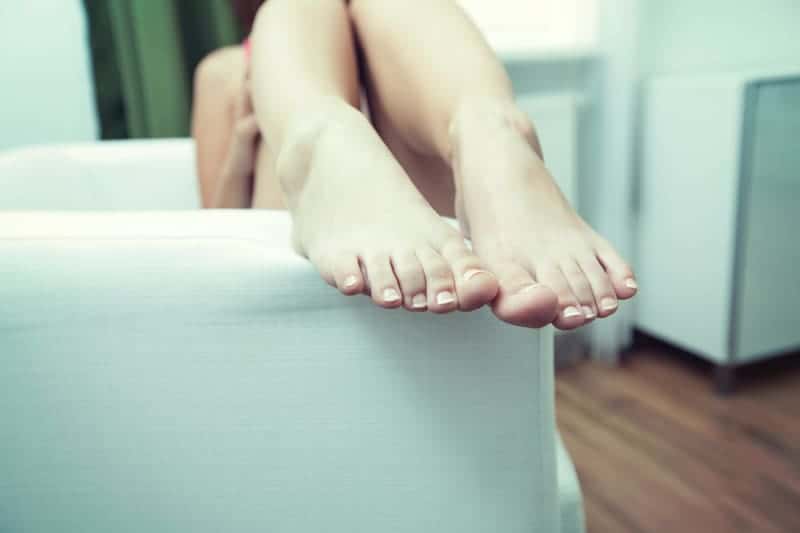 Sometimes our feet need a little extra love and with these tips, you can learn how to get rid of cracked skin on your feet without any chemicals.
Each of these recipes can be done easily at home and will give quick results.
Whether it is from dry, winter skin or walking around barefoot in the summer, the skin on our feet can become cracked, dry, damaged, and peel.
We spend a lot of time caring for our face by washing it, applying masks and creams. But all too often, our feet go untouched-covered up with socks and left for later.
This post will show you a few easy things you can add to your skincare routine to keep your feet soft and smooth.
PIN IT FOR LATER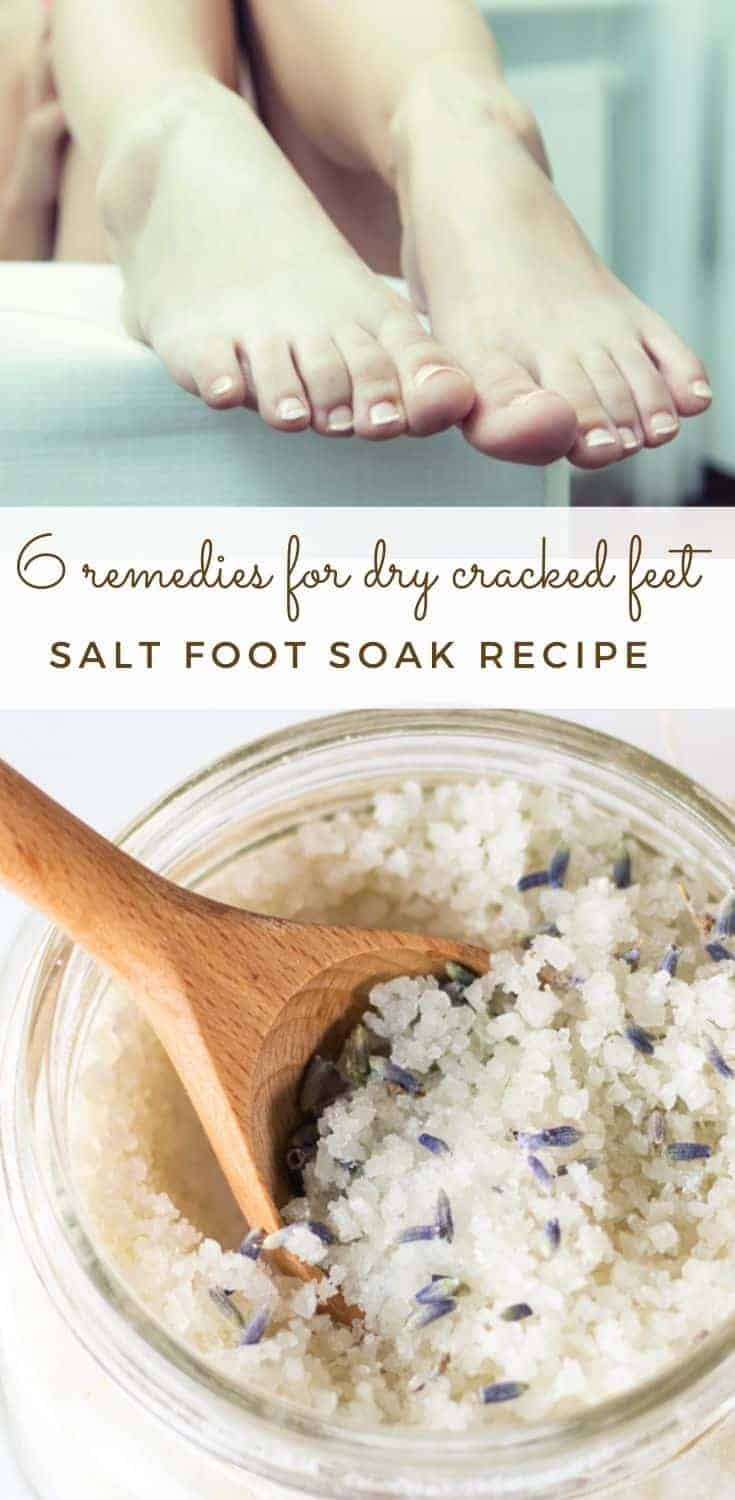 WHAT CAUSES DRY, CRACKED SKIN ON FEET?
The main reason for dry, cracked skin on our feet is simply from the job that feet do for us all day, withstanding all of our body weight.
Certain health conditions, such as obesity, eczema, or diabetes, can be another factor.
Being on your feet for long periods of time, standing on hard floors, wearing shoes that don't fit correctly, or walking around barefoot can be other reasons for dry, cracked skin.
Athlete's foot can be another big culprit for cracked skin on the feet. The most common place for Athlete's foot is between the toes, but it can also be found on the heels or sides of the feet.
This can cause flaky, cracked, and blistered skin.
OTHER FACTORS FOR DRY CRACKED SKIN
Lack of hydration or dry skin
Skin irritations
Hot feet
Wet or humid feet
Aging
Certain medications
6 BEST WAYS TO FIX DRY CRACKED SKIN ON FEET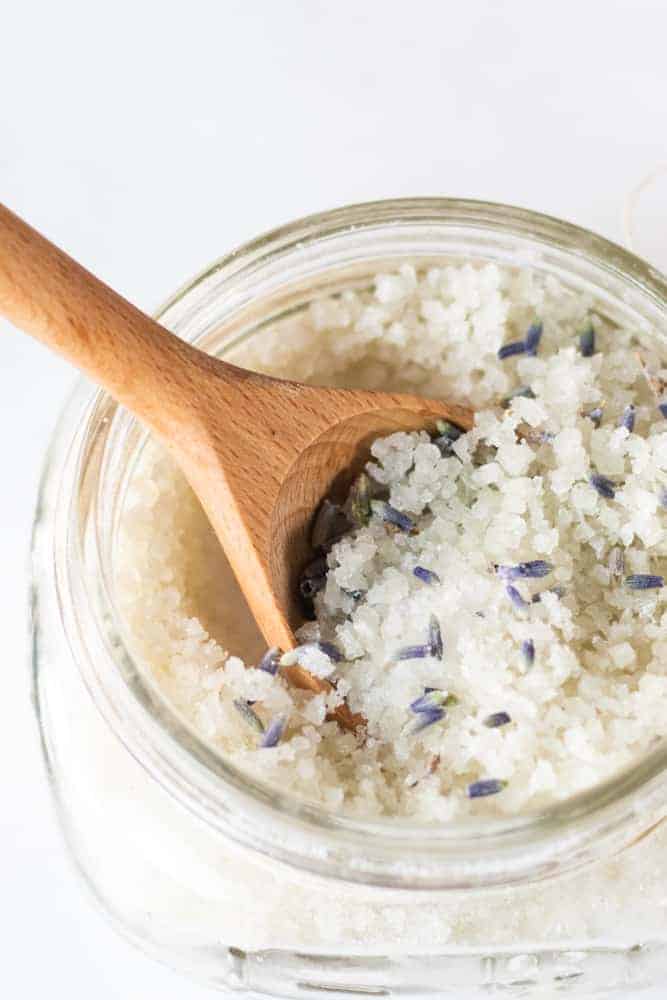 Foot Soak
Make a deep moisturizing treatment with coconut oil.
Use a pumice stone
Apply a foot Mask
EXFOLIATE
Exfoliating the skin can be the best way to remove dry, cracked, or damaged skin. The best way to exfoliate the skin is by making a salt or sugar scrub.
Salt and sugar both work very well to exfoliate the skin gently and naturally.
It is important to exfoliate the skin first if the feet have been neglected. It is the best way to remove dead skin cells and leave the skin super soft.
Coarse salt and sugar are best for the feet as that is where skin tends to be the toughest. You can also use coffee grinds or sand to exfoliate the skin.
Try these recipes to make your own exfoliating scrubs:
FOOT SOAK
Before exfoliating the skin, try soaking your feet in warm water for about 20 minutes to soften the dead skin.
You can soak your feet in plain warm water or add in some Epson salt and essential oils. I like to make a foot bath that will soften and detox the skin with baking soda, salt, and essential oils.
CRACKED FEET VINEGAR SOAK
Soaking your feet in vinegar can help to soften the skin and remove dead skin. White vinegar or apple cider vinegar will work for this soak.
Add 2 parts warm water and one part of vinegar to a small tub. Soak feet for 20 minutes. After the soak, exfoliate the skin and moisturize.
Moisturizing your feet daily can help prevent dry and cracked skin.
COCONUT OIL FOR CRACKED HEELS
You have probably seen gel-infused or moisturizing socks at the store before. They basically work as a deep moisturizing treatment. Using coconut oil for cracked heels is actually quite common. It is very effective and does not take any time from your busy schedule.
Apply a generous amount of coconut oil to the bottom of the feet.
Cover with a thick pair of socks and let it soak overnight.
Exfoliate feet and wash well in the morning.
PUMICE STONE
Pumice stones are made with lava and water. They have an abrasive texture making them a great tool for exfoliating the skin. When used on the feet, they can remove dead skin cells, improve cracked skin, and even soften calluses.
Soaking your feet in warm water before using the stone will help to soften the hard skin on your feet and make it easier to remove. You can use a pumice stone daily or a couple of times a week.
ALOE VERA FOOT MASK
Use aloe vera to soften dry, cracked feet. Aloe Vera is a powerful moisturizer and wonderful skin-softening agent.
Apply Aloe Vera gel generously to the bottom of the feet.
Cover with thick socks.
Leave on for at least 4 hours.
Wash feet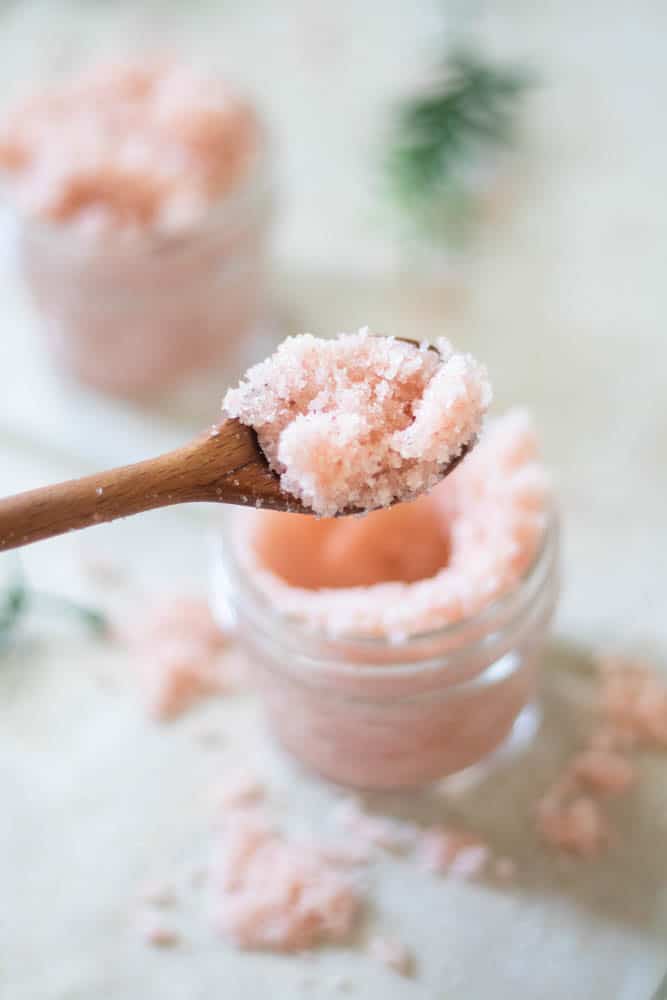 HOW TO PREVENT DRY CRACKED SKIN ON FEET?
Once you repair the skin on your feet, you can take a few steps to prevent it from happening again.
Scrub feet with a loofah when taking a shower.
Apply lotion or balm to the feet daily.
Keep your feet clean and dry and avoid sugary foods to keep Athlete's foot at bay.