Doesn't this sound amazing? Lavender and vanilla combined. It's such a delicious, sweet-scented lavender body spray, and I'm totally in love with it now that the warmer weather is here.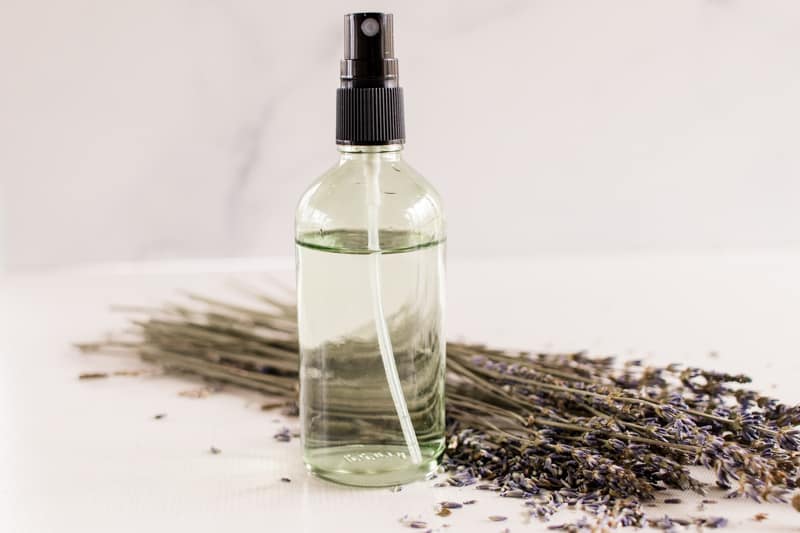 Essential oils body spray
It's perfect for Spring and for giving a boost of energy right when you need it. I love to spray this body mist on at any time of the day or night when I want to feel refreshed and energized.
In fact, the best time to spritz this is whenever you need a wake-up call. Or if your coffee isn't doing its job. Or when you simply want to feel good about yourself!
Because we all want to smell nice, don't we! Smelling good brings on that feel-good factor and brightens our day.
But did you know that store-bought body spray perfume can be full of synthetic chemicals?
Just take a look at the ingredients in some of the products you may have in your beauty cabinet.
The idea with a body spray is it gets sprayed all over your skin, yet when you think about it, do you really want to be spraying nasty chemicals on yourself?
I have since swapped all conventional perfumes for natural options, including a solid perfume and a travel roll-on perfume.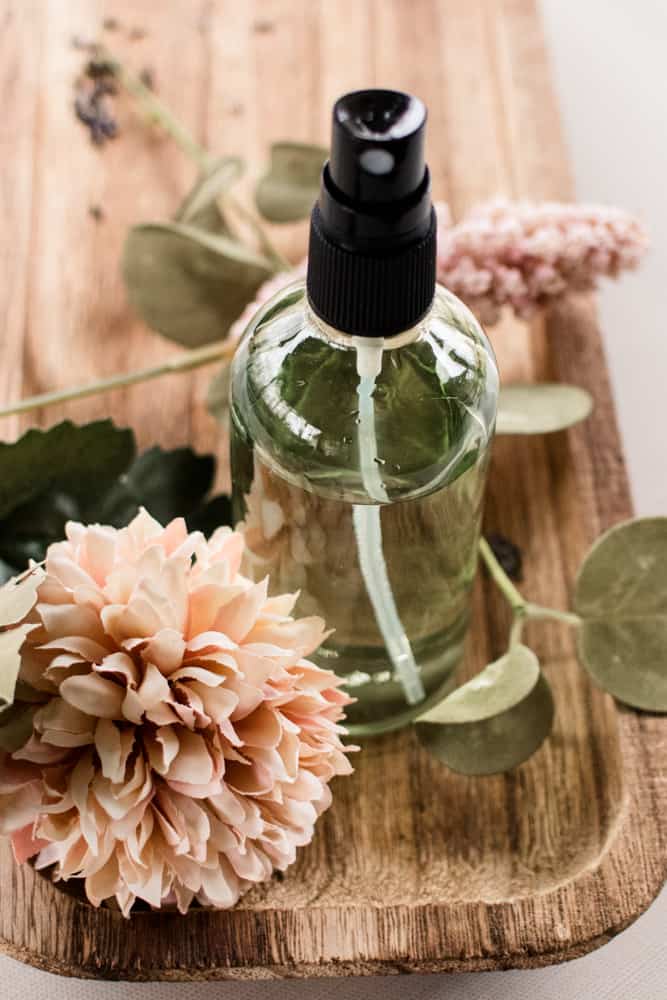 Natural body spray
That's why I love this natural body spray that's full of nurturing, gentle, natural ingredients.
It's an essential oils body spray containing only three basic elements, and it's super easy to make.
Plus, I've included variations on the scents depending on what aroma you'd like.
So if you're not keen on the vanilla/lavender idea, you have other options to choose from. You can find the recipe below in this post.
What is a body spray
Body spray is not to be confused with perfume or deodorant.
A body spray generally has a lower amount of oil within it compared to alcohol or water, whereas perfume has more oil than alcohol/water.
The more oil that a substance contains, the longer it will last on your skin and the stronger the scent will be.
This is why perfume lasts longer and smells stronger (and its price tends to reflect this, which is why perfume is more expensive.)
Body spray isn't designed to be overpowering or heavy. Instead, it's a lighter, fresher, subtler fragrance that you can spray all over your body.
With perfume, you'd want to spray it sparingly, on the wrists and neck area for best effect; otherwise, the smell would be too strong and overpowering.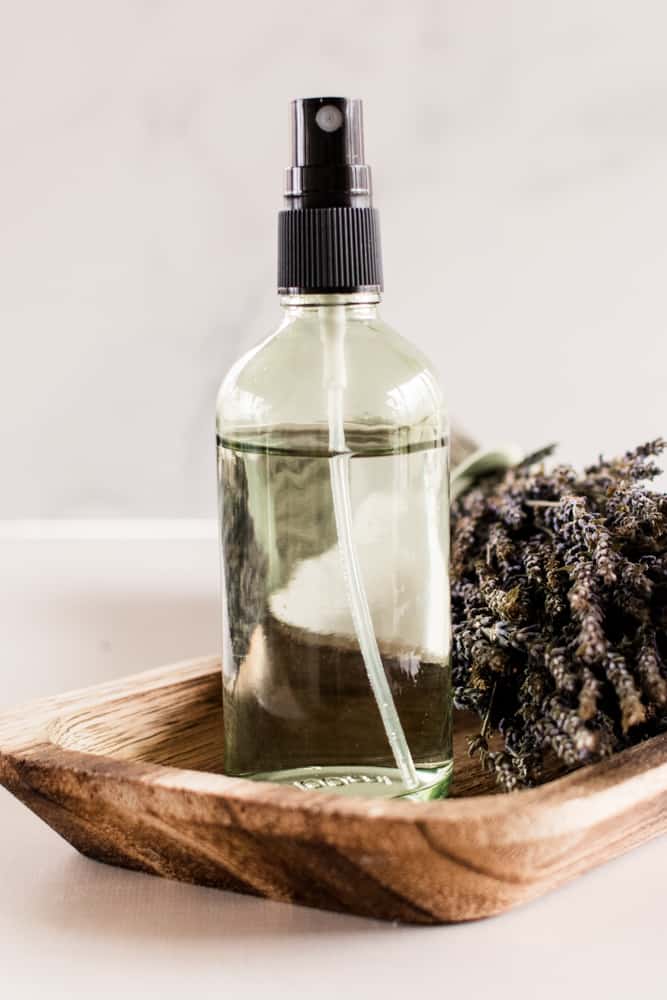 What is a body mist
A body mist is similar to a body spray or face mist in that it's subtle in fragrance and lighter in texture. 
Benefits of body mist include it being an all-over fragrance that doesn't dominate or smell too strong. Instead, it leaves you feeling fresh and revitalized.
Much like the essential oil spray in this post (see the recipe below). It's a natural body spray that is a cross-over between a DIY body spray and a DIY perfume spray.
That's because you can adapt the concentration of essential oils and ingredients as you like.
It's totally up to you whether you want to add more essential oils to make it a stronger scent or add less and have a subtle fragrance!
How long does body spray last
This depends on how much you apply to begin with, but I would say a body spray can last a good 3-4 hours, after which you can easily top it up with another spritz!
There are other ways you can increase how long a body spray lasts, which I've explained further down in this post.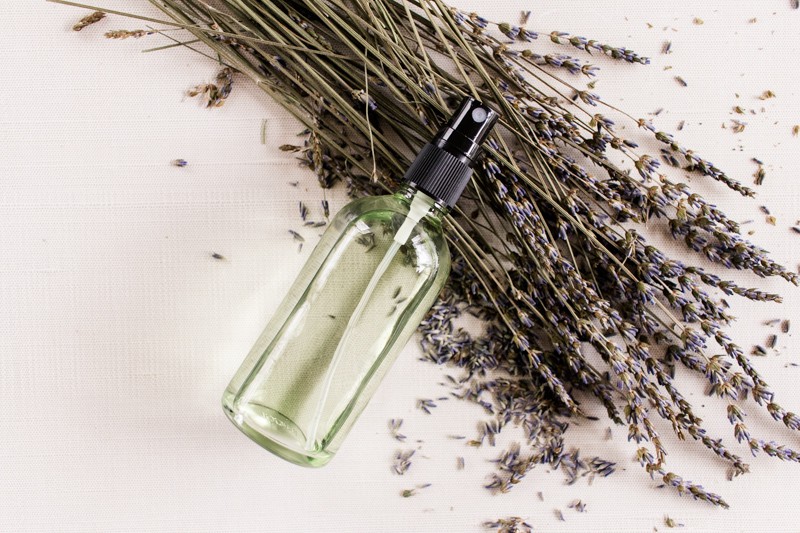 This post contains affiliate links, which means I make a small commission at no extra cost to you. Get my full disclosure HERE.
How to make body spray
This is the base recipe I use to make the DIY body spray, and I then tweak the essential oils to create different fragrances.
I've included some of my best variations on the essential oils so you can choose which one you make.
Ingredients:
Instructions:
Add all the ingredients to a 2-ounce glass spray bottle, secure the lid, and shake well to combine.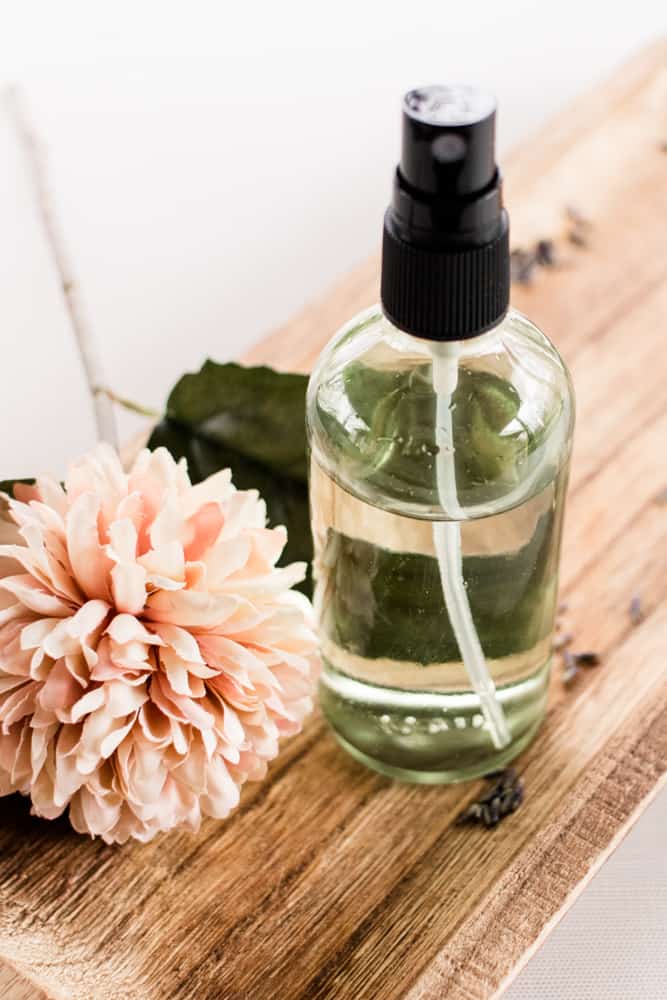 Recipe alternatives
Pick and choose from any of these three recipes to make the perfect DIY essential oil body spray for yourself. Or choose from this list here and make your own combinations.
Floral Blossom Night Out
5 drops jasmine
5 drops of wild orange
3 drops lavender
2 drops sandalwood
Romantic Moments
(This is one of the best date night fragrances I know of. Just as a hint!)
5 drops ylang ylang
5 drops cardamon
3 drops cinnamon
2 drops vanilla
Day at the Office
10 drops lavender
5 drops vanilla
How to apply body spray
You can mist this spray onto your wrist, neck, or clothing as often as you like. It's safe, natural, and kind to the skin and won't harm your clothes.
Remember to shake well before each use. As a tip, it's best stored out of direct sunlight to prevent the essential oils from losing their potency. So it's not to be stored on your kitchen window sill!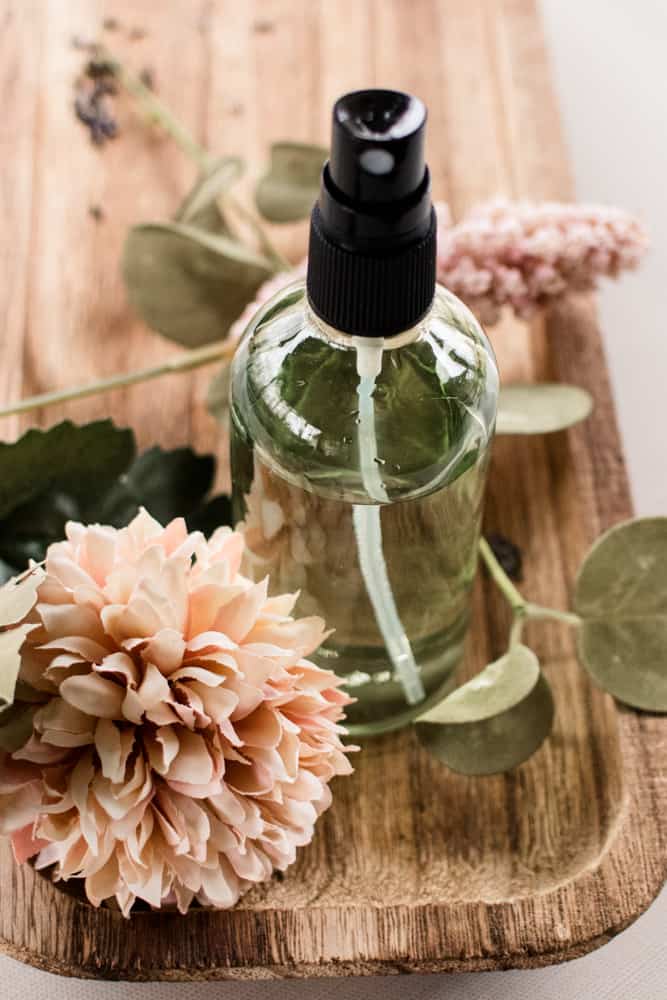 How to make body spray last longer
The best way to use body spray, so it lasts longer is to apply it to semi-damp skin.
Right after you've toweled off from your shower would be perfect, and make sure you spray on a good amount – all over your body.
You can apply body spray to your clothes, too, which will increase the scent intensity.
Also, spritz it in your hair from a distance. This will extend the longevity of the wonderful scent even more!
I do hope you enjoy making and using this vanilla lavender body spray as much as I do. So drop a comment and let me know how you like it!
And while you are at it, check out some of these great at-home self-pamper recipes.
Yield: Body Mist
Vanilla Lavender Body Spray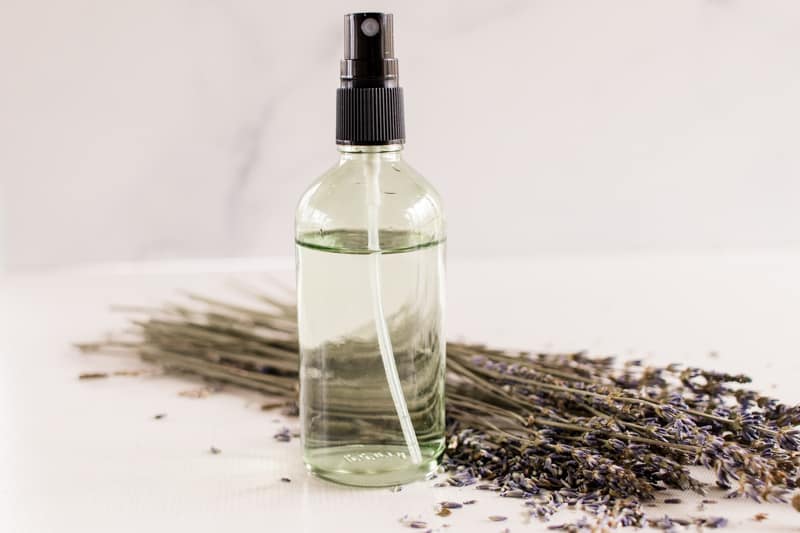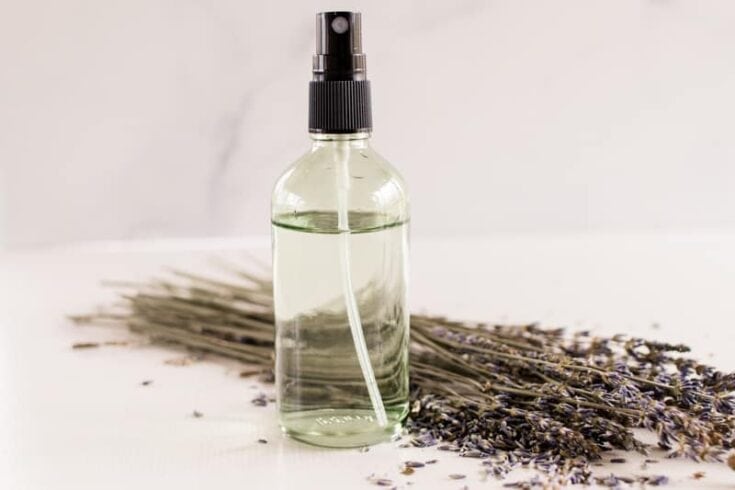 The floral scent of lavender combined with the delicious aroma of vanilla bean is the ideal combination to add to the perfect body mist for any occasion.
Tools
Instructions
Add all ingredients to the spray bottle.
Secure lid and shake well.
Spray onto neck, wrist, or clothing.