This DIY spray deodorant is a must-have for everyone. All-natural spray deodorant is so simple to make, and it really works! Made with witch hazel, magnesium oil, and scented with pure essential oils.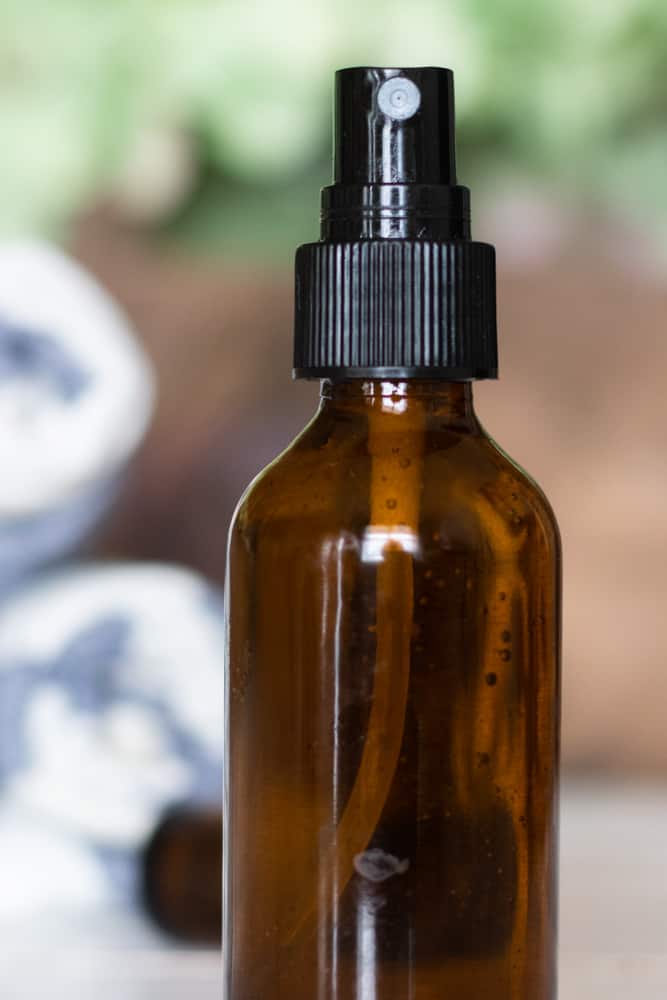 Unlike this DIY spray deodorant, most conventional deodorants are full of toxins and harsh ingredients that you won't want to put on your skin — especially an area that is so sensitive, like your armpit.
Swapping your store-bought deodorant out with homemade just got easier with this DIY deodorant spray with essential oils. Anyone can make this, and it really does work well.
If you prefer a solid deodorant, you can make that too. It isn't hard, but this one is even easier. Both homemade deodorants are made with natural ingredients, making it easy to ditch the store-bought kind.
PIN IT FOR LATER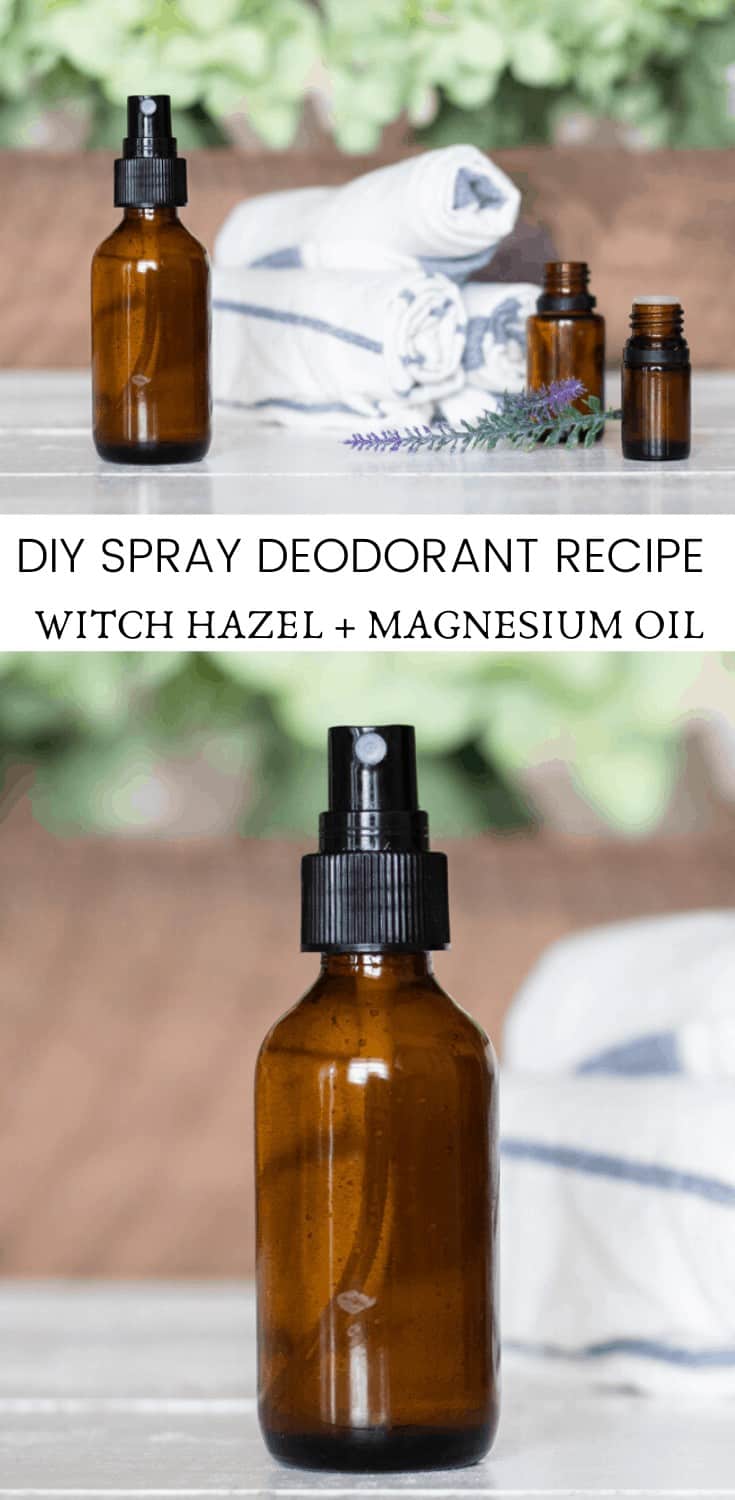 DIY SPRAY DEODORANT
This post contains affiliate links, which means I make a small commission at no extra cost to you. Get my full disclosure HERE.
I shared homemade deodorant on the blog a while back, and though I love it, I have found that many people don't react well to baking soda. Even though baking soda is a natural ingredient, it seems to be an ingredient that some people have to avoid.
In fact, most people don't even realize they are sensitive to baking soda until they start applying it to the skin, especially to the armpits.
I wanted to have another option, without baking soda, for those who can't tolerate it. This spray deodorant is baking soda-free and shouldn't cause any redness or itching.
You will want to test it first just to be sure it doesn't cause any skin irritations.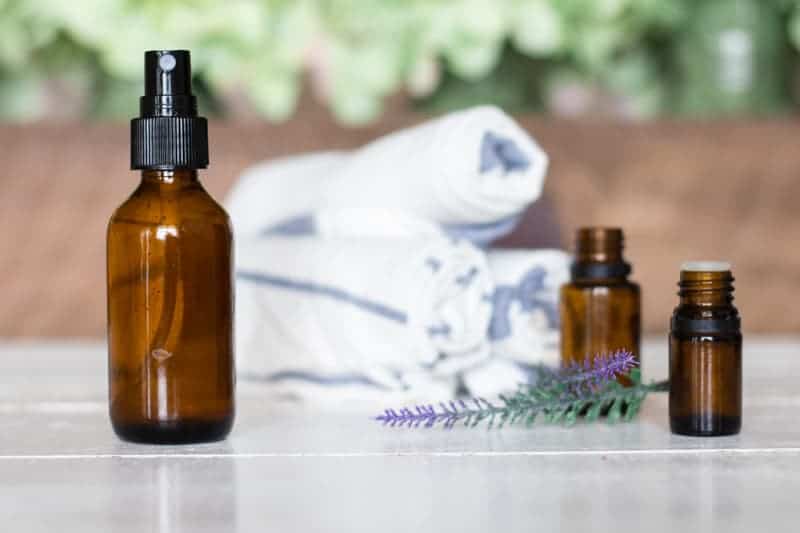 SPRAY DEODORANT INGREDIENTS
This deodorant is made with magnesium oil, witch hazel, and essential oils. You will also need a glass spray bottle to store it in. Remember, it is ideal to use glass when making anything with essential oils, and it is always best to store out of direct sunlight.
MAGNESIUM OIL
Magnesium makes a great all-natural deodorant just on its own. It works fast for eliminating odor and is very good for sensitive skin. Some studies show that more than 75% of people are low on magnesium.
Being low in magnesium can cause pain, cramps, fatigue, tension, headaches, and a whole bunch else. During pregnancy, I used magnesium oil daily to help with nausea and fatigue.
One of the best ways to get magnesium into the body is by applying it topically. At first, this may tingle a bit, especially if you are low on magnesium. Having the added magnesium in the deodorant will help you to get the correct amount that you need.
WITCH HAZEL
Witch hazel has astringent and antiseptic properties similar to alcohol, but it doesn't dry out the skin. It can improve skin irritations, reduce swelling, tone the skin, and reduce bleeding from minor shaving cuts.
The antiseptic properties can keep the skin clean, free of bacteria, and rid the skin of any trapped moisture.
Witch hazel also has no odor and works great in body sprays.
ESSENTIAL OILS
Adding in essential oils will not only add scent, but it will also add more benefits to the skin. Many essential oils are really good for the skin and can be used to help eliminate odors.
If I ever forget to put on deodorant before leaving home, I will use an essential oil. I always have a roller bottle or ten in my purse, and I can't tell you how many times I had used them as a quick "deodorant" when I was out and about. It is a great trick. Let me tell ya!
You can add in a single essential oil or a blend of essential oils, depending on preference. Below I will list a few of my favorites!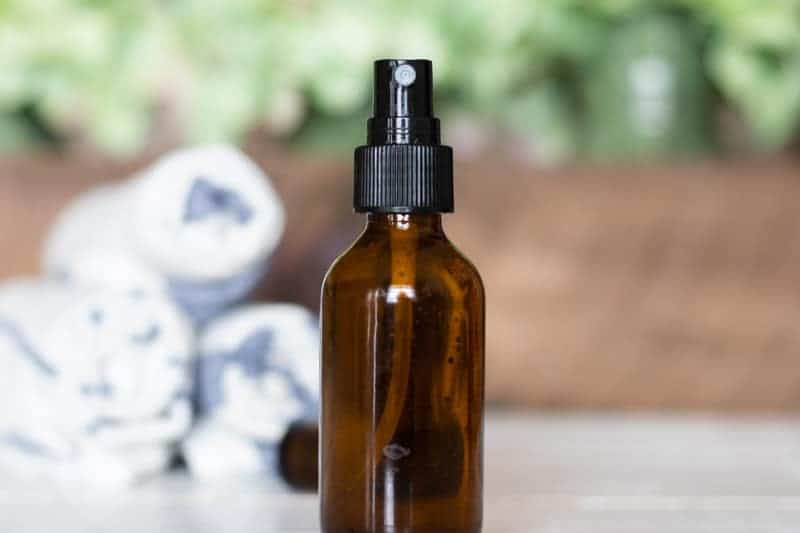 DIY DEODORANT SPRAY THAT WORKS
With magnesium oil, witch hazel, and essential oils, this spray deodorant really does work well. Unlike most conventional deodorants, this spray does not contain aluminum.
Aluminum actually clogs the pores and temporarily stops you from sweating…sounds good, right? Isn't that what we want?
Sweating is one of the ways your body detoxifies itself and is a natural healthy process. Plus, aluminum can interfere with estrogen levels causing a hormone imbalance.
Using natural ingredients is much safer for the body and will still leave you smelling fresh!
DIY DEODORANT SPRAY WITH ESSENTIAL OILS
The amount of essential oils you add into the recipe really depends on your preference and how strong you like the scent. For this recipe, I will be using a 2-ounce glass spray bottle. For that amount of spray, I use 15 drops of essential oil.
WOMEN'S BLEND
5 drops lavender
5 drops bergamot
5 drops Roman Chamomile
MEN'S BLEND
5 drops cypress
5 drops sandalwood
5 drops rosemary
Find the oils to this blend here.
FLORAL BLEND
5 drops lavender
5 drops Roman Chamomile
5 drops patchouli
Find the oils to this blend here.
CITRUS BLEND
5 drops wild orange
5 drops lime
5 drops lemon
Find the oils to this blend here.
FRESH BLEND
5 drops cypress
5 drops eucalyptus
5 drops lemongrass
Find the oils to this blend here.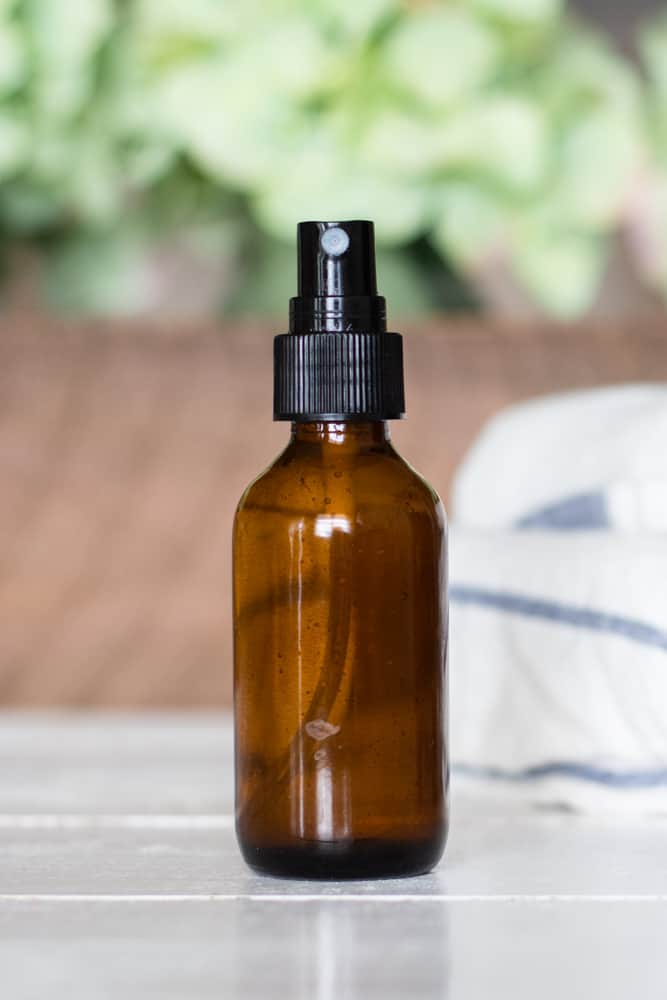 HOW TO MAKE SPRAY DEODORANT
Making homemade deodorants is easier than you think, especially using this recipe.
3 tablespoons of witch hazel
2 tsp magnesium
15 drops essential oils
Combine all ingredients in a glass spray bottle and shake well.
NOTE: This deodorant can cause a tingling or stinging sensation when sprayed on. This is due to the magnesium found in the deodorant. You will notice that it goes away after a few days.
I used magnesium oil on my skin during pregnancy, and after several uses, the tingling went away. The tingling can occur if you are low in magnesium, so the more you use it, the faster it will go away.
Do not apply to broken skin.
Test a small area, such as the forearm, to check for any skin irritations before applying to the underarms.
And if needed, use this armpit odor detox to help with transitioning to natural deodorants.
HOW LONG DOES DIY SPRAY DEODORANT LAST?
This spray will last for 3-6 months in an airtight glass spray bottle. Store out of direct sunlight.
CAN YOU BUY ALL-NATURAL DEODORANTS?
Many people are aware of toxins found in some deodorants that have been known to cause cancer and disturb hormones. Thankfully you can find pre-made natural options too. I have tried some of these, and though they work and smell nice, I find them to be rather pricy! I prefer to make my own. 🙂
If you are not a DIY-er and prefer to buy, here is a list of natural deodorants to try:
1) DoTERRA's Natural Deodorant
2) Schmidt's Natural Deodorant for Sensitive Skin: Fragrance-Free
3) Baking Soda Free unscented Deodorant Cream by Meow Meow Tweet
5) Green Tidings Organic All Natural Deodorant, Lavender
DIY Spray Deodorant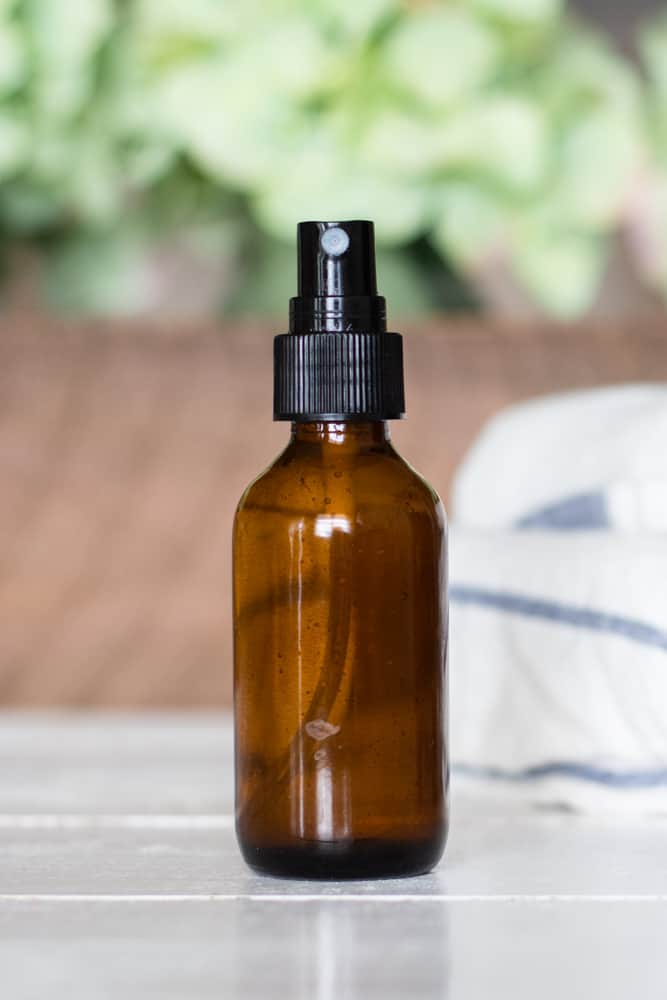 Ingredients
3 tablespoons of witch hazel
2 teaspoons magnesium oil 
15 drops essential oils
Instructions
Using a funnel, add witch hazel and magnesium oil to a glass spray bottle.
Add in essential oils of choice.
Put on the bottle cap and shake well.
Apply to underarms.
Notes
Do not apply to broken skin.
Test a small area, such as the forearm, to check for any skin irritations before applying to the underarms.