I never realized how much my makeup routine was missing setting spray until I tried it. This stuff is fantastic!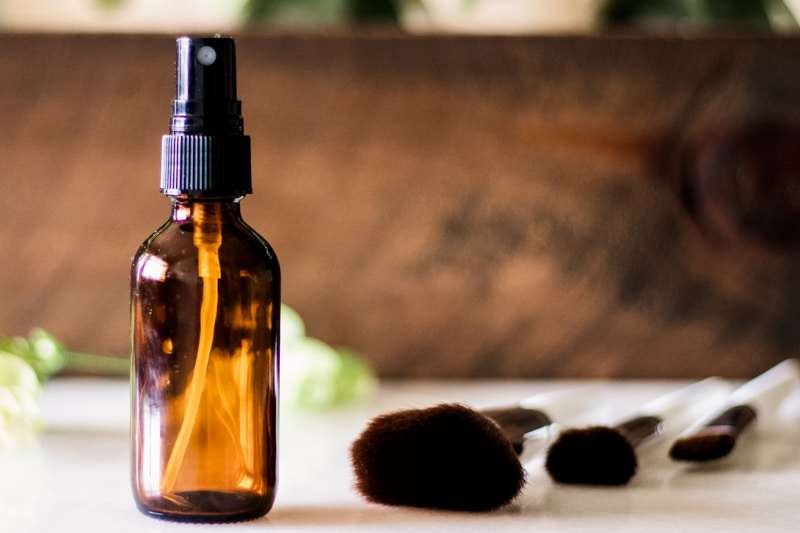 Diy makeup setting spray
It helps your makeup 'sit' better on your skin, softening it and making it look better than when it was first applied.
I find with makeup that it can look a bit heavy when first used, and it takes a while to settle on your skin.
If you're the same, you'll honestly love using a setting spray.
Basically, you get that perfectly blended appearance right after applying your makeup if you end with a setting spray. And it helps makeup such as blush cream last longer too.
I don't personally wear a lot of makeup but when I do, for an evening out, let's say, I want it to look great (or else I don't see the point in it.)
And this is precisely what setting spray does – it helps makeup look that much better as soon as you put it on.
I'll share an excellent recipe for a DIY makeup setting spray in this post. It's straightforward and fun to make, containing only 4 simple ingredients.
As with all my makeup recipes, the ingredients are natural, which nurture the skin, allowing it to breathe and helping control the skin's moisture levels.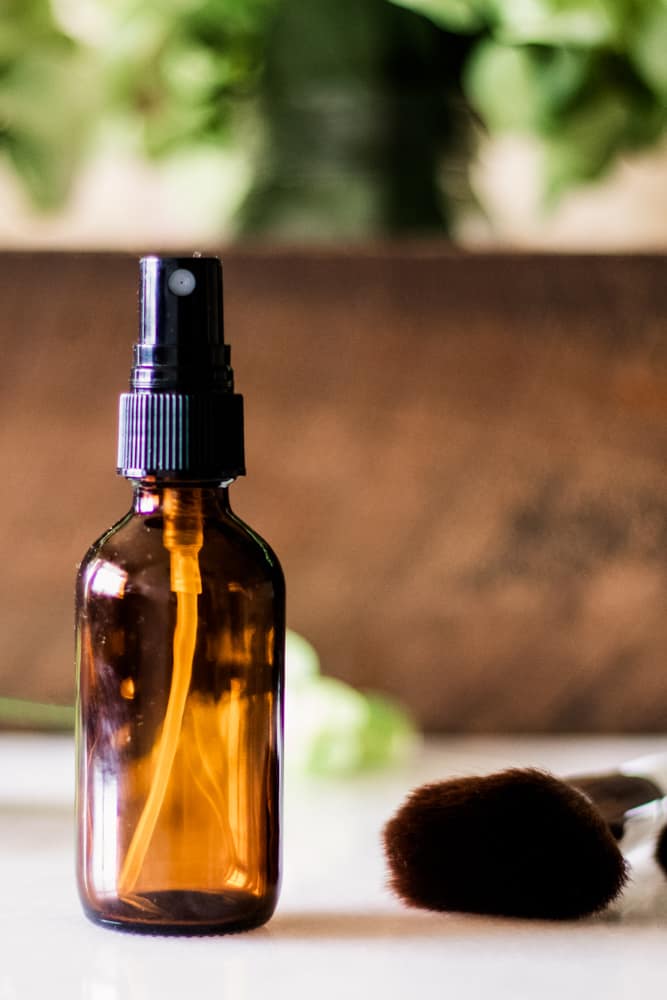 Setting spray vs. fixing spray
There's a product called 'fixing spray' which is similar, but not quite the same as setting spray.
So it's worth understanding the difference to see which suits you best. Both are good, depending on the finish you want.
A 'fixing spray' literally does what a glue would – it sticks your makeup to your skin.
Fixing spray usually uses alcohol as its base, which can dry and aggravate the skin if it's used too often.
By the end of the day, your makeup will probably still be on if you've used a fixing spray, but your skin could feel taut, sticky, and uncomfortable as a result.
On the other hand, a setting spray uses a combination of oils, glycerine, and water to blend your makeup together into one even layer, so it 'sits' better on your skin from the get-go.
Setting sprays are renowned for being kinder to the skin too and suitable for most skin types, being good for both oily skin and dry skin, depending on the type you use.
How to use setting spray
Setting spray is the last product to be used in your makeup routine. So, you would apply your primer if using, then your makeup: eye makeup, lipstick, foundation, etc., and follow up with setting spray.
Then, hold the bottle about 8 inches away from your face, and spray evenly to cover all areas, taking care not to overdo it by spraying too much. Less is more with setting spray.
Leave it to dry naturally for a few minutes to ensure your make-up remains in place and smudge-free.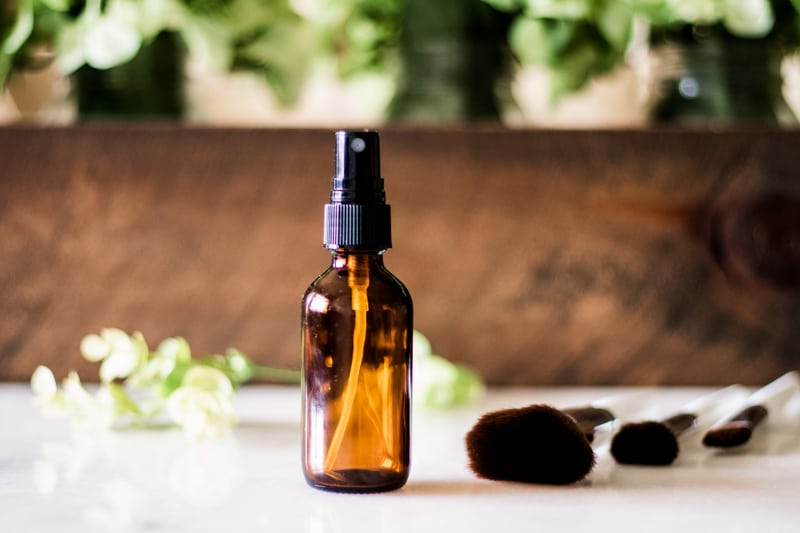 Setting spray vs. setting powder
The main difference between a setting spray and setting powder is how you apply them.
You would need a brush or sponge to apply a powder, and usually, it ends up giving a matte finish.
A spray, on the other hand, is in liquid form and applied through an atomizer.
Naturally, a spray gives a less matte finish with more of a dewy look that some people prefer. But there are certain setting sprays that can dry to provide a matte look, depending on what you're after.
The great thing about a setting spray is that it can act as a humectant, meaning they trap moisture in the skin, preventing dryness.
So if you've got dry or aging skin, a setting spray would be far better for you than a powder.
On the other hand, if you're looking for a makeup setting spray for oily skin, then a setting powder would be better, as this will absorb excess oil.
It's worthwhile for me to say that making your own setting spray using these simple ingredients is a great money saver.
Some of the store brought setting sprays can be expensive. Plus, the fact that you can modify the ingredients to suit your skin type gives a greater amount of flexibility.
How to make setting spray
In preparation for this recipe, you'll need a spray bottle that's been thoroughly cleaned.
This post contains affiliate links, which means I make a small commission at no extra cost to you. Get my full disclosure HERE.
Ingredients:
Instructions:
Add all the ingredients to your spray bottle. Secure the lid and shake well.
Hold about 8 inches away from the face and give it one mist with your eyes closed.
Always remember to give the bottle a good shake before using the setting spray.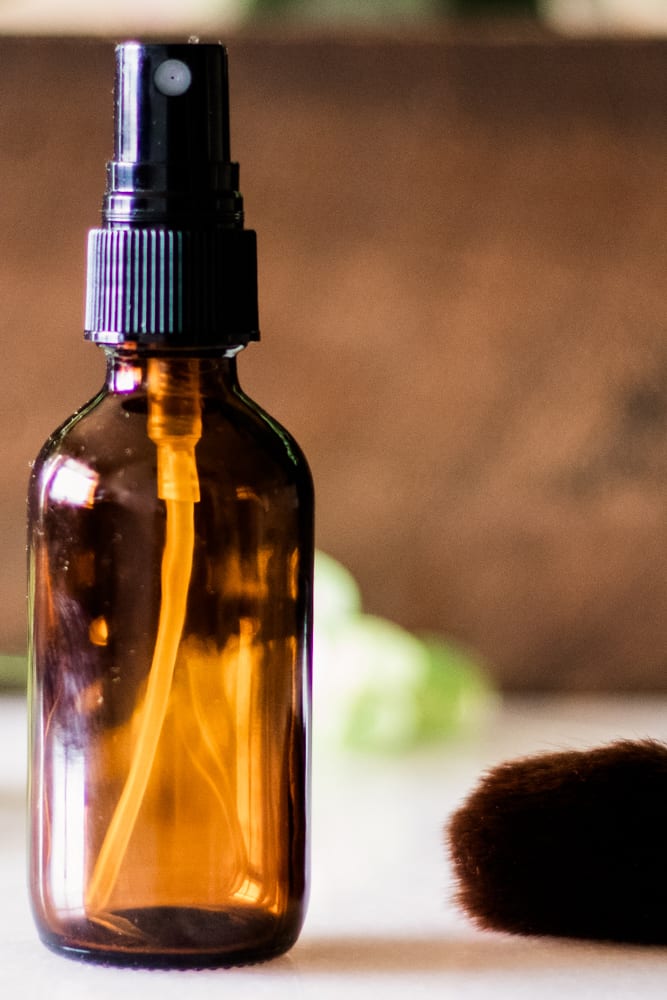 Why use setting spray?
It may be obvious by now, but I'll explain anyway. A setting spray is the final touch to your makeup, helping it blend into your skin and keeping it in place.
It acts as a barrier to anything that could 'rub off' your makeup, reducing smudges and prolonging the length of your morning or evening look.
The setting spray also helps balance the oil in your skin, keeping the skin healthy.
If you use a homemade setting spray such as the one shared in this post, you can tweak the ingredients further to suit your skin type.
Of course, this recipe is packed full of natural ingredients, which will care for your skin and help keep your makeup looking fresh all day long.
I hope you love it as much as I do!
Do comment below and let me know if you try out this DIY make-up setting spray. And, of course, for more fantastic homemade makeup ideas, check out some of the posts below.
Yield: 1 Spray Bottle
DIY makeup setting spray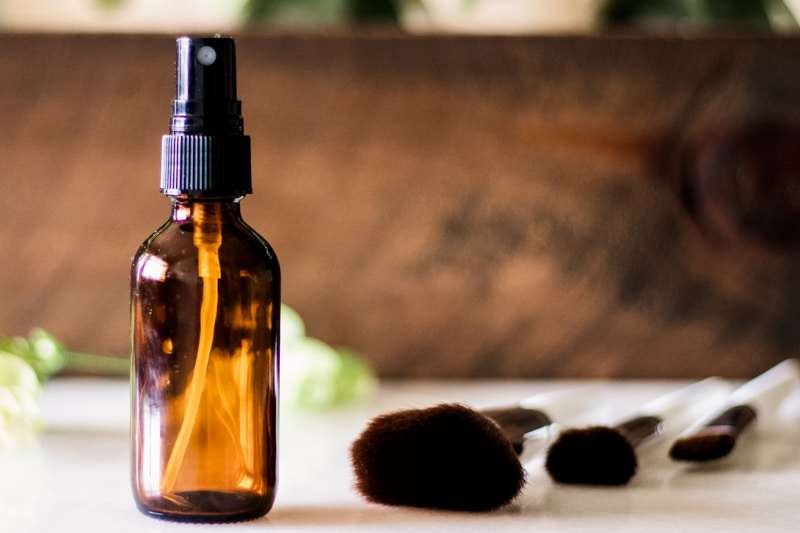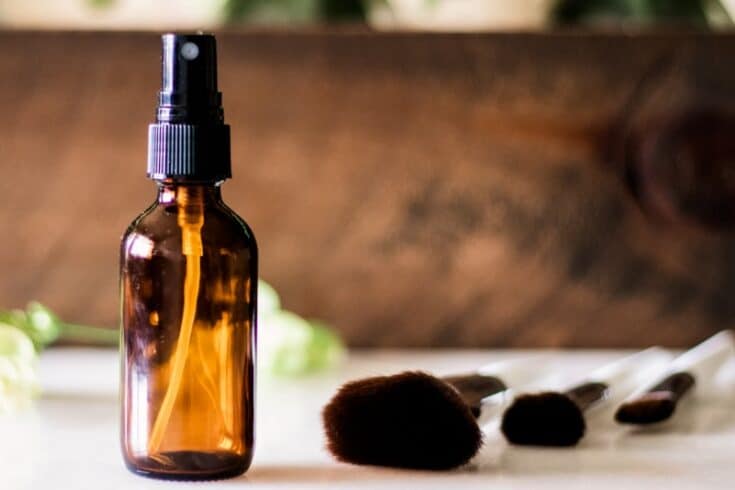 Your skin will love you! This homemade setting spray perfectly evens out the overall appearance and keeps the makeup looking fresh all day long.
Materials
Instructions
Add all ingredients to the spray bottle, secure the lid and shake well.
Hold about 8 inches away from the face, close your eyes, and lightly mist.
Remember, less is more with setting spray; 1 mist should be enough.
Notes
Shake bottle well before each use.