Learn the must-have essential oils that every person will want to have on hand for the most common everyday ailments.
These top 10 essential oils can help with skin imperfections, sleep, mood, and even boost the immune system.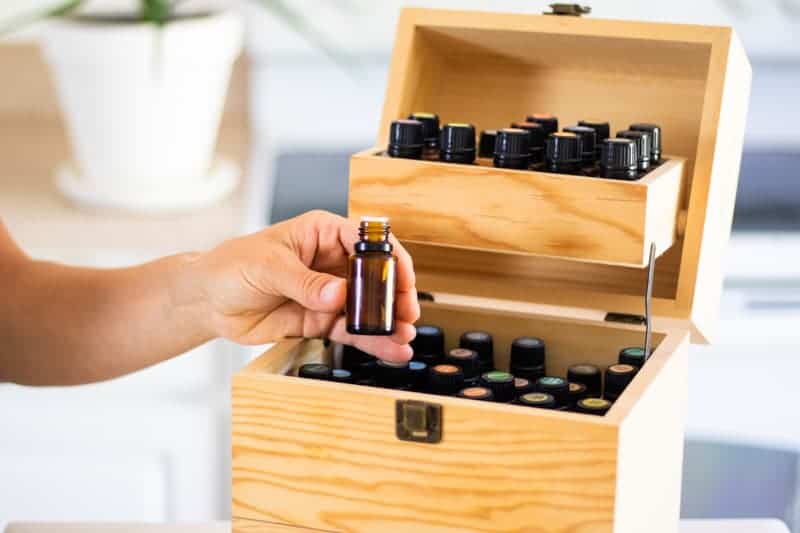 I have been using essential oils for almost a decade and have really built up my collection over the years.
I have some essential oils in my arsenal that I use way more often than others and today, I want to discuss my must-have essential oils.
These top 10 essential oils cover the basic issues that we encounter on a daily basis and ones that I would never want to leave the house without.
In fact, I keep these in my diaper bag just in case! You never know when you might need to get into them. 🙂
I am going to show you my favorite essential oils for skin, boosting the immune system, calming the nervous system, and so much more!
PIN IT FOR LATER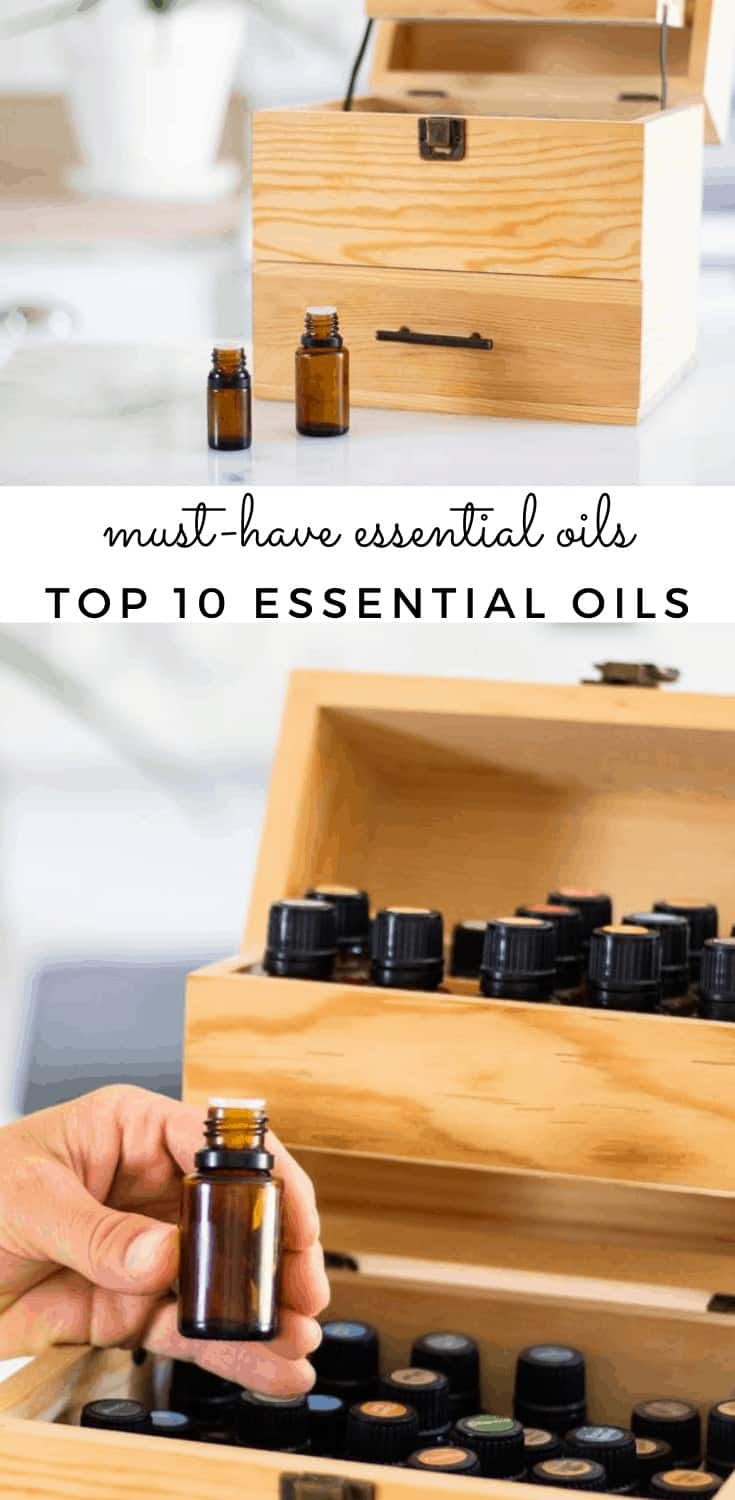 MUST-HAVE ESSENTIAL OILS
As I said, I have quite the collection of essential oils, and though I wouldn't part with any of them, there are some I go to more often than others.
One or more of these must-have essential oils come in handy almost every single day for one thing or another.
When I think of my must-have essential oils, I think about the things I most often use my essential oils for.
So for me, and probably most of the moms out there, sleep, energy, skin, and immune support are some of the first things that come to mind.
At night time, I like to use my essential oils to help my brain turn off, and in the morning, I like to use my essential oils to help turn it back on. Anyone else with me on this?
Essential oils like lavender and frankincense are amazing for calming and relaxing the body and are some of my must-haves for my nighttime diffuser blend.
At the same time, essential oils like lemon and wild orange are my go-to oils in the morning to give me a natural boost of energy and to promote positivity.
TOP 10 ESSENTIAL OILS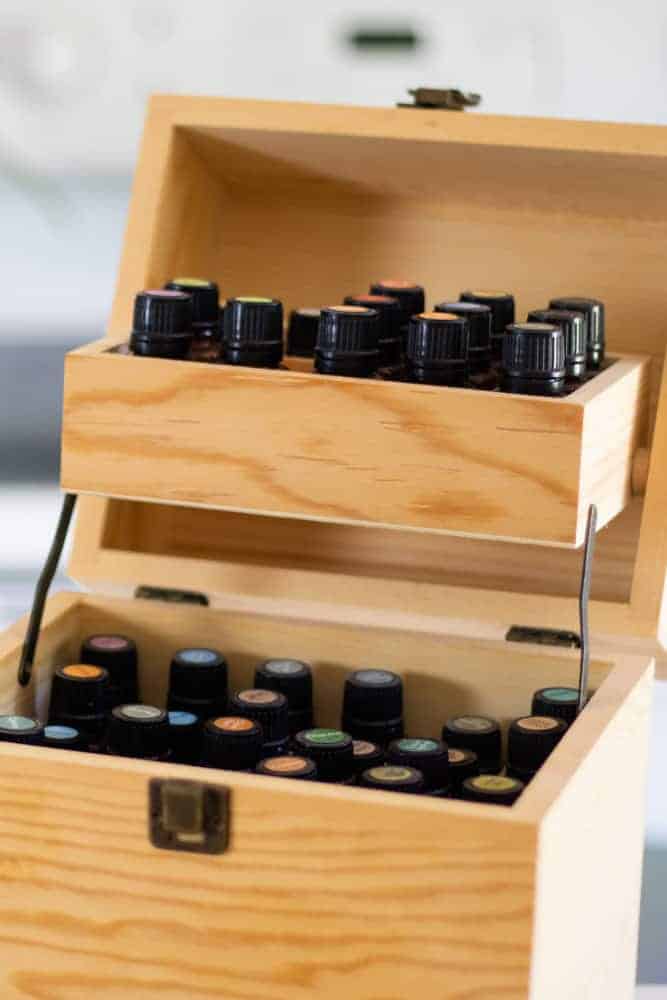 Of course, this list can vary from person to person, but I am going to share my top 10 essential oils. These essential oils are going to be single oils, not blends.
I already shared my must-have roller bottle blends on the blog!
This post contains affiliate links, which means I make a small commission at no extra cost to you. Get my full disclosure HERE.
Get these oils bundled wholesale HERE.
HOW TO USE THE TOP ESSENTIAL OILS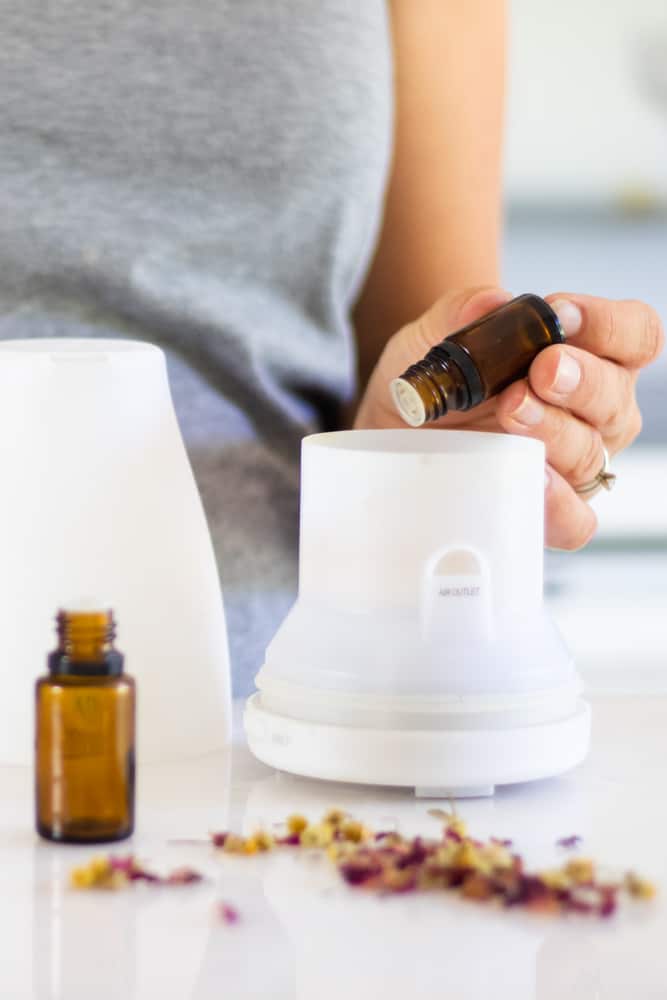 LEMON
Lemon is probably my number one most used essential oil. I order oils monthly and this is one that never comes off my monthly subscription!
Thankfully, lemon is a relatively inexpensive oil. Lemon essential oil can be used aromatically, topically, internally (read the safety guidelines on using essential oils internally), and for cleaning.
I use lemon essential oil for all of my natural cleaning products as it is a natural antibacterial, antiviral, and amazing at purifying surfaces. Lemon is also my favorite essential oil to add to my diffuser in the morning.
Learn more about lemon essential oil.
LAVENDER
Lavender essential oil is amazing for promoting a healthy night's sleep, calming the nervous system, and for almost all skin imperfections.
I use lavender daily in my diffuser at nighttime and on my skin to help with blemishes, wrinkles, and aging. You will find lavender essential oil in a lot of my DIY skincare products.
Lavender essential oil is one of my favorites to use on my kids. It is a very gentle oil, making it perfect for kids. I always keep lavender on hand for when they fall and scrape a knee or when they need a little calming.
Learn more about lavender essential oil.
PEPPERMINT
Peppermint essential oil is very soothing to sore muscles, can help with head tension, and can help with focus.
Peppermint pairs well with lemon and wild orange for a natural energy boost. Try inhaling it next time you are feeling drowsy in the afternoon!
Learn more about peppermint essential oil.
OREGANO
Oregano essential oil is one of those essential oils I don't use very often, but it still makes the must-have list.
Oregano is an amazing immune-boosting essential oil and one of the first ones I go to when I am not feeling my best.
It can be used aromatically, though I don't suggest it unless you want your house to smell like an Italian restaurant, topically and internally.
Be sure to add oregano to a carrier oil before applying it topically, as it is a hot oil.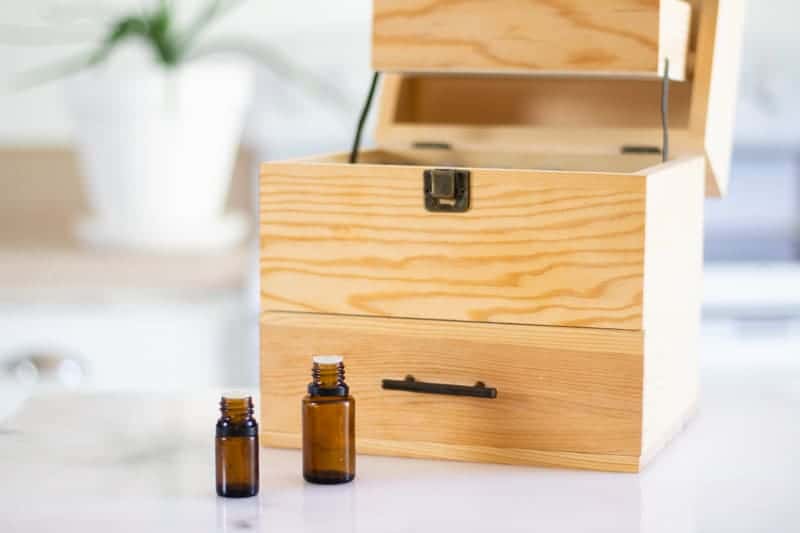 FRANKINCENSE
Frankincense is known as the king of oils and can be used for almost everything! It is one of my favorites for skin, especially mixed with lavender, tea tree, and rose.
Frankincense is amazing for anti-aging and can help with wrinkles, fine lines, and age spots.
I also like to use frankincense to boost the immune system and at night time to help promote a healthy night's sleep. Similar to lavender, frankincense is also a very gentle oil, making it great for kids.
Learn more about frankincense essential oil.
ROSE
Rose is a very precious essential oil and can be very pricy. Even though it is expensive, it is still one I often use in my home.
Rose is amazing at boosting the immune system and has amazing benefits for the skin. It is one of the best essential oils for anti-aging and for calming the nervous system.
Rose is one of the first essential oils I go to when my kids are not feeling well, as it is a powerful immune-boosting oil.
TEA TREE
Tea tree is another oil that I often use in my home for cleaning and skin imperfections.  It works well at cleansing and purifying surfaces and the air.
Adding a drop of tea tree to the laundry can help to remove any musty smell.
Tea tree is also a great essential oil for scalp health and for the hair. Try adding a drop to your shampoo to strengthen and lengthen the hair naturally.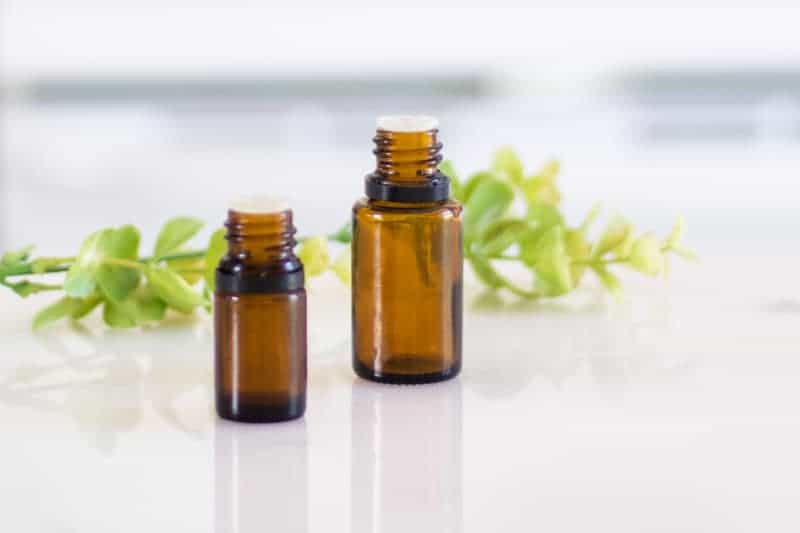 WILD ORANGE
Just inhaling wild orange essential oil can put you in a good mood! It smells so good and is very uplifting. Mixed with lavender, wild orange can be very calming too.
Wild orange essential oil can help to boost the immune system, promote a positive mood, give you a natural boost of energy, and can be used for cleaning.
I use wild orange in my homemade furniture polish.
Learn more about wild orange essential oil.
COPAIBA
Copaiba has similar properties to frankincense, yet it is very different. It is one of my go-to essential oils for balancing the mood and grounding my emotions.
Copaiba can be used aromatically, topically, and internally. I personally like to add a drop under my tongue in the morning to start my day.
Try diffusing copaiba and lavender together for a relaxing and calming diffuser blend.
BERGAMOT
Bergamot is my all-time favorite citrus essential oil. It smells so amazing on its own and one that you will often find diffusing in my home.
Bergamot can help with seasonal threats, calm the nervous system, relieve tummy discomfort, and help with most skin imperfections.
If you enjoyed this post, you might like to read this one next: How long do essential oils last?