Learn how to make all natural baby wipes with this recipe. These are gentle for your baby's delicate skin and naturally scented with essential oils.
Ya'll know by now that I like to use natural products in my home, and I prefer to make them so I know exactly what is in them. I am especially particular about my babies.
Making homemade baby wipes is simple and I am going to share my recipe. Plus, I will show you how to make a spray solution if you are a cloth wipe mama!
Every mom needs to have this recipe on hand, because who has time to run to the store during a diaper change? 😉
ALL NATURAL BABY WIPES RECIPE VIDEO TUTORIAL
This post contains affiliate links, which means I make a small commission at no extra cost to you. Get my full disclosure HERE.
PIN IT FOR LATER
ALL NATURAL BABY WIPES RECIPE
INGREDIENTS
1 roll of paper towels (thicker the better)
2 cups water
1 tablespoon fractionated coconut oil
1 teaspoon castile soap (I use Dr. Bronners unscented.)
10-15 drops essential oils (optional) This is the kind I use.
INSTRUCTIONS
Cut paper towels in half widthwise and set upright in airtight container. Use half now and save the other half for later, unless making a double batch.
Combine water, fractioned coconut oil, essential oils and castile soap in a bowl.
Pour mixture over paper towels and let mixture absorb for 10 mintutes.
Flip container over and let absorb for 10 more minutes.
Remove the cardboard tube and carefully pull a paper towel square up from the middle to start the wipes.
Store in an airtight container. I use an old baby wipe container.
TIPS ON ALL NATURAL BABY WIPES MAKING
Use a serrated knife for cutting. You can use an electric knife if you have one.
Thicker, more durable paper towels work best for homemade wipes. Trust me, I am tired of getting by with the cheap ones! Thinner paper towels don't cut as evenly and they don't hold up as well when using them.
Using distilled or filter water is best. I try to avoid using tap water due to the unusually high chlorine content found in our water.
LET'S TALK ABOUT STORING YOUR ALL NATURAL BABY WIPES
I find it best to keep them in, wait until you hear this, an old baby wipe container. You can pull the wipes right through the hole on top of the container and use them like normal.
I have stored mine in a tupperware container with a snap lid. This worked just fine, but I did have to unsnap the container for each use, rather than just pulling them through the lid.
You can store them in a coffee can. If you want to cut a hole in the top to pull them through, you can. If you don't use them very often this might not be the best idea, as they will dry up over time.
Storing your wipes in a half gallon mason jar is another great option.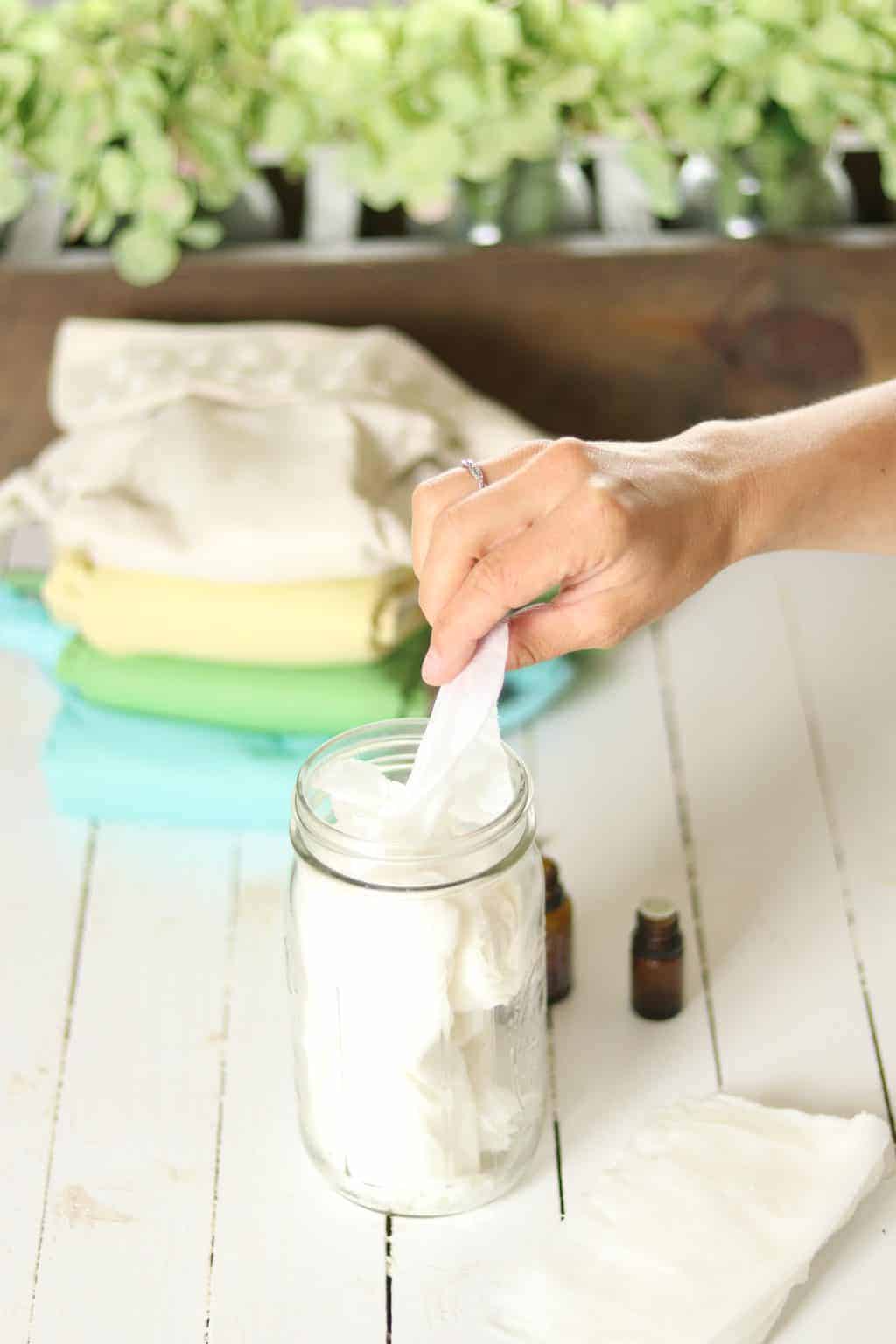 BEST ESSENTIAL OILS FOR HOMEMADE WIPES
When using essential oils on babies, or anyone for that matter, it is really important to use pure essential oils that are organic. Be sure to dilute properly before using essential oils on babies.
A few of my favorite oils to use on babies are lavender, frankincense, Roman chamomile, wild orange and rose.
Using essentail oils in your homemade wipes is optional, but can add scent and many benefits for the skin.
LAVENDER
Lavender is my favorite essential oil to use on my babies. It has purifying and cleansing properties, making it perfect for homemade wipes. The scent of lavender is very calming for babies and perfect for delicate skin.
FRANKINCENSE
Frankincense essential oil has so many benefits for the skin, making it another good essential oil for homemade wipes. It is gentle on the skin and can help with skin imperfections and rashes.
ROMAN CHAMOMILE
Roman chamomile is another oil I use often on my babies. Like lavender, it has a very calming and relaxing aroma. I love to pair this one with lavender!
WILD ORANGE
Wild orange adds a fresh scent to your wipes. Because it is full of antioxidants it is great for natural skin care. Wild orange is a photosensitive essential oil, which means it is overly sensitive to light.
If using wild orange, or other citrus essential oils, be sure to only use on skin that isn't going to be exposed to the sunlight for at least 12 hours.
ROSE
Rose is another great essential oil for babies and skin. It can be used to reduce the appearance of skin blemishes and imperfections. Rose is a very delicate oil, perfect for babies.
CAN I MAKE REUSABLE BABY WIPES?
Yes you can! If you use cloth diapers and prefer to use cloth wipes you can use this same recipe to make a solution for your cloth wipes.
Simply add the ingredients to a spray bottle, shake well, and spray the wipe before use. It is best to use a glass spray bottle if using essential oils.
If using cloth wipes I suggest keeping a trash can with a lid next to the changing table to toss them in after using them. If you are already using cloth diapers, you can just throw them in the same container as the diapers.
Wash them with gentle soap or homemade laundry soap. Never let them sit more than 5 days, to avoid mold.
WHY HOMEMADE, OVER STORE BOUGHT?
Making your own wipes can be cheaper and safer for your baby. If you really want to save money, go for the cloth wipe route and whip up a bottle of the wipe solution.
If you decide to keep buying wipes, here are a few things to consider:
Buy unscented wipes to avoid artificial fragrances.
Check your labels and read the ingredients before buying wipes.
Chose a more natural option. I have used seventh generation and honest company wipes in the past.
MORE HOMEMADE BABY PRODUCTS TO CHECK OUT
Have you ever made your own all natural baby wipes? IF so, share your thoughts in the comments!