Are you looking for a natural DIY shoe deodorizer spray? Look no further! This simple spray is the answer for smelly feet!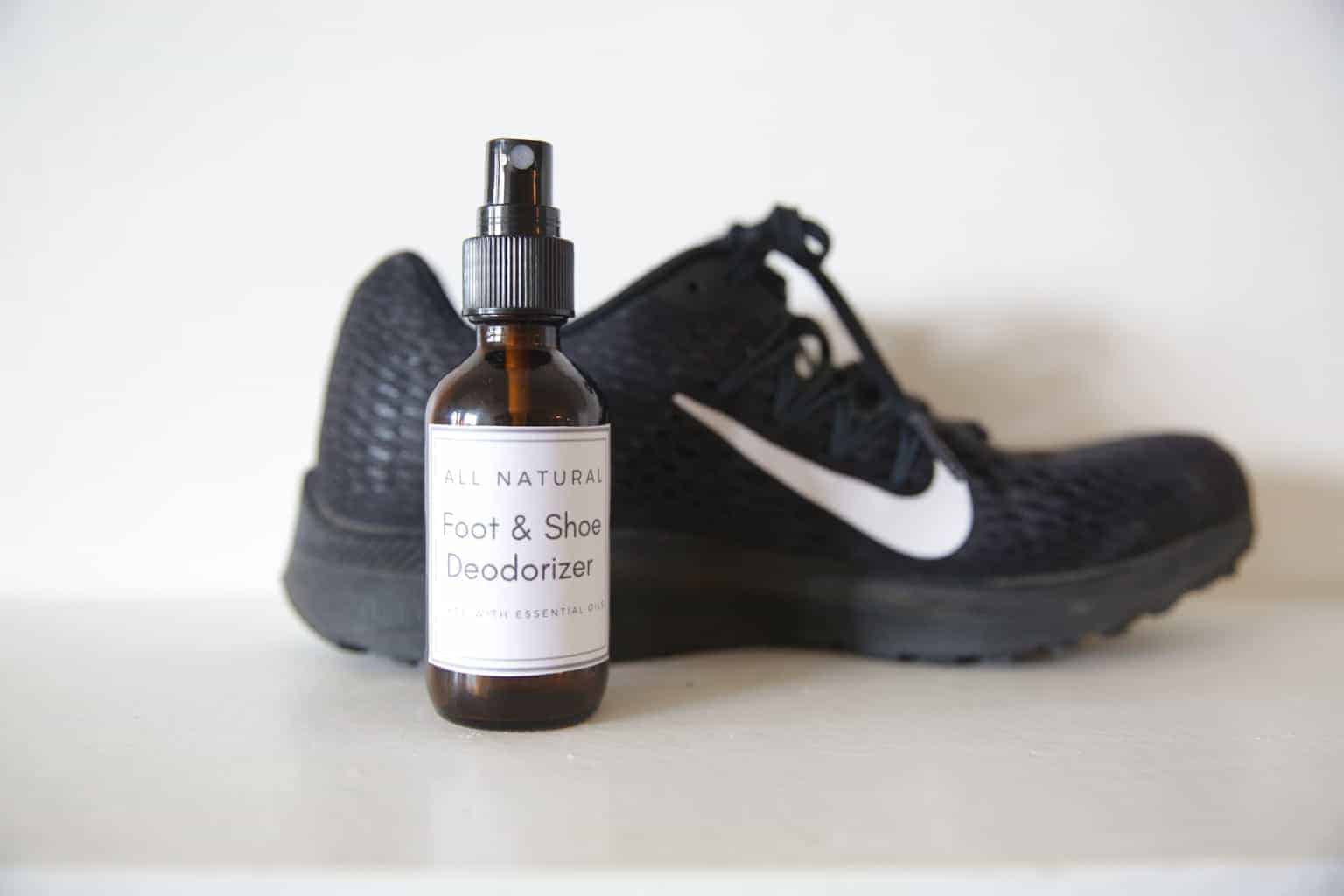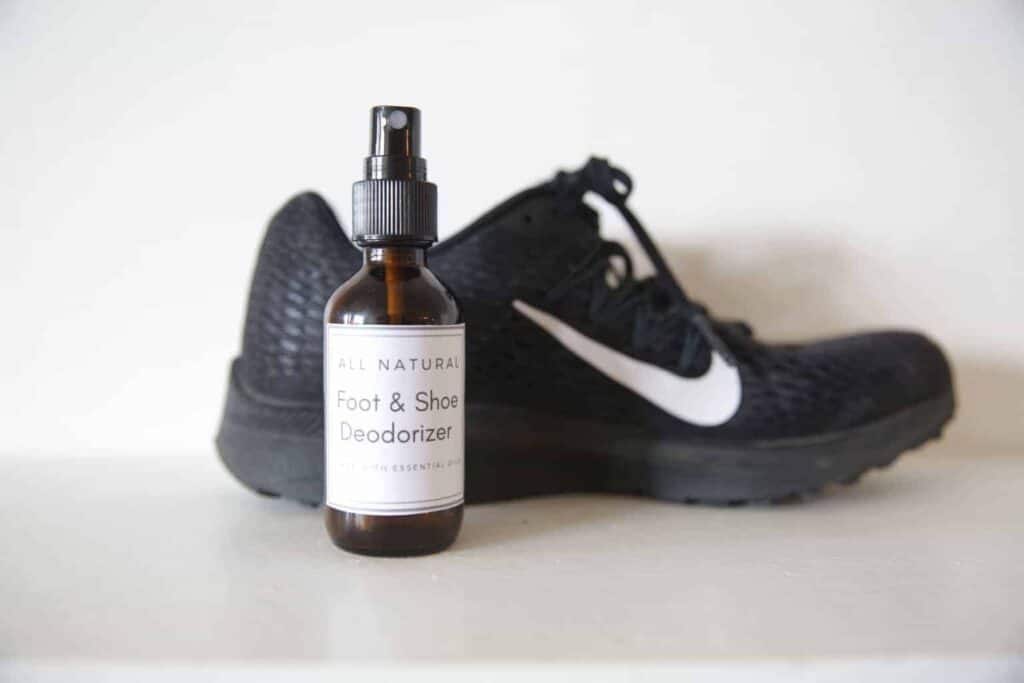 This post was published in July 2018 and updated in November 2022.
What does it take to have lovely-smelling feet at all times? Try a simple little spray bottle filled with essential oils and water.
You can have the perfect, all-natural foot spray while using natural, sustainable ingredients. This foot spray will keep your feet healthy and smelling clean.
This is the perfect solution to remedy smelly feet or shoes.
What causes foot odor?
No matter where you look, a case of sweaty feet is the center of all foot odor. Where feet sweat and bacteria grow, all we are left with is the unpleasant odor.
Feet tend to smell worse than other areas in part due to the density of sweat glands, but also they are always covered in socks and shoes.
And with that, the lack of breathability – further trapping the sweat and bacteria.
In addition to sweat bacteria, our feet can come in contact with countless bacteria growing in public places such as pools, showers and locker rooms.
As a result, you'll find several essential oils in this essential oil foot spray to both create a beautiful aroma and combat unwanted bacteria.
Essential oils for stinky feet
Now that we know bacteria and fungus as well, for that matter, contribute to stinky feet, how do we go about quickly getting rid of the foul odor?
I decided to make what is essentially a cologne for the feet. It can be sprayed on either the feet, in adults, or inside shoes.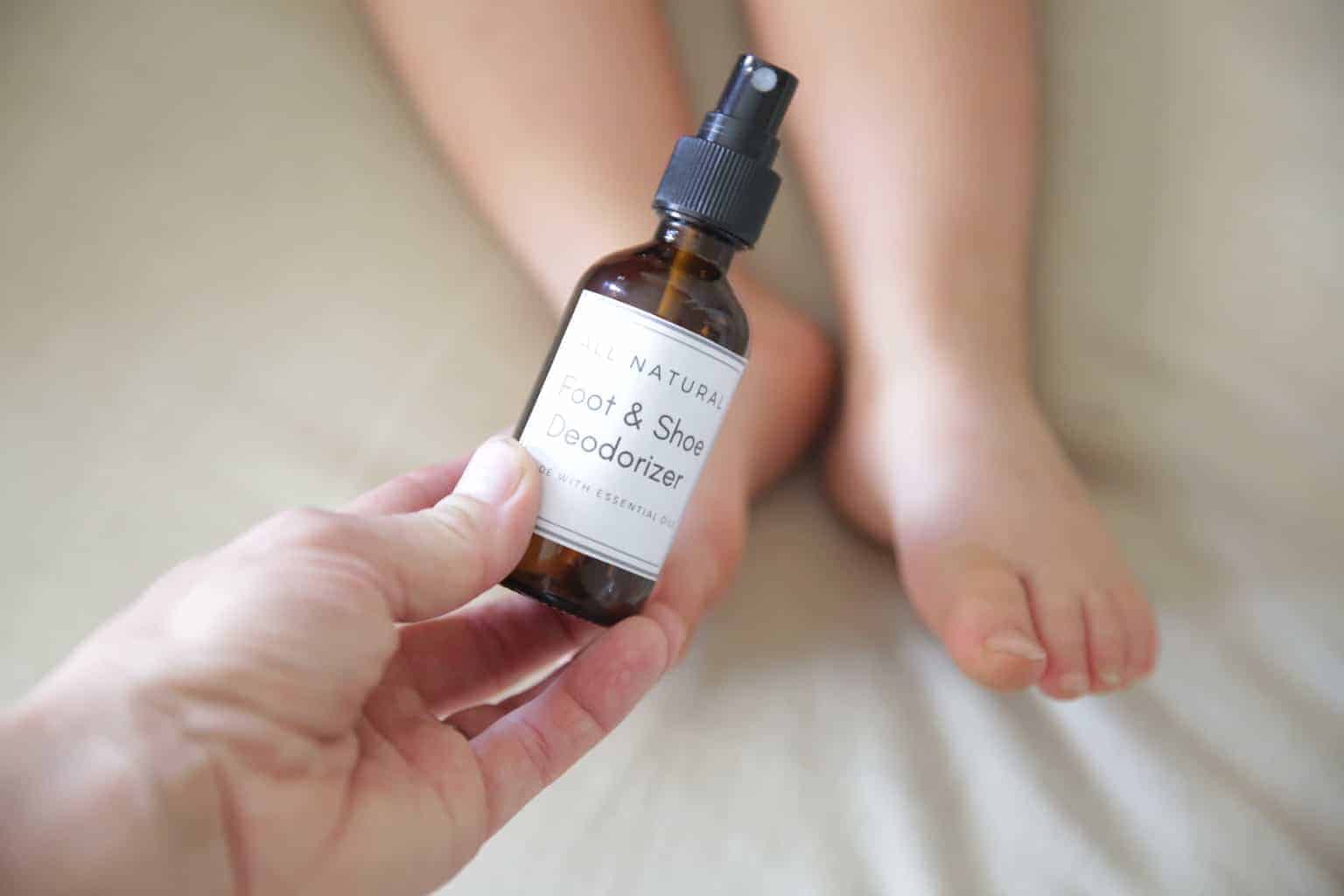 This post contains affiliate links, which means I make a small commission at no extra cost to you. Get my full disclosure here.
DIY foot and shoe deodorizer spray
Ingredients:
Instructions:
Add essential oils to a 4-ounce glass spray bottle.
Top off with water.
Secure the lid and shake well.
Spray on feet, toenails, or inside shoes as needed.
Get access to my online resource library here for your free printable label.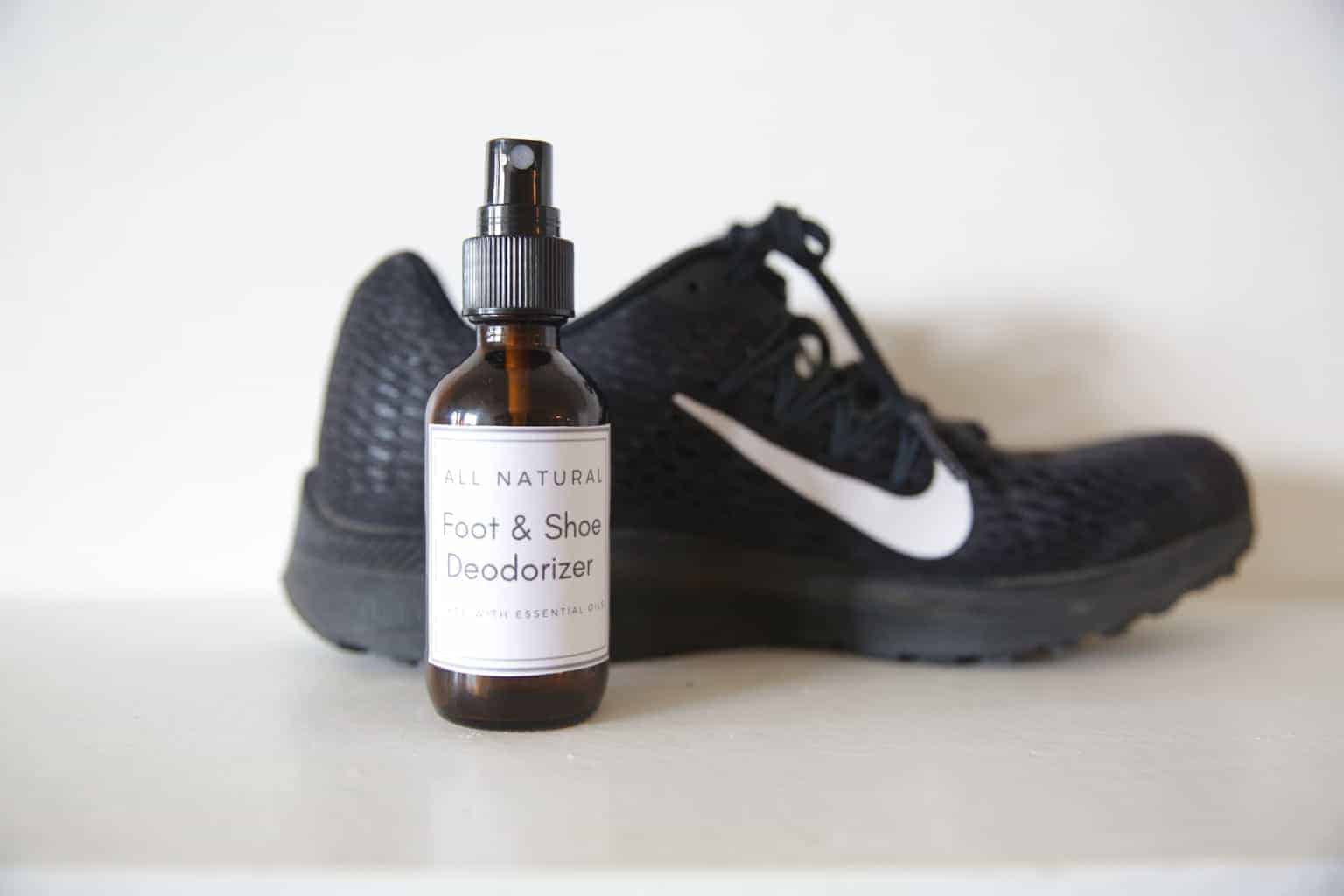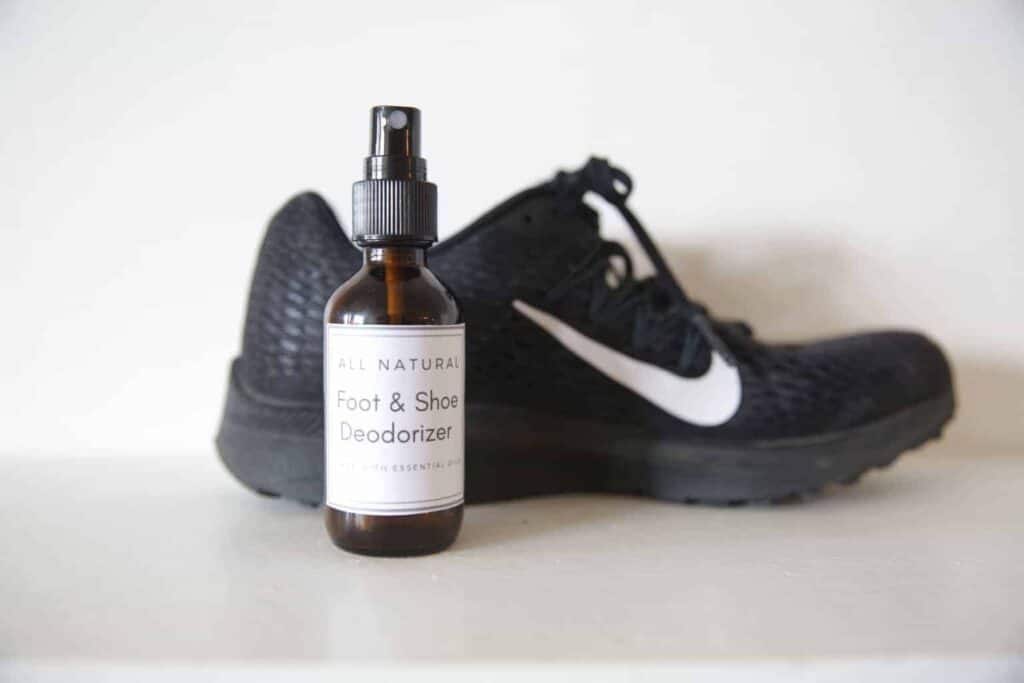 How to fix smelly feet | tips & tricks
Proper hygiene: Washing the feet daily can easily be the most effective way to remove sweat and kill bacteria.
Wear breathable shoes: When possible, try wearing breathable shoes to prevent sweat build-up.
Regularly deodorize shoes: No matter how often you wash your feet or socks, all that goes out the window when you slip your foot into that old stinky shoe. Try deodorizing your shoes weekly or anytime they start to stink.
Clean your shoes: If you find your shoes smelling up your closet, it may be time to give them a good washing. Learn how to hand wash workout shoes here.
Salt bath: Soaking feet in Epsom salts exfoliates the skin and is naturally anti-bacterial.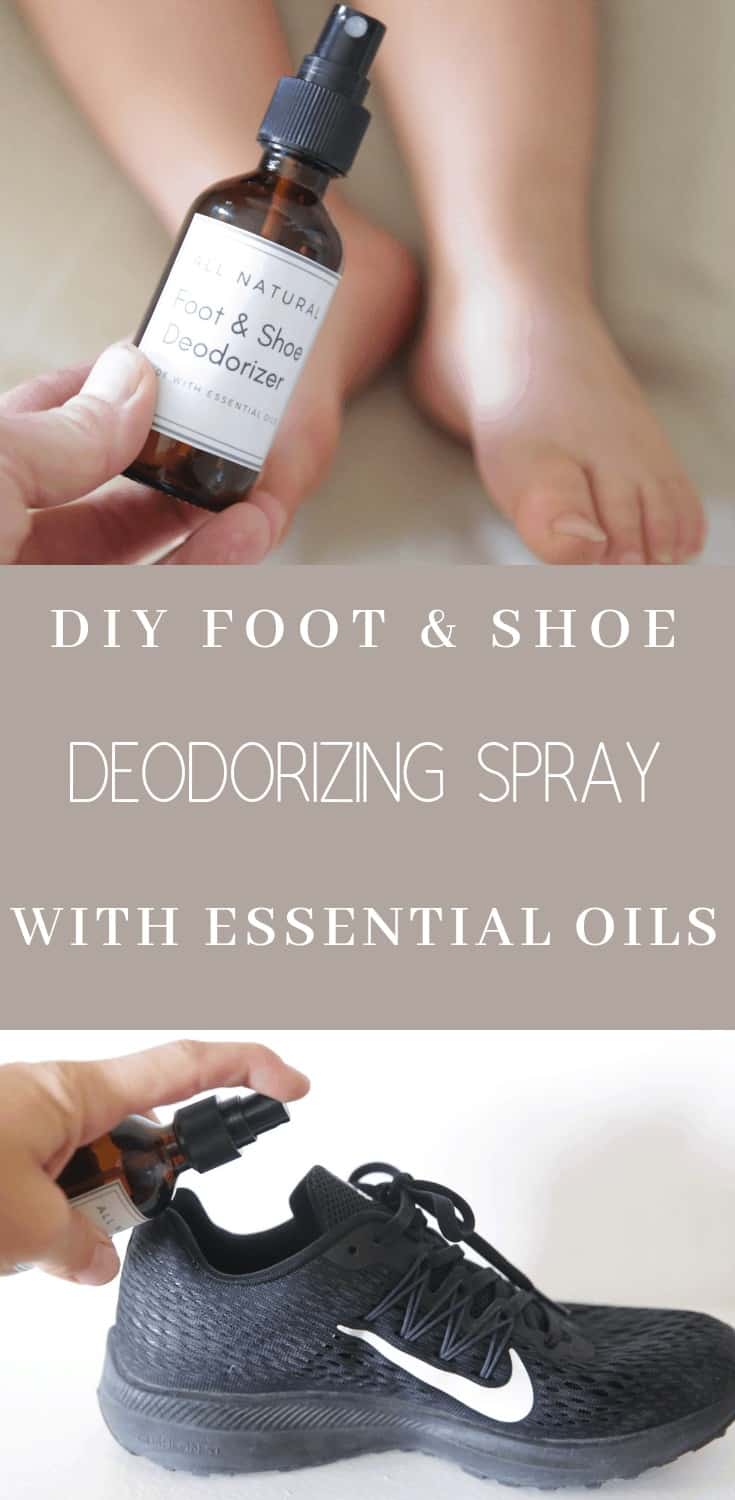 This DIY foot spray is the perfect way to quickly eliminate foot odor. If you made this recipe, leave a comment below and let me know your thoughts!
For more great DIYs, check out one of these below.
Yield: 4 ounce spray bottle
DIY Foot & Shoe Deodorizer Spray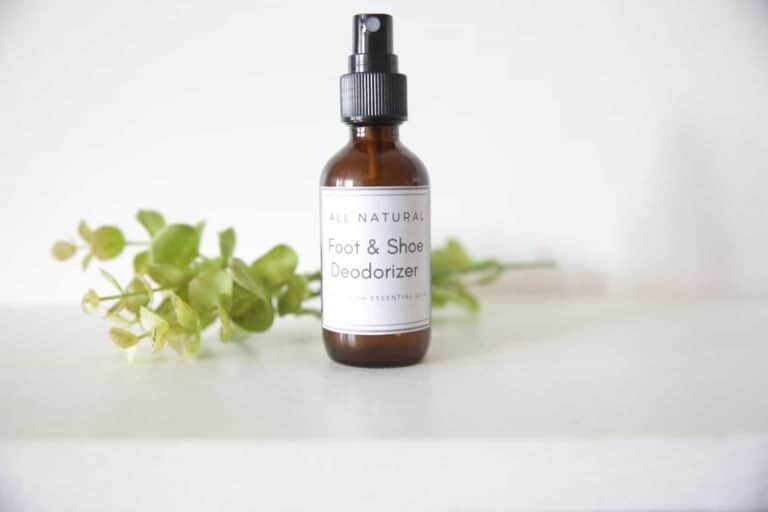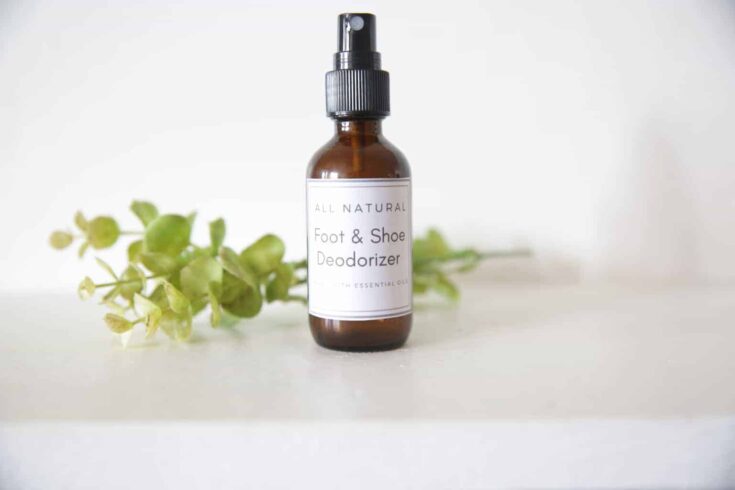 Looking for a natural DIY shoe deodorizer spray? Look no further! This simple foot and shoe deodorizer spray is the answer for smelly feet!
Materials
Tools
Instructions
Add essential oils to the spray bottle.
Top off with filtered water.
Secure the lid and shake well.
Spray inside shoes or directly onto the feet.
Notes
For adults only.
Always test a small patch area to check for possible skin irritations.