This detoxifying foot bath recipe is the ultimate way to end a long day. It is a perfect natural foot soak for a gentle detox of the body and stress relief. Easy DIY essential oil foot soak for all ages.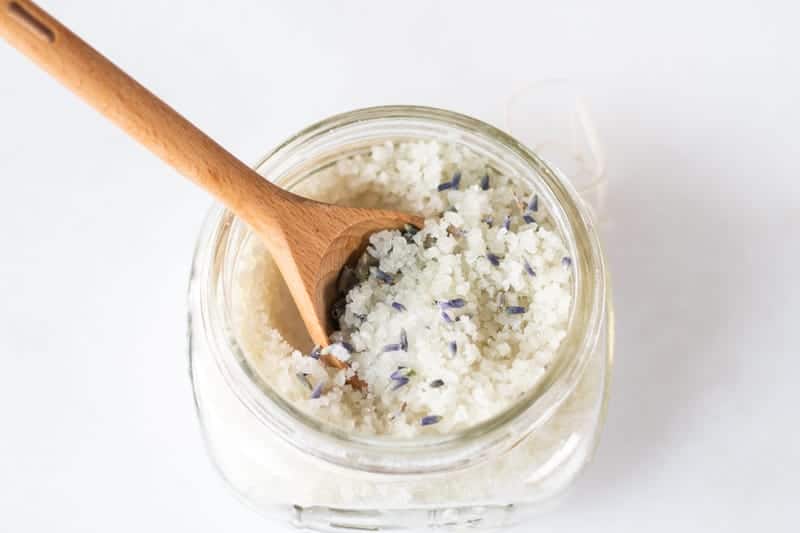 A foot bath or soak can be just the thing your feet need after a long day. I spend most of the day on my feet, as I'm sure many of you do too. At the end of the day, when I sit down (or better yet, lay down), I will notice just how much I am on my feet.
A good ol' fashion foot soak can do the body some good. Even with just a little Epsom Salt, you may notice some benefits. With a few extra ingredients, you can take a foot soak to the next level and really experience the best foot bath at home.
PIN IT FOR LATER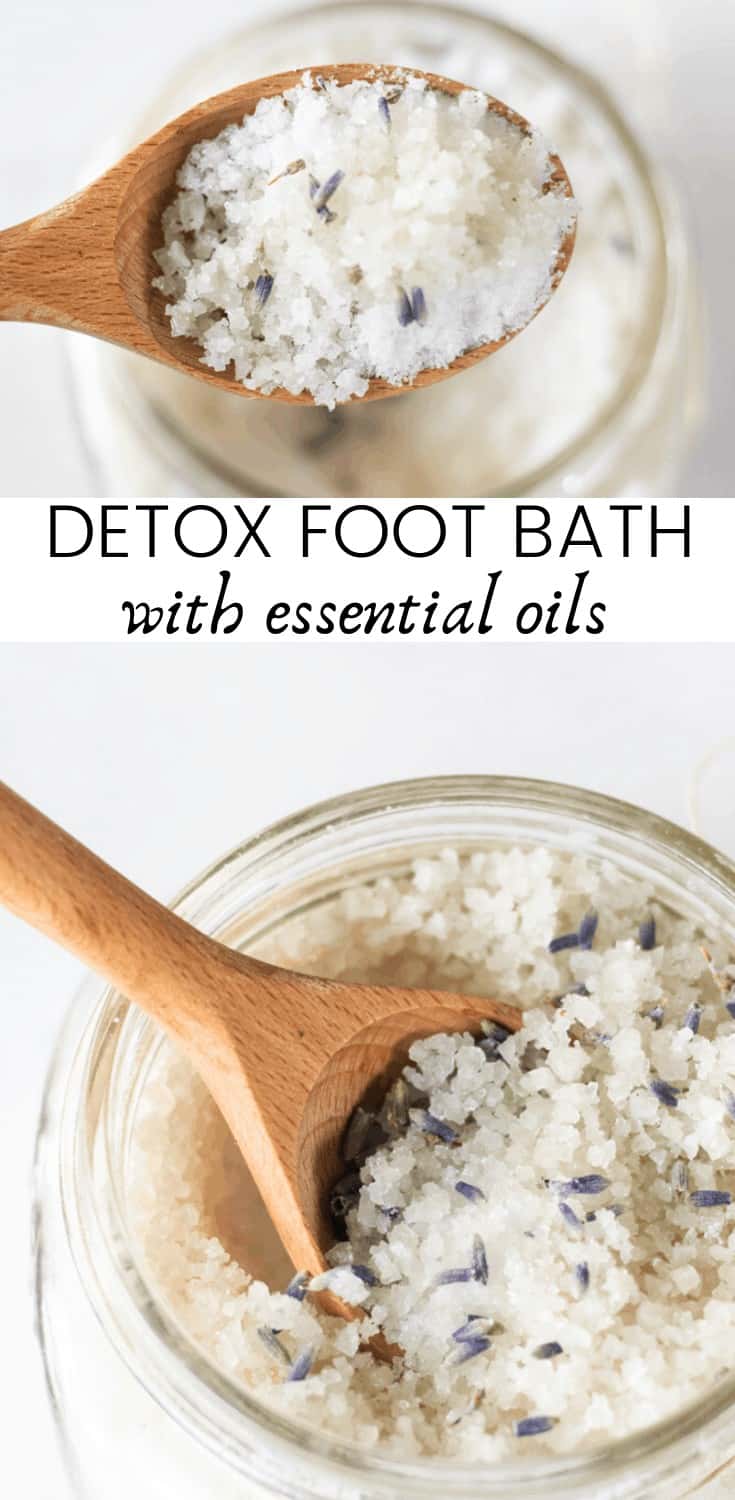 This post contains affiliate links, which means I make a small commission at no extra cost to you. Get my full disclosure HERE.
DETOXIFYING FOOT BATH
Our bodies are exposed to so many chemicals daily, and there is only so much we can do about it. Making your own laundry soap, shampoo, conditioner, and skincare products is a great way to start. But some things, like the pollution in the air or the paint on the walls, may be out of your control.
Worrying about such things can be more harmful than the toxins in the first place. Since I don't live in a perfect natural bubble, body detox is a must. There are so many ways you can detox your body through scrubs, washes, masks, diet, and soaks. These are all things I strive to do regularly!
But did you know that you can detox through a foot bath? Your feet are made up of large pores that can absorb and release toxins. Placing them in a warm detoxifying bath of salts and essential oils can do wonders for your body. I also love to make a peppermint foot scrub to help remove dead skin before doing a foot bath.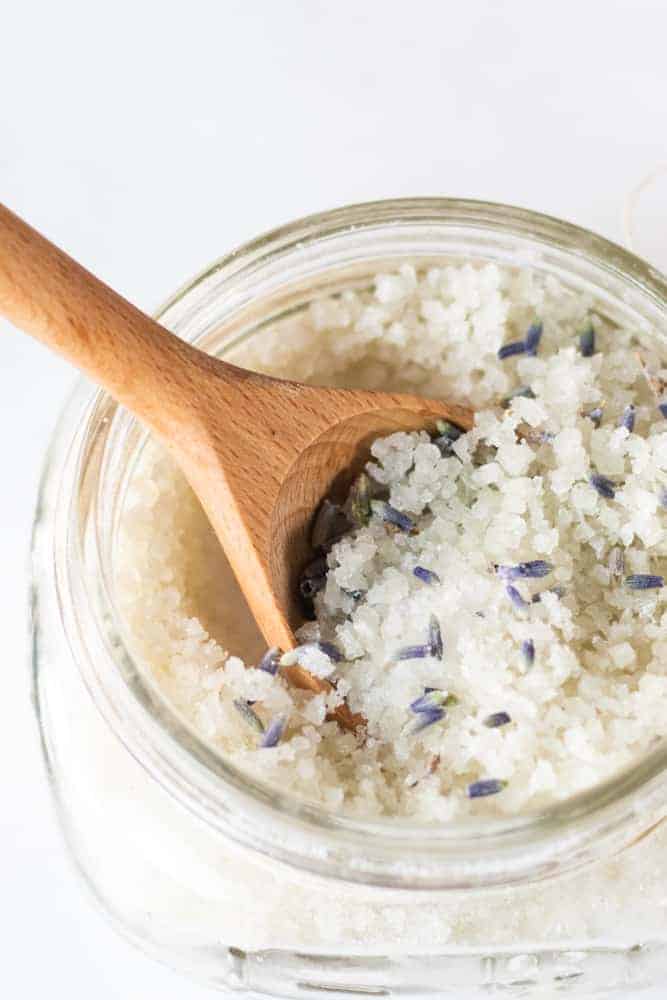 WHAT ARE THE BENEFITS OF FOOT BATHS?
Almost anyone can benefit from a foot bath soak. Whether you are a mom, student, working full time, or a pro athlete, I bet you spend the majority of your day on your feet.
Soaking your feet in a homemade foot bath can have several benefits for you, even if you don't think your feet hurt.
Relieve muscle tension
Reduce stress and brain fog
Boost the immune system
Hydrates skin
Reduce swelling
Improve mood and energy levels
Draw out impurities
Boost magnesium levels (If using salt.)
ESSENTIAL OIL FOOT SOAK
Several essential oils can be used in a foot soak. It is best to stay away from hot oils like oregano and clove when putting them in water.
PEPPERMINT
Peppermint and other mint oils are great to add to a foot soak. The minty oils have a nice cooling effect on the skin and can soothe sore muscles and bones.
Adding peppermint to the foot soak can help relieve tension, stiffness and reduce feelings of stress.
TEA TREE
Tea tree essential oil is a known anti-fungal and can be found in toe fungal medications. This essential oil is a must-add if you deal with discolored toenails, feet fungus, or athlete's foot.
LAVENDER
Lavender is a very gentle essential oil that has excellent benefits for the skin and the mood. It is one of the most commonly used oils for calming and relaxing. Use lavender essential oil to promote a better night's sleep.
Lavender can also reduce skin irritations, help relax muscles, and moisturize the skin, such as in this glowing skin body butter
BEST DETOXING ESSENTIAL OILS
Rosemary
Tangerine
Cilantro
Geranium
Lavender
Tea Tree
Lemongrass
Clove
Frankincense
Myrrh

DETOXIFYING FOOT BATH RECIPE
INGREDIENTS
Baking Soda
Sea Salt
Epsom Salt
Carrier Oil
Apple Cider Vinegar
Essential Oils
INSTRUCTIONS
Mix all the dry ingredients in a medium-size mixing bowl.
Add in the wet ingredients and stir until well combined.
Pour into 2 gallons of warm water.
HOW TO MAKE A FOOT BATH?
You can do this in the bathtub or by using a small tub or container just large enough for your feet. I prefer to use a small container so I can do this while sitting on the couch or at my computer desk.
Fill the tub with very warm water and add 1/2 cup of detoxifying foot bath recipe to the water. Stir to mix.
Place your feet in the warm water and allow them to soak for 20-30 minutes. Remove them from the water, pat dry, and apply homemade whipped body butter or foot mask to hydrate the feet.
DIY BATH SOAK INGREDIENTS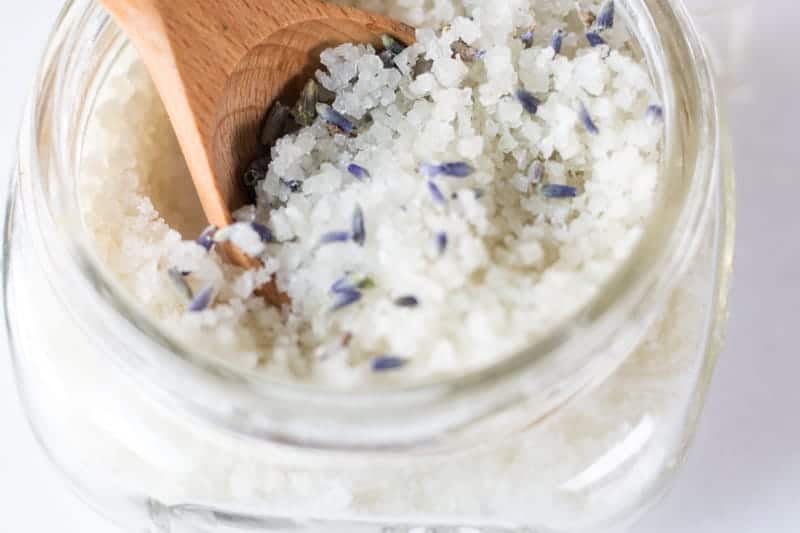 BAKING SODA
Baking soda can help relieve itchy, dry skin, and it can be very effective at pulling toxins out of the body. It can also help with sun-damaged skin.
You can check out my newest foot soak recipe here using baking soda and vinegar.
SEA SALT AND EPSOM SALT
Salts can be added to a warm bath to help with skin irritations, muscle aches and to detox the body. The minerals found in salts will absorb through the skin and get into your body to help with these things. Soaking in warm water alone can help to relax muscles and loosen joints.
CARRIER OIL
Adding in a small amount of carrier oil will add moisturizing properties for the feet and heels.
Here is a list of common carrier oils to choose from:
APPLE CIDER VINEGAR
Apple cider vinegar can help regulate the skin's pH levels as well as improve skin texture and appearance. ACV has anti-fungal properties and can help with toe fungus and discolored toenails.
ESSENTIAL OILS
Essential oils can be used to help skin irritations, cleanse, purify, and even gently detox the body. You can add a single oil or a blend of essential oils to the bath soak.
Choose any from my list above to see what works best for you. I personally love lavender, tea tree, and rosemary. Peppermint is another favorite, especially if my feet are sore.
Detoxifying Foot Bath Recipe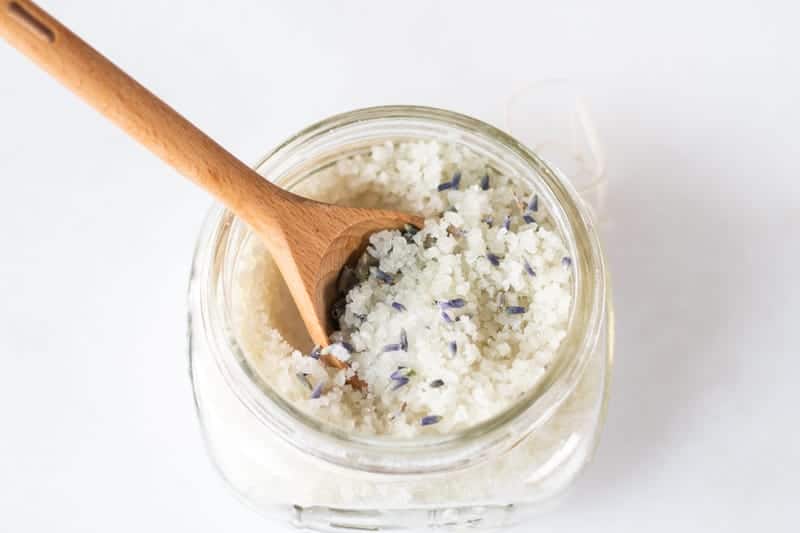 This detoxifying foot bath recipe is the ultimate way to end a long day. It is a perfect natural foot soak for a gentle detox of the body and stress relief. Easy DIY essential oil foot soak for all ages.
Materials
1/4 cup baking soda
1/4 cup sea salt
1/4 cup Epsom Salt 
1/8 cup apple cider vinegar 
1 tablespoon carrier oil 
10-15 drops essential oil
Instructions
Mix all the dry ingredients together in a medium-size mixing bowl.

Add in the wet ingredients and stir until well combined.

Pour into 2 gallons of warm water.